Beforewords: How do I love thee?
Let me enumerate the ways in which Love Poetry and even the whole notion of Love may be counterproductive to people's happiness.
"How do I love thee? Let me count the ways." Elizabeth Barrett Browning began her famous Sonnet 43 with these words. Since then, they've come to epitomize Love Poetry.
Browning, 1806-1861, would've lived in a time that overlapped that of another Romantic poet, Marceline Desbordes-Valmore, 1786-1859. One of her poems (in English translation by Chase Madar from the original French) begins:
"LETTER FROM A WOMAN
"Women, I know, shouldn't write; Yet I write so that you can read in my heart from afar as while taking leave.
"I won't write anything that isn't, in you, much more handsome: But the word said a hundred times, coming from the beloved, seems new.
"Don't look away as if a swallow should pass by the path, for I believe that it's I who am coming by, love, to touch your hand."
In this collection from Sabine Hadley's "Lovelorn Poets" website, there's a poem in which it's written:
"'A woman who writes feels too much,
those trances and portents!
As if cycles and children and islands
weren't enough; as if mourners and gossips
and vegetables were never enough.
She thinks she can warn the stars.
A writer is essentially a spy.
Dear love, I am that girl.'"
That portion of the poem is framed by single quotation marks. Is it quoted from another poem, perhaps by someone else?
Is Sabine Hadley, as Anaïs Nin titled one of her novels, "A Spy in the House of Love"? Or, perhaps better yet, an observer of human nature romantically focused on the fringes of human interaction?
What's now known as Hallmark Greeting Cards began in 1910. By 1915 they were printing their own Valentines and Christmas cards meant to be mailed in envelopes. A search on Hallmark's website for mention of Browning and/or her poem yielded no results. Perhaps they never used her poetry on their cards.
In my personal library, I have a book called The Thousand Best Poems in the World. I don't know when it was published but there's a hand-written inscription in it from 1917. It has an index to subjects. The 1st 16 of these are: Poems about home, Wives, Husband and wife, Mother, Parents, Children, Sister, Orphans, Man, Women, Woman's rights, Love, Devoted love, Proposing, Marriage, and Unfortunates. There are 10 poems about Love and 15 about Devoted Love. Browning's is not among them.
When I think of Love Poetry, I tend to think of Browning's poem 1st and of Hallmark Greeting Card Love Poetry 2nd. That's indicative of my low opinion of Love Poetry in general. When I think of Love Poetry, I tend to think of schmaltz, excessive sentimentality based in a belief in a human nature that I find completely unrealistic.
Take, for example, the end of Browning's poem: "if God choose, I shall but love thee better after death.": there's a belief in God and an afterlife implied. I find both these notions harmfully delusional - but such delusions are common among the primitive Christian and Moslem tribes that've come to dominate so much of the world.
And, yet, Language Poet Bruce Andrews begins his 1982 book entitled Love Songs with a Navajo Yiebechei Chant:
"Beauty before me, I walk
Beauty above me, I walk
Beauty below me, I walk
In beauty, I walk
To the direction of the rising sun
in beauty, I walk
To the direction traveling with the sun
in beauty, I walk
To the direction of the setting sun
in beauty, I walk
To the direction of the dippers
in beauty, I walk
All around me our land is beauty
In beauty, I walk"
That might be maudlin sentimentality but perhaps there's no saccharine or rendered fat.
In 1850 when Browning's poem was 1st published, it would've been in printed form, read in books and magazines. These days, Love Poetry, and poetry in general, is as likely to be found online. Sabine Hadley culled all of the poems collected herein from Craigslist Missed Connections.
Craigslist was founded in 1995. When I asked Google "When did Craigslist Missed Connections begin?" I didn't get the answer to my question but I did find that quite a few creative projects have been inspired by them or the Missed Connections that appear in newspapers.
One such project dear to me was the KneeHighs posting of 37+ Missed Connections from October, 1997 to September, 1998 in 1st: a Baltimore weekly paper, 2nd: a Pittsburgh weekly paper. The KneeHighs Gang was a trio of girls named Etta Cetera, LL, and Stiletta who started a website partially to display these ads. Some rare additional contributions came from yours truly, a Borderline Kneelite.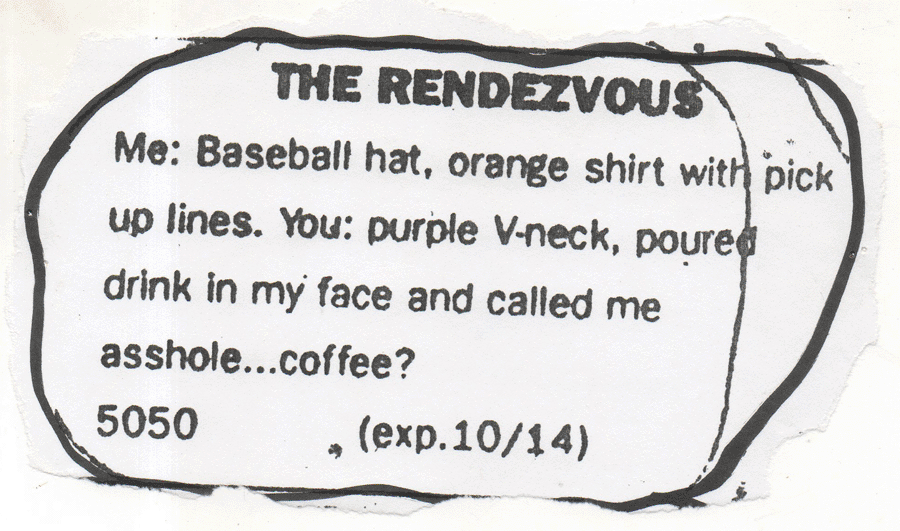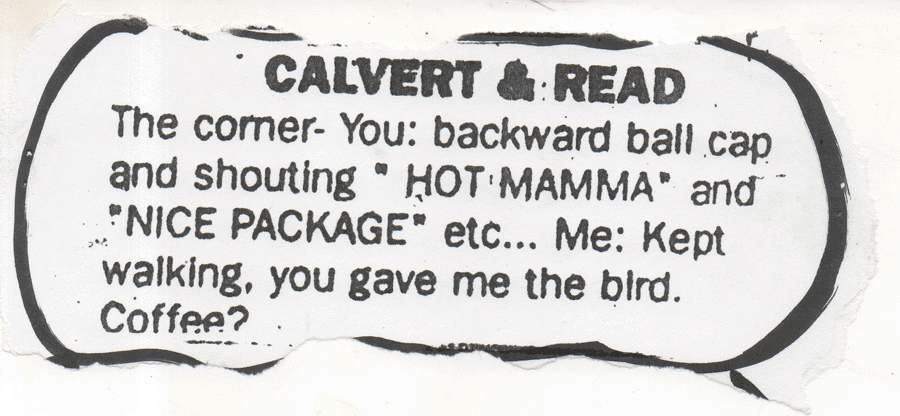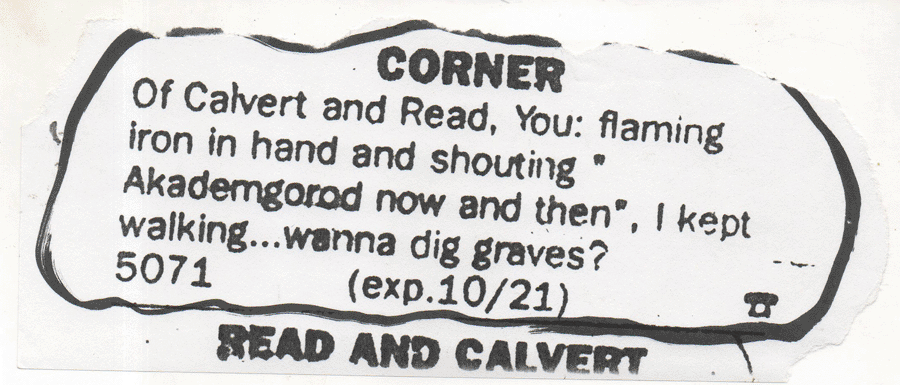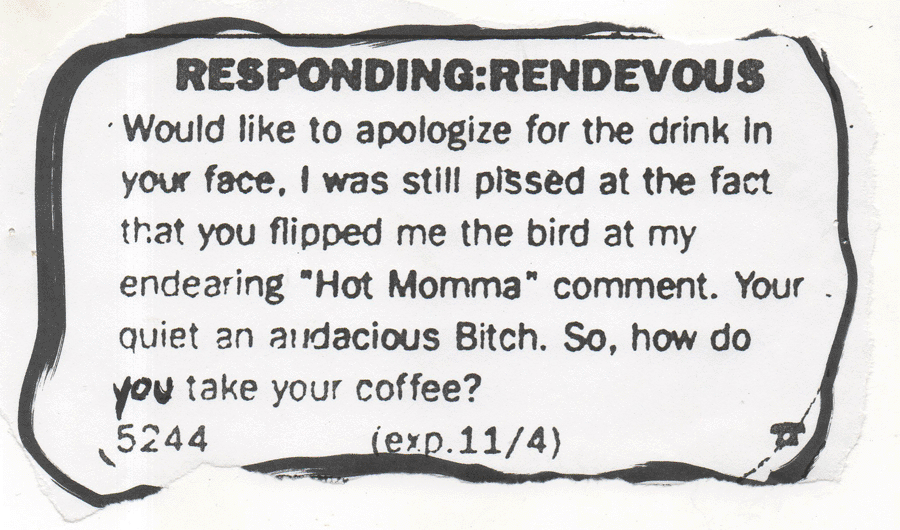 These could function as both inside jokes for the KneeHighs and friends and as Mystery Catalysts to people not 'in-the-know'. "The Rendezvous" was a popular bar in Baltimore at the time where one of the KneeHighs and I picked each other up. Hence it's a sentimental reference of sorts mixed with a more realistic and humorous look at the unpleasantness of the place and of human nature in general.
The "mis-connected" titled "CORNER" has several references to a Neoist Festival that the writers of it had recently participated in in Hungary. A "flaming iron" is a steam iron with a flammable substance (usually rubber cement) on the flat part of it, lit on fire and held aloft as a Neoist symbol. "Akademgorod" (or "Akademgorodok") was a Soviet city for scientists that Neoists use as a mythical promised land. I say "Neoism Now and Then!" as a slogan alternative to Monty Cantsin (Istvan Kantor)'s "Neoism Now!". "[W]anna dig graves?" refers to a performance that a group of us did in the early evening of Saturday, July 12th, 1997 in Debrecen, Hungary in which I pretended to commit suicide with Pepsi and was then 'buried' while Monty Cantsin (Istvan Kantor) and Angela Idealism pretended to fuck on my grave.
Missed Connections are usually intended to be personals that increase the possibility of meeting between people who might've only met briefly without getting to know each other enough. They're long shots. One meets or only sees someone but doesn't get their name or some such and then the memory of them is enticing enough to prompt trying to reach them again through placing the ad. They're ephemeral - in the case of the ones the KneeHighs placed, they were in the papers for 4 weeks apiece.
Sabine Hadley discovered that people were posting poetry in the Craigslist Missed Connections and became intrigued. Since these Personals are usually anonymous to protect the poster and since they have a short posting life, she took it upon herself to increase their public longevity by reposting the ones she liked the most on a website called "Lovelorn Poets".
Despite this framing, these poems aren't all Love Poems - nor are any of them actually Missed Connections in the way that the KneeHighs postings are. Hadley liked the Missed Connections context because it was unjuried - as with Mail Art (at its best). Alas, that's not really accurate given that there are content and size restrictions and that any posting that offends someone can be flagged and removed.
While the Lovelorn Poets might be hoping that a specific person would read their poetry & love it and might fall therein, Sabine's reposting displays another type of loving that might be a pretty acceptable 'second best'.
After all, what if "love" is just a conceptual spice to augment the plain old lust of pheromones? What if "love" is just our DNA's way of trying to get us to combine forces with someone who intuitively meets its standards? Then my advice to the Lovelorn Poets is to move beyond the page, electronic or printed, and to stop being Lovelorn by being successfully Lusty. I wish you luuuuuccccck.
- tENTATIVELY, a cONVENIENCE
- Pittsburgh, September 15 & 30, 2014E.V.

idioideo at verizon dot net
to the tENTATIVELY, a cONVENIENCE as Interviewer index
to the tENTATIVELY, a cONVENIENCE movie-making "Press: Criticism, Interviews, Reviews" home-page
to the "tENTATIVELY, a cONVENIENCE - Sprocket Scientist" home-page
to the "FLICKER" home-page for the alternative cinematic experience
to find out more about why the S.P.C.S.M.E.F. (Society for the Prevention of Cruelty to Sea Monkeys by Experimental Filmmakers) is so important
for A Mere Outline for One Aspect of a Book on Mystery Catalysts, Guerrilla Playfare, booed usic, Mad Scientist Didactions, Acts of As-Beenism, So-Called Whatevers, Psychopathfinding, Uncerts, Air Dressing, Practicing Promotextuality, Imp Activism, etc..
for info on tENTATIVELY, a cONVENIENCE's tape/CD publishing label: WIdémoUTH
to see an underdeveloped site re the N.A.A.M.C.P. (National Association for the Advancement of Multi-Colored Peoples)