interviewed by Anthony Levin-Decanini
[Interviewee's note: Anthony's Crucible Sound blog is much more 21st century than my modest website designs are. Therefore, it might be more visually stimulating to experience this interview through the various provided links to it than through this manifestation. That said, I reproduce the interview here partially to gather my interviews together under one e-umbrella & partially as a back-up in case Anthony's blog undergoes blog-death. I've kept most of Anthony's extensive links intact & added a few of my own. - August 30, 2014 note from tENTATIVELY, a cONVENIENCE]
Crucible Sound is an improvised music series hosted by Modernformations Gallery. Each month, musicians from different backgrounds and styles collaborate to create live improvised soundworks.
Wednesday, July 31, 2013
Some favorite records from tENTATIVELY, a cONVENIENCE's collection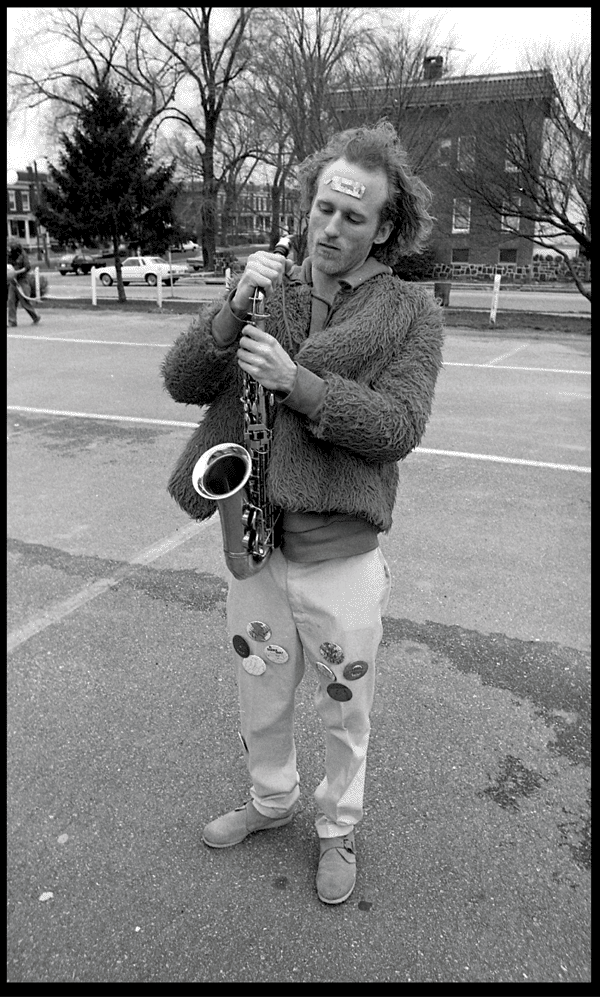 tENT in 1980 in Baltimore
tENTATIVELY, a cONVENIENCE has been pursuing creative music and sound art for most of his life, self-releasing recordings on his Widemouth Tapes label since 1979. He is an accomplished pianist, composer, instrument builder, and polymath. Pittsburghers may have caught his frenzied sound-games with HiTEC (Histrionic Thought Experiment Cooperative), his colorful work with Syrinx Ensemble (with Michael Pestel, Ben Opie and Anthony Braxton), or his recent Church of the Subgenius devival performance. He is also an obsessive listener and collector of musical recordings, maintaining a running list of all 2,313 LPs that have been a part of his collection since 1967.
Since Crucible Sound #4 is more or less a celebration of tENT's monthly mm ("music meeting") record-listening events (as well as a release party for his "MM 26" compilation), I thought it would be interesting to have him list some of his favorite recordings of improvised music. Of course, being the d-composer that he is, he decided to...decompose the assignment a bit.
Anthony asked me for a list of "5-10 of your all-time favorite recordings of (fully or partially) improvised music" but given that I've listened to thousands of recordings of many different types of music I've decided to just list 10 of my favorite records acquired from 1968 to 1974 in order to dramatically narrow down the field. Even this list is highly suspect - there's just too much left off it.
-tENTATIVELY, a cONVENIENCE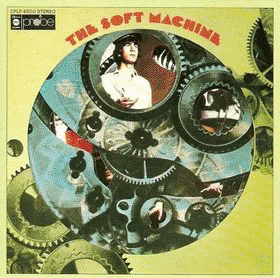 "The Soft Machine"
1st heard this on the radio, shockingly enuf, when I was 15. Still love it to this day & often listen to Soft Machine when I'm driving long distance even tho I rarely listen to them otherwise. Wyatt's drumming was amazingly subtle & precise. Always loved Ratledge's keyboard phrasing & was reassured about my own horrible left-hand technique when I saw him live & realized his was even worse than mine. Think this is even more important than Miles Davis' much touted "electric period".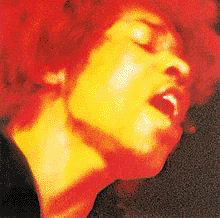 "Electric Ladyland" - The Jimi Hendrix Experience
What can I say? This is one instance where I'm happy to agree w/ a large group of people. This is rock music mixed w/ musique concrete at its best.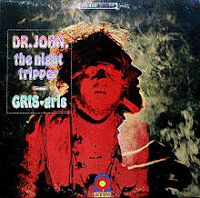 "Gris Gris" - Dr. John the Night Tripper
Dr. John's 1st 4 'gris-gris' records still stick out like a very healthy thumb. Amazingly original stuff yet still completely rooted in New Orleans.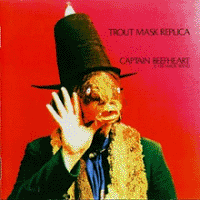 "Trout Mask Replica" - Captain Beefheart and his Magic Band
Not surprisingly, I 'grew up on' rock music but always sought out the most original material. Even tho this is steeped in blues influences & uses mostly conventional rock instrumentation it's rhythmically & timbrally exceptionally rich (as is the Dr. John). Not to mention the lyrics.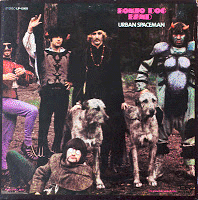 "Urban Spaceman" - Bonzo Dog Band
I generally find 'art school bands' to be musically shallow but Bonzo Dog Band took it to a level that I don't think anyone has ever even come close to since. The music's great, the instrument inventing was great, the songs were great, the humor was great, it's all great. "My Pink Half of the Drainpipe" & "11 Moustachioed Daughters" rank w/ Hendrix's "If 6 were 9" as all- time freak-flag burners.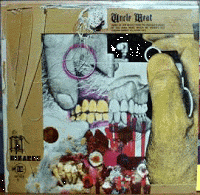 "Uncle Meat" - The Mothers of Invention
Frank Zappa must've been thinking 48 hrs a day when he made this one. This version of the Mothers of Invention was always my favorite - despite Zappa's complaining that in the early days of it he had to do most of the work. Hearing The Grandmothers live 30 yrs or so later w/ Jimmy Carl Black, Don Preston, & Bunk Gardner was the best rock show I've ever witnessed - & it was in one of Pittsburgh's shittiest rock bars w/ one extremely drunk guy screaming so loud most of the time it was hard to ignore him.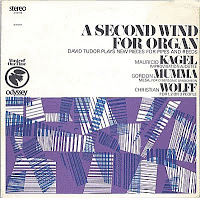 "A Second Wind for Organ" - Kagel, Mumma, Wolff - David Tudor
Mauricio Kagel & Christian Wolff being 2 of my favorite composers w/ Gordon Mumma being always pretty interesting too & then having my favorite avant garde keyboardist performing their work on instruments he's not usually associated w/ and THEN having the work itself be so totally fresh & new made this a mind-boggling experience for me. The almost total lack of conventional musical 'qualities' (read LIMITATIONS) has never ceased to inspire me.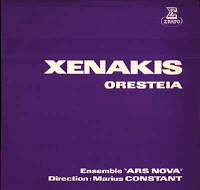 "Oresteia" - Iannis Xenakis - Ars Nova
Possibly my favorite Xenakis piece. Xenakis never did anything by halves & this piece seems to've been an outgrowth of his deep research into ancient music. Whatever the case, its sense of profundity convinces me - even tho I'm not even particularly interested in ancient Greek myth. The Lion's Roar particularly impressed me.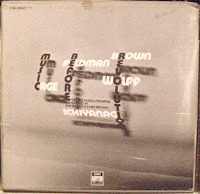 "Music Before Revolution" - Brown, Cage, Feldman, Ichiyanagi, Wolff
Possibly my favorite collection of recordings of all time. 5 of my favorite composers, all incredibly strong original work. I will NEVER get tired of this. NO MUSIC HAS EVER RESONATED W/ ME SO DEEPLY. Maybe that explains why I seem to be so incomprehensible to most people, eh?!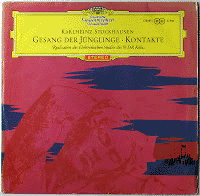 "Gesang der Jünglinge/Kontakte" - Stockhausen
One of the 1st 'pure' electronic music records I ever heard. Stockhausen, like most or all of the above, put an extraordinary amt of meticulous work into this. It shows. For me, most great music (or great whatever) has so much of its creator poured into it that no-one can really imitate it successfully. Thank the holy ceiling light he was so prolific.
Monday, August 5, 2013
Interview with tENTATIVELY, a cONVENIENCE - Part 1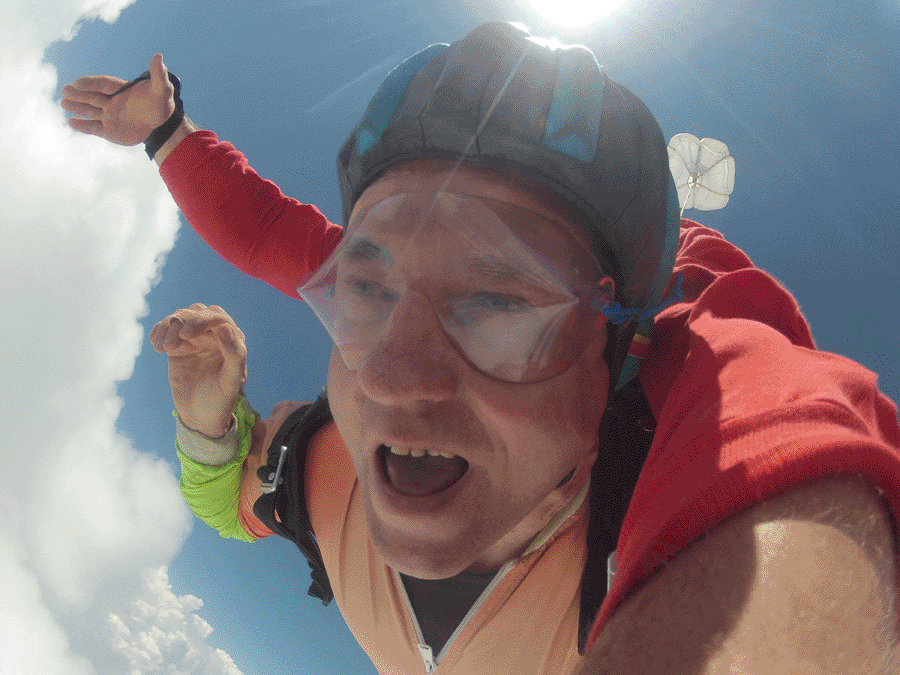 tENTATIVELY, a cONVENIENCE shouting "alanyl" while skydiving as part of his "Titin (The Chemistry Between Us - Love Letter for E)" project - July 18, 2013. Photo: Cush
In addition to participating in Crucible Sound #4, releasing the "MM 26" compilation, and providing a list of his favorite recordings, tENTATIVELY, a cONVENIENCE also recently sat down for an interview. We talked at length about graphic scores, structured vs. free improvisation, the longest word in the English language, invented instruments, and so much more that I had to break it into two parts. Here's part one.
I know you're a big fan of John Cage's work, and he was famously against the idea of improvisation because it's so much about the decisions of the performer and their taste, but at the same time he created many graphic scores which have space built into them for the performers to make decisions. I'm interested in what you make of this.
There it becomes an issue of the language. If a person is reacting to a graphic score that's not through-notated, the performance is often referred to as a "realization" in avant garde classical circles. The implication is still that the score is a directing factor, regardless of whether it seems to be completely non-specific in conventional terms (I think Cage even has a piece called "Improvisation" if I remember correctly1. I think I may even have a recording of it).
I always make the distinction between free improvisation and structured improvisation, which is a completely straightforward distinction in my opinion. In free improvisation, people are supposed to be coming up with something completely new that's structured/based on/informed by, as little as possible, their previous playing habits and so forth. As I've often said (maybe too often), that's turned into a style that doesn't live up to those expectations anymore. It's generally a style that's based around the micro, the sort of fast, often virtuosic, miniature interaction, without any willingness to go into concepts of larger form, except for forms like what Jack Wright was a big proponent of-and Jack Wright is certainly a great improviser-which are forms of "duet now, trio here, different duets" and so forth and so on, which I'm not necessarily opposed to, but I think that there are a zillion other forms that one can use that are just as interesting, if not more so, for making things lively that don't inhibit the gist of what I, at least, want to get out of improvisation, which is: the ability to be spontaneous and fresh. For me personally, I actually like structured improvisation a lot better. I think it's more likely to stimulate me into doing things I wouldn't do otherwise.
But back to the whole thing about John Cage, there are so many different ways that people use the term "improvisation," like some people who are less familiar with its most common usage amongst improvisers might say something like "well what key are we going to play in?" And then a more seasoned improviser might say, "well we aren't using keys, we're just playing" but there's all of this baggage that's related to improvisation that's connected to jazz for example where people consider jazz to be an improvisatory musical form, but then other people might say "but there's a theme, which is the head, and then there's a series of hierarchical solos based around that theme, and then there's the return to the theme, the recapitulation, the tail. That's really not that improvisatory. It's often very based around licks that the players have played over and over. I love Eric Dolphy, for example. He's an incredible musician. But I've heard multiple performances of the same pieces where the solos are almost identical. They're great solos, but they're still almost identical. So is that improvisation?
I think Cage's disdain for improvisation is a disdain for taste in the sense that he was always oriented around trying to get people to bypass their biases in favor of experiencing something that's determined by something that he built into the score using so-called chance methods and so forth. His disdain for the term "improvisation" was probably a disdain for the sense of improvisation as a person exploring their tastes in a particular situation. That's what he was trying to get them to not do. But then there are other people who would use the term "improvisation" and say that, for example, a graphic score or one that's based on the imperfections in paper et cetera is just a structured improvisation and it's still an improvisation. I don't really care in a sense that much about the terminology. I actually like the term "realization" a lot, but I would call many of Cage's pieces structured improvisations, independent of whether he likes that term or not.
I wanted to ask you about HiTEC because you said something about getting people to do things they wouldn't normally do. It seems like that was one of the aims of that long-running project.
Prior to HiTEC, in the 90s, in Baltimore and then in Berlin, I had a project called The Official Project, which was co-founded with instrument inventor Neil Feather, who has always been one of my favorite collaborators. And The Official Project used what was called CAMUs - Cue-Activated Modular Units - which were systems of playing that could be activated by using specific cues by any of the players under a detailed set of guidelines. Most of those, if not all of those, were specifying particular physical actions, rhythmic things, ways of interrelating, and so forth. That was great, and I really enjoyed that project a lot. At its peak, there were 17 people in that group. So when I founded HiTEC, I didn't want to just repeat that process. I wanted to see whether I could go to a new level of conceptualization and not specify physical actions at all.
HiTEC stood for: Histrionic Thought Experiment Cooperative, and the idea really was to try to have a group of people mentally conducting thought experiments which would manifest itself in sound or motion without there having to be specific things that the person had to do, other than concentrate on the thought experiment. Now it wasn't 100% like that, but there were things like Avicenna's Floating Systems Manager, which is the one where the performer, the HiTEC Systems Manager as I preferred to call them, had to imagine themselves as being a soul without a body and then act accordingly. Or there was the Brain in the Vat, which was the one where - and these are both sort of classic thought experiments - where you imagine that you are a brain in a vat that's being electrically stimulated to think that you're having these physical experiences, that you have this history, and so forth and so on, which may not be true, and then to again act accordingly. I thought those were really interesting. I thought they were huge challenges for people to try to realize. Think about the Avicenna's Floating Systems Manager thing. If you're thinking that you have no body in that instance, that you're just a soul, then how are you going to be creating something with sound, which is a physical phenomenon? It's immediately created a conundrum, which for the most part probably resulted in silly things happening or whatever, but still they were silly things that were being squeezed out of this conceptual dilemma.
I forget how many people "passed through" HiTEC in a sense. I think it might have been over 40, but the most people that were ever in a performance was 21 people. And I think that probably at least half of the people just thought "oh well I can just do whatever I want to" which is definitely not the idea that I had in mind. That's actually not my primary interest. I really wanted people to be challenged and try to take it seriously, which Cage wanted too. He wanted people to take him seriously. I've heard stories through Ben Opie of let's say a tuba player in an orchestra just playing some cartoon theme song as part of a Cage piece in a way that was meant to be deliberately disrespectful, as an insult to say "this is just buffoonish bullshit" or whatever. I can't say that HiTEC was 100% successful because some of the people never got the idea that it wasn't just free improv for the sake of making weird noises, as some of the people have actually said.
But for me personally, it was a great experience, and I do think a lot of the recordings are very interesting to listen to. I remember Roger Dannenberg, who's a great trumpet player and very intelligent guy, and who's played as part of the Crucible Sound series, saying he was listening to one of the HiTEC CDs in his car, and he was just saying something like "you can't really tell which piece it is that you're listening to because there's no specific melody." And I thought that's true in that sense, but actually if you listen to them in the same way that you try to perform them, you can actually figure out which piece it is that you're listening to. For some it's much easier than others. That's an interesting aspect of it for me. If I'm listening to a HiTEC recording, I try to think "Is this 'Brain in the Vat?'" I can usually, not so much now but more when I was immersed in the thing, I pretty much knew which piece was which every time I listened to them. I could always figure it out. So there were things that one could hear that weren't as easily pin-pointable as a rhythm or a melody. And I am very preoccupied with this whole thing of getting people to do things that they wouldn't normally do, especially myself. And I don't mean things like getting people to chop someone's head off or whatever. Something that expands their brain outside of their most banal habits.
So for example, I've been making all these keyboard scores which are mapped in a 1-to-1 relationship with a keyboard, which you put over the keyboard and then you refer to it as a chart. In the case of this one, this is the score for "Titin," where I took the full name of Titin - it's 189, 824 letters long, which is 5 letters longer than what it says on the internet, but I have corrected it. I found 5 typos in the word and I corrected it. I'm very proud of that! - and because I've analyzed the word to an extreme. There are 23 repeating chemical components in the name. I took those 23 components, I counted how many times each of them occurred within Titin total, and I used that as a partial structuring for this score. A part of the way the score is set up is to get the player at the keyboard to play in the lower register, in the upper register, and almost not at all in the middle register. It's also designed so that there are no repeating scales from octave to octave. The structure as it goes through the octaves is a larger arch, and there is a structure as far as spaces between pitches goes etc. When one is playing it, if you're using an electronic keyboard to trigger samples, it doesn't even matter whether they are pitches or not. What matters are just the keydown commands. So the process of playing that has been very interesting to me.

"Titin," score for 61 key keyboard
I know next to nothing about chemistry or how chemical names are structured. The full name of Titin begins:
"Methionylthreonylthreonylglutaminylarginyltyrosylglutamylserylleucylphenylalanylalanylglutaminylleucyllysylglutamylarginyllysylglutamylglycylalanylphenylalanylvalylprolylphenylalanylvalylthreonylleucylglycylaspartylprolylglycylisoleucylglutamylglutaminylserylleucyllysylisoleucylaspartylthreonylleucylisoleucylglutamylalanylglycylalanylaspartylalanylleucylglutamylleucylglycylisoleucylprolylphenylalanylserylaspartyl"
which can be broken into:
methionyl
threonyl
threonyl
glutaminyl
arginyl
tyrosyl
glutamyl
seryl
leucyl
phenyl
alanyl
alanyl
glutaminyl
leucyl
lysyl
glutamyl
arginyl
lysyl
glutamyl
glycyl
alanyl
phenyl
alanyl
valyl
prolyl
phenyl
alanyl
valyl
threonyl
leucyl
glycyl
aspartyl
prolyl
glycyl
isoleucyl
glutamyl
glutaminyl
seryl
leucyl
lysyl
isoleucyl
aspartyl
threonyl
leucyl
isoleucyl
glutamyl
alanyl
glycyl
alanyl
aspartyl
alanyl
leucyl
glutamyl
leucyl
glycyl
isoleucyl
prolyl
phenyl
alanyl
seryl
aspartyl
which I interpret as being a list of the components of Titin in a meaningful sequence. SO, that stimulates me to imagine various things:
What if other things were to have 'names' that consisted of list descriptions? For example: steps-door-doorknob-floor-lightswitch-picture-lightswitch-steps-airconditioner-bed-computer-internet-email as the word meaning WhoUnit?SubRoutine or some such. Of course, that's a short example. I'd like to write an entire descriptive book as one word following the cue of chemical names.
The score for the sound version of "Titin" has the component names assigned to specific keys, by which I don't mean scales and I do mean the physical objects one presses on to play the instrument, and minimal rules for frequency of playing those keys, based on the frequency that those components appear in the actual protein. What I imagine (and I admit that this is somewhat fanciful given my lack of chemical knowledge) is that every time the piece is played, it's 'writing' the name of a chemical compound-probably one that doesn't already exist.
EG: in the version "for 88 key piano" a player begins with:
C#6, A#0, A#0, G6, C7, G7, C8, C4, A#4, A#4, C4, A#0, A#0, A0, B0, C1, F#5..
That translates into:
methionyl-alanyl-alanyl-phenyl-prolyl-seryl-thereonyl-varyl-isoleucyl-leucyl-leucyl-isoleucyl-alanyl-alanyl-acetyl-arginyl-asparaginyl-lysyl
...which may be the beginning of an actual or an imaginary chemical name. This fascinates me as a mad scientist approach to creation.
(To be continued in Part 2)
1. Cage has multiple pieces with the term "improvisation" in the title: "Child of Tree (Improvisation I)" for amplified plant materials (1975), "Inlets (Improvisation II)" for conch shells, water, & tape (1977), "Improvisation No. 3" for 4 tape players (1980), "Improvisation No. 4" for variable speed tape players (1983), "Improvisation" for ensemble (1984), and "Three Composed Improvisations" for drums or bass guitar (1987), according to Josh Ronsen's now-defunct "John Cage List of Works" website.
For more information:
http://idioideo.pleintekst.nl/
http://www.youtube.com/user/onesownthoughts
Wednesday, August 21, 2013
Interview with tENTATIVELY, a cONVENIENCE - Part 2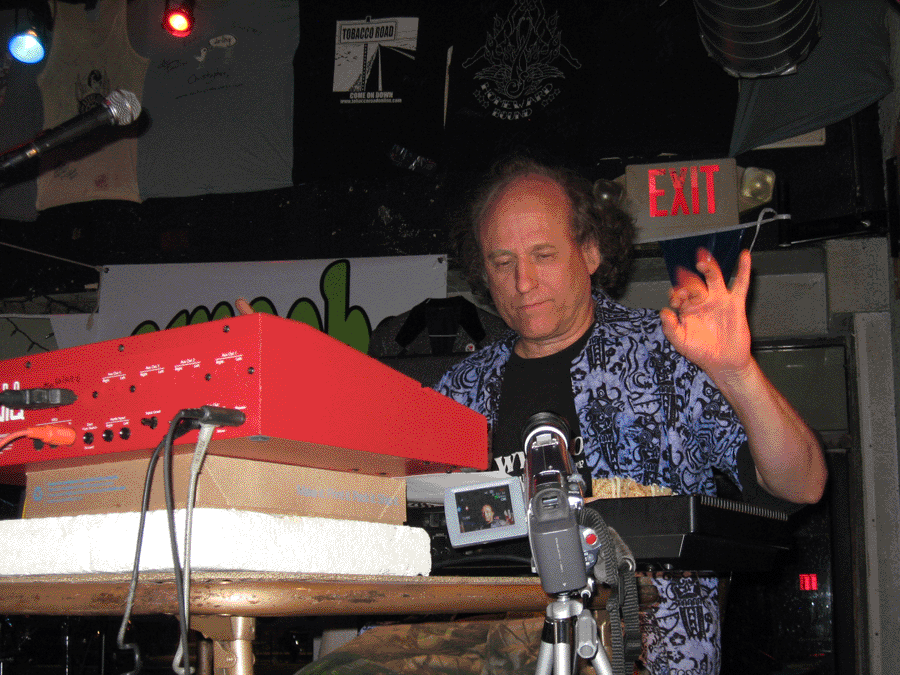 tENTATIVELY, a cONVENIENCE performing his "Banned Names" at Howlers on June 22, 2013 as part of the Tommy Amoeba Birthday Party / Church of the SubGenius Devival. Photo: Rev Ivan Stang
Here's part two of my interview with "MM 26" mastermind and Crucible Sound #4 participant, tENTATIVELY, a cONVENIENCE (and here's a link to part one in case you missed it).
One of the things that's really striking to me about your work is this willingness to engage with an absurd level of detail and complexity. And of course that absurdity kind of lies on the surface for those that won't engage in that level of detail. You mentioned silliness earlier, and I know that there's almost a prankster element to a lot of things, at least on the surface of them, that you've done in the past. One thing that turns a lot of people off about "serious music," and especially "serious improvised music," is the self-seriousness of it. I don't find that to be the case with your work. While it is very serious work, and requires an immense amount of dedication and virtuosity to be able to accomplish these things, there is still the presence of that kind of absurdity. Can you talk about why that matters to you or why that's interesting to you?
Actually you've hit on a very key point, and I appreciate that. That's a great question becausewell first, I'd like to bring up Mauricio Kagel, another one of my favorite composers. There's a composer who has a great sense of humor. I don't know if you've ever checked out his movies, but they're just genius from my perspective. They're very very funny, they're musically extremely interesting, they're virtuosic, and they're extremely inspired. There's no good reason from my perspective why inspiration has to be serious, except that a lot of the time, people are afraid to be anything other than serious. Because if they want to be taken seriously in the classical music world, for example, where I am definitely not, then they generally have to present themselves as serious. If you present yourself as being a prankster, then you're not going to be put on a level with Beethoven or whateverwhich is understandable to a certain extent. But I prefer Kagel over Beethoven for example, although Beethoven is great too, I've developed an appreciation for Beethoven in recent years.
One example that I always bring up about the importance of absurdity, or just humor, in my life is that I dated a girl in 1984 who was partially blind as a result of diabetes. We did this piece where I was her seeing-eye dog. I crawled around on all fours with a dog mask on, and with a leash, and was her seeing-eye dog in England. That was certainly absurd from most people's perspectives, including my own. But the thing was that we were trying to make light of her losing her eyesight. She wasn't born blind. To me, of course, that's a horrible thing, to lose your eyesight, or to be maimed in any way is a horrible thing, very hard to deal with. I'm not sure I could deal with it. But if you are going to deal with it, it would probably help enormously to have a sense of humor about it, so you can turn it on its head, essentially. And that's what I think a lot of absurdity does - it turns things on their head so that you can have a new relationship to them. And that's useful not just for dealing with hardship. It's useful for just having a fresh perspective on anything. People get into a rut of being unable to think about things from multiple angles. Absurdity just blows that out of the water. So I almost feel in a way that if things aren't absurd that they're not being twisted around in enough angles for a person to be experiencing them fully.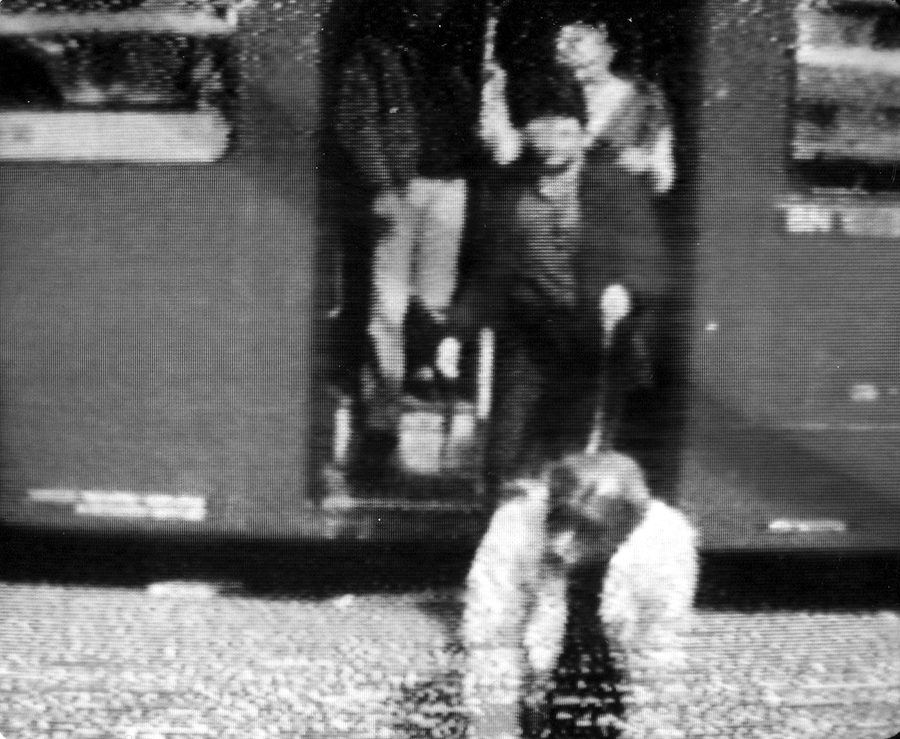 The original super-8 film of tENT's "Neoist Guide Dog" participation in the 8th International Neoist Apartment Festival in London in 1984 as shot by Pete Horobin. Made in conjunction w/ Gail Litfin.
One thing that you were describing to me was a concept for a kind of absurd homemade instrument that you were preparing for Crucible Sound #4. Can you talk a little bit about that and where the idea came from?
Thirty years ago, I made a drawing. It's a life-sized drawing, or maybe even a little bit larger than life-sized, taken from an acupuncture book. It's a front and back chart of a gender-neutral, or at least male-looking but penis-less, figure with the acupuncture lines on it and some notations about specific areas of the body or whatever. And I was participating in the 6th International Neoist Apartment Festival in 1983 in Montreal. I took this chart with me. I hung it up on a wall. I had friends who were doing these blowdart performances at the time. They had turned me on to using just a glass tube with a nail with a cigarette filter on it as a dart. So I gave this speech as a part of this festival where I explained that if you were being approached by someone on the streets who was perhaps going to attack you, you could use this blowdart to assess what their problems were and administer acupuncture at a safe distance in order to try to protect yourself. And then in the case of this chart, since it looks like a guy but it's missing its penis, my appraisal of his problem was that he was born without a dick so I decided to blow the blowdart into the penis area in order to give him a dick in the form of the blowdart, in order to solve his problems so that he wouldn't attack. That was the basic text of the whole thing. I used that drawing, which is quite a nice big drawing - I mean it's not anything fantastic from a draftsman's perspective, but it's an accurate rendering - I used that drawing for that performance once, and then I never did it again because I had the philosophy of only do a performance once in order to try to keep yourself fresh, on your toes, do something completely different the next time you do something. But I've had this drawing, I've literally been carrying it around for thirty years, and I was thinking it would be fun to do something with it again.
So I am currently building a frame so that I can have it be free-standing, rather than attached to a wall. And I have ten contact mics. I'm thinking of taping these ten contact mics to specific points on the body from the back. And then playing the paper to activate the contact mics, which will then do various possible things, but will somehow go through a sound system. Now a part of the idea is to take a portable PA and move it around in front of the acupuncture chart so that there's feedback between the contact mics and the speakers. And then try to get that to vibrate the paper, which then becomes a form of absurdist biofeedback, a faux medical procedure. In a sense it's still a reference back to the original blowdart performance - "Acupuncture &/or Ear-PIercing," as i think that original performance was called.
Since I haven't gotten to the point of making this or even trying it out, I don't really know how well it's going to work, how much I can get the paper to vibrate in the ways that I'm imagining it to do, etc. So if I don't get it to work in that way, an alternative is just to have the contact mics going to a pitch-to-MIDI converter which then goes to my other electronics - a sampler and a wave-table synthesizer, most likely, and then just have the playing of the chart trigger these sounds. I'll try the feedback thing because I like the directness of the relationship between the objectIt's mainly something that I think is going to be fun to interact with on a visual level because the figures on the acupuncture chart are the same size as me, so it's something I can fuck around with maybe using percussion instruments. I just bought some brushes, which I've never had before. It's a standard percussion tool, but they're pretty much fun to play around with. And playing with the paper might be fun. So that's basically it, but it remains to be seen whether I have it built in the next week, whether I have it working the way I imagine it, or whether it's a total flop.
At the first Crucible Sound, Ben Grubb brought some homemade instruments, Margaret Cox was playing lots of things she made herself, and Kenny Haney was playing some homemade electronics. So it seems like it's something that people are naturally bringing to this type of event. And I wonder what it is about homemade instruments that you feel drawn to?
The obvious thing, to refer back to what I was saying about free improvisation earlier, is that if you want to try to do something fresh, it helps to even get away from pre-existing instruments. I play a lot of pre-existing instruments, but as our mutual friend Unfinished Symphonies and I have talked about (he plays guitar, keyboard, percussion, etc.), he says that it's typical for a guitarist to just get into these grooves of different things they practice all the time, and they get good at doing them. 40 years ago I had gotten to the point where I was practicing a fair amount and trying out different types of scales, not just major/minor, whatever I could come up with, and I've experimented with tunings, and so on. But still there's a tendency towards muscle memory. To move one's left hand, in my case, to fret, up and down the neck in various ways, etc. But if I had something that I'd made new that presented me with a different set of rules, then I would have to come up with a different way of playing it. And then of course the hope is that it would sound dramatically different from pre-existing instruments too.
I've played with a fair amount of people that make their own instruments, Neil Feather certainly being the most accomplished of all these people, and I like Neil's instruments a lot. But there's also a tendency with people who make instruments to make them in a sense within the pre-existing families of instruments: stringed, wind, or percussion. My proposed acupuncture chart doesn't really quite get away from that. But it gets away from it more than if I were using a stringed instrument. Now I liked Ben Grubb's thing that he did with the stringed instrument, but it was still basically a slide guitar, by his own admission if I remember correctly. I don't say that as a criticism, because it's still a great thing that he did and that was a beautiful night, I loved that night, but I am much less interested in making a stringed instrument than I am in trying to make something new.
When I was a teenager I did a drawing that was maybe 1970 or so, that was of a guy playing an instrument that I imagined I someday would build. And the instrument was a sort of square with holes in it, like a 4'x4'x1/2" piece of wood or whatever with holes in it, with harmonica reeds or various things that could be activated by wind that would be located over the holes. And on the other side of it the player would do something like run a vacuum cleaner set to going out along it by sort of wiggling along the holes in a squiggly fashion or whatever so that the conventional playing procedure for activating those devices would be somewhat bypassed because the player would be concentrating more on the motion that they'd be making over the holes with the pneumatic tube than they would be in trying to play specific notes. That's probably not even a good description of what the drawing represented, because I did it at least 42 years ago. But I remember it being something like that. So even at that time I had the idea of trying to bypass normal instrument technique for the sake of producing a different sound collage, what I've been calling "concrete mixing" for the last 30 years maybe.
That was one of the things that I really enjoyed about that first Crucible Sound was that I remember Margaret mic'd herself chewing into an apple. Of course I love things like that. And once again, Cage can be referred back to because he was one of the pioneers of doing that mic'ing of small sounds and bringing them to the forefrontnot to concentrate entirely on Cage since there are a zillion other interesting people out there, but since we started off with him. I mean, I love Xenakis too
Stockhausen with "Mikrophonie"...
Yeah that's an incredible piece, that's really one of the most beautiful things I've heard in my life.
Last question: one of the goals of Crucible Sound is to cause unexpected music to happen. What do you think are the factors which cause unexpected music to happen?
Well, everything that we've already been talking about, especially a willingness to have that happen with the players. There's been one tendency in free improvisation that's maybe a minor tendency, and I'm really out of touch with a lot of free improvising so I can't say what trends are happening these days, but to do things like deliberately play instruments that you can't play, that you're really bad at. Now in a sense that doesn't create an unexpected thing because the result generally is that, if you've never played a trumpet or an oboe before, and you try to play it, you're going to end up with a squeak or whatever and very little else.
Last night when Elisa and I were doing Titin for the fourth part of the movie version of Titin, I set up my electronics for her, which she doesn't play, and had her sit down at those. I explained some of the parameters of some of the things that she could do, and then I did the piano part. Prior to that, she'd done the piano part and I'd done the electronics part, so for her it was like being put into a very sophisticated playpen and then seeing what would happen. Because she's a very intelligent person who's open-minded and has skills and the ability to focus, etc., she plunged right into it with a serious classical musician's dedication, and I was listening to her playing and things were coming out of there that I wouldn't have necessarily expected that I really liked a lot. And she wasn't even sure how she was doing it, and I wasn't sure how she was doing it, and it wasn't necessarily earth-shattering. It wasn't like suddenly the voice of the devil came and spoke to us. It was more a matter of "oh, that's really nice, what is that?" Some clicking thing that had come into it but that I really really liked, especially just because I wasn't expecting that at all.
I usually put an extreme amount of work into creating samples. I used to put an extreme amount of work into programming other electronic devices, but now I'm pretty much focused on the sampler, and one of the things that I do is make it so complicated that, even though I have a pretty good memory for things and I create these scores for myself that I can consult as charts, it's unlikely that I could stay completely on top of all of the possibilities that I've created for what happens when these samples are played. So then, the fun part of it for me is to plunge into it and start playing them and then suddenly have something there that I really wasn't expecting and to try to magnify that moment and luxuriate in it.
But of course, we could be much more far-reaching here and say "well if you really want to make unexpected music, be drugged unconscious, have a blindfold put on you, and be left in a mine somewhere," or whatever, I don't know. Don't follow that example, people who are reading this! Do not follow that example! The point is that I've often made a point of criticizing both myself and others for thinking that we're really going all the way with things when we're really not going all the way at all.
I've had a preoccupation in my life with psychopaths, for example. I consider myself to be a psychopathfinder. I often have thought in conversations, in bars for example, that if there were a psychopath listening, what the person conversing was saying might really get them into trouble. Because the psychopath might take it seriously and take it to the level where one's physical well-being is not taken into consideration as a factor at all. I'm not condoning this, mind you. That's not the idea at all. I have strong feelings about actually working for the common happiness among people. But the point is more that people should be careful about the language that they use because in a way sometimes you get more than what you are actually wishing for. For example, if I were to show up at ModernFormations, and everybody were in there, and I had a wrecking ball outside, and I brought that wrecking ball into the front of the building, that would be really unexpected. Somebody might get killed. My examples all must seem so draconian, and I really don't mean it that way
There's a famous Hanatarashi performance where they did exactly that. They got all the people gathered in the space and Eye came in and just started destroying the building with people inside of it.
That's interesting. I'm not familiar with that at all. The thing is, I don't think everything needs to be so violent. The violent examples are good for dramatic purposes, but I'm just using them for dramatic purposes. I would never want to put a wrecking ball through a building with people inside. I wouldn't want people to get hurt. That's not the point. I'm just trying to make a graphic example. My point is more like sometimes people want things to be unexpected, but they want them to be within certain parameters that are not always conducive to unexpectedness. So to use less dramatic examples, at the upcoming "MM 26" release event, our friends will all be playing instruments that they're familiar with, and that they're virtuosic at, and we may bring some unexpected things out of those combinations etc., largely as a result of your structuring of having it be people who haven't played together before. And I'll no doubt enjoy that thoroughly. But if we really wanted to be unexpected, we would not use instruments at all. We would not even necessarily know who was going to be there. We might all try to do something that would completely surprise everyone else, like show up, again I'm trying to use non-dramatic examples, something that isn't destructive for a change, and say something like cater the meal with an 8-course catering with some 200-year old bottle of incredible wine or whatever. That would be totally unexpected! I would enjoy it, I'm sure. Or someone could just sell stock in their latest enterprise or whatever. Or they could give free legal advice. There are all sorts of things that could happen that would be unexpected. I don't think that we're going to go there.
The point is unexpected music...
But then there's the whole expanded definition of what constitutes music or sound or anything else. Fluxus, which I love, certainly succeeded in expanding those notions. George Brecht's pieces for polishing a violin...there's a lot of genius along those lines. Really, while we're hoping that something unexpected comes out of it, we're also people who actually just love music and who want to create what we feel is great music. I think for me personally, I'm hoping to get more than that out of it, in a sense. I really like the CD, I think it's great music, and I would wish that other people would like the CD and think it's great music. I would be happy if we felt that we'd succeeded along those lines.
For more information:
http://idioideo.pleintekst.nl/
http://www.youtube.com/user/onesownthoughts

idioideo at verizon dot net
to the tENTATIVELY, a cONVENIENCE as Interviewer page
to the tENTATIVELY, a cONVENIENCE as Interviewee page
to the tENTATIVELY, a cONVENIENCE movie-making "Press: Criticism, Interviews, Reviews" home-page
to the "tENTATIVELY, a cONVENIENCE - Sprocket Scientist" home-page
to the "FLICKER" home-page for the alternative cinematic experience
to find out more about why the S.P.C.S.M.E.F. (Society for the Prevention of Cruelty to Sea Monkeys by Experimental Filmmakers) is so important
for A Mere Outline for One Aspect of a Book on Mystery Catalysts, Guerrilla Playfare, booed usic, Mad Scientist Didactions, Acts of As-Beenism, So-Called Whatevers, Psychopathfinding, Uncerts, Air Dressing, Practicing Promotextuality, Imp Activism, etc..
for info on tENTATIVELY, a cONVENIENCE's tape/CD publishing label: WIdémoUTH
to see an underdeveloped site re the N.A.A.M.C.P. (National Association for the Advancement of Multi-Colored Peoples)