1987.09 Four Ultimatum II festival participants interviewed on the radio in Montréal
Click on the above link to download the interview as an audio file.
[interviewee's note: I've uploaded almost all of the audio recordings I have in my archive of my radio appearances to the Internet Archive. Many of these have interviews w/ me. In this case, the people interviewed are 4 participants in Alan Lord's "Ultimatum II" performance festival in Montréal in September, 1987. This was a great, & very ambitious, festival marred, alas, by many or most of the participants not getting paid. Nonetheless, my "Generic As-Beenism" was well-received & it was one of the few times when I felt that a performance of mine was 'popular' (despite one of the staff members trying to stop the performance by throwing away the slides for it). The participants in order of appearance are: Jean-Luc Bonspiel, Gordon W. Zealot, myself, & Jack Five - September 4, 2014 notes from tENTATIVELY, a cONVENIENCE]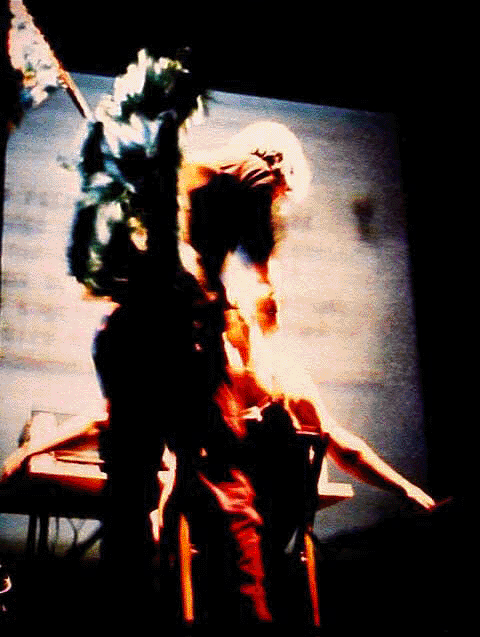 Laura Trussell wearing the motorized wings while revealing tENTATIVELY, a cONVENIENCE's new 3D brain tattoo simultaneously with triple projections as part of "Generic As-Beenism" performed Sunday, September 13, 1987 as part of Ultimatum II
idioideo at verizon dot net
to the tENTATIVELY, a cONVENIENCE as Interviewee page
to the tENTATIVELY, a cONVENIENCE as Interviewer index
to the tENTATIVELY, a cONVENIENCE movie-making "Press: Criticism, Interviews, Reviews" home-page
to the "tENTATIVELY, a cONVENIENCE - Sprocket Scientist" home-page
to the "FLICKER" home-page for the alternative cinematic experience
to find out more about why the S.P.C.S.M.E.F. (Society for the Prevention of Cruelty to Sea Monkeys by Experimental Filmmakers) is so important
for A Mere Outline for One Aspect of a Book on Mystery Catalysts, Guerrilla Playfare, booed usic, Mad Scientist Didactions, Acts of As-Beenism, So-Called Whatevers, Psychopathfinding, Uncerts, Air Dressing, Practicing Promotextuality, Imp Activism, etc..
for info on tENTATIVELY, a cONVENIENCE's tape/CD publishing label: WIdémoUTH
to see an underdeveloped site re the N.A.A.M.C.P. (National Association for the Advancement of Multi-Colored Peoples)