1984.12 Open Pop Star - Würzburg - Peter Below
On the 25th of March, 1984, Peter Below, who had hosted the Neoist Training Camp in Würzburg, West Germany, in 1982, wrote an open letter to Monty Cantsin (Istvan Kantor) & the Neoists, etc, criticizing Istvan for his "leadership attitudes" & for putting "other people in charge of your self promotion. A real egomaniac project, as it looks to me".
Below's criticisms were accurate from many of our perspectives. This was before the 8th International Neoist Apartment Festival in London, which was headquarted at a house where Reinhardt U. Sevöl had lived. Reinhardt had been one of the early Montréal-based Neoists before he moved to London (&, perhaps, other places too) in 1980-ish. Reinhardt moved to Paris in 1984 before APT 8 started & was, perhaps, the 1st of the Neoists-turned-Anti-Neoists. He was disgusted by Istvan.
It wasn't long before Stewart Home, who didn't meet or know of Monty/Istvan & Neoism until APT 8, was also angry with Monty/Istvan for the same reasons. Istvan was megalomaniacally trying to use Stewart for free self-promotion.
It's only fair to point out that Istvan was not the only egomaniac involved in Neoism. One of the reaons why Stewart was so quickly at odds with him was because he, too, was an egomaniac, but, perhaps, not quite so megalomaniacal. As Stewart wrote in the introduction to the 1st issue of SMILE:
"HELLO AND WELCOME TO SMILE THE OFFICIAL ORGAN OF THE GENERATION POSITIVE. THIS MAGNIFICENT NEW ARTISTIC MOVEMENT IS SO AVANT-GARDE THAT AT PRESENT IT ONLY HAS ONE MEMBER, MYSELF. CONSEQUENTLY THIS FIRST ISSUE CONSISTS SOLELY OF MY OWN WORK."
Obviously, Stewart also had a sense of humor about it all. His next 2 paragraphs are particularly interesting to me:
"THE BASIC TENETS OF THE GENERATION POSITIVE CAN BE SUMMED UP IN THE TWO WORDS "POSITIVE PLAGIARISM".
"CONSEQUENTLY I ENCOURAGE ALL READERS TO GET THE WORK CONTAINED IN THIS ISSUE PUBLISHED AGAIN UNDER THEIR OWN NAME."
Up to this point anything done in the name of Monty Cantsin was likely to be added to the glory of the main person known by that name, Istvan Kantor. Similarly, anything done in the name of Neoism was likely to glorify the power of Neoism's self-appointed leader, Istvan Kantor.
Contrarily, Stewart's approach was more likely to obscure his existence while increasing the distribution of his words - which he may've actually copied from someone else to begin with.
Both approachs might yield greater exposure for their proponents but were laden with deliberately built-in self-defeating mechanisms hypothetically good for some greater group identity. How much this frustrated individual egos while not necessarily helping the group is ripe for examination.
After APT 8, thanks largely to Stewart's emphasis on SMILE as an open context, "Monty Cantsin" as an open context was given fresh emphasis. Despite Monty Cantsin's being a Open Pop Star, from 1978 when David Zack dubbed Istvan Kantor "Monty Cantsin" until 1982, when I publicly took on the name Monty Cantsin at the 5th International Neoist Apartment Festival in New York City, Istvan was probably the ONLY Monty Cantsin.
He had embraced the role with so much enthusiasm & effort that I think that most Neoists, myself included, were content to not interfere with his 'basking' in its very limited 'glory'. That was to change. As more people started to take the possibilities of a collective identity more seriously, the role that Istvan had so obssessively cultivated for 6 years began to slip from his exclusive control.
Below sent out the open letter & a few of us replied: Pete Horobin, Vitore Baroni, David Zack, Mark Bloch, R.U.Sevöl, "Tentatively" (as Below had me listed in the Table of Contents), & Istvan Kantor. The replies were compiled into a small book & printed in an edition of 16. This was the 1st place where my call for contributions to my proposed "Transparent SMILE" assembling was printed.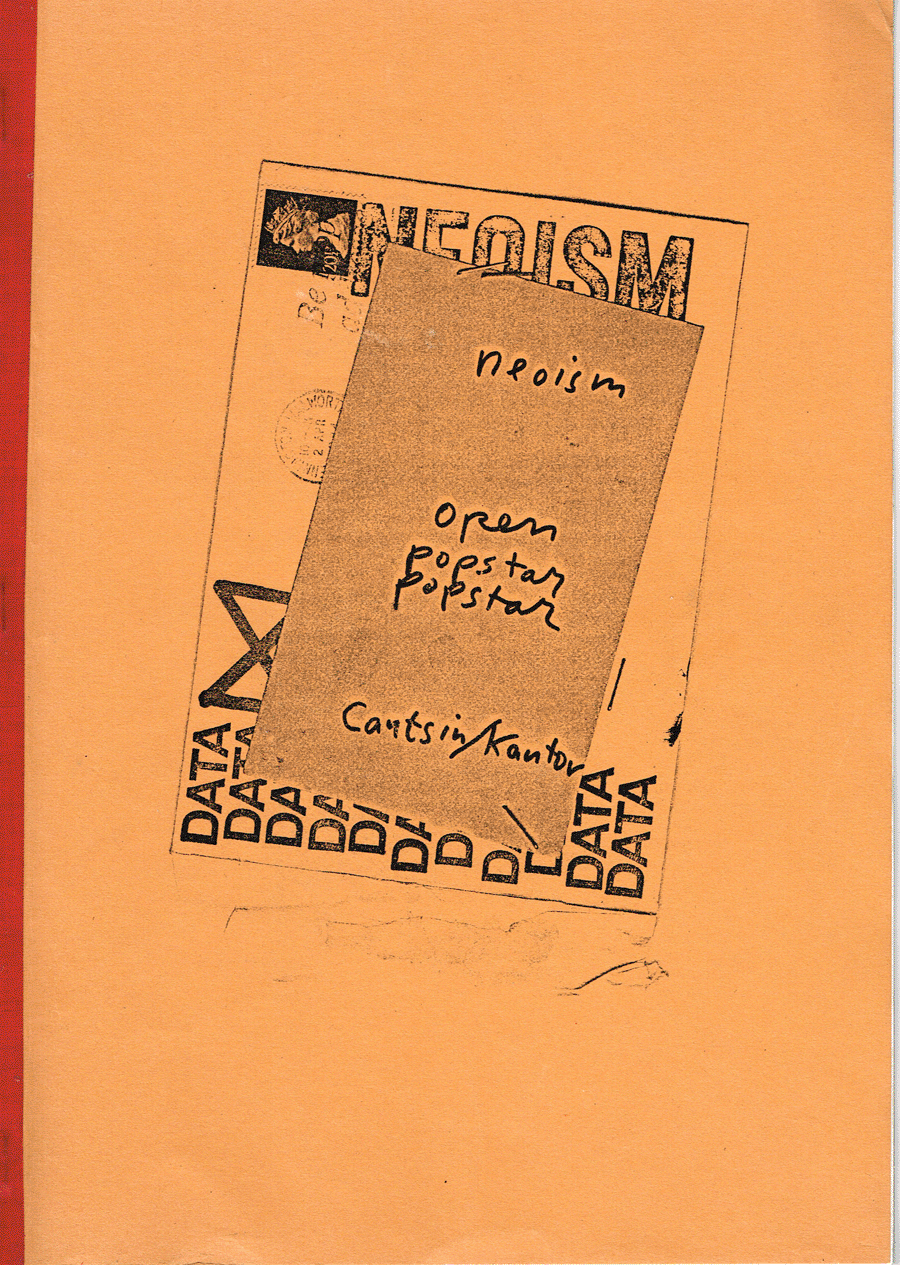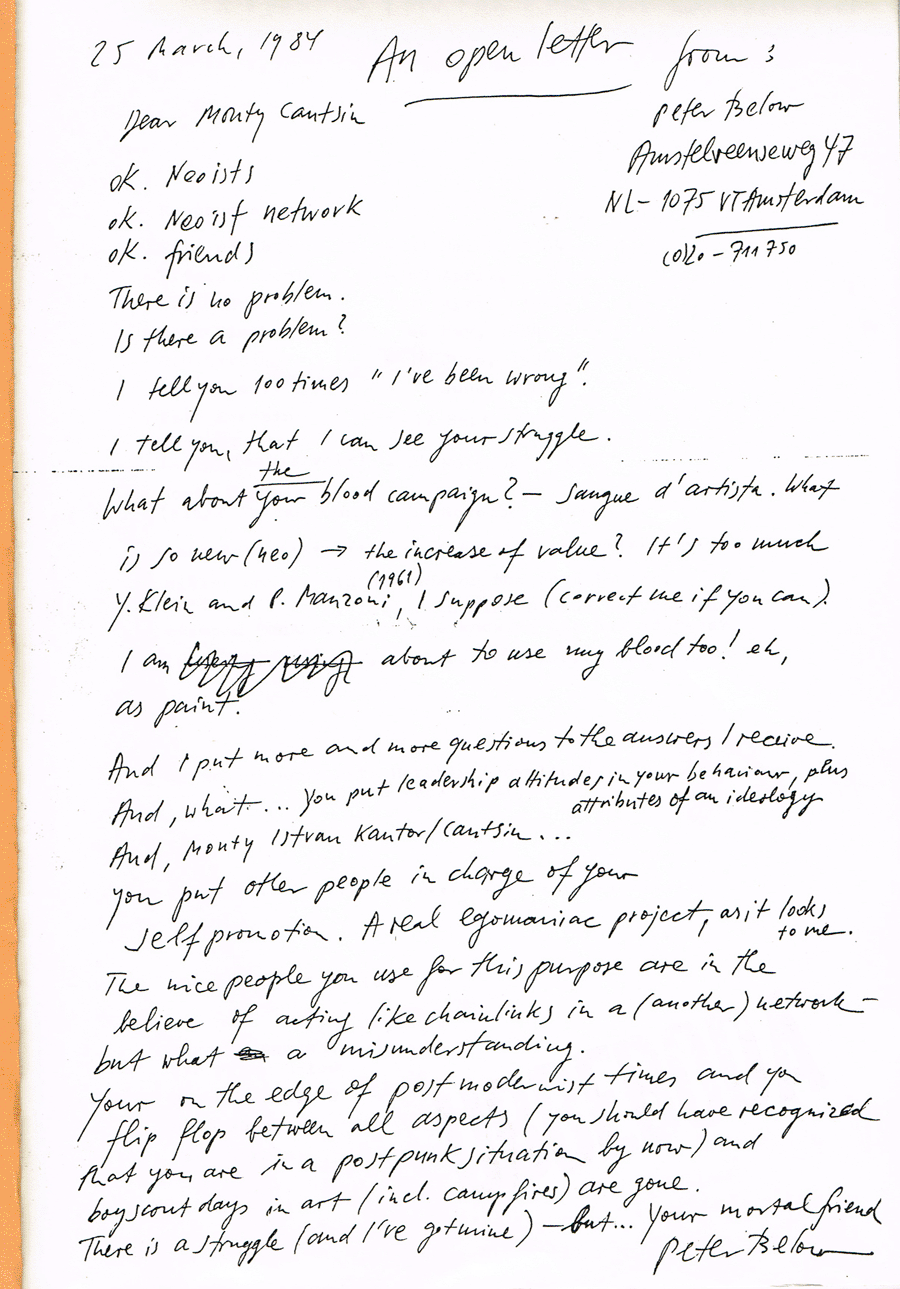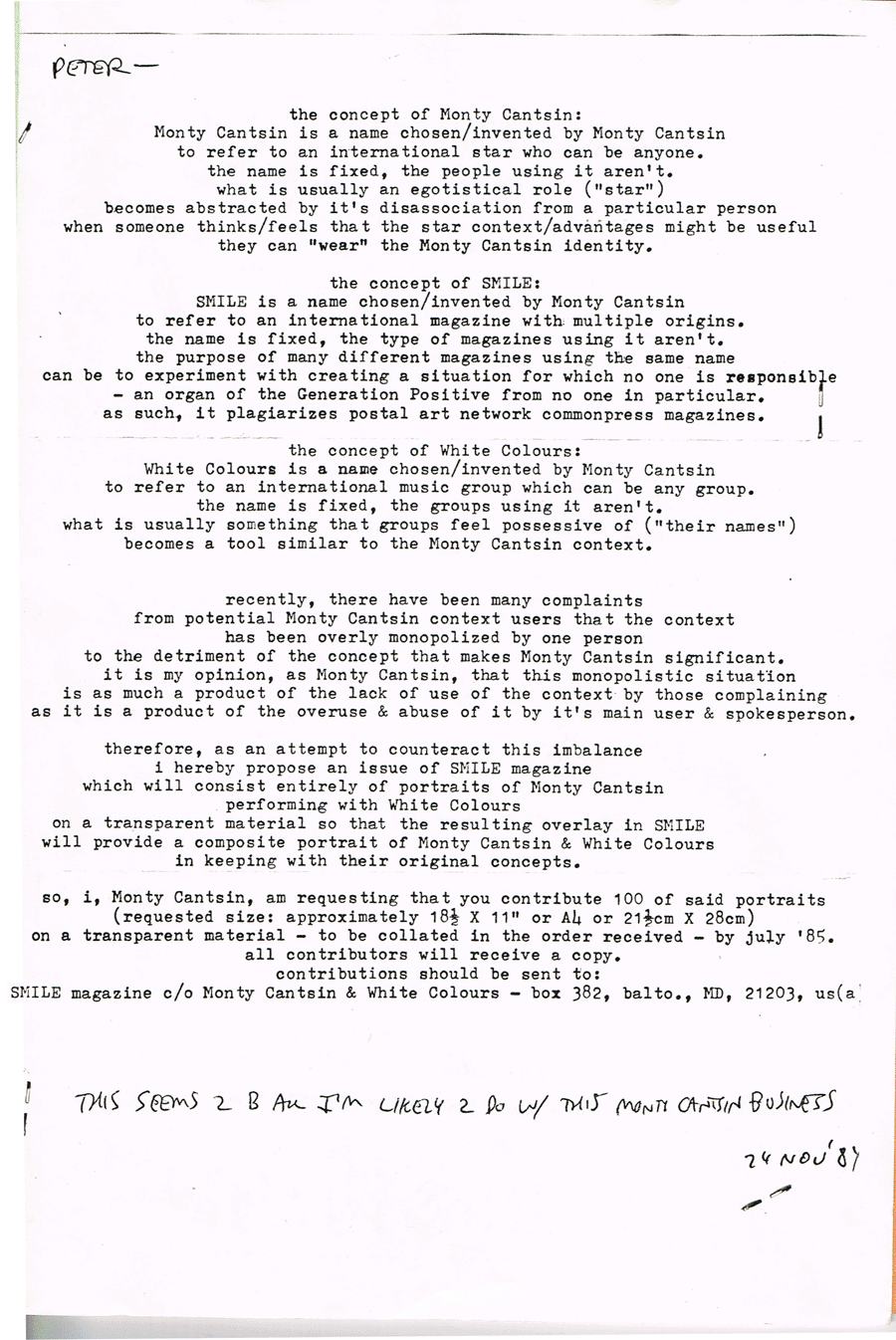 idioideo at verizon dot net
to the SMILEs index
to the Neoism page
to the Neoism/Anti-Neoism page
to the Anti-Neoism page
to the tENTATIVELY, a cONVENIENCE as Interviewee page
to the tENTATIVELY, a cONVENIENCE as Interviewer index
to the tENTATIVELY, a cONVENIENCE movie-making "Press: Criticism, Interviews, Reviews" home-page
to the "tENTATIVELY, a cONVENIENCE - Sprocket Scientist" home-page
to the "FLICKER" home-page for the alternative cinematic experience
to find out more about why the S.P.C.S.M.E.F. (Society for the Prevention of Cruelty to Sea Monkeys by Experimental Filmmakers) is so important
for A Mere Outline for One Aspect of a Book on Mystery Catalysts, Guerrilla Playfare, booed usic, Mad Scientist Didactions, Acts of As-Beenism, So-Called Whatevers, Psychopathfinding, Uncerts, Air Dressing, Practicing Promotextuality, Imp Activism, etc..
for info on tENTATIVELY, a cONVENIENCE's tape/CD publishing label: WIdémoUTH
to see an underdeveloped site re the N.A.A.M.C.P. (National Association for the Advancement of Multi-Colored Peoples)