http://curiousburghlar.wordpress.com/2013/11/13/film-kitchen-on-melwood/
the Curious Burghlar fancies some culture
covering What Intrigues me
Film Kitchen on Melwood
By Jaclyn Sternick / 13 November 2013 / Cinema /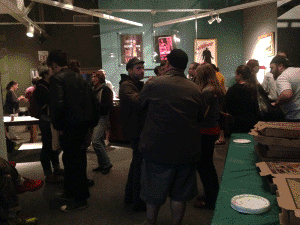 Pre-screening Reception, with pizza and beer.
This monthly event is one of my favorites in the Burgh. For just five dollars, there's food, beverages, and local films by local artists who are available for a Q & A. Come to Pittsburgh Filmmakers on the second Tuesday of every month (except August) for the 7pm reception and 8pm screenings. Burghlar aboard, and Curious we go!
There will be a *special* Three Rivers Film Festival edition of Film Kitchen at Regent Square Theater on Thursday 14 November.
First on the program in October was special guest Mac Howison from The Sprout Fund. We watched Sprout's advertisement, which you can view here, for its Community Film and Video Projects funding opportunity. In Sprout's quest to provide "catalytic funding," the organization will fund an innovative film or video project that will engage or positively impact the community. Individuals, organizations, and groups were able to apply for the $10,000 award through Friday 8 November. The project will be "principally active and/or visible in 2014." I'll keep a look out.
The True Life Story of Herbert J. Boogieman (2010) by Joseph Kiewra was next on the program. I had been spared from the Boogieman until Kiewra's film, so I had no idea what to expect. HJB is a pinkish-purple man with horns on his forehead, black lips, and black fingernails. He is divorced, has a daughter, and his job is under attack by a group called Not Under My Bed (NUMB). Shot in 16mm, with the exception of a playground scene (digital), the film humors the audience with an interview of HJB, who explains that his options are limited to either scaring children, hiding under bridges, or politics. View the film on Kiewra's Vimeo page.
Next, we saw three films by tENTATIVELY, a cONVENIENCE: Skeletal Remains, North Deface, and PHEW!11. We see tENT as a musician, composer, and performer; he demonstrates the art of and experimentation behind his wardrobe; he also plays with the internet's impact on identity and identity's public perception. I herein focus on North Deface as I found it most intriguing and introspective on tENT himself.
In North Deface, tENT categorizes and evaluates types of clothing. He dismisses work clothes as boring, business suits as a function of the robotic type, and mentions a few other styles for which he doesn't care, like space-age bachelor pad leisure wear. He is fond of bright orange camo, yet finds distaste in its implication that males work and kill. In the film's 13 minutes, tENT demonstrates his tactics of removing brand logos from everything he wears. He alters the appearance of his North Face hiking shoes so that, eventually, one is neon orange and one is neon green. Refer to the lower left corner of the photo above, where you can see his feet wearing them or a similar pair. Enjoy tENT's video here.
Finally, the screening of Coons! Night of the Bandits of the Night, a feature length horror comedy by Travis Irvine, ended the night. Irvine was inspired to make Coons! after watching many a bad horror movie. In the summer of 2004, he set out to make one about killer racoons because, well, there wasn't yet one about killer racoons. Troma Entertainment picked it up in 2005. Here's the trailer, a taste of what you're in for, should you decide to watch the entire 80-minute movie, which is available for free online.
On Tuesday 8 October, Film Kitchen was sponsored by Spak Bros., 92.1 WPTS, and Mellinger Beer Distributor. Thanks to all three. Thanks to Matthew R. Day, too, who has been hosting Film Kitchen for the past six years. Bill O'Driscoll, current Arts and Entertainment Editor at Pittsburgh City Paper, created the monthly series 15 years ago.
idioideo at verizon dot net
to the tENTATIVELY, a cONVENIENCE as Interviewer page
to the tENTATIVELY, a cONVENIENCE as Interviewee page
to the tENTATIVELY, a cONVENIENCE movie-making "Press: Criticism, Interviews, Reviews" home-page
to the "tENTATIVELY, a cONVENIENCE - Sprocket Scientist" home-page
to the "FLICKER" home-page for the alternative cinematic experience
to find out more about why the S.P.C.S.M.E.F. (Society for the Prevention of Cruelty to Sea Monkeys by Experimental Filmmakers) is so important
for A Mere Outline for One Aspect of a Book on Mystery Catalysts, Guerrilla Playfare, booed usic, Mad Scientist Didactions, Acts of As-Beenism, So-Called Whatevers, Psychopathfinding, Uncerts, Air Dressing, Practicing Promotextuality, Imp Activism, etc..
for info on tENTATIVELY, a cONVENIENCE's tape/CD publishing label: WIdémoUTH
to see an underdeveloped site re the N.A.A.M.C.P. (National Association for the Advancement of Multi-Colored Peoples)