2010.02.25 tENTATIVELY, a cONVENIENCE interviewed by Gerry Fialka
Click on the above link to hear the interview.
[interviewee's note: I started advertising my proposed International PXL-2000 Movie festival around the spring of 1990. I made post-cards which I mailed out widely. These were also printed in "N D" 13 (Austin, TX), The Single Eye" 3 (Montréal, Québec), "Weiver Review" Number 3/4, (September 1990 - Portland, MN), & "Reality Sandwich - Worth a Year's Pay" Issue #1 (BalTimOre, MD).
Most importantly for widespread distribution, Brian Goldberg wrote an article for Mondo 2000 magazine called "PXL 2000: The Philosophical Toy" in which the proposed festival was mentioned in passing.
Thanks to this, I received a letter dated May 15, 1991, from one Gerry Fialka asking for details about the festival.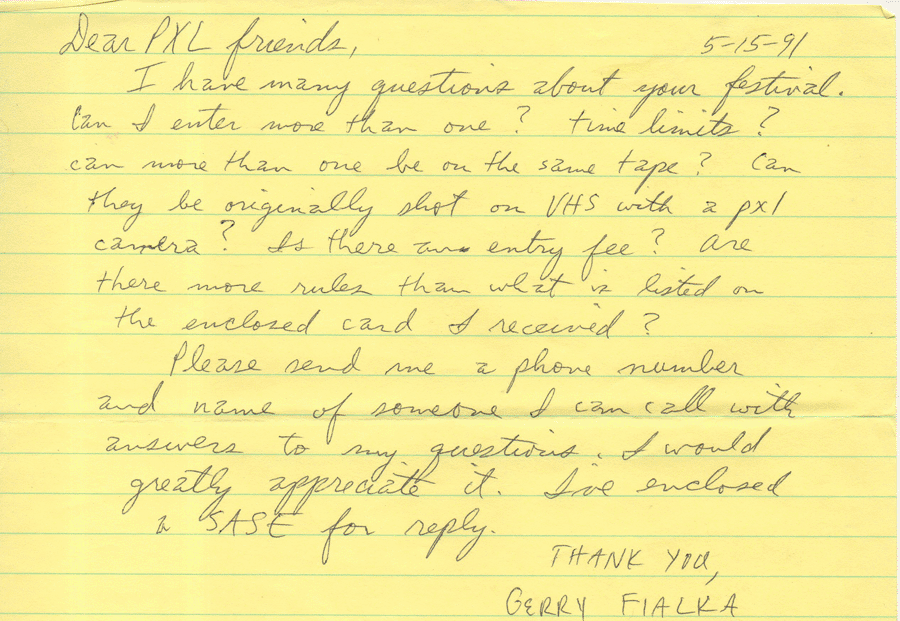 Gerry then went on to contribute to my PXL festival (see the catalog here: tENTPXLcatalog.html) & to found the longest lasting PXL fest, "PXL This": still going 23 years later!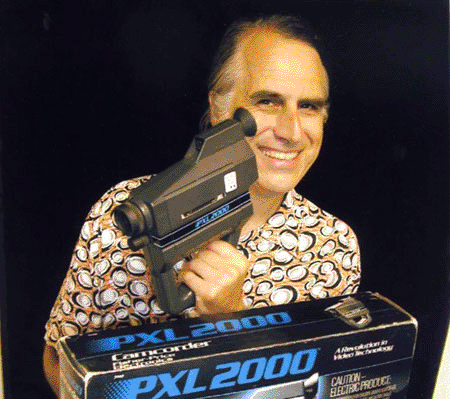 Gerry Fialka - photo by Alfred Benjamin
In the meantime, Gerry has many other projects of substantial interest. One of them is an ongoing series of interviews. SO, on February 25, 2010, he honored me with an over-the-phone interview that he recorded & that I put online at the Internet Archive. These are the notes that I put there explaining things:
Over a 4 hr period, Gerry Fialka interviews tENTATIVELY, a cONVENIENCE over the phone using a series of prepared questions largely revolving around quotes from various mostly 20th century prominent cultural thinkers. Initially fraught w/ technical problems eventually concluded to be from phone card time running out, the interview is interrupted & recording quality varies. The 4 hrs produced the 2:37:57 presented here. Fialka is a film & video programmer, PXL-2000 movie-maker, philosopher, enthusiast for James Joyce's "Finnegans Wake" & the works of Marshall McLuhan, & prolific interviewer, amongst other things. tENTATIVELY, a cONVENIENCE is a mad scientist/d composer/sound thinker/thought collector/as been/psychopathfinder/jack-off-of-all-trades who's perhaps best known as a film & video maker, a writer, an experimental (m)usician, an anarchist political activist, & for his connection to neoism & the Church of the SubGenius. Fialka's questions are abstractly stimulating far beyond ordinary journalism & t,ac's "suspended judgment" responses bring up such ideas as: IS THERE PRE-LINGUAL THOUGHT?]
idioideo at verizon dot net
to the tENTATIVELY, a cONVENIENCE as Interviewee page
to the tENTATIVELY, a cONVENIENCE as Interviewer index
to the tENTATIVELY, a cONVENIENCE movie-making "Press: Criticism, Interviews, Reviews" home-page
to the "tENTATIVELY, a cONVENIENCE - Sprocket Scientist" home-page
to the "FLICKER" home-page for the alternative cinematic experience
to find out more about why the S.P.C.S.M.E.F. (Society for the Prevention of Cruelty to Sea Monkeys by Experimental Filmmakers) is so important
for A Mere Outline for One Aspect of a Book on Mystery Catalysts, Guerrilla Playfare, booed usic, Mad Scientist Didactions, Acts of As-Beenism, So-Called Whatevers, Psychopathfinding, Uncerts, Air Dressing, Practicing Promotextuality, Imp Activism, etc..
for info on tENTATIVELY, a cONVENIENCE's tape/CD publishing label: WIdémoUTH
to see an underdeveloped site re the N.A.A.M.C.P. (National Association for the Advancement of Multi-Colored Peoples)