133. Something That Dissolves the Shadow of Something Which Was Once Close to Something That Once Burned Twice
- Displace, Baltimore, us@
- November 4, 1989, 9PM - 1AM
- The 2nd & final public presentation by this group. Neil Feather & I spent 20 hours installing our equipment in this room. John Berndt put in alotof time too. John Sheehan pulled his usual "difficult" routine by refusing to say whether he'd participate or not & then showing up at the "last" minute after Neil & I had set up his equipment for him. Neil's set-up was the most extreme: he had bowling balls hanging from a metal frame from piano wire which swung as pendulums against moveable bridges on necks - the resultant sound of the strings hitting the bridges was processed thru a 16 second digital delay. His other instruments included: Bendy Guitar, Nondo, & Contraption. I surrounded myself by 15 drums & cymbals & other metal things, a guitar, & a VCR & monitor playing a fairly complex feedback vaudeo I'd made. John Berndt was using some sort of home-made oscillator & Oddly-Strung Guitar - amongst other things. John Sheehan played a bass that he'd made from a kit. The agreement that we'd had before-hand was that we'd play for about 5 hours - with any of us taking breaks whenever we felt like it - but with at least 1 of us playing at all times. There were a few other agreed-upon things (few, if any of which, would John Sheehan commit to cooperating with) such as playing for an hour straight without any of us dropping out & with all of us playing as intensely as we could stand. When the time came for this latter, I had been drinking alcohol & taking oral morphine & was a bit worried that I might have overdone it so I played frenetically to try to work it out of my system. After John Sheehan dropped out, the rest us entered a nudist phase. The way the equipment was set up was basically so that it filled the large room we were in but so that people could walk anywhere around us. In the meantime, Brad Hwang & his room-mate Matt were having large mobile machine battles in an adjacent room. In 1 highlight & neoist reference, John Sheehan donned a sortof hockey face mask, lit a steam iron on fire that had a pick-up attached to its bottom, & played the pick-up by banging a piano wire against it that was mounted between 2 boards that he held between 1 foot & 1 very begloved hand.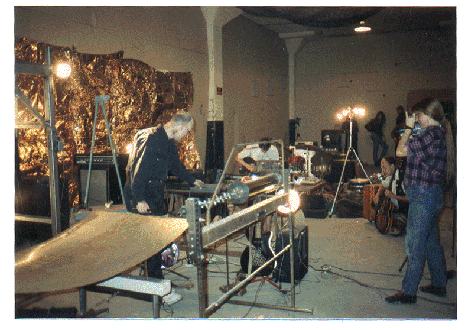 A movie from this is on YouTube broken into 2 parts:
http://www.youtube.com/watch?v=McbJXs4XC7w
http://www.youtube.com/watch?v=sCQHJk7I8DA
- recollections from tENTATIVELY, a cONVENIENCE
127. Dunking Booth Reading
- Apathy Press Benefit, SoWeBohemian Festival, Baltimore, us@
- Memorial Day Weekend, 1989
- Tom DiVenti, the founder & primary publisher of Apathy Press, rented a dunking booth & asked people published by him to volunteer in it to try to make money for the press. I've always found the psychology of dunking booths to be fascinating & repulsive. Usually, the person in the booth viciously taunts passers-by in an attempt to get them angry enough to try to dunk them. The exaggerated formalization of what I find to be an all-too-normal social relation of hateful baiting interests me but I still dislike the basic oppressive competitiveness of it. Given that this was a benefit for a press & that the usual dunking booth biz involves talking to the audience, I decided to give a political reading that both addressed my own relationship with violence & the potential for social change thru an expanded sense of non-sadistic humor. Furthermore, knowing that plenty of enemies of mine would be present at this very popular fest, I thought of this as an opportunity for them to express their dislike for me in a formalized way which I could subvert for my own purposes. Sure enough, Tom Dantoni, someone who hates me more than most in Baltimore, took advantage of the opportunity to walk up to the target & simply press it to dunk me. Given that this both fulfilled my expectations (thusly making me feel "wise"), & that I got it on vaudeo, I was satisfied.
- recollections from tENTATIVELY, a cONVENIENCE
120. Murraygate Busking
- Murraygate Shopping Mall, Dundee, Scotland, UK
- Saturday, August 13, 1988
- Busking is legal in Scotland. Therefore, buskers are a regular feature of shopping areas in Dundee. On the day that we decided to busk at Murraygate, there was a guy playing acoustic guitar & playing such things as Simon & Garfunkel songs. The only other busker there that day was doing representational chalk drawing on the sidewalk. No-one seemed to pay much attention to them but they would throw them coins. We set up the booed usic busking unit in front of a John Menzies store. I was wearing my zipper clothes & had an infinity symbol shaped hair-do (it looked more like ring worm ouroborous). Vex (Mike Kane) played his guitar amplified thru the busking unit. L.A.W. (Laura Ann Walker) made more original & personalized chalk drawings than the usual fare. Laura A. Trueseal & I alternated between shooting PXL footage & "concrete mixing" with the busking unit. The mixers allowed us to move both our sounds & Vex's guitar playing thru the 4 speakers. We put a white shirt on the ground that had "Yes, This Is Busking!" written on it & I made an attempt to get people to give us money. We attracted a fairly large crowd of curious & baffled people, unlike the other buskers, who actually stayed & watched. However, again unlike the other buskers, only a few people would give us money. Eventually, the John Menzies employees complained to the police about the noise & about the crowd blocking their store without coming in & the police chased us away. We made approximately 2 pounds. Pete Horobin shot a vaudeo quasi-document of all this.
- recollections from tENTATIVELY, a cONVENIENCE
118. Quasi-Documentary Residue
- the Collective Gallery, Edinburgh, Scotland, UK
- Saturday, July 30, 1988
- This was the pinnacle of my UK didactions in inside, scheduled circumstances. In an attempt to make my presence more exciting & the films & vaudeos less gruelingly long, I pared down the length of the program & added more planned action. Tired of the miniscule audiences, I made a poster on which I called myself a "FAMOUS NEW YORK PERFORMANCE ARTIST & CLOSE PERSONAL FRIEND OF GENESIS P. ORRIDGE". I did attract a slightly larger crowd but whether it had anything to do with my misleadingness I don't know. Amongst the new elements added to the usual simultaneous film, vaudeo, story-telling, & booed usic busking unit were my taking my vital signs data (as participation in Pete Horobin's decade-long data project). I had drunk alotof water beforehand so that I was wriggling with a desperate need to pee thruout. When I began to show my piss-in-the-mouth SubGenius movie, "Pee on "Bob"'s Head", I finally allowed myself to pee - thusly beginning the data section. I pissed thru a cored banana - thusly using the old extended dick in a banana joke. I was pissing into a pint jar but I'd had to piss so bad that it overflowed onto the floor. Then I used a urinalysis test strip, took my blood pressure & pulse, etc..
- recollections from tENTATIVELY, a cONVENIENCE
116. Tent's Muir
- Tentsmuir Park, Scotland, UK
- July 11, 1988
- Laura A. Trueseal, Pete Horobin, & I lugged about 120 pounds or more of equipment for several miles at my not-very-enthusiastically received suggestion so that I could play with the booed usic busking unit (see previous entries for explanation) in front of seals in their natural habitat. I'd wanted to wear a seal mask while doing so to "attempt to blend in" (more to observe their reaction) but Dundee's modest costume shop only had Donald Duck representing the aquatic world so I reluctantly rented the duck mask. In order to reach where the seals were, we had to ford a narrow point of an arm of the North Sea to reach a sand bar & walk further out on it. When we arrived, most of the seals slithered into the water to watch from greater safety. Their heads bobbed up & down - continuously looking in our direction. Only a couple of younger seals stayed ashore. 1 older 1 stayed briefly but finally left somewhat sluggishly. I stripped & put on the Donald Duck mask & set up the busking unit to play it. The seals were too far away to have much of an experience of that, especially considering that it wasn't very loud in contrast to the sea & the wind, so I nervously decided to get in the rather cold water to give them a closer look at me at least. Knowing nothing about seals, & not being able to see very well with the mask on, I was afraid the seals might try to bite me thinking I was threatening their children. Back ashore again, I was squatting by the water-line when 1 of the younger seals approached from a few feet away curiously coming directly toward me. Still awkward as an inter-species diplomat (despite that being my partial purpose for being there) I started to stand to back away. This body language was apparently interpreted as an act of hostility & the seal hunched its back & hissed at me. So for those likely to "follow in my footsteps", don't hunch your back at a seal if you want to "break the ice".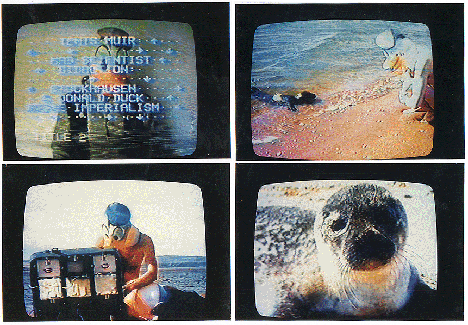 - recollections from tENTATIVELY, a cONVENIENCE
108. Generic As-Beenism
- Ultimatum II, Montréal, CacaNada
- Sunday, September 13, 1987
- A substantial extension of the more precise synchronization between all simultanieties begun somewhat with "Easter Island Bunny Booed Usic". This was divided into 4 parts:
1. Generic As-Beenism
2. Bird-Brain-ism
3. Tattoos
4. booed usic
Slides were shown on the audience's left, vaudeo was projected in the middle, & a super-8 mm film was shown to the audience's right. The audience was given "3-D" glasses especially made for the occasion (1 green lens (instead of the usual blue) & 1 red). I was wearing an inverted soft-shell cello case with 1 of my legs in the neck & 1 sticking out of a hole cut next to the neck. It looked like a cave-man costume. The slides were primarily text - the same text that appeared in the vaudeo (more briefly) both visually & audibly. The text was in both French & English (French translation by Andy Laken). All 3 projections contained recurring images - with the central projection having elements of the 2 flanking ones occurring around the same times. The slide projector had a polaroid filter in it between the slides & the lens & some of the slides were prepared with special tapings so that when a revolving polaroid filter was set in motion in front of the lens the colors of the slides would change. Shortly before this show (subtitled "usefulofshitlessness") the same person who had labelled me a "pornographer disguising himself as an artist" threw my box of slides in the trash - which I fortunately managed to retrieve (this same person vastly enjoyed another apparently "non-sexist" performance in the same festival in which the 2 main features of the video presented were strippers swinging around big tits & guys pretending to play big cardboard guitars - a true breakthrough in sexual roles! - I guess she just wanted to fuck him & found me too scary). During the "Bird-Brain-ism" section, Laura Trussell came on stage wearing a back brace with moving motorized wings mounted on it & began cutting the wig I'd been wearing - eventually pulling it off to reveal a "frame-of-reference" shape underneath (see mention of the same in the Ear Inn reading description) which she then shaved off. Ultimately revealed was my "3-D" brain tattoo. During the following "Tattoos" section, I meandered thru the audience with a flashlight aimed at my head so that the audience could look at the tattoo closely with the "3-D" glasses. Each section had narrative content E.g.: in the 1st section I explained its title by saying "..I decided to call "it" GENERIC AS-BEENISM - thinking that whether i'd manage to present something that gets to the essence of my interest in subverting "reality" or merely succeed in presenting something that has no substantial individuality i will, at least, succeed in "COVERING MY ASS."" & in the 2nd section I concluded with "There is a religious myth of winged homonids as beings on a higher evolutionary plane than non-winged homonids. It should be obvious by now that these beings, commonly called angels, should more properly be called Bird-Brains." & in the conclusion of the 4th section I stated "- therefore, if you dislike the way that [we] use the materials of this presentation i can simply claim that that is my intention.. - or, if you like our USIC, i can claim that you have BOOED my use of the term.." John Berndt played DX-7 & SPX-90 thruout. Thanks to Boris Wanowitch for being host & projectionist.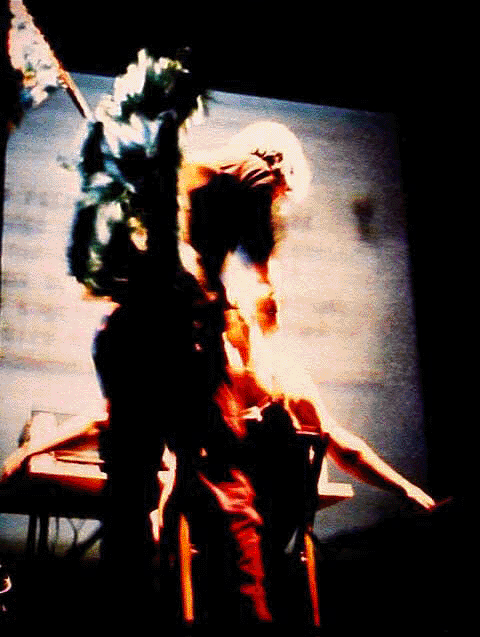 - recollections from tENTATIVELY, a cONVENIENCE
106. pirate tv premier of "6 Fingers Crossed Country T.Ore/Tour" vaudeo
- Luskin's, Towson, Maryland, us@
- Saturday, December 27, 1986, 3PM
- With the essential collaboration of Lizard Media Systems & using a channel 3 broadcaster, we tried a test-run broadcast from Lizard's mobile home. It was a sunny day & my vaudeo showed bright & clear on the wall of tvs in the Luskin's (a sortof cheap home entertainment center store). For the actual event, a fairly large group of people was organized to meet at Lizard's R.V. They were asked to go in small groups into the Luskin's & to gradually tune all the tvs to channel 3 while we broadcast the guerrilla premier of the vaudeo quasi-document of the "6 Fingers Crossed Country T.Ore/Tour". Unfortunately, the broadcast wasn't working at 1st & none of the people tuning the tvs to 3 thought to come back to tell us that the tvs were only receiving "snow". This had alerted the salesman that something weird was going on & they were following the strange "customers" & retuning the tvs to football. Finally we got the transmission corrected & the pirate tv game continued. All of the participants did a good job of playing it straight & the Luskin's personnel never really did have any clear idea why they suddenly had so many customers wanting to tune the tvs to a channel that "doesn't get anything" but was getting something anyway!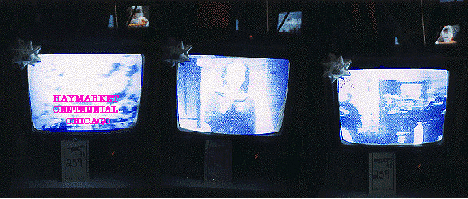 - recollections from tENTATIVELY, a cONVENIENCE
089. to 105. First Meeting Re-Enactments
- San Francisco, San Antonio, & Baltimore, us@
- every Monday (except June 2) from May 26 'til September 22?, 1986
- Martha Peterson & I met when I showed my film (made as Monty Cantsin in collaboration with Monty Cantsin & Monty Cantsin - with soundtrack by Monty Cantsin, etc..) "Transparent SMILE - Monty Cantsin Performing with White Colours" at a bar called the "Sixteenth Note" in San Francisco. We "fell in love" (a.k.a. had sex under the influence of Ecstacy) & I asked her to go to BalTimOre with me. On our weekly-versaries, we "re-enacted" meeting each other for the 1st time by reliving it in various new ways. This story is told in substantial detail in the "I Guess SMARM isn't Short for School Marm After All?" chapter in the revised 2nd edition of my book How to Write a Resumé - Volume II: Making a Good First Impression. As such, I'll keep the description short here. Martha & I would, usually, go to a public place pretending not to know each other & go through a pre-planned mating ritual - the silly extravagance of which was sometimes intended to bemuse unsuspecting onlookers. Sometimes we had confederates. My current favorite might be the one where I went to a bar /restaurant where I had friends working & where the bar-tender, John Fonda, was a friend of mine. Martha came in later & told the bar-tender that she'd just arrived from San Francisco. When he asked her why she'd move to B-More from there, she said that she'd seen a film show by a guy named "tENTATIVELY, a cONVENIENCE" & that she'd liked it so much that she decided to move to the city where he lived. John got very excited & told her that I was sitting in the restaurant. She, very shyly approached me at my table where I was sitting with friends & introduced herself. When "it came out" that "she'd just arrived in Baltimore & had no place to stay" I "magnanimously" offered to "let her stay at my hotel for free". My friends were shocked at my using such a ridiculous lie as to say that I owned a hotel in such a transparent ploy to fuck Martha but they didn't say anything. After a little more of this straight-faced silliness, she & I left together. This provided material for gossip for months until I finally told my friends that they'd been set up. The laziest "re-enactment" I can recall was one where Martha simply came into my bedroom while I was there & we tried to figure out how we could've managed to not previously meet each other when we'd been sharing the same bedroom! We managed to continue this practice 15 to 17 times until we were no longer interested in each other enough to bother.
- recollections from tENTATIVELY, a cONVENIENCE
081. tENTATIVELY, a cONVENIENCE & t he booed usicians' Mad Scientist Didaction
- the Bunker of La Société de Conservation du Présent, Montréal, CacaNada
- Samedi, 19 Avril, 1986
- John Berndt & I built a maze out of muslin (brought especially for this purpose) at the entrance of this space. While people were filtering in, Steve Estes' 1/2 hour student video "Drinking & Smoking" was shown. This tape is a close-cropped shot showing Steve from the neck down to mid-torso & his arms opening a bottle of whiskey & a pack of cigarettes on a table in front of him. He then drinks the bottle of whiskey (a pint if I remember correctly) in its entirety during the course of the tape until he slumps forward onto the table. The booed usic gradually came in during this. I was wearing my "Hair Suit" (a pair of coveralls covered with wigs - an obvious pun on "hirsute") & the usual combination of booed usic, slide show, films, skin cutting, "robotic" lewd dancing with "6 tits" + "ball & chain" + ankle bells, vaudeos, attempts to get the audience to "sound along", & anecdotes was presented. Representatives of the S.C.P. typed in a description of the (did)action while it was happening into a computer which displayed their typing on a screen to the audience. This is the "show" that led to 1 idiot labelling me a "pornographer disguising himself as an artist". The booed usicians: John Berndt (organ), Norman Yeh (violin & lyre), Guy Boulanger (sound-board & effects), & myself (tapes, records, radios). Projectionist: Joan Lobell.
- recollections from tENTATIVELY, a cONVENIENCE
070. Neoist Guide Dog
- the Neoist Network's 8th Apartment Festival, London, UK
- late May, 1984
- My lover/travelling companion of the time, Gail Litfin, was diabetic. She'd had laser surgery on her left eye which had left that eye blind. Her right eye had hemorrhaged so that all she could see was the red blur of the pool of blood there. She was legally blind. Since I was leading her around, we joked about me being her "seeing-eye dog". We bought a dog mask from a store specializing in animal masks (where Gail almost got caught shoplifting) & added a leash to my outfit for "completeness". The Festival's organizer, Monty Cantsin/Pete Horobin, shot a film of Gail leaving our fest HQ with me on all fours as her "guide dog" (as they say in England), boarding a bus (where guide dogs ride for free, of course, & the driver didn't question the unusualness of this particular dog), & shopping in a mall (where we were kicked out of 1 store).
- recollections from tENTATIVELY, a cONVENIENCE
067. Sinnit-Nut Hollow Earth Symposium
- the Sinnit-Nut caves in West Virginia (?), us@
- Saturday, April 21,1984, noon to Easter Sunday, April 22, 1984, noon
- Having been interested in & entertained by theories about the earth being hollow, I organized this subterranean discussion of such things. This was coincidentally on the days when Jiminy H. Particulate Matter Criminy is said to've been entombed in a cave & then to've been reanimated & to've moved a giant rock blocking the entrance in order to leave. Dave Bakker, who picked the caves & otherwise organized the spelunking, & I took Betsy Greene, Richard, Cathy Leaycraft, & Matty Nadov fairly deeply into either the Sinnit or the Nut caves for this. Writer Al Ackerman made a tape recording of a fake radio talk show especially for it. In it he poses as fictitious cave expert Dr. Paul Wilhelm being interviewed about the Sinnit-Nut caves by fictitious talk-show host Ted Lindner (played by a "sociopathic" friend of his). He tells a detailed tale about a Reverend who led a church group into these caves only to return alone, deranged & ill. The conclusion we're led to believe is that the caves have been used to dump toxic military waste from chemical warfare experiments & that this waste mutated the church group into zombies who still wander the caves saying "dit-dit, dit-dit". The Reverend has apparently survived because he didn't approach the "black lake". However, he does eventually waste away after trying to explain the disappearance of the church group in an incoherent story. As a special surprise to the Symposium attendees, this tape was played while we were in the Sinnit-Nut complex without their being told that it was a fiction created especially for the event. No-one seemed particularly worried. Excerpts from various relevant publications were read: Marshall B. Gardner's A Journey to the Earth's Interior or Have the Poles Really Been Discovered; the magazine "Shavertron" #9 - dedicated to the fabulous writings of Richard Shaver & edited by Richard Toronto; the magazine "The Conspiracy Tracker" #1, edited by D. A. Passero; Dr. Raymond Bernard's The Hollow Earth; & Mary Davis' magazine "The Hollow Hassle". With substantial difficulty we slept in sleeping bags on the damp boulders - afraid of falling off the side into the nearby stream. The next morning we recounted our dreams. We recorded our readings, dream tellings, & playings of stalactites & stalagmites (etc..) & these were mixed with Ackerman's tape with the assistance of Bob Boilen at Startec Studio to produce the Sinnit-Nut Hollow Earth Symposium cassette published by Widémouth Tapes. This tape is meant to be listened to either in a cave or while laying naked in a damp bath-tub or on a cellar floor in the dark with headphones on. As far as I 'know', no-one has ever listened to it under the correct conditions. When we left the cave the next day, there were 2 guys there who said they had been about to enter the caves to look for us because they'd noticed our cars parked overnight nearby & were worried that something might've happened to us. Upon returning to Baltimore, we learned that there had been a small earthquake there - something that I had never heard of happening there in the 30 years I'd lived there! We decided that the quake was a way of expressing displeasure with our invasion of their territory by the "Deros" ("Detrimental Robots" posited by Richard Shaver as anti-human hollow earth dwellers).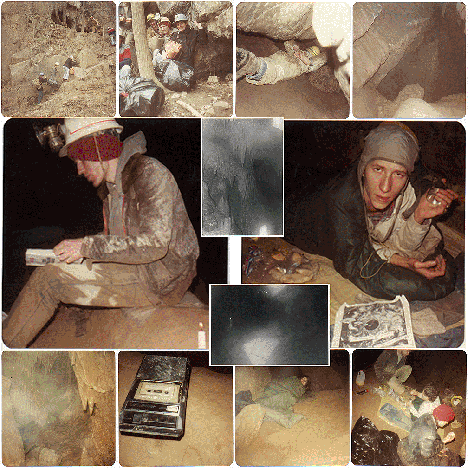 - recollections from tENTATIVELY, a cONVENIENCE
066. booed usic
- t he telectropheremoanin'quinquennial, Galaxy Ballroom, Baltimore, us@
- Tuesday, January 24, 1984
- This was the occasion of the 5th anniversary of the Baltimore Underground Telephone Network. The word "telectropheremoanin'" being a pun that combined "telectro" (as in having to do with telephone communications) with "pheremones" (lust inducing biological signals) with "moanin'" (as in moaning with pleasure). This pun was the theme of the night. I had paid a phone sex prostitute by mail to be called by me that night. In case there was any problem with that I'd asked my friend Lisa "Wet-Legs" (as she became known after this night) to act as a back-up. The basic idea was that I'd call the prostitute & broadcast our conversation to the bar's audience - gradually making it more & more perverse. As my conversation was to get stranger, the booed usicians were to gradually start playing until their sounds would drown out the conversation. The booed usicians were: Mark Harp (tapes & radio), Craig Considine (trombone), Ron Cummings (tapes, records, & mixing board), Leroy Keltner (trombone), & myself (tapes). There was "trouble on the line" at the phone sex prostitute's so Lisa substituted. Lisa had gotten mysteriously sick earlier, had vomited & passed out - my call awoke her. This added to the general feeling of it all. Suggestions from the audience were taken & someone's friend was called too. I was too drunk &/or inhibited to carry on a very good conversation so the extremely able Buddy Johnson was called in to relieve me. The highlight of his conversation with Lisa for me was their reminiscing about school-days they never had together when he pulled out his "short fat pancake" & she "covered it with Mrs. Butterworth's". Throughout the "phone sex" & the booed usic that encroached on it, an hour long analysis projector transfer to video of the 16mm version of my film "Subtitles" was shown on a large video projection screen.
- recollections from tENTATIVELY, a cONVENIENCE
064. "Alternatives to Vicious Cycles: The Intermingling of Subcultures to Facilitate Understanding"
- Emergency Show, M.A.P., Baltimore, us@
- Friday, December 9, 1983
- I had gotten to know drunks that were squatting in the building next to where I was residing. Their form of squatting had an unhygenic destructiveness reflective of their alcoholic/economic hopelessness. They used their 2nd floor as a toilet/dump. The floor was covered with Thunderbird bottles, piss, diarrhea, & cigarette butts. They drank & fought & passed out on the 3rd floor.

Their difficulties in many ways paralleled my own & their proximate despair helped increase my own. Having been threatened by 1 of the more psychotic of the winos, I was totally paranoid 1 night that he intended to force me into a confrontation in which 1 of us might kill the other. I decided to use this crisis as creative fuel & conducted a "live" radio show via the telephone in which I gave a "blow-by-blow" description of the accumulating fear & my way of dealing with it - with music & effects mixed in by the WJHU "DJ" Ron Cummings. Eventually the situation calmed down & the drunks & I established a fairly stable & friendly relationship. Having been invited to participate in the "Emergency" show I decided to transplant the misery of my neighbor's & my life to the gallery. I partitioned off a 2 room space & covered the floor with T-Bird bottles. I offerred to pay the winos to participate in the "performance" simply by attending it & talking to people. On the day of the "show", there was a larger group than usual of alcoholics waiting to help me. Some of them I'd never met before. They had misunderstood me & thought that I needed to assemble a gang for some sort of rumble. When they finally figured out that they weren't there to fight some of them dropped out. By the time the "Alternatives.." started there were only 3 of them left. The space was crowded, the bottles were being kicked around, my "paranoia" tapes were playing, & there was an open mike that people were encouraged to use. The drunks were being very vocal - in some cases being political & talking about alcoholism & in 1 case just being "out-of-control".

The atmosphere was intense & claustrophobic. I was passing around joints the contents of which I wouldn't identify (it was oregano with perfume) to try to increase the paranoia.

After enough "joints" had circulated & the claustrophobia seemed strong enough, I had my father come in (none of my friends knew him), wearing a policeman's uniform with a german shepherd on a leash, & just walk thru the crowd. He's had a tracheotomy, so I didn't have him say anything to break the paranoid illusion of his being a "real" cop until he left the 2 rooms where the "Alternatives.." was happening. I'd originally tried to get the railroad cop who'd arrested me for the "Poop & Pee Dog Copyright Violation Ceremony" to do this but his commanding sargeant wouldn't permit it. My intention in creating this situation was to simultaneously make the gallery attendees more aware of the oppressive misery of the drunks' lives & to give the drunks a paid vacation from it where what they had to say was of primary importance.
- recollections from tENTATIVELY, a cONVENIENCE
061. Poop & Pee Dog Copyright Violation Ceremony
- 14BX Sub-Par/Con (The 3rd Church & Foundation of the SubGenius Convention), a Baltimore Train Tunnel, us@
- September 18, 1983, very early morning
- A wire was stretched across the train tunnel thru an eye hook & 2 partially truncated & mummified dog corpses that I'd found there that had apparently been run over by trains were hung from the wire on either side of the tracks. A metal sheet with instructions for using Black & Decker power tools with a No Copyright symbol spray-painted on it was suspended between the dogs. The dogs were painted white with the words "Poop" painted on 1 of them & "Pee" painted on the other & glowing cyalume light sticks were placed between their rear legs. The walls of the tunnel were spray-painted with non-intersecting (except for, perhaps, the occasional accident) squiggly lines which I associated somehow with native Australian dreamtime culture. A strobe light flashed, someone made the dogs dance by tugging on the wire, & Ron Cummings manipulated & played tapes that he'd made of him beating on the dead dogs. I was naked except for my shoes & socks & I had white squiggly lines painted on me. I danced & gyrated wildly & beat the dogs & the thunder sheet with a club. The dogs were on fire & exuded what one might call a "foul" smell. I had been entrusted with the sacred head of Arnold Palmer by a representative of the Bloody Head Launcher's Society which I had set on fire & which I was also beating about the tunnel. The title of this ceremony was a reference to "Pee-Dog" comix by Jay Condum & Gary Panter & "Poop-Dog" comix (which was a friendly rip-off of "Pee-Dog") by the Reverends Ivan Stang & Sterno Keckhaver. Eventually a large quantity of police came (from the railroad cops, the city police, & the nearby federal reserve bank guards) because 1 of the attendees reported having witnessed something "horrible & immoral" & I was arrested. When the "news" found out about this (it was done partially as a publicity stunt anyway) they "reported" that I was a "Cult Leader" who was "praying to the dogs" etc. Very little attempt was made to actually find out who I really was or what I actually was doing & when I was interviewed what I actually had to say was considered too weird to quote. I was quoted both in the newspapers & on tv as saying things that I hadn't said by people who hadn't even been present at the time when I'd supposedly said them. The cop who'd arrested me bought a photo of this ceremony from me. Another cop who'd allegedly been on the "force" for 26 years was quoted as saying in the newspapers "I'd rather run up against a man with a gun than a situation like that!" The beat goes on..
- recollections from tENTATIVELY, a cONVENIENCE
056. INAUGURATION OF THE B.T.O.U.C.
- Bal Tim Ore Underground Club, Baltimore, us@
- December 31 (New Year's Eve), 1982
- With the help of friends, I moved the 4' X 4' X 7' replica of a transistor radio called AS RADIO (previously mentioned in connection with the 2 last Crab Feast flops) into an abandoned set of rooms in the approximately 3 mile long train tunnel between (what had been) the Mount Royal Station & the Camden Station.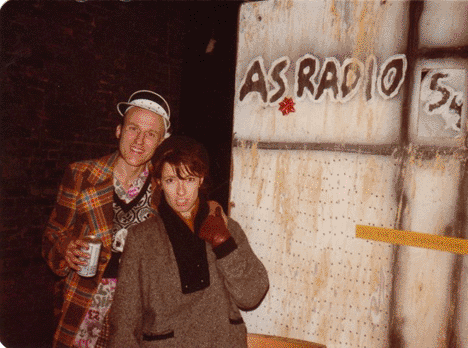 This space, & another, newer, set of rooms in a new extention of the old tunnel, were further decorated with elaborate graffiti (mostly made with stencils) made by myself, Dave Bakker, Randy Hoffman, & Laure Drogoul (&, possibly, others). An 8 track cartridge player & an amplifier & some speakers were installed in the AS RADIO & connected to the power in the tunnel & the Club was ready to open! Having stuck a marker up thru a manhole cover at the top of a shaft leading from the club, we located what was to become the "V.I.P." entrance on a conveniently unused lane on Howard Street. On New Year's Eve, Randy, Dave, & I (as Tim Ore) placed highway cones around the manhole & used a meathook (which bent) to lift the heavy, concrete coated, manhole cover. Dave & Randy were dressed as construction workers with hard-hats & shirts that had ID tags on them that read "Balto Co". Friends were invited down into the hole & down into the club & beer was provided. 2 truck drivers who stopped to ask for directions were invited down the manhole. They were dubious at 1st until they saw the spandex wrapped Sin-Dee Heidel emerge at which point they decided to descend. Eventually a reporter & a photographer came & did their do. When they left, they called train authorities to ask them what they thought of this & 2 of them stopped by at street level to visit. When they arrived, Randy & Dave, still manning the manhole, kept a straight face & asked them if "they'd like to see the boss". They did & I popped to the surface looking very "un-boss-like". I chattered away merrily & explanatorily for awhile & promised to close the "V.I.P." entrance when we left & the railroad officials were sensible enough to leave us in peace.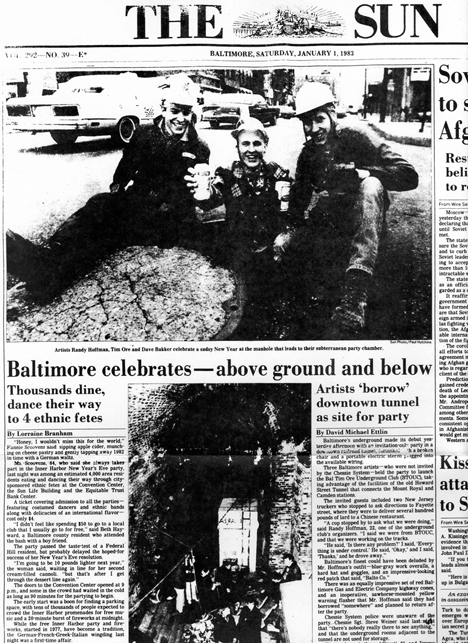 - recollections from tENTATIVELY, a cONVENIENCE
051. tENTATIVELY, a Skin Exchange
- APT 5, New York City, us@
- March 15 - 21, 1982
- Throughout this festival, at various locations - including "Des Refusés", the loft of 1 of the festival organizers, a gallery, & a cable tv studio where we were part of a "pre-nuclear war party scene", HannaH AvivA (a.k.a. Casandra vonRinteln) & I shaved off all of each other's hair from the waist down (which we had pre-dyed red & green). Our pubic hair was then exhibited in a "Shit Show" at the Kwok Gallery. After we'd shaved off each other's hair, we painted layer after layer of latex on each other's skins in order to make 2nd skins that we could then peel off. The original idea was to enable us to "wear each other's skins" (or "get under each other's skins"). Apparently, some garbage collectors peeped into the window of Des Refusés & saw HannaH & I "performing" & reported us to the vice squad. From then on, someone that we assumed was a vice squad cop sat a few feet away from us & watched us intently with a grim face. We weren't arrested. This process was done so ineptly by us that it wasn't satisfactorily finished by the end of the festival. When we returned to Baltimore we continued it - finally exchanging skins & making a film of us fucking while wearing them. This film was supposedly stolen while still in the camera in Chicago at the 2nd SubGenius Convention a few months later. If Casandra wasn't lying to me, it may be in circulation as "porn" somewhere. If this latter is true, it probably looks like some sort of Ed Gein home movie.

- recollections from tENTATIVELY, a cONVENIENCE
050. reading
- EAR INN, New York City, us@
- January 9, 1982
- Eight file folders were put on various tables in the bar in front of where I was going to read. Each of the folders had staples showing on the outside implying something stapled into the inside. Each folder had a string attached to it with a paper clip on it holding the folder shut. Inside each folder was a place-mat with a cartoonish listing of various fears. In 1 of the folders the place-mat was presented unaltered. In the 2nd 1, the word "verbophobia" (fear of words) was cut out fairly small in the center, in the next 5 folders the cut out "verbophobia" got progressively larger until, in the last folder, there was no longer a place-mat or any words in or on the folder. I had 61 file cards cut into a personally symbolic shape that I call the "frame-of-reference". Each card had 1 sentence on it that I anticipated needing to say. E.G.: "No.", "Hi, Charles.", "R u mad at me?, "Did u 'v a good drug influenced writing session last nite?", "Yeah, I was pleezed when I noticed Ear as d rived from Bar.", "Monty, I didn't xpect u 2 come!", "A cuarento Y Tres, 43, & Vodka, pleez.", "Did u like my reading sufficiently?", "Yeah, I like t he humor of t he restrictions of my anticipations & of t he pauses while I try 2 find an approximately appropriate sentence on t he cards.", "Once, I wrote t he word: BOLD on a piece of paper just large enough 2 accomodate it & put it on t he floor & I watched how it moved X noting where I saw it daily - Then I wrote t he word TENSION on a piece of paper & did t he same - BOLD moved frequently around my apt & I assume it eventually left thru t he door - but TENSION stayed word-side up X my typewriter t he ntire time I resided there, so I suggest u write on pieces of paper & leave them around t he Ear Inn & watch their progress." (when I read this latter, Jackson MacLow protested that it was more than 1 sentence), etc, etc.. I restricted what I could say to people while in the Ear Inn to either readings from the cards or from other prepared texts. Thus all of my interactions were readings. In keeping with my interest in expanding the body of text, I repeated the actions of all of my previous audience participatory "readings" & added such things as pulling down my pants to reveal a slightly larger than life size photo of my own naked crotch with a braille writing of "HSV-2" (Herpes Simplex Virus - Type 2 - which manifests itself as clusters of white blisters similar to braille) on the penis & having a piece of water-soluble paper with "Read Underwater" written on it dissolve in front of the audience while I swished it in a pan of water. Other visual props such as my complex Heinrich Welz piece were used.
- recollections from tENTATIVELY, a cONVENIENCE
047. Mont Royal Cathedral Painting
- APT 4, Montréal, CacaNada
- October, 1981
- Wearing my Tim Ore clothes, I set up an easel with a canvas on it in a park across from the Mont Royal Cathedral. Going thru painterly gestures such as extending my thumb to "check perspective", I proceeded to paint a very crude depiction of a house that wasn't intended to look like the cathedral. Keeping a straight face, I knew that people would look over my shoulder & look at the painting & think that I was some sort of "poor crazy man" & give me wide berth after seeing my "crazy" picture. It amused me that a simple child's painting of a house with a smoking chimney (or some such) when placed in this context could become a catalyst for fear. Eventually, 2 people had the nerve to ask me if I was attempting to paint the cathedral. I laughed & explained what I was doing - after which they were relieved & explained that, sure enough, they'd been afraid to talk to me because they thought I was crazy. Things aren't always what they seem, eh?
- recollections from tENTATIVELY, a cONVENIENCE
046. Neoist Parking Meter Action
- APT 4, Montréal, CacaNada
- October, 1981
- Wearing sandwich boards that said in English & French: "Neoist Parking Meter Action - Pay Me to Go Away" & wearing a parking meter hood over my face, I stood at empty parking places & waited for cars to park there. Then I followed the drivers when they left their cars with an impassive face & my hand out-stretched mechanically. The drivers all avoided me by walking somewhere where I wasn't - after which I left a Neoist Parking Ticket under their windshield wiper. Finally disgusted by what I thought was a mediocre response to my imaginative begging, I started to walk back to the LOW theatre. En route, 2 guys stopped me & asked me what I was doing. When I explained, they thought it was so funny that they pretended to get out of a car & gave me money.
- recollections from tENTATIVELY, a cONVENIENCE
044. Seatbelt Violation Public Works Promotion
- Public Works Festival, Toronto, CacaNada
- October, 1981
- Eugenie Vincent & I were tied to the roof of a rented car to attract attention to us while we drove around the city with signs advertising the festival we were to participate in & "HOMEX" - the magazine that 1 of the drivers, Ricki Kilreagan (the other driver being Sin-Dee Heidel), was editor of. After 20 minutes or so, we were stopped by a cop, who was eventually joined by 2 others. The cops tried to figure out what they could charge us with & eventually decided on "seatbelt violation" - much to the general amusement.

- recollections from tENTATIVELY, a cONVENIENCE
042. Paper Dolls in Dava's Class
- School 33, Baltimore, us@
- summer, 1981
- Two groups of "child-size" paper dolls were given to the students to wear & they were encouraged to write & draw on each other. Most of the students were uncomfortable in the restrictive "costumes" & 1 of the girls ripped her way out. After this, all of the students were encouraged to do the same - which they did with great gusto making a total mess & throwing the paper scraps around enthusiastically. I thought of this as my sly way of providing them with confining role models to break.
- recollections from tENTATIVELY, a cONVENIENCE
040. 3 part action
- APT 81, Peking Poolroom, Montréal, CacaNada
- Mercredi, 18 Février, 1981
- First, I explained to the audience that I was going to kiss everyone there while I said the word "Pleasure" in 26 different languages. Each audience member was to rate which word they thought was most pleasurable to be kissed during the saying of. This explanation was translated into French from English by Kiki Bonbon. I proceeded to do as explained while a tape of mine played as "background usic". Most of the audience was male, 1 of the women refused to be kissed, & there was general extreme discomfort with such an intimacy from a "stranger".
- Second, the audience was led to the bathroom where they were asked, again with Kiki translating, to write the names of all of the objects in the room on those objects. The purpose of this was to make everyone more conscious of how much language surrounds us. This deteriorated into a more ordinary, but still "spirited", graffiti session.
- Finally, having moved to the bedroom, it was explained, Kiki translating, that I was going to read from the "Arabian Nights" removing all vowels - as I had heard is done in Arabic writing. This was, of course, a deliberate absurd misinterpretation of "scholarly" information meant to reduce a narrative text to gibberish & to provide a ridiculous challenge for the translator.
- recollections from tENTATIVELY, a cONVENIENCE
039. attempt to undermine "reality" maintenance traps
- next 2 t he keswick home 4 t he incurables across from t he rotunda, Baltimore, us@
- Monday, February 2 (Groundhog's Day), 1981
- While embedded between 2 floors of a building I listened to a "hypnotic" tape that I'd made which attempted to convince me that I could walk thru walls & perform other extraordinary defiances of "consensus reality". The audience was kept at a distance from this action by 2 "bodyguards" (Kirby Malone & Richard Ellsberry). The "attempt" was either witnessed thru doorways or on 2 monitors which were stacked vertically - the top monitor showing the top half of my body in 1 room & the bottom monitor showing the bottom half of my body in another. Because none of my flesh showed, it was unclear to those who had arrived late whether there was even a body in the clothes. This was sponsored by Desire Productions.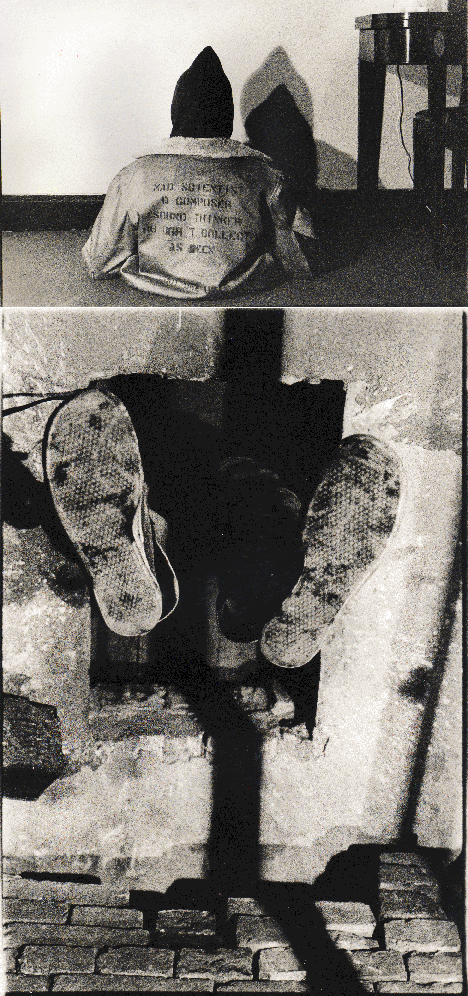 - recollections from tENTATIVELY, a cONVENIENCE
029. CRAB FEAST #2
- Security Square Shopping Mall, Baltimore suburbs, us@
- December 22, 1979
- Under the instigation of Gayle Hanson, crabs with baby doll parts tied to them were taken to the shopping mall on the last saturday before Christmas in hat boxes & released by Gayle & me on the floor of the mall near "Santa's" stand. A mesmerized crowd quickly formed while Gayle "explained". One of "Santa's helpers" came along to try to put a stop to this bizarre behaviour by sweeping up the crabs which made it even more bizarre for me. We were eventually kicked out of the mall by security people & we returned what crabs were left alive to the harbor where they swam sluggishly off.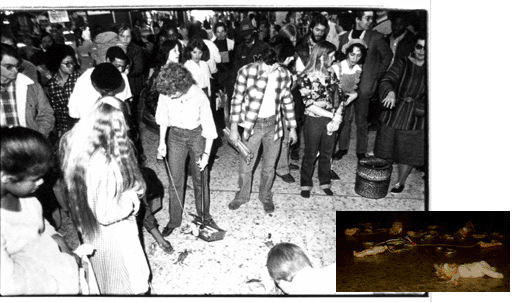 - recollections from tENTATIVELY, a cONVENIENCE
021. B.O.M.B. at 3 Mile Island
- Pennsylvania, us@
- April 3, 1979
- In violation of curfew, we went to the 3 Mile Island Visitor's Center during the peak of its nuclear crisis. Doug Retzler/Sumu Pretzler wore a mylar suit & pretended to be a nuclear scientist who had "everything under control" while his "protective garb" got increasingly tattered. A photo of Sumu was much printed in various papers with captions made up to "fit it" by the "newspapers" with little regard for trying to find out what the photo actually depicted. Supposedly, an article was eventually written for a reporters' magazine about the resultant ridiculous disparities.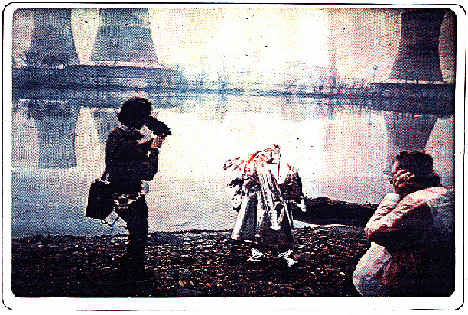 - recollections from tENTATIVELY, a cONVENIENCE
020. Visit to Lacquerland
- a construction site in Maryland, us@
- late March, 1979
- In fall of 1978, I started working as a hard-wood floor finisher. This job involved stooping over a bucket of lacquer & brushing the lacquer on the floors as a part of the finishing process. Inhalation of the fumes caused intoxication. Co-workers Brian Wolle (a.k.a. "Brain" &/or "Herr Brain Storm Drain") & Doug Retzler (a.k.a. "Sumu Pretzler") & I exploited this high & tried to have fun at work by improvising vocally while lacquering. These improvs centered around creating a mythology about the living conditions in "Lacquerland" - our name for the state of mind & body gotten into from the fumes. Our audience, when there was one, were our fellow construction workers - who were apparently entertained but who made jokes about our being "crazy". There were a fair amount of these sessions but, for the purposes of this history, I've restricted myself to only listing the 3 that we audio recorded.
- recollections from tENTATIVELY, a cONVENIENCE
010. a thing involving audio tape, tape playing machine, 2 cushioned seat speaker cabinets, 2 paid book-ends, emptied pockets & pocket-books, books, a book-shelf, & an audience?
(originally written as:
.."a thing involving
audio tap(hh), tap(hh) playing machin(hh),
2 cushion(hh)d s(hh)at sp(hh)ak(hh)r cabin(hh)ts, 2 paid book-(hh)nds,
mt(hh)d pock(hh)ts & pock(hh)t-books, books, a book-sh(hh)lv(hh),
& an audi(hh)nc(hh)?")
- more simply &/or commonly known as "the human book-ends thing"
- Red Door Hall, Baltimore, us@
- fall, 1978
- Two long planks joined & supported at the middle & held up at either end by sturdy speaker cabinets on their sides formed the "bookshelves". Boxes filled with books were scattered about on either side of the planks on the floor. The "human book-ends", Laurie Stepp & Beth Downey, emptied their purses onto the speaker cabinets so that they could rattle when sounds would come from them & took their places on the cabinets facing each other across the planks. During this action they only communicated thru gesture. What was originally a 3 hour 4 track reel-to-reel tape with only 35 very narrow range sounds on it was played in stereo so that 2 of the tracks were heard forwards during the 1st 3 hours & the other 2 tracks were heard backwards during the last 3 hours. When the tape was being flipped the "human book-ends" were permitted a break. The audience was encouraged to pay in "ob(hh)ron + gold" & to react to the situation in some creative way. One friend, Augusta Leigh McDonald, went so far as to find a goldfish pond & capture a goldfish that she named "Oberon" to pay with. Bonnie Bonnell imitated the central tableau by making a miniature version of it in a corner. Gayle Hanson tied up Steve Brookes & read from the masochistic book "Venus in Furs". Most people, myself included, placed & arranged the books on the bookshelves & attempted to communicate gesturally with the book-ends. Richard Ellsberry typed a typewriter portrait of me. The essentialness of the materials & their unusual restrictiveness were meant to function as (& did function as) a catalyst to the audience to draw their inspiration from. A-Muse-ing.
- recollections from tENTATIVELY, a cONVENIENCE
009. ATTEMPT TO SCORE SUM ACTION FOR DAILY LIVING
- various simultaneous locations, Baltimore, us@
- early 1978
- A group of perhaps 8 people were organized into every possible duo. Each duo chose a time of day when each of them would perform an unusual (or usual) daily activity specified for them by the other. As such, each person had (if the number of 8 people is correct) 7 times of the day when they knew they were performing something at the same time as 1 of the other members of the group. I remember, for example, taking out the fortunes from fortune cookies (preferably without breaking the cookie) & the pimiento from stuffed olives (preferably without ripping them) & causing them to switch places as my instruction from Beth Downey. These simultaneities were performed for at least 1 week & were deliberately undocumented so that the emphasis would stay on the experience itself rather than any object produced by it. A later version for vaudeo documentation was started but unfinished.
- recollections from tENTATIVELY, a cONVENIENCE
007. audience participatory reading
- Apathy Project, Baltimore, us@
- September, 1977
- The Audience was handed a folded 8&1/2 X 11" piece of paper with 2 pages from my book:
t he book
t he referent 4 wch consists of
t he non-materialized transparent punch-outs from a letter/whatever stencil
printed on it. Page 31 was on the front: this consisted of a grid of 15 X 15 1st 4 letters of words with each vertical column having every fragment begin with the same letter. The grid arrangement, the vertical organization, the non-referentialness, & the fragmentation were all meant to stimulate the reader to extrapolate & explore the text creatively. Page 89 was on the inside: this consisted of a fragment from a longer text in which all "e"s were substituted with "(v)"s. This fragmentation & substitution were meant to disrupt the otherwise linear narrative so that the reader's attention would drift off. The audience was then asked to read simultaneously from these texts in whatever way they wanted to which they proceeded to do.
[a re-enactment of this is here 34 years later]
- recollections from tENTATIVELY, a cONVENIENCE
to Personal Favorites: 1990-2009