381. on "Under the Floorboards"
- KGNU Radio Station, Boulder, us@
- Saturday, October 9, 2010 - 11PM-Midnight
- My old friend, the performer & radio DJ Little Fyodor, was kind enough to allow me to take over the entire hour of his "Under the Floorboards" radio program that he's been hosting for at least 25 years. The last time I'd been on it was in 1986 when I showed up just minutes before his show was over after I'd performed in Colorado during the "6 Fingers Crossed Country T.Ore/Ture".
For this program I was joined by poet/poem Amy Catanzano. I had a blast running through a slew of topics - starting with my 1st record, "The Official Wafer Face Record" & playing the "Dispersal" track off of that; going into my 2nd record, "Usic minus the square root of negative one" & playing & explaining some of the 1st side, a double-groove side with lock grooves; & overlapping from there into the specially cut side of my 3rd record, "Mechanically Repetitive / ReRecorded Records RECORD".
From there, Amy & I plugged her hoax book entitled "Conceptual Poetics vs Flarf: Taking Sides, We Can't Decide!" by the 'Nowhere Cooperative' while in the process of also plugging the chapbook of mine entitled "vii" that she had published by Kavyayantra Press. I read from & explained the majority of this latter - whipping out such crowd-pleaser lines as: "Was Cleopatra VII more SECRET about her enamourment with KAYVA paaJcaalikaa [puppet] than hers w/ Mark VII?".
Somewhere in all this I also played HiTEC 072's "Sheepdog" (composed by Kerrith Livengood with the Sheepdog being Ben Opie) [footage of the original show that this is the sound from can be witnessed here:
http://www.youtube.com/watch?v=9oYIc09Zxk4]
& HiTEC 069's "Persisting Resisting" (composed by me).
You can hear this program if you navigate to find it & click on the appropriate icon @:
http://kgnu.org/ht/listings.html?show=UnderTheFloorboards
Whether the program will still be archived by the time you get to this link is unknown to me.
- recollections from tENTATIVELY, a cONVENIENCE
380. Generic Tour / Narrative / Rubber-Stamp Collecting / Last Man on Earth
- PAC (Performing Arts Center), Naropa University, Boulder, us@
- Friday, October 8, 2010 - 8PM-10PM
- I was invited to Naropa's Jack Kerouac School of Disembodied Poetics by my girlfriend of the time, Amy Catanzano, who's an administrator & teacher there. This was timed to coincide w/ the release of a chapbook by me entitled "vii" as part of "The Kavyayantra Press Reading Series" series of 10 chapbooks by visiting writers. My visit there was funded anonymously by 2 old friends of mine connected to the university. Amy widely sent out the following [somewhat adapted here] press release that she & I cowrote:
"Dear Writing (Etc.) Community:
"I, Amy Catanzano, have an invitation for you. But, first, a few questions:
"Are you willing to participate in a casual, quick, & unconventional "Generic Tour" of Naropa University on Friday, Oct. 8 at 8 p.m. in front of the Performing Arts Center at 2130 Arapahoe Ave., Boulder, CO 80302?
"Are you sometimes a little bored at readings?
"Are you interested in international cultural/art movements such as Fluxus and Mail Art, the Church of the SubGenius and Neoism?
"Are you exploring interdisciplinary approaches to writing or the relationship between creativity, identity, non-referentiality, and Adamitic language?
"Are you making or researching conceptual poetics?
"If you can answer "yes" to any of these questions, then I cordially invite you to visit Naropa on Friday, Oct. 8 at 8 p.m. for a reading and performance with our special guest, tENTATIVELY, a cONVENIENCE (read on for more information). Park for free in the Naropa parking lot on Marine St. off of Arapahoe Ave. Once we've taken the Generic Tour--this is optional, so if you miss it, meet in the Performing Arts Center no later than 8:10 p.m.--we'll convene inside. After the event, you're invited to a continued gathering (TBA). The event is free and open to the public. Be there or be squared.
"***
"Naropa University's Jack Kerouac School of Disembodied Poetics, in conjunction with the generous support of Professor Anselm Hollo and Jane Dalrymple Hollo, is sponsoring an evening at the Performing Arts Center on Friday, Oct. 8th at 8 p.m., with "tENTATIVELY, a cONVENIENCE," whose name is the answer to the question: "What's your name?" cONVENIENCE, who calls himself a Mad Scientist / d composer / Sound Thinker / Thought Collector / As Been / Low Classicist / Psychopathfinder / Jack-Off-Of-All-Trades / criminally sane / Homonymphonemiac / Practicing PromoTextual / Sprocket Scientist / headitor & earchivist / Explicator / Imp Activist / Cognitive Dissident, is infamous for his associations with the Church of the SubGenius and the Neoist Movement. cONVENIENCE's twelve books include HiTEC (Encyclopedia Destructica, 2009) and footnotes (Six Gallery Press, 2006), and his many experimental movies include "Story of a Fructiferous Society" (2005).
"The evening will begin with a short Generic Tour of a small portion of the Naropa environs--convening in front of the Performing Arts Center at 8 p.m. This tour will lead into the Performing Arts Center itself where a Generic Tour of the World-at-Large will begin and abruptly terminate.
"A "Narrative" will happen next based on multiple realizations of the "Infinite Monkey Theorem" in which a group of Thought Experimenters are presented attempting to NOT make a narrative by transforming into monkeys while tENTATIVELY displays his Piano Illiterature using a GRAND.
"A slide lecture entitled "This Death Threat will be a Collector's Item" will titillate the (v)audience's endless thirst for knowledge and inspiration next by thoroughly elucidating cONVENIENCE's use of the rubber stamp as a medium for spreading ideas in what might often be ordinarily print-unfriendly places. Mementos of the evening will be available to people having objects that they wish to be stamped.
"The presentation will end with a projection of cONVENIENCE's visually and textually complex "Last Man on Earth" accompanied by a live electronic soundtrack. This explores literary history in the person of Mary Shelley, movie-making, experimental music-making in the form of cONVENIENCE's 'one-man-band,' and personal experiences in loneliness and alienation as tENTATIVELY's reflections of Shelley. A Q&A will follow."
I was wearing a full-body black leather motorcycle suit of extreme decreptitude & a latex severed head prop as a hat. The Generic Tour began as I exited thru the locked (to the public waiting outside) doors of PAC into the hallway/foyer, holding a camcorder, & extemporized:
"OK, Greetings, Everyone. I'm tENTATIVELY, a cONVENIENCE, I'm your Generic Tour Guide. Uh.. Standing in front of us is something that's different from something that's behind us but has certain things in common with it. So that's the beginning of the Tour, here. On our left is something that's more or less similar to what's on our right but not necessarily identical & not necessarily not identical. They're opposite each other. Underneath us is something that's underneath us & overtop of us is something that's overtop of us but that also is relative - so it's not necessarily that much different. &.. somewhere about sixty million miles that way is something that may or may not be similar to something that's about sixty million miles that way or.. whatever.. It's really hard to actually pin it down but there are definitely similarities & those similarities may or may not be important.
"So if you follow me this way, you'll see that something is alive near me & some other thing is alive near me & some other thing is alive that's near the 1st 2 things that were alive - but those things that are alive may or may not really be alive - it all depends on how you measure such things & what you determine to be life. Personally, I think they're all probably more or less alive, as you are probably more or less alive, but I'll leave that up to you because I don't want to overly determine these things for you because, even though I'm your Tour Guide, that doesn't necessarily mean that I know everything about everything even though I do know an enormous amount about alotof things which are sometimes similar & sometimes not similar.
"Now if you, if you touch this, for example, you'll find that it has a texture - but, even if you're not touching this, you may find that there are other textures that you're feeling that you weren't thinking about feeling before you touched this - & that really has nothing whatsoever to do with this tour except that it is related to your perceptual apparatus which you may or may not actually have - because, of course, as we all know, or don't know, that could be Maya, it could be an illusion - but, then again, it probably really isn't an illusion - but, then again, who am I to say? I'm just your Tour Guide here.
[arrival at the front of the Lincoln Building]
"Now I've never been in this object before & may not be able to enter into this object - but [I open the glass double doors] we'll give it a shot anyway. [someone in the tour group says something - apparently about the ability to exit] Now, according to the assistant to the Tour Guide here, we can not only come into this object but we can actually exit this object. I think that's something that alotof things have in common with each other - except for the things that we consider to be impenetrable - like various mysteries - so we'll go this way & we'll see whether the assistant to the Tour Guide actually knows what she's talking about.
"Alright, over here we have an image - & over here we have an image - but that's really not such a big deal because images are everywhere. & here we have a thing that's going down - & there we have a thing that's open - & here we have another thing that's open - & then we have some variety of openness in the form of the people who are there [we unexpectedly (to me) are heading down a hallway toward the PAC entrance again] who are expecting us to provoke certain opennesses but we're not going to do that yet - because.. that might be a little bit too predictable. SO.. openness, non-openness - you decide which is most important.
[I lead them out the original hallway that we began in but direct them in the opposite direction from where we went before - toward the parking lot]
"After all, we are here at Naropa & I really wouldn't want to bias you in this direction towards openness or non-openness because that might destroy your openness! [we arrive at a small sign that reads "THANK YOU FOR NOT SMOKING"] Now here there's a sign that says "Procrastinate Until Yesterday" & over there is another sign that says "Procrastinate Until the Day Before Yesterday".
"Alright, moving along, if you look about.. seventy million light years away, you'll see something.. that isn't there anymore. & then if you look about as deeply into the quantum structure of what's beneath your feet you'll also see something that isn't there anymore either.
"Now, if you look at yourselves, you might get confused because you might have to decide what yourself consists of & that's true no matter where you are - unless you're.. post-amnesiac. &, then, the other thing about this Generic Tour is that you have to decide whether the objects around you are also post-amnesiac or not.
[we turn around to go back to PAC]
"Now going back in this direction [I walk through the group] you'll see that there are a bunch of fleshy things all over the place, that you're actually in the midst of a bunch of fleshy things, & that these fleshy things are often dangerous, very very dangerous - but they're also incredibly safe - it depends on whether they're animate or inanimate.
"Uh.. &, once again, I can't stress enough, that no matter where you are, you can always conduct a Generic Tour - you just have to get your language right. So, coming this way, [Kimi Cunningham opens the door to PAC for me]
"I am coming into the room, &.. [the vaudeo transfer projection of the "Where We're" filmstrip begins on cue thanks to Allison] the lights in the room are probably going to go down - but, then again, whether one perceives them as going down or not depends on a whole set of factors - but the lights in the room should go down & the soundtrack for the dvd should be up [it wasn't because I'd forgotten to set my mixer correctly] - but we're not hearing it - & that's probably my fault - but it might not be. [I go on stage to check the equipment] It is not my fault, there is sound coming out.. - but we're not hearing it from there.. which is too bad because.. [I get the sound up on my mixer & I stop talking & the soundtrack is heard:]
"'Where We're'. [etta cetera's voice:] Anyway [something..] [my voice in the soundtrack:] Somewhere to the left is a structure. That structure sure is built, isn't it?"
The "Where We're" sundtrack continues the Generic Tour. I allow this to play for about 9 & a half minutes before shutting it off to cue Amy Catanzano's & Anselm Hollo's intros: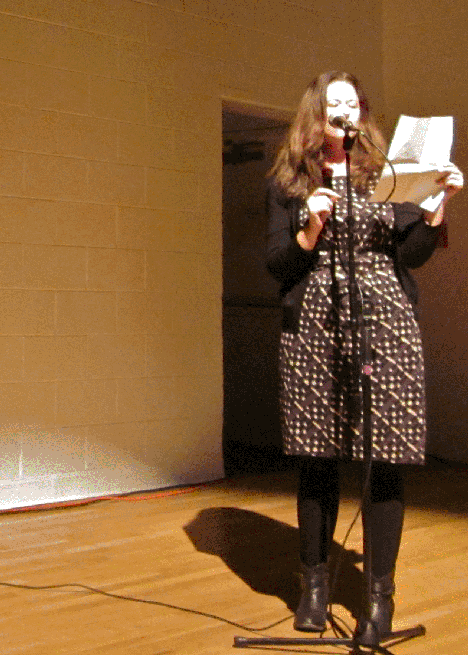 "Welcome everyone, and thank you, tENT, for our Generic Tour! I'm Amy Catanzano, Lecturer and Administrative Director of the Writing and Poetics Department in the Jack Kerouac School of Dismebodied Poetics here at Naropa, and next to me is Anselm Hollo, Professor of Poetics in the Kerouac School. It is our pleasure to be introducing tonight's performer, tENTATIVELY, a cONVENIENCE, whose name is the answer to the question: "What's your name?"
"tENTATIVELY, who calls himself a Mad Scientist / d composer / Sound Thinker / Thought Collector / As Been / Low Classicist / Psychopathfinder / Jack-Off-Of-All-Trades / criminally sane / Homonymphonemiac / Practicing PromoTextual / Sprocket Scientist / headitor & earchivist / Explicator / Imp Activist / and Cognitive Dissident, is infamous for his associations with the Neoism Movement, which he co-founded, Mail Art, and the Church of the SubGenius as well as his conceptual performances and anarchist actions. He is the author of twelve books, including footnotes (out from Six Gallery Press and available in the Naropa Bookstore), has published and edited numerous magazines, has made over 350 experimental movies, and regularly develops sound-based projects such as his pataphysical orchestra called HiTEC, which stands for Histrionic Thought Experiment Collective [actually it's "Cooperative"]. tENTATIVELY also has a large archive of other people's work; most recently he curated a 90-minute film program from his archive for the Three Rivers Film Festival in Pittsburgh, where he lives.
"Early on in his career in Baltimore, where he knew Anselm Hollo, tENTATIVELY was associated with the language poets, though later he says he didn't want to be "limited by any one theory of writing." That logic was an extension of his experimentation with creativity in multiple mediums, a strategy fueled by undermining what he calls "reality maintenance traps." As part of his experimentation with the public and private performance of identity, tENTATIVELY has written and performed under many names including tENTATIVELY, a cONVENIENCE, what he calls his "master-set name," a reference to set theory, and open-context names such as Monty Cantsin and Luther Blissett, which can be used by anyone and which have been at the center of international collaborative writing and performance projects for the last 30 years.
"tENTATIVELY's experiments, which I see as languages, remind me of something Michael Palmer said about translation, that the translation translates not just the text but the translator. Like Jerome Rothenberg's notion of "total translation," which suggests the translator translate untranslatable concepts by creating novel translations, tENTATIVELY's languages translate freely, uncensored, performing a special kind of freedom that frees by being free. The expression of freedom in his experiments ricochets with meticulous and conceptual formal structures and methodologies, colliding chaos and order. And the strong reactions and responses to his experiments, which challenge conventions of all kinds--societal,aesthetic--are part of the experiment. As I've written in a recent review of footnotes, some take the bluepill, some take the redpill....
"I'd now like to hand it over to Anselm Hollo, who is going to say a little bit about knowing tENT during their Baltimore days."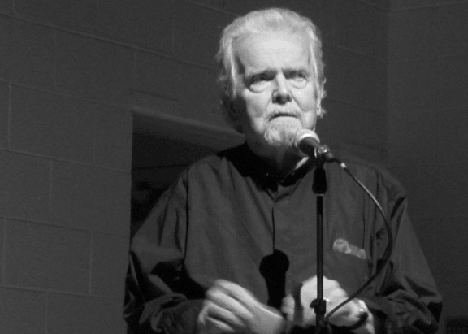 Anselm Hollo: "Well, that was pretty exhaustive, not exhausting, exhaustive. Um, a litany of names, dating back to my 2 sojourns in Baltimore. One was the early, the 1st one was in the early '70s, & the 2nd one was in the early '80s. & somewhere between those times, I had these friends in that, um, in that, um, fair town also know as Charm City [I say: "Also known as 'Harm City'."] - some people thought it was a gross irony, y'know? Uh, I still love that town. &, uh, there were people there - I have a whole litany of names. I'm happy to say that most of them are still with us, I think. There was cris cheek from England, there was Kirby Malone from somewhere down south - I forget exactly where. There was Marshall Reese, there was Nora Ligorano; & visitors included Allen Fisher - a well-known, recognized British poet; &, uh, I don't know if Bob Cobbing ever made it to Baltimore [I cry out: "Yes!"] - he was sortof the godfather of the English side of all of this. & I gather that, now, cris cheek is an associate professor at Miami University in Ohio; Kirby Malone is the artistic director of a group called Cyburbia, I like that, Cyburbia, come to Cyburbia Company - &, as we just heard, tENTATIVELY, a cONVENIENCE is now an active neoist in Pittsburgh. So, it is a great pleasure to meet him again after something like 25 years - that's a quarter of a century, isn't it? & I should also mention Joe Cardarelli - who was a Maryland-born poet - & taught at the Maryland Art Institute for about as long as I've been teaching here. &, uh, y'know, it was a kind of, uh, focal person bringing, bringing many many poets to the Maryland Institute of Art - with which all these people were potentially associated as well [I got ripped off working there as a model - otherwise I found the place entirely too unimaginative & repressive]. So, please welcome tENTATIVELY, a cONVENIENCE."
[Why do I include Anselm's intro? Partially because I LIKE Anselm alot & partially because I want the people mentioned in his list to be able to find these references if they ego-search so that they can know that they're remembered & referred to - this can help pass those lonely days.]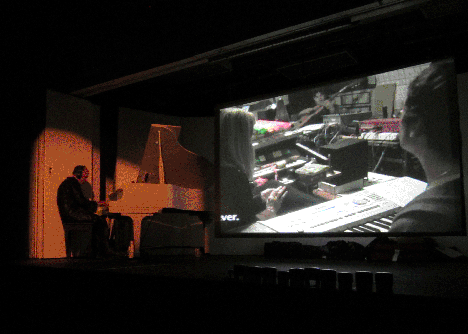 From Anselm's intro I went straight into "Narrative" - wch I'd never presented before. Audience middle: the projected vaudeo of the same name, audience left: me with ear plugs covered over by construction ear muffs playing a white baby grand piano. The "Narrative" movie is an edit of all the HiTEC footage with Managing of the "Infinite Monkey Theorem" System in which text appears. This text is the "narrative" even though the choosing of it through chronological & other systematic criteria creates something other than conventional narrative continuity. The purpose of "Infinite Monkey Theorem" is to encourage the Systems Managers to 'play' randomly & to not stop doing so until someone recognizes a tune in the 'randomness'. My live playing of the baby grand was meant to follow the same instruction & the hearing mutes were intended to inhibit my responding to the soundtrack too directly. I did throw in, in the spirit of a SABOTEUR, occasional quote fragments from a boogie-woogie, "Cool Mule", & a slight misquote from Erik Satie's "Premier Gymnopedie".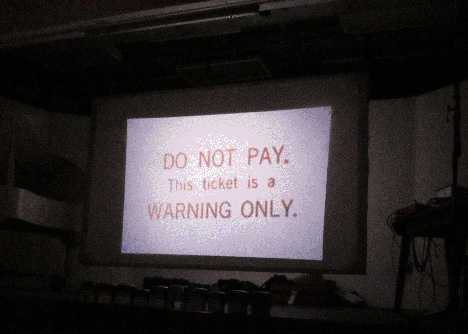 The next part consisted of the projection of a 35mm slide show entitled: "A Collector's Item: 25 Years of Rubber-Stamp Collecting" which I sometimes identify more sensationally as "This Death Threat will be a Collector's Item". I advance through the slides of rubber-stamps that I've had made & related images & explain the images & read from a detailed prepared text. These stamps cover a very broad range of topics from ways of contextualizing language, notions of approval, ways of subverting money, experimental language use, politics, graffiti, math, etc.. This took over a half hour - at the end of which I explained that most of the self-inking rubber stamps were located at the front of the stage & that attendees could stamp them on things at the end of the event so that they could have a memento.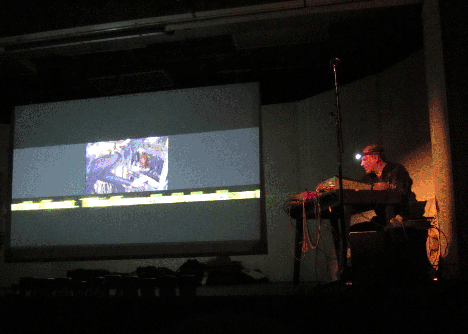 After this, I premiered the new 3-in-one version of "Last Man on Earth" (see the entry for April 2, 2006 & the entry for July 7, 2007). "Last Man on Earth" uses footage from a 1992 improv session of mine on multiple instruments combined with a partial history of deaths surrounding Mary Shelley's & her writing of her novel "The Last Man". This version of the movie has 3 projections compressed into one that heavily exploits the possibilities of 3 side-by-side related projections. In the movie I'm wearing the same motorcycle suit that I was wearing this night but from 1992 before it had experienced the extreme distressing that I'd subjected it to. I played samples from the soundtrack of the vaudeo using an ASR-X-Pro sampler simultaneous with playing the soundtrack & sampling it live using my sampler/mixer. There's a preplanned outline for the playing that involves slight pitch manipulation of a D#5 sine-wave at the beginning, sampling & more drastic pitch/tempo manipulation of the vibraphone section, shadowing of the Experimental Musical Instruments Terrence Dougherty section nearer the end, & a much more 'breakbeat' section at the very end. Throughout, there's a plentitude of explanatory text(s) 'competing' for the perceiver's attention. This section was probably the most intense of all & it's possible that 1/4 of the vaudience left during this time.
The whole program was designed to present multiple facets of language use complicated by its relationship to environment, purpose, (M)Usic, imagery, history, & emotion. At the end, the house lights were brought up & people were encouraged to use the rubber-stamps.
- recollections from tENTATIVELY, a cONVENIENCE
387. Stray Birds
- Marsh Room, National Aviary, Pittsburgh, us@
- Sunday, June 26, 2011 - 11:00AM-11:30AM
- Michael Pestel organized a mnth long series of workshops & performances entitled "KIDBOP!" & "BEBOP!" in cooperation w/ the National Aviary, the Mattress Factory, & the Children's Museum. The basic idea was to bring Butoh dancer Taketeru Kudo from Tokyo, vocalist Caterina De Re from Australia by way of Seattle, movement artist Adelka Polak from Connecticut, dancer McLean Denny from Connecticut en route to Japan, musician Ben Opie from Pittsburgh, & (m)usician tENTATIVELY, a cONVENIENCE (myself) from Pittsburgh all together in one place to produce bird-related events.
KIDBOP was a series of workshops for kids under 15 that started in the last 3rd of June at the Mattress Factory & the Aviary & that culminated in a performance at the Rose Garden at the Aviary on the morning of Saturday, July 2, 2011. BEBOP was a series of workshops for people 15 & older at the Aviary that culminated in 2 performances at the Mattress Factory: one on Saturday, July 9, 2011, 2PM; & one on Friday, July 15, 2011, 8:15PM.
This particular performance was the 1st of 5 performances of the project & just involved Michael, Ben, Kudo, & myself (as well as the birds of course!). Michael (flutes, recorders, bird-calls, etc) & Ben (reeds) played a slow duet while Kudo entered clad in a loin-cloth & w/ streaks of make-up on his skin. Kudo's movements were delicate & complex - he's apparently beeen described as bird-like - hence his presence in this project.
I was sitting w/ a table in front of me w/ electronics on it (DX-27S keyboard, ASR-X Pro sampler, K1m wave-table synthesizer, mixer/sampler, etc) & a table to my right w/ percussion on it (5 differently sized frog rasps, an octoblock, ratchet, corrugated tube, crow-call, siren whistle, etc) wearing my dyed turkey-feather outfit that I'd originally made for the "Harps & Angles" performances that Michael & I did together in 2003 & 2004 - & wch I've used in other contexts since. I started playing around 10 minutes into Kudo's arrival. I had intended to use the samples that I'd used for Michael Pestel's The Birds of Rio Negro ( Saturday, April 23, 2005) for the 1st half of a projected hour-long performance & the samples I'd used for the Braxton Plays Pittsburgh Plays Braxton (Marsh Room, National Aviary, Pittsburgh, us@ - Sunday, June 1, 2008) for the 2nd half but the performance only lasted a half hour so I never made it to the 2nd set.These samples consist of 2 octaves of excerpts from the music of Hector Villa-Lobos & 3 octaves of Brasilian bird sounds.
At Michael's request, Kudo was the visual center of attention, so my playing & probably everyone else's was calculated somewhat to reinforce his actions. He entered slowly, jumped up onto a railing, lay on the floor & acted as if struggling to arise, climbed a dead tree, walked along a ledge, & tip-toed across my percussion table with great precision.
A short vaudeo of this by Rene Rosensteel can be seen here:
http://www.youtube.com/watch?v=HQIioUO1Bb4
- July/August, 2011 notes from tENTATIVELY, a cONVENIENCE
388. BEBOP (Big Experimental Bird Orchestra of Pittsburgh)
- Mattress Factory, Pittsburgh, us@
- Saturday, July 9, 2011 - 2:00PM-3:00PM
- Michael Pestel & Taketeru Kudo had given a sunrise performance in the Mattress factory garden & beyond to start the day off. Then there was this afternoon event. The MF garden has the modified ruins of the basement of a house. It's surrounded by 3 walls with the MF main building on the 4th side. Thru the middle of it is a trough with running water that leads to a sculpted opening in a wall that one can peer thru. On both sides of the trough are recessed areas of varying depths. On the side furthest away from the main building, there's a wooden chair inside a circle of plants that almost completely obscure the chair. A few feet away from that is a descending stairwell at the bottom of which is a slightly wet area with some debris. Above this, it's mostly open except for one fragment of ceiling that can be walked across. If one were to descend the steps & to continue on, one would have to make a U-turn to the left & thru a doorway into a sunken ampitheater.
I was wearing sky camouflage with the front covered with square metal pins with cloud pictures on them. I set up an extensive percussion array at the bottom of the steps that included my skin-head bass drum with a dragon drawn on one of the heads, my Total Mobile Home Suitcase with a loop of Triple-S Variety Show electronics of mine, a vibra-slap, a ratchet, a Flex-a-Tone, train whistle, siren whistle, chain, an orange squeeze toy in the shape of a carrot with a face, a squueze toy in the shape of a human foot, a plastic toy in the shape of a highly stylized bee that makes a buzzing sound when struck, & many other things.
Given that I was below ground level I didn't see much of what happened in this 1st section. Movement artist Adelka Polak was seated in the plant-surrounded chair with her legs sticking out from the foliage. The (v)audience was seated in a tented area on an even concrete floor with their backs at a diagonal to the main MF building. To their left was Michael Pestel playing flute & recorder & various other small winds such as bird calls. Across from Michael was Ben Opie playing reeds. Furthest away from them, in the right corner, was Jim Storch with a more portable percussion set-up than included a Bodhran with an ad for Murphy's Irish Stout on it. Caterina De Re was vocalizing.
I think the event basically started with gangly tall dancer Mclean Denny started in the furthest corner of the amphitheater from the audience & slowly made his way around the perimeter & elsewhere. I was invisible to the audience but I occasionally threw an object out of my pit in their direction. The 1st thing I threw hit the arch over my head & bounced back at me. Ben Opie told me that the 1st thing I succeeded in throwing out of the pit, the anthropomorhpized carrot squeeze toy landed with astonishing accidental accuracy in the narrow water trough.
Mclean wended his way to the stairs & descended them heading into the ampitheater pit. Michael announced the 'end' of the performance, to applause, & then lead the (v)audience into the Mattress factory room adjacent to this garden where Butoh dancer Taketeru Kudo began his performance. He was dressed in a more urban manner than he had been previously. Ben Opie took position in the back audience right corner. Michael was closer to the audience to the right. Jim Storch was in the back left corner & Caterina was opposite Michael. Kudo was the center of attention. The audience were seated facing this in conventional positioning.
I began my participation in this 2nd half by ascending out of the pit, the sky rising from the underworld, rolling my bass drum across the garden area toward the new performance area & leaving it outside the open glass doors that opened from this area to the garden. Kudo began dancing while the 4 musicians in rectangular array played. I gradually brought most of my percussion from the pit to the new area - mostly staying out of the center peformance area - choosing instead to circle around the (v)audience on its backside & flanks. I'd do things like play the chime tree behind the (v)audience & play a tuning fork & spin it near an audience member's ears. I skidded small cymbals across the performance floor into the center of attention & walked a marching machine sound effect into the area too. This latter device consists of wooden dowels suspended by string within a frame so that when it's walked across a surface, such as this floor, it sounds like marching men. Michael stuck his foot thru it & played it that way - breaking the string but producing a nice effect.
I took my Total Mobile Home Suitcase & opened the lid to activate the playing of the hidden tape loop & the sound of cascading electronics emerged. It was exactly the type of sound I was hoping for. Kudo's Butoh dancing was strongly evocative of human struggle.
389. Stray Birds Sunset Full Moon
- Mattress Factory, Pittsburgh, us@
- Friday, July 15, 2011 - 8:15PM-9:30PM
- Alas, I'm writing this description almost exactly a year after this event so I don't remember it as well as I'd like. This was the last of the month-long KIDBOP & BEBOP series that Michael Pestel had organized at the National Aviary & the Mattress Factory & that largely centered around Butoh dancer Taketeru Kudo he'd brought from Japan.
The main building of the Mattress Factory is a large formerly industrial space the main entrance to which is arrived at by passing a garden area where the ruins of a former building have been imaginatively repurposed by an artist unknown to me. The 1st gallery reached has a wall of sliding window doors on one side that look out onto the garden. The night began with dancer Mclean Denny coming out from behind a curtain in this entrance gallery. Projected onto the walls & perhaps the ceiling of the space were multiple videos made by Caterina De Re for this purpose. The videos, as I recall, were mostly nature details such as running water & plants - probably with shots of Kudo as well. Mclean exaggerated his height even further by attaching a branch to his back that extended a few feet higher. His motions were slow & considered. Michael played flutes & small instruments, Ben Opie reeds (& electronics?), Jim Storch probably percussion, & Caterina sang. They eventually led the (v)audience outside as the sun was disappearing over the horizon.
Kudo was to take over as the main dancer here - with the hope being that the full moon would be prominent. Alas, various things probably prevented this latter - such as buildings & clouds. The garden space has the cellar & steps remains from a building. Separating these remains from a more flat area is a narrow channel with water running through it. Walls on 3 sides enclose the space. Ground level is perhaps 8 feet higher above one of these walls. At this higher level, Matt was processing the running water sounds through computer effects which were then heard (although not by me) coming from speakers - possibly placed near the former building's basement steps. A tent roof was placed over the concrete floor seating area & the action took place in the garden.
The (m)usicians were placed much as we had for the July 9, 2011 event with the exception of myself. I was to the right of the audience facing the garden. I was wearing my suit covered with brightly colored turkey feathers (taken from feather dusters). I was playing a keyboard controller to activate bird samples that I'd made. I also had percussion (such as a thunder sheet), a Small Nondo (an instrument made by Neil Feather that consists of a sheet of bowed metal held in this bowed position by piano wire strung to create 2 strings across the Nondo's concavity - generally played by rolling a metal rod across the strings & hitting the strings & the bar with a drum stick) to my left, & the SonLuminous to the left of that. To my, & the audience's, right, & in the corner of the garden least visible to the audience, Jim Storch was playing. Ben was past him, more visible. Michael was closest to the audience to their left.
Kudo appeared from somewhere, probably the top of a containing wall, as he took over from Mclean as the main dancer. He & Caterina prowled the garden. By prearrangement, Kudo came to the SonLuminous (a sound sculpture consisting of metal rods with optical fibers interwoven with them) & butted his head into its rods to activate a clanging. As he did this, I switched on the optical fiber lighting, which had previosuly been off, for dramatic effect. Kudo eventually held a torch above his head with the flames fearfully close to branches & the tent roof. However, true to Kudo's highly accurate form, nothing caught fire.
- July, 2012 notes from tENTATIVELY, a cONVENIENCE
403. "A Catamaran Animist Vigor"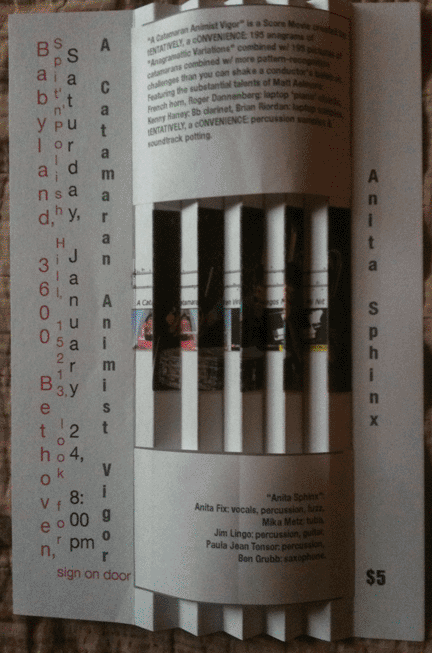 - Babyland, Pittsburgh, us@
- Saturday, January 24, 2015
- The genesis of "A Catamaran Animist Vigor" is probably rooted in the fall of 2009. My friend the ever-inventive Mark Dixon had told me about his Selectric Piano - a typewriter that would play an 88 key electric piano. I started thinking about what text(s) I'd want to type on it. The idea of anagrams of "Anagrammatic Variations" appealed to me. I used an online generator to generate so many of them that the text file result was difficult to open. I narrowed it down to just the anagrams with "Catamaran" & "Catamarans" in them. In 2010. I went to visit Mark & to use the Selectric Piano. His associate Bart Trotman was generous & open enough to type the anagrams for me while I manipulated MIDI-activated electronics. Several movies were made of the results - images of catamarans were added to the mix. In 2014, I screened this by now dense movie at Abandoned Store while a group of 5 improvisors played. I shot footage of this. I went to great lengths to notate what the corresponding pitches were for each of the anagrams. The original movie + the Abandoned Store footage + the notation were combined into a Score Movie - a movie that gives instructions for the live creation of its own soundtrack. I rallied the musicians for playing this. We rehearsed. Finally, on Saturday, January 24, 2015, we presented the Score Movie to an attentive & excellent (v)audience at Babyland while the following 5 performed the score: Matt Aelmore (French horn), Roger Dannenberg (Laptop 'piano' chords), Kenny Haney (Bb clarinet), Brian Riordan (Laptop samples), tENTATIVELY, a cONVENIENCE (Percussion samples). The (M)Usic? Imagine an aleatoric minimalist/maximalist live musique concrete based on word-play & oh-so-much-more. This YouTube version isn't the complete piece, it's just the 'meat of the matter'. "A Catamaran Animist Vigor" was then followed by a performance by Anita Sphinx, a performance redolent of that same day's Summit Against Racism.
- 1st rehearsal broken into 3 parts on my onesownthoughts YouTube channel here:
pt 1: http://youtu.be/cC5d-SriB6Y

pt 2: http://youtu.be/O2ToDm0HfKc
- 2nd rehearsal on my onesownthoughts YouTube channel here: http://youtu.be/9JueavuM5m0
- performance at Babyland on my onesownthoughts YouTube channel here: http://youtu.be/cn3U055X-2U
- August 19, 2015 notes from tENTATIVELY, a cONVENIENCE
404. "The Key to Success, from One Who Knows"
- Babyland, Pittsburgh, US@
- Friday, May 1, 2015
- Every year since at least 2009 there's been an at-least-annual cabaret in Pittsburgh, usually associated with a political event. Since 2010, there's also been an annual May Day Parade in the wonderful Polish Hill neighborhood. For most, if not all, of these May Day events there's been an accompanying cabaret, usually, if not always, the night before. This was the 1st of the May Day cabarets that I participated in. The request being that performers restrict themselves to 5 minutes or less, I managed to pull off the following in something like 2&1/2 minutes. I had originally developed this piece for something I'd been invited to participate in at a theater scheduled later in June. Anticipating that the organizer(s) of that would flake, as they did, I decided to present it at the more reliable May Day cabaret. Here's the script:
"The Key to Success, from One Who Knows"
- april 2015
Monolog:
I walk out from the wings with a chair in one hand on the audience side and a short ladder in the other hand. I put the ladder unobtrusively on the floor & set the chair down in profile. I face the audience & speak the next line while I reach down with my right hand, pull on my right boot-strap & lift my right leg up. While it's raised, I try to reach my left boot-strap & fail, stumbling a little.
"In the late 1970s, I met a young woman..
I sit in the chair & pull on both boot-straps pulling myself into a fetal position while I say the next line.
"She told me what she thought other people should do to succeed..
I set up the ladder so that its side is visible to the audience and so that I can ascend it from the direction I came from. I pull on my right boot-strap to lift my right foot onto the 1st rung of the ladder & repeat the process with alternating legs as much as possible while I say the next line.
"She was very stern and judgmental about it..
I walk to the wing to get the taller ladder & say the next line while I bring it on stage & set it up as the next prop in the chain - in the same arrangement as the last ladder.
"I've tried for years to follow the dictum..
I start to ascend this ladder in the same way that I did the last one while I say the next line.
"But no matter how hard I try, no matter what I do..
I continue ascending the ladder while I say the next line.
"I just can't seem to succeed..
When I get near the top my head should enter a pre-hung fake cloud hanging at a level that my head can reach in time. It's made out of cotton balls & hung with monofilament.
"No matter how much I put my head in the clouds where hers was..
I unhook the cloud from its attachment & wear it as a hat as I descend. Once I'm on the ground again, I say the next line.
"I still find my feet on the ground..
I take the big ladder down & carry it off-stage while I say the next line.
"No matter how much I try levity to defy gravity..
Back on stage again, I reach down to both boot-straps & make a feeble jump up while I say the next line.
"I still haven't managed to pull myself up by my boot-straps..
I pick up the chair & the small ladder while I say the next 2 lines.
"Oh, did I mention?
"She was a millionaire heiress living off a trust fund & I was working for less than minimum wage as a laborer..
I deliver the last line as I exit off-stage carrying the ladder and the chair.
"So I guess I'll just have to keep my feet on the ground and walk.."
- August 19, 2015 notes from tENTATIVELY, a cONVENIENCE
405. My 5th May Day Speech: Soap Box Opera Episode 4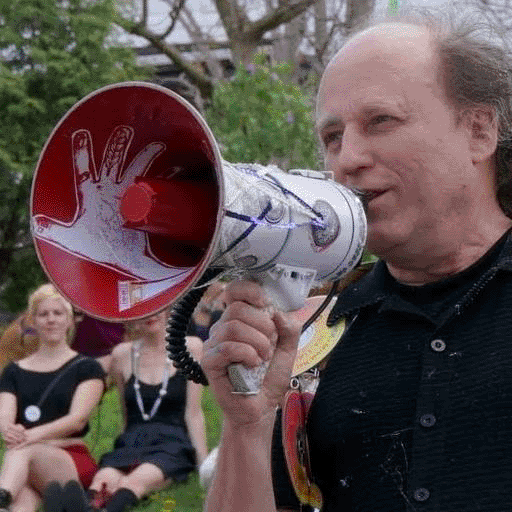 bullhorn decorations: etta cetera; photo: Mark Knobil
- midway through the annual Polish Hill May Day Parade on the streets of Polish Hill, Pittsburgh, PA, us@
- Saturday, May 2, 2015
[I'd originally thought I started giving these May Day speeches in 2011 at the 2nd of the annual Polish Hill May Day Parades but I realiozed as of September, 2015, that I actually didn't start until the 3rd of the parades in 2012 so this was actually just the 4th of my speeches - as such, the movies online for 204 & 2015 are misnumbered]
- The text of my speech:
"In the early 1970s feminists made the case that housewives were underappreciated, undervalued & underpaid marginalized labor. The idea was that they did housework, child-rearing, & cooking for their family but were at the mercy of their husband's determination of what the value of their work was. They were taken for granted. If the marriage was healthy & the arrangement was consensual then maybe everything was fine. But if the marriage was unhealthy then the housewife was somewhat trapped by the marriage contract without much legal ability to redress her grievances.
"Things have changed since then insofar as gender roles aren't nearly as fixed as they were then & there're now far more married women making a living, far more men staying at home as "househusbands", & far more common options for not being stuck in either of those roles.
"HOWEVER, in many respects, we're all still stuck in just trying to survive in a world of marketplace forces that we didn't create & don't necessarily want much to do with. & that's where the work that I respect the most comes into play, a form of work that, like that of the housewife in 1970, is underappreciated, undervalued, & usually not paid at all by the monster known as "society-at-large".
"What's that work? It's the work that probably all of you here do on a regular, if not DAILY basis. It's the work that's exemplified by this absolutely wonderful annual May Day Parade, by the Variety Show, by the Marching Band, by the Softball Game, by the Kids Activities, by the Food & Drinks.
"In other words, it's the work we do for the sheer joy & love & thrills & inspiration & community-mindedness of it & NOT FOR MONEY. It's the things you actually LIKE TO DO, the things you FEEL ARE IMPORTANT. It's the prison activism, it's the resistance to people being reduced to little more than money-making machines, it's the embracing of creativity as a sign of life far more potent than a Lear jet or a diamond necklace.
"I wish we could suffer less, I wish the struggling were less desperate. There are many, many times when even having a few hundred dollars would make a huge positive difference in our lives - but if you don't have that few hundred dollars you probably at least have the ability to do something to brighten up your day & that of the ones around you. Don't lose it!!"
- on my onesownthoughts YouTube channel here: http://youtu.be/jImQyP8g_iQ
- August 19, 2015 notes from tENTATIVELY, a cONVENIENCE
409. "RonDodo"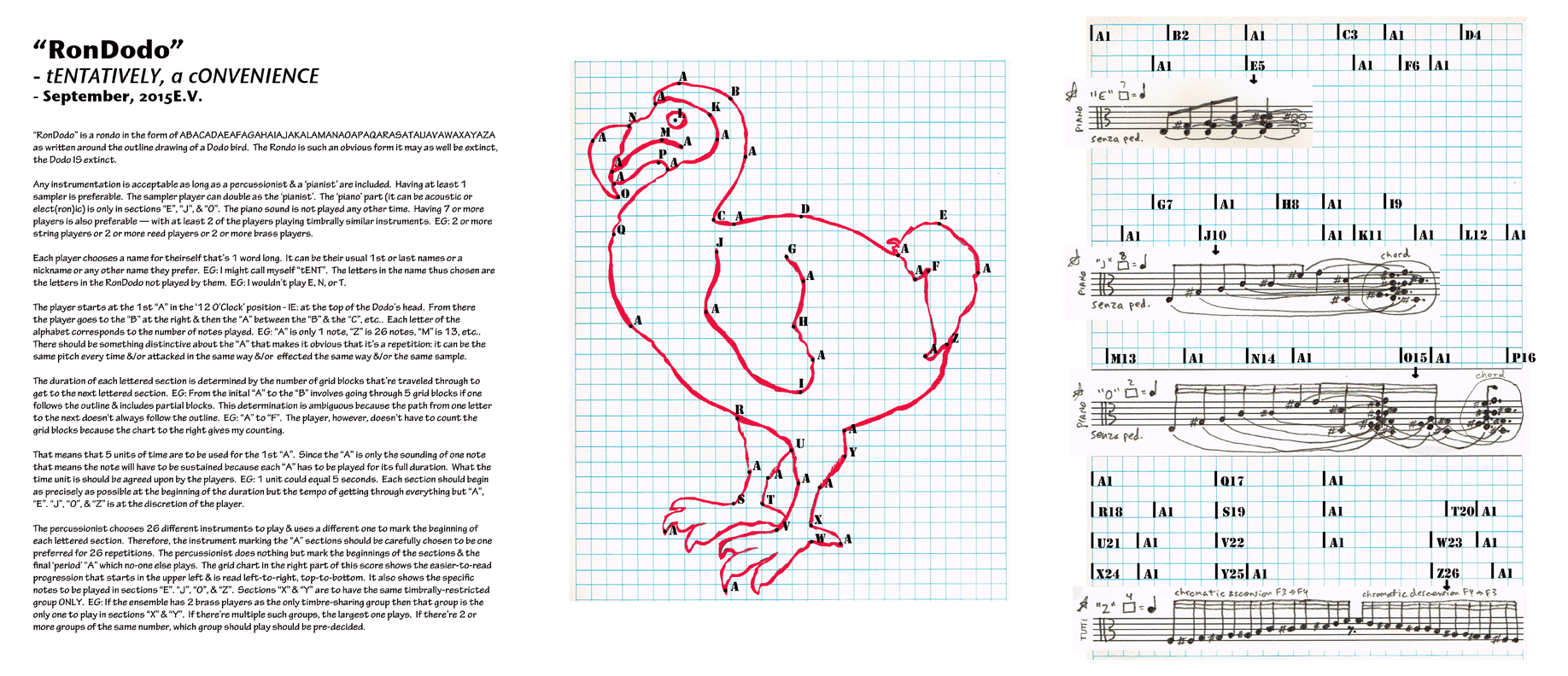 - Lightlab 10, The Space Upstairs, Pittsburgh, us@
- Tuesday, November 10, 2015
- ""RonDodo" (September-December, 2015E.V.) I started (d) composing in 1974. I've done nothing but d teriorate since then (ka-boom!). "RonDodo"'s the latest evidence of that. I was probably daydreaming about the punning possibilities of the words "Rondo" (a simple musical form) & "Dodo" (a bird rendered extinct by humans several hundred years ago) & wondered about how to turn it into a score. Lo & Behold!, "RonDodo" was born! I drew an outline of a Dodo & made a connect-the-dots tracing of it that followed an extravagant RonDo form: A-B-A-C-A-D-A-E..A-Z-A & placed this over graph paper to provide a regularizing component. I then established rules about how the players should proceed from there. Unpromising as this may seem to some, a fairly interesting (d) composition was generated. Since I'm fortunate enough to have friends who actually find these pieces of mine challenging & fun to play, I was also fortunate enough to work with the following crew to bring "RonDodo" to life: Matt Aelmore: French horn; Jason Belcher: valve trombone; David Bernabo: keyboards; Roger Dannenberg: trumpet; Calder Dudgeon: conductor; Kenny Haney: clarinet; Julian Krishnamurti: violin; Ben Opie: alto saxophone; Brian Riordan: percussion; & myself (yes, I'm even friends with me): tENTATIVELY, a cONVENIENCE: (d) composer, sampler, moviemaker. This movie quasi-documents the piece's growth up 'til its premier performance as part of David Bernabo's "Lightlab 10" at the fabulous "The Space Upstairs" in Pittsburgh. Such details as rehearsals are primarily intended for the edification of geek scholars. Then again, if you're checking this whole business out in the 1st place you probably ARE a geek scholar in which case I greet you (albiet in this removed way) with thanks for your interest. The final version presented here is also available on CD as part of my "1975-2015" collection of selected works of mine for 40 years. Figuring out my email & writing to me is probably the best way to get a copy because I don't anticipate it's getting distributed otherwise." - tENTATIVELY, a cONVENIENCE onesownthoughts YouTube notes December 9, 2015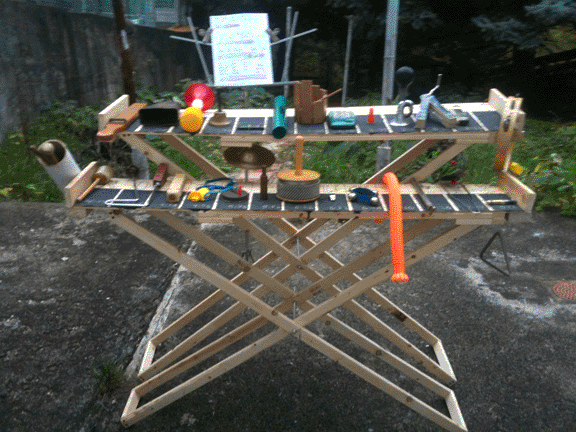 the percussion stand tENTATIVELY, a cONVENIENCE designed & built for "RonDodo"
full "RonDodo" movie on my onesownthoughts YouTube channel: https://youtu.be/CzsoiM8z1wk
411. Chalkboard Suit & Chernobylite Jokes
- Babyland, Pittsburgh, us@
- April 29, 2016, E.V.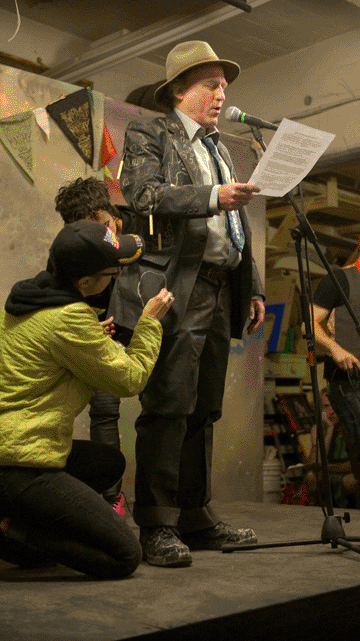 photograph: Mark Knobil
- "Chalkboard Suit & Chernobylite Jokes": 2016 marked the 7th Annual Polish Hill May Day Parade. Each year, & for years even before the parade started, there've been Variety Shows open to public participation that precede the parade. This year I'd been reading about Chernobyl. The theme was of the parade was "Many heads, many hands" so I decided to paint a suit with chalkboard paint & invite audience members to draw hands & heads on them while I talked about radioactivity, etc. My prepared text was as follows:
This year's 7th annual Polish Hill May Day Parade theme is "Many Heads, Many Hands" in honor of the 'Many-Headed Hydra' of Mutual Aid & Resistance to Oppression. SO, I'm asking for volunteers to come up here & lay hands on me..
Do you like my suit? I feel a little stiff in it. Maybe that's because I painted it with chalkboard paint - & that's why I have chalk dangling from it. The idea is for the volunteer many heads & hands to draw many heads & hands on the suit.
While the volunteers are doing that, I'm going to talk about radioactivity. Did you know that this past Tuesday, April 26th, marked the 30th anniversary of the nuclear accident at Chernobyl?
For those of you who don't remember Chernobyl, it was a nuclear power plant in the Ukraine, right at the Belarus border, that had an explosion from which 60 to 70 percent of the radioactive fallout went into Belarus. Hundreds of thousands, if not hundreds of millions of people were, & still are, effected.
My stepfather worked for the Baltimore Gas & Electric Company as a sign painter. Every year, a lottery was held where male employees were picked to clean the nuclear power plant. According to my stepfather, if you said NO you could be fired.
Fortunately for him, he didn't have to say no because the younger guys were happy to do the job because they got extra pay. My stepfather's dead now, not from radioactivity, he was spared that, he had ALS, apparently from U.S. chemical weapons he was exposed to in the Korean War. He still managed to live a long life. But that's a different story.
I've been reading a book entitled "Voices from Chernobyl", a book of interviews with 'Chernobylites' compiled by a Belarusyn journalist named Svetlana Alexievich in 1996, 10 years after the disaster. I'm going to tell you a few of the Chernobylite jokes that she learned from the people she interviewed. They're a bit out of context but I think you'll get the drift:
"They asked the Armenian broadcaster: 'Maybe there are Chernobyl apples?' 'Sure, but you have to bury the core really deep.'"
"There was a Ukranian woman at the market selling big red apples. 'Come get your apples! Chernobyl apples!' Someone told her not to advertise that, no one will buy them. 'Don't worry!' she says. 'They buy anyway. Some need them for their mother-in-law, some for their boss.'"
"Guy comes home from work, says to his wife, "They told me that tomorrow I either go to Chernobyl or hand in my Party card." "But you're not in the Party." "Right, so I'm wondering how do I get a Party card by tomorrow morning?"
"After Chernobyl you can eat anything you want, but you have to bury your own shit in lead."
"This prisoner escapes from jail, and runs to the thirty-kilometer zone at Chernobyl. They catch him, bring him to the dosimeters. He's "glowing" so much, they can't possibly put him back in prison, can't take him to the hospital, can't put him around people."
"'Now all the stores have radio-products.' 'Impotents are divided into the radioactive & the radiopassive.'"
Now, imagine, dear volunteers, if I were radioactive would you be laying your hands on me? Thank you.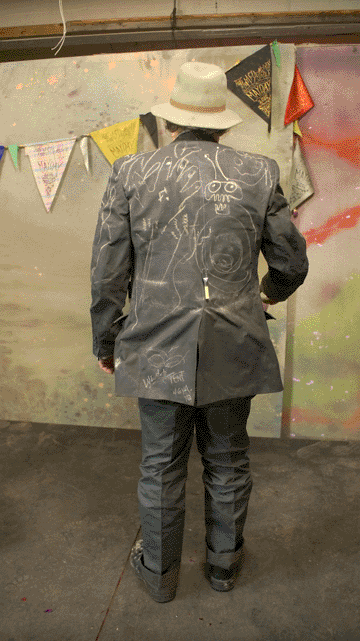 photograph: Mark Knobil
- a movie of this is on my Vimeo channel here: https://vimeo.com/164947710
- notes from tENTATIVELY, a cONVENIENCE
413. "Limpolysemia"
- via Skype from Who Unit? in Pittsburgh, us@, to Minsk, Belarus; Rotterdam, Netherlands; Richmond, Virginia, us@; South Carolina, us@
- Sunday, August 8, 2016EV, noon in Pittsburgh, Richmond, & South Carolina; 7PM in Minsk & Rotterdam
- This was the premier of my sampling piece made for a video-teleconference of the same name. Sincee the main purpose of the conference was to establish communication between IMP ACTIVISTS in Belarus, who speak Russian, & IMP ACTIVISTS &/or Neoists in the us@ & the Netherlands who were speaking English, the samples were mostly in Russian - with the exceptions of quotes from a poem by Belarusyn Monty Cantsin. The performance of it that essentially opens the teleconference is at 12:53 in the feature-length movie that documents it on the Internet Archive here: https://archive.org/details/Iimpolysemia . Below are scans of the score & some scanned pages from the Russian coursebook that I took some of the Russian phrases from.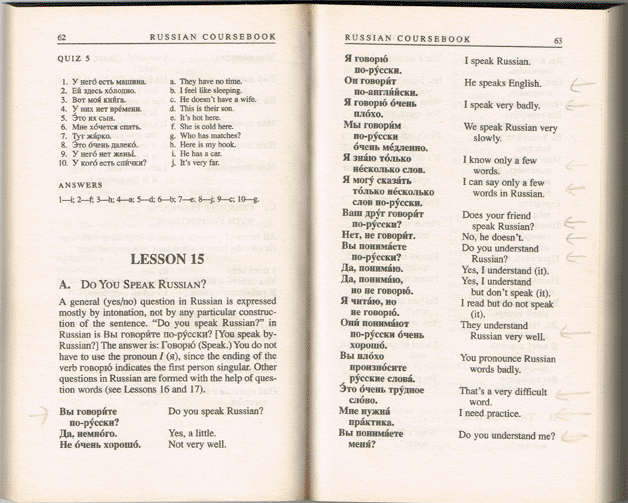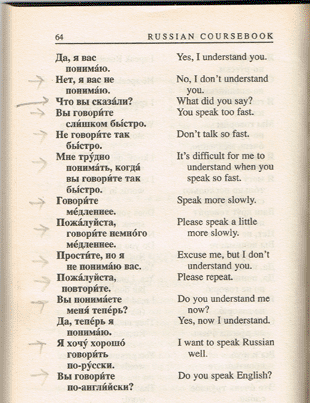 - September, 2016 notes from tENTATIVELY, a cONVENIENCE
423. "Where did you get the idea for your most recent book?"
- Spoken Word Open Mic, Biddle's Escape, Pittsburgh, us@
- Wednesday, January 10, 2018, 7:20PM
- I've been collecting alcohol bottles & cans that appeal to me for one reason or another but without any purpose in mind until I finally realized that they'd provide a relevant visual element to a reading of my text that was written in reponse to the Goodreads question "Where did you get the idea for your most recent book?". Throughout the reading, I placed these cans & bottles in front of me on the table, where I had the text, to create an atmosphere of comedic intoxication, even though I wasn't actually drinking alcohol. The 1st one I placed on the table was an empty bottle of "Walt Wit" beer that has a picture of poet Walt Whitman on the label.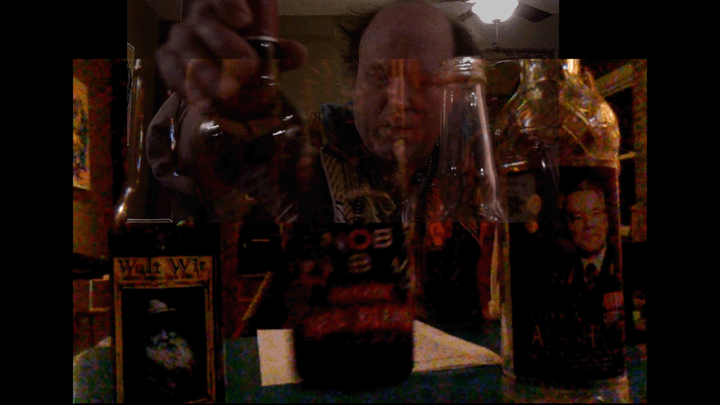 still from the movie of the reading
https://www.goodreads.com/questions/268679-where-did-you-get-the-idea-for-your-most
Goodreads asked tENTATIVELY, a cONVENIENCE:
Where did you get the idea for your most recent book?
(October, 2016?)
tENTATIVELY, a cONVENIENCE Well, this isn't exactly about my most recent book ("tENTATIVELY, aN iNTERVIEW" in collaboration with Alan Davies) but it's the closest I can get at the moment. That age-old question of "Where did you get the idea"? can be answered by almost all creative people who're willing to be honest with a simple answer: from a series of books called "Ideas for _____s" - in this case "Ideas for Writers". I have one called "Ideas for Filmmakers" & one called "Ideas for Musicians" too. They're all pretty much the same with a few minor variations. I should clarify: they're not exactly books, they're things that display on my iTab, they're kindof expensive but the subscription's worth it because it keeps me ahead of the pack, so to speak, ahead of the wolves at my door. Unfortunately, I can't really afford to pay for a good iTab at the same time so I can't always read the microprint.
Anyway, just to give an example. I'm sitting here, alone, as usual, my inflatable amanuensis doll that answered to the name of Samuel Beckett deflated a while back & since then I haven't had any friends at all. SO, I'm trying to think: what can I write? I just look at the iTab "Ideas for Writers" & I see that zombies are in right now so I think "COOL, that's something different that I wouldn't have thought of on my own!" so I decide to make it a zombie story.
Well, lest you think that I'm lazy and that I'd just sit back on my haunches & knock back a six-pack after such an inspired moment, I THEN consult the iTab again & see that if I really want to corner a niche market I should make it targeted to an audience-in-search-of-'their'-writers so I decide to make it a queer youth novel, at least a little - not too much because I want to keep it outside of the rating system so I don't have any problems there.
Now I'm on a roll! A few more checks in the iTab & I've got the opening scene: two girls in a bedroom messing around, nothing too x-rated, just some exploratory kissing, maybe a little petting, again, not too much. The annoying little brother has been pounding his pud in the next room, he can hear everything so he knows what's going on. Now I don't explicitly say that's what he's been doing, it's implied, right? "Ideas for Writers" teaches you how to be subtle. SO, he bursts into his sister's room, his pajama fly is open, he's got the door-knocker in his hand, the sister & her friend see that he's a zombie so she blows his head off with a handy gun (every American home should have at least one in every room).
This is where I start to get really original: usually zombies get killed when their head gets blown off, right? In this case the brother keeps right on coming, he can't see anymore but it's ok, it's a small room, the bed's on the right, the school-desk's on the left & the window's straight ahead so it doesn't matter if he can't see anymore. I admit, I started to get lost here, I mean his door-knocker wants to "ring that bell-el-el-el-el-el-el" right but I can't let that happen, I've got to curb that heat-seeking missile.
Eureka! A VAMPIRE comes in the window at that very moment (I'm not making this shit up, it's all in the "Ideas for Writers" iTab) & starts sucking on the boy's neck-stump. It's like winning the lottery for the vampire. In no time at all, the boy's body is drained 'til he's little more than one of those party-whistles where you blow it & a tongue of rolled paper shoots out & then retracts again - you know what I mean? BUT HE'S STILL ALIVE! (Every time I start a sentence with "But" or use an ampersand or whatever a red line appears under it, the "Ideas for Writers" spellcheck doesn't like it at all but I can't help myself I'm so excited!) Nothing can kill this kid.
The girls have been watching all this, admittedly fascinated & a bit turned on, but, then, the vampire turns to look at them & she's got a weird look in her eye & they know what that means so they each take a nail-studded baseball bat that's there in case they run out of ammo & they each take a swing but the vampire's too smart for that & jumps out the window just in time & the bat hits the brother in what's left of his stomach instead &, & here's the shocker, his head pops out of his neck, he was only fooling, he's ok, & everybody hugs each other & we're back to being family-friendly.
I REALLY don't know where to go from here, I'm even more stumped than the brother (get it?!) so I consult the well-spring & find that making it a dream justifies anything so that gets me off the ratings hook a little. The sister wakes up, it turns out that she's fallen asleep in class, she's in school & a nun has awoken her by whapping a ruler across her knuckles. I got that from the iTab too - nice touch, eh?! See why the subscription's worth it?!
There's something weird about the nun. The reader doesn't know this yet, I just drop some hints, but the nun's actually a guy in drag who's in school as an undercover cop trying to catch some grafittists who've been carving a post-horn symbol in the ceilings & the cop can't even figure out how they get up there, he's just got to know. But that's not the only weird thing, the girl's starting to figure out that he's actually a guy because there's this protuberance at about three feet in the front of the nun's habit.
In other words, all is not as it seems - you don't want to make it too obvious for the reader. When the girl gets woken up, she knocks her iTool on the ground & when she leans over to pick it up in her Catholic School mini-skirt uniform her thong strap breaks & her woo-haa is exposed to the 'nun' who just happens to be bending over at the same time to help her pick up the thingie &, wouldn't you know it?, that nylon-wrapped protuberance slips right into the Garden of Eden!!
At this point, I'm a bit tipsy & I look at my "Ideas for Writers" & see that I've accidentally opened the ADULT version but there's no turning back now because I've lost track of where I am anyway. Well, the girl, the sister, right?, not the 'nun' sister, but the zombie-boy-in-the-dream's sister gets pretty excited by all this & that's when, to quote Dr. John Money, she gets derailed from her love-track. She's a goner. Nothing is EVER going to turn her on like this again, she's going to spend the rest of her life trying to reinstantiate but there's no hope for her, this was a one-of-a-kind experience. OR SO IT SEEMS!!
Fortunately for her, the undercover cop is actually her own age (within a year or two) so the story's in the clear there, & the reason why this particular cop specializes in nun-drag is NOT because he's one of the Sisters of Perpetual Motion, or whatever they're called, but because he has a physical abnormality that makes his crotch two feet above the ground & his heart at about three feet while his head is still at about the normal height.
Here's where the "Ideas for Writers" really gave me a kick: The protuberance, which everyone has been thinking is the member of the family who hangs onto the family jewels is ACTUALLY a stake that was driven through his unusual person's heart! The thing is: HE CAN'T TAKE THE STAKE OUT HIMSELF, that's against the rules, & he's too embarrassed to ask for help. WELLLLLL (another red underline), the stake gets caught in the honey pot & when the girl stands up it pops out of his chest & the wound immediately heals. BOY, is he grateful!
I barely need to tell you what happens after that, the story just sortof writes itself. The boy is actually some sort of super-powered shape-shifter who was elongating when the stake was driven in by a bad guy who was trying, of course, to kill him. The result was that he didn't get killed but he got stuck in this shape, right? & he's been an undercover cop in nun drag ever since. That's kinda harsh for such a young guy - even if he is precocious. That's made him more sensitive.
Once the stake's out, he remembers that HE's the grafittist & that his elongo powers have enabled him to carve into the ceiling with his titanium-hard fingernails. Everything fits together, he & the girl fall in love, his special powers make reinstantiation possible after all & they live happily ever after. That's just the 1st chapter, I've been misleading the reader, the real hero of the story is the writer but I'm too drunk now to read the "Ideas for Writers" anymore so I have to stop for now. Does that answer your question?!
- a movie of this is on my onesownthoughts YouTube channel here: https://youtu.be/beFRcoyT_SY
424. "Exorcising Capos"
- "The Exorcism", Glitter Box Theater, Pittsburgh, us@
- Saturday, February 3, 2018, 8:20PM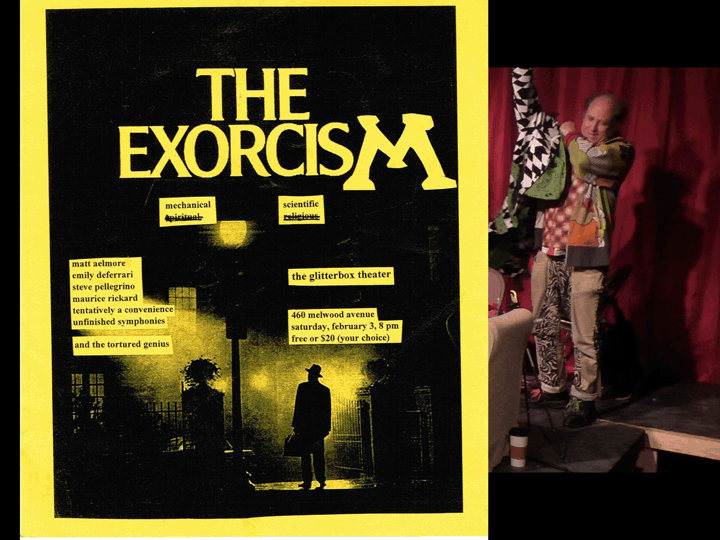 - My friend & collaborator Mr. Funky (aka Unfinished Symphonies) conceived of & invited me to be a participant an even called "The Exorcism". He explained this to the press thusly: "It's gonna be a series of short, punchy individual exorcisms. Each participant will pick a target and go for it with any strategy she/he chooses. Could be music, could be something else. At the end we'll have the audience write down what they want erased from the world, and we'll go out to the street and burn up their paper."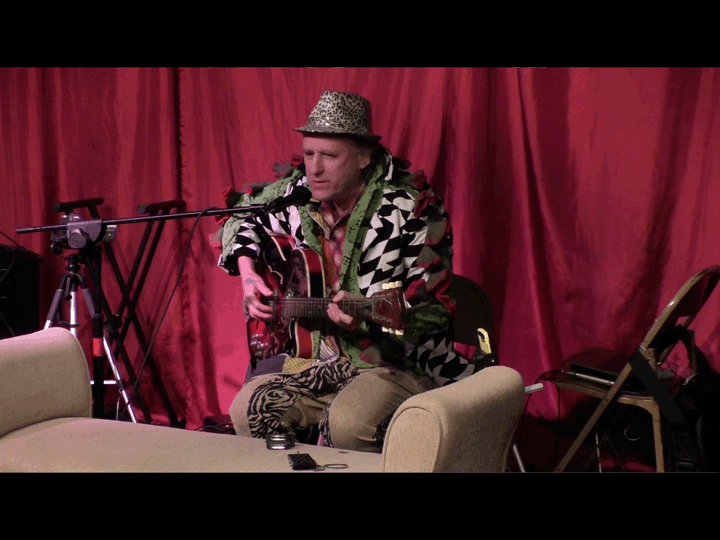 I decided to exorcise capos. I've always found capo use to be ridiculous. The idea was to use 5 or more altered quick-release capos in a binge of capo overkill to purge capo playing. If one's an alcoholic one could 'cure' oneself of it by drinking oneself to death (NOT RECOMMENDED OR EVEN SUGGESTED) because then one would be dead. I thought I'd apply the same logic to capo playing. As usual, the more I thought about it the more elaborate my idea became as to what to do.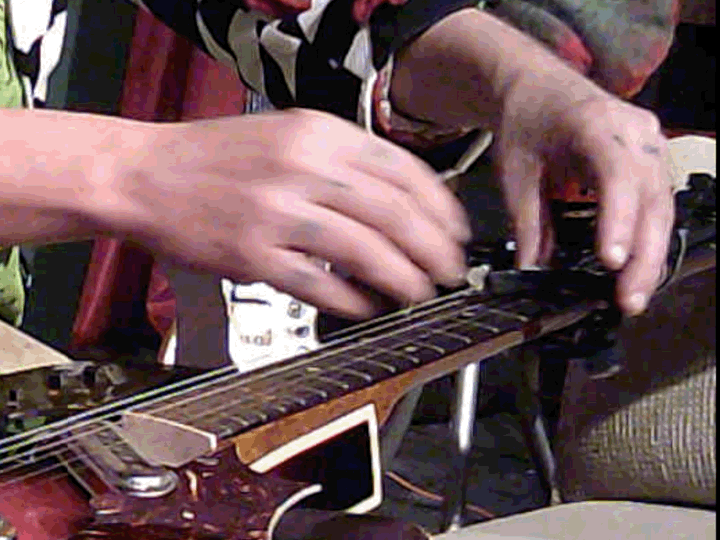 The night of The Exorcism arrived & I was in a particularly stressed-out, distracted & unhappy mood. Even though I pulled it off in a way that appeared to entertain the (v)audience I was dissatisfied with all the things I forgot to do & with all the things that went wrong. The performance was still good anyway but for the purposes of this movie I've added some extra footage to make up for some of what was lost. Mr. Funky himself will put movies of each of the performances online so this only represents mine.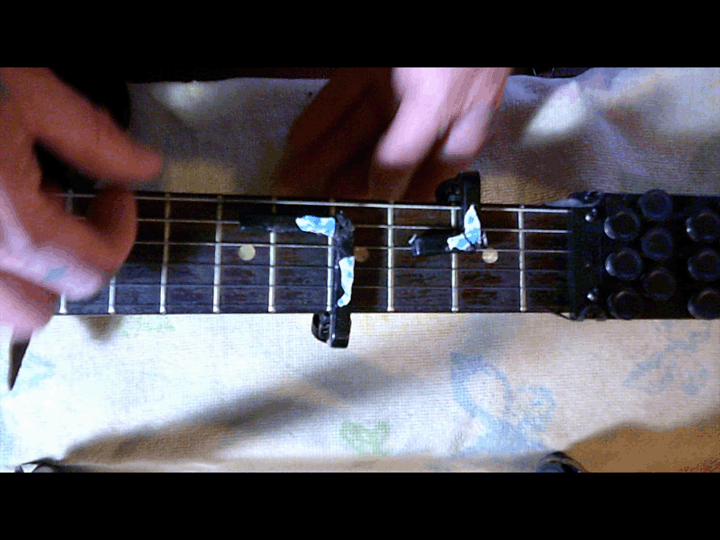 What I DID do was talk about learning guitar as a teenager & deonstrated some of what I was talking about. I'd altered 2 capos & I used those & an E-Bow & an EZ-Fret to indulge in an orgy of lazy playing. After I'd demonstrated this, as a way of avoiding a situation in which using a capo would even make any sense, I switched to a MIDI-guitar & ended on an acoustic piano. I played a D major chord, improvisied in a way that was irrelevant to scales, played a D minor chord, & ended on a D Major chord. The reason for this was two-fold: I wanted to introduce a musically conventional 'uplifitng triumphant' ending with a Picardy Third and to end on a D major chord because Unfinished Symphonies usually says that his songs are "in D", which, as far as I can tell, they never are - by which he apparently means that they begin & end on a D major chord.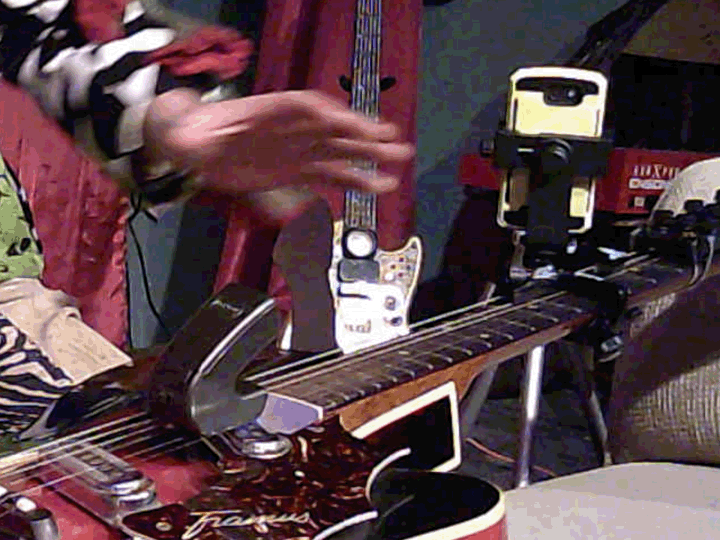 The other performances were varied & generally excellent & were by: The Tortured Genius (Mr$. Funky), Emily Deferrero & a host of friends, Steve Pellegrino & Mary (on mandolin-banjo), Maurice Rickard, Eric, Matt Aelmore, & Unfinished Symphonies (Mr. Funky). It was a very special evening. Thanks, as always, to the wonderful Glitter Box Theater for being so open-minded & affordable.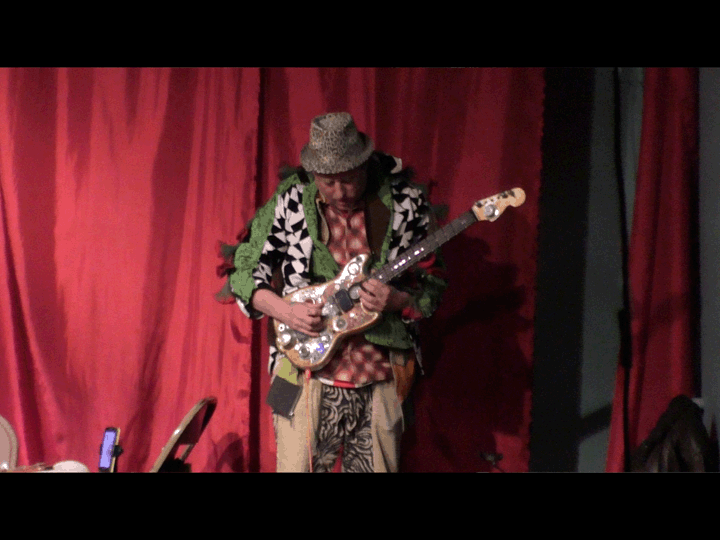 - Unfinished Symphonies's raw footage of the Exorcism of Capos is here: https://youtu.be/J5SX8bkQW4c
- My edit, introducing supplementary materials, is on my onesownthoughts YouTube channel here: https://youtu.be/nTRdh4YnA2I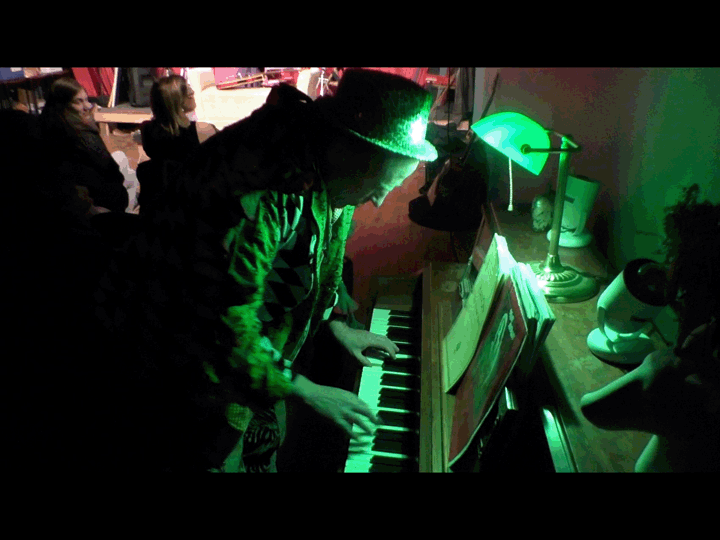 426. "Soap Box Opera episode 7"
- a srop on the Spit'n'Polish Hill May Day Parade, Pittsburgh, us@
- Saturday, May 5, 2018, 1:30PM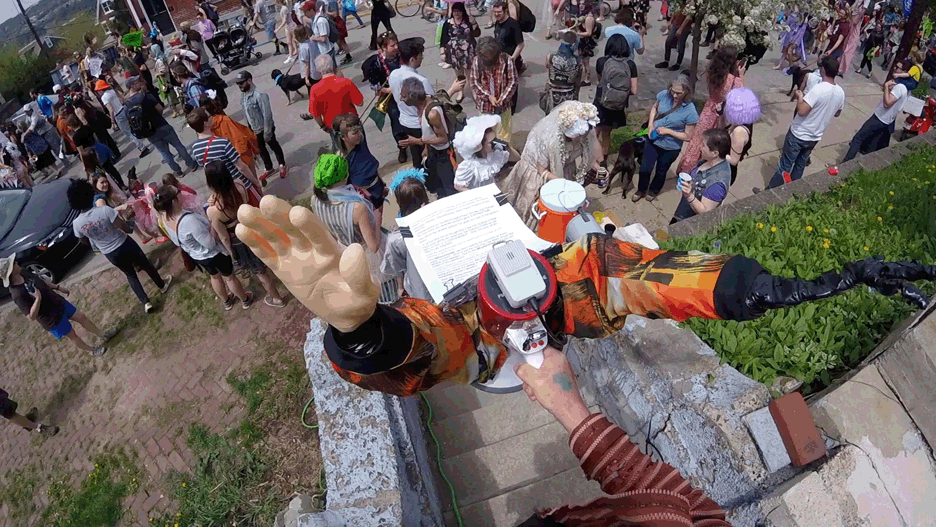 - Since 2010 there's been an annual May Day parade in the neighborhood I live in. It comes together in a somewhat chaotic way but still manages to be colorful & substantial & fun. Since 2012, I've been giving a speech as part of it. Each year I've tried to say something political & reinforcing of both the community & the individuals within the community. I usually think about what I'm going to say all year leading up to it. I, personally, don't enjoy political speeches very much. No matter how much I agree with the politics of the person speaking they always just come across as so much blah-blah to me. Not wanting to be just-another-political-speechmaker, I've leaned somewhat toward the performative in an effort to make the experience more interesting. This year, 2018, I decided to break out of the expected altogether & take advantage of the USB input in my megaphone.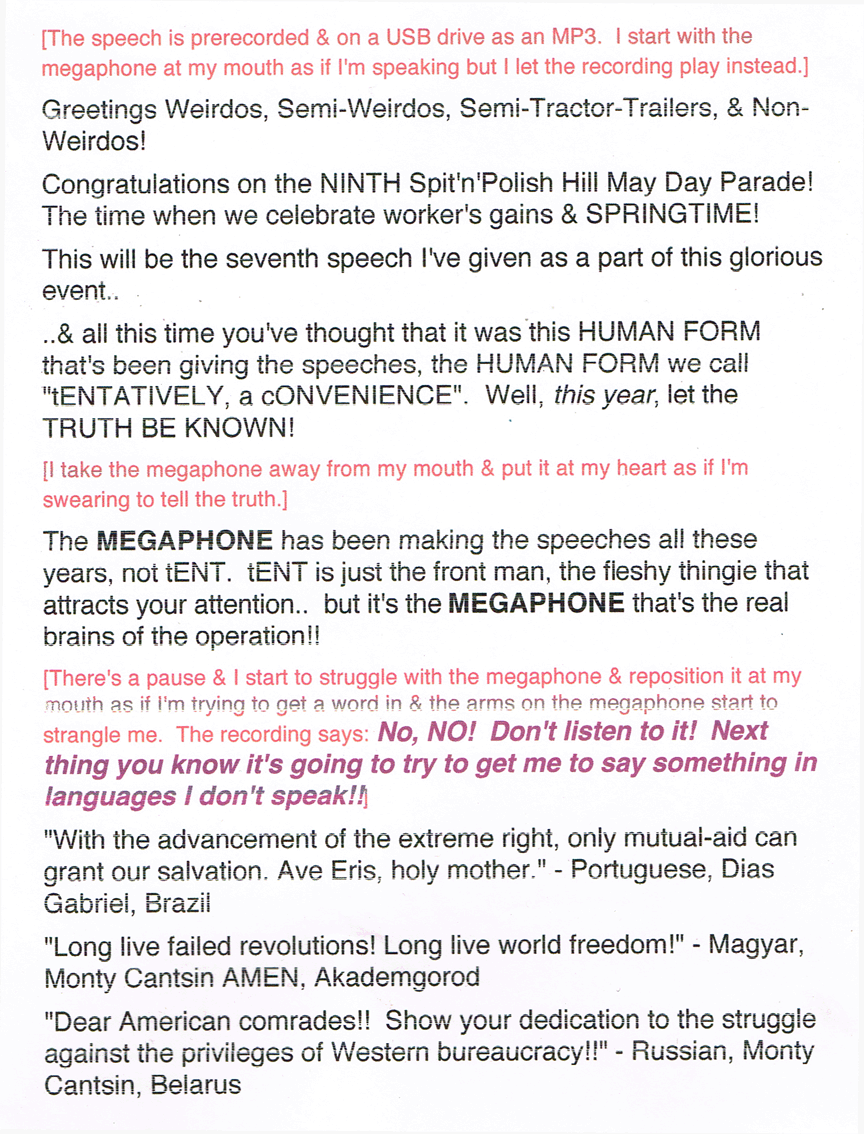 Many months in advance, I wrote to many multilingual friends of mine all over the world & asked them for recordings of 10 seconds or less of something that they'd like to say to the May Day Paraders:
May Day 2018 multilingual speech proposal
Dear multilingual friends,
For the past 6 years I've given a short May Day speech at an unpermitted May Day Parade. This year, I want the speech to come from many voices in many languages. Since you speak a language other than English I'm asking for the following from you:
Please think of one sentance you'd like to say to a May Day Parade.
Please record your saying that sentence in a language other than English.
Please make it 10 seconds or less long.
Please send me the recording to idioideo at gmail dot com along with the sentence written out & an English translation.
The idea is that I'm going to collect all the recordings onto one USB drive & then play them through my megaphone.
PLEASE DO SO BY APRIL 1, 2018!
I'll probably only be able to use ±12 of what I receive so please don't be too disappointed if yours doesn't get picked.
THANK YOU!
tENTATIVELY, a cONVENIENCE
Soap Box Opera episode 1: https://youtu.be/loBDoK5Gyi0
Soap Box Opera episode 2: http://youtu.be/7GHfd1JVuMQ
Soap Box Opera episode 3: http://youtu.be/FUY9DwiE1Dk
Soap Box Opera episode 4: http://youtu.be/jImQyP8g_iQ
Soap Box Opera episode 5: https://youtu.be/PD6IfIImVeY
Soap Box Opera episode 6: https://youtu.be/A_8Vgf97WMg
This invitation was written in 14 languages (thanks to Google Translate): Portuguese, Spanish, French, German, Nederlans, Russian, Belarusian, Chinese, Magyar, Italian, Esperanto, Japanese, & Indonesian (with English also always a part of the invitation) & sent to 18 specific friends & as a general announcement to hundreds more. I expected this to be very easy for all the highly politically active friends of mine. Alas, I only got replies from 3 friends. Several others promised participation but didn't deliver. I put the 3 short speeches on orange cards in both the original languages & in translation to English to hand out to people so they could understand what was going on.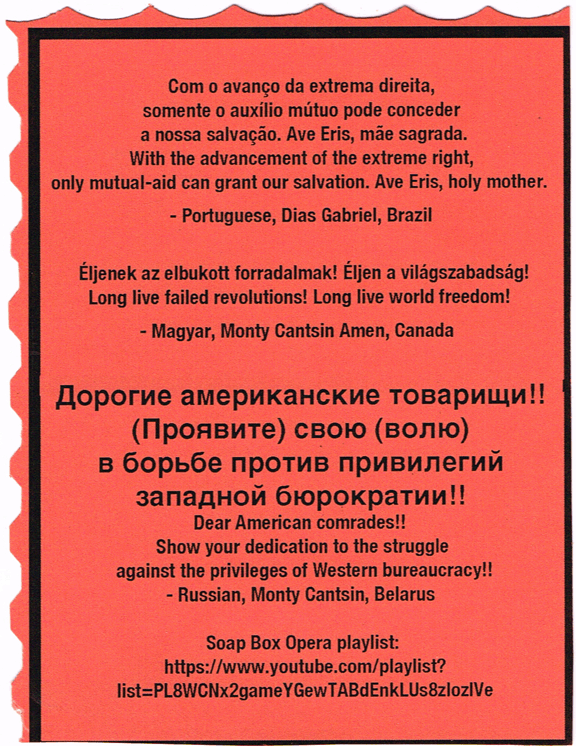 - on my onesownthoughts YouTube channel here: https://youtu.be/QDtcfwvUH58
- recollections from tENTATIVELY, a cONVENIENCE
427. "Sleeping Together"
- with Pamelia Stickney playing theremin
- Glitter Box Theater, Pittsburgh, us@
- Thursday, May 10, 2018, 10:15PM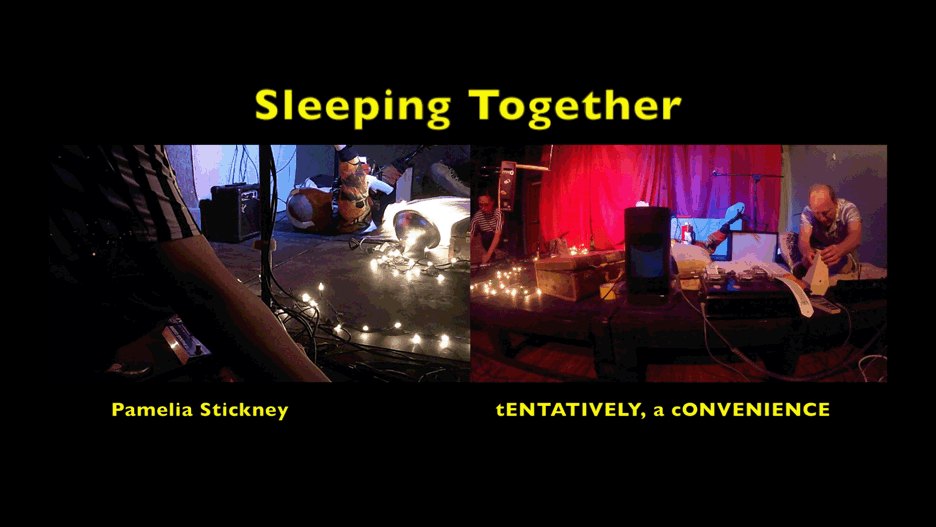 - Pamelia Stickney & I planned a gig together for May 10. In a message exchange a little over a month before, Pamelia wrote "i am gonna be totally wasted tired with jetlag beyond that... needing to hit the hay recouping... but our improv theme could be - sonic nightcap, lullaby on a worknight, maybe even as we improv i start to fall asleep at the wheel... ha! anyhooo... lemme know whatcha think... i think it could be fun - getting sleeeepy and drowsy... try to make everyone sleepy drowsy along with us... maybe get peeps to lie down - tell them, bring a pillow! and i end up doing knob twisting lying down... like, is it possible to get into that halfdreamalmost asleep state and bringing out an improv while in it? that could be fucking cool... hehehe! but then i should have tried to book out glitterbox so that i just stay asleep so i dont have to pack my shit afterwards... hahaha... wake up next morning... hearing audience snoring... that would be fun... hehehe... anyhooo... even in tired state i know i still can musickify, and oh man, if i am sitting on a comfy chair, you know how when you start falling asleep and yer trying to talk sometimes your words go wonky and nonsensical? maybe that happens too as i get sleepy while playing?" & I countered by saying that "It'll give a new meaning to "sleeping together"."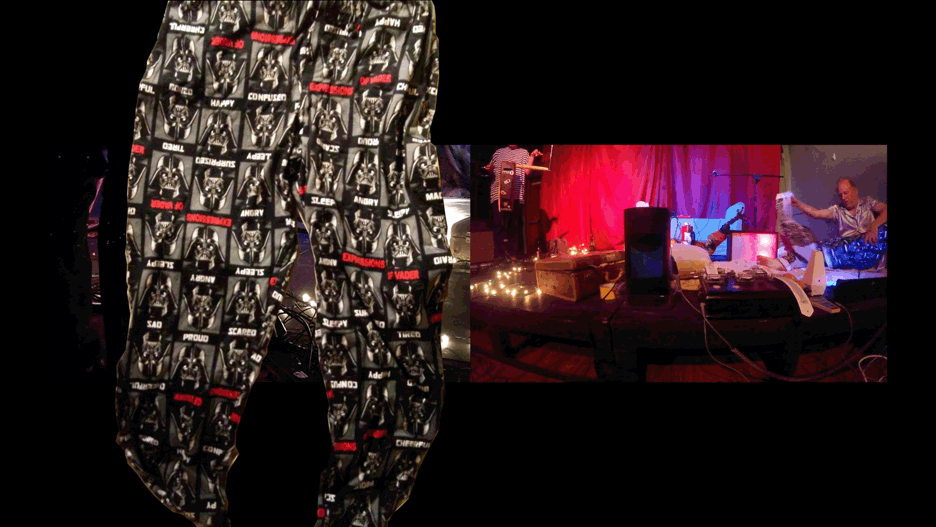 As is my typical practive, I gave a substantial amunt of thought to what I might do with the theme & developed a few things in preparation - even getting a pair of Darth Vader pajama pants to wear. Pamelia started it by playing Brahms's "Lullaby" while I got ready for bed by changing into my PJs & switching on various nightlights. I opened my "Total Mobile Home Suitcase" which activated a tape loop of booing & removed a pillowcase. Closing the suitcase stopped the loop & I shook out the pillowcase before putting it on my pillow. I activated an "Envirascape Rainforest Fountain" which produced a waterfall lit by chaning light & has the option of 6 different soundtracks including rainforest & loons. The speaker to this was amplified with a contact mic that went into a 4 channel mixer & from there to a sampler mixer & then out to the sound system.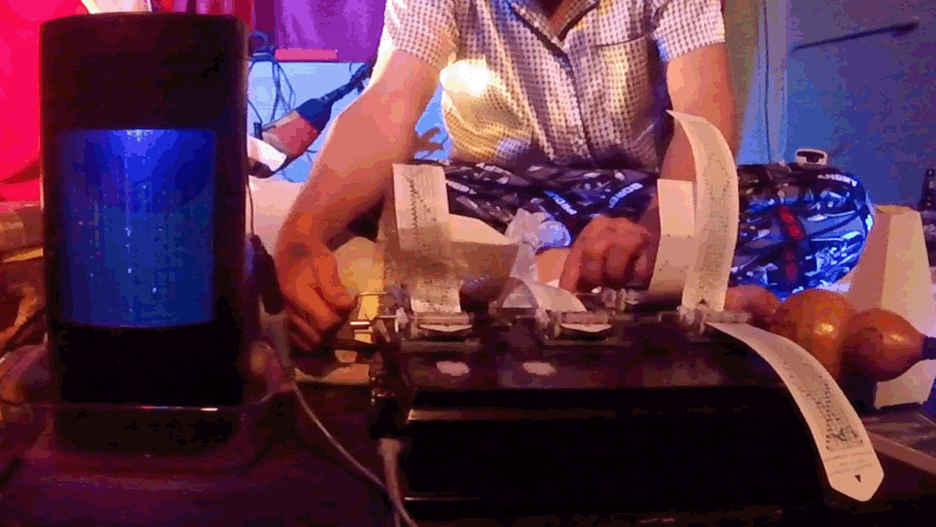 I also played my 5 music box instrument which had a version of Tchaikovsky's "Swan Lake", a version of the same with major 7ths added to the lower notes, & 3 other music box melodies of my own composing. This was also miked & fed into the sound system. There was a miked metronome.
There was also a radio miked halusi with 2 drone pipes that could be sounded with both out & in breathing.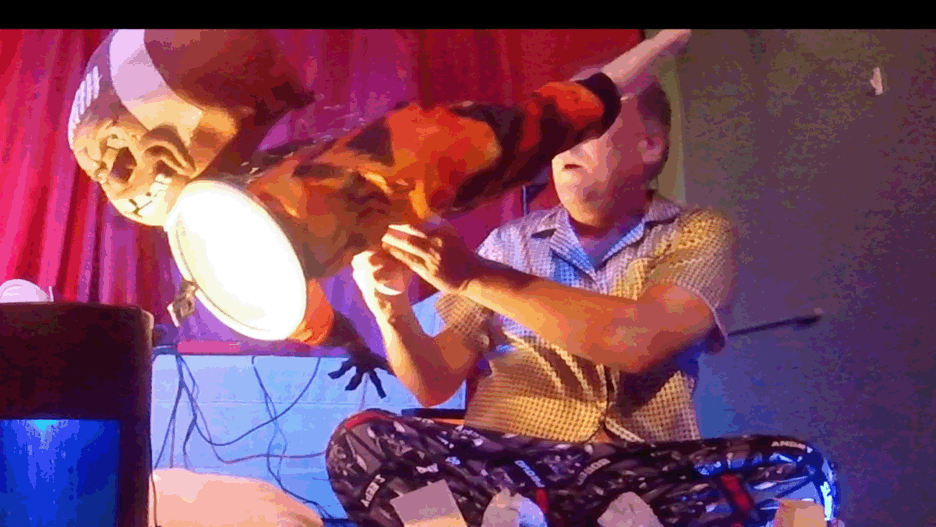 Finally there was a megaphone that I'd altered by putting arms & a football-with-a-face mask on it. This latter was playing prerecorded heavy breathing sounds.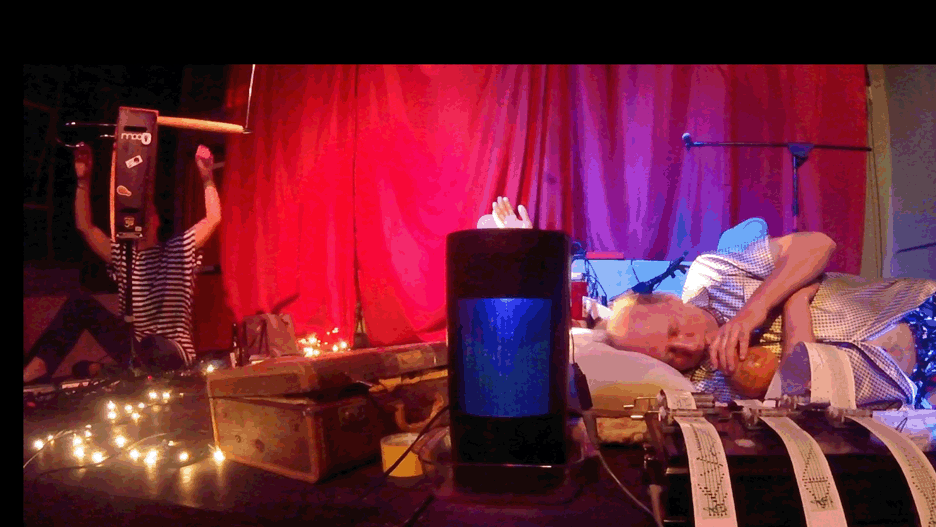 Both Pamelia & I gradually lay down & continued to manipulate our sound sources as we pretended to fall asleep. Pamelia introduced it as "gentle but mental" & I thought that was a pretty good description. I usually avoid drone-like audio production in favor of clashing disjunctive references but it was fun exploring this direction & using so many props & lightings. Pamelia was her usual excellent musician self. A good time was probably had by all.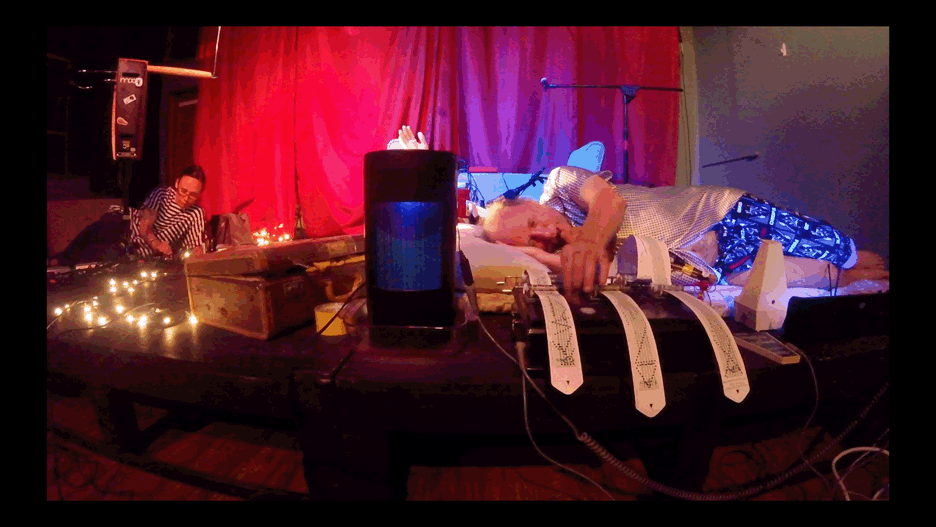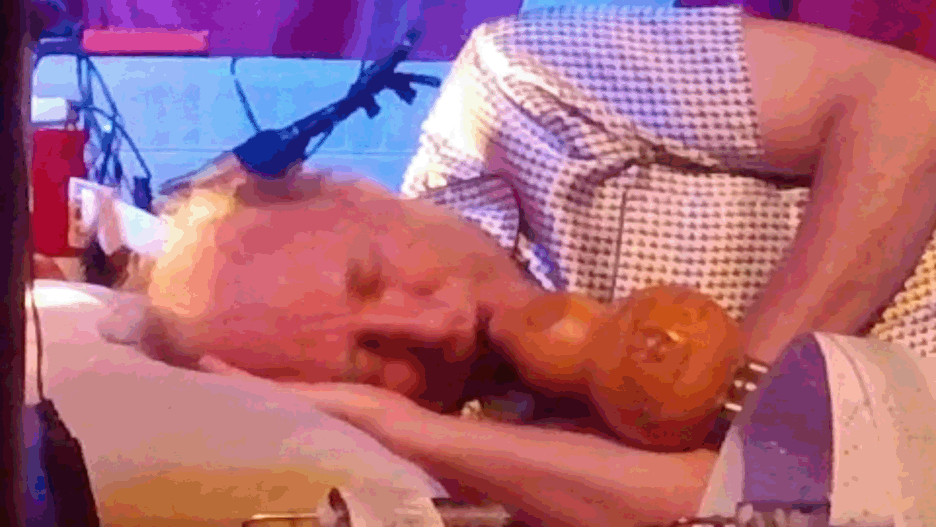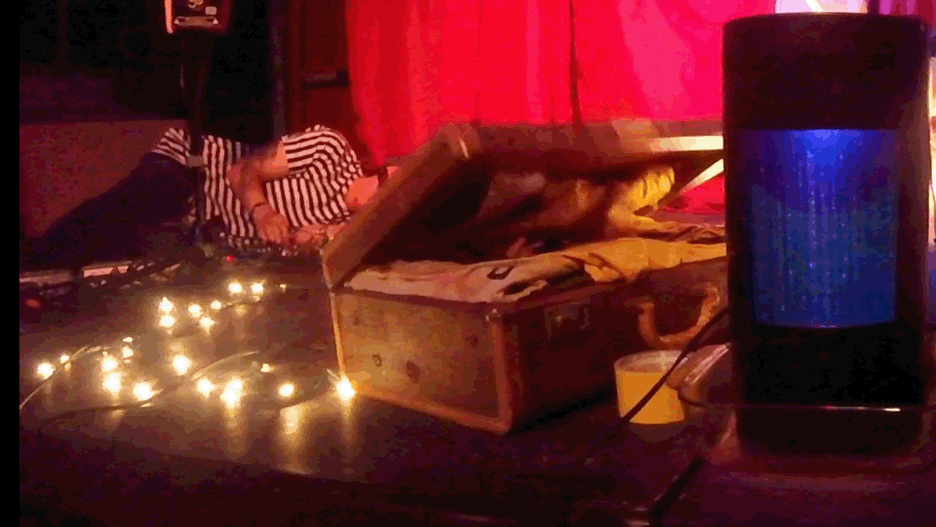 - on my onesownthoughts YouTube channel here: https://youtu.be/Q_zMsJFB9Is
- recollections from tENTATIVELY, a cONVENIENCE
429. "Karaoke Orgy"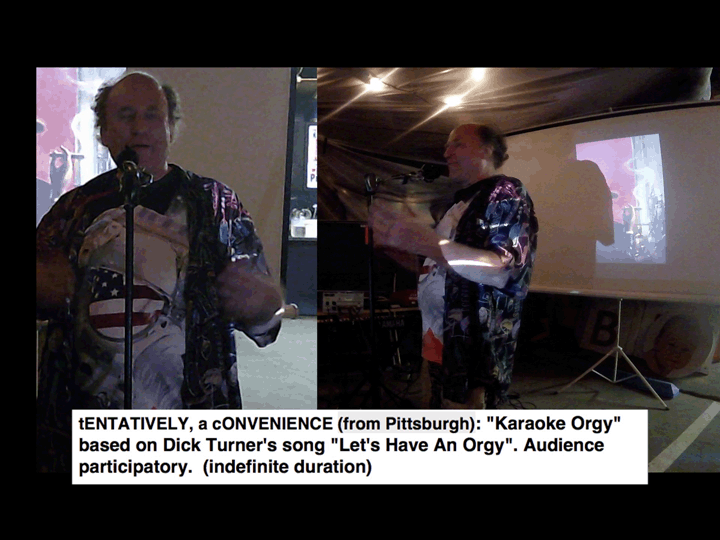 - UNDERAPPRECIATED MOVIEMAKERS FESTIVAL Afterbirth Party, Babyland Garage, Pittsburgh, us@
- Saturday, August 4, 2018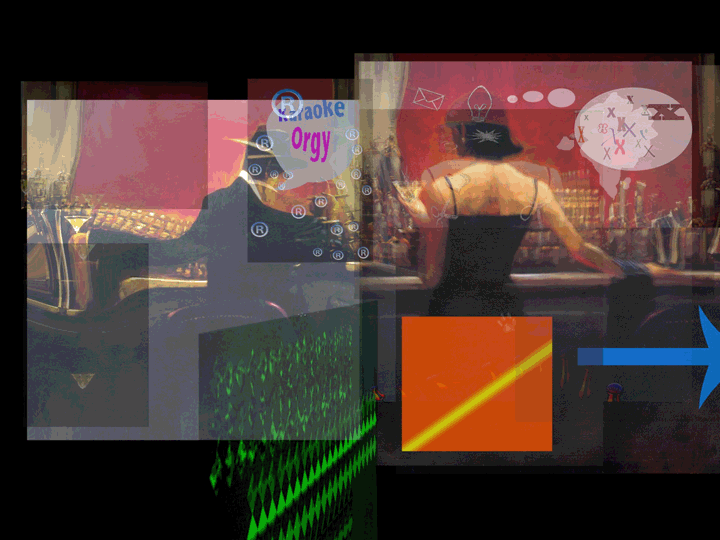 - Dick had the idea of releasing a recording of 4 old friends of his doing versions of his songs, one for each of them. The 4 being myself, Tom DiVenti, Carl Watson, & Daniel Higgs [Daniel has apparently dropped out & has been replaced by George Figgs]. Dick assigned me "Let's Have an Orgy". I substantially mutated the song but still left the original melody & overall structure. After finishing with the audio, which took a few labor-intensive weeks, I decided that it would be fun(ny) to make a karaoke movie version of it. I made 2 versions: one with my vocal & one without. The former is unlisted on my onesownthoughts YouTube channel here: https://youtu.be/jNGS8moOafE . Wanting this movie to actually function for karaoke at least once, I decided to have it be the opening act of the UNDERAPPRECIATED MOVIEMAKERS FESTIVAL Afterbirth Party. Those of us who took the karaoke challenge seemed to enjoy it. Of course, the idea was to take a song mutated beyond any hope of popularity & treat it as if it were somehow 'normal'. The relevant section of the UNDERAPPRECIATED movie is here: https://youtu.be/KwlfRxmRU3E?t=3h38m52s.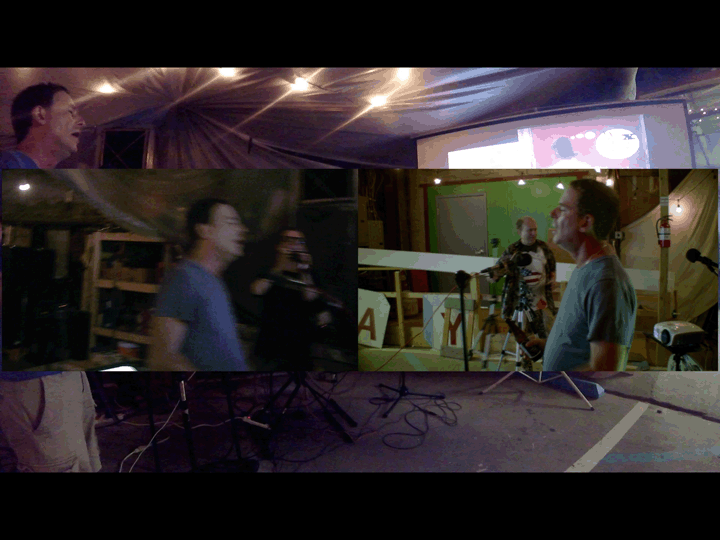 Unfinished Symphonies participating in the Karaoke Orgy.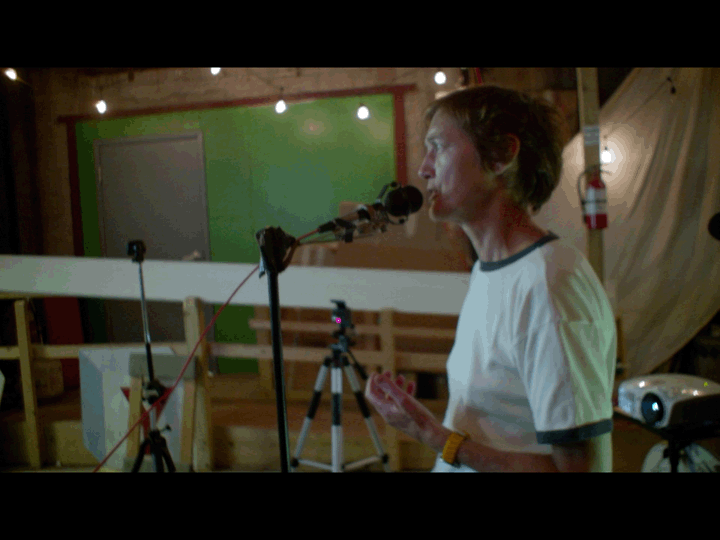 dzum participating in the Karaoke Orgy.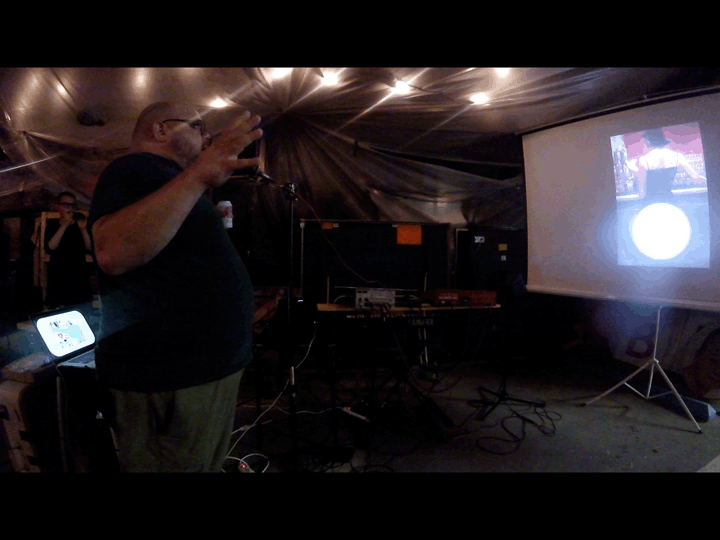 Dave English participating in the Karaoke Orgy.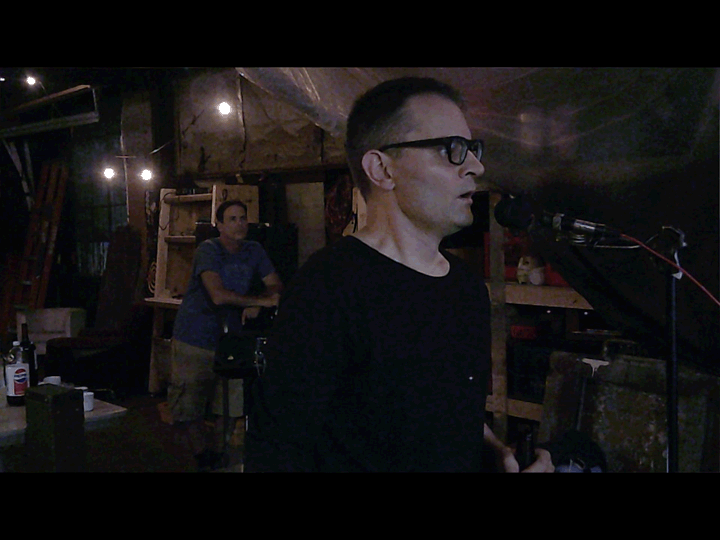 Florian Cramer participating in the Karaoke Orgy.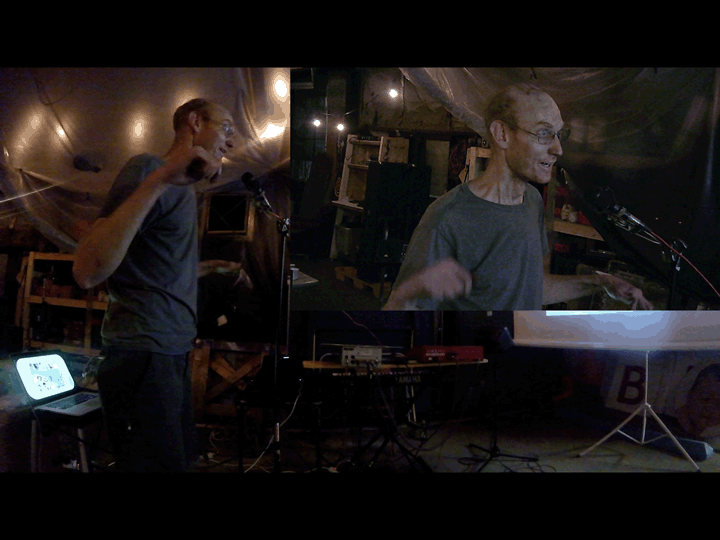 Greg Witt participating in the Karaoke Orgy.
- recollections from tENTATIVELY, a cONVENIENCE
432. "tENT-Weston"
- with Jeff Weston playing contrabass
- Crucible Sound, 3577 Studios, Pittsburgh, us@
- Thursday, December 6, 2018
- Jeff Weston & I had played together once before as the last day of a series of June, 2018, duets that're part of my 2018 project entitled "365". Here's information about & links to the footage of the entire duet:
550. "2018.06.30 duet with Jeff Weston - Pittsburgh, PA - in person"

- part of a series of duets played every day of June

- tENTATIVELY, a cONVENIENCE: moviemaking, electric guitar, guitar samples; Jeff Weston: acoustic stand-up bass

- edit finished June 30, 2018

- 28:24

- Custom HD 1920WX1440H

- uploaded to my onesownthoughts YouTube channel on August 13, 2018, here: https://youtu.be/UF-YSbGK0nE

& to the Internet Archive on the same day: https://archive.org/details/2018.06.30Jeff

An excerpt from this duet also exists as part of the "June, 2018" movie:

551. a. "June, 2018"

- edit finished June 30, 2018

- a document of me playing a duet every day of June, 2018

- 19:32

- Custom HD 1920WX1440H

b. "June, 2018 (titled)"

- edit finished June 30, 2018

- a document of me playing a duet every day of June, 2018

- 19:32

- Custom HD 1920WX1440H

- uploaded to my onesownthoughts YouTube channel on August 1, 2018, here: https://youtu.be/5eLDrLx9cjU
Anthony Levin-Decanini, the curator of Crucicble Sound, & other concerts checked out some of the footage of Jeff's & my duet & asked us if we'd play a new duet for one of his curations. We both agreed enthusiastically. Since the original duet had consisted of my using a guitar to trigger guitar samples that I made I thought of expanding on that & I even ordered some new gear online for this purpose. However, I'd been working on some other sound-making approaches that didn't involve guitar or any electronics & I decided to go in that direction instead. This decision was partially aided by my not getting everything I ordered in time for the gig.
SO, for the gig I constructed a tent of sorts out of black fabric I brought & a black tablecloth that I found at the venue. This covered 2 sides & the top completely, my back was to a wall, & there was an opening on a side not visible to the (v)audience. I wore all black clothes & put a long black graduation gown over them. I held the tent aloft with 2 tripods & an upturned trombone case. Hidden inside the tent were my Schoenhut baby grand toy piano, a Mexican ocarina, a Lilipudlian membranophone, an oboe mouthpiece, an alto sax mouthpiece, a clarinet mouthpiece, a trumpet mouthpiece, a trombone mouthpiece, & a Harmon tenor trombone wow-wow mute. Additionally, I had a trombone & a small collpasing plunger as another mute. My GoPro was mounted on one of the tripods & pointed down at my set-up from above. I had my iJones, a flashlight, a headlamp on my head, & a bundle of small cyalume light-sticks - numbering, perhaps, 20. I also had a halusi. Outside the tent was a small tripod close to the floor with a Vivitar 'sports camera' on it aimed at Jeff.
For about an hour or more before the show started, I stayed inside the tent so that the audience wouldn't know I was there. When I was informed that the show was about to start, I stretched an arm out from under the tent & started the camera that was aimed at Jeff, then started the GoPro that was aimed at me, finally starting the stop-watch on my iJones.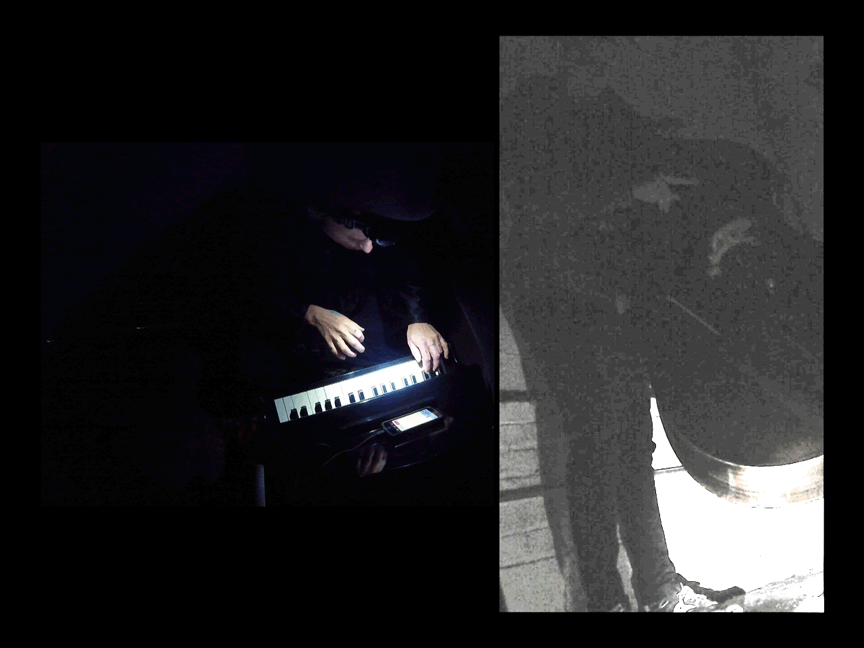 I wanted my sound souirces to be evocative & mysterious - hence my being hidden. At my request, Anthony turned the lights off so that Jeff & I were playing in the dark. This increased the oneiric feel. I started off playing the Mexican ocarina in a way that reminded me of the sounds of Mourning Doves with, perhaps, a touch of the Loon. I then paused & Jeff's playing became more prominent. I cracked the glass of one of the light-sticks, shook it, & rolled it under the tent edge in Jeff's direction so that there would be faint light under him. Through the session I did this: finally taking a whole handful & tossing them out & up & toward the (v)audience in arcs of small glowing cylinders. At other poinrs I pushed my head lamp under the tent & aimed it in Jeff's direction. When I pulled back the headlamp I rolled a small flashlight out. A little past midway thru I aimed my iJones camera out the side of the tent & shot a minute's worth of footage of Jeff with the iJones light illuminating it.
Inside, after rolling out the 1st light-stick, I played the membranophone. I switched to the various mouthpieces with the wow-wow mute so that I could modify their sound acoustically. At some point I switched to the halusi, which can be played while inhaling & exhaling. I probably started playing toy piano during this. Eventually the trombone came into play - this time using both mutes. The collapsing plunger mute enables particularly lovely grunting sounds.
At 2 points I interpolated short readings from "The Book of Neoism?! The Revelations to AMEN. (assembled by Istvan Kantor)":
"NEOISM?! may be compared to a net, a net of principles, life-tendencies, knots in the flow of life, vortices of force called matter. Pick up a knot of the net and the rest of the net comes with it.
"There is nothing at all new, strange, or unusual about NEOISM?! . You are already using it every day, every minute in fact. It is your natural power, the basic energy of the Universe, which you use constantly, whether or not you are aware of it." - p 16
"The confusion theory is The Theoretical Axis of NEOISM?! . The more confused you get by reading about NEOISM?! , the closer you get to the Principal Idea of NEOISM?! . The Confusing Structure of NEOISM?! is characterized by transphysical meditation, neuro-orthodox faith, obsession with absurd medical ideals, and belief in the divine predestination of the fish." - p 40
I also interjected the 1st 20 seconds or so of a WhatsApp voice message that I'd gotten from a friend of mine in Brazil earlier that day & then the entirety of another one. These were very faint but afterwards one audience member said he could definitely hear them. Jeff & I had agreed on a set length of between 20 & 30 minutes so at around 23 minutes I set the timer on my phone for 1 minute & then let the alarm ring when the time came. Jeff stopped played after perhaps 20 rings of the alarm & we both went quiet. After a medium pause Jeff said "Thank You", I echoed it, & the (v)audience applauded it. I then came out from inside the tent. Jeff's playing was phenomenal throughout.
There were 2 more acts after us: "V Mamigonian" (Patrick Breiner of Battle Trance) on solo tenor sax was the 1st of these. His was the most amazing tenor sax playing I've ever heard. He was followed by Ben Bennett (percussion) & Charmaine Lee (voice). They were also fabulously accomplished. If I had the resources I'd publish a CD of the night because I think it was possibly the best free improv concert I've ever heard.
A movie of Jeff's & my set is on my onesownthoughts YouTube channel here: https://youtu.be/j4vwPXLPLNg
- December 7, 2018 recollections from tENTATIVELY, a cONVENIENCE
to Personal Favorites: 1959-1989