1985 SMILE Neoist Music Anthology - Montréal, Canada - Monty Cantsin (Istvan Kantor)
This was probably one of the 1st Neoist Music compilations. Roughly contemporaneous with it was Vittore Baroni's Snarl / Smile. In my opinion, there's no such thing as 'Neoist Music' in the sense that there's nothing unifying the music produced by Neoists at any sort of theorectical level in the way there is, say, with Minimalists or Spectralists, etc.
Music done by Neoists has tended toward Folk, Electro-Pop (not invented by Neoists but played fairly early on in Electro-Pop's history), & Noise (also not invented by Neoists but, again, played fairly early on in the more 'pop' end of the Noise spectrum's days).
Nonetheless, this is an excellent selection of music by very active Mail Artists at the time - not all of whom probably even considered themselves to be Neoists. For Example: I don't know of Glassmadness or Ginny Lloyd considering themselves to be Neoists but perhaps I'm wrong about that. It's my opinion that Monty Cantsin (Istvan Kantor) was just trying to create the appearance of a larger movement than what actually existed by roping people in that he corresponded with - much as Maciunas might've done with FLUXUS.
Then again, if Neoism's simply an "Open Context", Neoism might just be the sum of whatever Neoists are doing at any given time when we consider ourselves to be Neoists. Since I don't want to "do everything in the name of Neoism" as Monty Cantsin (Istvan Kantor) exhorts us to do, my Neoist slogan is "Neoism Now & Then!".
My own excerpted piece on this anthology is from my 1st "booed usic" presentation on January 24, 1984 (a written description is here: http://idioideo.pleintekst.nl/MereOutline1984.html , another audio excerpt from the same event is here on Side B of DJ @ FOMT's 'MAIL COMPENDIUM": https://youtu.be/qMOYy_W-Kkg ). It wasn't intended as a Neoist piece, it wasn't made as Monty Cantsin & it wasn't performed at a Neoist event. As such, I wouldn't call it "Neoist Music". Nonetheless, I'm happy to have it be excerpted on this compilation because it's such a wonderful sampler of the work being done by postal networkers.
The image of the full poster that came with the anthology is cobbled together from smaller scans & is not completely successful as such.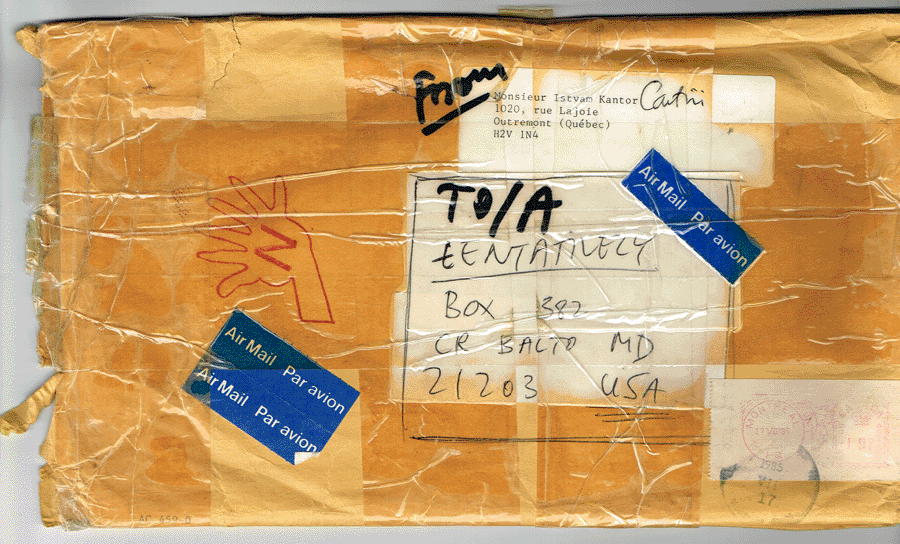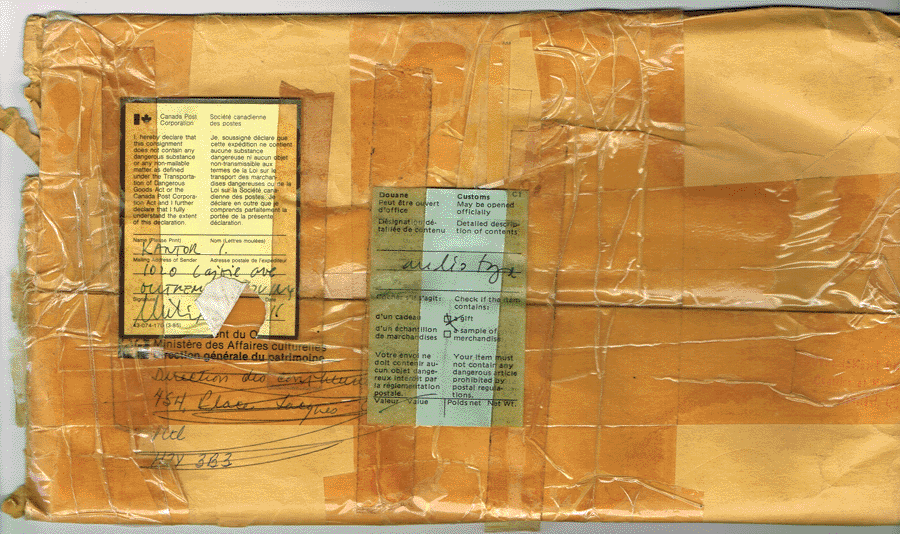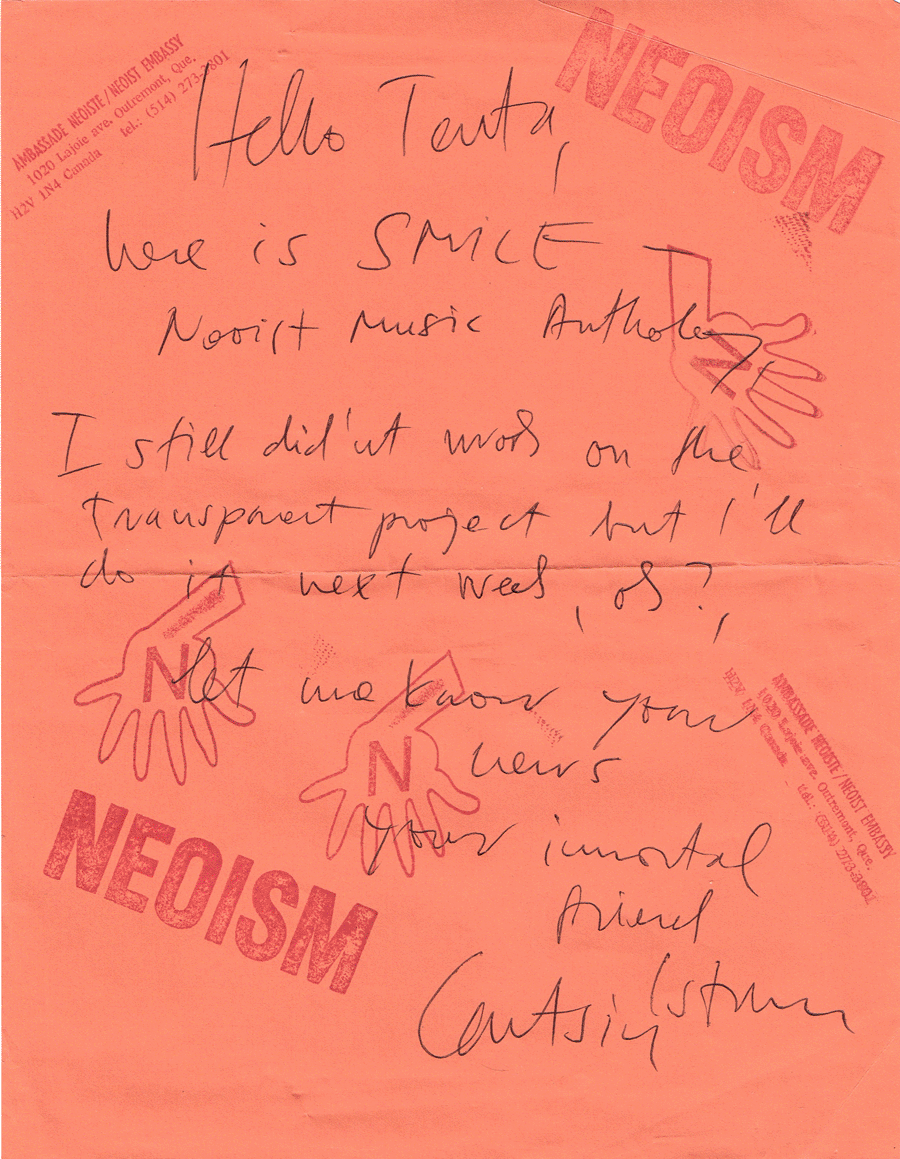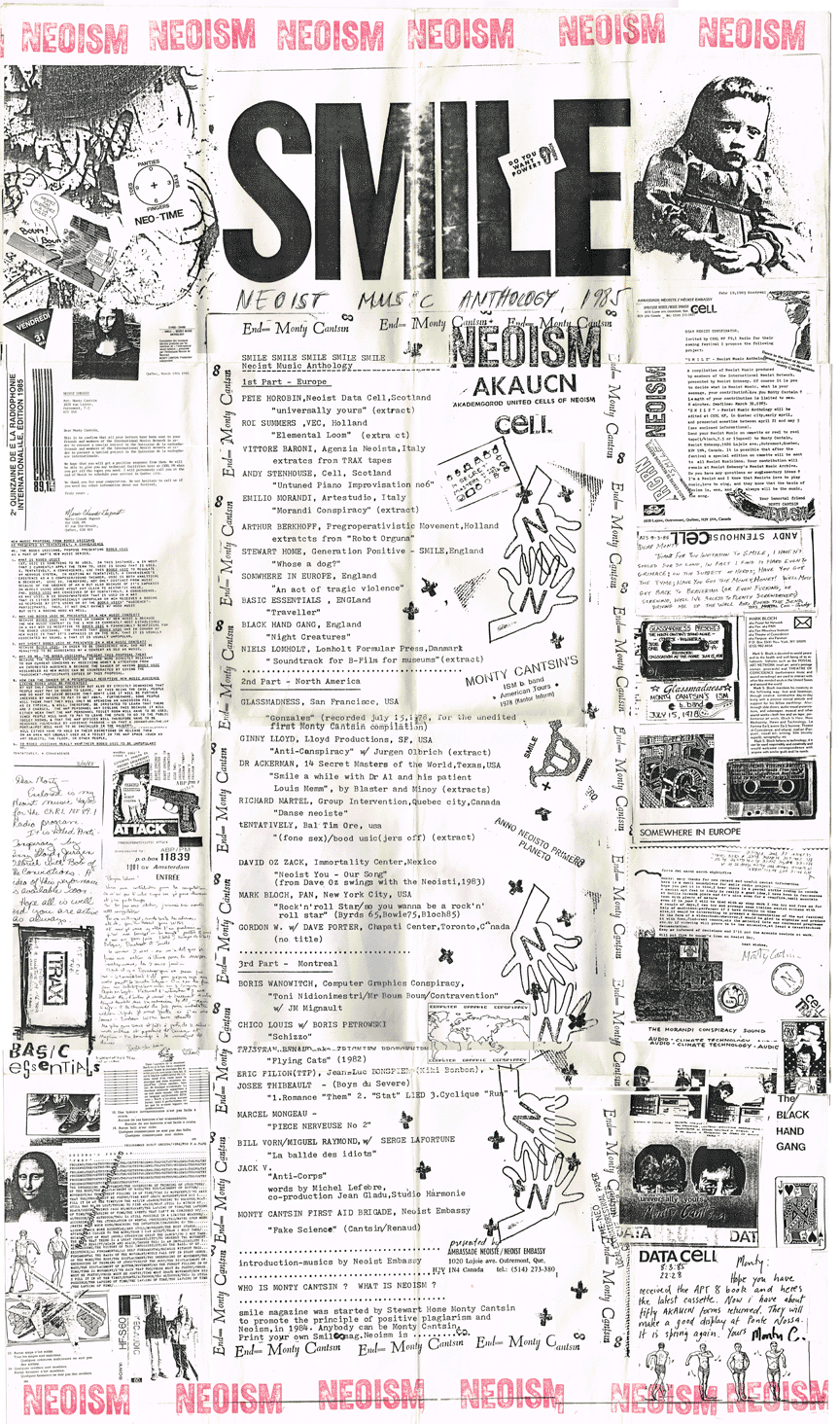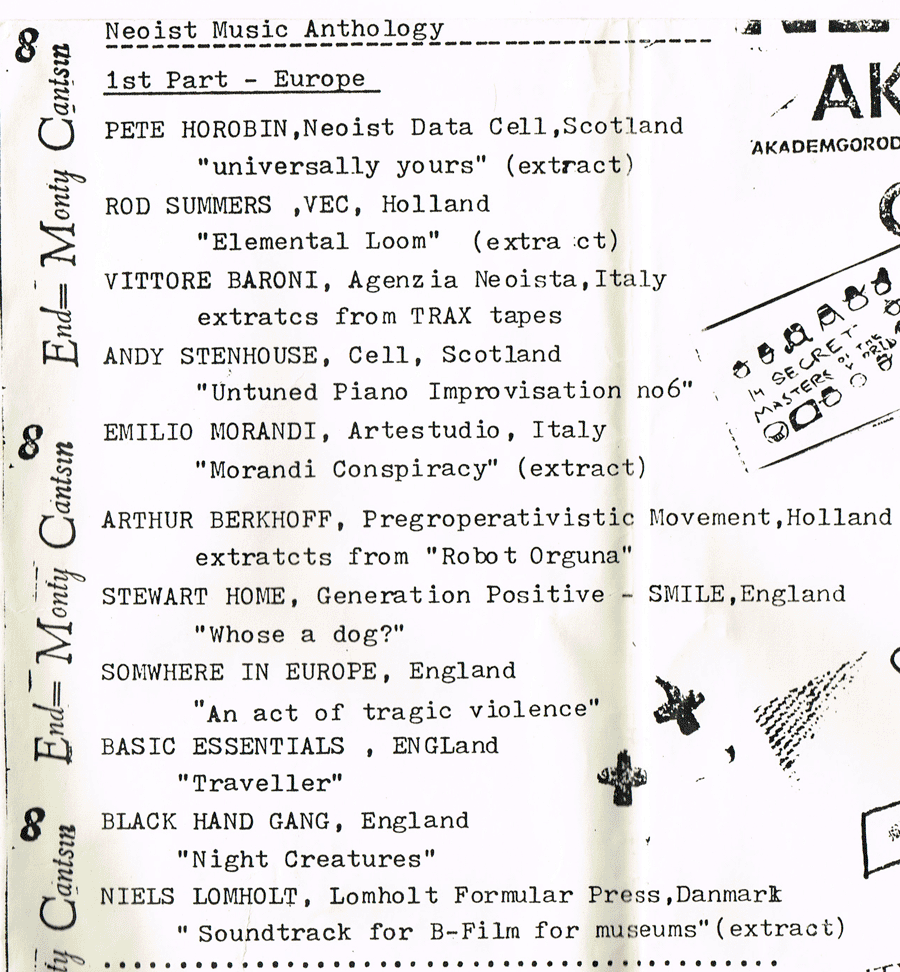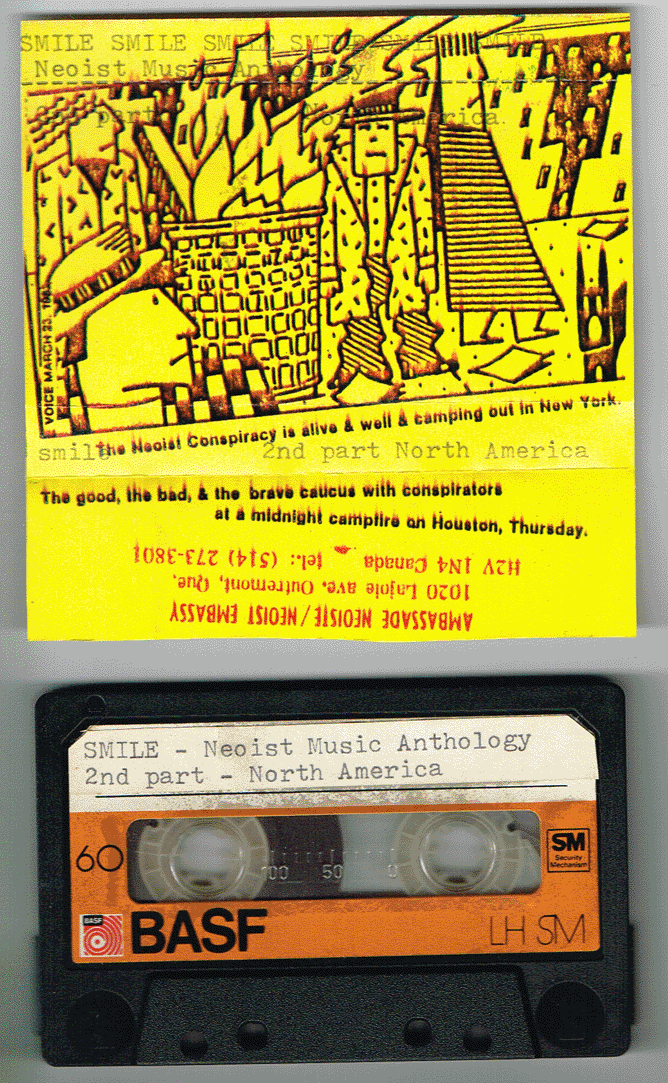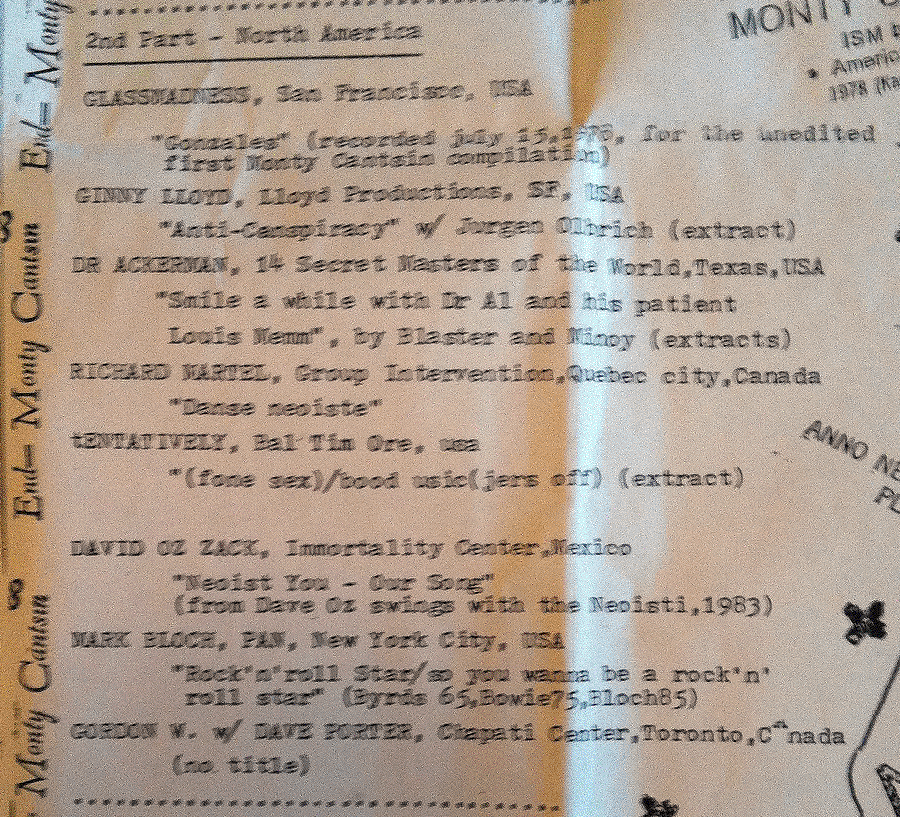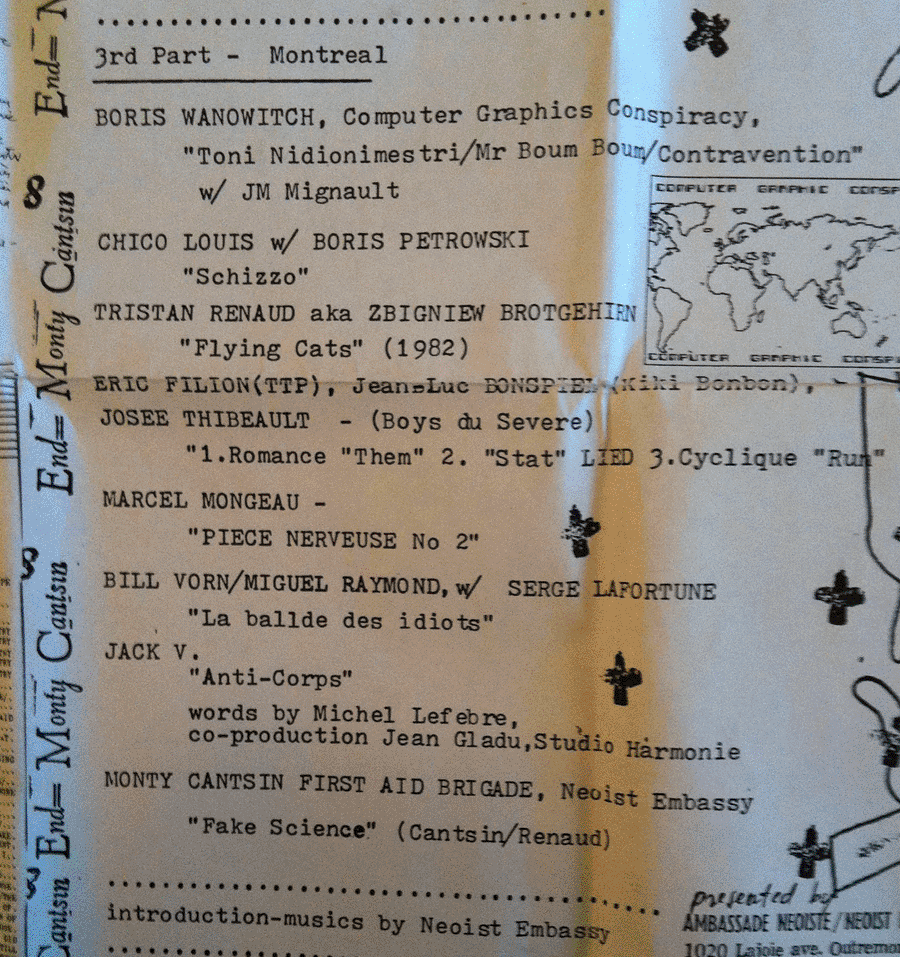 idioideo at verizon dot net
to the SMILEs index
to the Neoism page
to the Neoism/Anti-Neoism page
to the Anti-Neoism page
to the tENTATIVELY, a cONVENIENCE as Interviewee page
to the tENTATIVELY, a cONVENIENCE as Interviewer index
to the tENTATIVELY, a cONVENIENCE movie-making "Press: Criticism, Interviews, Reviews" home-page
to the "tENTATIVELY, a cONVENIENCE - Sprocket Scientist" home-page
to the "FLICKER" home-page for the alternative cinematic experience
to find out more about why the S.P.C.S.M.E.F. (Society for the Prevention of Cruelty to Sea Monkeys by Experimental Filmmakers) is so important
for A Mere Outline for One Aspect of a Book on Mystery Catalysts, Guerrilla Playfare, booed usic, Mad Scientist Didactions, Acts of As-Beenism, So-Called Whatevers, Psychopathfinding, Uncerts, Air Dressing, Practicing Promotextuality, Imp Activism, etc..
for info on tENTATIVELY, a cONVENIENCE's tape/CD publishing label: WIdémoUTH
to see an underdeveloped site re the N.A.A.M.C.P. (National Association for the Advancement of Multi-Colored Peoples)