1990: Scar Tattoos
White tattoos resemble scars. I decided to put such tattoos showing images of what caused my scars next to them. I did the drawings. My old friend Daniel Higgs was working as a tattooist at South Street Tattoo in Philadelphia at the time so I went there to get them done. He told me that the owner of the shop had asked him if I was sure I really wanted to do this. Apparently it seemed like a bad idea to him.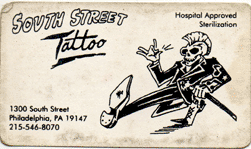 1st, here're the drawings I did of the scar tattoos I originally planned to get: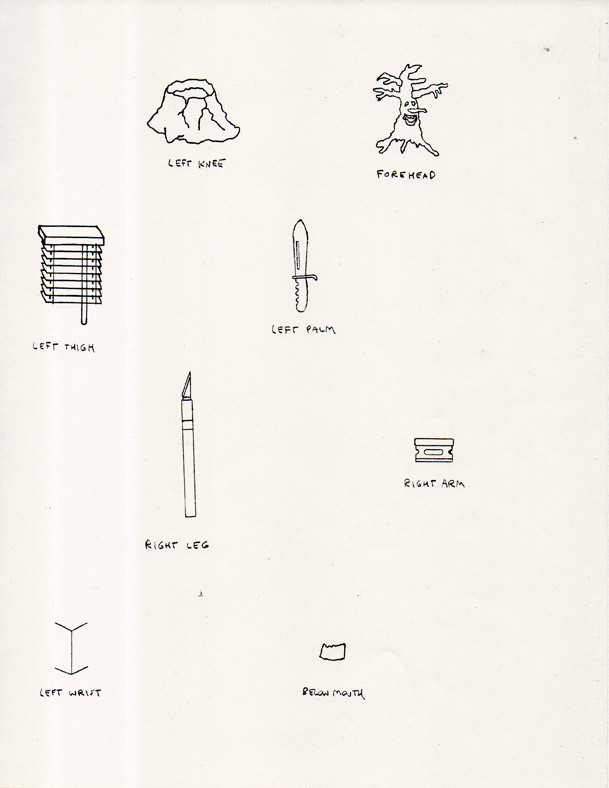 I'll try to show the tattoos in the order that I received the scars: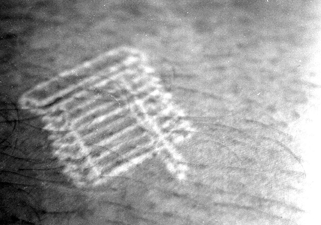 The scar that this tattoo is next to is ambiguously difficult to see even for me. The way I remember the story is that when I was 6, in 1959 or 1960, I decided that shitting was something that I didn't want to bother doing anymore & I stopped doing it for 2 weeks. I reckon that made me an "anal retentive" or, at the very least, a pretty strange kid. Anyway, when this was discovered by my mom I was taken to the hospital to get an enema. I stayed overnight, perhaps for observation. I was standing next to a window to wave goodbye to my mom when she was leaving. The window had a venetian blind on it & I cut myself on the blind. Hence the venetian blind tattoo on my leg.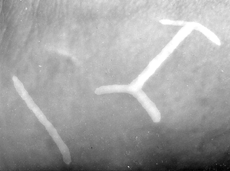 In 1979 I was in the midst of the 2nd longest relationship with a woman that I've ever had. The woman liked having sex with me but was otherwise embarrassed to acknowledge any relationship with me because I was such a flagrant weirdo. My despair over what I felt was her gross insensitivity reached a boiling point & one night when I was, predictably, drunk I smashed my wrist against the corner of a wall so hard that I started bleeding somewhat substantially. With the blood I put handprints on the wall. I may've passed out at this point.
The friends whose place it was that I'd done this at came home & were probably horrified by the splattered blood & handprints. They called an ambulance & I was taken to the hospital & stitched up. Some friends were kind enough to go to the hospital with me. As I was laying in a room somewhere I overheard a nurse discussing my mental health with these friends & I shouted out something like "I know more about psychology than any fucking doctor!" At any rate, I wasn't put away & was released from the hospital shortly thereafter. What a drama queen. The highlighted tattoo on the right above represents the corner of 2 walls meeting. The highlighted scar is shown to the left.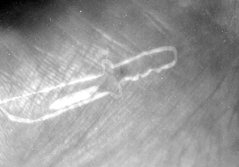 In 1985, I'd been living in the Cross Street Market area of South BalTimOre. There was an abundance of extreme street drunks. the buildings surrounding my apartment were squatted in by them. Even though the street drunk culture was very violent & unsanitary, as an anarchist I preferred supporting them to getting the police to evict them. This supportive behavior earned the respect of the alcoholics, most or all of whom were in & out of jail with great frequency, but earned the enmity of the local business people. To make a long story short, my place was eventually set fire to - probably to both get the insurance money & to get me out of the neighborhood.
Almost immediately after this happened, I was scheduled to meet my girlfriend at a Chinese restaurant. I had just called her from a pay phone when a young guy on a skateboard started insulting me for looking too weird. He was a punk with a mohawk. That's a pretty good indication of the type of moron that punk was attracting by then.
I've written about this at greater length elsewhere but don't feel like consulting my own writing to get the story straight here so I'll just wing it. As I recall, I might've punched the punk, maybe I took his skateboard. He pulled out a fairly large knife, a Bowie knife, & almost cut my eyes out with it & then slashed me on my hand which proceeded to bleed dramatically.
I went into the restaurant where a friend of mine was waiting, holding my hand to try to stop the bleeding. An undercover cop appeared almost immediately to ask me for a description of who'd knifed me. Since I'm generally against putting people in jail & since I don't always think I'm the greatest person in the world either I gave a very nondescript description of the punk so that the cop couldn't catch him.
I was taken to a hospital in an ambulance & stitched up. There's much more to the story but that's enough for this webpage. The knife above is on my hand next to the scar that the knifing left. Since it's on my hand it's half worn off & barely visible anymore.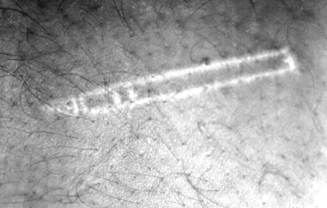 In 1982, my girlfriend HannaH AvivA & I decided to try to turn our self-destructive tendencies to more positive effect. At my instigation, we made a movie entitled "A Double Negative As Not A Positive" which can be witnessed on my onesownthoughts YouTube channel here: https://youtu.be/OSxlaMSynjE . It was shot using a regular-8mm camera. Regular 8mm film, also known as "double-8mm" was 16mm film with twice the number of sprocket holes as 16mm. When shot in an 8mm camera it had 4 frames for every 16mm frame. In ordinary processing, the film is split down the middle lengthwise & the 2 halves are then spliced together end-to-end. I had the film processed unsplit so that it could be projected as 16mm & so that there could be 4 frames projected in the same image space.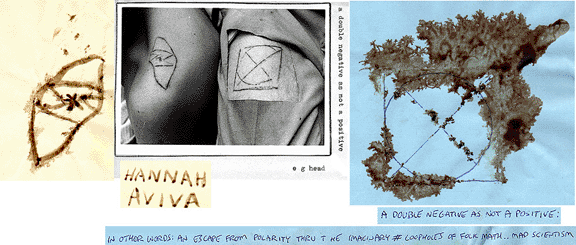 For the film HannaH & I cut each other with an exacto knife. We then made prints with the blood. The symbol that I cut on my leg was a double-null-sign signifying the "Double Negative" of the film's title. I cut a rectangular hole out of the leg of a pair of my pants so that the symbol could show.
In 1986, I went on what I called my "6 Fingers Crossed Country T.Ore/Tour" where I screened my films & vaudeos & played my "booed usic" in "Mad Scientist Didactions" at Tufts University, Massachusetts; the Bunker of La Société de Conservation du Présent, Montréal; the Rivoli Club, Toronto; the Funnel, Toronto; the Kuenzle Room, University of Michigan, Ann Arbor; EYEMEDIAE, Ann Arbor; Time Out Hot Tubs, Boulder; the Pirate Contemporary Art Oasis, Denver; & Eye Gallery, San Francisco. At some of these Didactions I screened "A Double Negative As Not A Positive" & reinforced the Double Negative scar by cutting it anew with an exacto knife. Hence the exacto knife tattoo above on my leg.
For people who don't understand self-scarification I note that some people cut themselves as a way of distracting themselves from psychological pain. As such, physical pain can be a relief from mental suffering. There's also always the possibility that if a person is in such psychological agony that they go 'too far' in their self-cutting that the result will be death, the 'ultimate pain killer'.

When my 1986 tour reached San Francisco, I met a woman who moved to BalTimOre with me shortly thereafter. Bad idea. After less than a year with her I was just about ready to check out. Using a razor blade I cut this 5" long incision lengthwise in my right arm while in the bath-tub. It didn't kill me. The tattoo's almost completely disappeared but the scar is still obvious.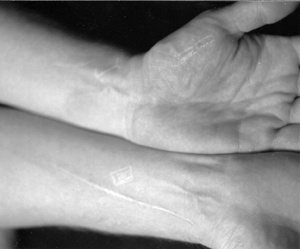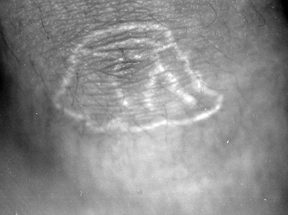 In 1990, my girlfriend DeeDee & I went to Hawaii. We climbed a volcano crater & I cut my knee on the volcanic rock.
It was probably in 1990 that I was working for an events company & I was moving a talking tree prop which my stronger coworker wrenched hard enough to cause to hit my face & create a small scar near my eyebrow. I was planning to get these tattoos at the time so I thought it was funny because it gave me an excuse to have a talking tree tattoo. That one was done but because it was white on my face it faded very quickly. I never even got a photo of it.
idioideo at verizon dot net
to the tENTATIVELY, a cONVENIENCE Anti-Neoism page
to the tENTATIVELY, a cONVENIENCE Audiography page
to the tENTATIVELY, a cONVENIENCE Bibliography page
to my "Blaster" Al Ackerman index
to the tENTATIVELY, a cONVENIENCE BYOC page
to the tENTATIVELY, a cONVENIENCE Censored or Rejected page
to the tENTATIVELY, a cONVENIENCE (d) compositions page
to Amir-ul Kafirs' Facebook page
to the "FLICKER" home-page for the alternative cinematic experience
to tENTATIVELY, a cONVENIENCE's GoodReads profile
to Graffiti index
to the tENTATIVELY, a cONVENIENCE Haircuts page
to the tENTATIVELY, a cONVENIENCE Home Tapers page
to the tENTATIVELY, a cONVENIENCE index page
to tENTATIVELY, a cONVENIENCE'S minimal International Union of Mail Artists page
to a listing of tENTATIVELY, a cONVENIENCE's manifestations on the Internet Archive
to the tENTATIVELY, a cONVENIENCE as Interviewee index
to the tENTATIVELY, a cONVENIENCE as Interviewer index
to tENTATIVELY, a cONVENIENCE'S Linked-In profile
for A Mere Outline for One Aspect of a Book on Mystery Catalysts, Guerrilla Playfare, booed usic, Mad Scientist Didactions, Acts of As-Beenism, So-Called Whatevers, Psychopathfinding, Uncerts, Air Dressing, Practicing Promotextuality, Imp Activism, etc..
to the mm index
to see an underdeveloped site re the N.A.A.M.C.P. (National Association for the Advancement of Multi-Colored Peoples)
to tENTATIVELY, a cONVENIENCE's Neoism page
to the DEFINITIVE Neoism/Anti-Neoism website
to the Philosopher's Union website
to the tENTATIVELY, a cONVENIENCE movie-making "Press: Criticism, Interviews, Reviews" home-page
to tENTATIVELY, a cONVENIENCE's Score Movies
to SMILE
to find out more about why the S.P.C.S.M.E.F. (Society for the Prevention of Cruelty to Sea Monkeys by Experimental Filmmakers) is so important
to the "tENTATIVELY, a cONVENIENCE - Sprocket Scientist" home-page
to the Tattoos index
to Psychic Weed's Twitter page
to tENTATIVELY, a cONVENIENCE's Vimeo index
to Vine movies relevant to tENTATIVELY, a cONVENIENCE made by Ryan Broughman
to tENTATIVELY, a cONVENIENCE's presence in the Visual Music Village
for info on tENTATIVELY, a cONVENIENCE's tape/CD publishing label: WIdémoUTH
to a very small selection of tENTATIVELY, a cONVENIENCE's Writing