Tattoos
In 1986, when I got my 1st tattoo, tattoos weren't anywhere close to being as common as they are now. 'Normal' people didn't get them. Women almost never had them. Marines had "Semper Fi" tattooed on their upper arm - that sort of thing.
I was living in BalTimOre at the time & there were very few tattoo shops & they were widely spread apart from each other. The tattooist I chose was Juli Moon in an area south of the city called Glen Burnie.
My 1st 3 tattoos were a series called "It's Not A Matter of Life & Death". The 1st (1986) was a DNA spiral connecting my navel to my cock representing life, the 2nd (1986) was crossed bones across my chest representing death, the 3rd (1987) was a 3D brain on my head representing the transcendental power of thoughtfulness.
In 1989, the "Modern Primitives" issue of Re/Search magazine came out. I was scheduled to be in the issue represented by a picture of me getting my brain tattoo. I'd previously respected Re/Search, especially for their book-like releases: #4/5: "William S. Burroughs / Throbbing Gristle / Brion Gysin" (1982), #6/7: "Industrial Culture Handbook" (1983), #8/9: "J. G. Ballard" (1984), & #11: "Pranks!" (1987). I hadn't particularly liked #10: "Incredibly Strange Films" (1986) because I didn't find many of the films to be "incredibly strange" at all in contrast to what I considered to be the substantially more imaginative & original experimental films that weren't represented.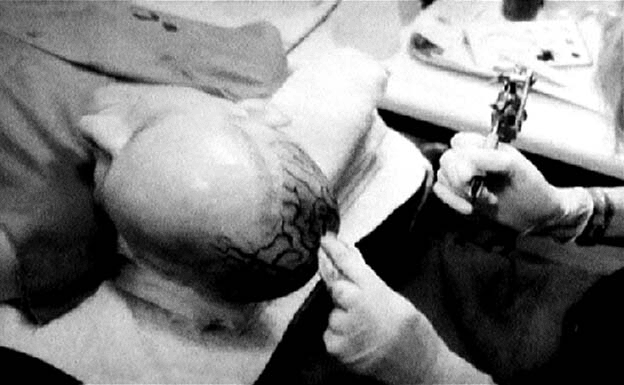 Alas, even though I'd been told that my picture would be in "Modern Primitives" it wasn't there & I admit to being disappointed. I don't know why it didn't make the cut but I've always suspected that it was because the picture I submitted was of me getting the tattoo in which I had a preparatory drawing of the brain on my head instead of the actual tattoo. Perhaps the editor(s) thought it was a prank.
After seeing the issue, I realized that I didn't really 'belong there' anyway. I had no desire whatsoever to be a 'Modern Primitive', I wasn't trying to associate myself with initiatory rituals, with tribalism, &/or with Sado-Masochism. As I explained to many people, some people "wear their heart on their sleeve" (ie: show their emotions) & I "wear my brain on my head" (ie: show that I like to think).
By 1989, Re/Search had become quite successful as a subcultural phenomena. What Re/Search endorsed became trendy. Hence, from my perspective, tattoos & piercings became more & more fashionable under Re/Search's influence. Alas, for me, this opened the floodgates of conformist thoughtlessness.
As for my tattoos? I try to make every one different in form & content & to have there be an innovation involved. It's important to me that the content have substantial personal significance, I avoid Flash, ie: imagery prefabricated to be tattoos, the type of imagery that's displayed on tattoo parlor walls for people with no ideas of their own to pick out.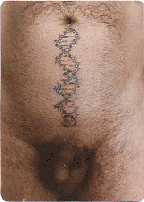 1986.DNA

1986 crossed bones
1987 3D brain

1990 scar tattoos

1991 glow-in-the-dark dustmite

2002 Archibras

2004 Paradigm Shift Knuckle Sandwich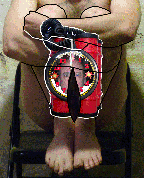 2008 Human Time Bomb
idioideo at verizon dot net
to the tENTATIVELY, a cONVENIENCE Anti-Neoism page
to the tENTATIVELY, a cONVENIENCE Audiography page
to the tENTATIVELY, a cONVENIENCE Bibliography page
to my "Blaster" Al Ackerman index
to the tENTATIVELY, a cONVENIENCE BYOC page
to the tENTATIVELY, a cONVENIENCE Censored or Rejected page
to the tENTATIVELY, a cONVENIENCE (d) compositions page
to Amir-ul Kafirs' Facebook page
to the "FLICKER" home-page for the alternative cinematic experience
to tENTATIVELY, a cONVENIENCE's GoodReads profile
to Graffiti index
to the tENTATIVELY, a cONVENIENCE Haircuts page
to the tENTATIVELY, a cONVENIENCE Home Tapers page
to the tENTATIVELY, a cONVENIENCE index page
to tENTATIVELY, a cONVENIENCE'S minimal International Union of Mail Artists page
to a listing of tENTATIVELY, a cONVENIENCE's manifestations on the Internet Archive
to the tENTATIVELY, a cONVENIENCE as Interviewee index
to the tENTATIVELY, a cONVENIENCE as Interviewer index
to tENTATIVELY, a cONVENIENCE'S Linked-In profile
for A Mere Outline for One Aspect of a Book on Mystery Catalysts, Guerrilla Playfare, booed usic, Mad Scientist Didactions, Acts of As-Beenism, So-Called Whatevers, Psychopathfinding, Uncerts, Air Dressing, Practicing Promotextuality, Imp Activism, etc..
to the mm index
to see an underdeveloped site re the N.A.A.M.C.P. (National Association for the Advancement of Multi-Colored Peoples)
to tENTATIVELY, a cONVENIENCE's Neoism page
to the DEFINITIVE Neoism/Anti-Neoism website
to the Philosopher's Union website
to the tENTATIVELY, a cONVENIENCE movie-making "Press: Criticism, Interviews, Reviews" home-page
to tENTATIVELY, a cONVENIENCE's Score Movies
to SMILE
to find out more about why the S.P.C.S.M.E.F. (Society for the Prevention of Cruelty to Sea Monkeys by Experimental Filmmakers) is so important
to the "tENTATIVELY, a cONVENIENCE - Sprocket Scientist" home-page
to Psychic Weed's Twitter page
to tENTATIVELY, a cONVENIENCE's Vimeo index
to Vine movies relevant to tENTATIVELY, a cONVENIENCE made by Ryan Broughman
to tENTATIVELY, a cONVENIENCE's presence in the Visual Music Village
for info on tENTATIVELY, a cONVENIENCE's tape/CD publishing label: WIdémoUTH
to a very small selection of tENTATIVELY, a cONVENIENCE's Writing