mmm027 Sunday, August 4, 2013
27th music(ian's) meeting (August 4, 2013)
Attendees:
tENT
Clint
Matt
Frank
Clint arrives, we hang out on my front steps awaiting others
Matt arrives
tENT offers Leffe brown Belgian ale, coffee, juice, water
tENT shows his new additions to his 10" vinyl collection:
"a presentation of progressive jazz" - Stan Kenton and his orchestra

"untitled #282 / 9 minute glitch" - francisco lópez / GX Jupitter-Larsen

"busy fingers" - The Three Suns

"Le Sacre du Sauvage" - Les Baxter and his orchestra

"The Haters presents Cultivating Calamity"

"Songs by Tom Lehrer"

"Expanded Slam" - GX Jupitter-Larsen

"Pathetic Oratorio to verses by V. Mayakovsky" - G. Sviridov

Bulgarian instrumental folk songs

"Canary Training Record"

"Gagaku"

"Panic" - 8cylinder

"Jie Ri De Wuqu"

old Cantonese music

"Is Bryson Rash?"

"Festival of the Gnomes" - Prince di Candriano / Les Baxter

"speed the parting guest (Hi Fi Bull In A China Shop)" - Jimmy Carroll
& his Chinese double colored flexi-disc find!:
"Taking Tiger Mountain by Strategy"
pointing out that that's the same title as an early Brian Eno LP.
tENT shows some selected LPs he's acquired recently:
"dialing in" - the islamic bomb

"Nuclear War" - Yo Lo Tengo performing Sun Ra

"Original Compositions by Contemporary Composers" - The Louisville Orchestra Louisville First Edition Records
These latter 2 were shown in appreciation of the primitiveness of their packaging coupled w/ the sophistication of the music
"Ana-Maria Avram / Irina Hasnas"

"Felicia Donceanu"
Women classical composers on Electrecord, a Romanian classical label
"Kazimierz Serocki"
Great Polish avant-classical I wasn't previously familiar w/.
"The New Calliope Singers"
Another interesting record on Mimaorglu's "Finnadar" label
"Shape / Cries and Whispers" - Josef Tal / Michael Barolsky

"Ukiyo-E / The Angels of Turtle Island / An Interrupted Serenade / Shunt; Raspberries" - George Rochberg / Richard Felciano / Wayne Peterson / Charles Boone
Both on the Grenadilla label. The 1st has 2 excellent pieces by 2 composers I/tENT wasn't previously familiar w/. The 2nd has the best harp playing I've ever heard by Marcella Decray on Peterson's "An Interrupted Serenade". I'll have to play this latter at a later mm!
Duke Ellington w/ the Cincinnati Symphony Orchestra
Particularly remarkable for the additional 7" record of Ellington talking about his music that accompanies the LP
"Dizzy Gillespie's Big Band Jazz"
Interesting musically, of course, but also interesting as State Department propaganda
"Silent Movie" - Nihilist Assault Group
This has a silent DVD of Nihilist Assault Group playing (interspersed w/ written commentary by GX Jupitter-Larsen) that can be accompanied by the LP, presumably from the same concert.
"Psychic Secession" - Yellow Swans
More or less noise music, double LP, white vinyl
"Yokomono 03"
All lock grooves on one side, compilation disc on other side, white vinyl
"Jewish Chronicle / From Jewish Folk Poetry" - Blacher, Dessau, Hartmann, Henze. Wagner-Régeny / Shostakovich
Interesting b/c of the collaboration on "Jewish Chronicle"
"Stan Kenton and his orchestra live at Brigham Young University"
Double record set on Kenton's own label, live jazz at Mormon university, not nearly as great as the earlier 10" but still interesting
"Golden Age of Hollywood Musical"
Not interesting so much b/c of the music but b/c the record packaging includes a pop-up & is clearly inspired by the Busby Berkeley musicals that the sound's from
"Kingdom Come / Machinations" - Henry Brant
Great music from the US's greatest spatial composer
"Brass Quintet; Miniatures; Two News Items / Letters from Composers" - William Mayer / Dominick Argento
I like Argento's choice of composer letters to set to music. This is another one I shd play a little of at a future mm
"Five Melancholic Songs; Pentagram; A Continuity of Rotative Chords" - Laszlo Sary
Another interesting record from the Hungaraton label. As I recall, this is the closest thing I've heard to minimalism coming out of Hungary. PLUS "Pentagram" has prepared piano & "A Continuity of Rotative Chords" is, perhaps, akin to a Tom Johnson composition
"I Am Drunk" - Blaster Al Ackerman
The only record (that I know of) by the great writer/cartoonist/mail artist/trickster/philosopher who died a few mnths back & who I made my recent feature "This Will explain" in homage to. Here's the cover designed by Blaster himself: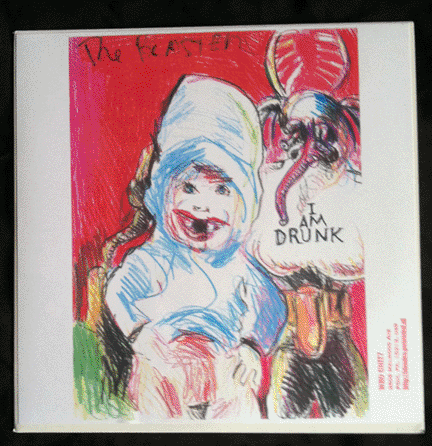 "Oeuvres de clavier" - Philippe Boesmans

"Epochen der Zupfmusik"
An orchestra of strummed instruments covering work Mozart AND Kagel, amongst others
"Live Concert" - Eubie Blake
Blake performs at 90 yrs old & still KICKS ASS!
"Transcription" - Davis Joachim

"Songs and Dances of Spain" - Jose Greco and his Dance Company

"Sabicas in Concert"
This last is solo Flamenco guitar, double record set, yellow vinyl
Frank arrives at the end of the above show & tell
tENT plays "Monotony" off of the Kenton 10"
tENT takes people into the back yard to show off his "I Heard It Through the Grapevine" 'sound sculpture':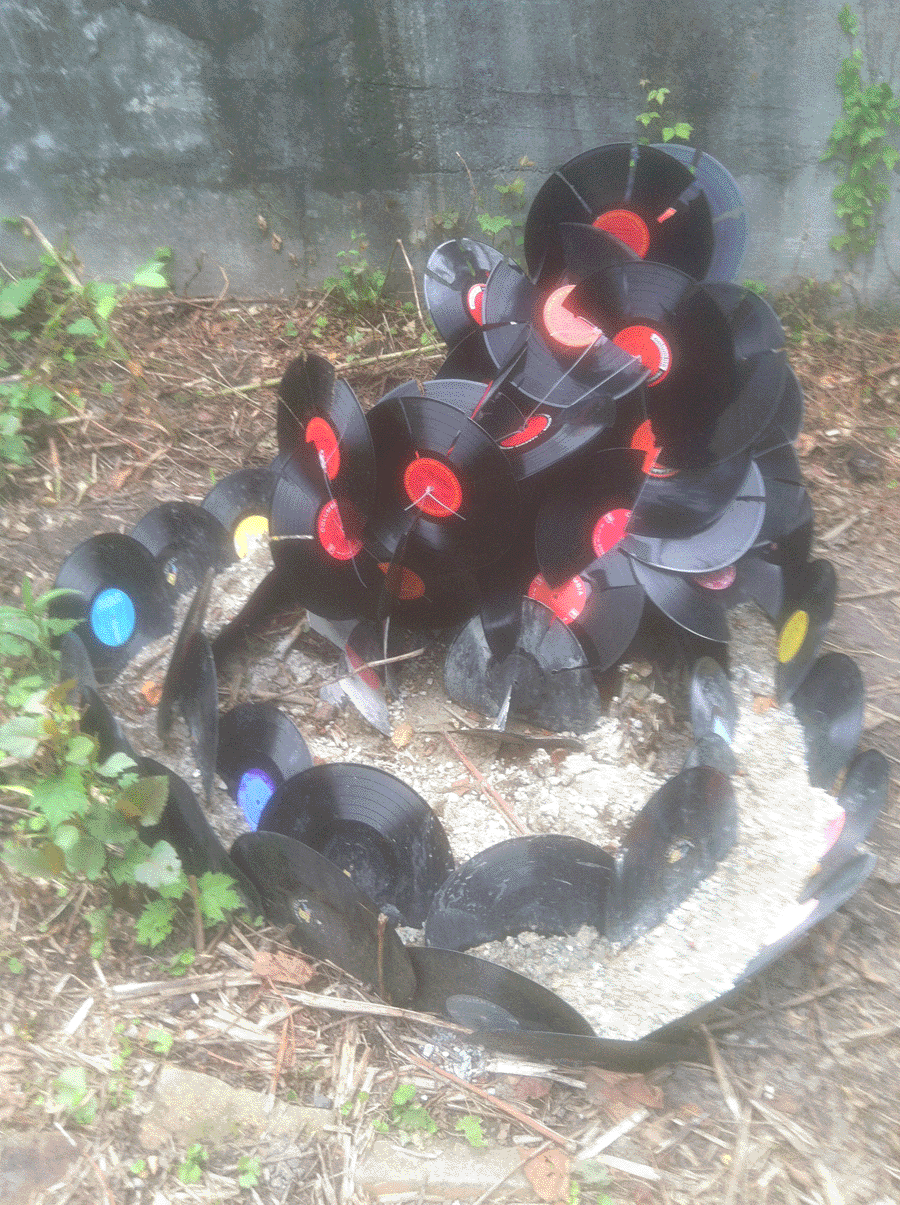 Matt plays Philip Glass's "Music in 12 Parts"
tENT plays Philip Glass's "Music with Changing Parts" , the very 1st double record on what tENT thinks was Glass's own label: Chatham Square
tENT plays his "Rasps" samples from a performance very slowly in progress that he's targetting at Natural History Museum (v)audiences
Matt plays excerpts from 2 mvmts of Luciano Berio's incredible "Sinfonia", one of wch was the Martin Luther King, Jr mvmt
Matt plays "Cosmic Slop" by Funkadelic
tENT plays Dr. John the Night the Tripper's "Walk on Guilded Splinters" from "Gris Gris"
tENT plays Eubie Blake's intro to & "Tricky Fingers" from the above-mentioned "Live Concert"
Frank plays a CD of Hovhaness's piano music "Spirit of a Willow Tree"
Frank plays Kuldar Sink's "Mountains and Men" to compare w/ the Hovhaness
Frank plays Roger Sessions' "Chorale Prelude" of a record to be given away.
tENT & Matt immediately respond w/ dislike for it.
Frank plays a little from Virgil Thompson's "Variations on Sunday School Tunes" from the same record - wch meets w/ a slightly better fate.
Matt takes the record.
tENT plays Mauricio Kagel's "Musi" off the "Epochen der Zupfmusik" LP
tENT plays the beginning of the Jose Greco record partially to show off the incredible castanet playing
tENT plays excerpts from 3 or 4 cuts off the Sabicas LP in search of a track w/ a simulated snare drum sound but doesn't find it
tENT plays Davis Joachim's playing of his father's "Stimulus à Goad" for guitar & synthesizer from 1973 w/ the guitar triggering the synth
tENT plays beginning of Gen Ken Montgomery CD "I Hear the Sound of Hardware Shopping"
tENT plays the beginning of Henry Cowell's 1926 "Atlantis" from the "Dancing with Henry" CD
tENT plays a bit of John M. Bennett & Byron Smith's "Pico Mojado" CD
tENT plays some of a Ben Bennett one-off cassette made especially for tENT
tENT explains that Gardner Read has written quite a few major bks on notation & then plays some of Read's "Los Dioses Aztecas" (The Aztec Gods) piece from the CRI "Gardner Read" C
tENT plays "The Damned Don't Cry (for Huey P. Newton)" from Fred Ho's CD entitled "The Music of Cal Massey - A Tribute"
tENT gives away The Three Suns' LP "Twilight Memories" to Clint
tENT gives away the Harmonicats's "Greatest Hits" LP to Matt
tENT plays the beginning of Mary Lee Roberts's Open Space 9 CD
Frank leaves
Matt & Clint leave around 11PMish
A GOOD TIME WAS HAD BY ALL!!
to the mm index
forward to mm 28
backward to mm 26
to the tENTATIVELY, a cONVENIENCE movie-making "Press: Criticism, Interviews, Reviews" home-pageto the "tENTATIVELY, a cONVENIENCE - Sprocket Scientist" home-page
to the "FLICKER" home-page for the alternative cinematic experience
to find out more about why the S.P.C.S.M.E.F. (Society for the Prevention of Cruelty to Sea Monkeys by Experimental Filmmakers) is so important
for A Mere Outline for One Aspect of a Book on Mystery Catalysts, Guerrilla Playfare, booed usic, Mad Scientist Didactions, Acts of As-Beenism, So-Called Whatevers, Psychopathfinding, Uncerts, Air Dressing, Practicing Promotextuality, Imp Activism, etc..
for info on tENTATIVELY, a cONVENIENCE's tape/CD publishing label: WIdémoUTH
to see an underdeveloped site re the N.A.A.M.C.P. (National Association for the Advancement of Multi-Colored Peoples)