mmm040 Friday, May 2, 2014: field trip to Ben Opie's "Concerto for Orkestra"
40th m(usic(ician's)m(eeting):
field trip to New Hazlett Theater to hear Ben Opie's
"Concerto for Orkestra" - May 2, 2014E.V.
Attendees:
Ben (was surprised to see him there!)
Rob
tENT
Calder (The Saw Guy)
Clint (& Gretchen)
Hyla
What can I say? Ben is finally getting the recognition that he so justly deserves. There were probably about 140 people in the audience. Below is the program. This was probably the most ambitious piece of his I've witnessed yet (in 20 yrs of hearing him play). It was, as the title basically says, a series of sections w/ places for solos. My personal favorites were probably the pointillist klangfarbenmelodie mvmt (not sure wch one that was? ("Pram"? Ben?), the one where the Theremin played a major role ("Dirigible"? Ben?), & "Monorail" (that might be the Theremin one..).
There was a pianist who isn't listed on the personnel below. Who was he, Ben? Almost everyone got a solo but some were so short or ambiguous that I wasn't sure. EG: Daryl Fleming, Chris Parker, George Jones, Emily Hawkins. It was also ambiguous whether the pianist took a solo (or solos) or not. His 1st prominent playing might've been his solo but, unlike his subsequent playing, it didn't seem to be amplified so it was a bit low in the mix. Were all his parts thru-notated? Or did he solo? The implication of the title is that everyone did.
All in all, an excellent piece well-played by excellent musicians. I was particularly impressed by Ben's solos, as usual, & those of Ian Gordon, Ron Horton, Rick Matt, & Reggie Watkins. Throckmorton & Thompson were excellent, as always, but I've heard them solo so many times by now that they didn't stand out for me as much as the aforementioned.
This was, as some wd put it, exemplary "Third Stream Jazz". I was, perhaps, most reminded of the Stan Kenton album of Bob Graettinger's music called "City of Glass" (1951) wch I remember being discussed at an mm or of Kenton's "A Presentation of Progressive Jazz" (1947) wch I played an excerpt from at a different mm. To be more accurate in terms of Ben's more likely influences, I was also reminded of Duke Ellington & Sun Ra.
There was a particularly nice trombone duo arrangement at one point. I was delighted that just when one might've thought that a section was over a new twist was added or an unexpected return to the theme appeared.
Bravo!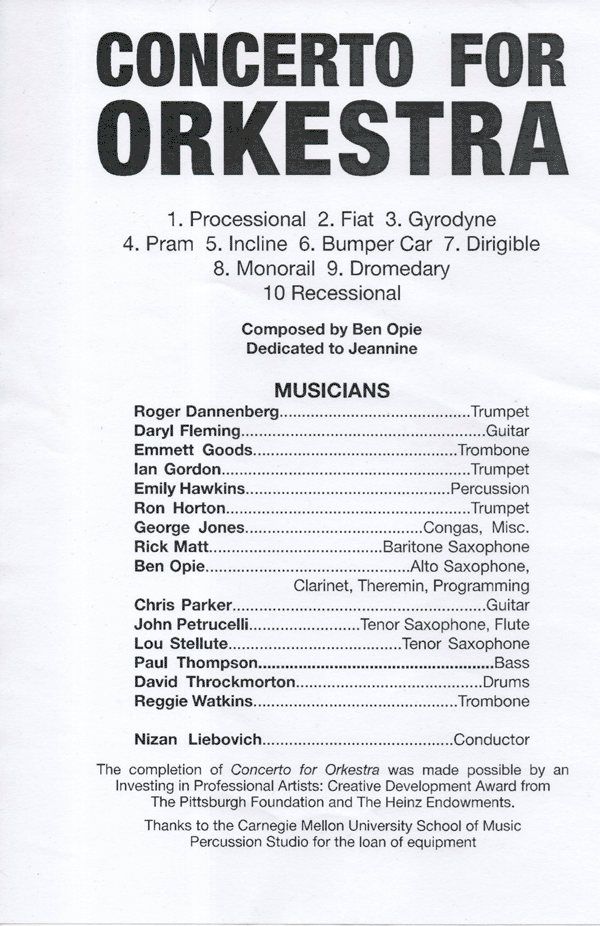 to the mm index
forward to mm 41
backward to mm 39
to the tENTATIVELY, a cONVENIENCE movie-making "Press: Criticism, Interviews, Reviews" home-page
to the "tENTATIVELY, a cONVENIENCE - Sprocket Scientist" home-page
to the "FLICKER" home-page for the alternative cinematic experience
to find out more about why the S.P.C.S.M.E.F. (Society for the Prevention of Cruelty to Sea Monkeys by Experimental Filmmakers) is so important
for A Mere Outline for One Aspect of a Book on Mystery Catalysts, Guerrilla Playfare, booed usic, Mad Scientist Didactions, Acts of As-Beenism, So-Called Whatevers, Psychopathfinding, Uncerts, Air Dressing, Practicing Promotextuality, Imp Activism, etc..
for info on tENTATIVELY, a cONVENIENCE's tape/CD publishing label: WIdémoUTH
to see an underdeveloped site re the N.A.A.M.C.P. (National Association for the Advancement of Multi-Colored Peoples)