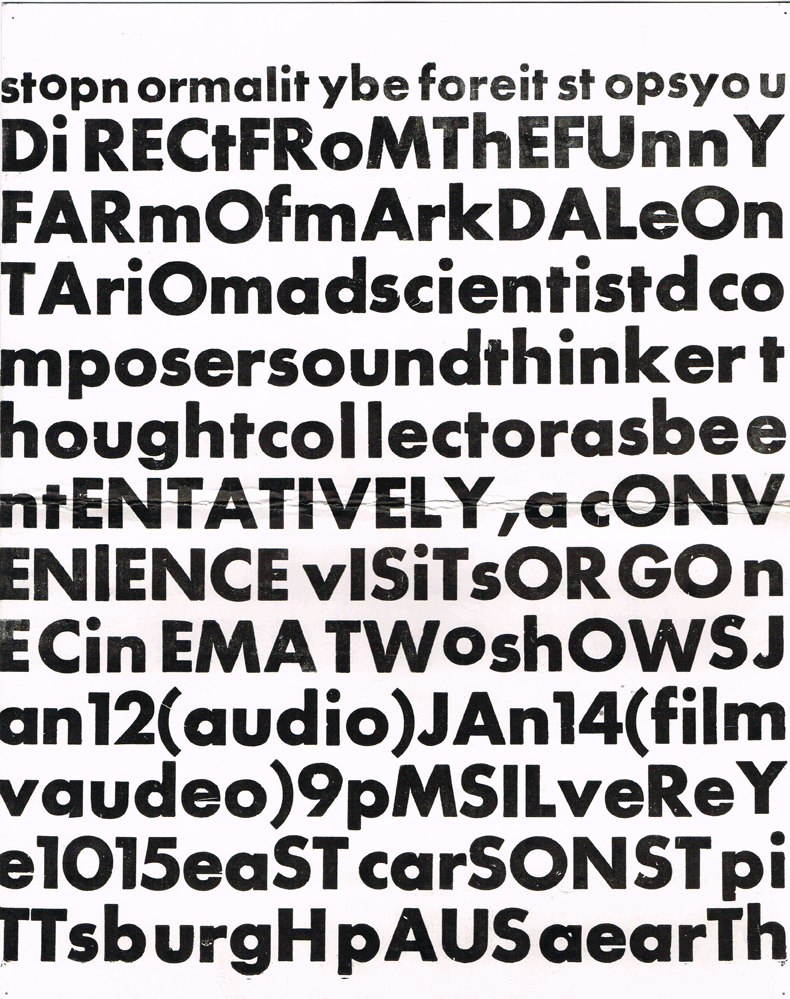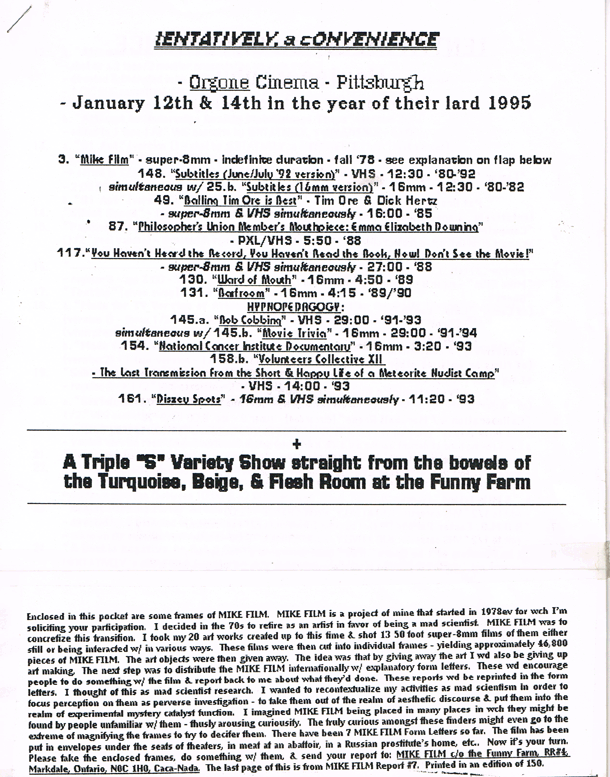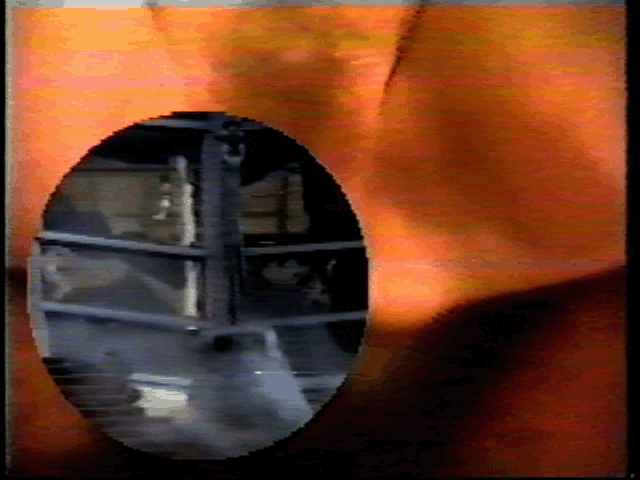 still from live projection for January 12, 1995 Orgone Cinema event
197. A Triple "S" Variety Show straight from the bowels of the Turquoise, Beige, & Flesh Room at the Funny Farm
- the Silver Eye, Pittsburgh, us@
- Thursday, January 12, 1995
- The 1st of 2 presentations sponsored by Orgone Cinema. My hosts made a fabulous letter-set poster & a bumper sticker & I made a multi-page hand-out that included my Movieography & Mike Film. This was a concrete mixing so-called whatever in which I manipulated a video mixer into which 2 VCRs were fed & played 3 Synthesizers, 1 Sampler/Sequencer, & an Effects Unit. The vaudeo tapes used were the same as for "Broken Mood Elevator Uzak" minus the compilation. The video mixer enabled me to combine the images in more sophisticated ways than those ordinarily available to me. The vaudeos were projected.
- on my onesownthoughts YouTube channel UNLISTED here: https://youtu.be/mhhOcHKOKFw
- recollections from tENTATIVELY, a cONVENIENCE
198. film vaudeo
- the Silver Eye, Pittsburgh, us@
- Saturday, January 14, 1995
- The 2nd of 2 presentations sponsored by Orgone Cinema. The audience, upon entering, was greeted by myself &/or Orgone Cinema people (Michael Johnsen, Alisa Dix, Greg Pierce). We were behind a small table that had some peeled "100 year old eggs" - ie: fermented duck eggs which have turned black (both the "whites" & the yolk) - with the yolk having a jelly-like consistency. A common description of the smell of these eggs is "like dirty gym socks". Anyone willing to eat one of these was entitled to a reduction in admission cost. Also displayed were a raw fertilized duck egg broken open so that the duck fetus could be seen & a boiled fertilized duck egg which we offerred to pay any willing audience member $10.00 to eat - in addition to refunding their admission. Perhaps 2 people attempted to eat the fermented eggs. If I recall correctly, neither ate the whole thing - but they were probably both rewarded with an admission discount anyway. Each person was also given a bumper sticker & a 6 sheet (ie: 12 pages) hand-out made especially for the occasion. The hand-out included the listing of movies to be shown, my most updated "Movieography" (162 entries), a scrap sheet from "Mike Film Distribution Form #7", & some Mike Film to be (hopefully) used by the audience. The presentation of films &/or vaudeos was basically straight-forward. At the end of the evening, one audience member (Jim Mueller?) ate 1/2 of the boiled fertilized duck egg for which he received his door money back & $5.00.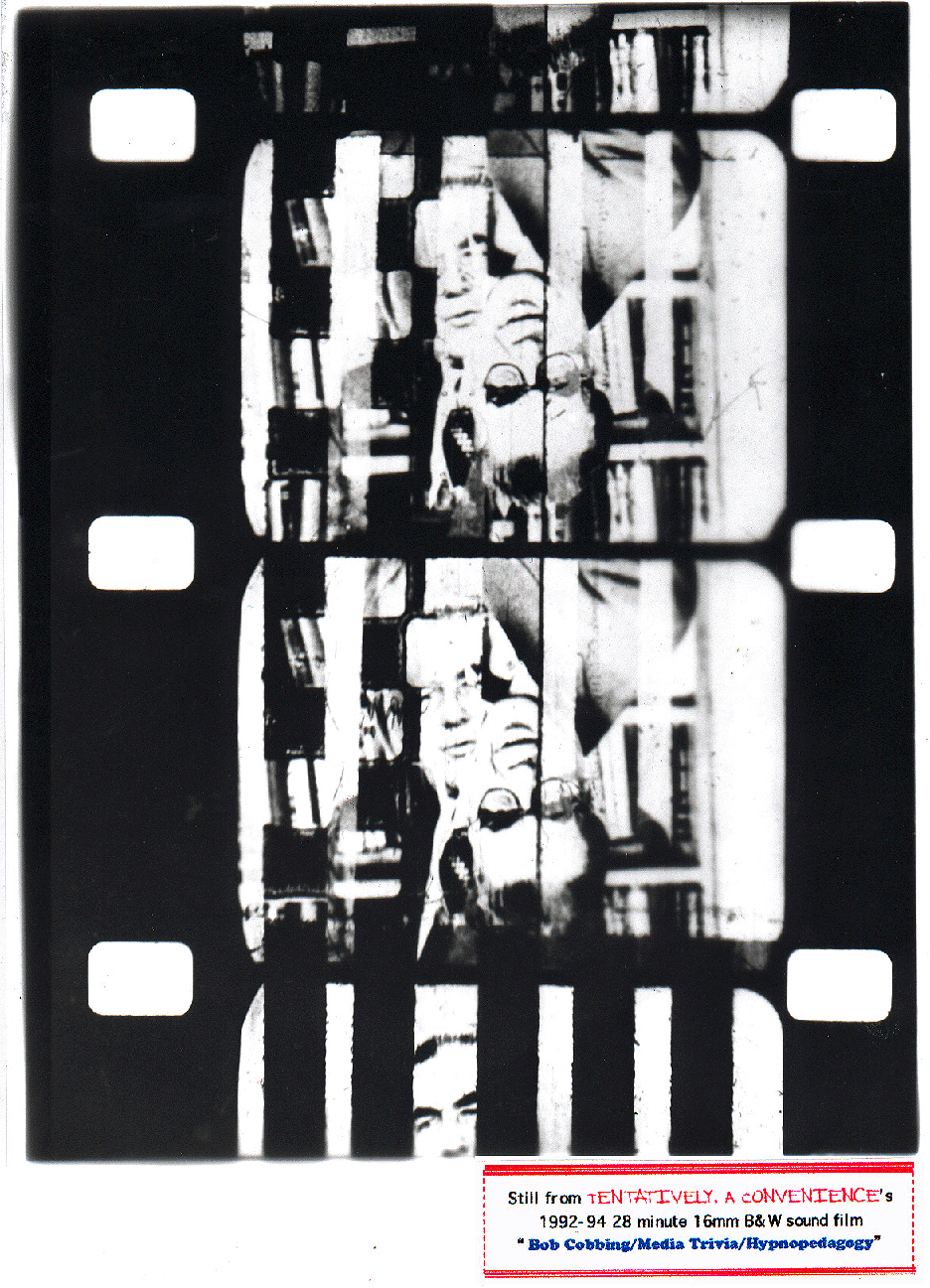 - recollections from tENTATIVELY, a cONVENIENCE
199. [Improvisation @ WRCT
- WRCT, 88.3FM, Radio Carnegie Tech, Pittsburgh, us@
- Thursday, May 4th, 1995, 11:00PMish to Friday, May 5th, 1995, 3:00AMish
- 2 audio improvisations catalyzed/produced/recorded/mixed/edited by Ed Um-Bucholtz broadcast live & recorded to be [probably never] remixed & [probably never] submitted to the cassette publication entitled "Chocolate Monk" in Edinburgh, Scotland. Sharyn Lee Frederick: Bass, Vocals, Bass Clarinet, Tom; Michael Johnsen: Bass Clarinet, 3 String Guitar, amplified Water, Sine Wave Generator, Ho Shim Guitar; Giuglia Loli: Electric Violin, Alesis Drum Machine; Dave W(Ho)le Shim: Guitar, Effects, Sine Wave Generator, Johnsen 3 String Guitar; tENTATIVELY, a cONVENIENCE: "Usic - -1" test pressing (its public premier), Electric Violin, Bass. During the 2nd (last) set Edwin Houghton played Records/Turntable & Patrick Meagher briefly played Tom.]
- recollections from tENTATIVELY, a cONVENIENCE
200. [Free Form Irritainment with Fabio Esq.
- WFMU, 91.1FM, East Orange, us@
- Sunday, August 13th, 1995, 9:00 to 11:00PM
- A radio presentation beginning with fake station IDs interspersed with static & other radio station signals. Fabio suggested feasible call letters & I created simple slogans for them. These were:
WMMM - MMM Good!
WTTR - Come TITTER with Us!
WESO - 'Cause we so COOOOL..
WPLA - YOUR Platform.
WNIM - Nimble Radio for Nimble Minds.
WCVX - Civilian Vertical Exchange.
WFAS - Radio in the Fast Lane
WFOO - The Only Station Dedicated to Food
WFUL - For a Wonderful Listening Experience
WBLA - Blah, Blah, Blah
Fabio & I pre-recorded my intoning of these IDs while he mixed in other radio signals. This deliberately somewhat confusing beginning was followed by a playing of my "tENTATIVELY Microtonal" K7 + excerpts from the "Official Wafer Face Record" & my "Usic - -1 = a Plethora of No Longer Neglected Audio/Conceptual Obstacle Courses" LP (used to mark the quarter hours). I plugged my upcoming film/vaudeo presentation at Segue in NYC & Russ Forster of "8-Track Mind" magazine plugged his film so wrong they're right & discussed other 8-track related matters.]
- recollections from tENTATIVELY, a cONVENIENCE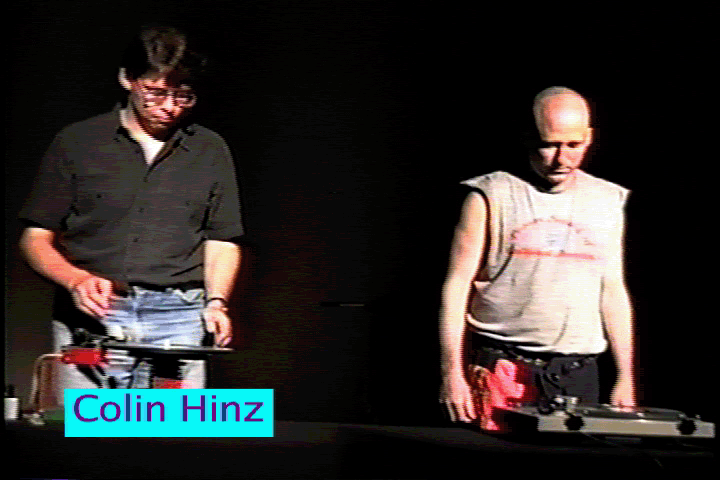 201. a sO-cALLED wHATEVER
- Music Gallery, Toronto, CacaNada
- Friday, September 8th, 1995, 8:00PM
- This was divided into 4 parts:
1st, the "Total Mobile Home Suitcase" (named after the micro-cinema run by Rebecca Barten & David Sherman in San Francisco that the suitcase was semi-inspired by) was placed on the lap of each audience member & opened. With each opening a different short audio piece was heard & the suitcase was then closed. When the suitcase reached a friend that I hadn't seen for 8 years (Alan Lord), it greeted him with "Hey, Baby". Another audience member pulled out a pouch of tobacco & pointed to it when the suitcase played a coughing sound for him. The 2nd part consisted of Colin Hinz & myself playing the double groove sides of "Usic minus the square root of -1". Colin played on a turntable that he'd made that has a wider variety of speeds than normal. Colin dropped fishplates on the record while playing it - just as he had during 1 part of the same record (on which he's represented remaking the "Official Wafer Face Record"). The 3rd part began with a straight presentation of my film "Diszey Spots" & was followed by my film "Funny Farm Summit Meeting". This latter is a film of a nudist mask party at the Funny Farm - a 19 room farm house in Ontario covered from floor to ceiling with kitsch & novelty items (etc..) collected, created, & organized thematically by the humorous "mastermind" of Laura Kikauka. This was where I'd been residing for the previous year. The film's sound-track was accompanied by John Henry Nyenhuis's playing grand piano whilst naked wearing the same mask that he was shown wearing in the film (whilst also playing piano) & by myself playing synthesizers & sampler while also naked & wearing the same mask as in the film.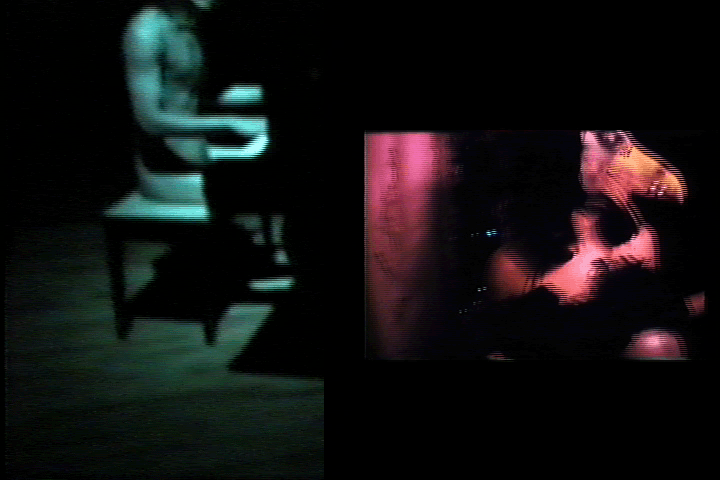 The 4th part was the fabulous world premier of my "A Year & a Day at the Funny Farm Bogus Piano Concerto - in 2 Rapid Bowel Movements". This involved John Henry playing keyboard while I played synthesizer modules, sampler, sequencer, midi-patcher, multi-verb, etc.. The relationship between our 2 parts was a sort of intricate mutual subversion in which John played with an almost super-human virtuosity & I mutated & immersed his pianistic linearity. The structure was such that John Henry began by playing furiously (in the "Left Wing Movement") & gradually slowed down. He began the 2nd, & last movement (the "Chicken Wing Movement"), playing minimally but triggering more notes than he touched. As this last movement progressed he gradually returned to furious playing but his pitch output was drastically reduced by my controlling. As such, the audience was presented with a variety of relationships between what his fingers were actually doing & what they actually heard as a result. Simultaneously with this was the projection of an extreme slow-motion film of mine (collaboratively made with the loveable Orgone Cinema folks) entitled "How Orgone Cinema Treats Its Visiting Filmmakers". This film, at 24fps, is only 5:40 long - but in this projection it was extended to 45:00 by having the projectionist play bits of it in both forward & reverse. The film features, amongst other things, fertilized duck eggs being thrown at the back of my head.
footage from the suitcase portion of this is here: https://youtu.be/ShRgYeTSK40?t=1h11m58s
footage from the Usic LPs portion of this is here: https://youtu.be/ShRgYeTSK40?t=1h17m39s
footage from the Funny Farm Summit Meeting portion of this is here: https://youtu.be/ShRgYeTSK40?t=1h21m33s
footage from the Bogus Piano Concerto portion of this is here: https://youtu.be/ShRgYeTSK40?t=1h35m17s
- complete on my onesownthoughts YouTube channel here: https://youtu.be/kjkDZsaWhkk
- recollections from tENTATIVELY, a cONVENIENCE
202. [with CCMC
- Music Gallery, Toronto, CacaNada
- Tuesday, September 12th, 1995, 9:00PM
- To quote from the advertising, "Beginning the twentieth season of collectively created, freely formed music, the core members, MICHAEL SNOW (piano, synth), JOHN OSWALD (sax), [&] PAUL DUTTON (soundsinging) [..] are true "sonic swashbucklers"". CCMC play regularly at the Music Gallery on Tuesdays for free & encourage the fertilization of such new-comers as myself. I played synthesizers, sampler, sequencer, etc.. at a barely audible volume - sampling them live without pre-warning &, thusly, confusing their perception a bit.]
- recollections from tENTATIVELY, a cONVENIENCE
203. A So-Called Whatever
- S.U.N.Y.-U.B., Buffalo, us@
- Monday, November 6th, 1995, 7:45PM
- An almost archetypal mad scientist didaction. 6 movies were presented, all projected: meaning both 16mm & VHS. During the 2nd, "Bob Cobbing", this extremely "conceptually vandalized" film of an early morning TV teacher from by-gone years had its sound-track further augmented by my playing various sequenced samples & by my reading from my essay entitled "& the Deadbeat Goes On & On & On..". One of the sample sequences was of the Institute's Chairdog of the Department of Mascottage Industries (Rupert) barking & yowling. Rupert was in the audience in the hope that he would bark & yowl along with the recording of himself. Due, perhaps, to the processing on his bark & the general complexity of the mix, he only barked as a sign that he had to shit. The reading from the essay involved having each paragraph pitch-shifted. The general audio mix made my "anti-propaganda" more or less unintelligible as "propaganda" for "anti-propaganda". During the 5th movie, "You Haven't Heard the Record, You Haven't Read the Book, Now! Don't See the Movie!" there was also mixed in "Concrete Mixing Usical Material for S.U.N.Y.-U.B." - a vaudeo made by mixing a retrospective of excerpts from most of my movies + the quasi-document from my "A Triple "S" Variety Show straight from the bowels of the Turquoise, Beige, & Flesh Room at the Funny Farm" (#195). This meta-mix was made by Richard Wicka while I wandered around providing some commentary with a radio-mike. The final, 6th, movie/section, "The Department of Maybe presents: Problem-Solving Demonstration", was a variation on the game "20 Questions" - made collaboratively with Julia Dzwonkoski. In this vaudeo Julia asks me an unlimited amount of questions in an attempt to discover which word I'm thinking of. I'm off-camera & limited to only yes or no answers - most of which are inappropriate due to the lack of qualifying. In this presentation the audience was encouraged to also ask questions & was told that if they could correctly guess the answer, the presentation would end when they did. The answer was guessed substantially in advance of the end of the vaudeo & I lay down on the stage to signify this ending to the projectionist to stop the screening.
- recollections from tENTATIVELY, a cONVENIENCE
to Personal Favorites: 1959-1989
to Personal Favorites: 1990-2009