356. "Backwards Masking in Rocks" premier & "Mechanically Repetitive / ReRecorded Records RECORD" release
- Pittsburgh Filmmakers, Pittsburgh, us@
- Wednesday, April 30, 2008
- AARGH!! Another elaborate event that I'll try to reduce to a few paragraphs in the interest of writing something about it at all! "Backwards Masking in Rocks" is my Rock Book Opera. It's a movie that was premiered at Pittsburgh Filmmakers' Melwood Screening Room with both a pre-recorded & a live sound track - as well as live 'acting' related to the movie. It was also the premier of my vinyl LP entitled "Mechanically Repetitive / ReRecorded Records RECORD" - released by Dear Skull Records <http://www.myspace.com/dearskullrecords>.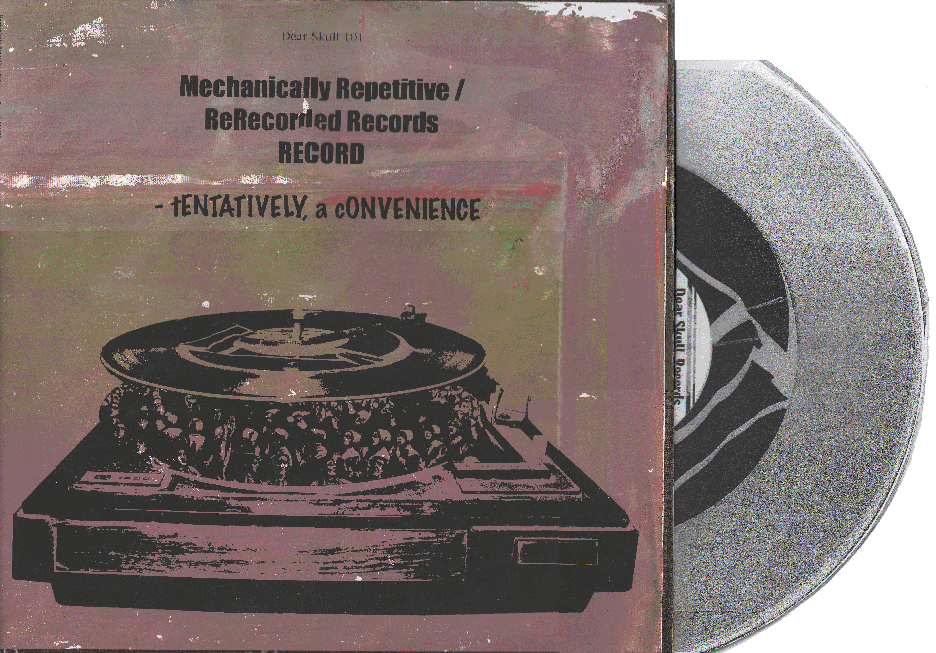 Pittsburgh music journalist Manny Theiner was kind enuf to write a 2pp article advertising this event for one of the local daily newspapers. You can (probably) read the entire article @ Music Preview: Local artist unveils an inconvenient sound <http://www.post-gazette.com/pg/08115/875882-42.stm> or read my edit of it that's only about the movie @ Local artist unveils an inconvenient sound <http://www.hi-beam.net/mkr/tac/tENTINCONVENIENT.html>.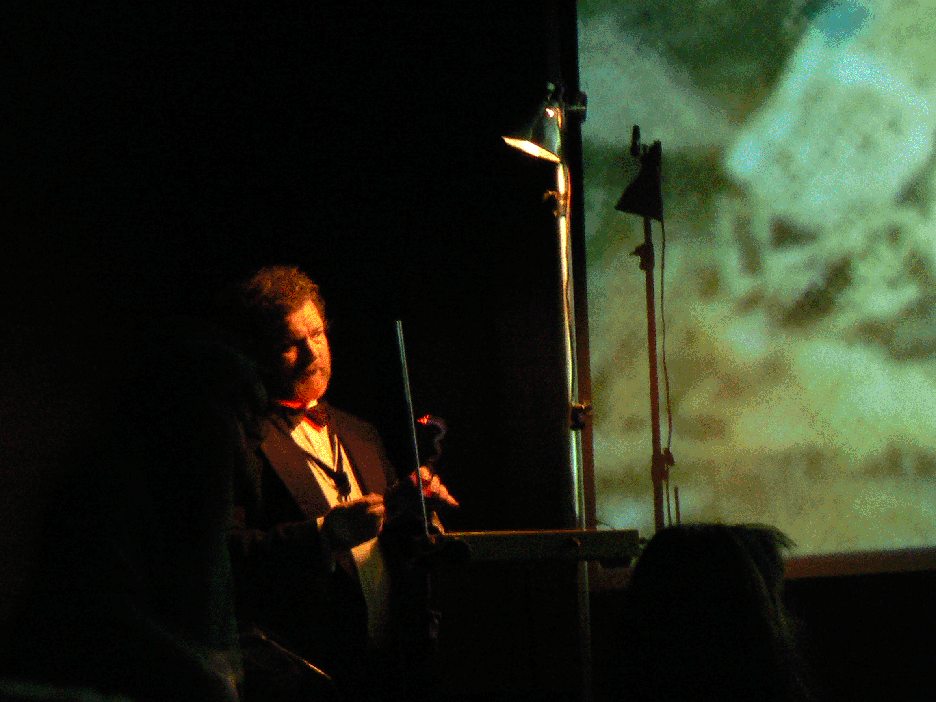 The movie begins, the great reed player & electronics performer Ben Opie is to audience left. I'm vocalizing, mixing, playing 2 copies of the new record, & playing samplers to audience right. We both have foot-pedal controlled lights on us that we can turn on for dramatic effect when so moved. The movie is about the conspiracy of rocks to sexually turn on humans so that humans will masturbate on them. Once the resultant bodily fluids soak the rocks they can grow into giants larger than humans & use us as sex-toys. Or something like that. Periodically, footage of a talking head geologist talking about his personal experiences along these lines appears. Simultaneously, the very same geologist appears on the stage & contemplates what appears to be a rock by using his head-lamp to light it & a magnifying lens. At some point, a 'bible scene' happens: a pregnant woman crossing the desert is stabbed by someone that GOD later orders KILLED. On stage, the very same woman is impaled by me & carried away. Throughout, I sing the copious subtitles & intertitles as the libretto in my best ROCK style (well.. sortof). It's all the fault of BACKWARDS MASKING IN ROCKS - if you didn't already know that.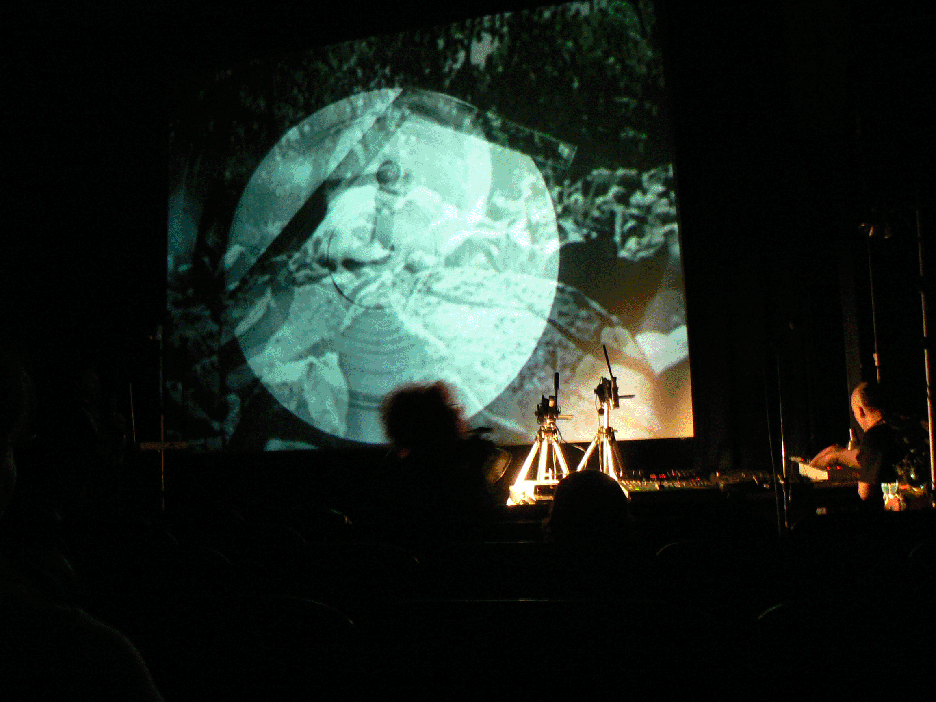 About an hr into the movie, scenes of people playing ringing rocks are shown - mixed live w/ overhead shots of the records playing (also mixed live into the sound). Ben goes wild. He's been mainly playing theremin (& thingamagoop & clarinet) but now he's probably switched to alto sax & he's damned good. The geologist starts to stroke a vulva that appears onscreen in a rock & it starts to SQUIRT BLOOD OUT FROM THE SCREEN (thanks to S/F/X Joe). The damned thing is menstruating! Thank the holy ceiling light that there's a fabulous documentary made about this.
- recollections from tENTATIVELY, a cONVENIENCE

357. Street View Project: Sampsonia Way
- Sampsonia Way, Pittsburgh, us@
- Saturday, May 3, 2008
- This wasn't my project & my participation in it was minimally performative but I like the idea of it so much that I have to list it here. As far as I know, this project was created by Robin Hewlett (who invited me) & Ben Kinsley. As I understand it, Google maps have an option of providing a street view that's created by shooting panaromic photos that computer users can navigate thru like a video game - seeing what the actual street looks like. Ben & Robin conceived of having preplanned actions happening on the street during the time that they'd invite the Google Street View team to drive thru & photograph it. I wore my turkey-feather suit & wings (the wings had been used in my "Generic As-Beenism" action from 1987-1989) & posed at the beginning of the photographer's route.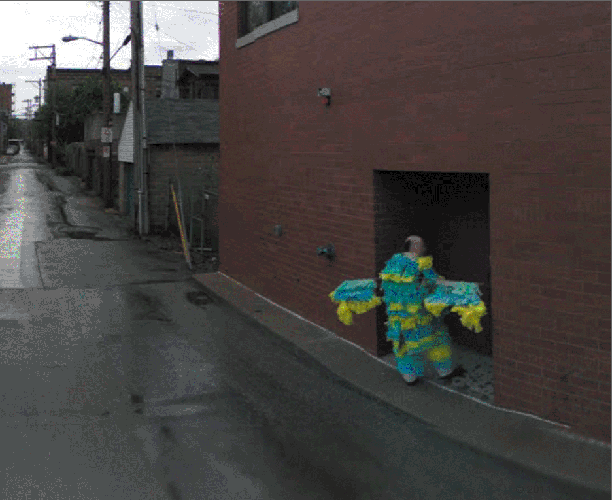 The photographer made 3 passes: in the 1st, I was in a doorway, in the 2nd I was being play-acting searched by play-acting under-cover cops, & in the 3rd I was dumpster diving. The 1st & 3rd can be seen on Street View.
Other people's activities included guys moving mirrors off a U-Haul, Parade Directors, a Marching Band, Parade Spectators, a Mad Scientist Lab, a Garage Band, Marathon Runners, Doug's + Ham, a Giant Chicken sculpture, actual firemen rescuing a toy cat from in a tree or some such, a biker rally, & an Angaron Battle.
- recollections from tENTATIVELY, a cONVENIENCE
358. [Circuits of Steel II promotion
- Carnegie Public Library, Main Oakland Branch, Pittsburgh, us@
- Sunday, May 11, 2008
- Thanks to Pittsburgh-based music promoter & publisher Manny Theiner, I got to play at the main branch of the public library on the same bill w/ Margaret Cox. Rick Gribenas, & Steve Boyle. This was one on many of the concerts that Manny made happen to promote his 2nd CD comp of Pittsburgh electronic music - "Circuits of Steel II". This was totally fun partially b/c the audience was largely from outside the Pittsburgh experimental music ghetto. Most of the attendees appeared to be people who came to the series b/c it was at the library & free. I had planned to do something using pitch-to-MIDI conversion for live vocal manipulation of samples. Alas, my pitch-to-MIDI converter broke when I was rehearsing & I had to change plans. Instead, I talked live, sampled myself talking live, & then worked w/ playing those samples back live while still talking. It was great to have that feeling of trying to do so much in the moment w/o preplanning. I had so much fun & enjoyed everyone else's set so much that I proposed founding a group w/ the 4 of us called "Sonic Aughts Union". This developed into HiTEC (see entry 365). Alas, Rick Gribenas, a very active Pittsburgh-based sound artist, died very young from lymph-node cancer a mere 10 mnths later.]
- recollections from tENTATIVELY, a cONVENIENCE
359. Jefferson Presents... Pittsburgh Experimental Films
- MoMA (Museum of Modern Art), New York City, us@
- Saturday, May 17, 2008
- On December 16, 2007, Pittsburgh's film presenting group Jefferson Presents had organized a screening of work by locals around the theme of analysis projecting. Analyst projectors are capable of projecteting at various speed slower than the usual 24 & 16 or 18 frames per second. For this original show I'd double-screened side-by-side 2 prints of my "National Cancer Institute Documentary" (on YouTube @: <http://www.youtube.com/watch?v=iANO4bKId7E>). When JP was offered to do a show at MoMA one of the guys who runs it (Gordon Nelson) decided to repeat this show. I, however, decided to screen a differnt film instead, "How Orgone Cinema Treats Its Visiting Filmmakers" (on YouTube @: <http://www.youtube.com/watch?v=n7lP5W0i-nY>) - partially to pay homage to Orgone Cinema as a precursor to Jefferson Presents but also b/c it's the film of mine that deals most w/ speed alteration b/c it was shot w/ a high-speed camera. For my portion of the program I was able to provide a live stereo percussion soundtrack under good conditions. Something like 25 of us from Pittsburgh went to NYC for this. Much to our surprise, the 135 seat theater was SOLD OUT & many friends of mine were turned away.
For a complete listing of what was screened go to: LIST OF PAST JEFFERSON PRESENTS... SCREENINGS <http://www.geocities.com/jeffersonpresents/past.html?1033793708380>
- recollections from tENTATIVELY, a cONVENIENCE

360. Braxton Plays Pittsburgh Plays Braxton
- Marsh Room, National Aviary, Pittsburgh, us@
- Sunday, June 1, 2008
- tENTATIVELY, a cONVENIENCE: sampler, wave-table synthesizer, FM-synthesis synthesizer, mixer/sampler, radio mic, small instruments, voice; Anthony Braxton: alto sax, contrabass clarinet; Ben Opie: alto sax, contrabass clarinet; Michael Pestel: 3 bird-machines, small instruments, slide whistles, flute; Tracy Mortimore: string bass; Eden McNutt: voice; Dave Kadden: oboe, english horn, percussion; Dave Ruder: clarinet; Roger Dannenberg: pocket trumpet; the birds of the Marsh Room
Anthony Braxton was brought to Pittsburgh by my friends & collaborators Michael Pestel & Ben Opie for a series of concerts entitled "Braxton Plays Pittsburgh Plays Braxton". The 1st of these was a concert w/ Braxton's own group at the Manchester Craftsmen's Guild, the 2nd was of Braxton's creative orchestra music played 1st by CAPA Anthesis (a wonderful group of students partially taught & conducted by Ben) & then by a group of older Pittsburgh professional musicians - at the CAPA arts high school, &, finally, 2 improvisational concerts at the National Aviary. I was invited by Michael to participate in the latter of these 2. Given that I'd been listening to Braxton's music for 32 yrs & have always considered him to be one of the world's greatest wind players, I was thrilled.
For this, I made a set of 61 samples of common birds of North America (in one channel) + my imitation of them (in the other channel). 60 birds were represented in these samples. My imitations of the birds involved using crow call, whistling, voice, kazoo, slide-whistle, & flanger effect. I very painstakingly imitated each bird phrase by phrase, recorded these to computer & matched the speed of them to the recordings of the birds. Some of the imitations are quite good, others less so. While playing live, I set up the stereo outputs from the samples so that I cd pan between the channels in the mixer to have only the original bird sound playing &/or my imitation. Furthermore, the samples cd be effected - including using a formant morph or chatterbox to simulate their coming out of a human mouth.
The idea behind my sampling was that I was bringing the sounds of indigenous birds from the area outside the Aviary that the birds held captive inside the Aviary wd only be able to hear very faintly (if at all). All in all, I was extremely satisfied w/ what I played & it was fantastic to be able to play w/ Braxton & all the other great folks. I wore my feather costume that was originally made for "Harps & Angles" (see particularly entries 338 & 342 when I wore it) Michael Pestel & I did a sortof bird dance w/ each other that was a highlight for me. Unfortunately, I suspect that in whatever the final recording documenting this might be (to be issued on CD?) that I'll be barely audible, if at all.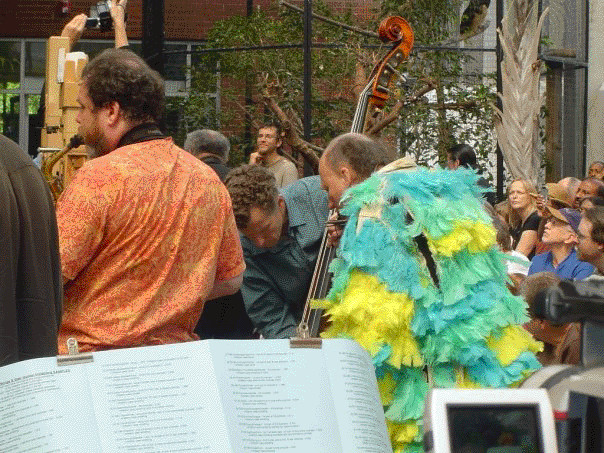 - recollections from tENTATIVELY, a cONVENIENCE
361. "Public Contexts" lecture
- Carnegie Mellon University Center for Fine Arts classroom, Pittsburgh, us@
- Friday, October 10, 2008
- I was invited by Jon Rubin to present a short lecture about my work w/in Public Contexts so I put together a 12pp script w/ audio-visual aids entitled "Public Contexts - 1969-2007" covering a small fraction of my relevant work during that time. Starting w/ my encoded high schoool yearbook entry from 1969, I went thru my snow shoes (I showed these to the class), Mike Film, Mystery Catalysts (such as my use of a cylinder seal on chewing gum & Testes-3), photobooth displays (see entries 020-022), B.O.M.B.'s action at Three Mile Island (see entry 026), my actions around Herpes Simplex Virus - Type 2; on & on thru 36 other projects - the last few being the article about me in a major Chinese arts magazine & my excursions into "Perverse Number Theory", etc.. This was the 1st time I ever tried to give a sound byte presentation encapsulating such a large body of work & it was extremely well-rc'vd.
- recollections from tENTATIVELY, a cONVENIENCE
362. "HiTEC 033Z Systems Management" for "Worlds Within Worlds" class
- Mattress Factory classroom, Pittsburgh, us@
- Saturday, October 25, 2008
- I was invited by Alberto Almarza to give a workshop on what I was doing with my Histrionic Thought Experiment Cooperative project (eventually a 22 person orchestra) that I'd started in July, 2008 & which still hadn't performed publicly yet.
I talked about HiTEC in comparison to typical orchestras & their "golden era" mythology. I brought in a selection of percussion instruments & demonstrated them. I then had the 5 teenage students practice the "Red Room" System:
01. "Red Room"(tENTATIVELY, a cONVENIENCE):
Each player chooses 2 units of sound as their only vocabulary. These units can be distinguished in any way. No unit can be played in approximately the same relational circumstance twice - ie: If player 1 plays unit 1 immediately following another player's unit 2 then player 1 must avoid having that sequence occur again. The player stops whenever they feel like it or when all such relational possibilities are exhausted.
That was followed by trying out "Persisting Resisting":
02. "Persisting Resisting"(tENTATIVELY, a cONVENIENCE):
Play in accordance w/ a system w/o telling the other player(s) what the system is. If you make a mistake, either stop playing & stay stopped until everyone else is done OR play according to a 2nd system for a 'satisfactory' length of time. What constitutes 'satisfactory' is determined by yr own criteria. Then return to the 1st system UNLESS you make a mistake during the 2nd system in wch case a 3rd system is to be followed for a 'satisfactory' length of time - after wch the 2nd system is reverted to UNLESS.. etc, etc.. From each system one either moves one system forward or one backward. If a player thinks another player has stopped they can end but they cannot restart (even if they're wrong about the other player stopping).
Then there was "Birds":
05. "Birds (for Michael Pestel)"[meta-system] (tENTATIVELY, a cONVENIENCE):
Choose 1 or more short phrases that you'll play throughout the entire session. These phrases, once chosen can only change in a very subtle theme-&-variation way. EG: yr phrase might be: "too-wee" wch you can then repeat in fairly quick succession as "too-wee, too-wee, too-wee" or as "too-wee, too-wee, too". There shd always be a longer pause between the playing of the phrases then the length of the playing of the phrases itself. SO, if playing the phrases takes 2 seconds, there shd be a pause longer than 2 seconds between them - preferably AT LEAST 4 seconds. The phrases can be much more complicated IFF (if & only if) THE PLAYER can remember them & not make mistakes (if mistakes are made, it's not a 'disaster', the player shd just then try their best to minimize the mistakes in the future by simplifying their phrase vocabulary & sequence). Here's an example of a more complex possibility: "wheep, wheep-wheep-wheep, wheedle-eep, qwawp!" wch cd then be varied as "wheep, wheep-wheep-wheep-wheep, qwawp!" &/or "wheep, wheep-wheep-wheep, wheedle-eep wheedle-eep, qwawp!" etc..
THIS SYSTEM, ONCE ACTIVATED, IS IN EFFECT THROUGHOUT THE ENTIRE SESSION. IT'S PART OF A META-SYSTEM & A PLAYER'S BIRD-SONG SHD BE PERIODICALLY INSERTED INTO WHATEVER OTHER SYSTEM IS BEING PLAYED INDEPENDENT OF THE RULES OF THAT OTHER SYSTEM. SO, let's say that everyone's just played "Birds" & then moved onto "Red Room". Independent of "Red Room"'s 2 unit restriction, the players' Bird-Song can be inserted from time-to-time (or not) at the player's discretion.
Players can also be "Mockingbirds" or "Lyrebirds" by creating their songs from imitations of their environments. This, however, is an extremely difficult process that shd only be attempted by advanced players sure of their abilities. EG: (advanced) Mockingbird Player 1 might hear Player 2 (who's performing "Birds") go "too-wee, too-wee, too" but might hear Player 4 (who's performing "Persisting Resisting" by playing in a system like "only notes in a C Major Chord w/ an occasional non-pitched disruption". THEN, Player 1 can "Mock" them by playing "too-wee, too-wee, too" followed immediately by "only notes in a C Major Chord w/ an occasional non-pitched disruption". HOWEVER, this then becomes their "bird-song" & must be stuck to in exactly the same sequence throughout the session. More "mockings" can be added to the sequence but the order of the sequence must be adhered to & only minor variations can take place w/in the overall sequence.
- although the version they tried was a simplified one.
That was followed by "Avian Flu":
15. "Avian Flu" [meta-meta-system] (Johan Nystrom):
The Avian Flu is a meta-meta-system that undermines the Birds. The Flu is activated if the WoF lands on it and if Birds is in effect. The wheel must then be spun again to activate another system. During this next system, all players play their bird calls in a sickly diminished way.
Players should continue to play their sickly bird calls for the current system and the following one. If a player feels they successfully play their sickly Bird the two systems, they have recovered and should return to the healthy call in the next system.
If the player is feeling suicidal toward their call, they can choose to move on to the late stage of infection, and should begin playing only their sickly bird call (instead of whatever system they're in), but much louder and faster.
Other players can "vaccinate" late stage sick birds by flapping one arm & pointing at the late stage sickly Bird. Be sure to do this in a way that's not confused w/ accusing someone of being a saboteur. Sick birds then flap both wings, are cured, & resume their healthy calls. Birds who aren't cured die & can no longer play their call for the rest of the session.
Then they tried a sequence of "Birds" followed by "Red Room" followed by "Avian Flu" followed by "Persisting Resisting". I concluded by screening Tony Balko's 16mm film (in DVD-R format) of the beginning of HiTEC 021's 'full group' rehearsal from September 14, 2008 so that the students could get an idea of how the more accomplished musicians & performers in HiTEC realized these ideas.

- recollections from tENTATIVELY, a cONVENIENCE
363. Bowery Poetry Club reading
- Bowery Poetry Club, New York City, us@
- Saturday, November 1, 2008
- My old friend Alan Davies & his cohort Christina Strong invited me to give a reading as part of the long-standing Segue series that I'd last read as a part of way back in 1982 (see entry 053). It's very rare for me to give readings but I was delighted for this opportunity to see some old New York friends that I almost never get to see & to read from a radically different body of work than what I presented 26 yrs earlier. Alan introduced me saying that I "needed no introduction" wch astounded me since I feel like I'm as obscure as ever but I reckon most of the people there did, indeed, know me.
I read a long ascerbic section from the "Reactionary Muddle America" section of my 10th bk "footnotes" (yes, even you too can buy it online @ footnotes <http://www.amazon.com/footnotes-tENTATIVELY-cONVENIENCE/dp/0977624250> or read reviews of it @ footnotes reviews <http://www.goodreads.com/book/show/2349153.footnotes>!). This was followed by a screening of my permutational philosophical text filmstrip "Shuffle Mode" (on YouTube @ <http://www.youtube.com/watch?v=epWSMqrMiY4>). After that I screened the "Expanded Texts" chapter of my 9th bk, "Story of a Fructiferous Society" (reviews & suchlike about wch can be read @ "Text Massaging" <http://www.hi-beam.net/mkr/tac/tENTTEXT.html>, "Subject: Fructiferous Society" <http://www.hi-beam.net/mkr/tac/tENTFructiferousStater.html>, "Story of a Fructiferous Society by tENTATIVELY, a cONVENIENCE (In Person)" <http://www.hi-beam.net/mkr/tac/tENTPleasureDome.html>, "Story of a Fructiferous Society" <http://www.hi-beam.net/mkr/tac/tENTFructiferousMcCabe.html>, "Story of a Fructiferous Society" <http://www.hi-beam.net/mkr/tac/tENTMicroCineFest.html>, & "October, 2005 Interview with tENTATIVELY, a cONVENIENCE" <http://www.hi-beam.net/mkr/tac/tENTSkizzInterview.html>). There, now, wasn't that fun? Having my description interrupted by all those links?
Penultimately, I read a long section from the ms of my newest unpublished (as of April, 2009) 400+pp math humor bk: "Paradigm Shift Knuckle Sandwich & Other Examples of P.N.T. (Perverse Number Theory)". When I offered the audience the choice between my reading ANOTHER long section of that OR a short movie of my new orchestra, HiTEC, they resoundingly voted for the movie (wch can be accessed on YouTube @: HiTEC021-16mm <http://www.youtube.com/watch?v=e0thj_1lWlA>).
The entire reading can be heard online @: Segue at the Bowery Poetry Club, NYC <http://writing.upenn.edu/pennsound/x/Segue-BPC.html> (scroll down to the appropriate mp3).
Alas, I told the other person on the bill, Darren Werschler-Henry, that I wd read quickly enuf so that he'd have plenty of time but, due to the reading starting late (not my fault) & ending on time (also not my fault), Darren got less than half the time I did. Sorry about that Darren!
- recollections from tENTATIVELY, a cONVENIENCE


to Personal Favorites: 1959-1989
to Personal Favorites: 1990-2009