377. HiTEC -72 - Final Gig
- CMU CFA Kresge Hall, Pittsburgh, us@
- Saturday, March 13, 2010
- Even as of the time of the Visionary Arts Festival gigs it was clear to me that interest in this project was waning amongst the Systems Managers. I tried to revivify this interest, mostly to no avail, with the "Systems & Processes" classes. I also tried to recruit new members who'd have a limited role but even that met with somewhat lacklustre response since people have complicated schedules, etc.. Of the 4 students from the "Systems & Processes" classes who expressed interest in participating, only Spencer Diaz actually did so. Of the others who expressed interest, only Gina Ketter did so. THANKS TO BOTH OF THEM! This particular gig was arranged by Ben Opie to be during the Spring Break at CMU because it was one of the only times when the space could be made available. While that was understandable, it didn't help attendance any.
16 Systems Managers participated (17 if the fabulous guest cameraperson Morgan Cahn gets included) & there were only 14 people in the (v)audience. This in a concert hall that might hold 200 people? The only member of HiTEC to attend in audience capacity was Ben Harris (unless we include Ilona Auth who generously donated her time to the unglamorous job of door person). At least he enjoyed it! The numbers, as usual, that proceed the Systems Manager's name & instrumentation indicate how many total HiTEC sessions they participated in.
Clockwise from tENT:
069tENTATIVELY, a cONVENIENCE: grand piano, percussion, remote-control electronics, SysMan, Wheel-of-Fortune
019Julian Krishnamurti: electric bass
023Spat Cannon: acoustic bass
024Ben Opie: alto sax, Thingamagoop, Max patches on laptop, rattle
025Hyla Willis: amplified erhu
027Kenny Haney: bass clarinet, Bb clarinet
019Tony Balko: camcorder
025Jonathan Brodsky: laptop
013David Bernabo: melodica, percussion
013Kerrith Livengood: alto flute, percussion
014Bob Jungkunz: percussion
021William Wedler: percussion
022joy toujours: violin
027Unfinished Symphonies: electronic keyboard
003Gina Ketter: viola
007Spencer Diaz: camcorder
Setting the tone for my part of the night was that while I was setting up the light on top of the Wheel-of-Fortune prop that helps determine which System will be managed, I fell off the chair I was tip-toed on, hit the edge of the stage with my ribs & the stage floor with my elbow & then bounced off to the floor.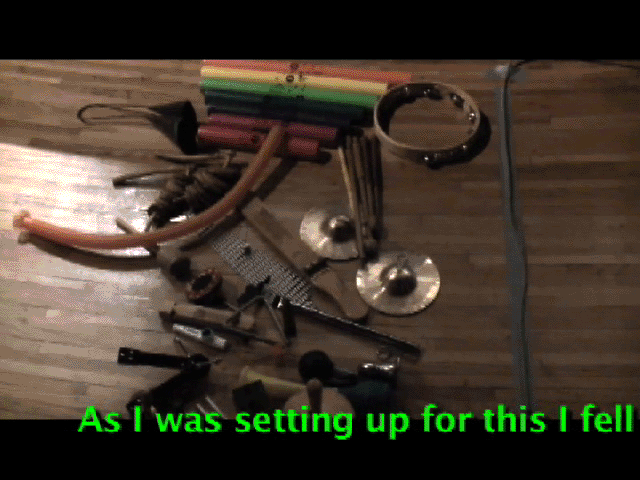 This, apparently, resulted in my cracking something like 3 of my ribs - which took 10 WEEKS TO HEAL. I was not happy. Nonetheless, the "show must go on" & I proceeded to 'perform' in more pain than I ever had previously.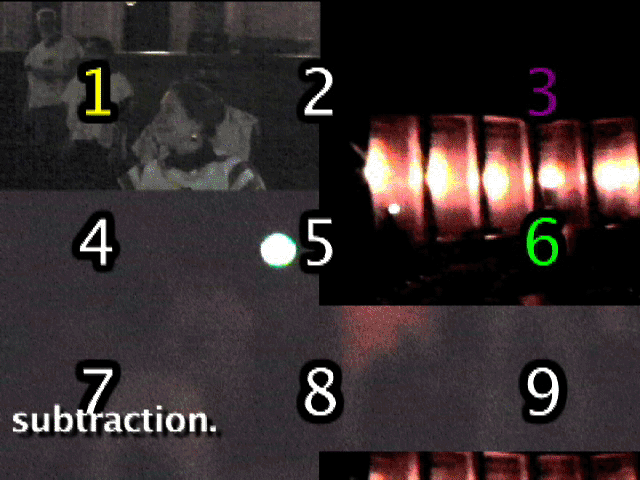 The Systems that had been developed by the "Systems & Processes" class' students (see the relevant 2009 entries) were incorporated into the overall body of Systems & the overall feel of the event was the sloppiest yet - albeit with usual phenomenally great playing from Ben Opie - especially as the "Sheepdog":
Here's the "Sheepdog" portion of the raw Hi-Def footage shot by Morgan Cahn: http://www.youtube.com/watch?v=9oYIc09Zxk4
All in all, I think we all had a great time replete with massive quantities of SABOTEURs.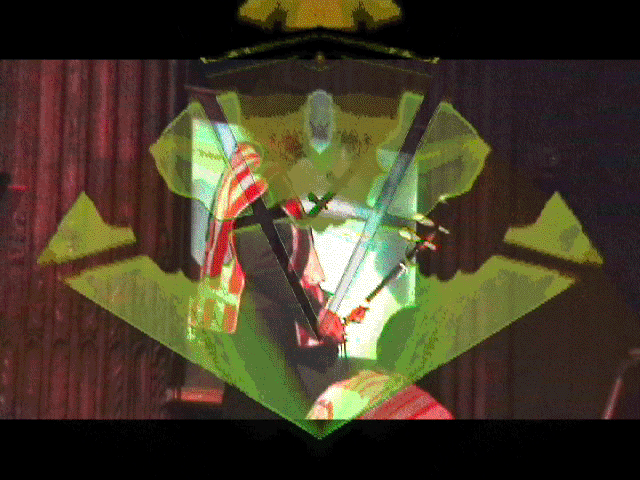 Since we had no preplanned ending & since I wanted to avoid having an ending too much like any we'd had before, I wandered off during an unexpected System, it might've been "IFF", following my secret cues until I made it to an upstairs lighting control booth (that didn't work) - from which I didn't return. Since it was deliberately unclear whether it was over or not, Ben Opie & Jonathan Brodsky made quasi(un)succesful attempts to take over my role as SysMan software operator & the event careened even further into chaos until all the Systems Managers eventually gradually trickled out.
An excerpt from the edited version of HiTEC's FINAL GIG that includes "Infinite Monkey Theorem", 'SOMNAMBULIST", "Saboteur","Bypass", "Birds", & "Affinity Groups" (+ 1 typo - can you find it?) is here:
http://www.youtube.com/watch?v=o2jILMegKug
- recollections from tENTATIVELY, a cONVENIENCE
378. Sonluminous premier
- Project 53, Pittsburgh, us@
- Wednesday, August 11, 2010
- I acquired a sound sculpture that I adapted by building a frame around it & by inserting fiber optics lighting into it. The frame is designed to allow a camcorder to point down at the sculpture & lights. For this premier performance, I had the sounding surface miced so that I could feed its output to a Pitch-to-MIDI converter that in turned played samples - which I could then further sample & loop from. When the presentation began, I had a black cloth draped over the sculpture & frame so that it could only be seen from the overhead camera's perspective that was being projected onto an adjacent screen. I wore large rubber 'monster' hand gloves & manipulated the sculpture, the lights, & the samples in various ways.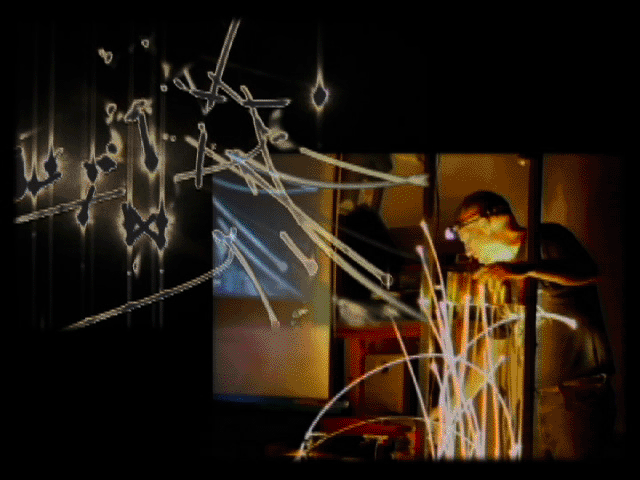 After a few minutes of this, I pulled off the cloth so that the (v)audience could see the sculpture both from the front & from the overhead perspective. I continued with the variations for a total of less than 10 minutes & then turned off the optical fibers & the sound.
This premier was part of a cabaret type night organized by Kenny Haney that featured some excellent musicianship playing Kurt Weill songs, some puppetry, a group of Kenny's that featured Jaw Harp, etc.. The space, a welcome attempt to organize an instrument loaning resource for kids, reeked of cat piss to a level that came close to breaking a world's record. It didn't help that it was suffocatingly hot inside.
- recollections from tENTATIVELY, a cONVENIENCE
379. RE: INVASION - Recent Crimes and Punishments
- SMASH, Toronto, CacaNada
- Thursday, September 9, 2010
- The above title was the title of Istvan Kantor's exhibit of "Monuments / Plunderworks / Mash-Media / Shinyism / Lebensraum / Subvertainment" at a vintage furniture store called SMASH. This was the 1st time I'd seen Istvan since 1999! As part of the opening, he & his group, variously named & possibly named for the night: Machine Sex Action Group or some such, performed - & Istvan roped me into a cameo appearance to dance. I thought his exhibit was fantastic & I had a great time dancing.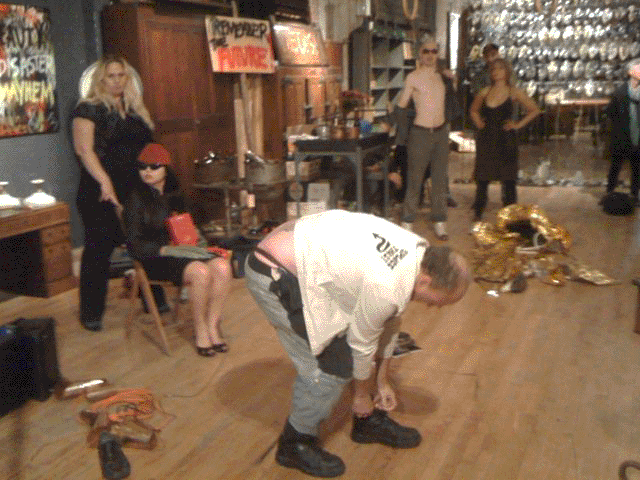 I went to the middle of the performance space hunched over, exaggerating the pains of being an 'old man', & proceeded to do things like tie my shoe-laces to each other. At some point a woman came out to dance with me & it sortof turned into a faux martial arts demonstration that seemed to frighten the woman somewhat with its pseudo-violence. Dunno. I was just moving fast & furious (or, at least my 57 year old version of it) & wasn't doing the usual "Oooohh, luv to luv you baby" disco-moves that're so gawdawful common & generic. You might be able to see some photos of Istvan & me from this night here:
http://www.facebook.com/profile.php?id=600260426&v=photos&vm=mutual

- recollections from tENTATIVELY, a cONVENIENCE
380. Collecting
- Rich Pell's "Systems & Processes" concept class, CMU, Pittsburgh, us@
- Wednesday, September 15, 2010
- Shit! this was only a little over a month ago & I already barely remember it! I DO remember that I handed out a print-out of my interview with Olivia Ciummo about book collecting. It wasn't until I actually printed this out that I saw how riddled with mistakes Olivia's rendering of it is (not that that's really such a big deal). You might be able to read that here:
http://collectingseminar.wordpress.com/2008/10/31/artist-as-collectors-of-info-let%e2%80%99s-get-personal-olivia-ciummo/#comments
One of the interesting things about guest-lecturing in this class was just seeing the different take that Rich had on the subject in contrast to Jon Rubin (see the relevant 2009 "Systems & Processes" entries). Rich was emphasizing, amongst many other things, "collecting" - hence my theme of the evening.
ANYWAY, I presented my 35mm slide show entitled: "A Collector's Item: 25 Years of Rubber-Stamp Collecting" (aka "This Death Threat will be a Collector's Item") & encouraged the students to use the sample rubber-stamps that I'd brought. I also gave the students the option of witnessing the entirety of my film on my book & record collection from 1988 entitled "You Haven't Heard the Record, You Haven't Read the Book, NOW! Don't See the Movie!" + an excerpt from one of my in-progress DVDs of selections from my archives of movies by friends of mine OR just the latter. The majority chose the archival program so my sympathy went out to the minority who wanted the film too. The archival DVD chosen is the volume that covers from the L.A. Newsreel (an unfinished political work from 1969) to Mark Nugent (an optically printed film of spectacular skill that touchs on psychiatric research with LSD & other related drugs) - with quite a variety in between.
- recollections from tENTATIVELY, a cONVENIENCE
381. Generic Tour / Narrative / Rubber-Stamp Collecting / Last Man on Earth [a highly abridged version of this for YouTube can be witnessed here]
- PAC (Performing Arts Center), Naropa University, Boulder, us@
- Friday, October 8, 2010 - 8PM-10PM
- I was invited to Naropa's Jack Kerouac School of Disembodied Poetics by my girlfriend of the time, Amy Catanzano, who's an administrator & teacher there. This was timed to coincide w/ the release of a chapbook by me entitled "vii" as part of "The Kavyayantra Press Reading Series" series of 10 chapbooks by visiting writers. My visit there was funded anonymously by 2 old friends of mine connected to the university. Amy widely sent out the following [somewhat adapted here] press release that she & I cowrote:
"Dear Writing (Etc.) Community:
"I, Amy Catanzano, have an invitation for you. But, first, a few questions:
"Are you willing to participate in a casual, quick, & unconventional "Generic Tour" of Naropa University on Friday, Oct. 8 at 8 p.m. in front of the Performing Arts Center at 2130 Arapahoe Ave., Boulder, CO 80302?
"Are you sometimes a little bored at readings?
"Are you interested in international cultural/art movements such as Fluxus and Mail Art, the Church of the SubGenius and Neoism?
"Are you exploring interdisciplinary approaches to writing or the relationship between creativity, identity, non-referentiality, and Adamitic language?
"Are you making or researching conceptual poetics?
"If you can answer "yes" to any of these questions, then I cordially invite you to visit Naropa on Friday, Oct. 8 at 8 p.m. for a reading and performance with our special guest, tENTATIVELY, a cONVENIENCE (read on for more information). Park for free in the Naropa parking lot on Marine St. off of Arapahoe Ave. Once we've taken the Generic Tour--this is optional, so if you miss it, meet in the Performing Arts Center no later than 8:10 p.m.--we'll convene inside. After the event, you're invited to a continued gathering (TBA). The event is free and open to the public. Be there or be squared.
"***
"Naropa University's Jack Kerouac School of Disembodied Poetics, in conjunction with the generous support of Professor Anselm Hollo and Jane Dalrymple Hollo, is sponsoring an evening at the Performing Arts Center on Friday, Oct. 8th at 8 p.m., with "tENTATIVELY, a cONVENIENCE," whose name is the answer to the question: "What's your name?" cONVENIENCE, who calls himself a Mad Scientist / d composer / Sound Thinker / Thought Collector / As Been / Low Classicist / Psychopathfinder / Jack-Off-Of-All-Trades / criminally sane / Homonymphonemiac / Practicing PromoTextual / Sprocket Scientist / headitor & earchivist / Explicator / Imp Activist / Cognitive Dissident, is infamous for his associations with the Church of the SubGenius and the Neoist Movement. cONVENIENCE's twelve books include HiTEC (Encyclopedia Destructica, 2009) and footnotes (Six Gallery Press, 2006), and his many experimental movies include "Story of a Fructiferous Society" (2005).
"The evening will begin with a short Generic Tour of a small portion of the Naropa environs--convening in front of the Performing Arts Center at 8 p.m. This tour will lead into the Performing Arts Center itself where a Generic Tour of the World-at-Large will begin and abruptly terminate.
"A "Narrative" will happen next based on multiple realizations of the "Infinite Monkey Theorem" in which a group of Thought Experimenters are presented attempting to NOT make a narrative by transforming into monkeys while tENTATIVELY displays his Piano Illiterature using a GRAND.
"A slide lecture entitled "This Death Threat will be a Collector's Item" will titillate the (v)audience's endless thirst for knowledge and inspiration next by thoroughly elucidating cONVENIENCE's use of the rubber stamp as a medium for spreading ideas in what might often be ordinarily print-unfriendly places. Mementos of the evening will be available to people having objects that they wish to be stamped.
"The presentation will end with a projection of cONVENIENCE's visually and textually complex "Last Man on Earth" accompanied by a live electronic soundtrack. This explores literary history in the person of Mary Shelley, movie-making, experimental music-making in the form of cONVENIENCE's 'one-man-band,' and personal experiences in loneliness and alienation as tENTATIVELY's reflections of Shelley. A Q&A will follow."
I was wearing a full-body black leather motorcycle suit of extreme decreptitude & a latex severed head prop as a hat. The Generic Tour began as I exited thru the locked (to the public waiting outside) doors of PAC into the hallway/foyer, holding a camcorder, & extemporized:
"OK, Greetings, Everyone. I'm tENTATIVELY, a cONVENIENCE, I'm your Generic Tour Guide. Uh.. Standing in front of us is something that's different from something that's behind us but has certain things in common with it. So that's the beginning of the Tour, here. On our left is something that's more or less similar to what's on our right but not necessarily identical & not necessarily not identical. They're opposite each other. Underneath us is something that's underneath us & overtop of us is something that's overtop of us but that also is relative - so it's not necessarily that much different. &.. somewhere about sixty million miles that way is something that may or may not be similar to something that's about sixty million miles that way or.. whatever.. It's really hard to actually pin it down but there are definitely similarities & those similarities may or may not be important.
"So if you follow me this way, you'll see that something is alive near me & some other thing is alive near me & some other thing is alive that's near the 1st 2 things that were alive - but those things that are alive may or may not really be alive - it all depends on how you measure such things & what you determine to be life. Personally, I think they're all probably more or less alive, as you are probably more or less alive, but I'll leave that up to you because I don't want to overly determine these things for you because, even though I'm your Tour Guide, that doesn't necessarily mean that I know everything about everything even though I do know an enormous amount about alotof things which are sometimes similar & sometimes not similar.
"Now if you, if you touch this, for example, you'll find that it has a texture - but, even if you're not touching this, you may find that there are other textures that you're feeling that you weren't thinking about feeling before you touched this - & that really has nothing whatsoever to do with this tour except that it is related to your perceptual apparatus which you may or may not actually have - because, of course, as we all know, or don't know, that could be Maya, it could be an illusion - but, then again, it probably really isn't an illusion - but, then again, who am I to say? I'm just your Tour Guide here.
[arrival at the front of the Lincoln Building]
"Now I've never been in this object before & may not be able to enter into this object - but [I open the glass double doors] we'll give it a shot anyway. [someone in the tour group says something - apparently about the ability to exit] Now, according to the assistant to the Tour Guide here, we can not only come into this object but we can actually exit this object. I think that's something that alotof things have in common with each other - except for the things that we consider to be impenetrable - like various mysteries - so we'll go this way & we'll see whether the assistant to the Tour Guide actually knows what she's talking about.
"Alright, over here we have an image - & over here we have an image - but that's really not such a big deal because images are everywhere. & here we have a thing that's going down - & there we have a thing that's open - & here we have another thing that's open - & then we have some variety of openness in the form of the people who are there [we unexpectedly (to me) are heading down a hallway toward the PAC entrance again] who are expecting us to provoke certain opennesses but we're not going to do that yet - because.. that might be a little bit too predictable. SO.. openness, non-openness - you decide which is most important.
[I lead them out the original hallway that we began in but direct them in the opposite direction from where we went before - toward the parking lot]
"After all, we are here at Naropa & I really wouldn't want to bias you in this direction towards openness or non-openness because that might destroy your openness! [we arrive at a small sign that reads "THANK YOU FOR NOT SMOKING"] Now here there's a sign that says "Procrastinate Until Yesterday" & over there is another sign that says "Procrastinate Until the Day Before Yesterday".
"Alright, moving along, if you look about.. seventy million light years away, you'll see something.. that isn't there anymore. & then if you look about as deeply into the quantum structure of what's beneath your feet you'll also see something that isn't there anymore either.
"Now, if you look at yourselves, you might get confused because you might have to decide what yourself consists of & that's true no matter where you are - unless you're.. post-amnesiac. &, then, the other thing about this Generic Tour is that you have to decide whether the objects around you are also post-amnesiac or not.
[we turn around to go back to PAC]
"Now going back in this direction [I walk through the group] you'll see that there are a bunch of fleshy things all over the place, that you're actually in the midst of a bunch of fleshy things, & that these fleshy things are often dangerous, very very dangerous - but they're also incredibly safe - it depends on whether they're animate or inanimate.
"Uh.. &, once again, I can't stress enough, that no matter where you are, you can always conduct a Generic Tour - you just have to get your language right. So, coming this way, [Kimi Cunningham opens the door to PAC for me]
"I am coming into the room, &.. [the vaudeo transfer projection of the "Where We're" filmstrip begins on cue thanks to Allison] the lights in the room are probably going to go down - but, then again, whether one perceives them as going down or not depends on a whole set of factors - but the lights in the room should go down & the soundtrack for the dvd should be up [it wasn't because I'd forgotten to set my mixer correctly] - but we're not hearing it - & that's probably my fault - but it might not be. [I go on stage to check the equipment] It is not my fault, there is sound coming out.. - but we're not hearing it from there.. which is too bad because.. [I get the sound up on my mixer & I stop talking & the soundtrack is heard:]
"'Where We're'. [etta cetera's voice:] Anyway [something..] [my voice in the soundtrack:] Somewhere to the left is a structure. That structure sure is built, isn't it?"
The "Where We're" sundtrack continues the Generic Tour. I allow this to play for about 9 & a half minutes before shutting it off to cue Amy Catanzano's & Anselm Hollo's intros: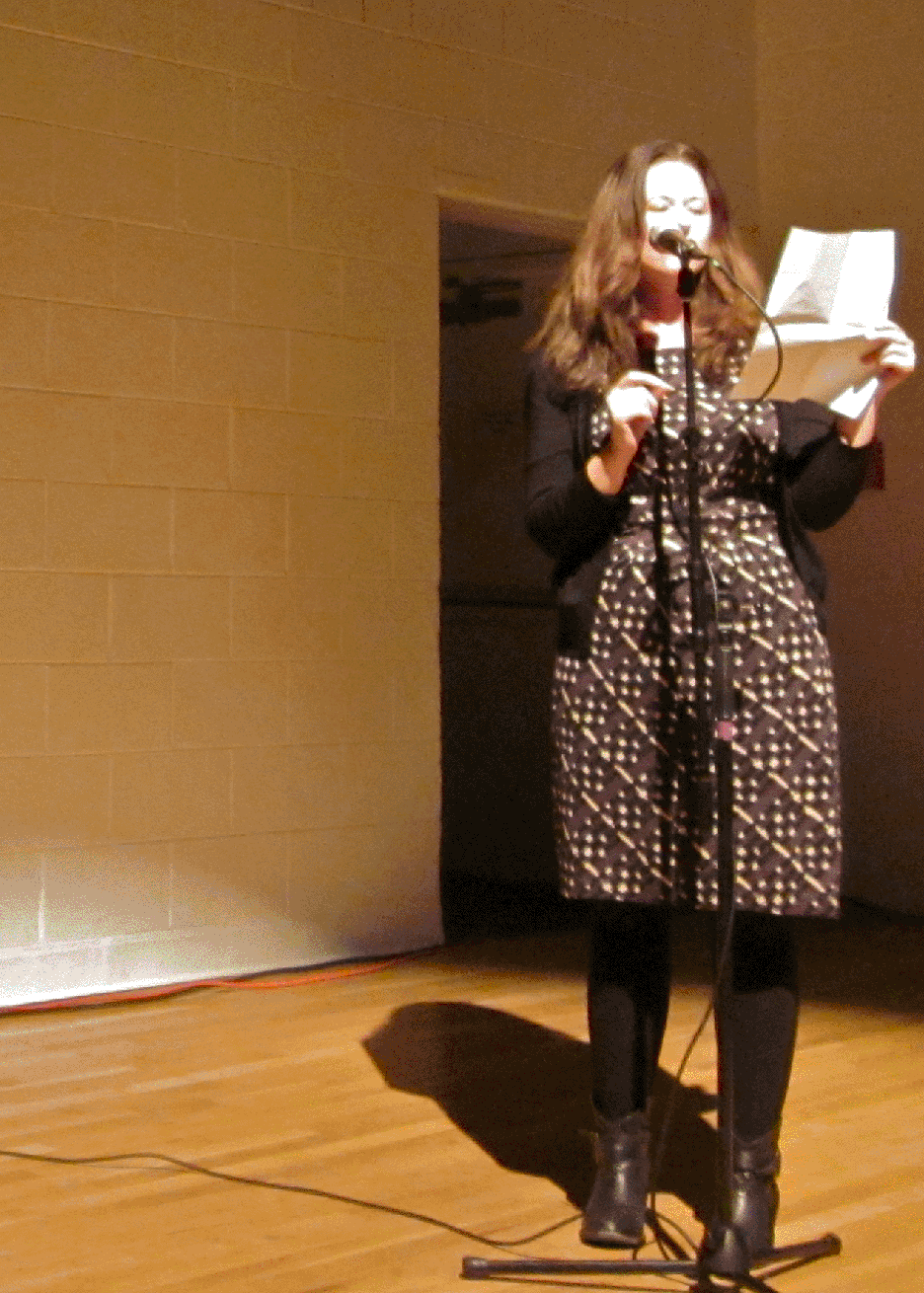 "Welcome everyone, and thank you, tENT, for our Generic Tour! I'm Amy Catanzano, Lecturer and Administrative Director of the Writing and Poetics Department in the Jack Kerouac School of Dismebodied Poetics here at Naropa, and next to me is Anselm Hollo, Professor of Poetics in the Kerouac School. It is our pleasure to be introducing tonight's performer, tENTATIVELY, a cONVENIENCE, whose name is the answer to the question: "What's your name?"
"tENTATIVELY, who calls himself a Mad Scientist / d composer / Sound Thinker / Thought Collector / As Been / Low Classicist / Psychopathfinder / Jack-Off-Of-All-Trades / criminally sane / Homonymphonemiac / Practicing PromoTextual / Sprocket Scientist / headitor & earchivist / Explicator / Imp Activist / and Cognitive Dissident, is infamous for his associations with the Neoism Movement, which he co-founded, Mail Art, and the Church of the SubGenius as well as his conceptual performances and anarchist actions. He is the author of twelve books, including footnotes (out from Six Gallery Press and available in the Naropa Bookstore), has published and edited numerous magazines, has made over 350 experimental movies, and regularly develops sound-based projects such as his pataphysical orchestra called HiTEC, which stands for Histrionic Thought Experiment Collective [actually it's "Cooperative"]. tENTATIVELY also has a large archive of other people's work; most recently he curated a 90-minute film program from his archive for the Three Rivers Film Festival in Pittsburgh, where he lives.
"Early on in his career in Baltimore, where he knew Anselm Hollo, tENTATIVELY was associated with the language poets, though later he says he didn't want to be "limited by any one theory of writing." That logic was an extension of his experimentation with creativity in multiple mediums, a strategy fueled by undermining what he calls "reality maintenance traps." As part of his experimentation with the public and private performance of identity, tENTATIVELY has written and performed under many names including tENTATIVELY, a cONVENIENCE, what he calls his "master-set name," a reference to set theory, and open-context names such as Monty Cantsin and Luther Blissett, which can be used by anyone and which have been at the center of international collaborative writing and performance projects for the last 30 years.
"tENTATIVELY's experiments, which I see as languages, remind me of something Michael Palmer said about translation, that the translation translates not just the text but the translator. Like Jerome Rothenberg's notion of "total translation," which suggests the translator translate untranslatable concepts by creating novel translations, tENTATIVELY's languages translate freely, uncensored, performing a special kind of freedom that frees by being free. The expression of freedom in his experiments ricochets with meticulous and conceptual formal structures and methodologies, colliding chaos and order. And the strong reactions and responses to his experiments, which challenge conventions of all kinds--societal,aesthetic--are part of the experiment. As I've written in a recent review of footnotes, some take the bluepill, some take the redpill....
"I'd now like to hand it over to Anselm Hollo, who is going to say a little bit about knowing tENT during their Baltimore days."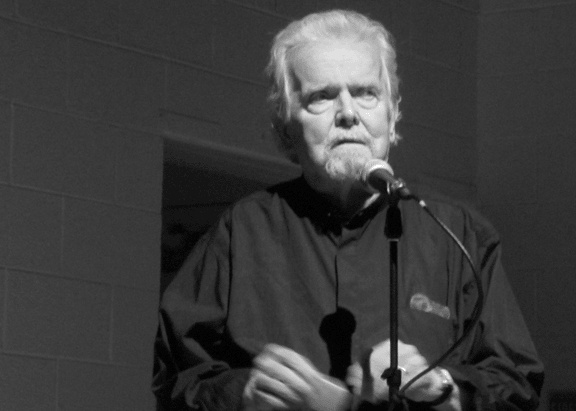 Anselm Hollo: "Well, that was pretty exhaustive, not exhausting, exhaustive. Um, a litany of names, dating back to my 2 sojourns in Baltimore. One was the early, the 1st one was in the early '70s, & the 2nd one was in the early '80s. & somewhere between those times, I had these friends in that, um, in that, um, fair town also know as Charm City [I say: "Also known as 'Harm City'."] - some people thought it was a gross irony, y'know? Uh, I still love that town. &, uh, there were people there - I have a whole litany of names. I'm happy to say that most of them are still with us, I think. There was cris cheek from England, there was Kirby Malone from somewhere down south - I forget exactly where. There was Marshall Reese, there was Nora Ligorano; & visitors included Allen Fisher - a well-known, recognized British poet; &, uh, I don't know if Bob Cobbing ever made it to Baltimore [I cry out: "Yes!"] - he was sortof the godfather of the English side of all of this. & I gather that, now, cris cheek is an associate professor at Miami University in Ohio; Kirby Malone is the artistic director of a group called Cyburbia, I like that, Cyburbia, come to Cyburbia Company - &, as we just heard, tENTATIVELY, a cONVENIENCE is now an active neoist in Pittsburgh. So, it is a great pleasure to meet him again after something like 25 years - that's a quarter of a century, isn't it? & I should also mention Joe Cardarelli - who was a Maryland-born poet - & taught at the Maryland Art Institute for about as long as I've been teaching here. &, uh, y'know, it was a kind of, uh, focal person bringing, bringing many many poets to the Maryland Institute of Art - with which all these people were potentially associated as well [I got ripped off working there as a model - otherwise I found the place entirely too unimaginative & repressive]. So, please welcome tENTATIVELY, a cONVENIENCE."
[Why do I include Anselm's intro? Partially because I LIKE Anselm alot & partially because I want the people mentioned in his list to be able to find these references if they ego-search so that they can know that they're remembered & referred to - this can help pass those lonely days.]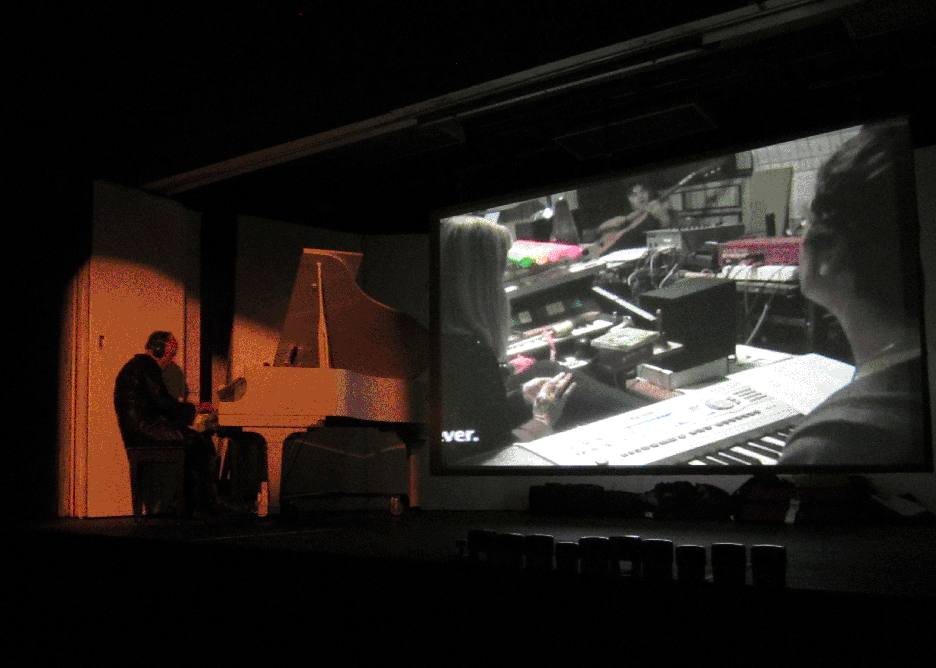 From Anselm's intro I went straight into "Narrative" - wch I'd never presented before. Audience middle: the projected vaudeo of the same name, audience left: me with ear plugs covered over by construction ear muffs playing a white baby grand piano. The "Narrative" movie is an edit of all the HiTEC footage with Managing of the "Infinite Monkey Theorem" System in which text appears. This text is the "narrative" even though the choosing of it through chronological & other systematic criteria creates something other than conventional narrative continuity. The purpose of "Infinite Monkey Theorem" is to encourage the Systems Managers to 'play' randomly & to not stop doing so until someone recognizes a tune in the 'randomness'. My live playing of the baby grand was meant to follow the same instruction & the hearing mutes were intended to inhibit my responding to the soundtrack too directly. I did throw in, in the spirit of a SABOTEUR, occasional quote fragments from a boogie-woogie, "Cool Mule", & a slight misquote from Erik Satie's "Premier Gymnopedie".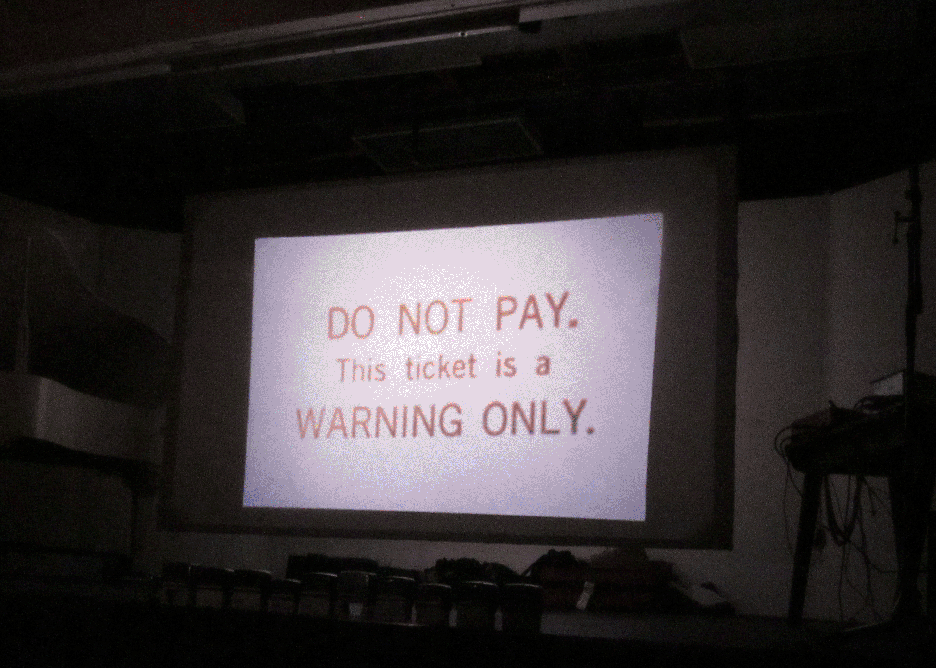 The next part consisted of the projection of a 35mm slide show entitled: "A Collector's Item: 25 Years of Rubber-Stamp Collecting" which I sometimes identify more sensationally as "This Death Threat will be a Collector's Item". I advance through the slides of rubber-stamps that I've had made & related images & explain the images & read from a detailed prepared text. These stamps cover a very broad range of topics from ways of contextualizing language, notions of approval, ways of subverting money, experimental language use, politics, graffiti, math, etc.. This took over a half hour - at the end of which I explained that most of the self-inking rubber stamps were located at the front of the stage & that attendees could stamp them on things at the end of the event so that they could have a memento.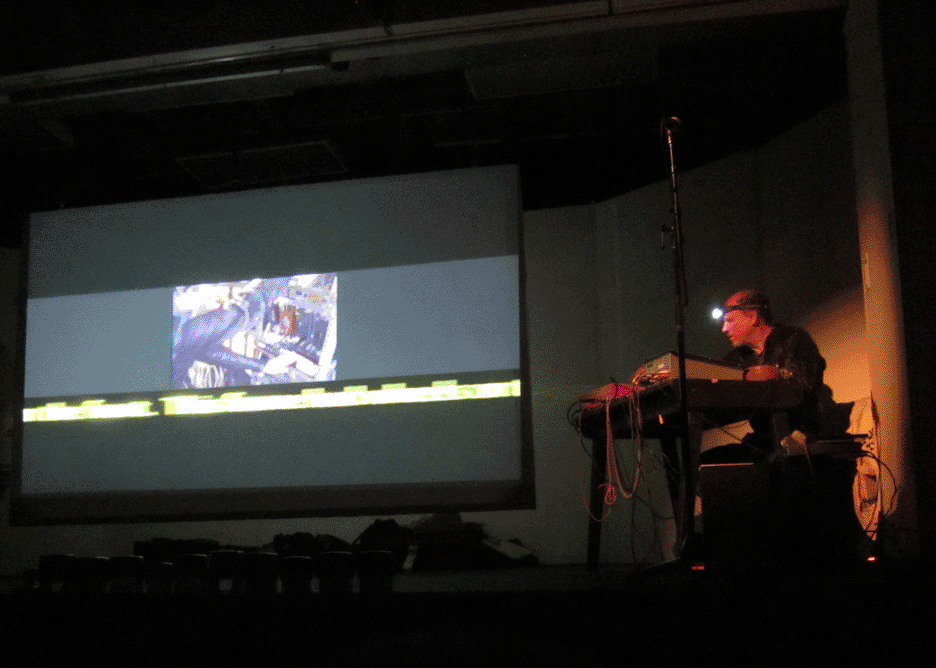 After this, I premiered the new 3-in-one version of "Last Man on Earth" (see the entry for April 2, 2006 & the entry for July 7, 2007). "Last Man on Earth" uses footage from a 1992 improv session of mine on multiple instruments combined with a partial history of deaths surrounding Mary Shelley's & her writing of her novel "The Last Man". This version of the movie has 3 projections compressed into one that heavily exploits the possibilities of 3 side-by-side related projections. In the movie I'm wearing the same motorcycle suit that I was wearing this night but from 1992 before it had experienced the extreme distressing that I'd subjected it to. I played samples from the soundtrack of the vaudeo using an ASR-X-Pro sampler simultaneous with playing the soundtrack & sampling it live using my sampler/mixer. There's a preplanned outline for the playing that involves slight pitch manipulation of a D#5 sine-wave at the beginning, sampling & more drastic pitch/tempo manipulation of the vibraphone section, shadowing of the Experimental Musical Instruments Terrence Dougherty section nearer the end, & a much more 'breakbeat' section at the very end. Throughout, there's a plentitude of explanatory text(s) 'competing' for the perceiver's attention. This section was probably the most intense of all & it's possible that 1/4 of the vaudience left during this time.
The whole program was designed to present multiple facets of language use complicated by its relationship to environment, purpose, (M)Usic, imagery, history, & emotion. At the end, the house lights were brought up & people were encouraged to use the rubber-stamps.
- recollections from tENTATIVELY, a cONVENIENCE
382. on "Under the Floorboards"
- KGNU Radio Station, Boulder, us@
- Saturday, October 9, 2010 - 11PM-Midnight
- My old friend, the performer & radio DJ Little Fyodor, was kind enough to allow me to take over the entire hour of his "Under the Floorboards" radio program that he's been hosting for at least 25 years. The last time I'd been on it was in 1986 when I showed up just minutes before his show was over after I'd performed in Colorado during the "6 Fingers Crossed Country T.Ore/Ture".
For this program I was joined by poet/poem Amy Catanzano. I had a blast running through a slew of topics - starting with my 1st record, "The Official Wafer Face Record" & playing the "Dispersal" track off of that; going into my 2nd record, "Usic minus the square root on negative one" & playing & explaining some of the 1st side, a double-groove side with lock grooves; & overlapping from there into the specially cut side of my 3rd record, "Mechanically Repetitive / ReRecorded Records RECORD".
From there, Amy & I plugged her hoax book entitled "Conceptual Poetics vs Flarf: Taking Sides, We Can't Decide!" by the 'Nowhere Cooperative' while in the process of also plugging the chapbook of mine entitled "vii" that she had published by Kavyayantra Press. I read from & explained the majority of this latter - whipping out such crowd-pleaser lines as: "Was Cleopatra VII more SECRET about her enamourment with KAYVA paaJcaalikaa [puppet] than hers w/ Mark VII?".
Somewhere in all this I also played HiTEC 072's "Sheepdog" (composed by Kerrith Livengood with the Sheepdog being Ben Opie) [footage of the original show that this is the sound from can be witnessed here:
http://www.youtube.com/watch?v=9oYIc09Zxk4]
& HiTEC 069's "Persisting Resisting" (composed by me).
You can hear this program if you navigate to find it & click on the appropriate icon @:
http://kgnu.org/ht/listings.html?show=UnderTheFloorboards
Whether the program will still be archived by the time you get to this link is unknown to me.
- recollections from tENTATIVELY, a cONVENIENCE

383. "NARRATIVE" [a highly abridged version of this overall event for YouTube can be witnessed broken into 2 parts here & here]
- Franz Kamin Memorial Concert, Friends Meeting Hall, St Paul, us@
- Saturday, October 30, 2010 - 7:30PM-9:45PM
- This description will be considerably more detailed than most because I feel like the events surrounding this concert are important for understanding the whole FEEL of things. My old composer friends James Sarmad Brody & Franz Kamin died in a car crash in St Paul on April 11, 2010. They were both 69 years old & had known each other since their student days at Indiana University in the mid-1960s. I decided to make a documentary about each &/or both of them & starting the putting out of feelers to make relevant contacts led me to connections with Paul Cantrell, the co-organizer of this Memorial Concert for Franz.
I decided that I MUST participate in this concert or, at least, ATTEND it in order to get footage of it & to interview all the St Paul folks who knew Franz best in his last 23 years or so - since St Paul was where he spent these last years. Barely able to swing the finances of getting there, I eventually decided I'd have to drive - something I dreaded doing because I hate driving long-distance: it always puts me to sleep & I have to struggle somewhat dramatically to endure such drives: taking caffeine pills, drinking energy drinks, leaving the window open, listening to energetic music, taking frequent stops to stretch & jump around.
SO, after only 4 & 1/2 hours sleep, at 5:40AM on Friday, October 29th, I left Pittsburgh. It was dark for the 1st hour & 50 minutes & raining for the 1st 2 & 1/2 hours. 9 & 1/2 hours later my kind & welcoming friend in Chicago gave me a place to stay & I got at least 6 hours of sleep before moving on again at 8AM-ish. 7 & 1/4 hours later I arrived early at the Friends Meeting Hall, exhausted. While for most people who LIKE to drive (definitely NOT me), such a 2 day trip probably wouldn't've been very stressful at all, this trip took just about all my energy. As such, it was practically all I could do to stay awake & rehearse at the piano & set up my equipment & ready my 'costume' & to interface with the Quakers (to the tiny extent that seemed necessary) &, later, with the other people connected to the event. In preparation, I had written 6pp of explanatory text hereby presented below (slightly corrected) that I gave to the (v)audience of approximately 30 people:
Why I'm presenting my "Narrative"
at a Memorial Concert for Franz Kamin
- tENTATIVELY, a cONVENIENCE
(written for the Friends Meeting Hall event, St Paul, MN, October 30, 2010)
Franz Kamin's work was/is so strikingly original & 'eccentric' that there's no way that anything I write here will do it justice. Nonetheless, I hope to touch on a few salient points. Franz's performances often had narratives & narrators: some seem dream-like: "I Suddenly Come to Visit... [Black New YorK]", or fable-like: "Unknowing Games at the Hut". & these narratives are rarely, or never, 'straightforward' & sometimes involve math.. & animals.. & sex.. - an intermingling of the rarely intermingled:
_"A young man will find someone to tell: that he lives a life of 'broken turtles'. He is in a semiHausdorff-bifurcation space, where all things 'broken & fearful' become Turtles. Turtles everywhere: eventually even swimming in the body."
_1. HIS LANGUAGE: Franz created a mythology so rich that it wd be fascinating (& quite difficult) to even TRY to cohere it all together into ONE GIANT MYTH/SYSTEM. These are the sites, personas, & concepts of a role-playing game in an alternate universe, Franz's universe. Some examples accompanied by Franz's definitions:
_"DEPOT: this is a location with a partially structured collection of objects wherein resides the energy of some 'activity' e.g. the bathroom is a depot wherein the active energy of 'crapping' resides, that is, the 'crapping' resides whether there is anyone there to crap or not ... these depots are the residences of the active energies of the undead."
_"WOOD MAZE: I do not understand this depot very well, except that it involves undead from the far distant past.
_"SANDY GIRL DEPOT: the undeads involved here are sex ghosts from the future ... this depot also gives rise to 'formative energy'.
_"BAR DEPOT: this undead is my death where everyone is nice & everything is poison and where answers and ideas come from."
My "NARRATIVE" is a small side-project spin-off from the ambitious HiTEC (Histrionic Thought Experiment Cooperative) Systems Management. Bringing the entire, now defunct, 21 person HiTEC orchestra & all relevant props, instruments, & costumes to this memorial wd've been more ideal but practicality dictates the small-scale. In "NARRATIVE" there IS a narrative but it's edited according to 'non-narrative' criteria to deliberately leave 'essential continuities' out & allow seemingly pointless repetitions in. There's even some 'science' (or 'pseudo-science') - in this case a testing of the "Infinite Monkey Theorem" - w/ a little mutated Meyers-Briggs Personality Types thrown in in the entirely-too-quick credits. There're also roles (in this case created by my collaborator, the world-class reed player Ben Opie) for the Systems Managers: SABOTEUR, DICTATOR, SOMNAMBULIST.
_2. HIS MUSIC: As w/ the language, his music is extremely complex & original. Being classically trained certainly helps one be able to play it. But given the, for some people, 'embarrassingly' personal & visceral nature of some of his content, it might be even more important that the players be open-minded & generally intelligent - rather than necessarily specifically disciplined. & also given the difficult conditions under wch most of this work has been performed, having notation that's potentially understandable to a broad variety of people helps.
_Hence the 'nonsense' (or personal) language of "Angerds engMudsroodn" is written out in a simple graphic notation in wch vertical positioning indicates pitch (that doesn't have to be too specific) & the left-to-right progression indicates duration. Any person sensitive to visual flow (& capable of reading unusual text) can manage a reasonable realization.
_Hence Franz's extensive use of prose explanations such as the 24p text beginning to the score of "Behavioral Drift II". Alas, while these instructions are often laboriously detailed they're also, probably more often, incomplete. It's quite likely that every performance of Franz's work done during his lifetime was done under his supervision. & w/o his in-person explication, or substantial documentation otherwise, it wd be almost impossible to recreate some of these pieces. What exactly is a "Thread Man"? A "Stain Lady"? & what on earth did they do?!
_Even in the case of those probably rare instances where enuf detailed notation survives to enable a patient & thorough person to realize a Kamin piece w/o Franz's explicatory presence, the challenges are ENORMOUS. Take "Behavioral Drift II" again. There's a 42pp score & there's an excellent recording & the score includes the "Established ('frozen') Score for CD & LP Recordings" - meaning that one can follow the recording (somewhat) by looking at the score. But it wdn't be easy & I'm not sure how many people will even attempt it. One of the people most qualified to do so was Sarmad Brody, another noteworthy composer. Sadly, Sarmad died along w/ Franz in the same car crash.
_Of course such challenges are common to classical music in general & even more so to advanced classical music of the last 100+ yrs in particular. Will Mauricio Kagel's "Tremens" ever be realized again now that Kagel's dead? One can only hope so - but I have a copy of that score too & the demands made on the realizers are borderline epic.
_What does it sound like? The eternal question, right?! Like all aleatoric music in wch the players are granted at least some autonomy along structured guidelines, there's a feeling of liberated cooperativeness, a floating where there's obviously some coherence but the root of the coherence isn't always immediately obvious. But Franz was not a one-trick pony. The pieces are, indeed, different from each other.
_Keeping in mind my comments above re preferably open-minded qualities in performers, I quote from the "Scribble Music Sampler" notes for "BGESS #4 (Base Generated Emergency Structuring System)":
_'SCRIBBLING is eventually forbidden to children due to the fact that adults in general lack the sophistication to perceive the expressive and structural possibilities inherent in any 'untrained' art form (this 'lack' is called 'social maturity'.) This is how people (children are people) lose processes: Others lose them for them. This unfortunate situation leaves the execution of most forms of art in the hands of a 'trained elite', hence certain deeper aspects of an art will remain unexplored - and many adults (late blooming children) will be left out altogether. BGESS #4 was planned for performance by a very 'democratic' group: non-elite, non-specialist, both musicians and non-musicians - of course, the non-musicians had to be trained for the piece while the musicians had to be de-trained".
_& listening to BGESS #4 one might get what one expects: some chaotic-sounding improvising. But listening to "Chorification of Jackson Mac Low's Phoneme Dances for/from John Cage" sounds completely different. There's a very staccato simultaneity that the chorus pursues while the instruments alternate mostly between similar punctuation & sustains - all w/ 2 narrations in Spanish & English at the same time.
The (M)Usic of 'NARRATIVE" is primarily generated from one Thought Experiment. The HiTEC Systems Managers "Perform isolated notes in an attempt to be 'random' in relation to yr fellow Systems Managers. Stop playing when you're fairly sure you hear a combination that you've heard before - such as a fragment of Mozart or whatever. If you DO decide such a thing, call out the name (or some other reference) to the piece heard." That seems simple enuf until one tries to actually do it. Then one finds that no matter what one does one isn't being 'random' but is actually simulating a notion of randomness - definitely not the same thing. There are, however, other Systems at play & sabotages at work.
_3. HIS PROPS & COSTUMES: Franz used wood - the preferred material of people w/ common household tools. Franz used available materials - mops for wigs, thrift store odds & ends as costumes, sheets for angels, Scribble props, perhaps. Kamin used "controllers" - objects like light boxes to conduct the players.
For HiTEC I made a painted wooden Wheel-of-Fortune. It lands on a number from 1 to 32 wch tells the Systems Managers what System to Manage. For costumes, towels w/ head-holes cut out & silk-screens that give a HiTEC logo on the front & have "Systems Manager" written over a W-o-F image on the back.
Memories of my Friendship w/ Franz Kamin
- tENTATIVELY, a cONVENIENCE
- October, 2010
I 1st encountered the work of Franz Kamin on Nov. 15, 1974 at the 11th Annual Avant-Garde Festival at Shea Stadium in New York City. I was 21 yrs old. On the floor outside the entrance to a temporary room apparently built for the occasion was a pile of 8&1/2X11" papers headed: "A RITUAL EMBEDDING OF THE SPIDERS RISK into non-HAUSDORF M-SPACE". This was Franz's. Inside, the room was blank except for a tv on wch one cd see one's self keyed into the image of another environment. I, incorrectly, concluded that the room & the paper went together & that both were from Kamin. I later learned that the keying room had been made by someone else whose name wasn't readily apparent. I was very impressed by the text, wch I found highly evocative & largely incomprehensible, & its juxtapositioning w/ the keying, wch I might've never witnessed before.
A few yrs later, Kirby Malone, of the Merzaum Collective In Baltimore, was thinking of bringing Jackson Mac Low to town to perform &, as I recall, Jackson suggested that Franz be on the bill. At some point, Franz was Jackson's piano teacher. Kirby asked me if I was familiar w/ Kamin's work & I enthusiastically described my Avant-Garde Fest encounter w/ it. This was probably around 1977 or 1978. Merzaum brought Mac Low & Kamin to Baltimore to perform at the Red Door Hall - a place inside a church on St. Paul Street where many performances happened in those days.
Franz's performance was "Spider's Risk" ("Spydrs Risk"?). It's described online by Bart Buch:
"The visual aspect of this piece is done on a 12 foot long platform which is divided into 7 'stations' or 'depots', each of which can be picked out one at a time by miniature spotlights. Each depot is a different station of or from life (not all that clear) and consists of a tableau with movable &or puppet-like objects controlled from behind and below. A locomotive engine (the Oomphathalik line) runs from the 0-Depot (a large spider which moves on a web) to various of the other Depots ­ dependant in part on the position of the spider on the web (or rolls of a 'dice cage' or both ???.) Accompanied by narrator & sonic performers."
"Some of the Depots are: the 0-Depot (Spider Web) ­ the Depot of Gratuitous Sex ­ the Bone Yard Station ­ the Martini & Olive ­ the Wall, Door & Window ­ the Station of Music ­ the Animals ­ Art ­ the Station of Choice ­ the Spiders Risk ..
"The Depot of Gratuitous Sex consists of an Erica-doll tied to a post who opens her coat ('flashes') while pneumatically controlled French ticklers rise up and dance."
This was probably when Franz & I 1st met in person. I LOVED this performance! It was stunningly original. Buch's description/speculation hypothesizes that it was for "For [[Narr[ator], 3 puppeteers, lighting man, 5­7 musicians???]]" but all I can remember is Franz & Kathy Bourbonais - maybe Jackson helped too. This was classic Kamin: the beautiful low-budget props, the totally unique & detailed personal language, the highly advanced music, the perversity of it that more or less ensured his banishment to the lunatic fringes of the academic classical world. The inflating & deflating condoms were marvelous.
By 1981, I took over running Widemouth Tapes, the tape label started by Chris Mason, a member of the Merzaum Collective, & published Franz's "Scribble Music Sampler" in 1982. By then, as of 1980, Station Hill Press had already published Franz's one & only record: "Behavioral Drift II/Rugugmool". The cover alone on this is impressively crafted & the recording of "Behavioral Drift II" probably remained Franz's favorite & most emphasized piece for the rest of his life. The cover of the 1st 100 of the "Scribble Music Sampler" may've been even more meticulously hand-done - w/ a fine mesh + broken watch parts + burns + wire + other collage elements. To think that there're a hundred of these (were there?) is mind-boggling. As far as I know, for over a decade these were the only 2 audio recordings of Kamin's work 'commercially' available. That's an incredible sign of publishing neglect considering how prolific Franz was.
September 12, 1982: I attended The Jackson Mac Low Retrospective Concert in Celebration of his 60th Birthday at the Washington Square Methodist Church in NYC. Franz performed his "Chorification of the Phoneme Dances on the Name John Cage by" (partly derived from "Phoneme Dance for/from John Cage", 1974, by Mac Low). April 24, 1983(? This yr is a pretty likely deduction): "Scribble Death I" at Dance Downtown, 338 N. Charles St, upstairs. All I remember about this is that Leroy Keltner played trombone. Sometime in the early 1980s, Franz plays a piano recital, on what was probably an out-of-tune upright, at Rick Sugden's apartment in Baltimore: Kamin's "Dark Water", Satie's "Uspud", Kamin's "Old 88 Beat". I have a very low-fi recording of this.
Starting around 1982, I begin sending Kamin packages. This continues all the way 'til 2009. I send him about 12 postings in 27 yrs. Franz sends me at least 9. Along the way, I collected & read his printed matter: "Distance Function", "Rugugmool", "Ann Margret Loves You", "Egz Book of Frogs", "Scribble Death", "detached from Theory of Angels", & "Tales from the Theory of Angels & the Norkinshot Reader".
By 1983, I probably heard that Franz was a severe alcoholic. The figure that sticks in my head is that he wd drink a quart of vodka by noon. I drank too much & so did Kirby so I declared the 3 of us "AGAI": "Avant-Garde Alcoholics Identified". Of course the "Identified" part was a spoof off of Alcoholics Anonymous. I'm not even sure if I ever told Franz about this. I did do one 'performance' sortof in the name of AGAI & an excerpt from this is on my Usic minus the Square Root of minus One LP. Don't get me wrong, there were way more than the 3 of us drinking too much in our social circles so identifying the 3 of us as 'alcoholics' was mainly for the purpose of enjoying the absurdity of an "Avant-Garde" drinking group.
Early 1992? What happened in those intervening yrs? I reckon Kamin stopped drinking & moved to St Paul to dry out as a major project. James Brody (aka Sarmad Brody) moved to Baltimore & he & I met & talked at my bookstore, Normal's. I learned that he was friends w/, & a supporter of, Kamin's. Sarmad joined Neil Feather's & my structured improvising group wch changed its name every time we played - for simplicity's sake: The 'Official' Project. James almost immediately started organizing gigs for Franz.
June 8, 1992: Franz played "an ambitious piano concert" (to quote from the press release) in the main sanctuary of the First Unitarian-Universalist Church in Baltimore. He played works by Scarlatti, Beethoven, Ravel, Bartok, Mompou, Grieg, Satie, & Liszt. I didn't attend - having almost no interest in the works presented - now I wish I had. June 11, 1992 (same church as the preceding): "FAS & SLO Readings & Performances": "Edge of the Dance", "Aleatoric Systemic Reactory Bulletin #1 (the Enclosed Garden)" (I played percussion on this), "Before the Bridge (from Theory of Angels)", "Notes on Losing a Lover (1 & 2)", "Middle-Bridge Witness (Sections 1, 2 & 8)", "Behavioral Drift 8/9 - the SLO GAME" (I was the "Thread Man" for this). I still have at least parts of the scores for both the pieces I participated in. As always, the work was astoundingly original.
February 13, 1993: Franz sends me a "suspendable Decoy Angel Attractor Car (with Residue Trap)" in the mail. An accompanying text reads, in part: "III. On Valentine's Eve, when the Early Angel rushes through, its route is diverted through the Decoy Attractor Car (which resembles one of its own Home vehicles.) As it passes, a Residue of Angelessence is deposited in the copper of the Trap. To release this into your own being and bring you Good Fortune in openness & love, cut the Copper Trap loose and put it under the foot of your bed at night where it will radiate out into the depth of your Heart." Who else but Franz?!
Around that time, Sarmad gave me a 1/2" reel-to-reel VHS tape of a piece of Franz's called "The Alchemy of Familiar Things" that had been performed at some Station Hill related place on November 20, 1977. I got it both b/c I was a Kamin supporter & b/c I actually still had a working 1/2" reel video deck. I duly transferred it to VHS cassette & have since then digitized it.
Mid-November, 1993: Franz performed some poems at the 14 Karat Cabaret in Baltimore. I was one of the narraters on 2 of them: "Red 19" & "Angerds engMudsroodn". November 21, 1993: Church of St. Michael & All Angels. My description of the night from my Mere Outline.. book may be worth repeating in its entirety here:
She Turns Alone was another "performance poem" (perhaps). The "Choir" consisted of myself, John Berndt, John Eaton, Leroy Keltner, & Sarmad Brody. We lined the walls spread out on 2 sides of the audience. Franz read while we extrapolated off his text with scored vocal sounds. Jeanine Farrall stood on the stage & performed scored motions as the "Gesturalist". The term "Behavioral Drift" is derived from a side-effect warning on a mood control pill packaging. Unknowing Games at the Hut was a sortof perverse subversion of Freudian Psychology & cyclical epics performed in the style of a mental institution talent show or high school play with "20th Century" "performance poetry" as the text-style basis. Every performer played most of the roles at one or more times during the approximately 22 minutes of its duration. There were the old woman/women, the sexy girl(s), the wood chopper(s), the tree(s), the card players, & the angel(s). Sarmad Brody provided a repeating narration throughout. The gist of it was that an old woman lived alone in a hut & fucked a tree, giving birth to a child who grew up to be a wood-chopper & chopped the tree down without knowing it was his father, then leaving for the city to meet a sexy girl who he takes back to the hut only to get himself killed by a vengeful tree, the sexy girl then becomes an old woman at the hut only to repeat the cycle all over again. In the meantime, the 3 card-players each personify 3 archetypes of attitude: the winner, the loser, & the person whose problems are always "somebody else's fault". Each performer changes costume to change roles. The sexy girl costume consisted of a grotesquely stuffed bra, a black wig, & a decorative waist chain; the old woman's was a wig & a shawl, the angels wore sheets & yellow wigs. The wigs were made from mops. The tree was represented by a person standing in "crucified" position in front of some branches on a ladder. The card players wore hats & held big cards. The wood chopper wore a hunting vest & a sortof mining light. Each character had a way of acting. The old woman walked with a shaky stoop & talked with a wavery voice. These ways of acting were cartoon archetypes. Each performer drifted into other characters than the ones whose costumes they wore at times. As such, this was a "true" "Behavioral Drift". There were variations in the cycle such as having more than one sexy girl & old woman etc.. at the same time. Everyone ends as an angel. The sets & costumes were created by Leroy Keltner, Sarmad Brody & members of the New York crew who had performed this piece's last presentation (Pixie Alexander, Steve Clay, Mitch Highfill, & Peggy Young). The performers were myself, Martha Colburn, Dawn Culbertson, Sara Epple, Jeanine Farrall, John Berndt, John Eaton, & Leroy Keltner. "Back-stage" assistance (performance expiditing) was provided by Peggy Young. Franz directed it.
Valentine's Day, 1994: Franz sent me another special Valentine object, another object to be hung. Franz must've had a thing about Valentine's Day & angels & the like. Shortly after this, I moved to Berlin, then to Canada, then to Buffalo, then to Pittsburgh. Probably b/c I stayed in touch w/ Sarmad, Franz & I managed to stay in touch too. In the late 1990s, Sarmad decided to issue the tape of Franz's that I publish, "Scribble Music Sampler", as a CD. A few publications dribbled out here & there but there was too much repetition & not enuf representation of Kamin's overall body of work.
Every once in awhile, Franz wd phone me or otherwise contact me to tell me that he was promoting my work to someone or another who was going to possibly buy the whole Widemouth Catalog (or whatever). These things never happened. Nonetheless, Franz meant well & he even told me he was a "fan" of mine once. He particularly liked a piece by Michael Pestel & myself called "Interspatiality". Such enthusiasm on Franz's part was important to me & much appreciated. It's nice to have someone whose work you respect respect yrs in turn. Eventually Kamin's support of me did yield his including me in an issue he edited of "POSTED" - an online visual poetry magazine (or some such). A version of my "Mediumistic Projection of Heinrich Welz's Lines of Force" was e-published as FILE 1 of 5 of: POSTED (December 2003).
I talked w/ Franz over the phone shortly before he died. He talked of having to move from where he was b/c of bedbugs, of having his stuff inaccessible in storage, of being in bad health. He was beset by problems. This is only a short memoir. It doesn't say nearly enuf. I hope to say more eventually.
Request for input for a proposed documentary re Franz Kamin
So much to do, so little time to do it in, so little resources w/ wch to do it.
I, the person going by the name "tENTATIVELY, a cONVENIENCE" want to make a modest no-budget documentary about Franz Kamin (&, possibly, Sarmad Brody as well).
For this, I'd like to interview people who knew Franz. I'll only be in St Paul for a very short time so I hope to interview people before & after the Memorial Concert &, if possible, on the Sunday following the concert.
I'd also like to get scans &/or photos of objects that any of you might have that're connected w/ Franz - posters, things he may've given you, letters, scores, ANYTHING that you think will help cast a light on him as a creative person or just as a person PERIOD.
I'm especially seeking any footage in any medium (video, film, whatever) of Franz doing ANYTHING - playing piano, talking, teaching people to perform one of his pieces, reading, ANYTHING.
I request that people who have any stories to tell me, or materials such as the above to send me, contact me at my email address:
idioideo (at) verizon (dot) net
You're welcome to just call me "tENT". That's easy.
Keep in mind that this is no-budget. I'm not independently wealthy, I work for a living & live hand-to-mouth. Nonetheless, I'm willing to help defray expenses of mailing videos & such-like if need be.
Also, all people who provide me w/ relevant material that I use in the documentary will receive a DVD-R (or VHS copy if preferred) of the finished product if & when there is one! That's about the best I can do.
The program consisted of the following:
"Swimming Dragon" - Tai Chi from Nor Hall. Franz practiced & taught Tai Chi. Nor Hall was a supporter of Franz's since 1987 & is currently working with Marie Nesthus on preserving his archives.
"Opening of the Angelic Sludge (from Theory of Angels) for Jan Jorde" - a text of Kamin's read by Ben Kreilkamp - another collaborator of Franz's.
"Tetragram #9" - a piano piece by Dane Rudhyar played by Richard Cameron-Wolfe. Richard had also known Franz since Indiana University days & had been a main participant in the "Fiasco" events that Brody & Kamin had organized for 5 years at that time. I intrerpret Cameron-Wolfe's presentation of the Rudhyar piece as being in the spirit of these Fiascos. Cameron-Wolfe came all the way from New Mexico for this.
"Buffalo Bill's" - a piece for voice & piano composed by Kamin using a text by e. e. cummings that he'd composed for Todd Harper, the vocalist here. Paul Cantrell played piano.
A last-minute addition to the program was a 5-line poem written & read by Michael Mann. Michael said that he thought that Franz would've appreciated the 5-line constraint. Michael was another old friend of Kamin's who came to this from Milwaukee.
"Owl Technique (O): Butterfly Chart" - a flute piece by Kamin performed here by Marcia Odden who provided the relevant text & score for the (v)audience.
"Narrative" - by tENTATIVELY, a cONVENIENCE - details of the choice of which are presented earlier. A video was projected onto the wall next to the grand piano which showed all rehearsals & public performances of HiTEC's System: "Infinite Monkey Theorem". The shots were chosen because of their having text. This text, not originally intended to form a larger narrative, are what forms the somewhat disjunctive narrative here. For this presentation, I put on my striped HiTEC towel with the HiTEC logo on the front & the Systems Management image on the back. I then put in ear-plugs, covered over by industrial ear muffs. THEN I put on a blindfold & a Cat-In-The-Hat type hat with musical notation on it. THEN I played piano in an attempt to be random (but sabotaging that) during the bulk of the video - which was also heard at approximately the same volume. This was the 1st time I'd ever played the piano blind-folded & I found it somewhat difficult. When the credits of the video started, I removed my 'costume' & neatly put it away.
"Ouch, my heart" - a short electroacoustic piece made by Matthew Smith, the other coorganizer of this, in memory of the death of Franz's cat.
"11 Hard Thoughts of the Unmanageable Bear" - a piece of Franz's played as a recording with Franz reading - with Ben KreilKamp simultaneously performing Tai Chi.Strictly, speaking, the piece presented was NOT "11 Hard Thoughts of the Unmanageable Bear", wch is an "Erotic nonsense performance poem" (Franz's description) for 4 voices that's recorded on the "Scribble Music Sampler". The actual recordings used by Ben were of "That Borgies Bear" from 1978, & "The Fish and the Dragonfly" from 1979.
All in all, this was a great program presented by an interesting group of folks. My only regret being that larger scale works of Franz's weren't presented. EVENTUALLY I HOPE THIS WILL HAPPEN.
Both before & after the concert I shot interview footage. SO, there I was, still exhausted & a tad unsure about where I'd sleep. Paul graciously solved that problem & I then spent some time interviewing him. Alas, despite the comfort of my accommodations, I was so stressed out that I only slept fitfully for about 5 hours to then awaken to attend a brunch kindly organized by Nor Hall for people to meet & memorialize further & for me to shoot more footage - which I did.
Unsure whether I'd be overstaying my welcome by staying an extra night, I decided to leave that day. In a hurry to get driving early enough to not have to drive much at night, I left at 2PM & drove 6 & 3/4 hours back to Chicago to spend another hospitable night with my friend there to then leave a bit more leisurely late the next morning. Since the St Paul folks had generously constributed money to cover expenses of my trip, presumably from the concert's door collection but perhaps otherwise augmented, I decided to make my life easier & stay at an inn a little over halfway between Chicago & Pittsburgh so I only drove 4 & 1/2 hours on Monday & then the final 4 hours on Tuesday. The whole exhaustion of this hated long-distance driving was a significant frame for the memorial concert of a man who died in a car crash. I'm happy to've not joined him in my own car crash.
- recollections from tENTATIVELY, a cONVENIENCE
384. A Neoist Research Project: Daffy Diplomacy
- Andy Warhol Museum, Projection Booth, Pittsburgh, us@ / A Neoist Research Project: experiments & outcomes, WORM, Rotterdam, Netherlands
- December 3, 2010
- FINALLY, A REAL breakthru in international communications: my international long-distance proposal to the Netherlands WORM "experiments & outcomes" event on December 3, 2010: "A Neoist Research Project: Daffy Diplomacy":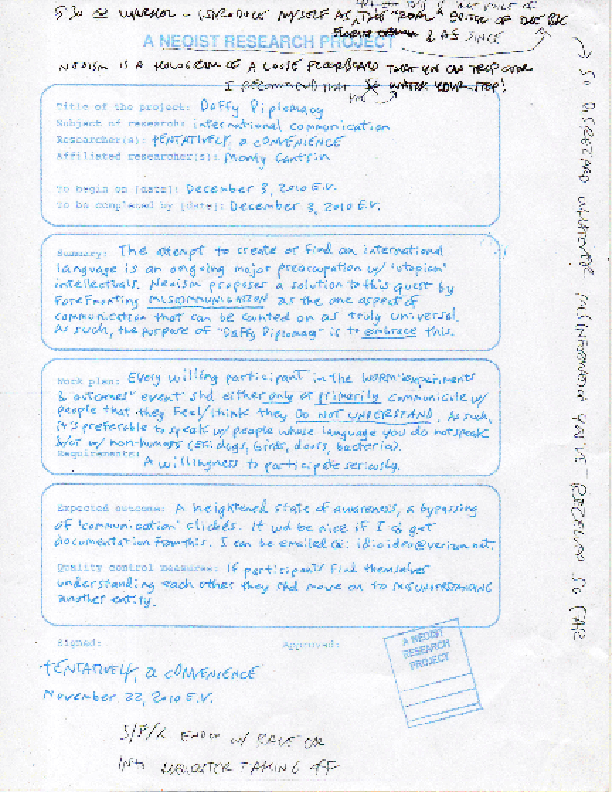 [definite article missing in Ojibway, not usually translated in Chinese, not expressed unless emphasis is required when "itu" 'that' is used in Malay] perchobaan tchi chwàngdzàu an gwójì inwewin ada an pada-berlaku dwoshù temenong gigi khayalan nibwakawin. - December 6, 2010 notes from Monty Cantsin
Tags: international communication, khayalan, neoism, misunderstanding, WORM
LISTED

& the UNLISTED version of the above:
I was invited to participate in a neoist "experiments & outcomes" event at WORM in the Netherlands by providing A Neoist Research Project & by doing something via international phone call on the nite of the event: Friday, December 3, 2010. I provided about 7 hrs of vaudeos to be presented & filled out a Neoist Research Project form that was sent me proposing "Daffy Diplomacy" - a project emphasizing MISCOMMUNICATION as an international language. On the nite of the event, I rc'vd a phone call from WORM to the projection booth where I was working. I put the phone on speaker mode so that I cd move around the rm a little & so that ambient sound cd be heard. I had 2 sound f/x CDs playing that I cd control the volumes of. One was being shuffled & the other played the tracks straight thru. This produced an unpredictable mix. Since I was following a presentation by someone in the dark claiming to be the editor of the Neoist Research Project bk, I, too, had my voice presented in the dark & I began w/ MY claim to be the editor of the bk. What followed mainly consisted of me reading from my proposal & slightly manipulating the f/x. At the end of my reading, one CD was playing a race car sound while the other played the sound of a helicopter taking off. I faded out the car & pushed the 'copter to max volume & then hung up the phone. I later learned that a performance that involved playing a pyrophone (a fire pipe organ to be precise) w/ hash in its pipes had been not too long before my part & that everyone was very stoned.
- recollections from tENTATIVELY, a cONVENIENCE
to Personal Favorites: 1959-1989
to Personal Favorites: 1990-2009