mmm034 Sunday, December 1, 2013
34th music(ian's) meeting (December 1, 2013) - field trip to Hollywood Theater!
Attendees:
Ben
tENT
Frank
Concetta
Eric Singer
Clint
SUPPORT THE HOLLYWOOD THEATER!
This is a truly great theater & if we allow it to go under we'll be losing something priceless. It has a THEATER ORGAN. It has a BALCONY. Even the restrooms have beautiful tiles. It is NOT a multiplex. In the lobby there're movie posters made by local artists that sell for $25 a pop to support the theater. They're very well done. The Executive Director, Chad Hunter, is a helluva nice guy. I have nothing bad to say about this place!!
SO. Sound/Unsound Trio: Ben Opie on reeds etc, Josh Wulff on guitar, David Throckmorton on drums. Excellent musicians all! & they did live sound for the following movies:
George Méliès's "A Trip to the Moon" (1902)

Ernest Servaès's "Artheme Swallows his Clarinet" (1912)

Gaston Quiribet's "The Fugitive Futurist" (1924)

Viking Eggling's "Symphonie Diagonale" (1924)

Buster Keaton's "One Week" (1920)

tENTATIVELY, a cONVENIENCE's "Ben Opie" (2012)

tENTATIVELY, a cONVENIENCE's "Spectral Evidence trailer" (2011)
I'd heard them do live sound for "A Trip to the Moon" at the Children's Museum when the group 1st formed 5 yrs or so ago. I'd seen all the movies before - in the case of the Méliès, Eggling, & Keaton many times before. That didn't lessen the greatness of the combination of them + Sound/Unsound Trio for me. Their soundtrack for "Symphonie Diagonale" was interesting insofar as it was a set of melodic variations (at least as I heard it) rather than a more literal translation of the abstract visuals as graphic notation (somewhat I was expecting &, perhaps, even hoping for).
I was, of course, particularly delighted that Ben chose to present the 2 'Film Scores', as he calls them, that I made for the Sync'd series organized by Mike Maradan. These 2 movies are both meant to be scores for their own soundtracks. Both had been presented before. "Spectral Evidence trailer" had had a wonderful soundtrack made for it by Lungs, Face, Feet so I was eager to hear how Sound/Unsound's version wd compare. I have to say they did a brilliant job - they really brought out the driving undercurrents of the movie beautifully!
IF THERE'S A RECORDING I'D LOVE TO HAVE IT!!
The only downside for me, personally, is the way my movies were slighted in the advertising & in film critic Barry Paris's introduction. My movies weren't mentioned on the Hollywood's website, they weren't mentioned on the calendar, & they weren't mentioned on the poster (see that below). Paris didn't even mention them in his intro - instead he left that to Ben.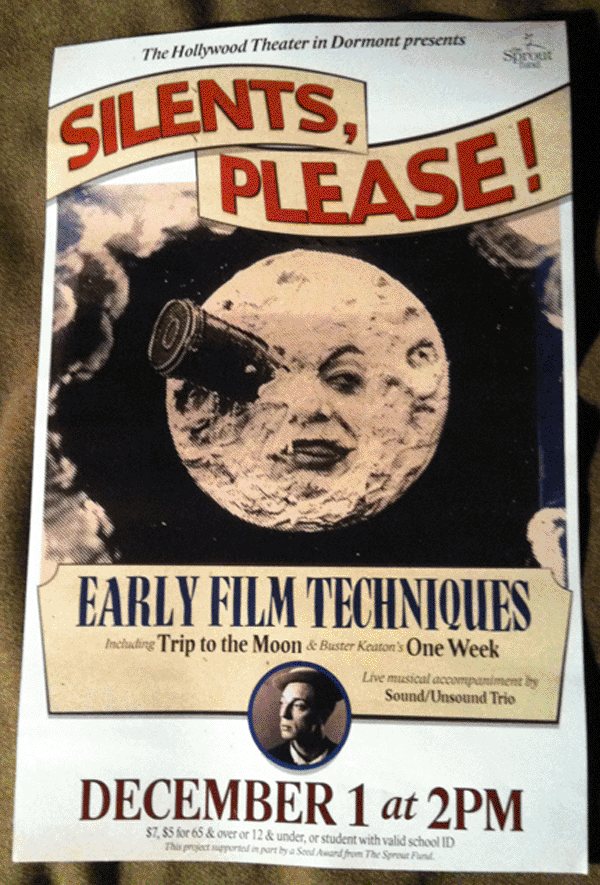 to the mm index
forward to mm 35
backward to mm 33
to the tENTATIVELY, a cONVENIENCE movie-making "Press: Criticism, Interviews, Reviews" home-page
to the "tENTATIVELY, a cONVENIENCE - Sprocket Scientist" home-page
to the "FLICKER" home-page for the alternative cinematic experience
to find out more about why the S.P.C.S.M.E.F. (Society for the Prevention of Cruelty to Sea Monkeys by Experimental Filmmakers) is so important
for A Mere Outline for One Aspect of a Book on Mystery Catalysts, Guerrilla Playfare, booed usic, Mad Scientist Didactions, Acts of As-Beenism, So-Called Whatevers, Psychopathfinding, Uncerts, Air Dressing, Practicing Promotextuality, Imp Activism, etc..
for info on tENTATIVELY, a cONVENIENCE's tape/CD publishing label: WIdémoUTH
to see an underdeveloped site re the N.A.A.M.C.P. (National Association for the Advancement of Multi-Colored Peoples)