mmm038 Saturday, March 1, 2014: JACK Quartet field trip
38th m(usic(ician's)m(eeting) - March 1, 2014E.V.
JACK Quartet field trip
Attendees:
Matt
tENT
Well, it wasn't much of a mm fieldtrip insofar as only Matt & I attended from mm. STILL, I can honestly claim, it was one of the 10 best concerts I've ever witnessed. I was RAPT, very careful to not make a sound. These guys are about as focused, delicate, & precise as is humanly possible to get. Just the degree of dynamics alone was worth it.
I've been sick of Zorn for about 29 yrs or so but the Zorn piece, named perhaps for a George Bataille bk?, was typical of the Zorn I once liked: fast, frenetic blocks of differing stylistic reference. Their performance was stellar.
The Abrahamsen probably interested me the most b/c I'm not familiar w/ the composer & I liked it: it was stttrrrrreeeeeettttttcccccchhhhhhheeedddd. The 1st violin began w/ harmonics bowed near the bridge, the 2nd violinist joined in the same fashion, the violaist likewise, they dropped out & the cellist did something similar (simpler) solo. Eventually there was a solo pizzicato cello part that was more conventionally melodic. It was complex w/o being 'showy', it was simple w/o being stupid. Kindof like Feldman but w/ more technique.
The Feldman was next, I never get tired of hearing his work.
Finally, the Lutoslawski. This & the Zorn were probably the most demanding. I've got a recording of the 1st string quartet that played it, the LaSalle Quartet, playing it & I don't recall being impressed. I think, despite its extreme difficulty, it struck me as having no distinct personality. Of the 4 quartets played it seemed the most generically 20th century. That sd, witnessing JACK play it was definitely incredible. I mean, it wasn't fucking easy, it wasn't even remotely something that very many people cd play. It was a work-out!! SO, wish more of you had been there.
I gave them 2 each of the MM 26 CD that they're on. I reckon they were a bit surprised but they were polite & friendly. I of course, think it's a fabulous CD representing our respective personalities & talents nicely. I hope they appreciate it in a similar spirit - BUT, if they're freaked out by having delicate classical music on the same collection as "Blow Job" & Anthony's Musique Concrete or Zout's somewhat buzzy recording, SOBEIT: Then they are not worthy, eh?! But let's give them the benefit of the doubt & imagine that they can appreciate such diversity!
Here're scans of the program: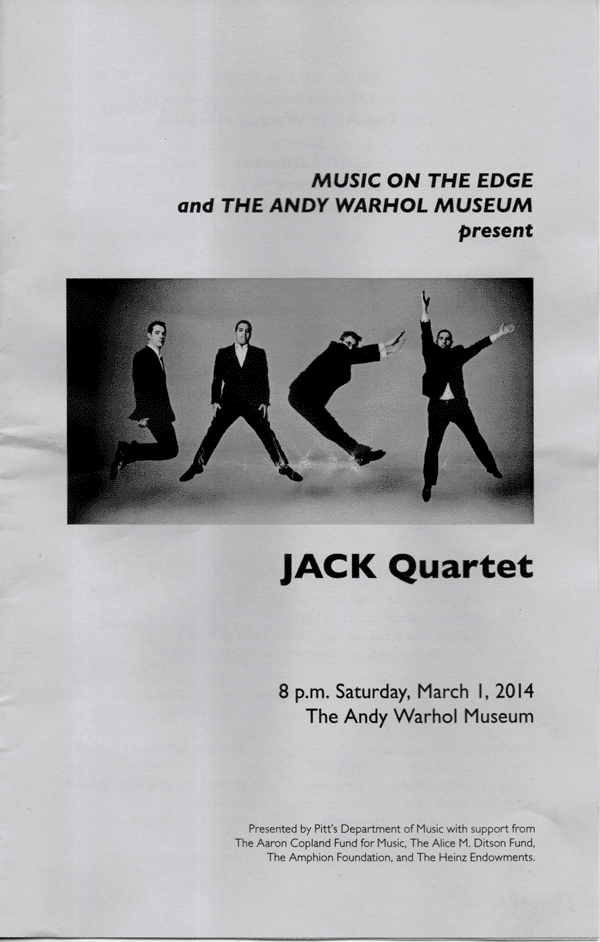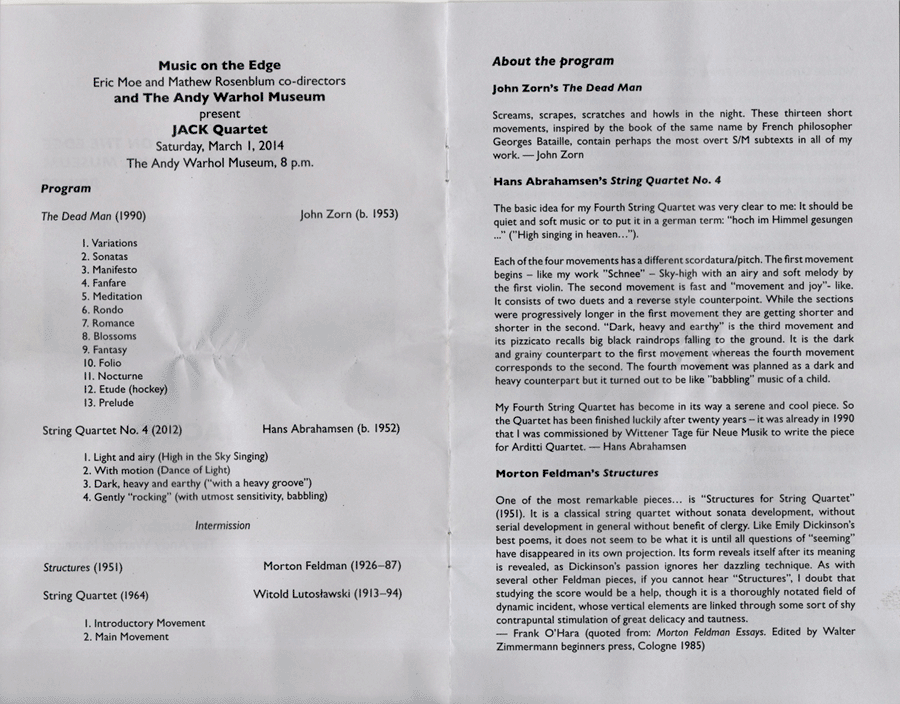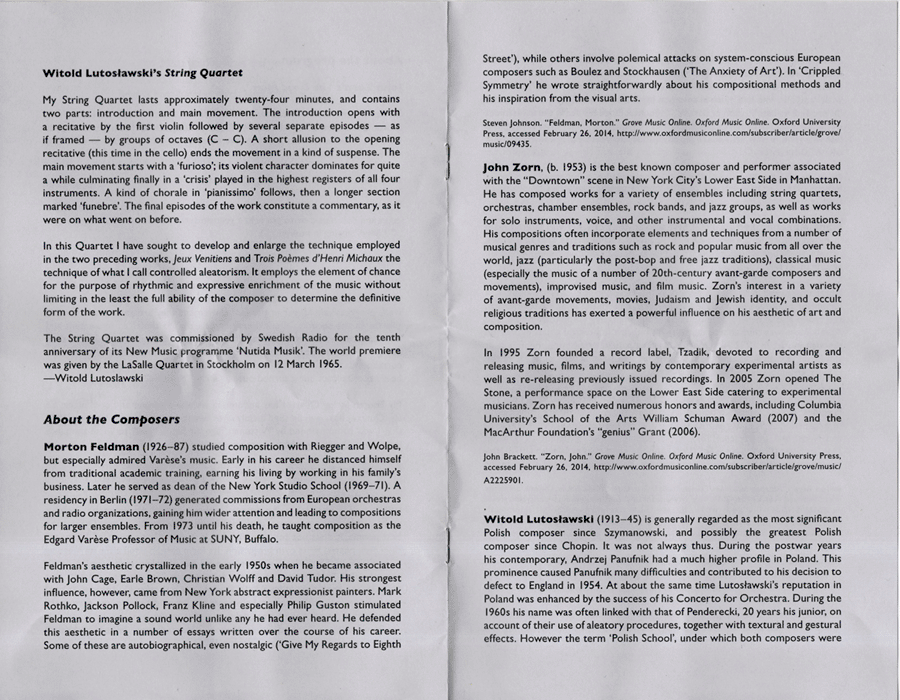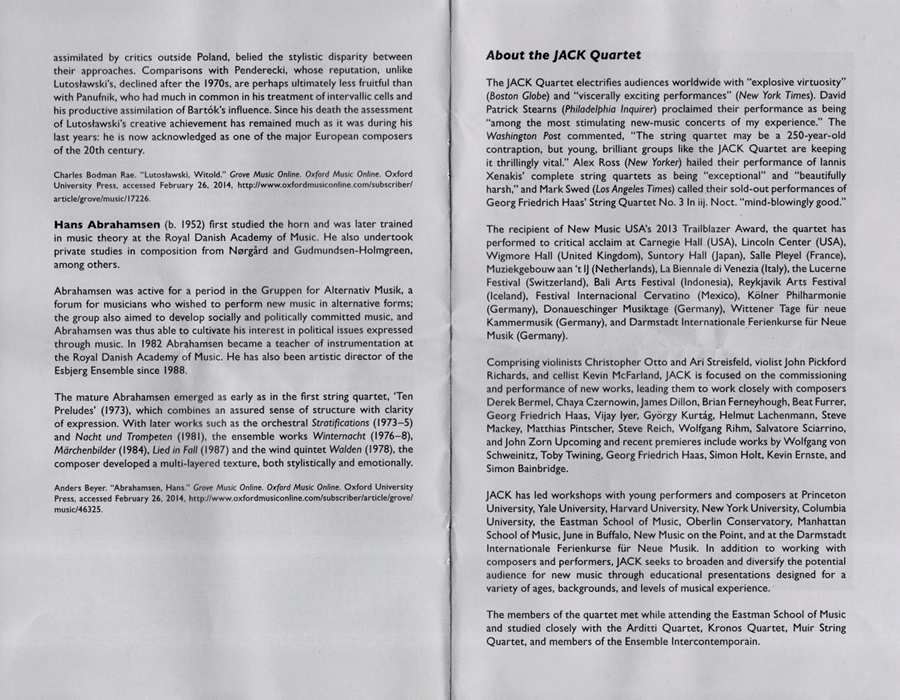 to the mm index
forward to mm 39
backward to mm 37
to the tENTATIVELY, a cONVENIENCE movie-making "Press: Criticism, Interviews, Reviews" home-page
to the "tENTATIVELY, a cONVENIENCE - Sprocket Scientist" home-page
to the "FLICKER" home-page for the alternative cinematic experience
to find out more about why the S.P.C.S.M.E.F. (Society for the Prevention of Cruelty to Sea Monkeys by Experimental Filmmakers) is so important
for A Mere Outline for One Aspect of a Book on Mystery Catalysts, Guerrilla Playfare, booed usic, Mad Scientist Didactions, Acts of As-Beenism, So-Called Whatevers, Psychopathfinding, Uncerts, Air Dressing, Practicing Promotextuality, Imp Activism, etc..
for info on tENTATIVELY, a cONVENIENCE's tape/CD publishing label: WIdémoUTH
to see an underdeveloped site re the N.A.A.M.C.P. (National Association for the Advancement of Multi-Colored Peoples)