mmm037 Sunday, January 26, 2014: Musical Saw theme with Calder Dudgeon
37th m(usic(ician's)m(eeting) - January 26, 2014E.V.
Musical Saw theme
YouTube URL: http://youtu.be/mbmdUuwUP8M
Attendees:
tENT
Calder
Hyla
Rob
Calder arrives at precisely 7PM w/ substantial collection of musical saws
He shows Scratch My Back bk & tENT scans the cover
Hyla arrives
Rob arrives
Scratch My Back gets passed around
Calder shows a record made by a musical saw company that has a "Saw Solo" on one side & "Saw Duet" on the other - it's about the size of a CD but may be a 78? There's no RPM marking on it - it appears to be old but isn't made from the thick easily breakable vinyl that old 78s are made from - tENT scans it but we don't play it
tENT plays "Saw Playin' Band" song from the Buddy Nutt and his Musical Saw CD
Calder explains that Buddy Nutt is no more & that he, Calder, is the executor of his estate (or some such)
tENT plays musical saw part of Another Earth (2011) & talks about Britt Marling who cowrote the movie & who stars in it
Rob & Hyla talk about a recent Lars Von Trier movie called Melancholia (2011)
tENT plays some of the "Volunteers Collective XXIX" selection on the Volunteers Collective XXII-XXX cassette that he publishes - it features Todd Whitman & Michael Johnson on saws, John Berndt on soprano sax & tENT playing a S/F/X CD & electronics - it was recorded February 21, 1997 - slightly more than a yr after tENT moved to PGH & slightly less than 17 yrs ago
tENT plays the 1st track from a CD-R called The Means of the Deck (April 1999) w/ Chim Nwabueze: saw & Sylvie Menta: piano harp
tENT shows the Mandan O-Kee-Pa ceremony part of A Man Called Horse, getting off the saw theme for the sake of the ritual drumming - Rob thinks that Richard Harris (the star) is Marlon Brando but then guesses correctly the name of the movie & the star
Rob talks about The Following TV series about a serial killer who's a Poe expert - starring Kevin Bacon
tENT promotes The Space Exchange - the every Tuesday music series at the Thunderbird in Lawrenceville on Butler St that drummer Dave Throckmorton books
tENT shows The Big If footage from Denver, Dec 19, 1984 - they were an instrument inventor group that put out a record & a tape (tENT publishes the latter) - tENT played w/ 2 of the members once they moved to BalTimOre in 1986
Hyla talks about Kathleen Hannah bio movie
tENT shows The Great CO2 Orchestra (1984) movie in wch all the players play metal w/ dry ice - this has some saw
Hyla plays Andrew Drury Renditions: solos 2004-2007 CD, solo percussion - track 6: "My Favorite Cereal Bowl" -> track 7: "I Would Also Like To Mention Aluminum" -> track 2: "Exhalations" & gives away extra copy of CD to tENT (wch he quite likes)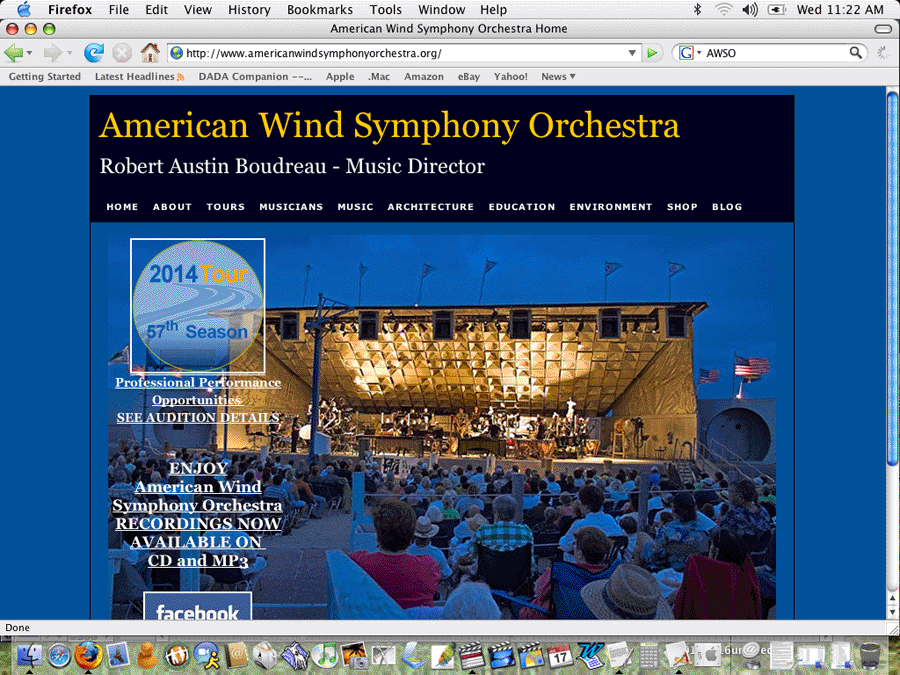 tENT intros American Wind Symphony Orchestra (see article from their website at bottom) - the group that's based in Mars, near PGH, that performs from an aluminum boat designed by architect Louis Kahn that's been around for 53 yrs & that no-one tENT knows ever seems to've heard of!!
tENT plays part of Penderecki's "Pittsburgh Overture" wch was commissioned & premiered by the AWSO - the part played has saw
Calder plays David Burge's "Serenade for Musical Saw & Orchestra" (1965) & Bill Perkins's "Textures for Musical Saw & Percussion" (1971) from Jim Turner's The Well-Tempered Saw on Owl Records
Calder talks about how hard the harmonics & extended technique are on the latter piece
Rob plays an Ennio Morricone track, "Il Etait une Fois dan L'Ouest" (Once Upon A Time in the West), from La Scie endantée de Maurice Dalle saw record
Calder shows saws & cases - tENT was too bust shooting footage of this to take minutes - therefore, details will follow in the mm 37 movie
We watch Rob's "Summertime" music video where he was testing out his new camcorder in 2009ish
Rob plays MC5's Kick Out the Jams DVD w/ light shows
tENT plays Fela documentary Music is the Weapon (1982)
tENT shows Tan Dun's Water Concerto w/ special instrument
tENT shows bondage movie w/ Throbbing Gristle's "Hot on the Heels of Love" from their 20 Jazz Funk Greats record as part of the soundtrack
Hyla correctly guesses that it's TG & what record it's from
tENT explains that the field where TG's standing on the cover was reputed to be the field where serial killers Mira Hindley & Ian Brady buried their victims
Hyla talks about woman, Taryn Simmonds (?), whose work is in the Carnegie International who had done a project where she took people who'd been exonerated by DNA evidence after serving time & photographed them at the scene of the crime
Rob talks about latest Herzog movie
Rob & Calder leave
Hyla gives tENT Project W CD
ABOUT AWSO
For 53 years, the American Wind Symphony Orchestra has been making musical headlines along the waterways of the United States, the Caribbean and Northern Europe. Called "a remarkable cultural phenomenon" by New York Magazine's music critic Alan Rich, the group continues to perform under the baton of Maestro Robert Austin Boudreau.
AWSO in Concert
Founded in 1957 by Mr. Boudreau, the American Wind Symphony has become an institution known for bringing its music to the masses via its floating arts center and stage. Mr. Boudreau has commissioned over 400 new musical compositions, which have been premiered during each season's concert tour. Each summer over the past half century, Maestro Boudreau, has motivated his top notch young musicians to perform at their highest capacity to the delight of concert goers.
In between seasons, Mr. Boudreau and the American Wind Symphony Orchestra along with special guest artists have recorded many of the commissioned works concert goers have heard during annual performance tours. A diverse collection of recorded music is contained in 10 CDs.
Bringing Music to the People
"Like those old showboats of old, it reached everyone ­ a wonderful cross-section of ages and backgrounds. It brought new music, challenging music, as well as old familiar favorites. Like a dose of instant culture, it was both festive and fun."
--Louis Kenngott, Music Critic Milwaukee Journal
The orchestra's audiences bring folding chairs and blankets to the riverside and watch in fascination as the shell of the orchestra's floating arts center, "Point Counterpoint II", opens and the music begins. From that point on, there is a shared experience between audience and performers that is remembered for many years to come. The music is unique and exciting, the floating stage is a one-of-a-kind wonder, and the setting is a harmonious blending of river sounds, the lowering sun, and camaraderie with one's neighbors. Robert Boudreau has truly found a way to make the arts a part of life.
The Floating Arts Center
Point Counterpoint II
The arrival of Point Counterpoint II at the riverfront always causes a stir. The silver vessel, 195 feet long and 38 feet wide, was once mistaken for a UFO, as it headed for its harbor on a foggy day. This vessel was designed by the renowned architect Louis I. Kahn, subject of the recently released documentary film, My Architect, which was nominated for an Academy Award. On board the vessel, in addition to the central stage, one can find art galleries and a small theatre.
to the mm index
forward to mm 38
backward to mm 36
to the tENTATIVELY, a cONVENIENCE movie-making "Press: Criticism, Interviews, Reviews" home-page
to the "tENTATIVELY, a cONVENIENCE - Sprocket Scientist" home-page
to the "FLICKER" home-page for the alternative cinematic experience
to find out more about why the S.P.C.S.M.E.F. (Society for the Prevention of Cruelty to Sea Monkeys by Experimental Filmmakers) is so important
for A Mere Outline for One Aspect of a Book on Mystery Catalysts, Guerrilla Playfare, booed usic, Mad Scientist Didactions, Acts of As-Beenism, So-Called Whatevers, Psychopathfinding, Uncerts, Air Dressing, Practicing Promotextuality, Imp Activism, etc..
for info on tENTATIVELY, a cONVENIENCE's tape/CD publishing label: WIdémoUTH
to see an underdeveloped site re the N.A.A.M.C.P. (National Association for the Advancement of Multi-Colored Peoples)