minutes from mm 55 - Sunday, May 17, 2015
Attendees:
tENT
Frank
Joey
Soren
Ben
Greg S.
My apologies in advance for my piss-poor minutes - they are, at best, an outline (tENT note)
The highly abridged YouTube movie version of this is here: http://youtu.be/uFleYGfWMrs
6:30 tENT sits out front
6:35 Frank arrives w/ mango & coconut frozen fruit bars
7:10 Joey arrives
7:25 We go indoors & tENT starts camcorder 1
7:30 tENT shows 2 Joe Coleman bks & 1 record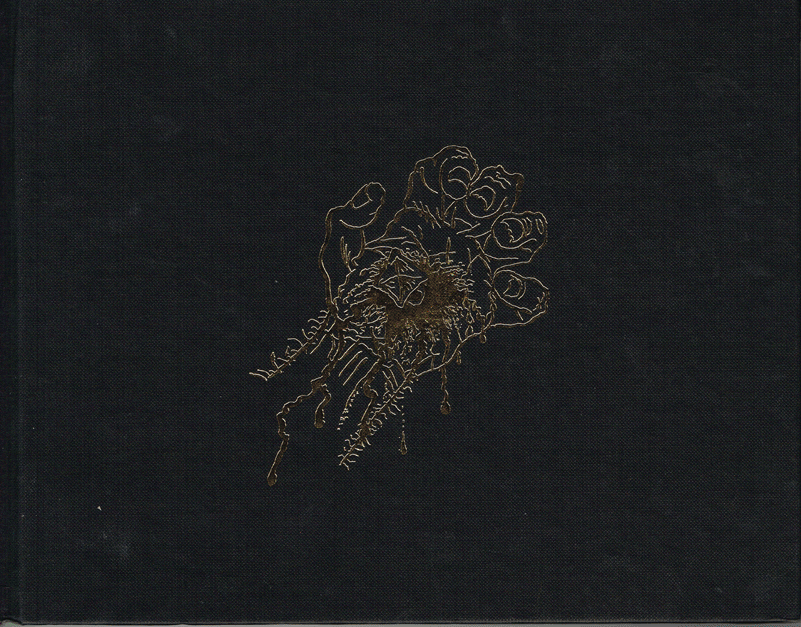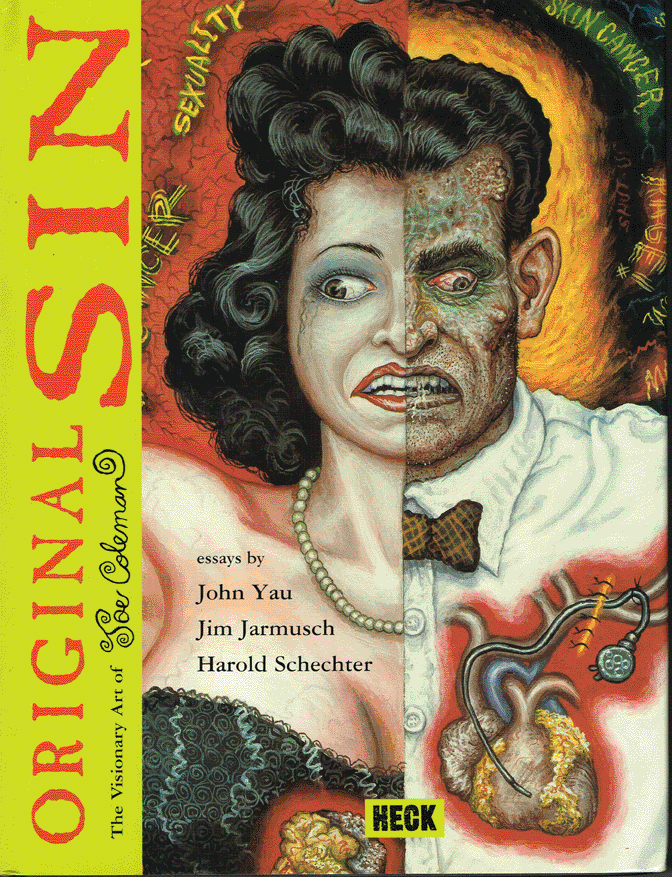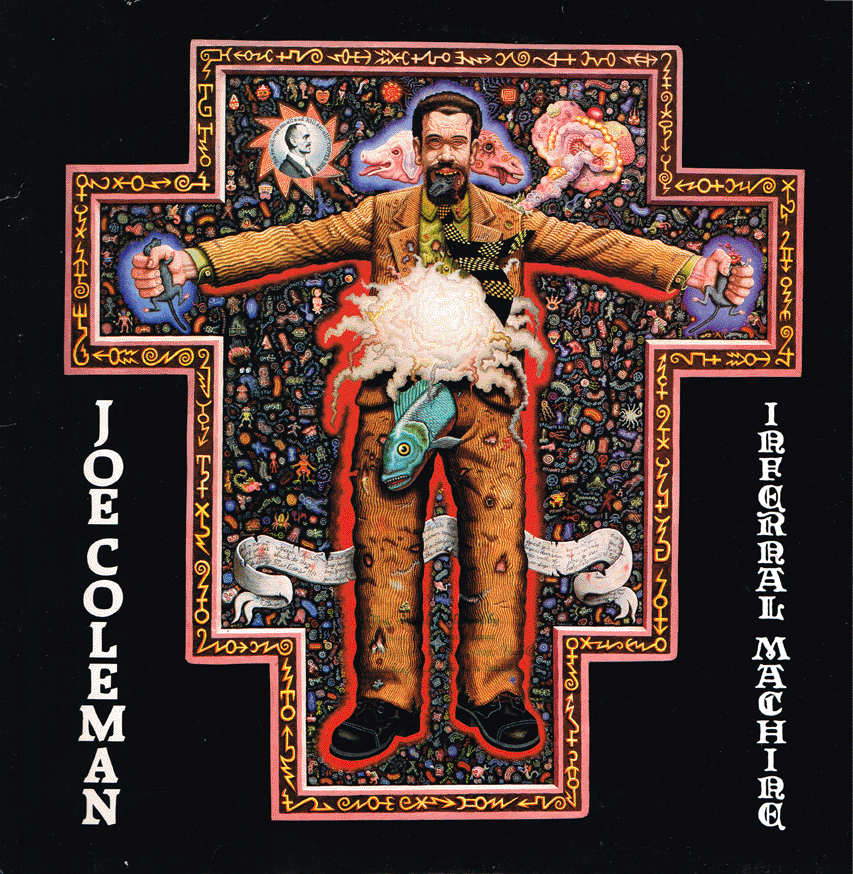 7:32 tENT shows all 6 volumes of Brainpang's "Satanic Jazz Meditations" comp tapes
7:35 tENT shows his "Anemia of the Paparazzi" movie ( https://youtu.be/HucBwEMz3A ) of the wedding of Joe Coleman & Whitney Ward w/ Brainpang officiating thru his ventriloquist figure
7:40 Soren arrives
7:47 tENT plays 1st 4 tracks of volume 1 of "Satanic Jazz Meditations"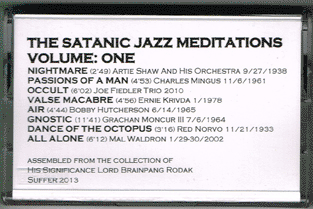 tENT & others are particularly impressed by the oddity of the Mingus track wch no-one there had ever heard before
7:50 Ben arrives
7:56 tENT starts camcorder 2
7:58 Ben gives tENT 2 organ records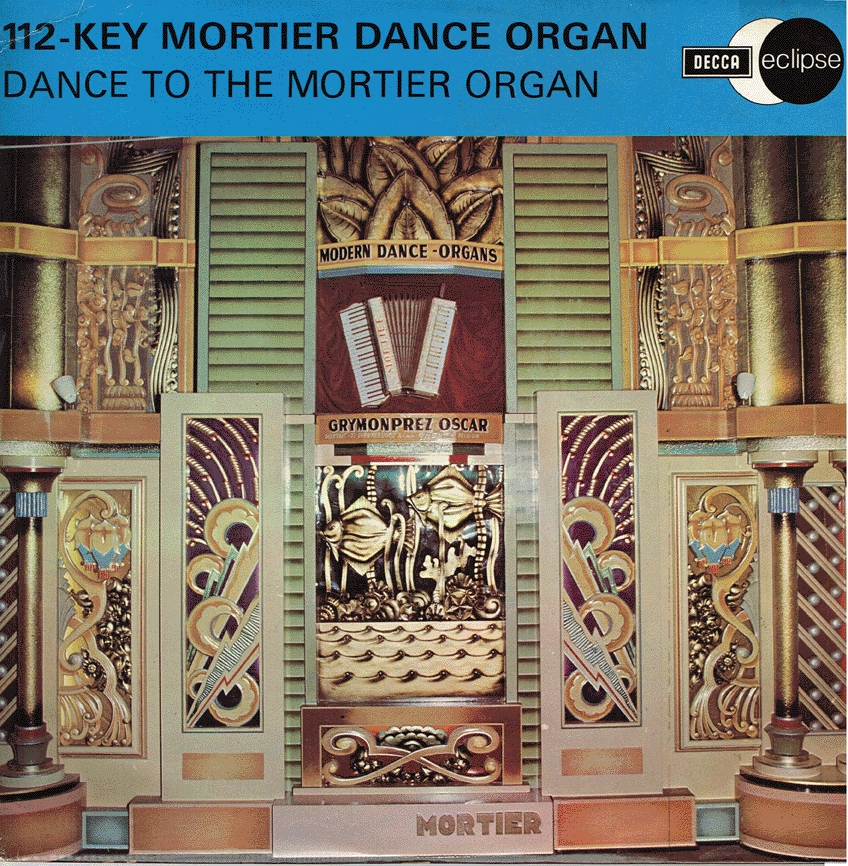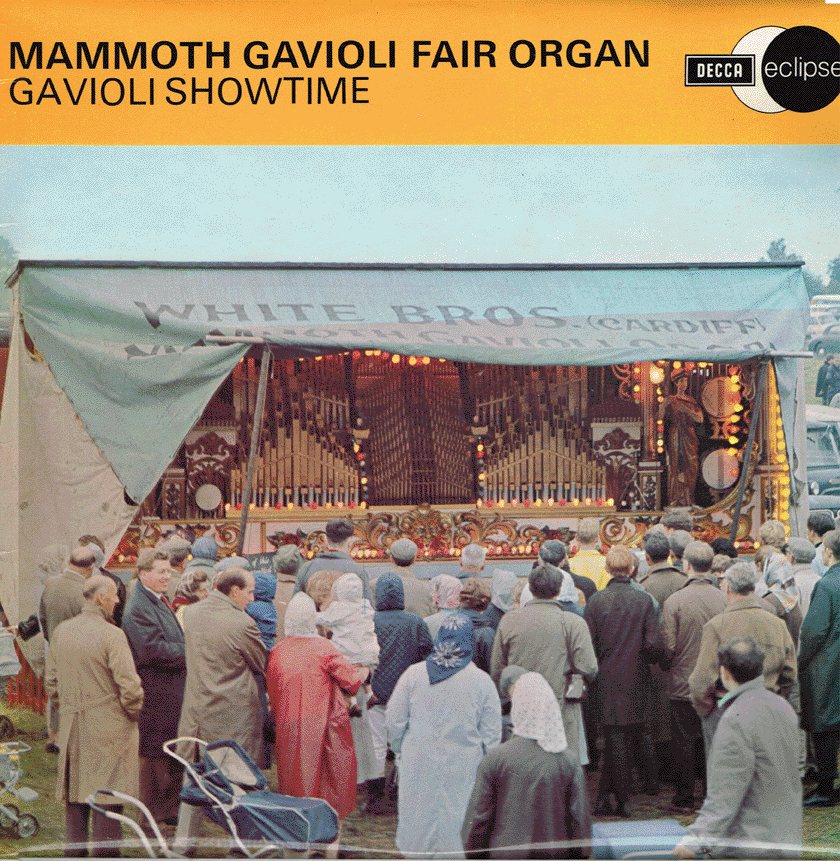 8:00 tENT gives Joey DVD of Spielberg's "Munich"
8:07 Joey plays Timeghost + Laurie Amat Nexykl01 tape Laurie Amat: Voicee, Loops, & Acoustics A. Morosky: Synthesizers & final mix recorded in Jine of 2013
tENT points out that "Timeghost" = "Zeitgeist"
Joey talks about what a great show Timeghost puts on
Ben knows of Amat as a San Francisco based musician
8:17 Ben shows record that's 2 records glued together that have silent grooves + an exacto knife for cutting into the grooves w/ - the packaging is very sparse & doesn't say who put the record out
8:20 Ben talks about Conglomerate Records: "Rosie & the Dirigibles presents 3 Transposed Functions": sleeve made from folded 7" flexi-discs enclosing a photocopy of a 7" record
Ben shows "Rrose Selavy's 100 Grooviest Corporate Hits"
Ben shows an incredible collection of mostly deliberately unplayable Conglomerate Records tapes & a photoalbum of covers by the same publisher
8:35 Greg S. arrives
8:40 tENT shows "Dreamweapon / Aspen #9" (1970) edited by Angus & Hette MacLise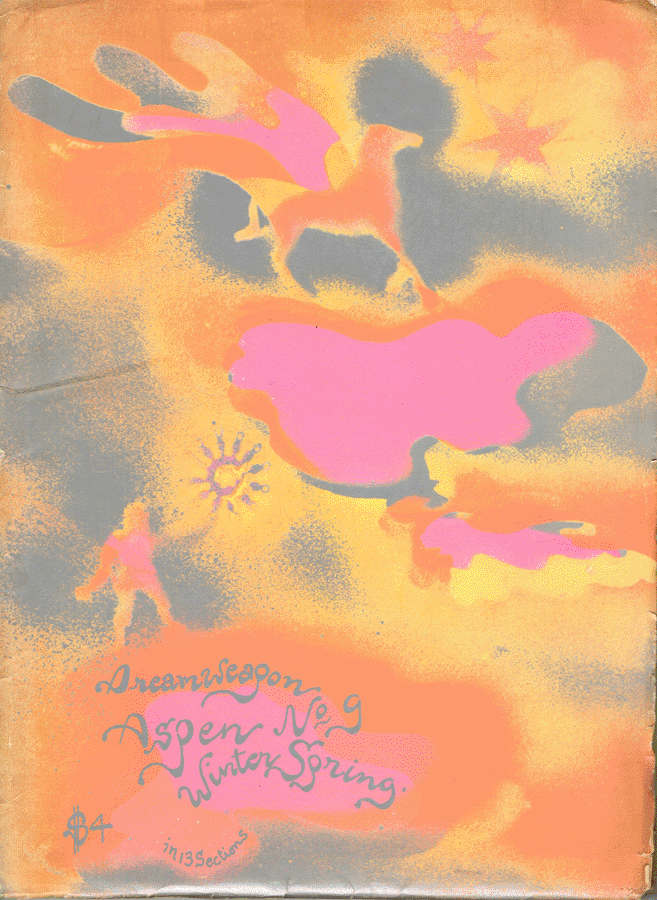 tENT talks about MacLise as the 1st drummer in the Velvet Underground, etc..
8:45 Joey leaves
We move into music room to play records
8:47 tENT plays 7" flexi-disc that comes w/ Dreamweapon accidentally @ incorrect speed of 45rpm..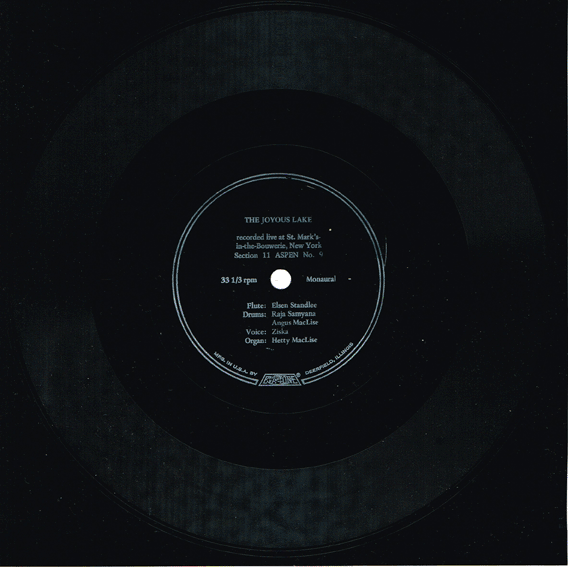 8:50 tENT plays end of side 1 of Lasry's "Chronophagie" accidentally @ incorrect speed of 45rpm..
8:55 Frank plays Mario Lanza imitating Caruso singing something from "I Pagliacci"
9:02 Ben plays G.X.Jupitter-Larsen/The Hater's "A Basic Introduction to T.N.U." wch is a 7" 33rpm record w/ one side cut w/ grooves overlapping
camcorder 2 tape runs out
9:04 Ben plays elaborate horror movie soundtrack records: "In the Wall" (splatter vinyl) main theme to "Cannibal Holocaust" wch is pretty schmaltzy (green vinyl w/ sunburst green out from center)
9:12 tENT plays Joe Coleman's "Infernal Machine" beginning of side 2
9:17 tENT talks about Kommisar Hjuler & plays a bit of one of his records made in collaboration w/ his wife & PVA
9:21 tENT plays Alkan's "Sonate de Concert - for violoncello & piano"
Frank exclaims something to the effect of 'Finally, something good!'
9:24 Ben shows Boullarca (sp? - I can't read my handwriting here) square picture disc 7"
9:25 Ben plays i/O - a Rick Gribenas 7" record that has lock grooves - Rick was a Pittsburgh-based sound artist that tENT collaborated w/ that unfortunately died in 2009
We go back into the screening room
9:33 Greg plays Peter Ablinger's "Voices & Piano" CD Nicolas Hodges playing piano We listen to the tracks w/ recordings of the voices of: Brecht, G. Stein, M. Feldman, Ilya Prigogine (sp?) There are many other interesting folks whose voices are heard & mimicked by the piano part
9:54 Greg plays Helmut Lackenmann "Klaviermusik" - Roland Keller: piano
10:00ish Frank leaves
10:11 Greg plays Stockhausen's "Invisible Choirs"
10:18 Greg plays more Peter Ablinger piano stuff
10:29 tENT plays ""A Catamaran Animist Vigor" @ Babyland" - the movie of this can be witnessed here: https://youtu.be/cn3U055X-2U
10:33 tENT plays 1st 2 tacks from his "Speech Defect Synthesis Kit"

10:39 Greg plays Morton Feldman's "Piece for Four Pianos" by the Barton Workshop
At some point during all this, Ben notices that there're piles of Japanese recordings & scores laying around & he starts looking at those
Ben mentions Jo Kondo
tENT says the name's vaguely familiar & asks if he played trumpet in Group Ongaku
Ben provided this later by email:
This was the work by Jo Kondo on CP2 Records I was trying to remember: https://soundcloud.com/newmusiccollective/jo-kondo-standing
Not to be confused with Toshinori Kondo: http://www.discogs.com/artist/143942-Toshinori-Kondo
tENT was, indeed, confusing Jo w/ Toshinori
Soren notices Yoko Kurimoto's "Stolen Footsteps" score & is very entertained by the Imaginary Marimba part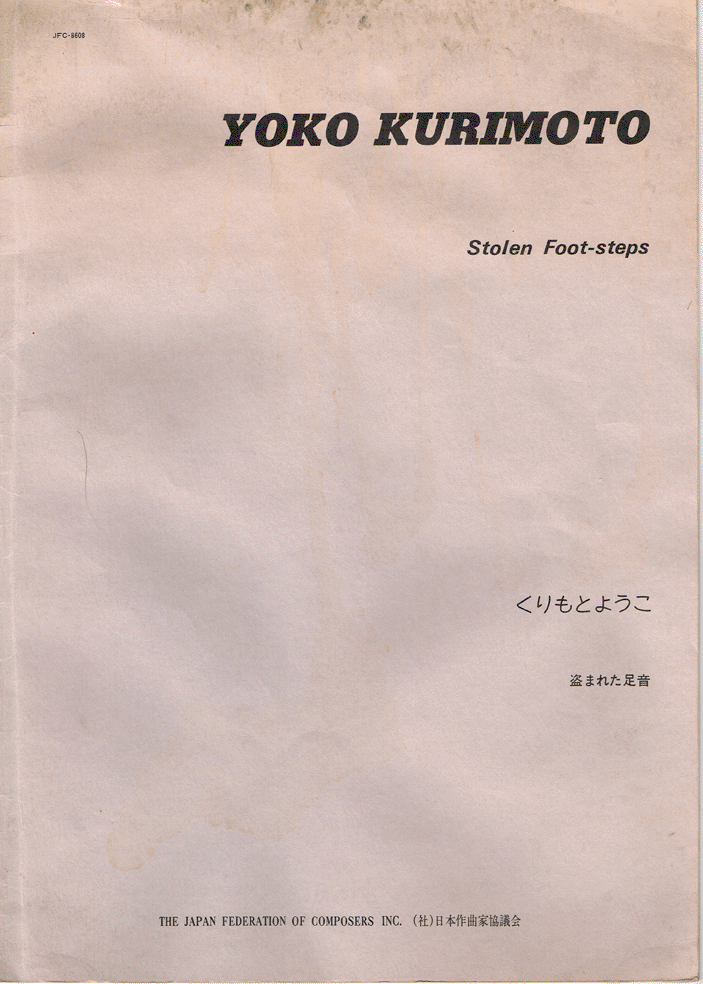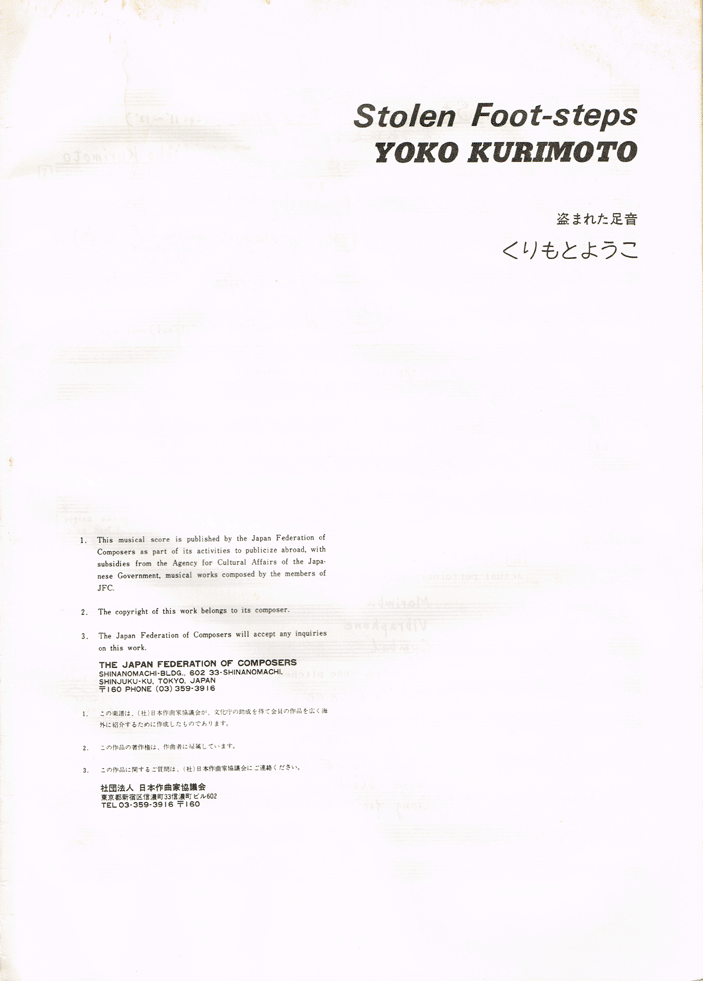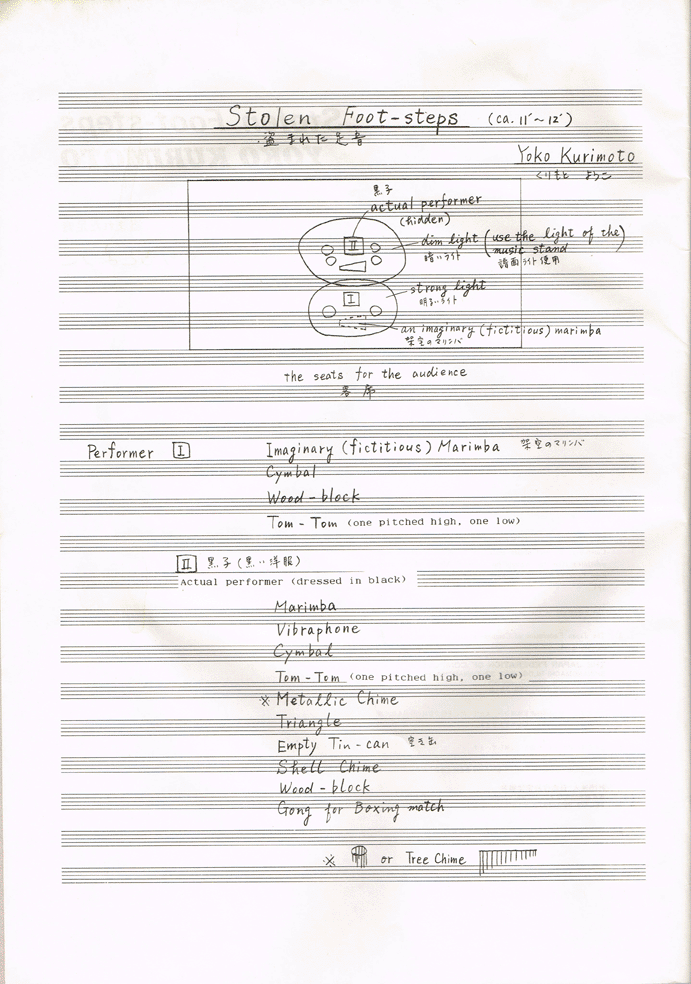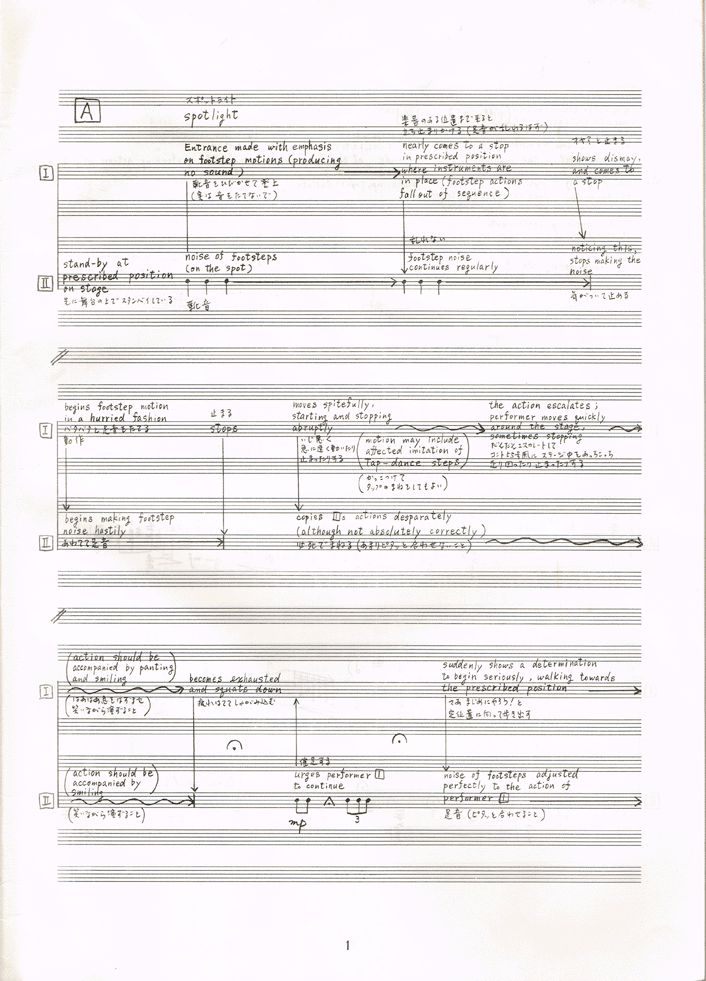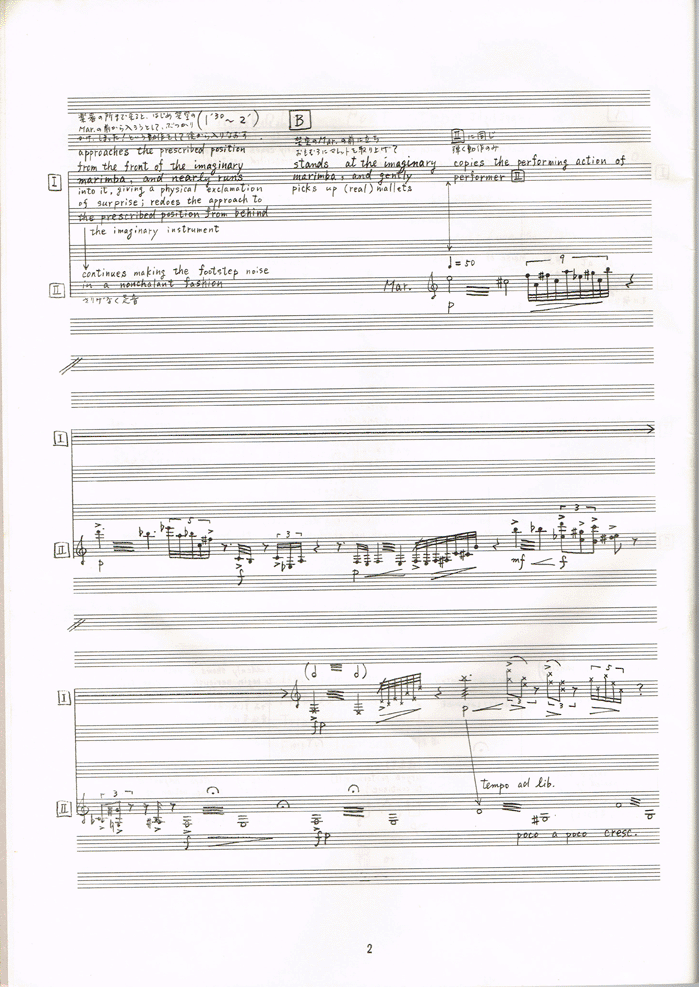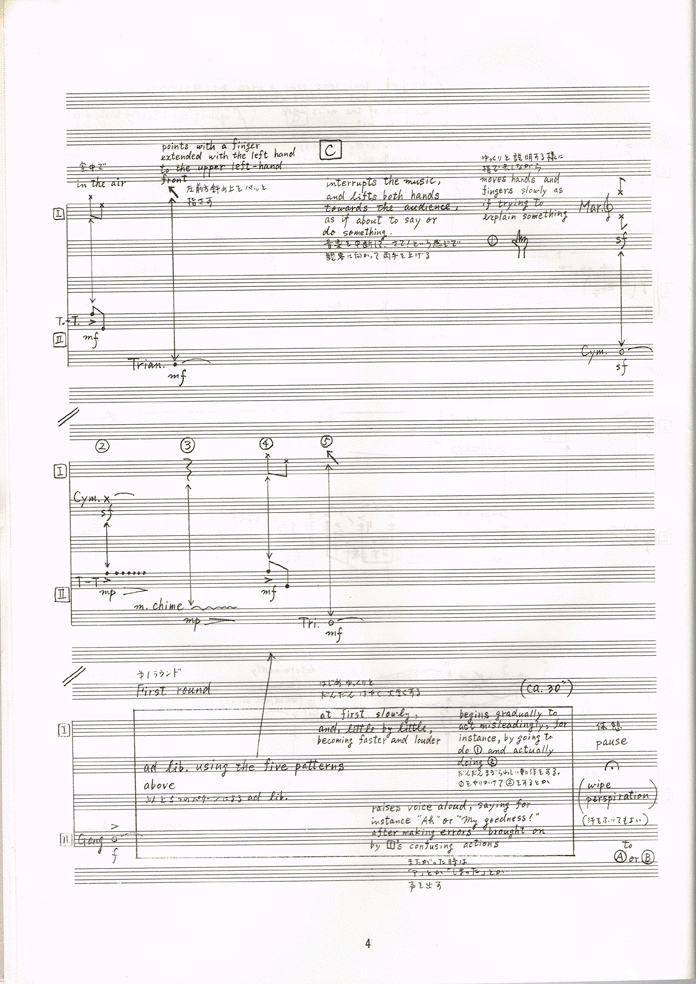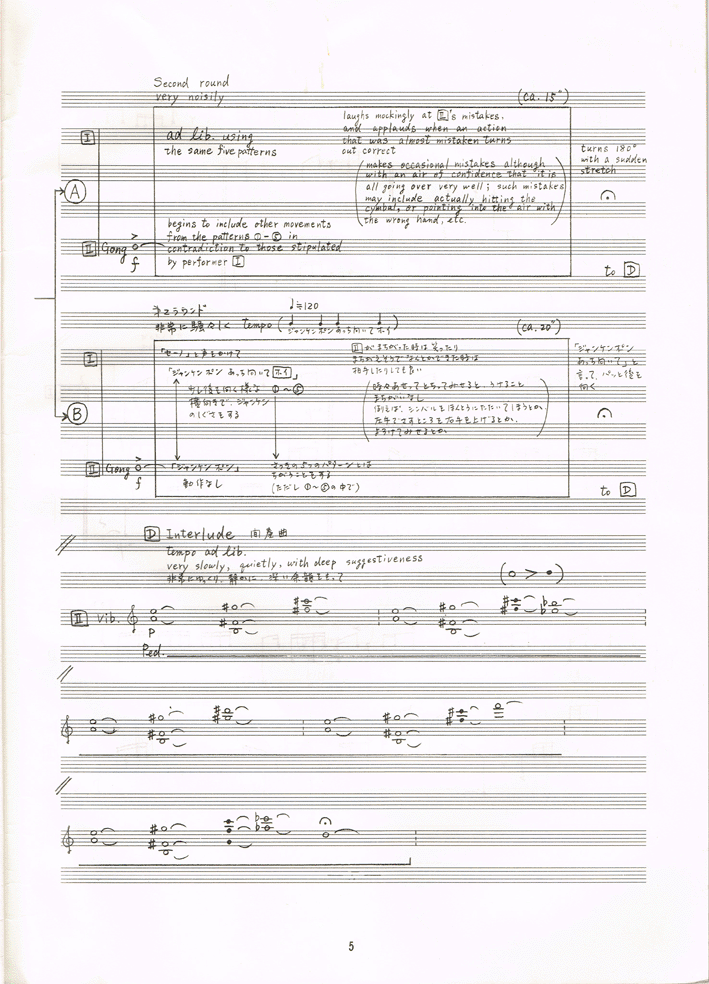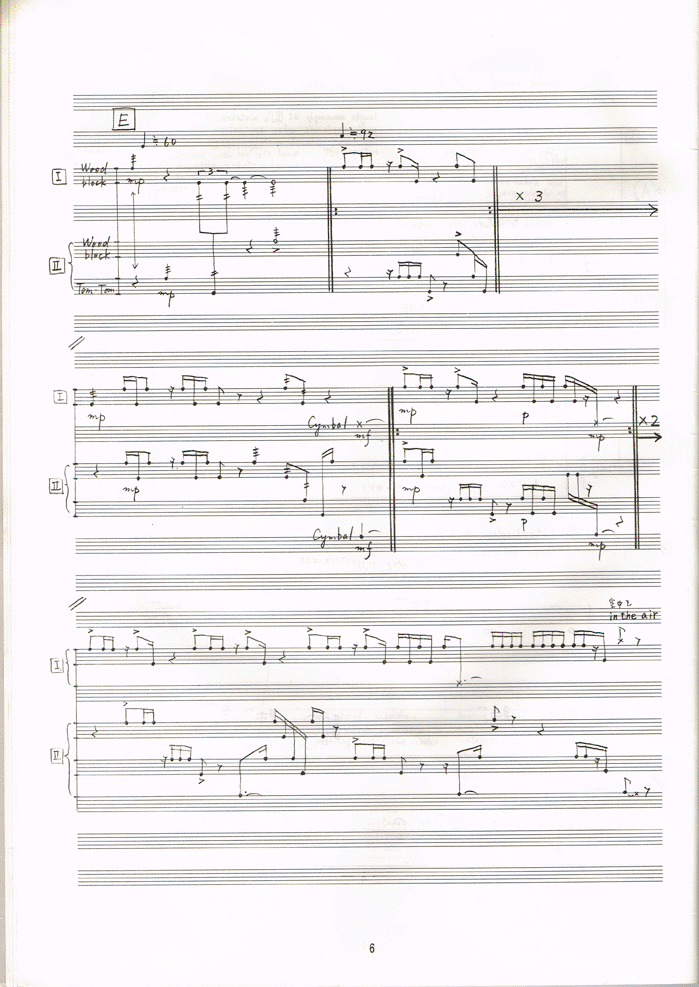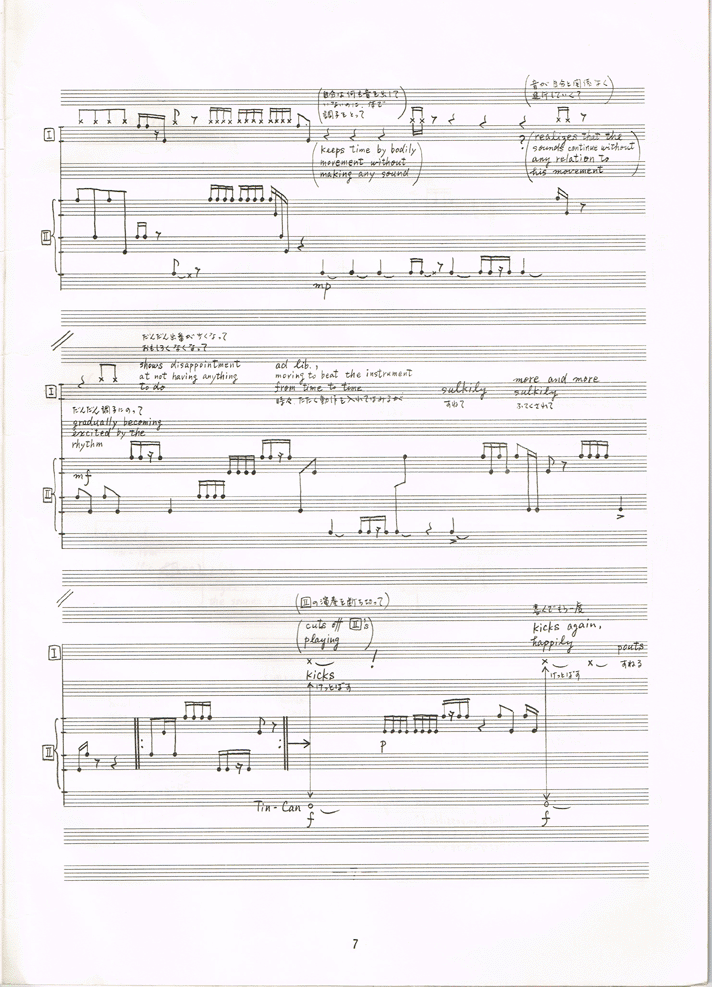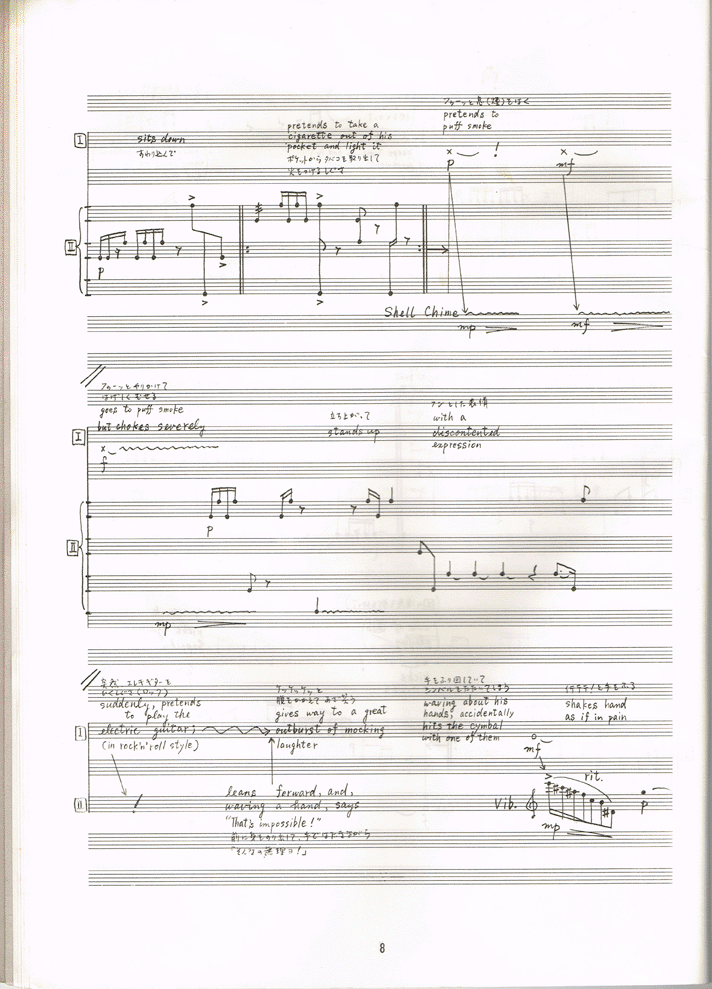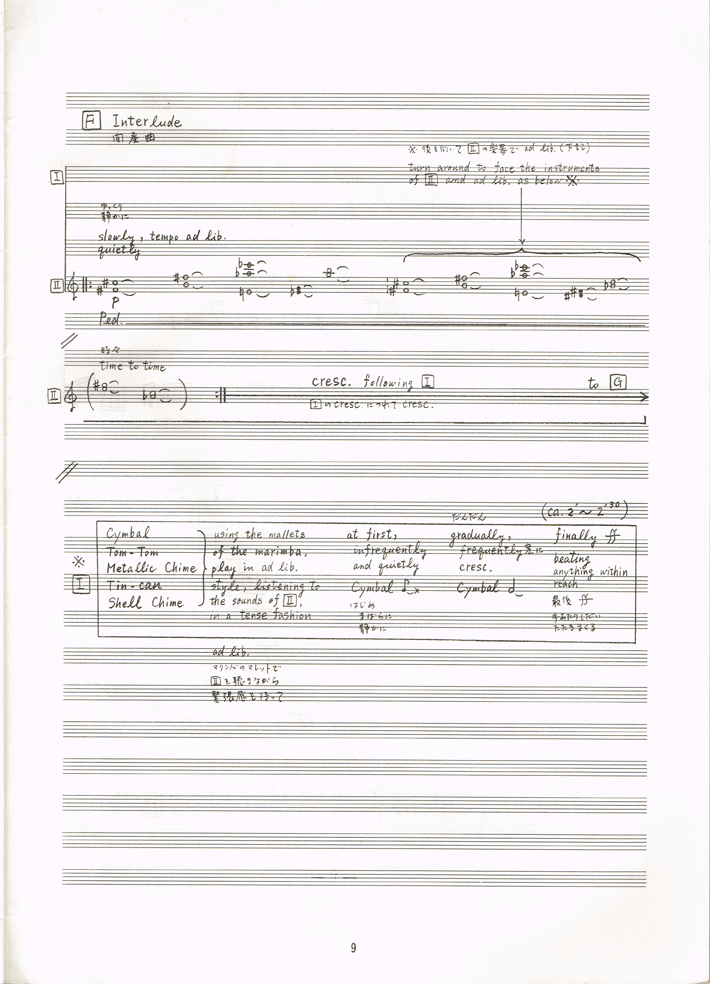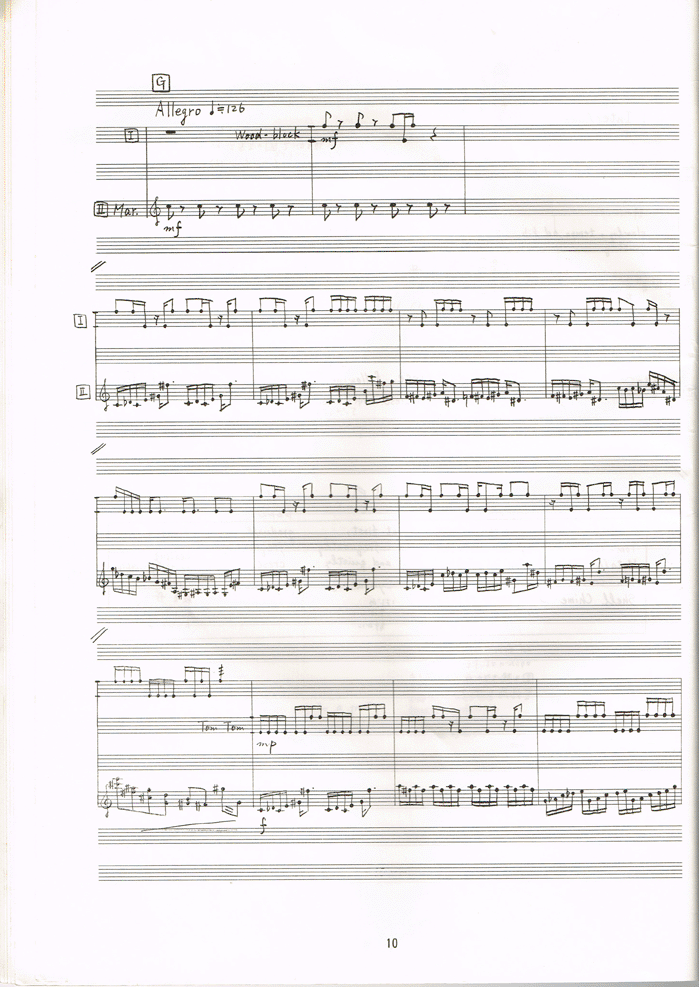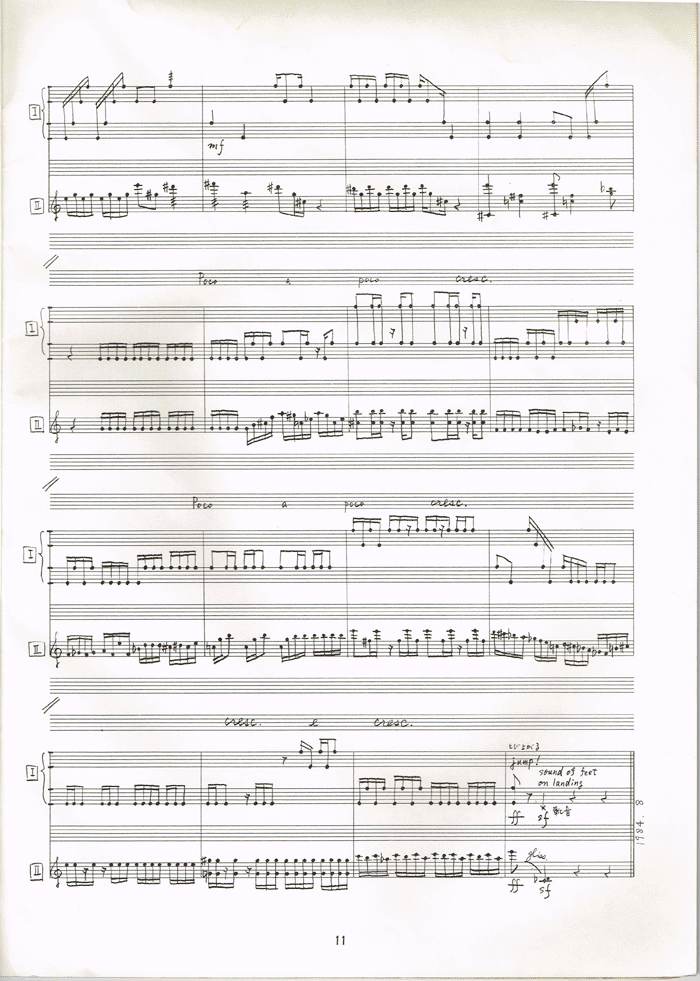 11:06 tENT plays the Secret Music Society's "iPavlov"
11:15 Ben, Soren, & Greg leave
A GOOD TIME WAS HAD BY ALL! (probably)
to the mm index
forward to mm 56
backward to mm 54
to the tENTATIVELY, a cONVENIENCE movie-making "Press: Criticism, Interviews, Reviews" home-page
to the "tENTATIVELY, a cONVENIENCE - Sprocket Scientist" home-page
to the "FLICKER" home-page for the alternative cinematic experience
to find out more about why the S.P.C.S.M.E.F. (Society for the Prevention of Cruelty to Sea Monkeys by Experimental Filmmakers) is so important
for A Mere Outline for One Aspect of a Book on Mystery Catalysts, Guerrilla Playfare, booed usic, Mad Scientist Didactions, Acts of As-Beenism, So-Called Whatevers, Psychopathfinding, Uncerts, Air Dressing, Practicing Promotextuality, Imp Activism, etc..
for info on tENTATIVELY, a cONVENIENCE's tape/CD publishing label: WIdémoUTH
to see an underdeveloped site re the N.A.A.M.C.P. (National Association for the Advancement of Multi-Colored Peoples)