- midway through the annual Polish Hill May Day Parade on the streets of Polish Hill, Pittsburgh, PA, us@
- Saturday, May 3, 2014
- This was the 5th annual Polish Hill May Day Parade & the 3rd speech I've given as a part of it. [I'd previously listed it as my 4th speeech but I realized as of Sept, 2015, that I didn't start the speeches until May Day 2012 so this is really the 3rd - as such, the movie online is misnumbered] This year I was wearing my black & white suit, black on one side & white on the other, & sandwich boards promoting "Info Desk PGH", a cultural industry workers labor organizing group that I founded. I gave the following speech:
"How many people remember my speech from last year like it was yesterday? Try thinking of it as a Soap Box Opera that you tune into once a year. Last year I listed my long & varied work history & complained that museums, who I've been working for for twenty years now, are cutting people's work hours to avoid paying Obamacare. Since then, Info Desk has been founded. I'm wearing Info Desk sandwich boards. I'm not here as a spokesperson for Info Desk, we have no spokesperson. Nonetheless, I'll refer to it from time to time.
"Info Desk was founded to create a labor voice for cultural industry workers, for museum, library, & gallery workers. Since then, an article has been written about us in the Pittsburgh City Paper (Thank You Bill O'Driscoll!) & we've drafted a "Declaration of Rights". I have copies of this Declaration & I encourage you to sign it in support of us. We're trying to collect 5,000 signatures to show the Cultural Industry that people support our goal of greater administrative responsiveness to the voice of the worker.
"Now, I'm an exemplary lone wolf lunatic fringe individualist. But I still believe in Mutual Aid! In this spirit, I've joined Fight Back Pittsburgh, a chapter of the United Steelworkers Associate Member Program. And I have to say: Fight Back is INSPIRING! Through them, I've gotten to hear from many great people struggling for better conditions for workers - a tradition that Pittsburgh can be very, VERY proud of! Through them, I've learned about the Fight for Fifteen movement, a movement for $15 an hour to be the minimum wage for fast food workers & others. AND I SUPPORT IT! I've worked for less than minimum wage - & I don't recommend it!
"Here's the part where I tie in the May Day celebration of Spring with the May Day celebration of Labor: This winter has been BAD for me: financially desperate, desperately lonely - but, once again, I've survived it & warmer weather & smaller bills are bound to put me in a better mood. And the changing seasons are always a reminder:
"As a lone wolf accustomed to moving fast, attempts to cooperate with people different from me can be like herding cats. I might be the hare & movements might be the tortoise but the tortoise just might win the race! AND it's got a shell. So, if you, like me, get impatient with change feeling too slow, BE ADAPTABLE, think of a new way to outfox the exploiters & DON'T BE SHEEPISH & DEFEATIST! The world is your oyster!"
- recollections from tENTATIVELY, a cONVENIENCE
402. "A Catamaran Animist Vigor"
- Abandoned Store, Pittsburgh, us@
- Wednesday, May 7, 2014
- "A Catamaran Animist Vigor" is one of the 2 movies I made using Mark Dixon's Selectric Piano (see these relevant movies on my onesownthoughts YouTube channel: "Mark Dixon's Selectric Piano": http://youtu.be/3x6AJ6ssJsk ) which is a Selectric Typewriter with a one-to-one correspondence between the keys typed & an electronic keyboard that's connected to it.
I projected this movie & 5 improvisors played along with it. These improvisors were 1/3rd of Holocene Extinction: cymbal, Anthony Levin-Decanini: Crackle Box, Joey Molinaro: violin, trumpet, synthesizer, Josh Tenenbaum: percussion, Ben Bennett: percussion. Near the end, I joined them by improvising with an organ bench.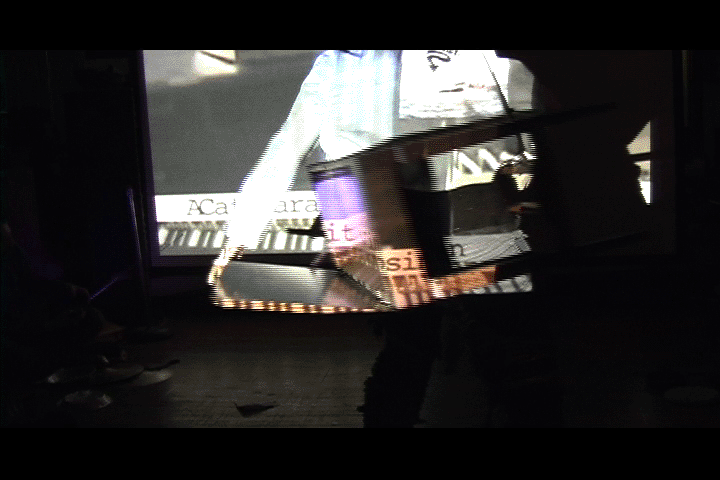 The footage from this event was then combined with the previous movie & other new material to make a Score Movie intended for more through-notated future realizations. 7 seconds of this Score Movie (which is 54:27 total) can be witnessed on Vimeo:
- recollections from tENTATIVELY, a cONVENIENCE
to Personal Favorites: 1959-1989
to Personal Favorites: 1990-2009