403. "A Catamaran Animist Vigor"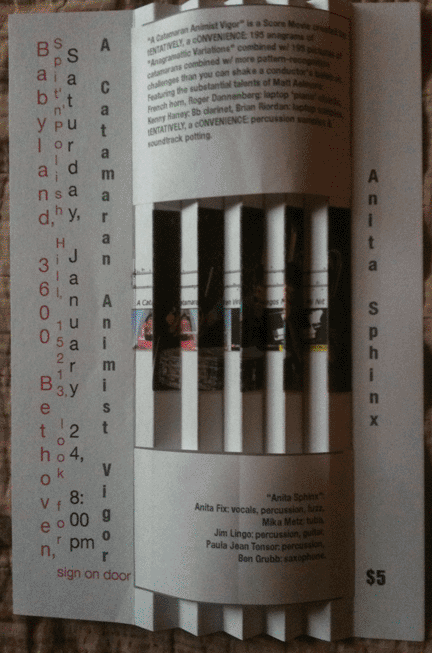 - Babyland, Pittsburgh, us@
- Saturday, January 24, 2015
- The genesis of "A Catamaran Animist Vigor" is probably rooted in the fall of 2009. My friend the ever-inventive Mark Dixon had told me about his Selectric Piano - a typewriter that would play an 88 key electric piano. I started thinking about what text(s) I'd want to type on it. The idea of anagrams of "Anagrammatic Variations" appealed to me. I used an online generator to generate so many of them that the text file result was difficult to open. I narrowed it down to just the anagrams with "Catamaran" & "Catamarans" in them. In 2010. I went to visit Mark & to use the Selectric Piano. His associate Bart Trotman was generous & open enough to type the anagrams for me while I manipulated MIDI-activated electronics. Several movies were made of the results - images of catamarans were added to the mix. In 2014, I screened this by now dense movie at Abandoned Store while a group of 5 improvisors played. I shot footage of this. I went to great lengths to notate what the corresponding pitches were for each of the anagrams. The original movie + the Abandoned Store footage + the notation were combined into a Score Movie - a movie that gives instructions for the live creation of its own soundtrack. I rallied the musicians for playing this. We rehearsed. Finally, on Saturday, January 24, 2015, we presented the Score Movie to an attentive & excellent (v)audience at Babyland while the following 5 performed the score: Matt Aelmore (French horn), Roger Dannenberg (Laptop 'piano' chords), Kenny Haney (Bb clarinet), Brian Riordan (Laptop samples), tENTATIVELY, a cONVENIENCE (Percussion samples). The (M)Usic? Imagine an aleatoric minimalist/maximalist live musique concrete based on word-play & oh-so-much-more. This YouTube version isn't the complete piece, it's just the 'meat of the matter'. "A Catamaran Animist Vigor" was then followed by a performance by Anita Sphinx, a performance redolent of that same day's Summit Against Racism.
- 1st rehearsal broken into 3 parts on my onesownthoughts YouTube channel here:
pt 1: http://youtu.be/cC5d-SriB6Y

pt 2: http://youtu.be/O2ToDm0HfKc
- 2nd rehearsal on my onesownthoughts YouTube channel here: http://youtu.be/9JueavuM5m0
- performance at Babyland on my onesownthoughts YouTube channel here: http://youtu.be/cn3U055X-2U
- August 19, 2015 notes from tENTATIVELY, a cONVENIENCE
404. "The Key to Success, from One Who Knows"
- Babyland, Pittsburgh, US@
- Friday, May 1, 2015
- Every year since at least 2009 there's been an at-least-annual cabaret in Pittsburgh, usually associated with a political event. Since 2010, there's also been an annual May Day Parade in the wonderful Polish Hill neighborhood. For most, if not all, of these May Day events there's been an accompanying cabaret, usually, if not always, the night before. This was the 1st of the May Day cabarets that I participated in. The request being that performers restrict themselves to 5 minutes or less, I managed to pull off the following in something like 2&1/2 minutes. I had originally developed this piece for something I'd been invited to participate in at a theater scheduled later in June. Anticipating that the organizer(s) of that would flake, as they did, I decided to present it at the more reliable May Day cabaret. Here's the script:
"The Key to Success, from One Who Knows"
- april 2015
Monolog:
I walk out from the wings with a chair in one hand on the audience side and a short ladder in the other hand. I put the ladder unobtrusively on the floor & set the chair down in profile. I face the audience & speak the next line while I reach down with my right hand, pull on my right boot-strap & lift my right leg up. While it's raised, I try to reach my left boot-strap & fail, stumbling a little.
"In the late 1970s, I met a young woman..
I sit in the chair & pull on both boot-straps pulling myself into a fetal position while I say the next line.
"She told me what she thought other people should do to succeed..
I set up the ladder so that its side is visible to the audience and so that I can ascend it from the direction I came from. I pull on my right boot-strap to lift my right foot onto the 1st rung of the ladder & repeat the process with alternating legs as much as possible while I say the next line.
"She was very stern and judgmental about it..
I walk to the wing to get the taller ladder & say the next line while I bring it on stage & set it up as the next prop in the chain - in the same arrangement as the last ladder.
"I've tried for years to follow the dictum..
I start to ascend this ladder in the same way that I did the last one while I say the next line.
"But no matter how hard I try, no matter what I do..
I continue ascending the ladder while I say the next line.
"I just can't seem to succeed..
When I get near the top my head should enter a pre-hung fake cloud hanging at a level that my head can reach in time. It's made out of cotton balls & hung with monofilament.
"No matter how much I put my head in the clouds where hers was..
I unhook the cloud from its attachment & wear it as a hat as I descend. Once I'm on the ground again, I say the next line.
"I still find my feet on the ground..
I take the big ladder down & carry it off-stage while I say the next line.
"No matter how much I try levity to defy gravity..
Back on stage again, I reach down to both boot-straps & make a feeble jump up while I say the next line.
"I still haven't managed to pull myself up by my boot-straps..
I pick up the chair & the small ladder while I say the next 2 lines.
"Oh, did I mention?
"She was a millionaire heiress living off a trust fund & I was working for less than minimum wage as a laborer..
I deliver the last line as I exit off-stage carrying the ladder and the chair.
"So I guess I'll just have to keep my feet on the ground and walk.."
- August 19, 2015 notes from tENTATIVELY, a cONVENIENCE
405. My 5th May Day Speech: Soap Box Opera Episode 4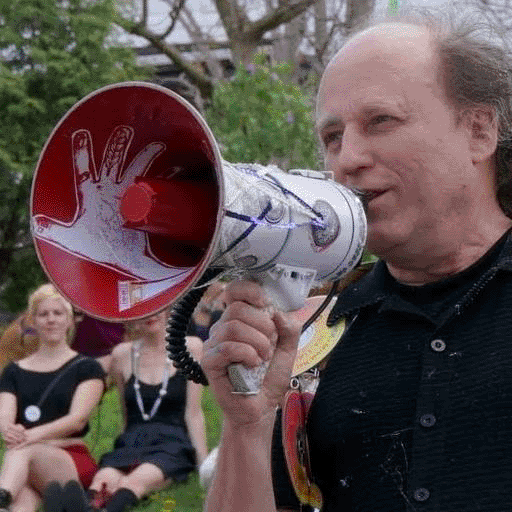 bullhorn decorations: etta cetera; photo: Mark Knobil
- midway through the annual Polish Hill May Day Parade on the streets of Polish Hill, Pittsburgh, PA, us@
- Saturday, May 2, 2015
[I'd originally thought I started giving these May Day speeches in 2011 at the 2nd of the annual Polish Hill May Day Parades but I realized as of September, 2015, that I actually didn't start until the 3rd of the parades in 2012 so this was actually just the 4th of my speeches - as such, the movies online for 2014 & 2015 are misnumbered]
- The text of my speech:
"In the early 1970s feminists made the case that housewives were underappreciated, undervalued & underpaid marginalized labor. The idea was that they did housework, child-rearing, & cooking for their family but were at the mercy of their husband's determination of what the value of their work was. They were taken for granted. If the marriage was healthy & the arrangement was consensual then maybe everything was fine. But if the marriage was unhealthy then the housewife was somewhat trapped by the marriage contract without much legal ability to redress her grievances.
"Things have changed since then insofar as gender roles aren't nearly as fixed as they were then & there're now far more married women making a living, far more men staying at home as "househusbands", & far more common options for not being stuck in either of those roles.
"HOWEVER, in many respects, we're all still stuck in just trying to survive in a world of marketplace forces that we didn't create & don't necessarily want much to do with. & that's where the work that I respect the most comes into play, a form of work that, like that of the housewife in 1970, is underappreciated, undervalued, & usually not paid at all by the monster known as "society-at-large".
"What's that work? It's the work that probably all of you here do on a regular, if not DAILY basis. It's the work that's exemplified by this absolutely wonderful annual May Day Parade, by the Variety Show, by the Marching Band, by the Softball Game, by the Kids Activities, by the Food & Drinks.
"In other words, it's the work we do for the sheer joy & love & thrills & inspiration & community-mindedness of it & NOT FOR MONEY. It's the things you actually LIKE TO DO, the things you FEEL ARE IMPORTANT. It's the prison activism, it's the resistance to people being reduced to little more than money-making machines, it's the embracing of creativity as a sign of life far more potent than a Lear jet or a diamond necklace.
"I wish we could suffer less, I wish the struggling were less desperate. There are many, many times when even having a few hundred dollars would make a huge positive difference in our lives - but if you don't have that few hundred dollars you probably at least have the ability to do something to brighten up your day & that of the ones around you. Don't lose it!!"
- on my onesownthoughts YouTube channel here: http://youtu.be/jImQyP8g_iQ
- August 19, 2015 notes from tENTATIVELY, a cONVENIENCE
406. Composer's Presentation
- PNME (Pittsburgh New Music Ensemble)'s Composers Night, Wigle Whiskey, Pittsburgh, PA
- Thursday, July 2, 2015
- Entering this in this list is probably stretching things a bit too much but it does just barely qualify so rather than adding it later when I'll then have to renumber all subsequent entries to accomodate it I'll enter it now. PNME was reaching out to local composers, much to their credit IMO, & planned this event as a sortof meet-'n'greet at Wigle Whiskey, a local whiskey manufacturer's place of business where they have an outdoor patio sizeable enough to hold the 30+ people expected to attend. Ben Opie & I had been suggested as composers by our friend & collaborator Roger Dannenberg, a PMNE board member. I, in turn, suggested my friend Matt Aelmore & Brian Riordan. Hence the word spread.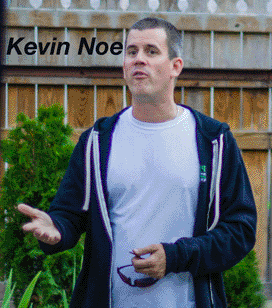 All of the composers were restricted to a 1:00 sample of their work. These recordings were sent to Kevin Noe, PNME's director, to be organized in alphabetical order by composer's last name on his laptop. At the event, each composer was given 1:00 to introduce their piece. I realized a 1:00 version of my sampling piece "61 Sequences Sampled" especially for the occasion. Given that 1:00 was too short a time to adequately play the samples, I retitiled it "Sequences Sampled". For my introduction, I watched my cellphone timer in an attempt to cut myself off at precisely 1:00 while in the midst of saying the word "discombobulated" (or something like that). As I recall, I actually went a few seconds over 1:00 & didn't cut the word off.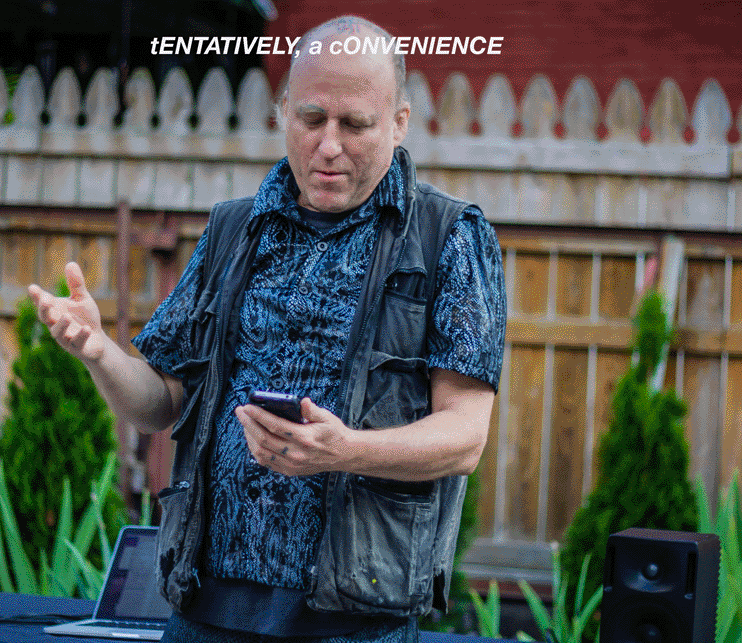 I found this event extremely encouraging & positive. Kudos to PMNE for organizing it! Alas, David Stock, the founder of PNME, died not long after this event on November 2, 2015. RIP. I was fortunate to be able to have an affable conversation with him at this gathering. Below is a seleection of photos taken at the event. These were provided by PMNE. I don't know the names of everyone who was there but I've labeled the few that I do know. Perhaps at 2016's planned follow-up to this Composers Night there will be a hand-out with the names of the composers & a photo & contact info so that we can continue to build this community. Best to all!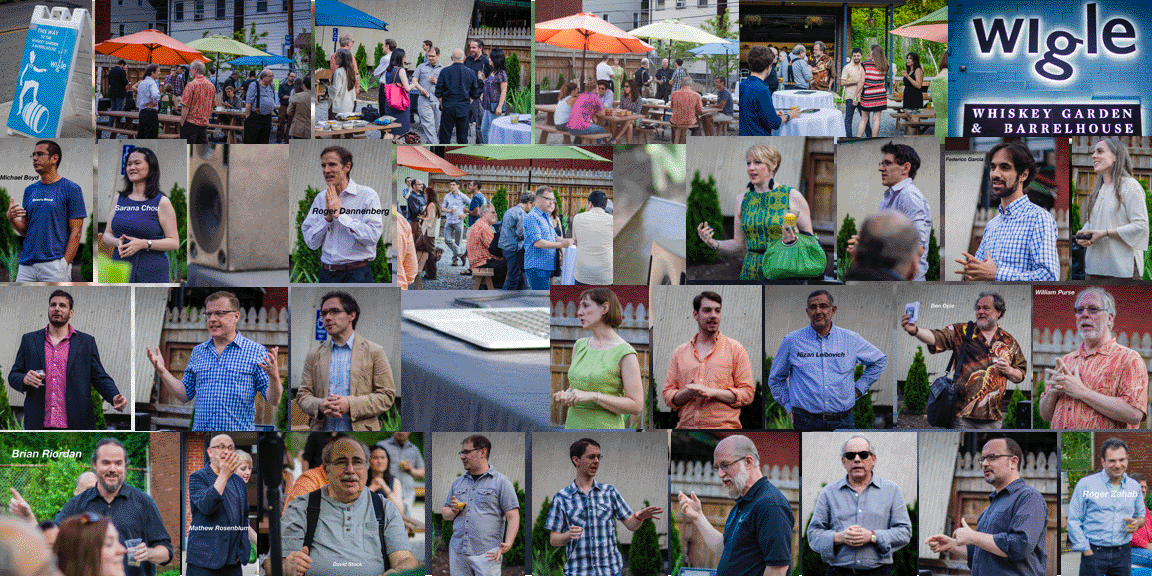 - recollections from tENTATIVELY, a cONVENIENCE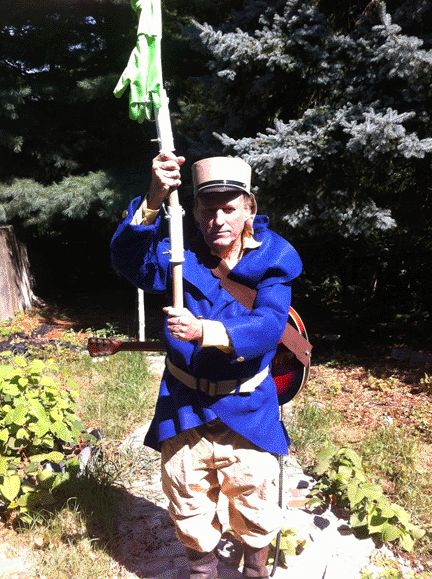 - Sync'd 7, 3 Rivers Film Festival, Pittsburgh, us@
- Saturday, November 7, 2015
- ""Beau Jest" @ Sync'd 7: "Sync'd" is an annual screening event in Pittsburgh founded & organized by Michael Maradan. Mike solicits silent movies from local moviemakers & recruits 2 different groups to play soundtracks for the movies. Mike 1st asked me to be a participant in Sync'd 4 in 2011. I didn't want to just make a silent movie without giving any thought to the circumstances it was to be screened in. Since I'd already made some "Score Movies" (movies meant to be the score for the production of its soundtrack) I decided to make another one in that series as a way of strengthening that body of work & of not just taking the soundtrack for granted as 'whatever'. SO, I made ""Spectral Evidence" trailer". Since I knew that my friends in the band "Lungs, Face, Feet" would be performing the soundtrack for it I tailored it somewhat for them. Mike invited me back the next year for Sync'd 5 & I made something even more tailored for the performer: "Ben Opie". For Sync'd 7 I designed "Beau Jest" for performers that I didn't know, "Sun Cycles". Sun Cycles is a duo & I picked them as my preferred soundtrack producer because I thought their instrumentation would work well with what I had in mind. Since I didn't know the performers I made Beau Jest a much more open form piece, taking air guitar playing as an inspiration, so that I wouldn't be too demanding. As it turned out, one half of Sun Cycles was sick & didn't perform so the instrumentation was guitar-centric & much more minimal than what I had in mind. No matter, Sun Cycles did a pretty good job anyway &, as the old saying goes, one half of Sun Cycles is better than nothing." - November 28, 2015 onesownthoughts YouTube notes from tENTATIVELY, a cONVENIENCE
- While I didn't personally perform as part of this event, I did wear the above "Beau jest" outfit that I'd designed & partially made. Furthermore, since SunCycles was performing my Score Movie I consider this to be a performance (of sorts) of mine.
- on my onesownthoughts YouTube channel: https://youtu.be/Z8WNrhWKdJ0
- recollections from tENTATIVELY, a cONVENIENCE
408. "Tex-Mix (Giddyup Americana)"

- Babyland, Pittsburgh, us@
- Sunday, November 8, 2015
- "For decades now I've been entertained by finding what I call the "Giddyup" rhythm in a variety of musics from various cultures. Maybe they're all influenced by the sound of horses running. Whatever. When I was a kid I watched Westerns with John Wayne in them. It wasn't long before he seemed like an idiot. An Americana idiot. Recently, I've learned to appreciate some Westerns (like Clint Eastwood's "High Plains Drifter") & some Americana music - mostly thanks to Lukas Foss, Lejaren Hiller, & Elie Siegmeister. This movie is a document of my rehearsals for & performance of a sampling piece that repurposes singing cowboy songs from six 1930s Tex Ritter movies. It's my "Tex-Mix" (not my Tex-Mex). It might be the closest I ever come to making '21st century' Americana." - December 2, 2015 onesownthoughts YouTube notes from tENTATIVELY, a cONVENIENCE
- The 6 Tex Ritter movies sampled from were "Song of the Gringo" (1936), "Arizona Days" (1937), "Sing, Cowboy, Sing" (1937), "Mystery of the Hooded Horsemen" (1937), "Tex Rides with the Boy Scouts" (1937), & "Rollin' Plains" (1937).
full "Tex-Mix (Giddyup Americana" movie on my onesownthoughts YouTube channel: https://youtu.be/yVZPa4gCdAU
- recollections from tENTATIVELY, a cONVENIENCE
409. "RonDodo"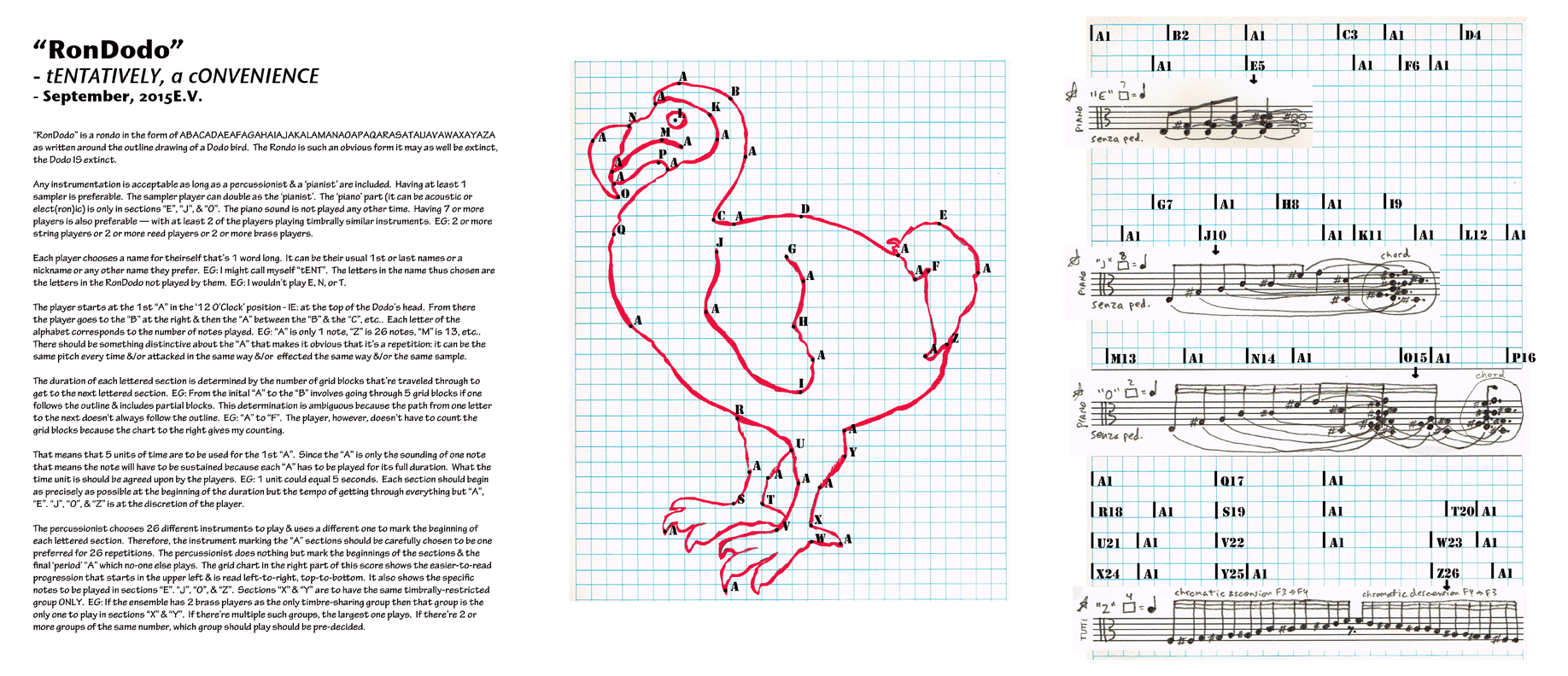 - Lightlab 10, The Space Upstairs, Pittsburgh, us@
- Tuesday, November 10, 2015
- ""RonDodo" (September-December, 2015E.V.) I started (d) composing in 1974. I've done nothing but d teriorate since then (ka-boom!). "RonDodo"'s the latest evidence of that. I was probably daydreaming about the punning possibilities of the words "Rondo" (a simple musical form) & "Dodo" (a bird rendered extinct by humans several hundred years ago) & wondered about how to turn it into a score. Lo & Behold!, "RonDodo" was born! I drew an outline of a Dodo & made a connect-the-dots tracing of it that followed an extravagant RonDo form: A-B-A-C-A-D-A-E..A-Z-A & placed this over graph paper to provide a regularizing component. I then established rules about how the players should proceed from there. Unpromising as this may seem to some, a fairly interesting (d) composition was generated. Since I'm fortunate enough to have friends who actually find these pieces of mine challenging & fun to play, I was also fortunate enough to work with the following crew to bring "RonDodo" to life: Matt Aelmore: French horn; Jason Belcher: valve trombone; David Bernabo: keyboards; Roger Dannenberg: trumpet; Calder Dudgeon: conductor; Kenny Haney: clarinet; Julian Krishnamurti: violin; Ben Opie: alto saxophone; Brian Riordan: percussion; & myself (yes, I'm even friends with me): tENTATIVELY, a cONVENIENCE: (d) composer, sampler, moviemaker. This movie quasi-documents the piece's growth up 'til its premier performance as part of David Bernabo's "Lightlab 10" at the fabulous "The Space Upstairs" in Pittsburgh. Such details as rehearsals are primarily intended for the edification of geek scholars. Then again, if you're checking this whole business out in the 1st place you probably ARE a geek scholar in which case I greet you (albiet in this removed way) with thanks for your interest. The final version presented here is also available on CD as part of my "1975-2015" collection of selected works of mine for 40 years. Figuring out my email & writing to me is probably the best way to get a copy because I don't anticipate it's getting distributed otherwise." - tENTATIVELY, a cONVENIENCE onesownthoughts YouTube notes December 9, 2015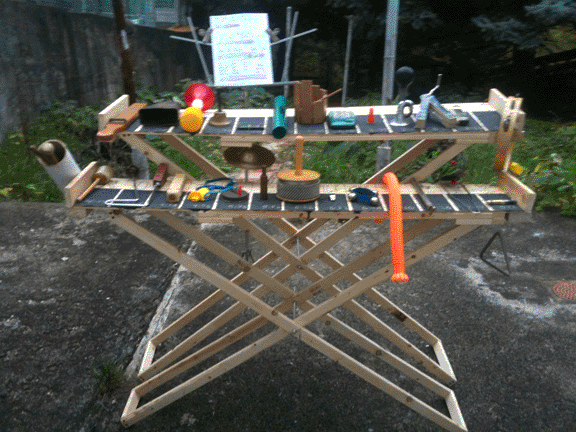 the percussion stand tENTATIVELY, a cONVENIENCE designed & built for "RonDodo"
full "RonDodo" movie on my onesownthoughts YouTube channel: https://youtu.be/CzsoiM8z1wk
- recollections from tENTATIVELY, a cONVENIENCE
to Personal Favorites: 1959-1989
to Personal Favorites: 1990-2009