mmm032 Sunday, October 27, 2013
32nd music(ian's) meeting (October 27, 2013)
Attendees:
tENT
Rob
Ben
tENT sits on stoop awaiting intellectual/musical stimulation
Rob arrives, blessedly bearing some Yuengling Black & Tan
Rob announces that Lou Reed died
Ben arrives
Ben remarks that Lou Reed coasted on his reputation for a long time
tENT agrees but stipulates that Reed's "Metal Machine Music" & "Transformer" were great records
Agreement all round
Rob becomes a "Magic 8 Ball" as a Halloween costume by putting on a t-shirt w/ an 8-ball drawing on it & suggests to Ben & tENT that we spin him around & ask him questions
Ben does so & asks him "Will I deal w/ intelligent students tomorrow?"
Rob's pre-written answer is "In the eye of the Buddha all is beautiful"
tENT spins him & asks "Will she?"
Pre-written answer: "Drink a beer & ask again"
Ben shows off "Freak Out, USA" magazine from 1967 w/ articles in it about The Fugs, The Mothers of Invention - on the more musically radical end of things - & Paul Revere & the Raiders, & Herman's Hermits & such-like on the more pop end of things
Rob plays the beer commercials & a cigarette commercial or 2 from TeeVee Toons's "The Commercials" CD
tENT plays KBZ 200's "Quiet Village ('In C' version)" & "CAMU Caravan" - Klauhutte Bangzeit 200 was the big band that tENT was in in Germany & England in 1994 - KBZ 200 played 3 exotica songs in 12 hr marathon concerts - tENT was the avant garde 20th century arranger - In particular, he played "CAMU Caravan" b/c he'd just recenlty heard Ben play an extended version of "Caravan" at an event at the Andy Warhol Museum
tENT spins Rob again w/ the same question & gets the pre-fab answer of "When cats bark and potatoes peel" - at the same time Ron drops one of his answers that reads: "Yes No" - neither answer if particularly what tENT wanted
Rob reads 2 of his recent music-related poems:
"everyone's a critic "
on monday afternoon, october 21, 2013
the police shut me down in market square
for singing toby keith's got stoned this morning
but i haven't had a drink all day
a big bald uniform muttered in my ear you're done
as i packed up, gathering my singles and fives
my kind listeners expressed outrage
but the cops were just keeping the city safe
or it could have been my lousy singing
"music"
there is no "music"
the word is a vague endearment
applied on a whim
"music" is an adjective
As response to Frank's proposal as sent out in an email from me: "I wanted to propose a theme or at least a sub-theme for an upcoming mm: most interesting/pleasant/otherwise notable CD (not LP) packaging" Ben brought some CDs the packaging for wch he likes:
"Runzelstirn & Gurglestock" CD

Willem Breuker Kollektief's "Heibel" in a circular cheese package
Ben tells story about getting to play an Eb soprano clarinet solo w/ the Brueker Kolleftief as an audience participation thing
tENT plays Charles Amitkhanian's "Heavy Aspirations" from the "10+2 : 12 American Text Sound Pieces" record wch uses the voice of music critic, pianist, conductor Nicolas Slonimsky
tENT plays Slonimsky conducting a 1934 performance of Varèse's "Ionization" & proceeds to discuss it as the worst recording/performance of the piece that he knows of
Ben tells a story about Slonimsky playing a Chopin black keys piece on the Tonight Show w/ an orange!!
Ben talking about Slonimsky bks
Ben shows Rose Selavy & Kurt Vile LP "T OA R IT ECC G" ("The Only Actual Record In The Entire Conglomerate CataloG") wch is from 1991 & has a cassette glued to the front cover - This is a splicing together of 9 records & is THE ONLY COPY & Ben got it for $7!! The group that put it out os from Connelsville, PA
tENT plays 1st 2 cuts off Dean Eliott & his Swinging Big, Big Band's "Zounds! What Sounds!" record - big band music mixed w/ S/F/X
Ben gives tENT his extra copy of Steve Reich & Musicians's "Music for 18 Musicians" (being listened to as tENT types this)
tENT gives away his extra copy of Chick Webb's "Spinnin' the Web" CD to Rob
Rob & Ben talk about jazz drummer Gene Krupa
tENT gives away his extra copy of LP1 of "The Eighty-Six Years of Eubie Blake" double record set to Rob
tENT gives away his extra copy of Charles Wuorinen's "Percussion Symphony" record to Ben
tENT gives away his extra copy of the "When I have sung my songs" record to Ben
tENT plays Glenn Gould's "A Glenn Gould Fantasy" w/ Gould pretending to be various parody critics
tENT plays a record made from a piano roll of Alfred Cortot playing a Chopin prelude w/ an extreme pedal point wch Ben immediately recognizes as the "Raindrop Prelude"
Ben talks about a fantasy Spike Jones group he imagined performing the Chopin
tENT plays some of his "Usic Depreciation (The Spike Jones Medley)"
Ben shows Louisville Orchestra's record w/ George Crumb's "Echoes of Time and the River" & Merrill Ellis's "Kaleidoscope" for orchestra, synthesizer, & soprano from 1970 - using a Moog - & we listen to a little of both - none of us have ever heard of Ellis & his piece is quite good (as is, of course, the Crumb)
Rob & Ben talk about Matthew Rosenblum's opera w/ Erik Moe playing piano
THE REST OF THE EVENING IS LARGELY ROB & BEN INDULGING tENT's 'NEED' TO GUSH OUT THE ZILLION THINGS HE'S BEEN SAVING FOR mm:
tENT reads notes to Handel's "Judas Maccabeus" re politics:
"Still alive in English politics were the antagonisms and resentments from the revolutions of the preceding century, which had decapitated one Stuart King, Charles I, and later dethroned his son, James II. A crisis came in 1745, when Handel was in ill health and also in financial trouble. A serious uprising took place of the followers of the Stuarts, the Jacobites. Their leader now was "Bonnie Prince Charlie," Charles Edward Stuart, grandson of James II. And in that year the Jacobites were crushed at the battle of Culloden Moor by the forces under the Duke of Cumberland. Handel had thrown a hastily written Occasional Oratorio into the cause, to buoy up the spirits of the English liberals. Now, exploiting his major musical resources, he produced Judas Maccabeus. It drew on the story of the old Jewish leader of the nation against an aristocratic invasion to parallel and embody the themes of struggle in his own time, and the joy over the hard-earned victory of the common people's leader, along with the lamentations over the dead. It made an immense success, and because of the genuineness of its emotional life, its success lasted. Its lamentations and exultations ring true to this day."
tENT shows the covers of 2 French revolution themed opera boxsets: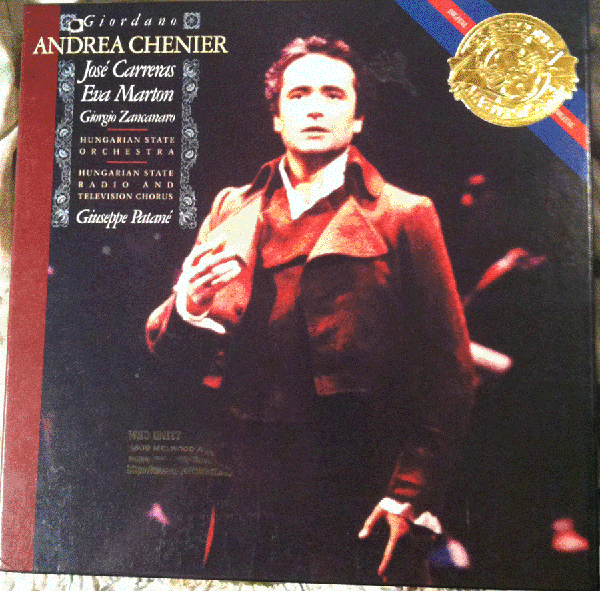 Giordano's "Andrea Chenier":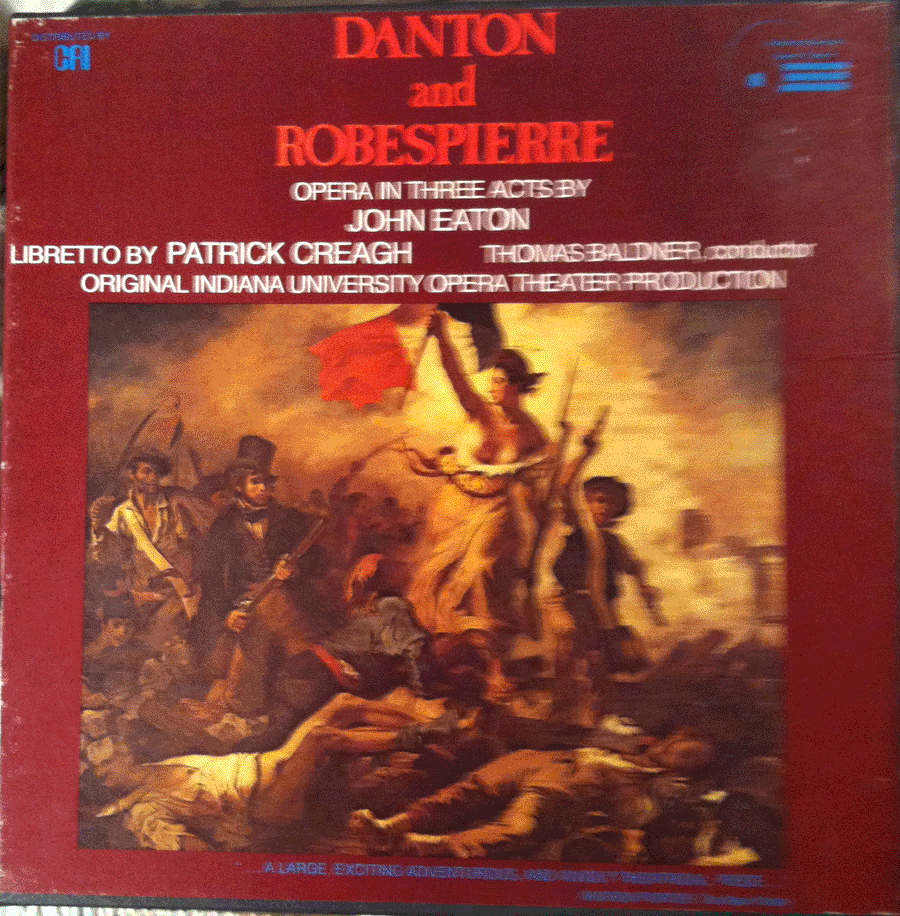 & John Eaton's "Danton and Robespierre":
tENT explains that Eaton is the guy who did the piece for multiple Synkets, the portable version of the MixturTrautonium previously discussed at the last mm & probably other times too
tENT plays a medley from Sissle & Blake's "Shuffle Along" & talks about its significance as a Broadway musical of 1921 the popularity of wch helped overcome segregation - he also mentions that composer William Grant Still played oboe in the original production & Paul Robeson sang!
tENT plays a little of Still's "Ennanga" for harp, Piano & Strings + some of his "Danzas of Panama" for String Quartet
tENT plays Paul Robeson singing "Song of the Plains (Red Army Song)"
Rob talks about a movie about a suicide bomber called "The War Within"
tENT plays World Burns to Death's "Totalitarian Sodomy" record wch has an intense cover & intense lyrics mostly about genocide & that starts w/ an excerpt from Charlie Manson & the Family's "Cease to Exist" but wch is otherwise pretty mediocre musically
tENT plays Paul Bowles's "Music for a Farce" wch he composed for an Orson Welles play that was never produced
Rob talks about Anthony Burgess starting as a composer
tENT plays some of the "1" record on Jefferson Airplane's Grunt label
tENT plays László Kalmár's "Sotto Voce" on the Hungaraton label & talks about how incredible the music is for something released under USSR rule
tENT plays Leopold Kozeluch's "Symphonie Concertante" wch has solo parts for Mandolin, trumpet, Pianoforte, & Double Bass - wch tENT finds highly remarkable for a piece from 1789
tENT plays Syrinx playing panpipes playing J. S. Bach's "Badinerie (from Orchestral Suite No. 2)"
Talk about Owsley (the famous LSD guy) investing in a sound system for The Grateful Dead in reaction to the poor sound of The Lovin' Spoonful & about how loud rock sound systems stem from that
tENT plays excerpts from "Ragtime in Rural America: Maple Leaf Rag" LP:
track 1, side 2: "Mexican Rag" by Jimmie Tarlton

track 4, side 2: "Chinese Rag" by The Spooney Five - about wch latter the otherwise very scholarly liner notes inform the reader that "Nothing is known about the Spooney Five."!!
tENT plays Robert Stern's "Carom" for Moog & orchestra on the Opus One label - making that the 2nd piece tonight for that unusual combination
tENT plays a recording of Albert De Reiter singing George Cooper & Stephen Foster's 1864 "If You've Only Got a Moustache"
tENT then plays a recording of HIS version of the same song sung in rehearsal for a 1983 performance of a "Famous Moustaches" themed piece
An excellent time was had by these stellar stalwarts!
to the mm index
forward to mm 33
backward to mm 31
to the tENTATIVELY, a cONVENIENCE movie-making "Press: Criticism, Interviews, Reviews" home-page
to the "tENTATIVELY, a cONVENIENCE - Sprocket Scientist" home-page
to the "FLICKER" home-page for the alternative cinematic experience
to find out more about why the S.P.C.S.M.E.F. (Society for the Prevention of Cruelty to Sea Monkeys by Experimental Filmmakers) is so important
for A Mere Outline for One Aspect of a Book on Mystery Catalysts, Guerrilla Playfare, booed usic, Mad Scientist Didactions, Acts of As-Beenism, So-Called Whatevers, Psychopathfinding, Uncerts, Air Dressing, Practicing Promotextuality, Imp Activism, etc..
for info on tENTATIVELY, a cONVENIENCE's tape/CD publishing label: WIdémoUTH
to see an underdeveloped site re the N.A.A.M.C.P. (National Association for the Advancement of Multi-Colored Peoples)