mmm046 Sunday, July 20, 2014: Disco theme
[I had to send this in 10 parts - mostly b/c of the mp3s - I initially thought it wd be in 6 parts]
m(usic(ian's)m(eeting) 46 - 2014.07.20
Attendees:
tENT
Hyla
Rob
Kenny
Liz
tENT sits out front reading
Hyla arrives at 6:30 w/ a 6 of assorted beers & then goes off to the Polish Hill Arts Festival
Rob arrives at 7:15ish, goes off to get beer, & comes back to ask tENT 2 philosophical questions along these lines:
1. Do you think yr moods are directly connected to objective circumstances?

2. Are you alienated from everyone?
Hyla comes back & Rob & tENT sit outside talking & drinking & Elina joins them briefly on her way to the festival
tENT & Hyla & Rob go inside at 8:15
Rob shows Sexplosion bk
Talk about Anthony Burgess & his A Clockwork Orange bk & about his having written the bk for money when he thought he was dying & about his hating both the bk & the movie
Rob plays "Boobs" CD: "Interplanetary Twist" by Screamer - the theme is "DISCO" but Rob admits that this song is really Glam Rock
Kenny arrives
tENT gives Kenny the 2 MM 26 Release DVD-Rs
Rob talks about busking in the strip & about Bob the trombonist complaining that he was too loud & Kenny talks about playing w/ the same Bob
Kenny talks about the Henry Reed Fiddlers Convention - he's wearing a t-shirt from it & was just there recently
Hyla gives tENT a Disco Mix CD she put together for the night: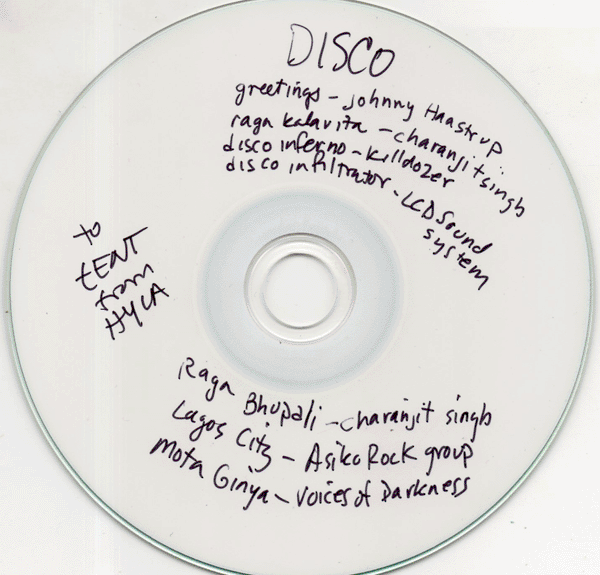 Hyla selects the 1st 2 tracks to be played:
"Greetings" from Johnny Haastrup (Nigeria) & "Raga Kalavita" by Charajit Singh [MP3 not provided here]
tENT has changed the entire contents of the CD into mp3s & hereby provides them:
Johnny Haastrup's "Greetings": [MP3 not provided here]
Charajit Singh's "Raga Kalavita": [MP3 not provided here]
Killdozer's "Disco Inferno": [MP3 not provided here]
LCD Sound System's "Disco Infiltrator": [MP3 not provided here]
Charajit Singh's "Raga Bhupali": [MP3 not provided here]
Asiko Rock Group's "Lagos City": [MP3 not provided here]
Voices of Darkness's "Mota Ginya":[MP3 not provided here]
Kenny talks about hanging out w/ the guy whose father invented quaaludes
Rob plays Hedwig & the Angry Inch's "Tearin' Me Down"
tENT plays 1st disco scene of Boogie Nights movie
Kenny puts on Star Wars disco record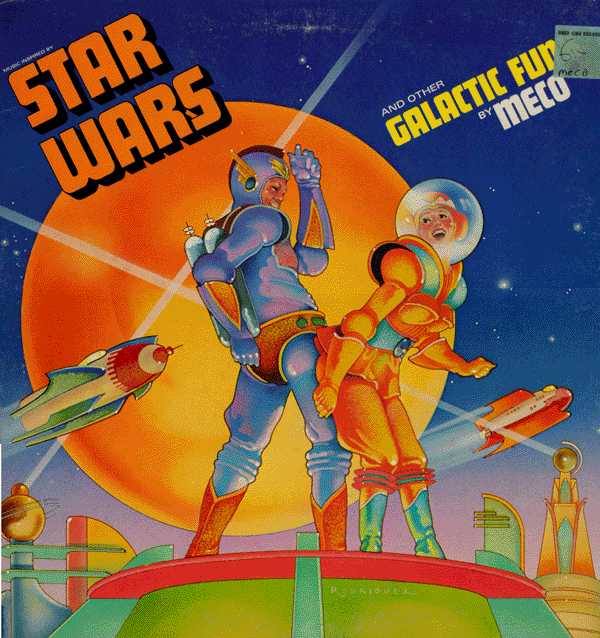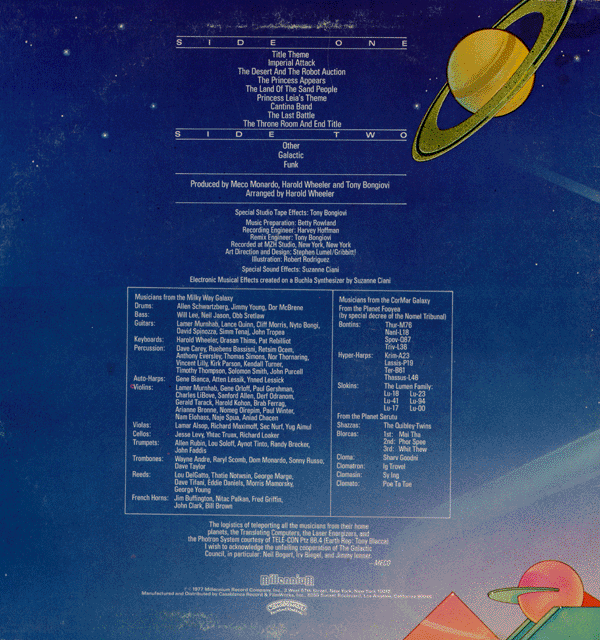 Kenny picked it b/c it has Eddie Daniels on reeds who he thinks is a great jazz clarinetist
We listen to the "The Entertainer" scene
[tENT notices later that the synth parts use a Buchla]
tENT plays Scream Club vs Bacalao's "Keep It On The Dance Floor" from 2007 Action! Disco! record: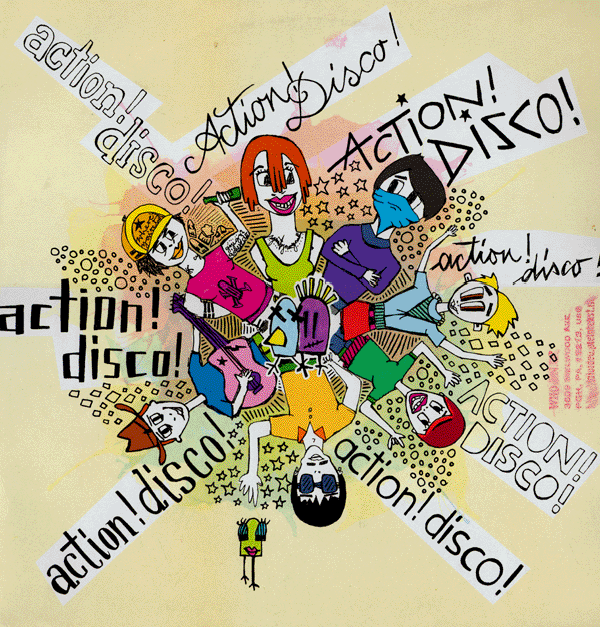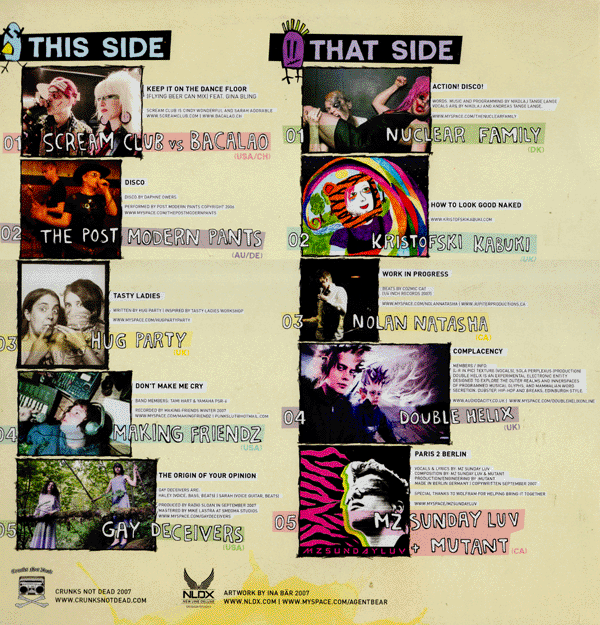 Hyla talks about bacalao being dried salted codfish used in soups
tENT plays "La Habanera" from Yello's One Second record: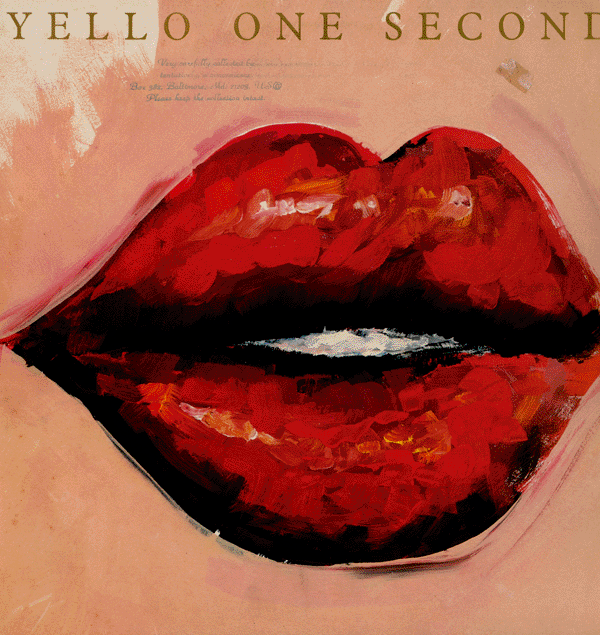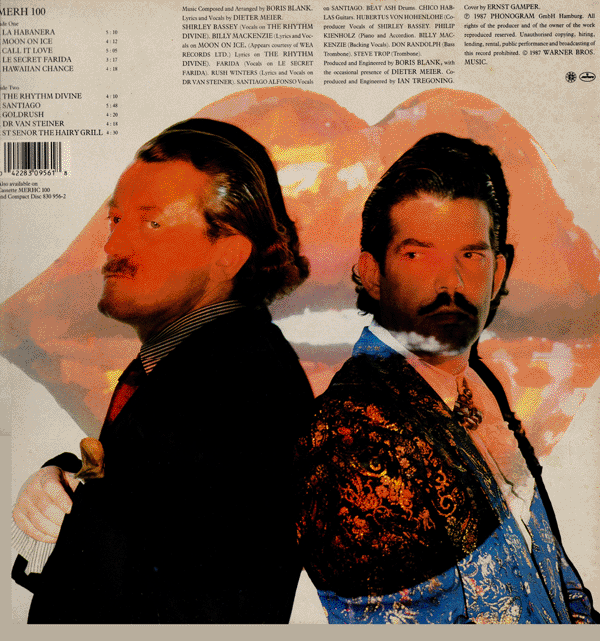 tENT plays Divine picture disc's "Shake It Up":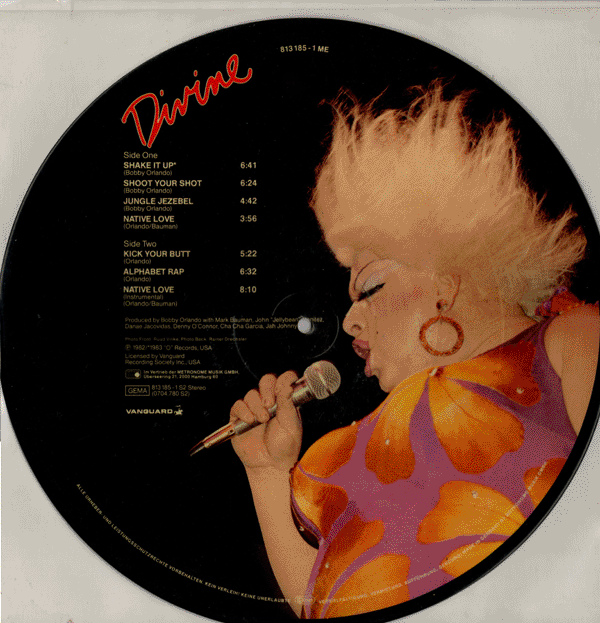 tENT plays Kurtis Blow's "Christmas Rappin'":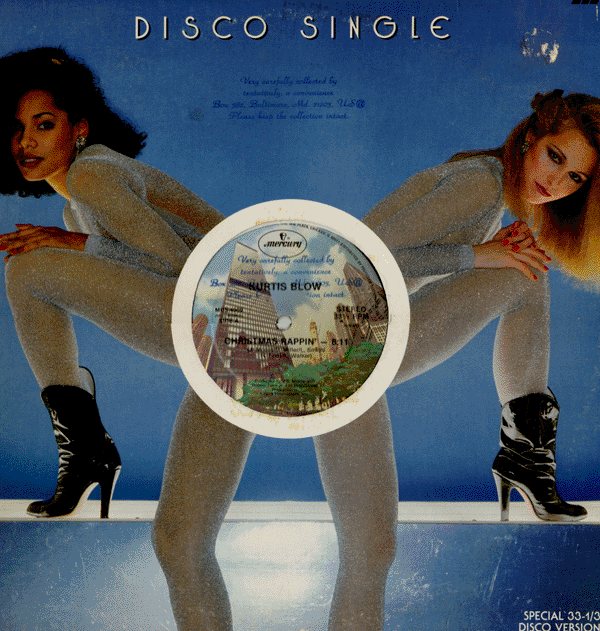 Kenny' talks about having been in a band w/ a guy who was a bass-player for Blowfly
Hyla mentions Sugar Hill Gang
tENT plays Grand Master Flash & the Furious Five's "New York, New York" wch features Melle Mel rapping (as Rob informs him)
tENT plays Zodiac Blowfly side 2 intro & "Virgo":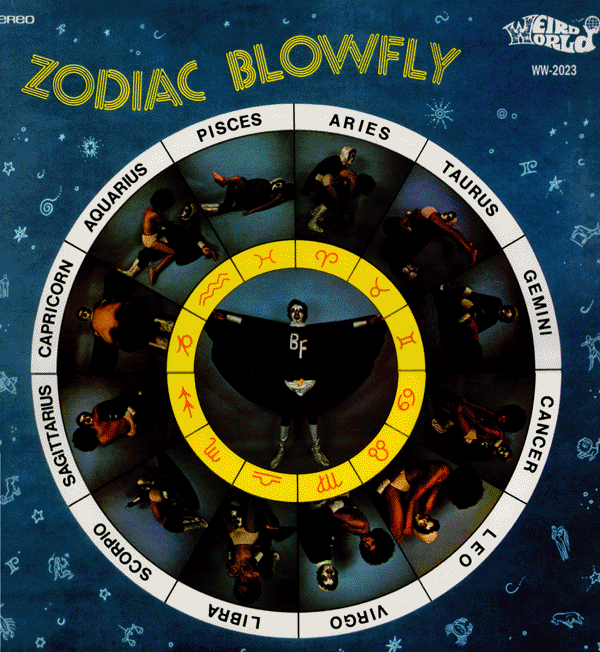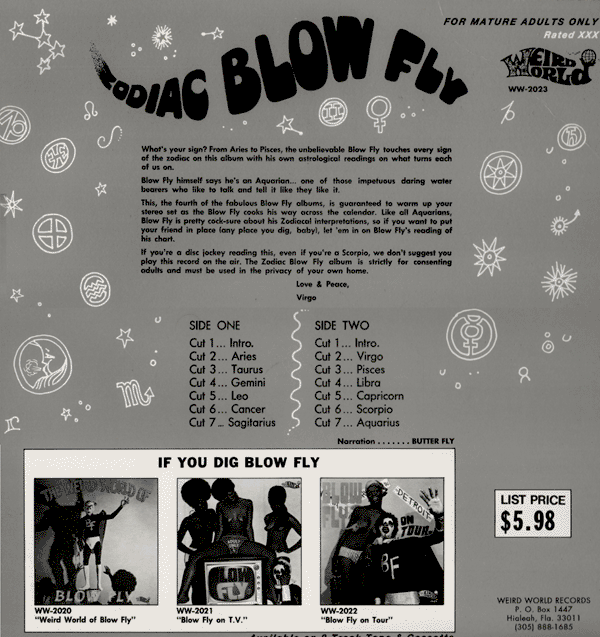 Kenny plays what he calls "pre-bluegrass": Fiddlin' Arthur Smith & His Dixieliners's "Chittlin Cookin Time in Cheatham County" (to the tune of "St James Infirmary")
Hyla talks about there being 10,000 Bhutan refugees in Mt Oliver
tENT shows Spat's recommended His Master's Fish featuring Gordon Gordon's "The Ballad of Sweeny Todd":
1) His Master's Fish featuring Gordon Grody-The Ballad of Sweeney Todd. This is the show tune from the musical Sweeney Todd by Stephen Sondheim. I have a rather large collection of disco show tunes, but this and the next one are certainly the most interesting: His Master's Fish Featuring Gordon Grody _The Ballad Of Sweeney Todd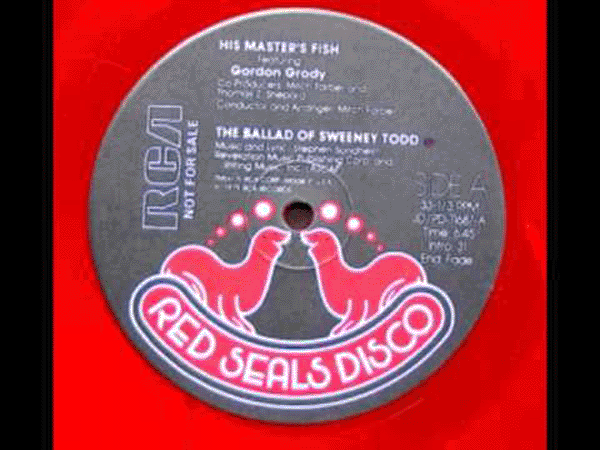 His Master's Fish Featuring Gordon Grody _The Ballad Of...
View on www.youtube.com
Preview by Yahoo
tENT shows R. Weiss's recommended
Machine -- "There before the grace of God, go I"
&
Sylvester -- "You make me feel (mighty real)"
about wch he wrote in an email:
"Hey tENT... can't make disco night, but as someone who was equally comfy in a disco or punk club, I offer these suggestions. They may seem obvious choices, but from a gay perspective, these were the earliest of gay anthems, full of inside jokes and references, and the beginning of a feeling of community as opposed to powerless individuals. In some ways, songs like "YMCA" (though completely obvious as gay now) were not originally perceived that way by the wider world... I can't tell you how many times my friends and I howled when seeing entire sports stadiums singing this song without knowing what it was about! The video was filmed on the Christopher St. piers (now gone), infamous gay sex hangout near the Ramrod gay bar. The 34th St. YMCA was well-known in the gay community as a place to hookup. As for "We are family" -- so many of us were rejected by actual family... listen to the lyrics knowing the word "sisters" was a term gay men commonly used to refer to each other. Then, there's the fabulous cross-dressing Sylvester and Machine's famous line "no blacks, no jews and no gays" which was basically saying we're happy in our own ghetto. You may think disco is corny now, but it was truly a quantum leap in gay identity when we realized we had the power to influence wider society. Have fun! Best - Bob"
[although he asked me to qualify the above in a later email w/: "perhaps mention that I wrote them on the fly and could perhaps be more eloquent"]
tENT shows Spat's recommended Pet Shop Boys (Only Pet)'s "Losing My Mind":
2) This one is also originally by Stephen Sondheim, but comes from the musical Follies. There is also a version with Liza Minnelli singing, but she made them remove the sound effects. Pet Shop Boys-Losing My Mind : Losing My Mind - Pet Shop Boys (Only Pet)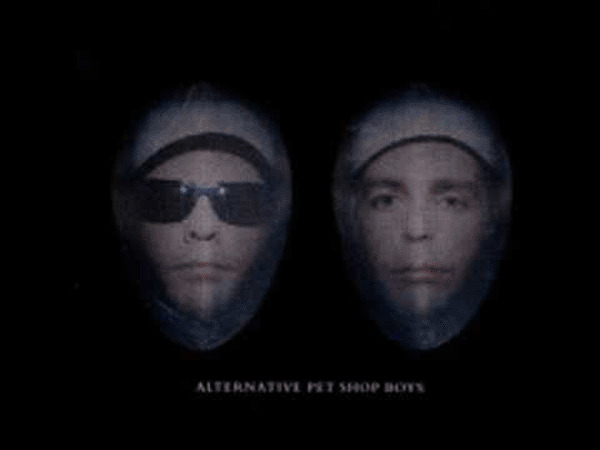 Losing My Mind - Pet Shop Boys (Only Pet)
View on www.youtube.com
Preview by Yahoo
tENT shows R. Weiss's recommended
Sister Sledge -- "We are Family"
Rob talks about being a musical therapist at Skillman Mental Hospital in NJ where the other therapists just played "We are Family" on the piano
Kenny talks about finding Sesame Street animation cells in a Pittsburgh house & wondering what to do w/ them..
tENT suggest playing Bob's recommended
but Hyla & Rob protest so he screens Bob's other Village People recommendation:
Village People -- "San Francisco"
& Hyla notices that the policeman character isn't in this one
Bob commented in a later email that:
"1. In those days, feminine terms were commonly used... not just "sister" but also "auntie", "mother," "Mary", "Nellie"... no one ever uses those terms anymore.
"2. The songs I sent were a mere 10 years after the drag queens rioted at the Stonewall Inn and started the gay rights movement. Sylvester on prime time was quite squirm-inducing to the general population in 1979.
"3. I realized that Village People's "Macho Man" tracked the trend with gay men, sick of being bashed, becoming muscle bound with the ability to beat the shit out of a basher. People wore whistles and upon hearing one, a crowd of gay defenders would swarm. I seem to remember the Ramrod was the site of a mass killing of gay guys out having a beer one afternoon.
"4. Disco really was the time when gay people started to band together in a political way... had we not done that, AIDS would have been the end of the movement. Instead, Act Up got really loud and things have, slowly over the years, truly changed."
Kenny & Rob request Thelma Houston's "Don't Leave Me This Way" so we find that online & screen it
Rob is very emphatic about what a great pop song it is
Kenny & Spat's band Pimps Up Hoe-Down covered it
Liz appears w/ beer sometime around the following
tENT projects one of the filmstrips that Hyla had given him a few mms ago: "Folk Instruments" & we get silly & improvise a soundtrack for it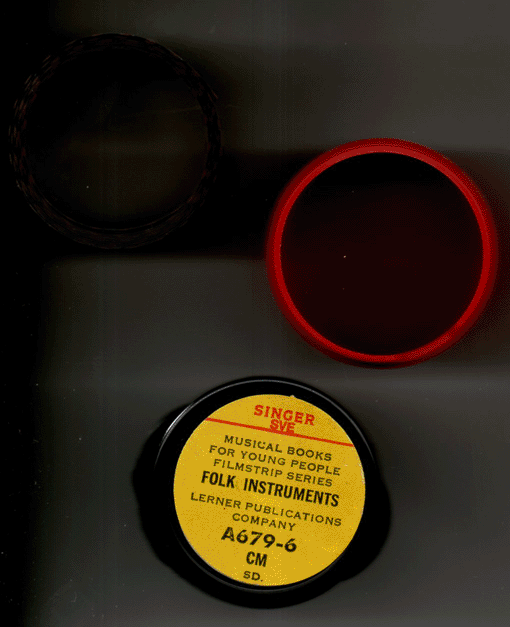 tENT plays Henry Cowell's "Vocalise" wch was composed in San Quentin where Cowell did time on a morals charge from 1936 to 1941 for gay cruising: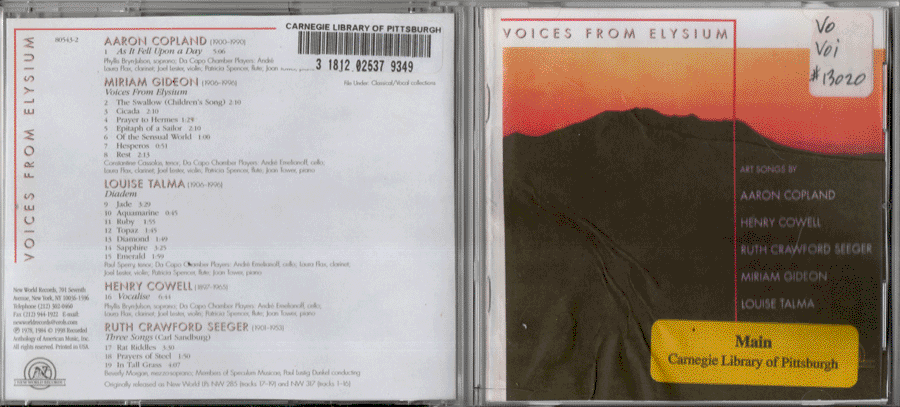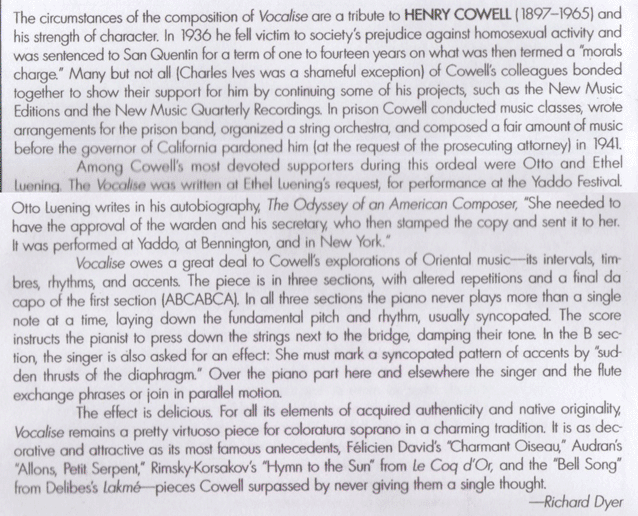 Rob plays L. L. Cool J's "Big Ole Butt"
Hyla talks about the "Hottentot Venus" who was put on display b/c of her large buttocks & large labia
tENT plays If, Bwana's "Ringing the Bell" performed by Trio Scordatura: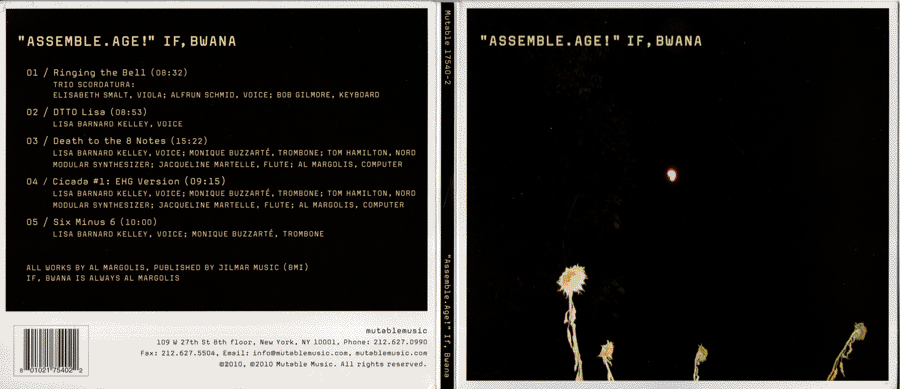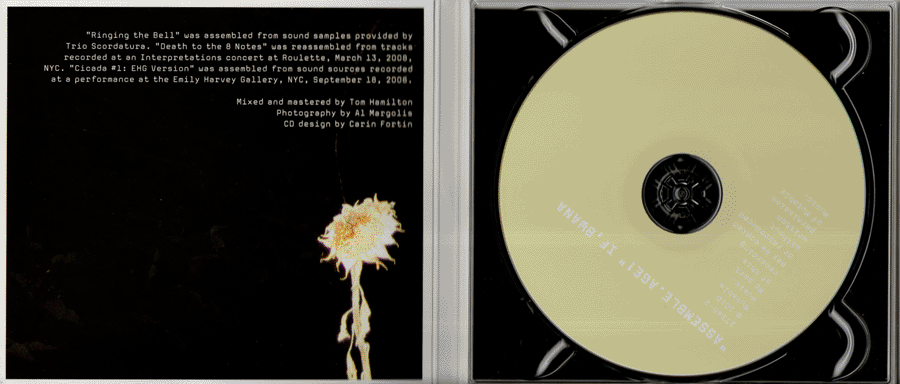 tENT plays Stromae's Racine Carrée CD that Sylvaine gave him, 1st track: "ta fete" & explains that Stromae is Maestro w/ the syllables reversed & that that's a type of language play that he uses in his songs: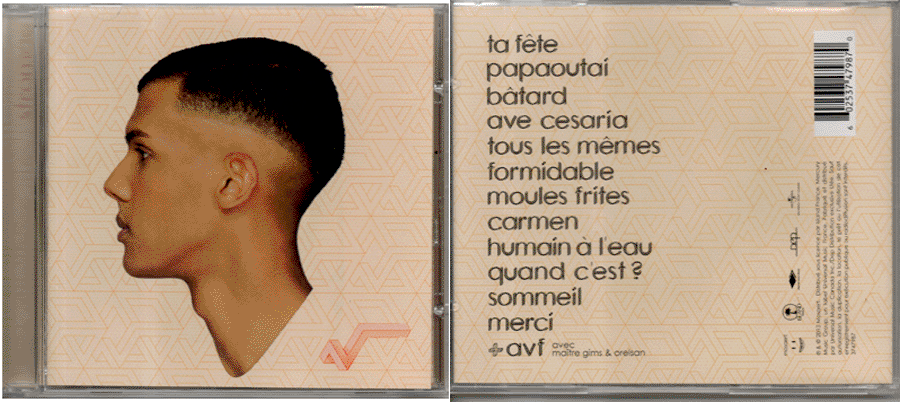 tENT plays Bear Skull's CD-R "Cosmic Truth" wch was given to him at Abandoned Store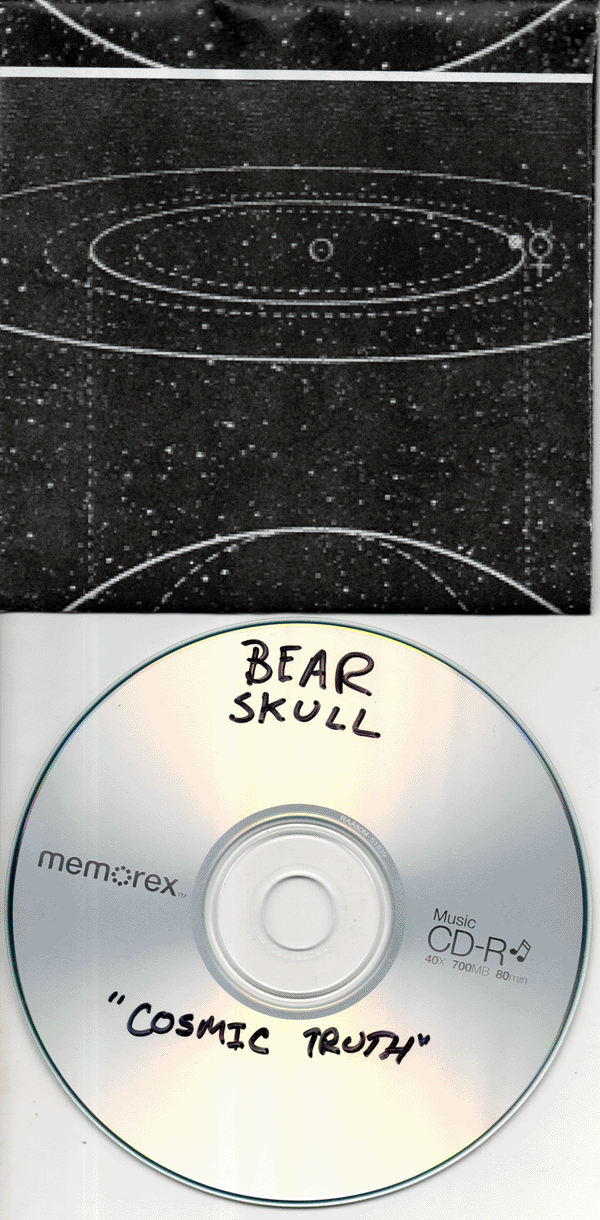 tENT plays a little of Rod Summers's "Helgisaga III", shows the Saga Mine USB drive that Rod sent him recently, & probably mentions that Rod was one of the 1st people to publish both him & Gen Ken Montgomery: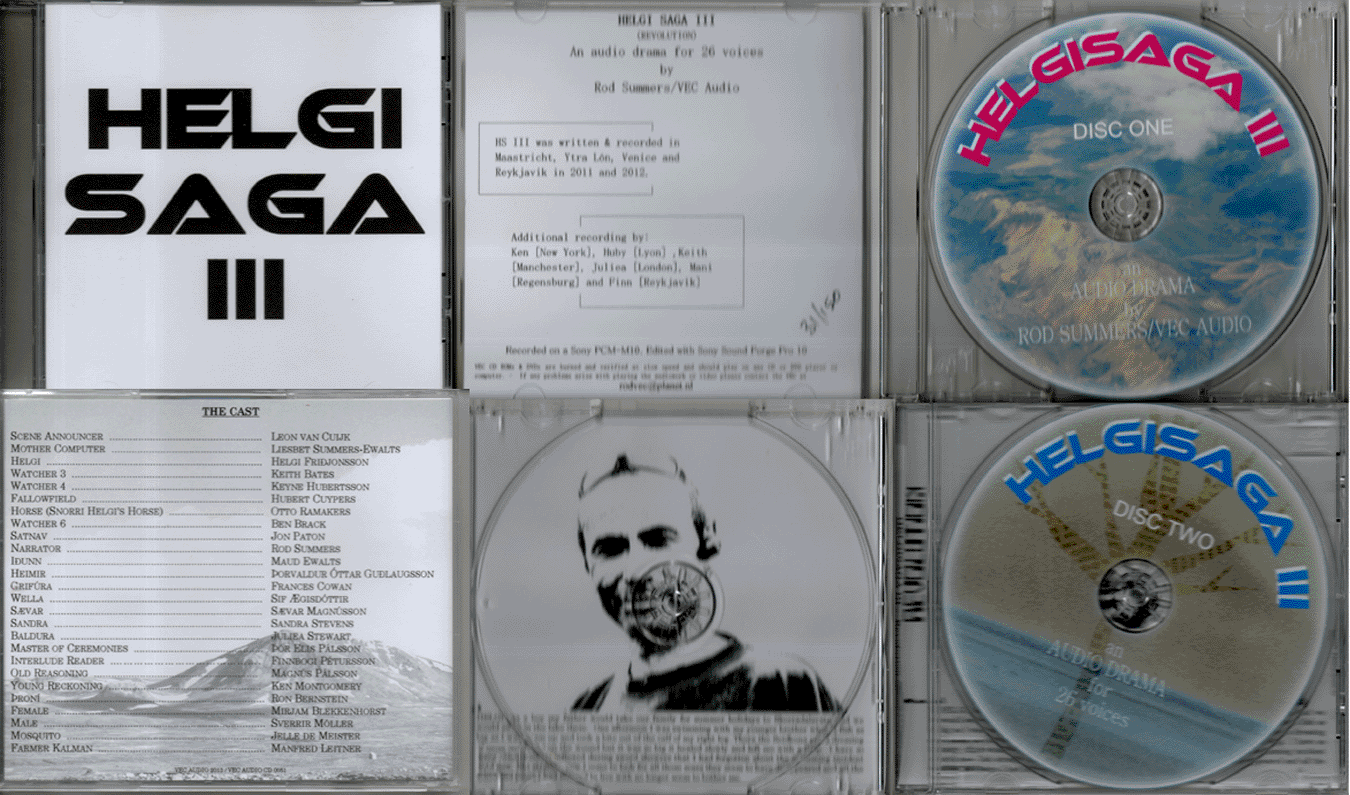 Kenny talks about the Icelandic Nol Saga
tENT talks about the Icelandic Grettir's Saga
tENT screens brief snippets from his "The 29 Mmmms" movie
Kenny talks about guy who stayed at his house who was a train-hopper w/ Asperger's who knew the names of all the capitals in the US
Rob leaves
Hyla & Kenny leave at 12:15
tENT & Liz hang out 'til after 2
to the mm index
forward to mm 47
backward to mm 45
to the tENTATIVELY, a cONVENIENCE movie-making "Press: Criticism, Interviews, Reviews" home-page
to the "tENTATIVELY, a cONVENIENCE - Sprocket Scientist" home-page
to the "FLICKER" home-page for the alternative cinematic experience
to find out more about why the S.P.C.S.M.E.F. (Society for the Prevention of Cruelty to Sea Monkeys by Experimental Filmmakers) is so important
for A Mere Outline for One Aspect of a Book on Mystery Catalysts, Guerrilla Playfare, booed usic, Mad Scientist Didactions, Acts of As-Beenism, So-Called Whatevers, Psychopathfinding, Uncerts, Air Dressing, Practicing Promotextuality, Imp Activism, etc..
for info on tENTATIVELY, a cONVENIENCE's tape/CD publishing label: WIdémoUTH
to see an underdeveloped site re the N.A.A.M.C.P. (National Association for the Advancement of Multi-Colored Peoples)