mmm060 Sunday, February 7, 2016: ORGAN
[the longer movie of this mm is here: https://youtu.be/i0hWJdRTBJY ]
[the shorter movie of this mm is here: https://vimeo.com/155908157 ]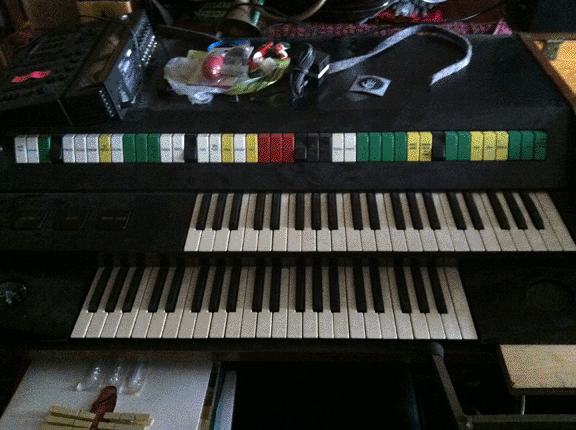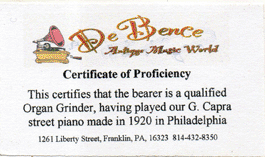 6:40 tENT waits out front drinking Church Brew Works Pipe Organ Pale Ale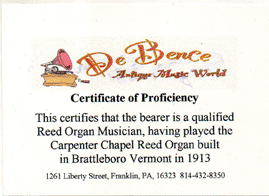 06:50 neighbor Mark joins tENT for some impromptu stooping
07:00 Ben arrives
07:15 Soren arrives
07:15 tENT, Ben, & Soren go indoors
07:20 tENT talks about a bk entitled "experimentalism otherwise"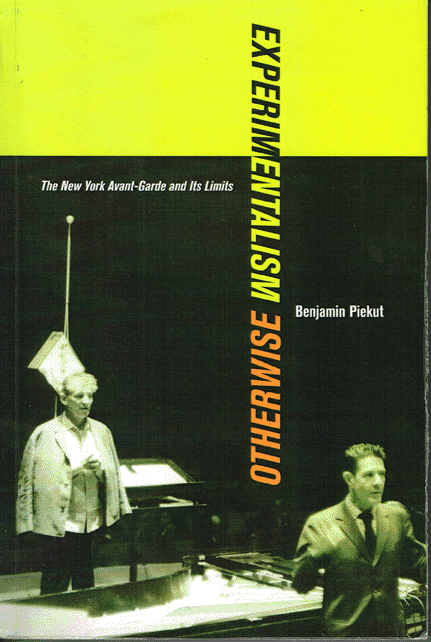 - tENT's review of this can be read here: https://www.goodreads.com/story/show/412180-experimental-ism-other-wise
07:25 Hyla arrives w/ soup for tENT & Leffe beer for all
07:30 tENT explains that he's asking tonight's mm participants to play 5 phrases or units of their choosing on his organ to be vaudeod so that he can both make a movie of mm 60 as well as incorporate the results in a bigger project he has in mind, an 'opera' or 'oratorio' & explains that future mms will have a similar procedure using other instruments in tENT's collection - the next one planned being for accordion
07:35 Ben goes 1st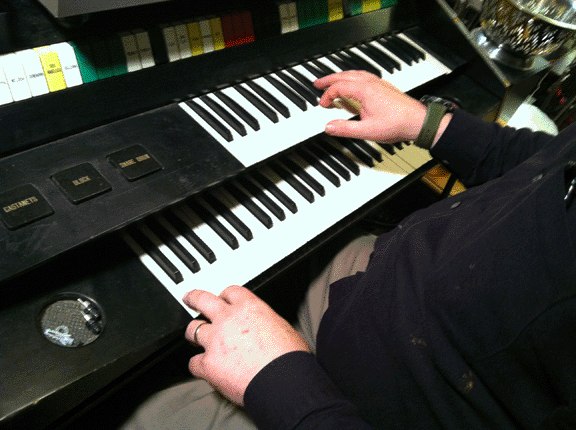 07:40 Soren goes next & uses tape to hold down keys
07:45 Hyla is next
07:50 tENT is last, alas, only 3 of his 5 phrases are vaudeoed
07:55 Ben explains Messiaen movie that he (thought he) brought of people listening to Messiaen's 1932 "Apparition de L'Eglise Éternale" organ piece & describing it w/o their knowing what it is
08:00 Hyla talks about Saul Bass, a pioneer of innovative movie titling, & mentions a movie he made called "Why Man Creates" ( https://vimeo.com/22113008 ). Ben joins in b/c he'd recently heard an NPR special on him - Bass made a movie called "Phase 4" ( https://youtu.be/Bcs3_b3VXSU )- he also made the titles for Blake Edwards' "The Pink Panther" - tENT talked about just having checked out Edwards' "S.O.B." wch he liked
[after tENT posted the link to these notes on his Amir-ul Kafirs Facebook page, Hyla provided this Saul Bass link:
"Saul Bass: Famous title sequences from Preminger to Scorsese": https://youtu.be/qqM3McG4-LE
08:09 Ben discovers that he brought the wrong Messiaen DVD but the wrong one begins w/ Messiaen playing improvisations on a giant church organ so it still fit the theme
08:15 Ben talks about the simplicity of Musical Heritage Society record covers
08:16 tENT shows the 1st Poseidon label record cover, # 1001, b/c of its even more extreme minimalism - in this case a sticker on a white cover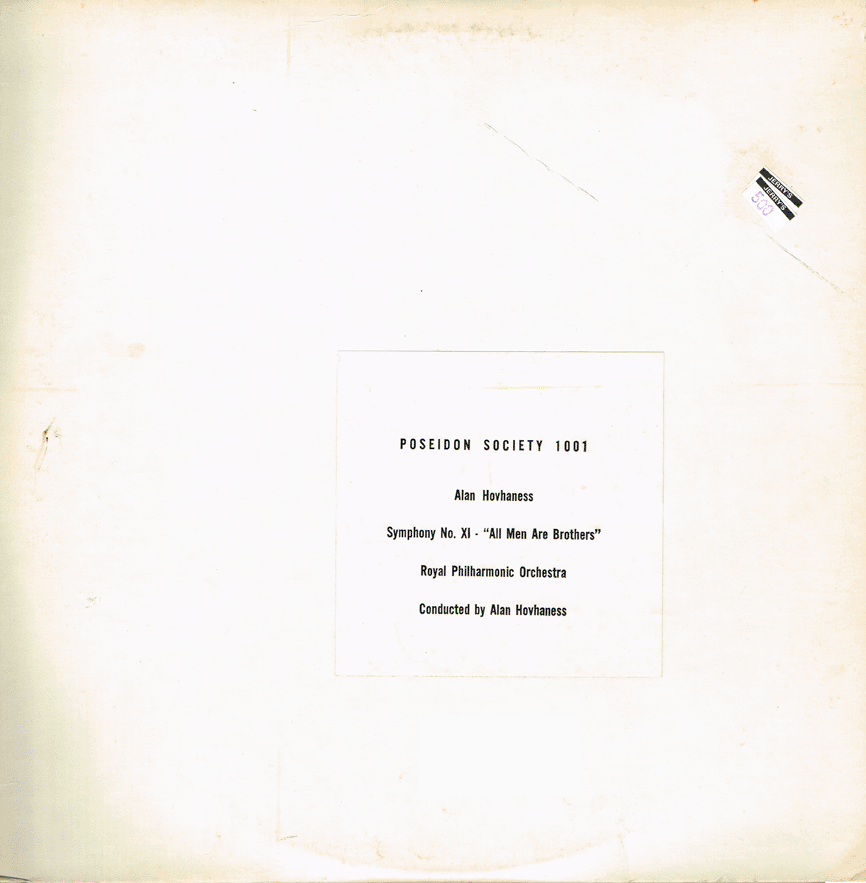 08:17 tENT presents Brian & Ted Dewan's "King of Instruments" filmstrip on VHS wch he publishes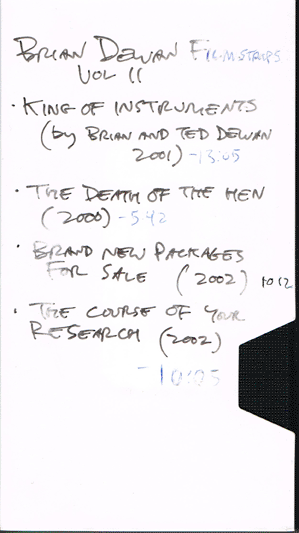 08:30 Hyla plays an evangelist faith healer named "Pastor that Lives Faith" whose act has an organ in it - he says things like "touch my body" in it
08:41 Ben moves onto a different type of hands-on healing w/ "The Rudy Ray Moore Zodiac Album"
08:50 We go off on a tangent about CAPA Antihesis, wch Ben founded or cofounded, the highschool for the arts' contemporary music ensemble wch led to talk about Anthony Braxton, who Ben had brought to CAPA & where Antithesis played Braxton's work - this leads to Ben talking about Braxton's piece for 5 planets & we look at the title for that one wch is in the Braxton piece for 4 orchestras box set bklt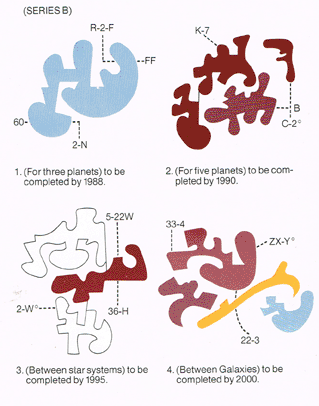 - tENT mentions a piece he conceived of in 1978 or earlier for playing a replica of the NY, NY Woolworths bldg to encircle the Earth & to be played w/ explosives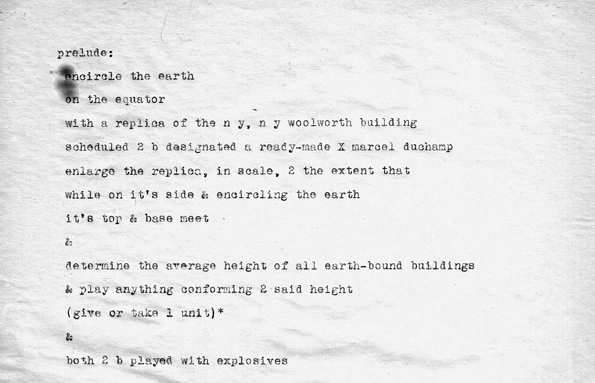 09:04 Soren plays "O Lupercalia!" from Soren's group "Soldiers & Sailors"'s CD-R entitled "The Tower, Inverted" - it has a Magnus chord organ on it - Soren gives tENT the CD-R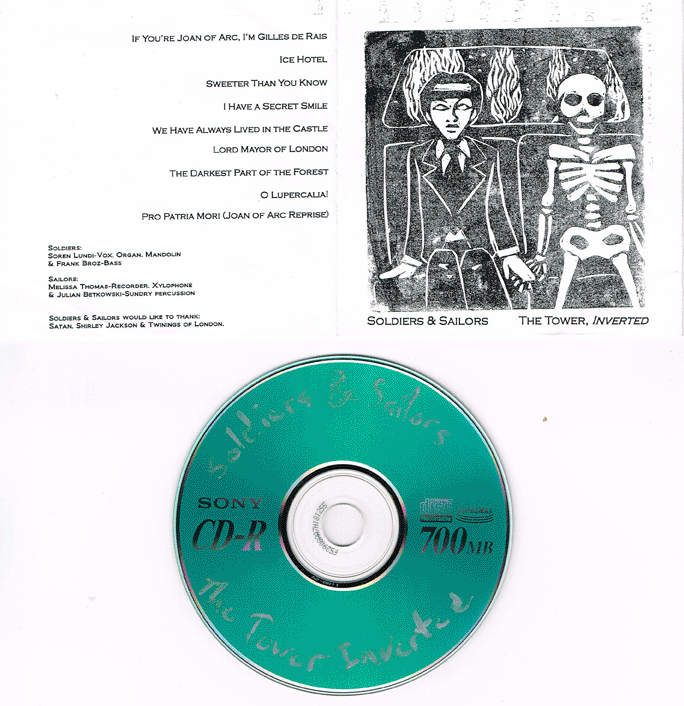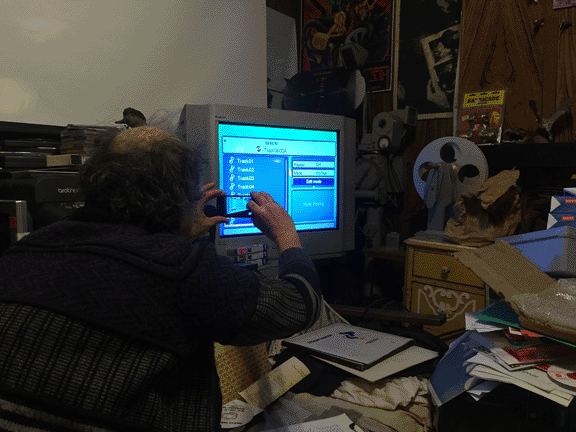 09:12 tENT gives Soren an extra copy of "The Manifestos of Surrealism"
09:15 tENT gives Ben a DVD-R copy of his movie that Ben's in: "mmm056: Invecticon!" wch can be checked out on tENT's onesownthoughts YouTube channel here: http://youtu.be/WP4epHOpha4
09:20 Ben talks about Conglomerate Records tapes he'd recently acquired - see the minutes to mm 55 for more Conglomerate Records info & the movie here: http://youtu.be/uFleYGfWMrs - one of these tapes being "White Noise for Kasimir Malevich" that had been opened up & had its tape sprayed white - tENT later sent tENT the following 3 images by email, 1 of a rust tape & other 2 of the white tape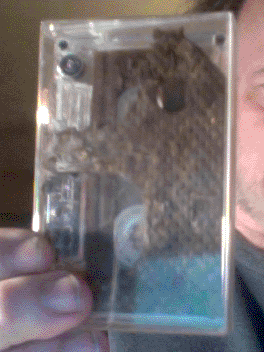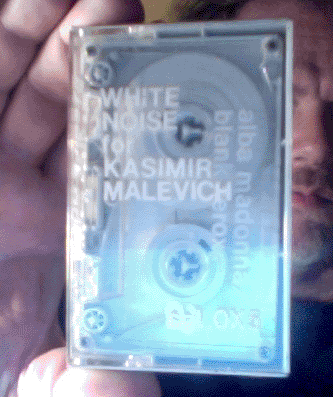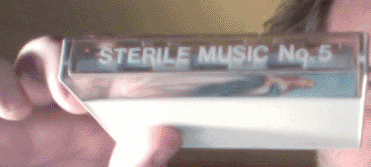 09:22 tENT shows his relevant "Cheese-On-Cheese" sandwich board paintings done under the name of Tim Ore
09:25 tENT plays E. Power Biggs's "The Organ in America" record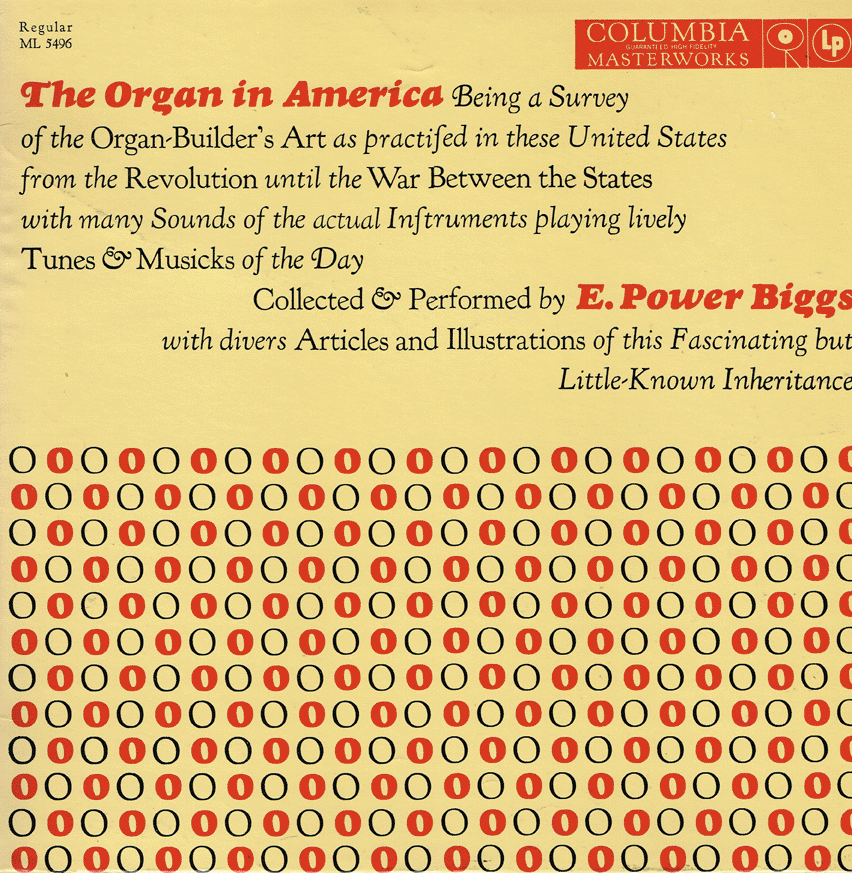 09:34 tENT plays excerpts from Mauricio Kagel's movie of his composition entitled "Hallelujah" wch can be witnessed on UbuWeb here: http://www.ubu.com/film/kagel_hallelujah.html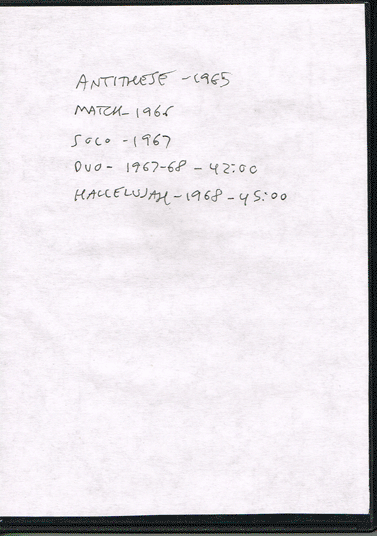 09:48 Ben plays 10" record of Gagaku w/ Sho (mouth organ)
09:55 Hyla plays YouTube of a Gagaku performance
10:00 Hyla, Soren, & Ben leave
A GOOD TIME WAS HAD BY ALL!
to the mm index
forward to mm 61
backward to mm 59
to the tENTATIVELY, a cONVENIENCE movie-making "Press: Criticism, Interviews, Reviews" home-page
to the "tENTATIVELY, a cONVENIENCE - Sprocket Scientist" home-page
to the "FLICKER" home-page for the alternative cinematic experience
to find out more about why the S.P.C.S.M.E.F. (Society for the Prevention of Cruelty to Sea Monkeys by Experimental Filmmakers) is so important
for A Mere Outline for One Aspect of a Book on Mystery Catalysts, Guerrilla Playfare, booed usic, Mad Scientist Didactions, Acts of As-Beenism, So-Called Whatevers, Psychopathfinding, Uncerts, Air Dressing, Practicing Promotextuality, Imp Activism, etc..
for info on tENTATIVELY, a cONVENIENCE's tape/CD publishing label: WIdémoUTH
to see an underdeveloped site re the N.A.A.M.C.P. (National Association for the Advancement of Multi-Colored Peoples)