2005-2015: Julie Gonzalez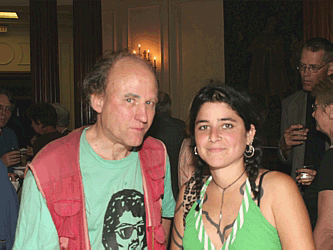 tENT & Julie at the Frick Fine Arts Museum for an opening of a drawing show that tENT helped install
I 1st met Julie Gonzalez almost immediately after she moved to Pittsburgh in January, 2005, when she joined a group of us in an anti-war protest at the football stadium:
"Steelers Fans Against the War"
( https://youtu.be/82EhacEns5l )
Julie was one of the hearty few to brave the temperature & the not-necessarily friendly other fans. As I wrote in my YouTube notes re this movie:
"In Pittsburgh, even the punk protesters are Steelers fans! On an incredibly cold day in January, 2005, a group of us decided to protest the US war against Iraq at the playoffs at the football stadium. Many of the, mostly very drunk, other Steelers fans weren't very friendly toward anti-war sentiments. Much to my personal relief, a few DID flash us peace signs. The protester marching band did manage to appease the more pro-war crowd by playing "Here we go, Steelers, Here we go!" from time to time. I'm particularly fond of the "War is Terrible" Towels (the "Terrible Towel" being a Steelers icon), the speech framing the War in Iraq as a football game where fouls are being committed, & the discomfiture of the 'newscasters' who want the background sound of the protest blocked out so it doesn't interfere w/ their plastic-haircut 'mentality' blah-blah."
Both of us being BalTimOre expatriates & anarchists we quickly became friends. Julie's a photographer & I love being photographed. I had gotten my "Paradigm Shift Knuckle Sandwich" tattoo (see idioideo.pleintekst.nl/Tattoos8.2004Knuckles.html ) the year before & working with relevant imagery was still fresh for me. SO, Julie & I went for a walk & took some photos on & around some train tracks: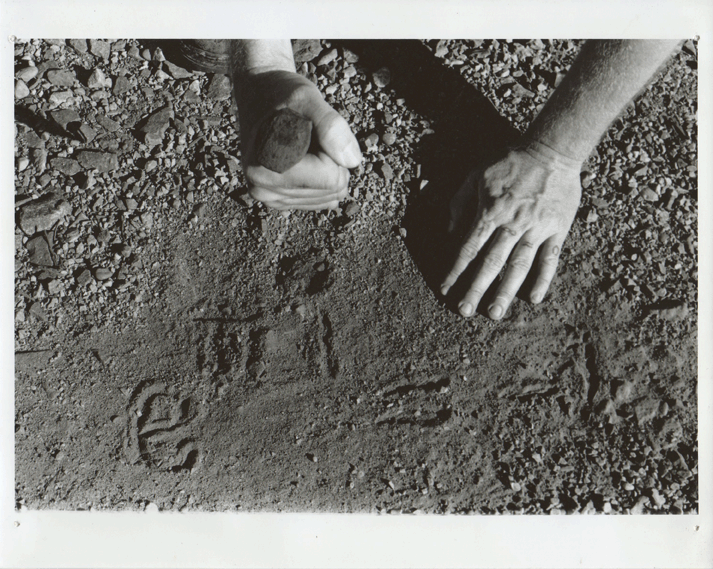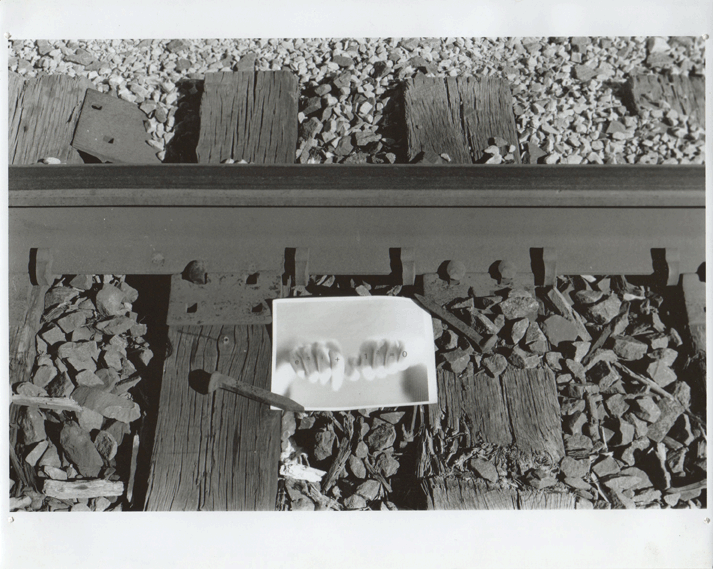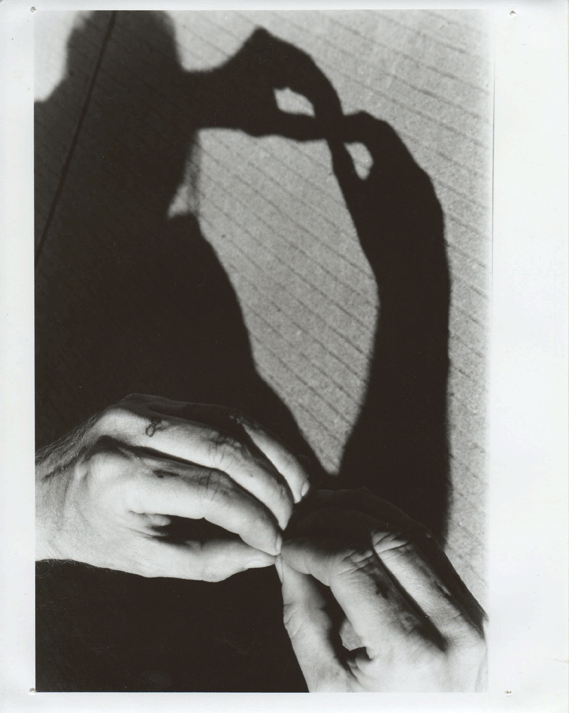 I quickly recruited Julie into being my 'barber', a task not as simple as it may sound given my preference for unusual haircuts & my thinning hair. I even have a website for displaying images of some of the more imaginative haircuts I've had: idioideo.pleintekst.nl/Haircuts.html . Julie cut my hair into the "does not belong to" symbol & I quasi-documented the process & its rationale in a movie called "Haircut Paradox" ( http://youtu.be/pXMl1ZbMm9I ). Here're the onesownthoughts YouTube channel notes for that:
"As a child, I'd been a very good mathematician & a good artist. Then, around age 9 or 10, I decided that being a mathematician probably wouldn't be very much fun & that being an artist probably would be so I decided to pursue being an artist instead. I thought that the social life of a mathematician would be lousy in contrast. I was still a good enough mathematician as a teenager to be able to quickly do large calculations in my head. When I learned about set theory & imaginary numbers I was particularly excited - but it wasn't until much later in life that I realized how significant my enthusiasm in these areas was. Decades lapsed as I dedicated my life to other things. Then, around 2003, perhaps at age 49, I decided to read a pop math book to see whether I could still get anything out of it. I found it fascinating & found that I still had some feeble abilities in this area. Over the next 5 years I read 9 more layperson math books & started making work that was inspired by them & by other researches. Hence "Haircut Paradox" was made in the fall of 2005. I make no claim that it's 'important' as math in any form ('pure' or applied, etc) or that it's even logical but it was at least fun for me personally. During the 5 years of these readings I'd been taking notes. In the beginning of 2008 I decided to write a math book. I had no intention of writing one that any mathematician would take seriously, I wanted to write a more 'pataphysical math humor book, a math book that only I could or would write. I thought it might be 160pp, if I could write it at all. It came out at 409pp. I had 2 friends create marginalia especially for it as a typical (for me) perverse formalist touch. I gave technical specifications to the 2 marginaliaists to enable me to easily assemble the book. Both of them ignored them, one of them dramatically so. Both of them took longer to make the marginalia than it took me to write the book. When I got the marginalia & saw how difficult it would be to integrate it into the design because of my friends' disregard of my instructions, I became severely discouraged. Nonetheless, I eventually tackled the job of scanning, resizing, & replacing everything they'd done. Again, it took me longer than it'd taken to write the book. After it was done, I was discouraged: ALL THIS WORK & WHO WOULD EVER PUBLISH SUCH A THING?! At one point, a magazine expressed interest in publishing a small excerpt. That fell through when the excerpt became too small to be acceptable to me. SO, 5 years later, the book has only been read by maybe 4 people MAX. Will I ever publish it? I hope so. It's possibly the best thing I've ever written. It also heavily quotes from math books whose authors & publishers might not want to be associated with such an outlaw text - even though I give all due credit & disclaimers. Its name is "Paradigm Shift Knuckle Sandwich & Other Examples of P.N.T. (Perverse Number Theory)". Interested publishers are encouraged to write to me."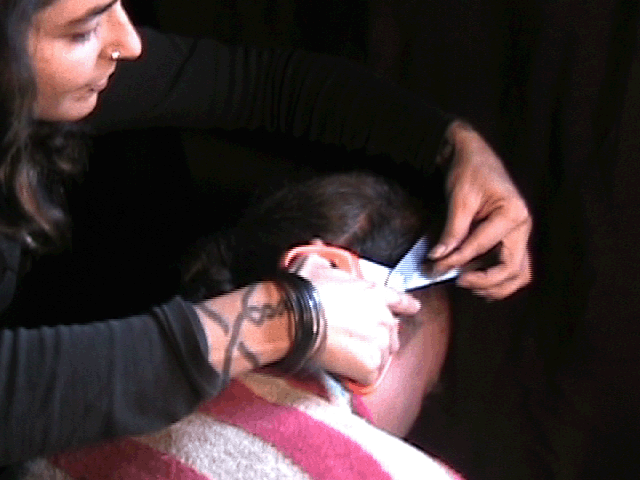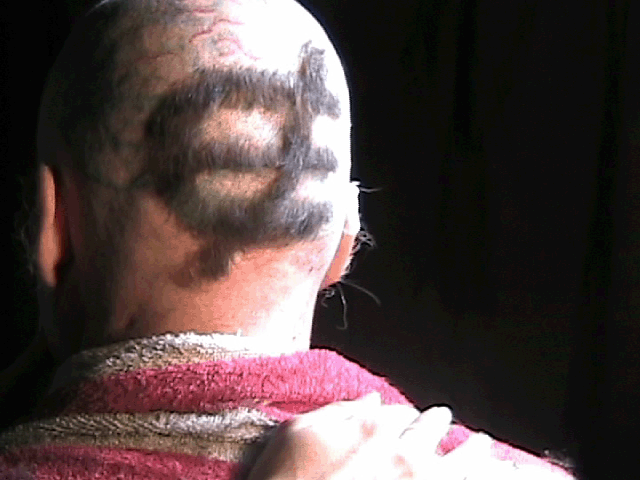 Thanks to Julie, I met her oldest friend Suzy another BalTimOre expatriate who moved to Pittsburgh shortly after Julie did.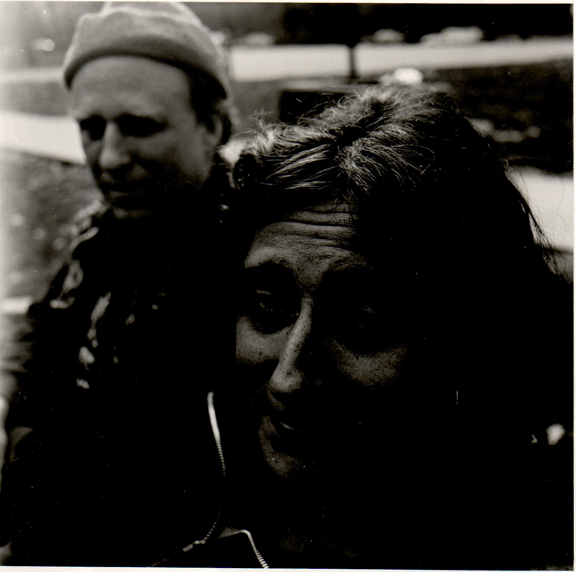 tENT & Suzy
The 1st few years that Julie & I knew each other was the time when we could do the most together & the time when I did the most modeling for her: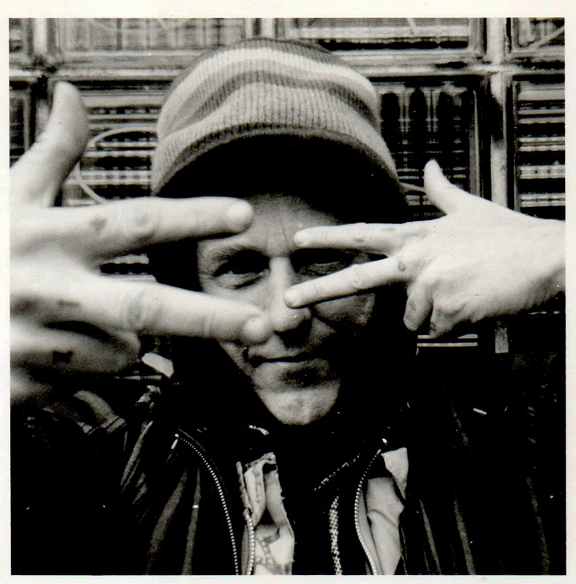 tENT getting photographed using a perspective distortion hand gesture that he's been using since the 1970s.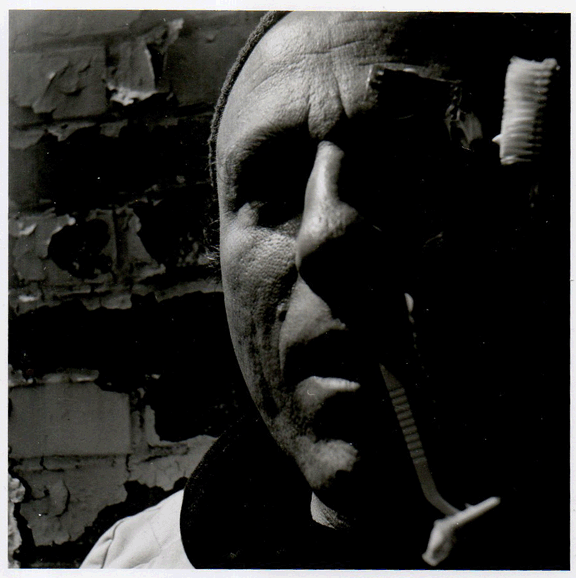 Fun with bathroom sink objects
As 2005 turned into 2006, I was still a party animal at age 52. Even in this age of cell phone cameras how many people have documentation of their lives to look back on?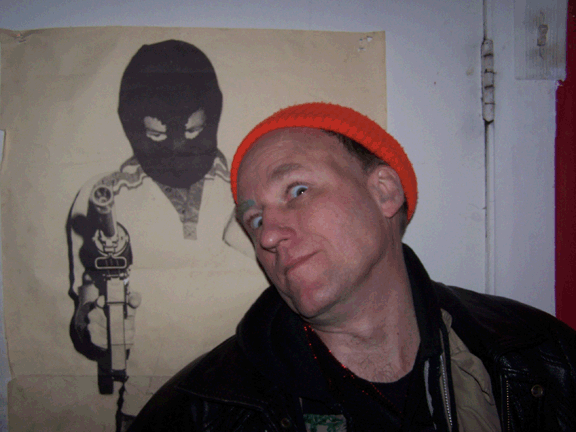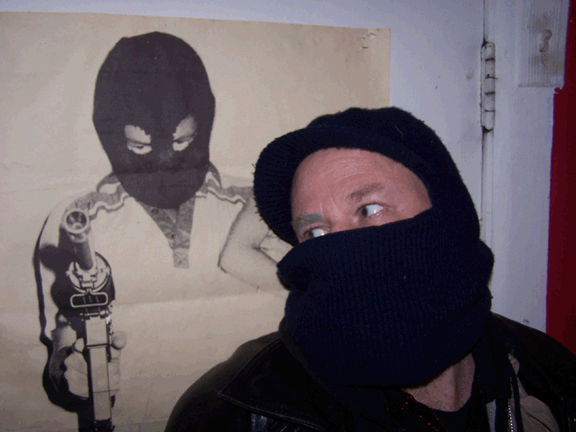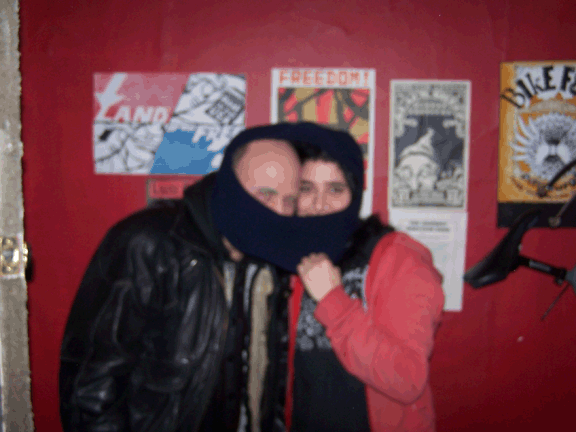 Ok, Julie didn't take this photo (it's out-of-focus) but it's a picture of the 2 of us - 1 size fits all!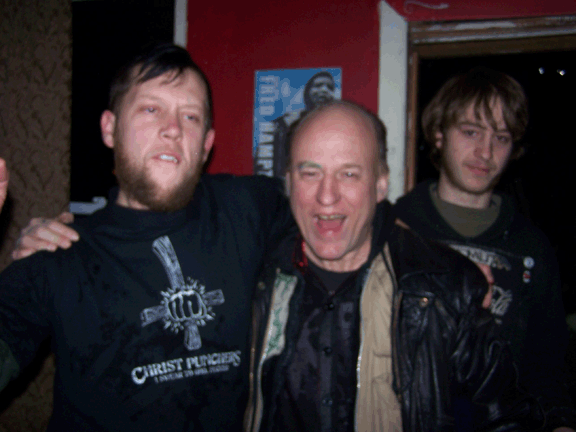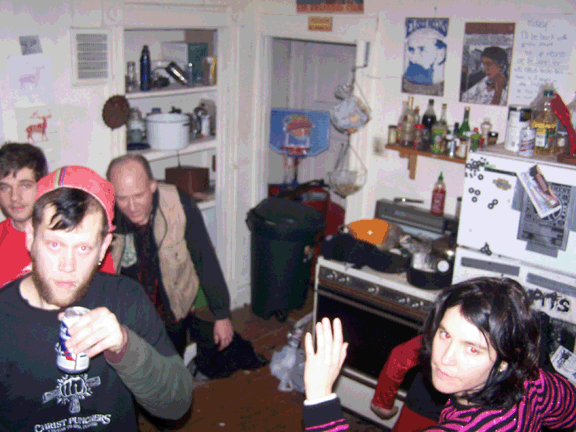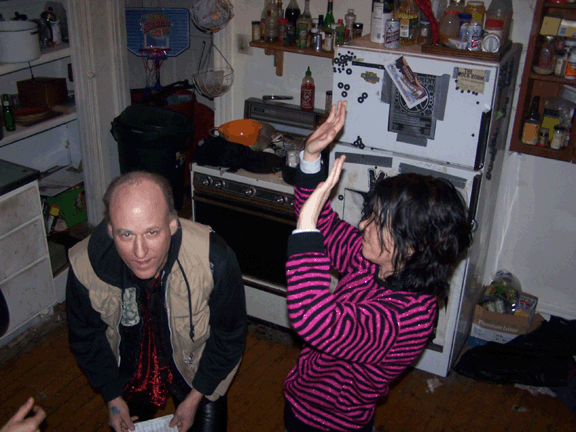 In the beginning of 2006 I'd been living in a small cheap rental house for 10 years. It'd gotten so crowded that I had to innovate to make space. Just about the only space available left was the space above the staircase leading to the 2nd floor. I rigged a clothesline that I hung my clothes on that could be raised & lowered so that it could be out of my way when I needed to use the stairs & accessible when I wanted to pick new clothes to wear. In some ways this photo exemplifies the type of adaptability I've had to live by all my adult life. Necessity is the Mother of Invention.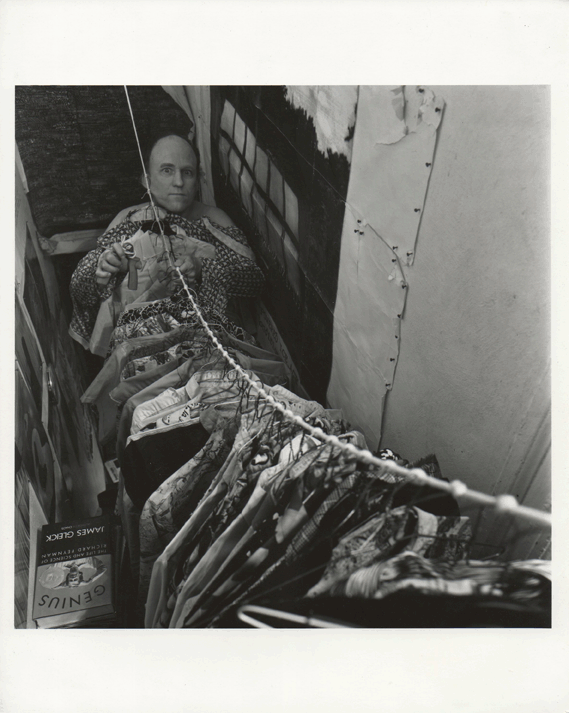 Julie probably wanted to take a portrait of me & I wanted to, as usual, take full advantage of my wardrobe possibilities. I call this one "POtENTate":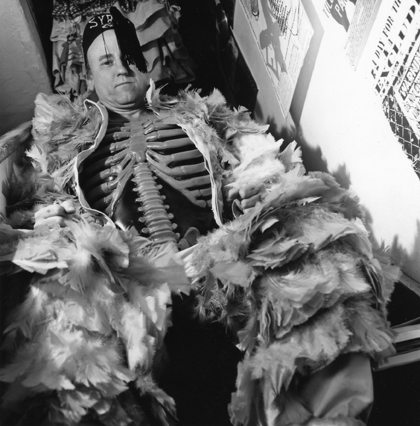 In early 2006, I met Julie's Sicilian friend Valentina who she knew from living in London. We had an instant warmth for each other. These photos taken on a graveyard walk show the affection admirably: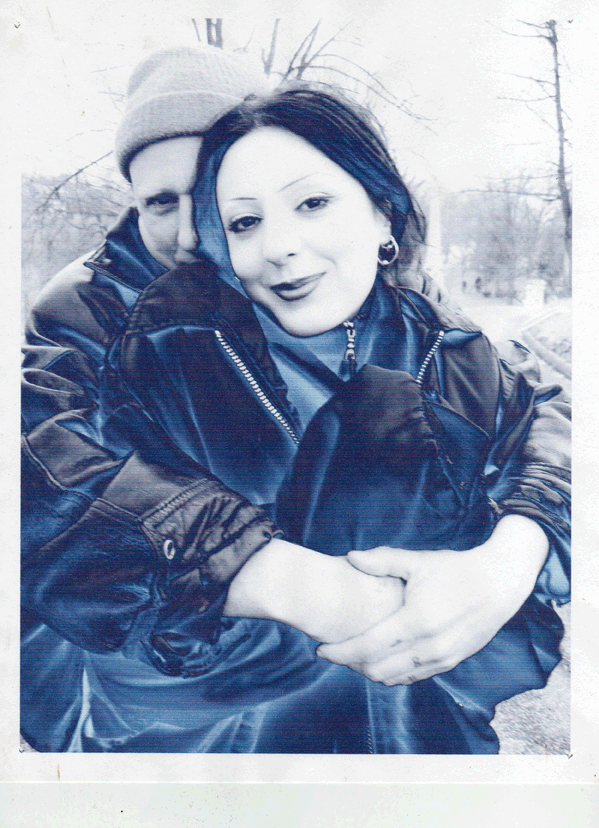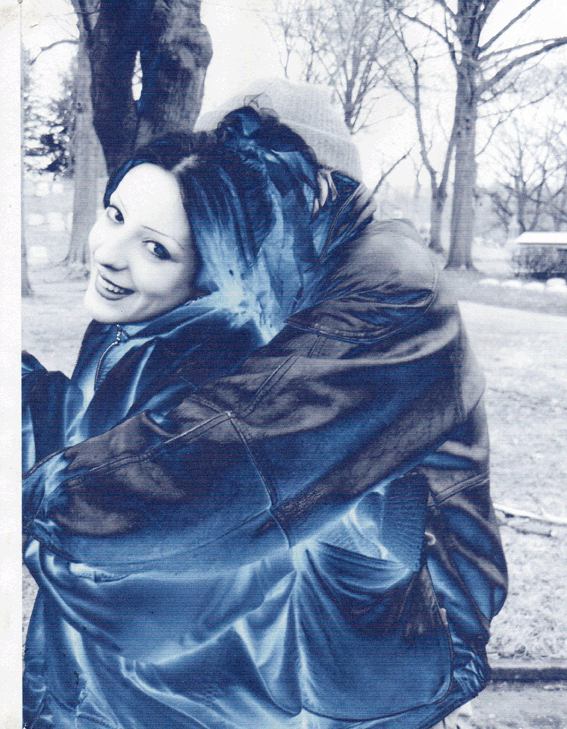 It's 2007 & there's nothing quite like mocking one's own despair (using a boa that Julie gave me as a prop):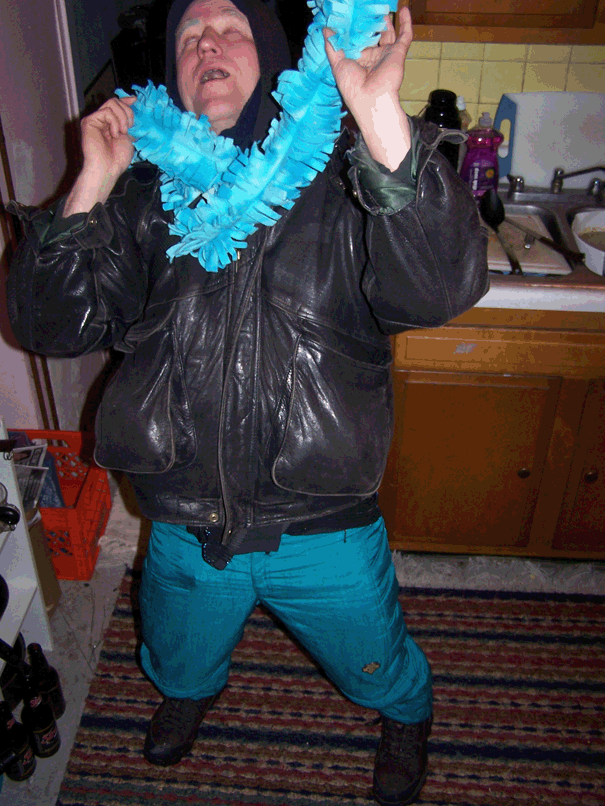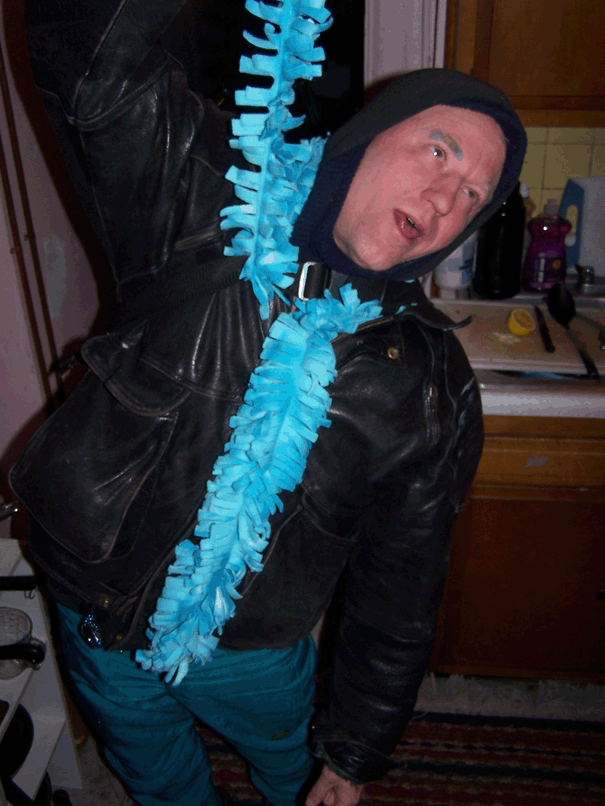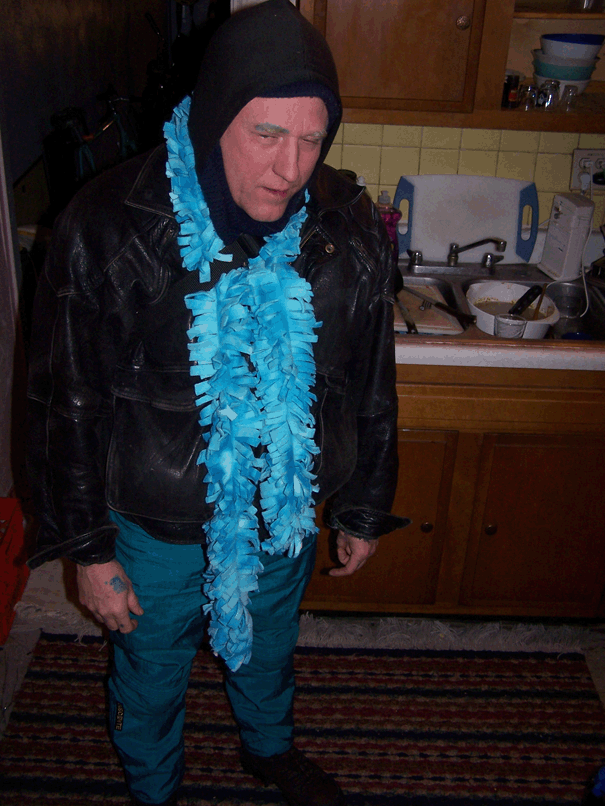 Just about everytime I thought of a new haircut I turned to Julie for her able assistance. This next one is Blissymbolics for "open" - in this case coupled with my 3D brain tattoo to mean "open mind":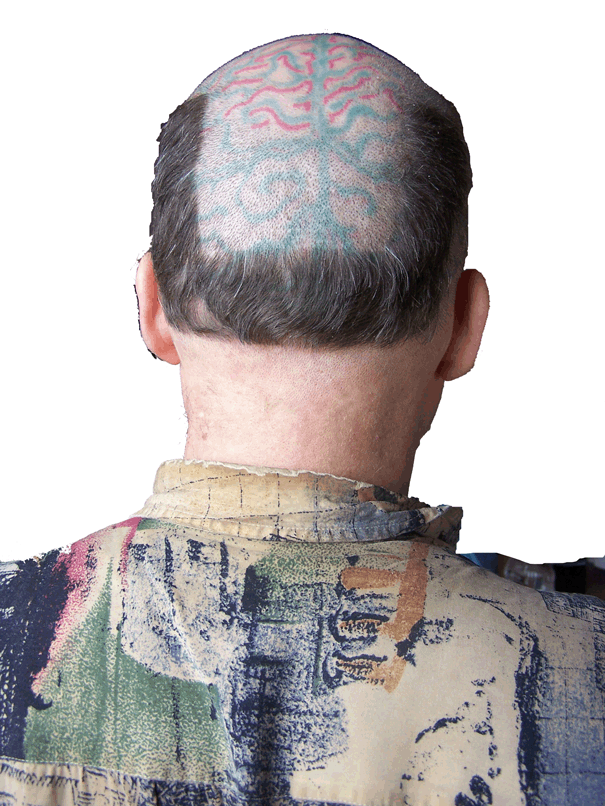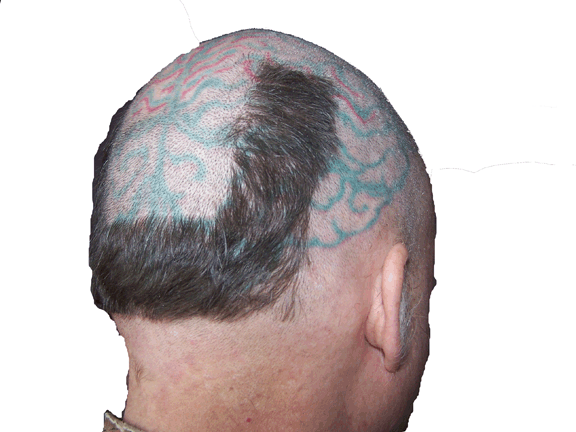 After 2007, Julie's life got a lot more busy & collaborating became much harder. In 2010, I thought of an "Exploded View Human Time Bomb" tattoo I was considering getting & asked Julie & another friend to help me do studies for it. I never got the tattoo - largely because tattoos don't interest me very much anymore. Still, the standing view is now on 'permanent' display in my local coffee shop along with many other photos of people in the neighborhood. That in itself is somewhat funny because people find the image to be so 'dark'. What they don't realize is that the dynamite + clock image is of a novelty radio alarm clock.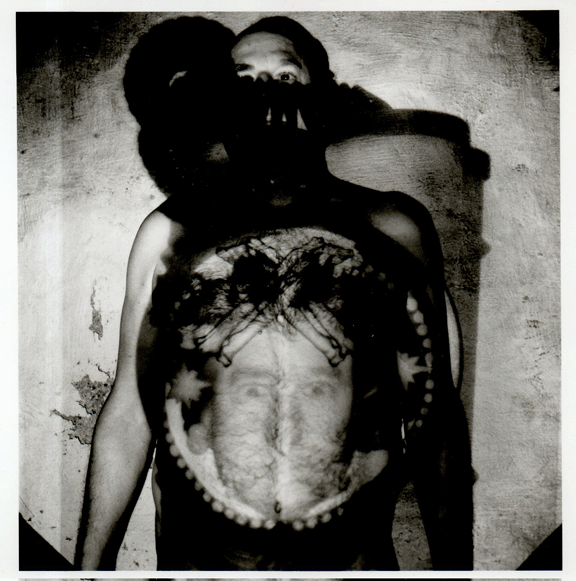 Another 5 years has passed & it's 2015. I find this image of me flashing the peace sign a charming indicator that even a hardened cynic like myself wishes there were more peace in the world. We should be so lucky!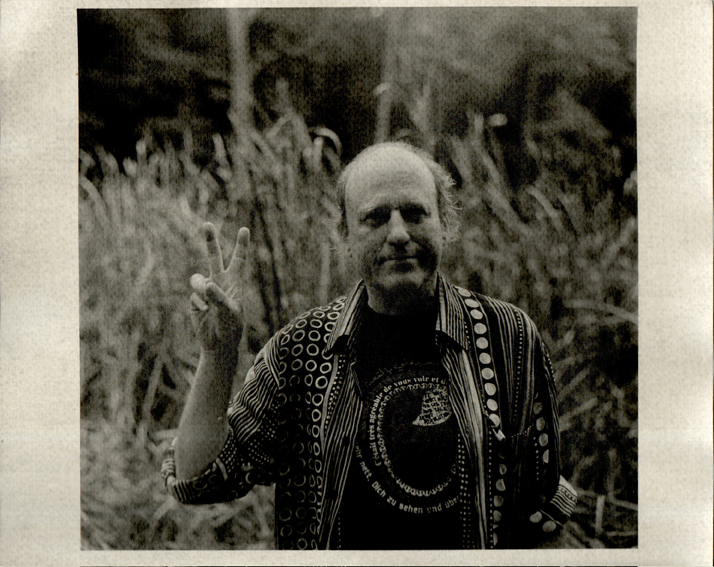 Thank you Julie for being such a good friend! May your photographs of your community live on!
idioideo at verizon dot net
to the tENTATIVELY, a cONVENIENCE Anti-Neoism page
to the tENTATIVELY, a cONVENIENCE Audiography page
to the tENTATIVELY, a cONVENIENCE Bibliography page
to my "Blaster" Al Ackerman index
to the tENTATIVELY, a cONVENIENCE BYOC page
to the tENTATIVELY, a cONVENIENCE Censored or Rejected page
to the tENTATIVELY, a cONVENIENCE (d) compositions page
to Amir-ul Kafirs' Facebook page
to the "FLICKER" home-page for the alternative cinematic experience
to tENTATIVELY, a cONVENIENCE's GoodReads profile
to the tENTATIVELY, a cONVENIENCE Haircuts page
to the tENTATIVELY, a cONVENIENCE Home Tapers page
to the tENTATIVELY, a cONVENIENCE index page
to a listing of tENTATIVELY, a cONVENIENCE's manifestations on the Internet Archive
to the tENTATIVELY, a cONVENIENCE as Interviewee index
to the tENTATIVELY, a cONVENIENCE as Interviewer index
to tENTATIVELY, a cONVENIENCE'S Linked-In profile
for A Mere Outline for One Aspect of a Book on Mystery Catalysts, Guerrilla Playfare, booed usic, Mad Scientist Didactions, Acts of As-Beenism, So-Called Whatevers, Psychopathfinding, Uncerts, Air Dressing, Practicing Promotextuality, Imp Activism, etc..
to the mm index
to see an underdeveloped site re the N.A.A.M.C.P. (National Association for the Advancement of Multi-Colored Peoples)
to tENTATIVELY, a cONVENIENCE's Neoism page
to the DEFINITIVE Neoism/Anti-Neoism website
to the Philosopher's Union website
to the tENTATIVELY, a cONVENIENCE movie-making "Press: Criticism, Interviews, Reviews" home-page
to tENTATIVELY, a cONVENIENCE's Score Movies
to SMILEs
to find out more about why the S.P.C.S.M.E.F. (Society for the Prevention of Cruelty to Sea Monkeys by Experimental Filmmakers) is so important
to the "tENTATIVELY, a cONVENIENCE - Sprocket Scientist" home-page
to Psychic Weed's Twitter page
to tENTATIVELY, a cONVENIENCE's Vimeo index
to Vine movies relevant to tENTATIVELY, a cONVENIENCE made by Ryan Broughman
to tENTATIVELY, a cONVENIENCE's presence in the Visual Music Village
for info on tENTATIVELY, a cONVENIENCE's tape/CD publishing label: WIdémoUTH
to a very small selection of tENTATIVELY, a cONVENIENCE's Writing