1991. How to Write a Resumé - Volume II: Making a Good First Impression (2nd edition)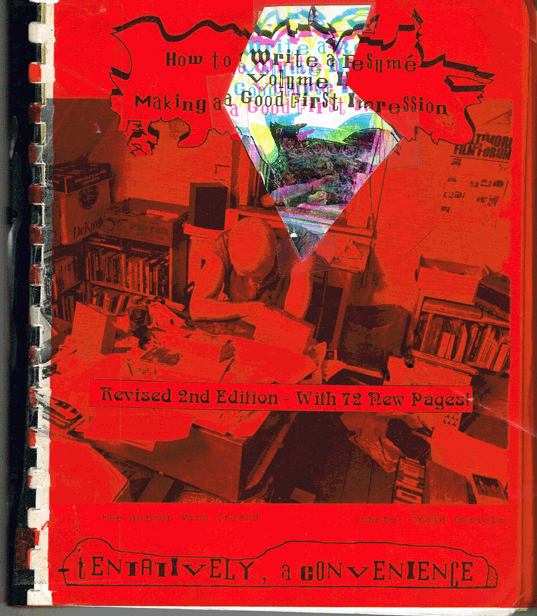 "How to Write a Resumé - Volume II: Making a Good First Impression" is the closest thing to an autobiography that I've written & is probably my most 'popular' book. The 1st edition was published by Tom DiVenti's Apathy Press (THANKS TOM!) which was named ironically given that Apathy was far from apathetic.
The title of the book was similarly humorously misleading. There was no Volume I for this to be the follow-up to & one might think that the subject of "Making a Good First Impression" would've been in the 1st volume (if there'd been one). This 1st edition was only 118 copies. Tom might've been working for Kinko's at the time &, if he was, he would've gotten a discount printing rate.
I published this 2nd edition 2 years later with 72 more pages in an edition of 200. I was either working for Kinko's at the time or still had connections there so I, too, got a discounted rate since I did all the work myself.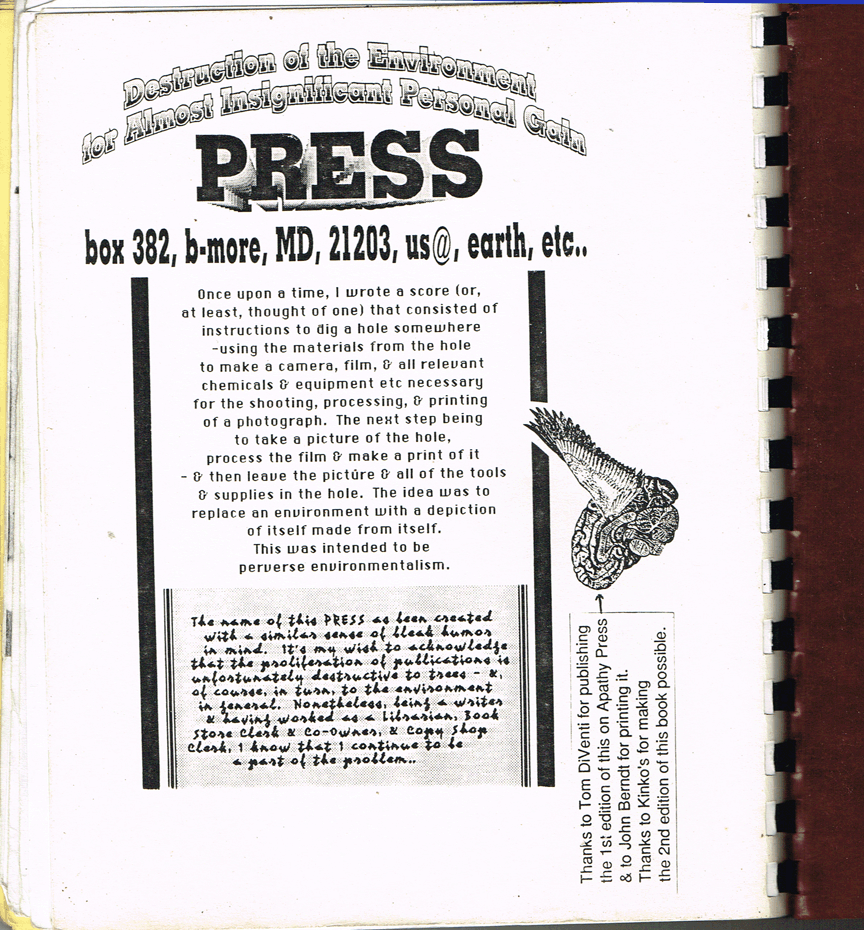 This time, the name of my press was "Destruction of the Environment for Almost Insignificant Personal Gain Press", a press name I'm still very fond of although I only published 2 things under its umbrella.
By adding 72 pages, I more than added half-again the size of the book. Below is the new Table of Contents. Compare that to the 1st edition ToC that follows.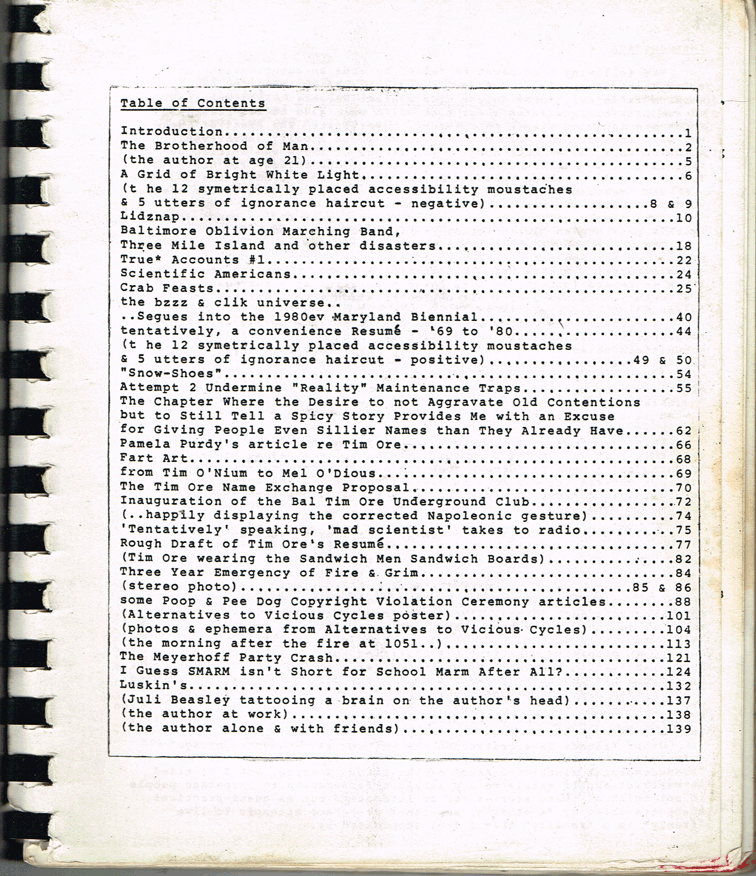 Much of the new material was under the heading of "Impractical Seriousness", a pretty obvious joke off of "Practical Jokes". Below is the last of those stories: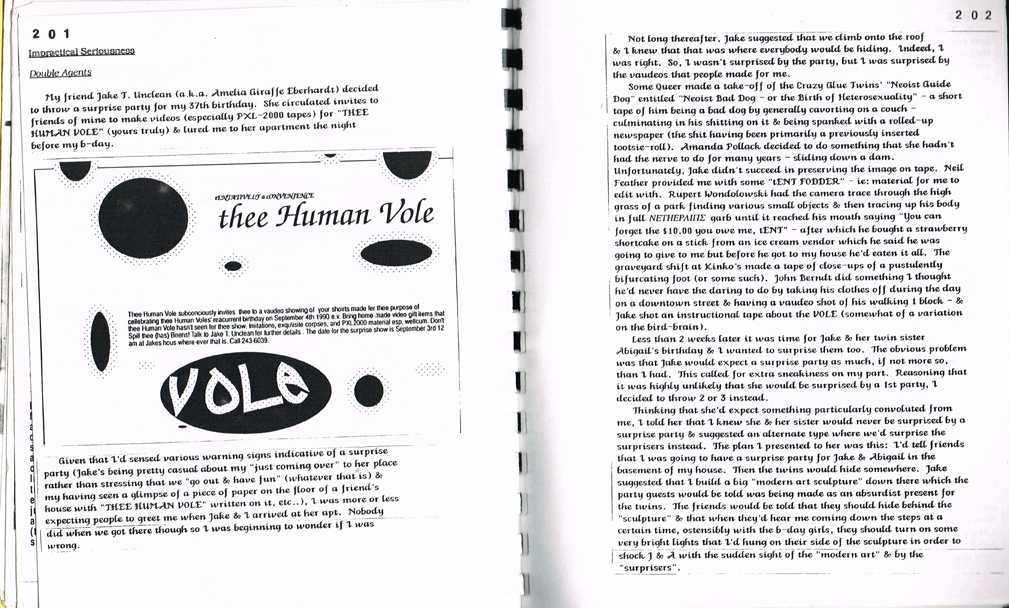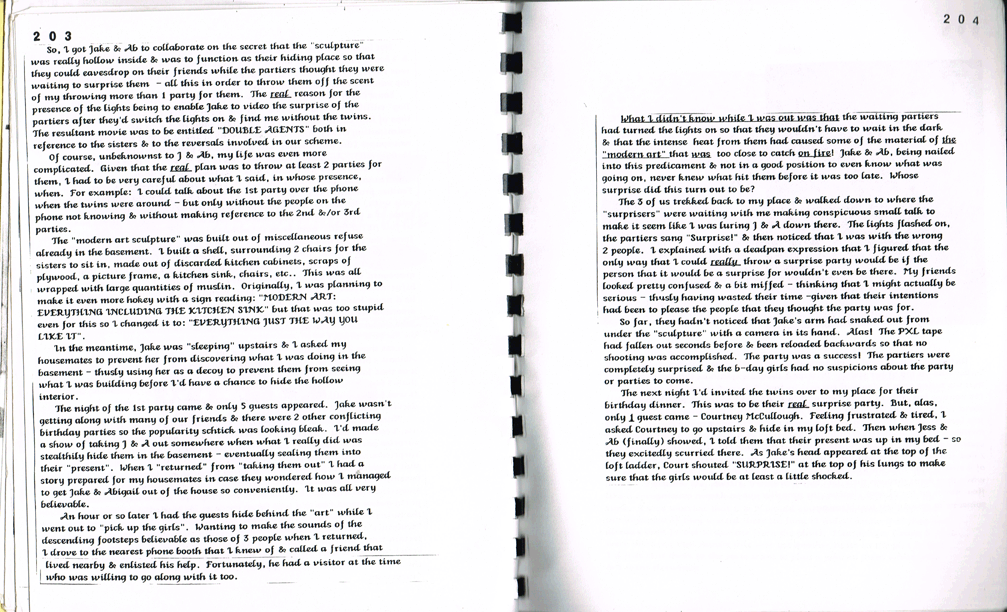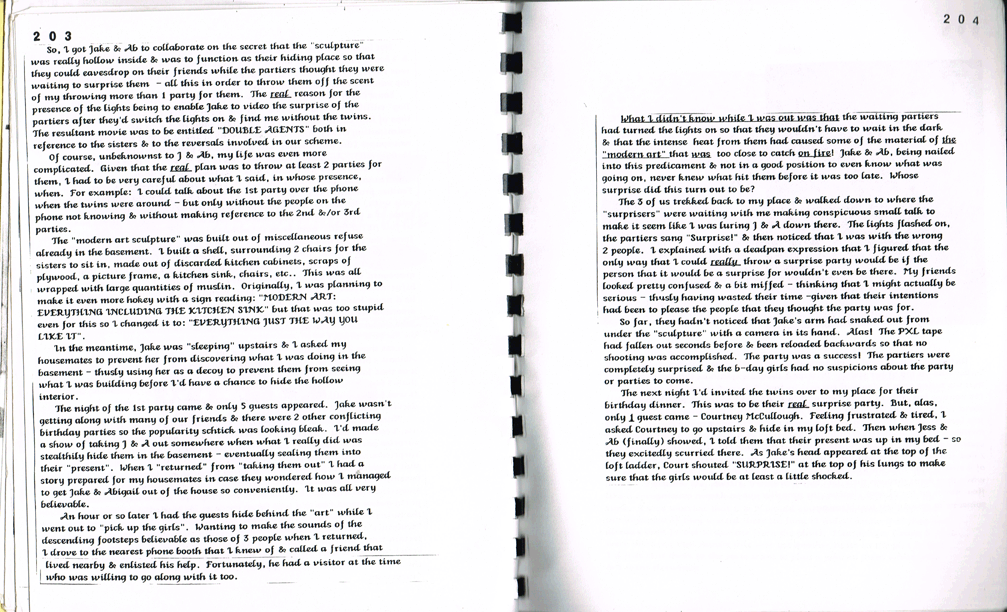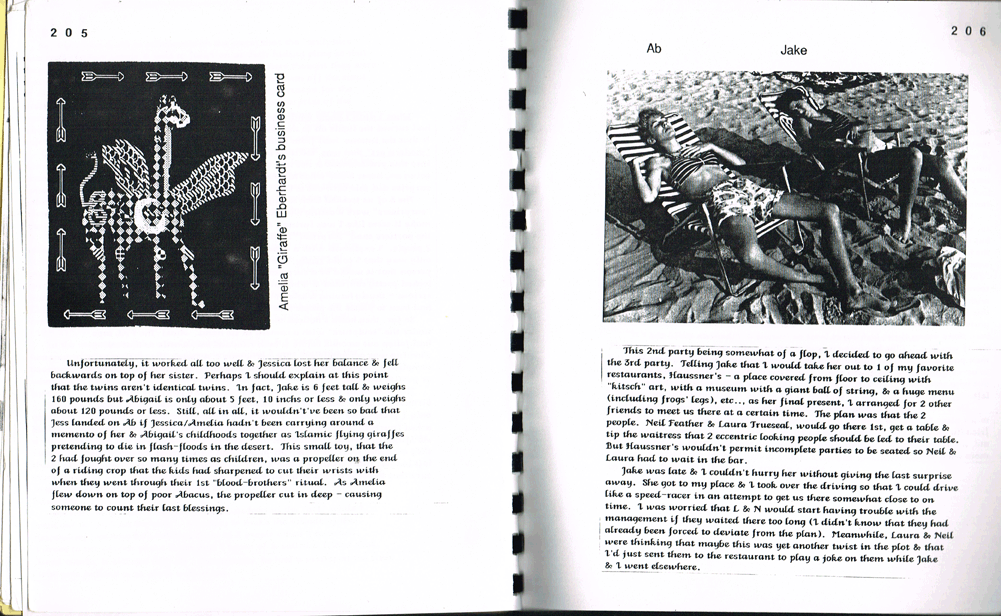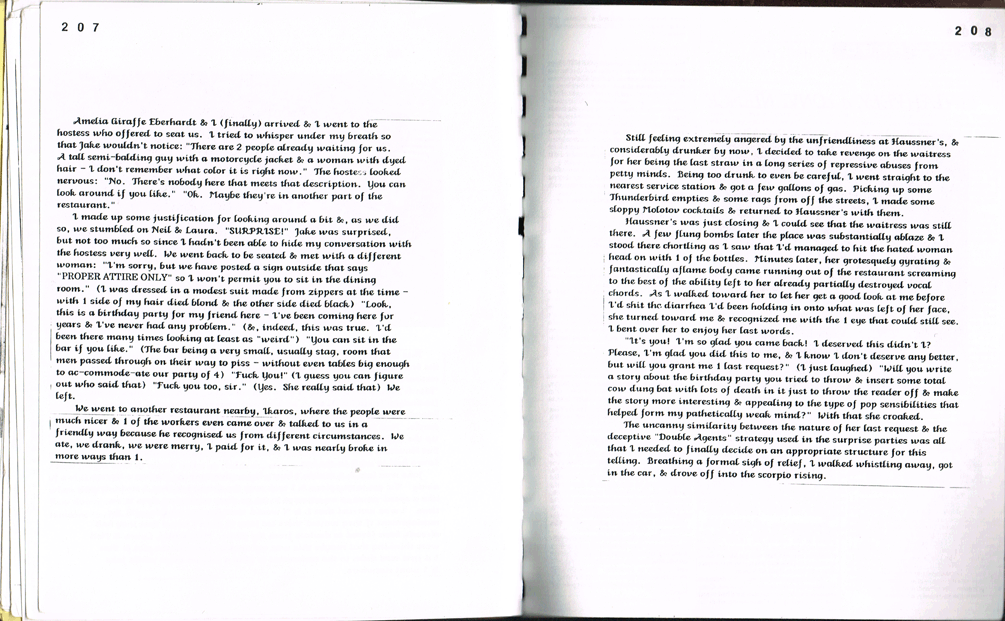 Asronishingly enough, this edition of "How to Write a Resumé" also got FOUR REVIEWS although most of them weren't until decades after it came out. The following review, by Wendy S. Duke, was the best one of the lot: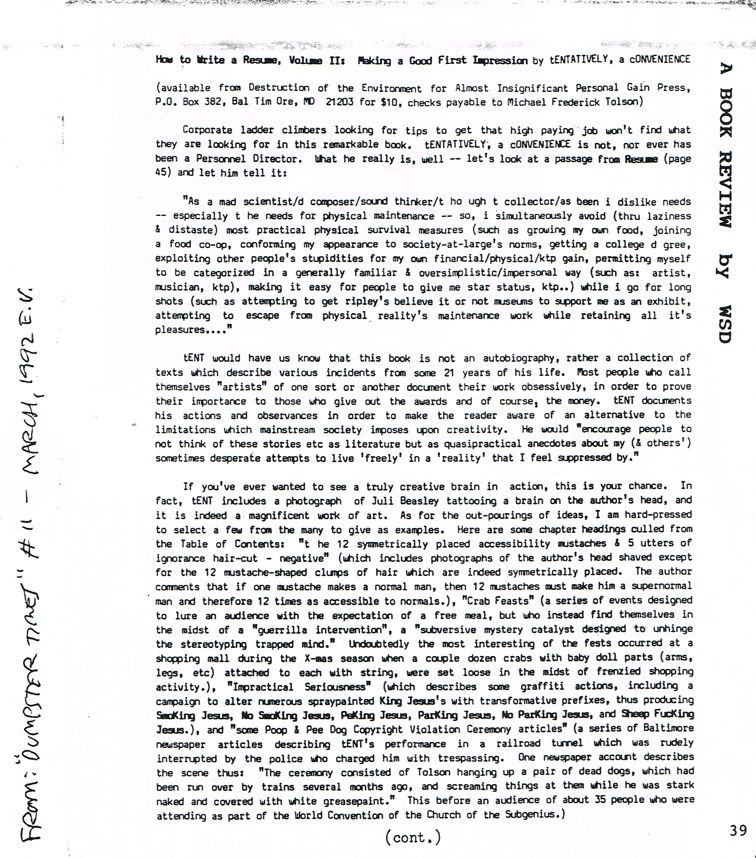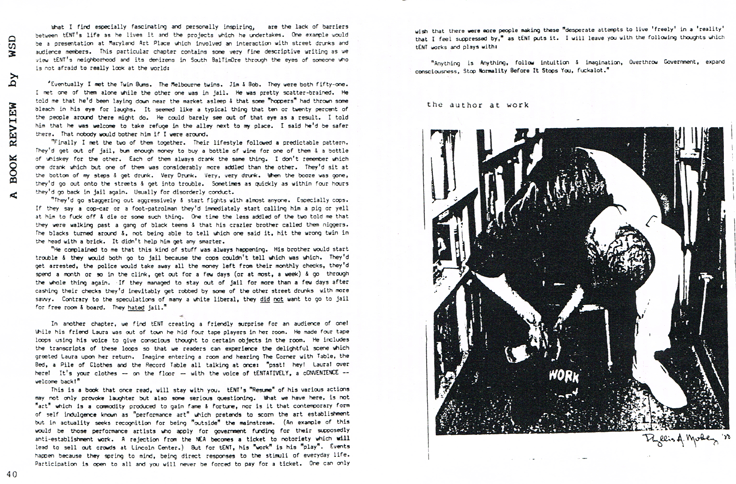 These last 3 reviews were posted on Goodreads:
Jan 21, 2008
Brian rated it
really liked it
Recommends it for: Those interested in conceptual trepanation
I would like to give this book a more thorough review, but it has been some time since I have read it and I do not have most of my books with me here in Germany. Like most of the material I have seen from Tent it is rather convoluted and dense and, of course, challenging. But this is what makes it good and I remember that it took me a while to try to "get into" the book, i.e., achieve a suitable frame of mind so that something could cross over from the book into my brain by some process. This is essentially the same thing that is necessary for any good book, but is perhaps more true of this one. I also think that the process necessary for some kind of transfer can be radically different from book to book. Some books should be slept on, others read occasionally while on the toilet. Others require incense and deep breathing to clear the mind and make way for something to manifest itself, without conscious grasping at the concepts. This book may be one of those.
Jan 21, 2008
Ben rated it
it was amazing
Recommends it for: anyone with a sense of humor
I will admit the author is a friend of mine. However, I bought this book years before we met; I even have the first edition with the crinkly-cut edges on it.
There's some great stories in this book, some of which is laugh-out-loud funny. The Luskin's (? it's been a while) story in particular is a classic.
How can I even describe what's in here? It's largely memoirs, or perhaps more accurately first-person documentation of tENT's active questioning of everything....umm...I'm not describing this well, one of the reasons he's a better writer than I'll ever be. Perhaps the way to put it is, it's not enough that he questions all beliefs (maybe), but that he puts his ideas in action, in a non-destructive manner. Generally. Or something. Regardless, he's lead a colorful life so far, long may it continue as such.
Jul 25, 2015
Ryan Broughman rated it
it was amazing
This is a real treasure of a book. The cover of the book I borrowed is differet than the thumbnail provided here, I imagine every single copy has a unique transparency. The particular one I was fortunate enough to get a hold of has the bottom right corner reprinted in 3D red/blue taped to the outer transparency. Penciled on the cover paper is "$10- 60% to tENT."
It's a good idea to read this book and traverse tENT's website http://idioideo.pleintekst.nl/ as the website will sometimes have a more clear or color scan of the images. Page 124 does have a taped color image of apartment fire and firemen damage.
This book was loaned to me by the very person who first mentioned tENT to me, BG. BG surprised me one day when I was visiting him and his family by slipping this book into my hands. I was happy as hell. I had had so much trouble finding the book that I was starting to suspect it was some sort of experiment where tENT was injecting and manifesting a non-existing object into existence...
Soon after learning about tENT he became a favorite talking point of mine with BG. I've been fortunate enough to meet others and hear their stories and descriptions of many of the things covered in this book. Getting in-depth accounts from the man himself has been a stimulating, rewarding, and influential experience.
BG relayed a statement from another friend of tENT's that RE/SEARCH could have done an entire issue on tENT. How to Write a Resumé is proof that they could have, and that they fucked up on some serious gems of intellectual pursuits, subversive actions, completely unique identity pursuits, etc.
tENT's had a remarkably interesting life. He's a unique mind who's intellectual self defense and offense against normalcy and the status quo is of a grade that is nothing short of alien-military. He's a human that ought to be paid attention to and whose identity and actions shared. The Church of the Subgenius fittingly "sainted" tENTATIVELY, a cONVENIENCE... When considering tENT's commitment and sacrifice in the face of giant machinery meant to destroy most everything tENT stands for, he truly is a saint and worthy of saintly study and reflection in one's own struggle. This particular book is a required reading to such commitments.
As mentioned before, this is not an easy to book to find. Those of you lucky enough to have a copy, please, carefully place it in hands worthy of borrowing it. Any of you out there with spare change, re-publish and update it.
Read the material, think about the material, reinterpret in action some of its contents, give variations to themes presented, get busy.
idioideo at verizon dot net
to the tENTATIVELY, a cONVENIENCE Anti-Neoism page
to the tENTATIVELY, a cONVENIENCE Audiography page
to the tENTATIVELY, a cONVENIENCE Bibliography page
to my "Blaster" Al Ackerman index
to the tENTATIVELY, a cONVENIENCE Books page
to the tENTATIVELY, a cONVENIENCE BYOC page
to the tENTATIVELY, a cONVENIENCE Censored or Rejected page
to the tENTATIVELY, a cONVENIENCE Collaborations page
to the tENTATIVELY, a cONVENIENCE (d) compositions page
to Amir-ul Kafirs' Facebook page
to the "FLICKER" home-page for the alternative cinematic experience
to tENTATIVELY, a cONVENIENCE's GoodReads profile
to the tENTATIVELY, a cONVENIENCE Haircuts page
to the tENTATIVELY, a cONVENIENCE Home Tapers page
to the tENTATIVELY, a cONVENIENCE index page
to the tENTATIVELY, a cONVENIENCE Instagram Poetry page
to a listing of tENTATIVELY, a cONVENIENCE's manifestations on the Internet Archive
to the tENTATIVELY, a cONVENIENCE as Interviewee index
to the tENTATIVELY, a cONVENIENCE as Interviewer index
to tENTATIVELY, a cONVENIENCE'S Linked-In profile
for A Mere Outline for One Aspect of a Book on Mystery Catalysts, Guerrilla Playfare, booed usic, Mad Scientist Didactions, Acts of As-Beenism, So-Called Whatevers, Psychopathfinding, Uncerts, Air Dressing, Practicing Promotextuality, Imp Activism, etc..
to the mm index
to see an underdeveloped site re the N.A.A.M.C.P. (National Association for the Advancement of Multi-Colored Peoples)
to tENTATIVELY, a cONVENIENCE's Neoism page
to the DEFINITIVE Neoism/Anti-Neoism website
to the Philosopher's Union website
to the tENTATIVELY, a cONVENIENCE movie-making "Press: Criticism, Interviews, Reviews" home-page
to tENTATIVELY, a cONVENIENCE's Score Movies
to SMILEs
to find out more about why the S.P.C.S.M.E.F. (Society for the Prevention of Cruelty to Sea Monkeys by Experimental Filmmakers) is so important
to the "tENTATIVELY, a cONVENIENCE - Sprocket Scientist" home-page
to Psychic Weed's Twitter page
to tENTATIVELY, a cONVENIENCE's Vimeo index
to Vine movies relevant to tENTATIVELY, a cONVENIENCE made by Ryan Broughman
to tENTATIVELY, a cONVENIENCE's presence in the Visual Music Village
for info on tENTATIVELY, a cONVENIENCE's tape/CD publishing label: WIdémoUTH
to a very small selection of tENTATIVELY, a cONVENIENCE's Writing