2021.11.14 Otoliths 63, part two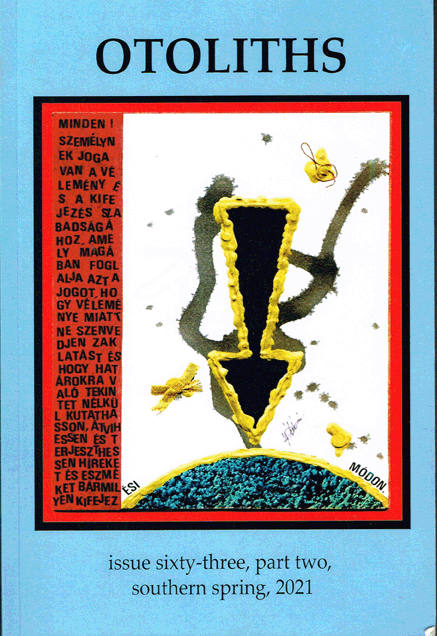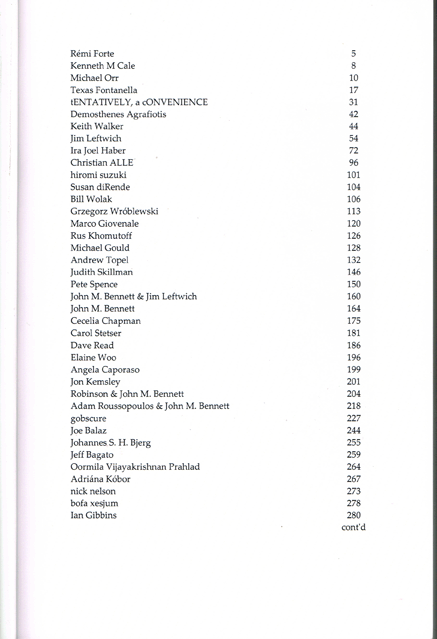 Mark Young edited "Otoliths, issue sixty-three, part two"
by tENTATIVELY, a cONVENIENCE - February 19-20, 2022
https://www.goodreads.com/review/show/4562651285
https://www.goodreads.com/book/show/60458750-otoliths-issue-sixty-three-part-two
I've been published in 4 issues of "Otoliths": 27, 49, 56, &, now, 63.
1356. tENTATIVELY, aN iNTERVIEW
- correctly credited to: Alan Davies & tENTATIVELY, a cONVENIENCE
- written mainly in 2010
- published in online electronic form as part of "Otoliths 27" (October 29, 2012)
- edited by Mark Young
- Rockhampton, Australia / cyberspace
- ISSN 1833-623X
- http://the-otolith.blogspot.com.au/2012/10/alan-davies-tentatively-interview.html
1862. "Butt Poem #1 (for Karen Lillis)"
- credited to: tENTATIVELY, a cONVENIENCE
- published on April 29, 2018 as part of Otoliths issue forty-nine, the southern autumn 2018 issue
- This issue is dedicated to Jill Chan, Spencer Selby, & Philip Byron Oakes, all regular contributors, who have recently passed. They will be deeply missed.
- Contributors to this issue are: Mercedes Webb-Pullman, Lauren O'Connor who interviews Louise Landes Levi, Aditya Shankar, Simon Perchik, tENTATIVELY, a cONVENIENCE, Dawn Nelson Wardrope, Kyle Hemmings, George Messo, Sanjeev Sethi, R. Keith, Joseph Cooper, Mary Cresswell, Drew B. David, Jim Leftwich, John M. Bennett, Steve Dalachinsky, Lynn Strongin, Daniel de Culla, Seth Howard, David Lohrey, Rose Knapp, Philip Byron Oakes, Darren C. Demaree, Francesco Levato, Holly Friedlander Liddicoat, Kathleen Reichelt & Randee Silv, Olivier Schopfer, Willie Smith, Thomas M. Cassidy, Carol Stetser, Andrew Topel, Michael Thomas Nelmida, Dah, Pete Spence, Jasmine Nihmey-Vasdi, J. Crouse, Heath Brougher, Clara B. Jones, fátima queiroz, Andrew Hale, Penelope Weiss, Adriána Kóbor, József Bíró, M.J. Iuppa, Linda King, Alyson Torns, J. Ray Paradiso, Sheila E. Murphy & Douglas Barbour, hiromi suzuki, AG Davis, Márton Koppány, Francine Witte, Jeff Bagato, Joe Balaz, Izzy Oneiric, Daniel f. Bradley, Jesse Glass, Jeff Harrison, Karl Kempton, Richard Kostelanetz, Eileen R. Tabios, Scott MacLeod & Texas Fontanella, Cecelia Chapman, john sweet, Lakey Comess, Michael Mc Aloran, Tony Beyer, Sudhanshu Chopra, Bruno Neiva, Jon Cone, Joseph V. Milford, Mark DuCharme, Raymond Farr, Keith Polette, Matthew Jenkins, David Baptiste Chirot, gobscure, Sabine Miller & Richard Gilbert, John Levy, Tom Montag, Natsuko Hirata, Linc Madison, Pat Geyer, Eduardo Padilla translated by Anne Gorrick, Joseph Salvatore Aversano, Keith Nunes, Bob Heman, Simon Brown, Jack Galmitz, Pat Nolan, Marcia Arrieta, Jack Kelly, Johannes S H. Bjerg, M; Margo, Carla Bertola, F. J. Bergmann, Ruggero Maggi, Michael Gould, Robert Ford, Carolina Skibinski, Alberto Vitacchio, Tim Wright, Michael Brandonisio, essa may ranapiri, Thom Sullivan, Brendan Slater, Madeline McGovern, Ken Bolton, Paul T. Lambert, J. D. Nelson, Shloka Shankar, Gavin Yates, John Pursch, Matthew Hall, & Marilyn Stablein.
- the whole issue is entered here: https://the-otolith.blogspot.com.au/2018/03/issue-forty-nine-southern-autumn-2018.html
- my page is here: https://the-otolith.blogspot.com.au/2018/02/tentatively-convenience.html
- Part one, the b&w part of issue forty-nine of Otoliths, 302 pages, $US 16.45, Direct link: http://www.lulu.com/shop/mark-young-editor/otoliths-issue-forty-nine-part-one/paperback/product-23634742.html
- Part two, the full color part of issue forty-nine of Otoliths: 256 page, $US 41.45, Direct link: http://www.lulu.com/shop/mark-young-editor/otoliths-issue-forty-nine-part-two/paperback/product-23634761.html
- my page dedicated to the 2 volumes of Otoliths 49 in book form is here: 2018.05 Otoliths 49
1979. "Butt Poems 2 - 6"
- credited to: tENTATIVELY, a cONVENIENCE
- published online as part of Otoliths issue 56 on February 1, 2020
- edited by Mark Young
- https://the-otolith.blogspot.com/2019/11/tentatively-convenience.html
- also available in hard-copy
2035. "Anti-Macron; Anti-Passeporte Sanitaire; Building an Extension"
- credited to: tENTATIVELY, a cONVENIENCE
- published online in Otoliths, issue 63, the southern spring issue, October 30, 2021
- My pages:
- labeled by the editor as "Two Visual Text Pieces":
- https://the-otolith.blogspot.com/2021/08/tentatively-convenience.html
- labeled by the editor as "Adding an Extension":
- https://the-otolith.blogspot.com/2021/08/tentatively-convenience_23.html
Alas, I won't be published by them anymore. I submitted a piece called "Sentimental Journey" ( http://idioideo.pleintekst.nl/SentimentalJourney.html ) for issue 64 & got this reply from Mark Young, the editor: "I'm sorry, but I disagree strongly with some of the things you put forward here. Certainly you're entitled to your opinion, but I won't be a party to them so I'm going to pass." Ah, & there you have an example of the era of what I call the "New World Odor". Mark's email was polite enuf & as the editor I grant his right to make this editorial decision - but how many people has he rejected before? & on what grounds? & wd the rejection have occurred a mere 2 yrs before? Before the QUARANTYRANNY & its attendant censorship set in? I perceive the Medical-Industrial Complex as an out-of-control juggernaut working very little in the interest of health & very much working in the interest of sociopathic conscience-free experimentation. Are the Big Pharmaceutical companies really that far away from the times when Bayer used concentration camp inmates as guinea pigs? I think not. The juggernaut needs to be put in its place, it needs to be actually serving the interests of health rather than the greed of industry. But expressing such opinions these days is verboten - & it's the liberals, hypothetically former champions of free speech, who're most adamant about suppressing any opinions contrary to the absolute domination of the globalization police state.
That sd, this issue, like all the others I've seen is gorgeous. As usual, the printer, Lulu, has done an excellent job w/ the color & clarity - that makes these bks expensive but one is not likely to have any complaints about the quality. Unlike the previous issues I've seen, this one doesn't come in 2 parts, one black & white, one color; it comes in FIVE parts - thusly making it too expensive for most people I know. I hope libraries are buying the complete release.
As I've pointed out in my previous "Otoliths" reviews ( https://www.goodreads.com/story/show/1001592-otoliths , https://www.goodreads.com/story/show/1319642-oto ), "Otoliths" mainly shines as a Visual Poetry publication but has the charm of not being exclusively such.
A friend of mine recently sent me a short Giorgio Agamben article, translated from Italian to English, in wch the author quotes the poet Dante Alighieri. ("Giorgio Agamben is one of the leading figures in Italian philosophy and radical political theory, and in recent years, his work has had a deep impact on contemporary scholarship in a number of disciplines in the Anglo-American intellectual world." - https://iep.utm.edu/agamben/ )
"Leave it to scratch where the itch is
"They will not say: times were dark,
but: why have you been silent?
Bertolt Brecht
"But nevertheless, once every lie has been removed,
all your vision makes it manifest
and lets you scratch where the itch is.
That your voice will be troublesome
in the first taste, vital nourishment
will leave then, when it is digested.
Dante Alighieri
"There is a piece of paper somewhere on which the names of those who, in a world of lies, have testified to the truth is written. This sheet exists, but it is illegible. Then there is another sheet, perfectly legible, which records these same names: it is in the hands of police officers and journalists."
Alas, one won't usually find socio-political work like that of Brecht & Dante & Agamben in this issue or other issues of "Otoliths" other than in my "Anti-Macron, Anti-Passporte Sanitaire" contribution. Most of the work is artistic eye-candy, very enjoyable for me to look at but not much there for me to think about - beyond formal considerations, i.e..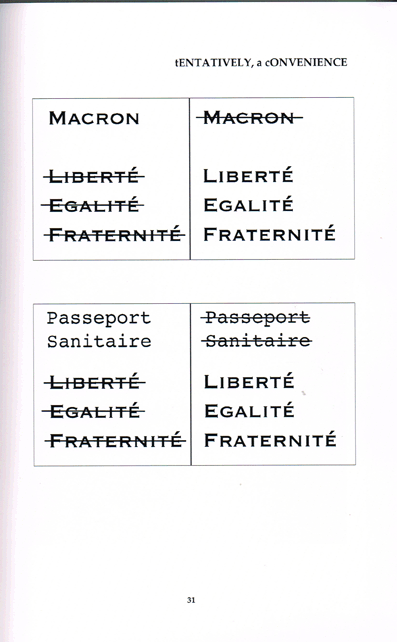 Still, the pleasure I get from this eye-candy is far from insignificant. &, yes, I love my own work & I'm glad to have it presented here. I remember being in Berlin many yrs ago & visiting my friend Graf Haufen at his video store. On the TV was a political candidate that Graf described as something like a "nazi". He asked me what I thought of him. The candidate looked like a calculatedly 'normal' guy, no distinguishing marks, just another fresh-faced guy w/ short hair shaking hands & smiling. I sd he looked just like an ordinary American politician.
So what do we have now? The World Economic Forum's "Young Global Leaders", graduates like Tony Blair, Prime Minister of the United Kingdom from 1997 to 2007 and Leader of the Labour Party from 1994 to 2007 (how meaningless these party names are); Jacinda Arden, Prime Minister of New Zealand; Alexander De Croo, Prime Minister, Belgium; Emmanuel Macron, President, France; Sanna Marin, Prime Minister, Finland; Carlos Alvarado Quesada, President, Costa Rica.. all these powerful people, smiling, clean-cut, seemingly implacable. The French have President Emmanuel Macron creating Draconian laws that essentially disenfranchise millions of people in the bogus name of 'public health'. President Emmanuel Macron oppressing truckers w/ military force. The sooner France gets rid of Macron & his neo-illberal pro-globalization, the sooner they'll be able to at least attempt to restore the ostensible basics of their society: "Liberté, égalité, fraternité". Same goes for all the rest of the "Young Global Leaders", the people who feel qualified & entitled to tell the rest of us how to live.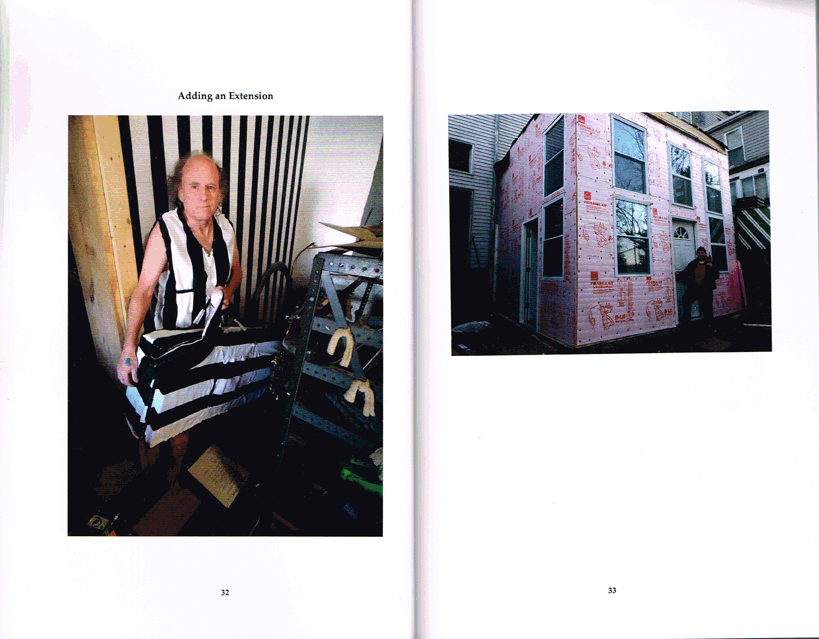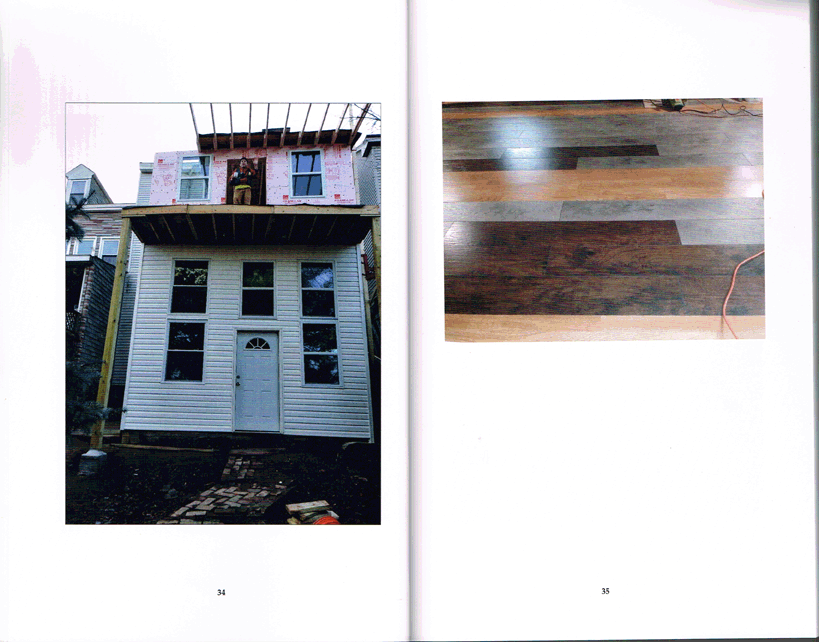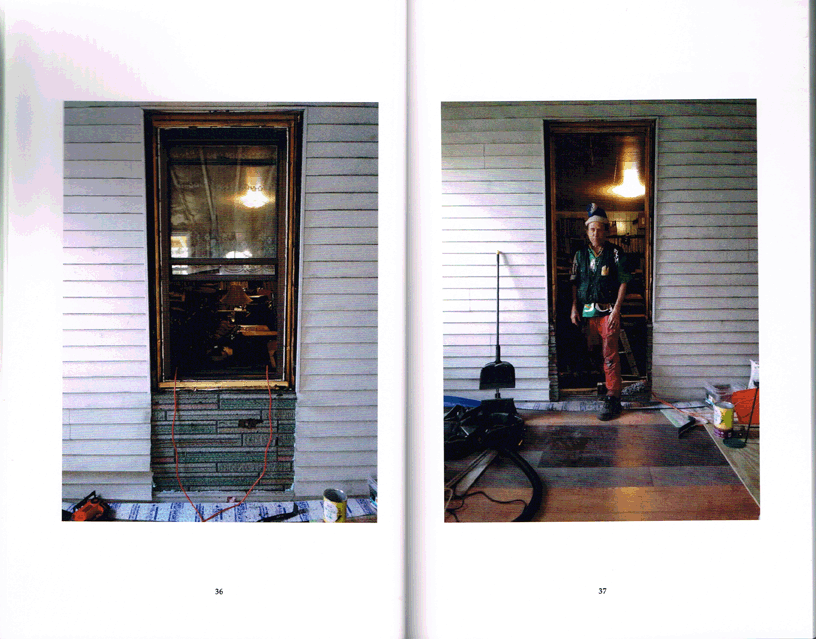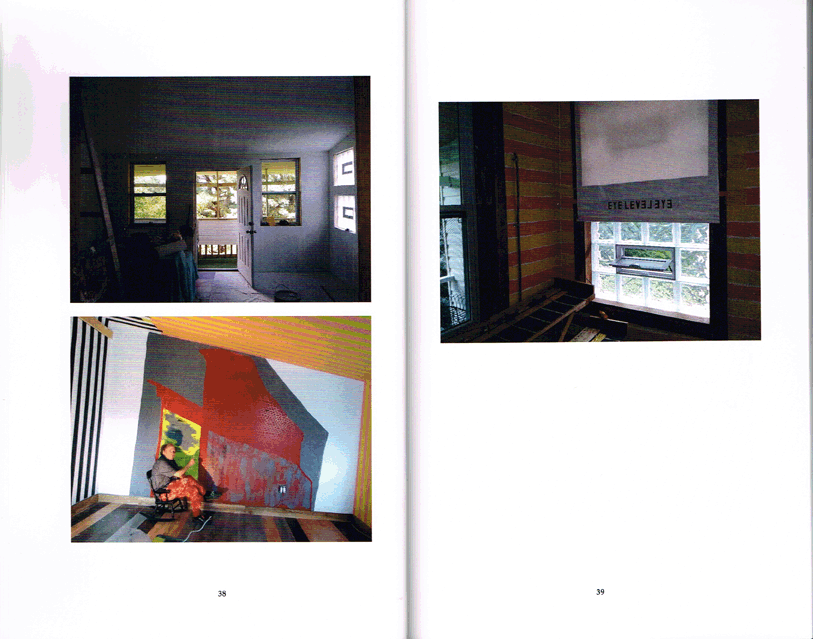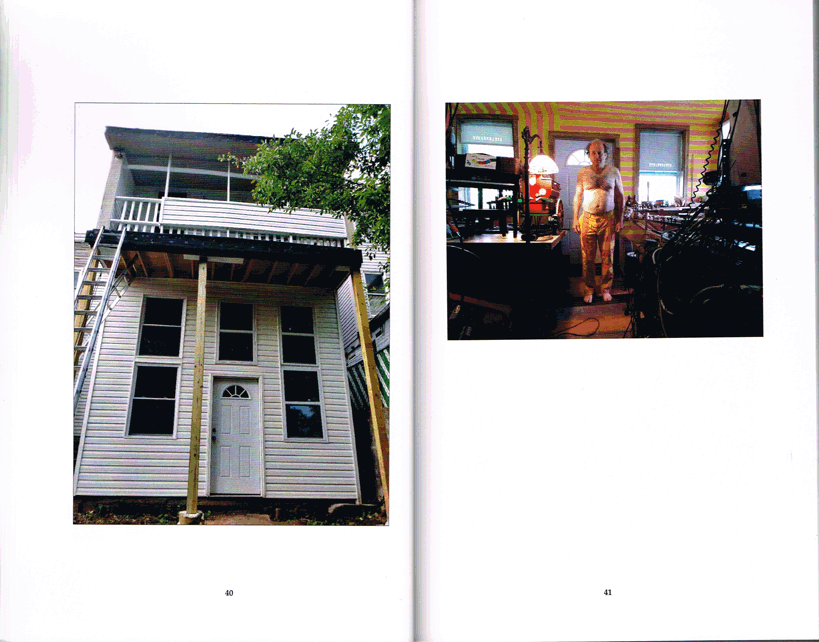 My 2nd piece in this issue is an 11 photograph essay documenting an addition I built on my house, an addition that expands my (M)Usic Rm. I made striped pants, a striped vest, & a striped sarangi case to match the paint job of the room. Us intellectuals don't only sit at our computers all day, even old guys like myself build things, in this case some fairly ambitious things.
I don't mean to ignore the work that precedes mine in the 1st 30pp of this issue. Michael Orr, e.g., presents "7 Spoems", visual poems made out of white plastic stir sticks, spoons, numbers & letters, & sporks. I enjoyed those.
Demosthenes Agrafiotis presents 4 photographs on 2pp entitled "NARRATIVE". These appear to be monochrome, tinted purple. Parts are soft focus, I think of the films of Man Ray.
Some fairly complex collages (presumably w/o glue) by Keith Walker follow. Each seems to feature text in the body of the work & what might be taken for a caption at the bottom. The 1st image, e.g., has "OBSOLETE ABSOLUTE" in somewhat large print in the image & "THIS IS WHY BIG SUBJECTS CAN COME OUT WHEN YOU'RE NOT MAKING EYE CONTACT" in much smaller print. Variously colored signatures adorn the following "APPROVAL SHEET" on the next page w/ once again small font "THE POWER OF DESIGN CAN MAKE IDEAS TANGIBLE AND MAKE YOU THINK".
The Joy of Color. Muted color from Jim Leftwich, bright colors from Ira Joel Haber. Bright colors, spring & summer brought to us in any season, is there anyone who doesn't enjoy them?
& then there're the titles, words that may or may not lead to our contextualizing the images. Christian ALLE's marked-over photos, the 1st of a woman in what might be old-fashioned clothing. It has the title/caption "Ainsi que des méduses hirsutes": "As well as shaggy jellyfish" is what Google Translate provides me w/ - but we all recognize "méduses", Medusa, the mythical woman whose hair was snakes, people who looked in her eyes wd turn to stone. That cd come in handy.
hiromi suzuki provides a series of 2 panel images: one side seemingly black but w/ faint gray images & white text, the other side somewhat high contrast black & white images. The series is called "Stills from Daily Specials", the idea of a menu's daily specials apparently inspiring such text as "Parrot Isle Jumbo Coconut Shrimp & "Two Delectable Lobster", otherwise seemingly unrelated to the adjacent images although the very faint image under "Wild-caught Lobster Tail" is of a knife & fork.
Susan diRende's titles seem, perhaps, what I expect from image makers, from artists, from painters; the titles seems to be attached to a painting depending on what feeling/circumstances are evoked for the painter after the painting's done - or, perhaps, while the painting's in progress. E.G.: "Sunrise" is dominated by reds, yellows, & whites & has a horizontality to it w/ a bit of circular motion in the top half.
Bill Wolak's titles might be more surrealistically evocative & less descriptively evocative. An image of a multi-tiered machine birthing what might be golf balls, or ping-pong balls has the title "The Ladder of Memories"; a mirrored image of hair is titled "Pale As the Ankles of Dawn".
& then Gregorz Wróblewski provides a somewhat monochromatic series w/ a title of "Waiting for Puffin". "Puffins are any of three species of small alcids (auks) in the bird genus Fratercula. These are pelagic seabirds that feed primarily by diving in the water. They breed in large colonies on coastal cliffs or offshore islands, nesting in crevices among rocks or in burrows in the soil." ( https://en.wikipedia.org/wiki/Puffin ) When I think of puffins I think of a publishing subsidiary of Penguin Books. Since the title is singular rather than plural perhaps it alludes to a character known to many but not known to me. For all I know, these images are arial photographs, they seem somewhat topographical.
One delectable work follows another, I enjoy looking at them all - but move on from one to another fairly quickly. Then I come to Jon Kemsley's "self-non-self" wch I made a reviewer's note-to-myself about that reads "A little different" but, looking at it now, no, I don't really find that to be significantly true. I'm reminded of the CoAccident Letraset collages of the late 1970s. That doesn't mean I don't like the piece, it just means it doesn't surprise me.
Joe Balaz IS a little bit different, perhaps esp w/ his "Someone Needs Attention" wch spoofs author's bios & poetry zine names. Y'know how people often say a catchy phrase & then say 'That wd make a good band name!' Same goes w/ zine names. It doesn't mean that the band's music wd be of any interest or that the zine's contents wd be. Here're a few of Balaz's examples: "Luminous Shrine, Atomic Mouth, Glittering Presence, Magnificent Hue, Blazing Wheels, Cream of the Inner Temple, Huge".
Johannes S. H. Bjerg provides us w/ a neologism that may or may not've originated w/ him: "drawritings". That seems roughly synonymous w/ "asemic writing" but is enuf different that I can imagine the distinction proving useful.
Jeff Bagato displays 10 arrangements of variously colored objects. There's no overlapping of the objects so one side of each is displayed fully & neatly. I enjoyed looking at these, it's not a pattern recognition exercise, it's more of a theme & variations.
I found nick nelson's "the way you wear your hat" funny. One character is criticizing another's style:
"the way you wear your hat, always perfectly straight on your head, never the slightest deviation to the left or right, or backwards or forwards. there is something brutish and totalitarian about it, portending an authoritarian personality, i bet you voted for trump, didn't you?
"i beg your pardon, i did no such thing!" - p 275
Ha ha! In this new rage era of pompous condescending neoilliberals I've been hearing that "i bet you voted for trump" nonsense quite alot. (See my "Breaking News!" movie: https://archive.org/details/breaking-news_202202 , it's only 5.5 seconds long so if you have a short attn span you'll probably make it all the way thru anyway).
Isabel Gómez de Diego provides 3 photographs, apparently of things encountered in public squares, some sculpture, a table w/ flowers on it, & an outdoor installation that has some hay w/ prop versions of knightly fighting objects on it: shields, swords, cross-bows, helmets - & a death-like figure hitting a drum. The people walking in the background are wearing anti-COVID-19 masks (ie: not costume masks).
Being somewhat familiar w/ the work of some of the people in this issue I found most of the work to be similar to previous work I'd seen by them. An exception was the work by Guy R. Beining. It was refreshing for me to see this work as significantly different. I recall the older work as usually black & white (although I may be misremembering) & to have a different type of formal coherence. This work is colorful & has contrasting sections.
There're 52 contributors to this issue & I've only touched on rudimentary commentary & description of a few of them. If you can afford it, this wd be a great addition to your visual poetry &/or art bk library. It saddens me that I won't be contributing to "Otoliths" in the future but I won't abide being censored - & although a case cd be made that my exclusion from issue 64 is 'editing' or 'curating' it's still tantamount to censorship to my mind & today's censors are no more acceptable than those that tried to stop James Joyce's "Ulysses" & William S. Burroughs's "Naked Lunch". IMO what I have to say is important, people don't have to agree w/ it but they shd at least get a chance to read it.
idioideo at gmail dot com
to the tENTATIVELY, a cONVENIENCE Anti-Neoism page
to the tENTATIVELY, a cONVENIENCE Audiography page
to the tENTATIVELY, a cONVENIENCE Bibliography page
to my "Blaster" Al Ackerman index
to the tENTATIVELY, a cONVENIENCE BYOC page
to the tENTATIVELY, a cONVENIENCE Censored or Rejected page
to the tENTATIVELY, a cONVENIENCE Collaborations page
to the tENTATIVELY, a cONVENIENCE (d) compositions page
to Amir-ul Kafirs' Facebook page
to the "FLICKER" home-page for the alternative cinematic experience
to tENTATIVELY, a cONVENIENCE's GoodReads profile
to the tENTATIVELY, a cONVENIENCE Haircuts page
to the tENTATIVELY, a cONVENIENCE Home Tapers page
to the tENTATIVELY, a cONVENIENCE index page
to the tENTATIVELY, a cONVENIENCE Instagram Poetry page
to a listing of tENTATIVELY, a cONVENIENCE's manifestations on the Internet Archive
to the tENTATIVELY, a cONVENIENCE as Interviewee index
to the tENTATIVELY, a cONVENIENCE as Interviewer index
to tENTATIVELY, a cONVENIENCE'S Linked-In profile
for A Mere Outline for One Aspect of a Book on Mystery Catalysts, Guerrilla Playfare, booed usic, Mad Scientist Didactions, Acts of As-Beenism, So-Called Whatevers, Psychopathfinding, Uncerts, Air Dressing, Practicing Promotextuality, Imp Activism, etc..
to the mm index
to see an underdeveloped site re the N.A.A.M.C.P. (National Association for the Advancement of Multi-Colored Peoples)
to tENTATIVELY, a cONVENIENCE's Neoism page
to the DEFINITIVE Neoism/Anti-Neoism website
to the Philosopher's Union website
to the tENTATIVELY, a cONVENIENCE movie-making "Press: Criticism, Interviews, Reviews" home-page
to tENTATIVELY, a cONVENIENCE's Score Movies
to SMILEs
to find out more about why the S.P.C.S.M.E.F. (Society for the Prevention of Cruelty to Sea Monkeys by Experimental Filmmakers) is so important
to the "tENTATIVELY, a cONVENIENCE - Sprocket Scientist" home-page
to Psychic Weed's Twitter page
to tENTATIVELY, a cONVENIENCE's Vimeo index
to Vine movies relevant to tENTATIVELY, a cONVENIENCE made by Ryan Broughman
to tENTATIVELY, a cONVENIENCE's presence in the Visual Music Village
for info on tENTATIVELY, a cONVENIENCE's tape/CD publishing label: WIdémoUTH
to a very small selection of tENTATIVELY, a cONVENIENCE's Writing