1976-1981, 2010-2011, 2015: Paula "Polio Vasslene" Gillen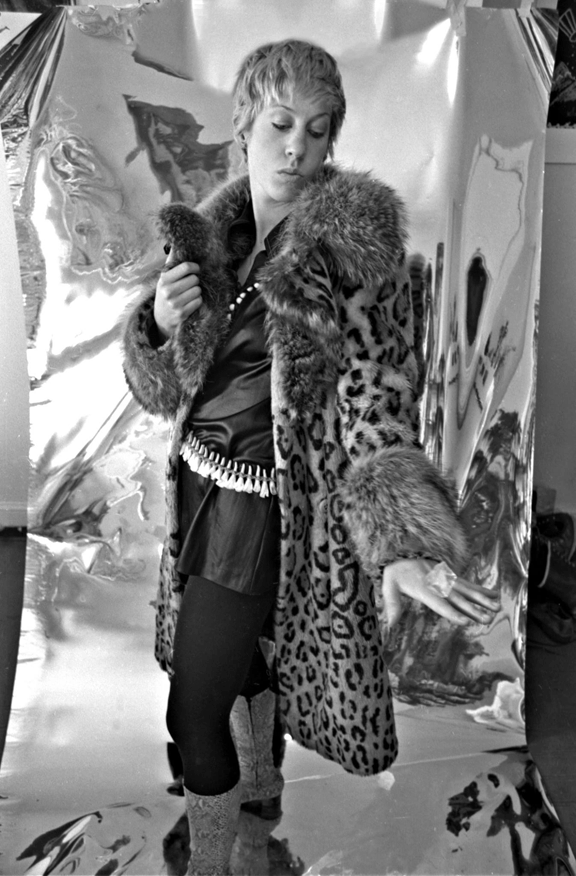 Photo: Doug Retzler, ca. 1977-1979
Note that those aren't bullets in Paula's bandolier/belt, they're tools of the image trade
I've already made 2 webpages regarding Paula Gillen as a collaborator. The earliest of these is my page re her 2005 extremely limited edition book entitled "Paula Gillen Photographs 1975-1985". The 2nd was for her 2017 POD (Print-on-Demand) book entitled "Head Trip: The 80s". I wrote notes re the former which I then slightly updated for the latter:
"I've collaborated with many people in my life, Paula was one of the 1st. We probably met around 1977 [She says that we met & started working together in 1976 but I was pretty isolated then so that seems unlikely to me]. She was a student at MICA (the Maryland Institute College of Art) & I would've met her through other friends of mine who were students there.
"In 1978 we lived in a house together briefly before my 1st trip to Europe. Then in 1979 we lived together in another house for perhaps a year or so. These houses were communal: 3 photography students at MICA & me, the guy who eschewed art schools, who had the philosophy that one didn't learn how to be creative in school, one learned to be creative by being creative.
"SO, from ca 1977-1979 [Paula remembers this as continuing into the early 1980s but I think that by then I was more someone she photographed in social situations than someone who posed for her] I was one of Paula's main models. Paula always had a great sense of humor & composition. Her colors might be called 'garish' or, perhaps, 'technicolor' - they're not muted. Everything in the photos is tightly controlled, backdrops are often stencil-painted, everything is a prop. This isn't documentary photography, it's more like meta-documentary photography - it's the lurid lifestyles of the young mermaid party scene.
"Paula would have an idea about what she wanted to do together, maybe inspired by some recent outlandish thing she'd seen me wear, & we'd go to a particular location & shoot. It was always fun. How could I not love the woman?!
"Eventually, though, Paula moved on to different cities & I moved on to different interests. I was always changing what I was doing, I was never content with even working with the same people, Paula & I stopped collaborating.
"30 years later, in 2010, Paula was in Colorado & I was there too to give a performance at Naropa (an abridged movie of that can be witnessed here: http://youtu.be/f2puiVTPGYU ). At a small party at Anselm Hollo & Jane Dalrymple's house we exchanged presents. I think I gave her a copy of my very rare book "footnotes" & she gave me a copy of this hardback book of photographs of hers [meaning "Paula Gillen Photographs 1975-1985"].
"I was delighted! But when I asked her what size edition the book was in & she told me "one or two" I was deeply touched. This beautiful book, this book of photographs certainly as worthy of reknown as those of other more well-known photographers like Duane Michals or Cindy Sherman or Dianne Arbus, had been given to ME. I was lucky enough to have one of the only copies, if not THE only copy of a collection that I was also lucky enough to be featured in as a model. What a treat!
"Many of these photographs (+ many more) can be seen here: https://www.flickr.com/photos/21022174@N05/albums/72157614921841415
"Paula & I went on to collaborate again & we shot a series of images at my girlfriend of the time's apartment complex fitness center. Those can be seen on my Amir-ul Kafirs Facebook page here: https://www.facebook.com/tENTATIVELY.acONVENIENCE/photos_all
"Paula also helped with a movie I was making in Colorado called "COLONY": http://youtu.be/7AgvRX4MJmA
"May Paula & I collaborate from here to eternity.
"In April, 2015, a BalTimOre arts magazine called ACRES published their 3rd issue featuring some of Paula's photographs from BalTimOre in the late 1970s & early 1980s & asked some of the people connected from that time to add commentary. I was fortunate enough to be included. It was nice to see that lunatic fringe crew being retrospectively appreciated & acknowledged."
Paula & I were active together, always ready to play. Considering that I had to work for a living, I was a hard-wood floor finisher throughout most of our early times together, it's somewhat amazing that I had the energy & time to be as prolific as I was. In late 1979 one of the things we did together was cofound what became known as the "Stencil Craze" in BalTimOre, making graffiti with stencils - something that I've begun to document here: Graffiti .
The ±181 photos here will give you some idea of both those early times & of our reincarnation with each other 30+ years later. We're both 40 years older than when we 1st met but Paula's hardly aged at all & I've aged a 1,000 years. I think she sold my sould to the advil to keep her youth. The years that precede each section are only approximations when it comes to the 1970s & the 1980s.
- February 14, 2017E.V. notes from tENTATIVELY, a cONVENIENCE
1977: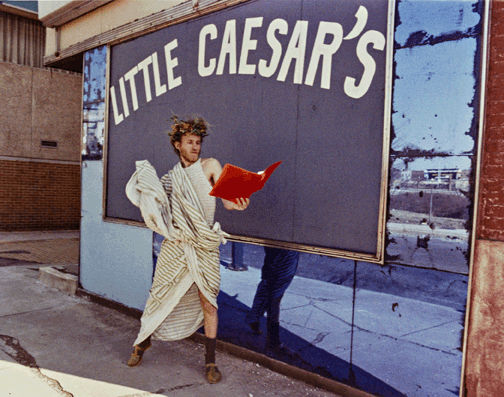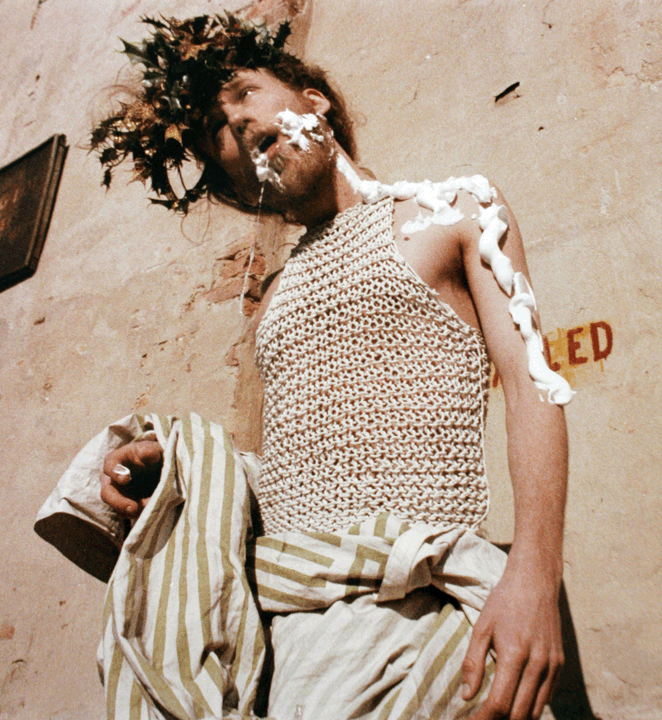 I think of this photo as "Caesure".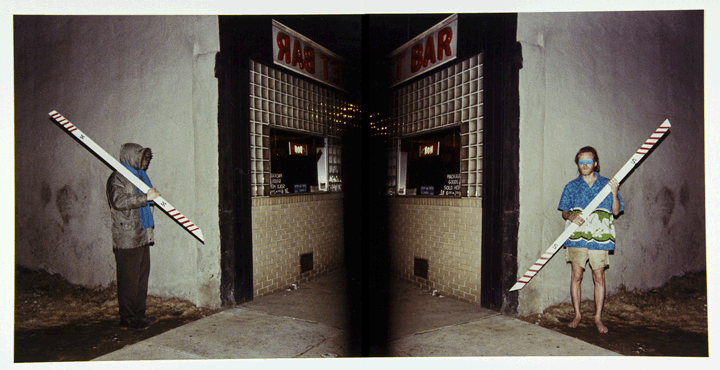 This one might be "Magnet Bar" or "North Pole". I think I prefer the latter.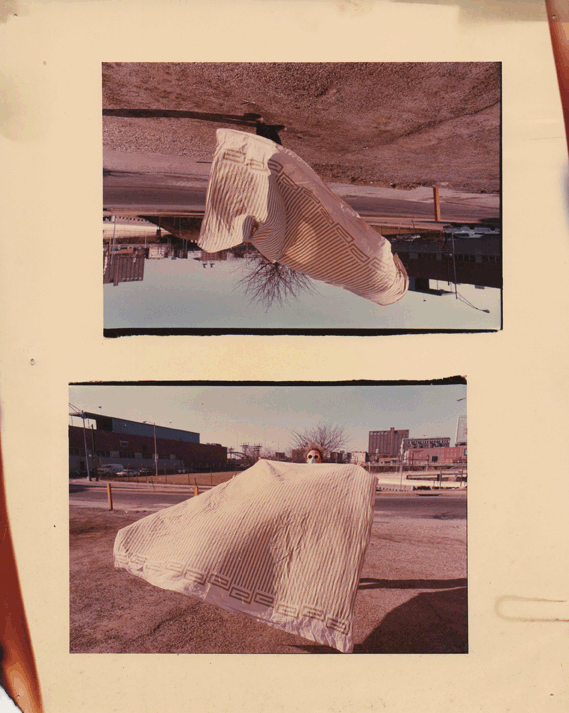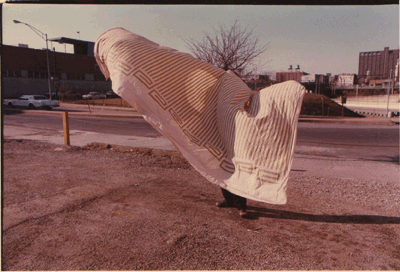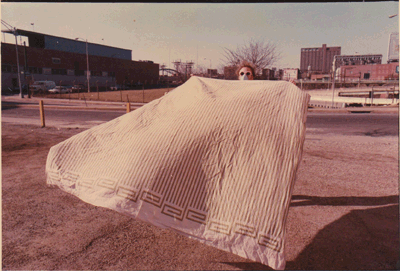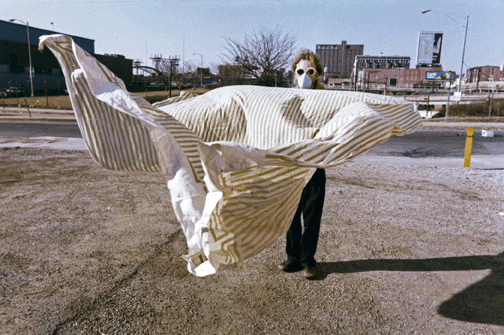 Apparently this series is called "Sheet Music".
1978:
I moved 9 times in 1978. Those must've been restless times. I started off the year living with Billy Moriarity, the singer of one of Baltimore's earliest punk bands, Da Moronics, who was also a painter & a performance poet. The 1st 4 photos here were shot at the apartment that Bill & I shared.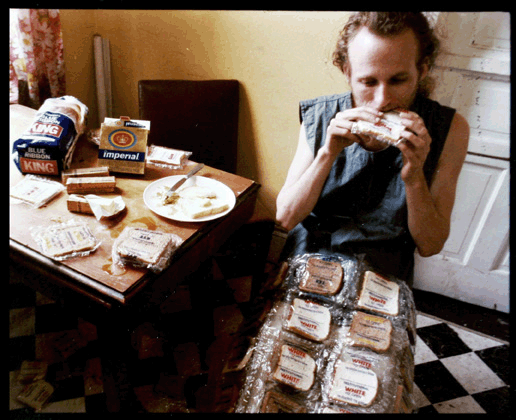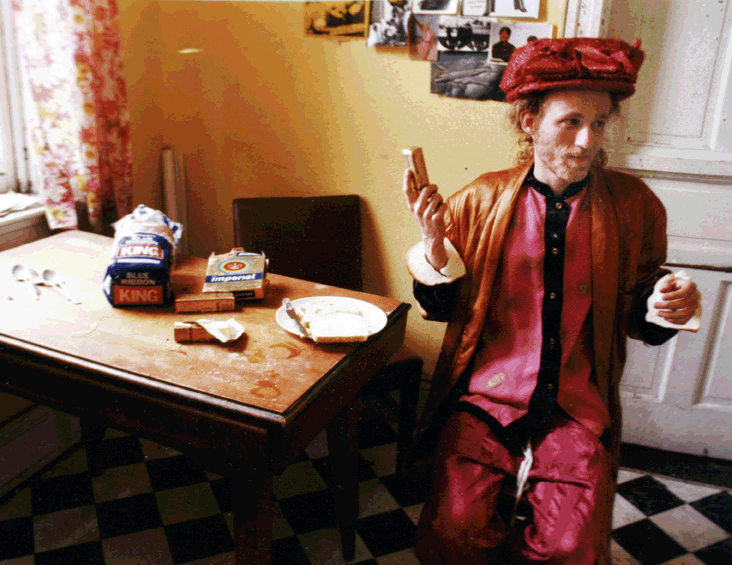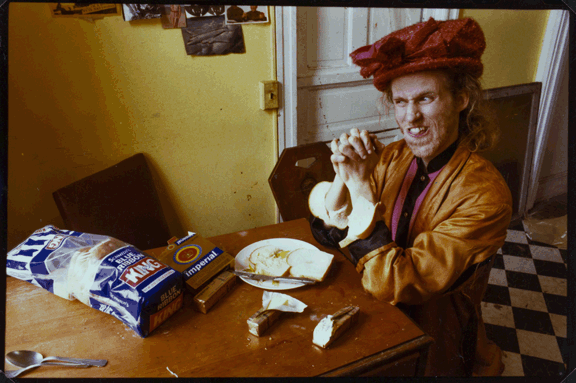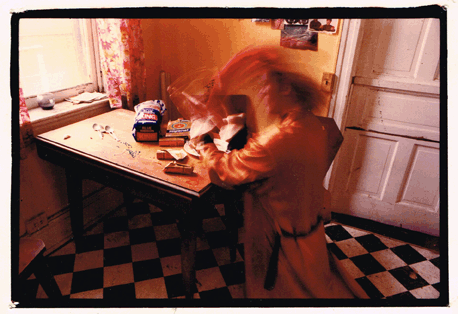 Perhaps this series is called "Imperialist Margarine".
If I recall correctly, & I may not at this point, I next went to the house that my old friend Doug Retzler, his girlfriend Grace Zaccardi, & Paula were renting in the Waverly neighborhood of Baltimore. I stayed there for a month in the basement before I left for my 1st trip to Europe for a month. The following photo was taken in a Chinese restaurant on Greenmount Ave that Paula & I & our friends went to.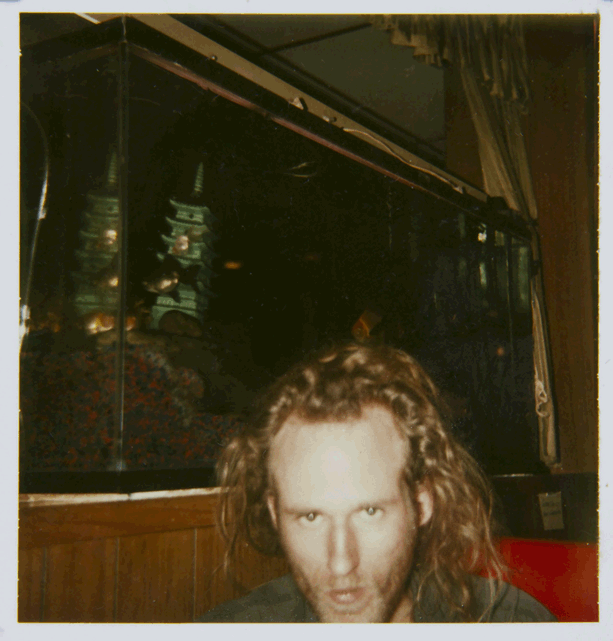 I was deeply honored & touched when Paula silk-screened 3 shirts for me to wear while traveling. Thinking back on it, that was an incredibly sweet & thoughtful thing for her to do. Fortunately, I have 2 photos from the time of one of the 2 long-sleeve shirts when it was still in good shape. I no longer have that shirt.
The photos following that one are ones of the 2 survivor shirts that I took myself 39 years later. They're considerably worse for wear & faded & in the case of the 2nd long-sleeve shirt patched in a way that I no longer do. I've long since stopped wearing the shirts because they're to the point where they're likely to immediately rip if I do.
Paula's absurdist sense of humor abounds.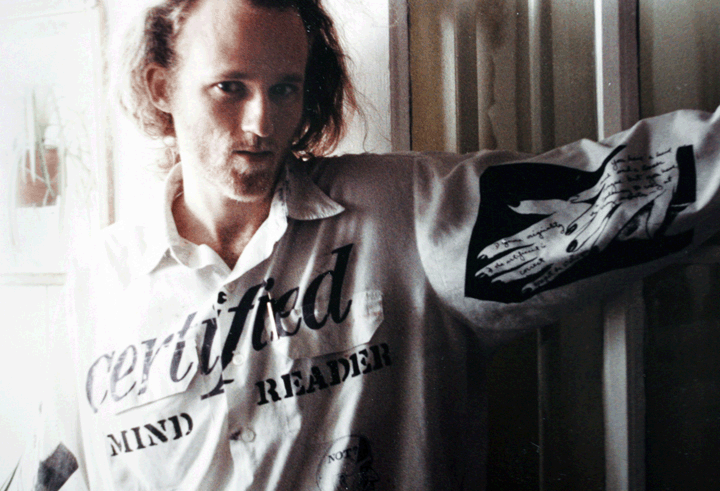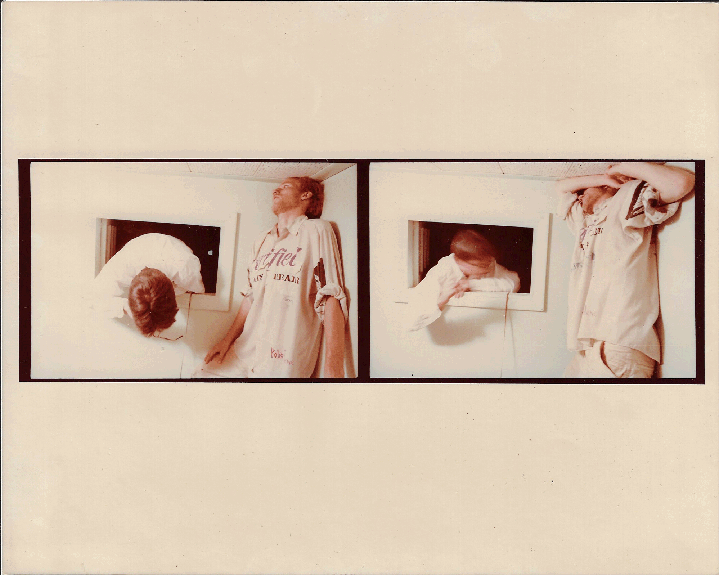 This picture was given to me in 2020 by Bonnie Bonnell as she prepared to move. Neither Paula nor I remembered the session but I'm sure Paula took the pictures. The person to the left is Alfred Harris. It seems to me that the photo 'works' flipped as well so I present it both ways here.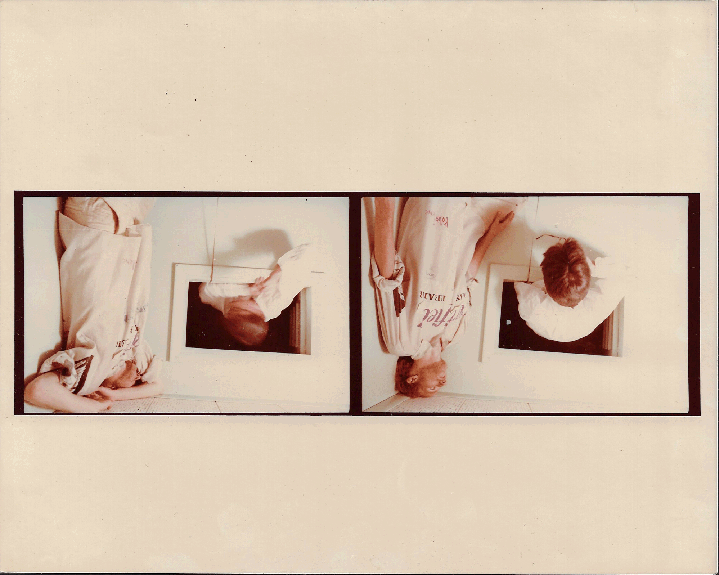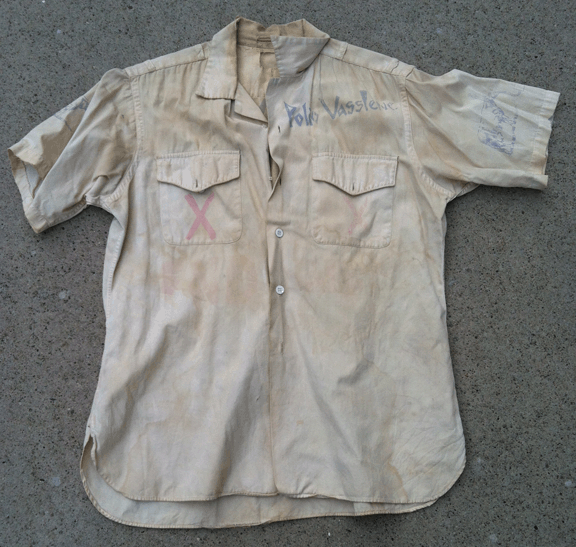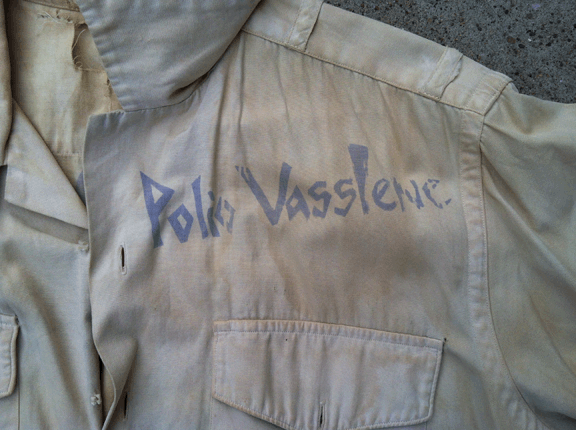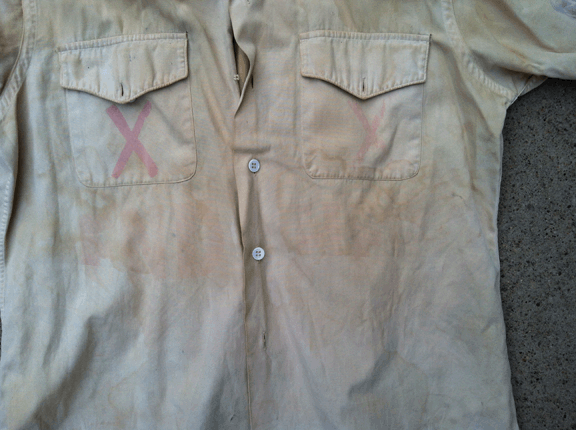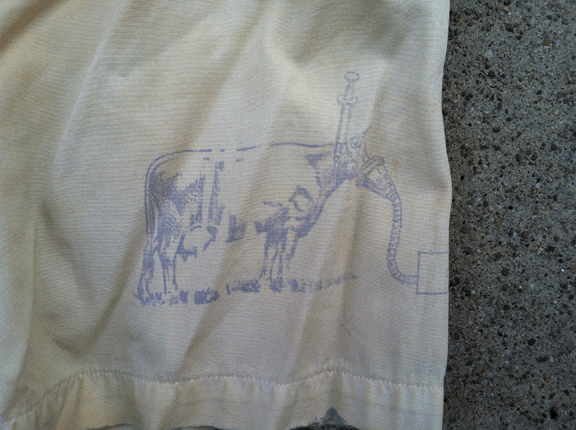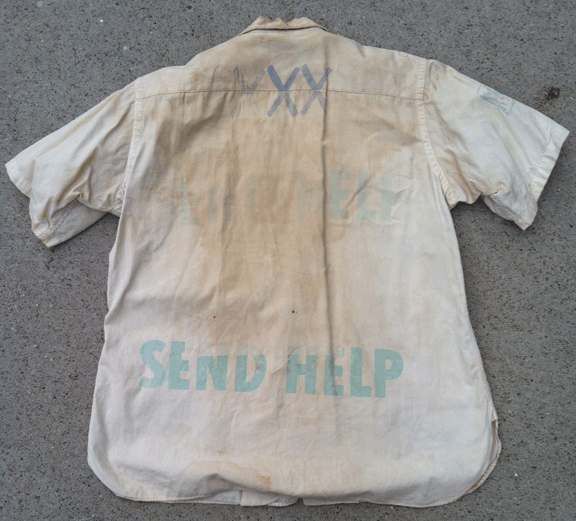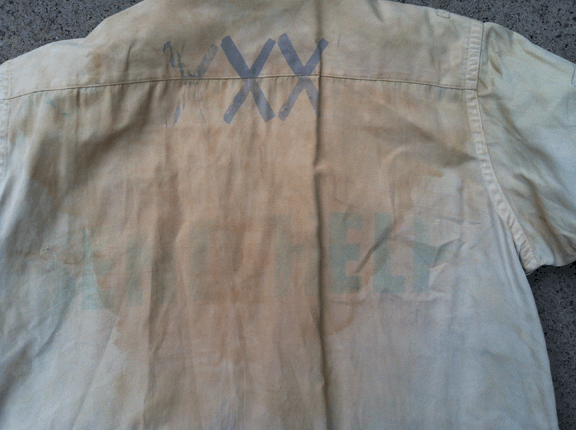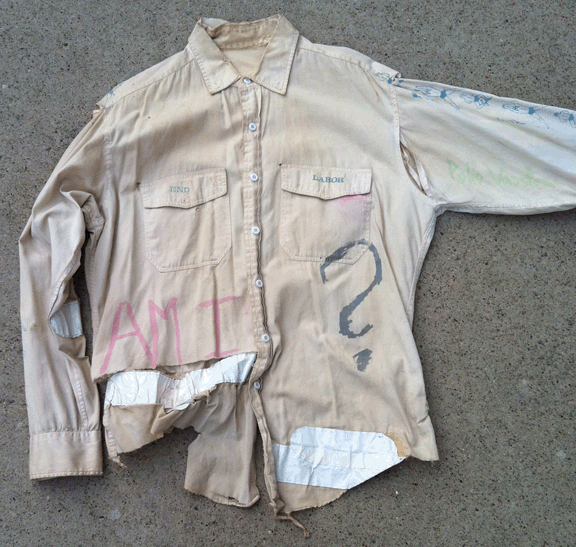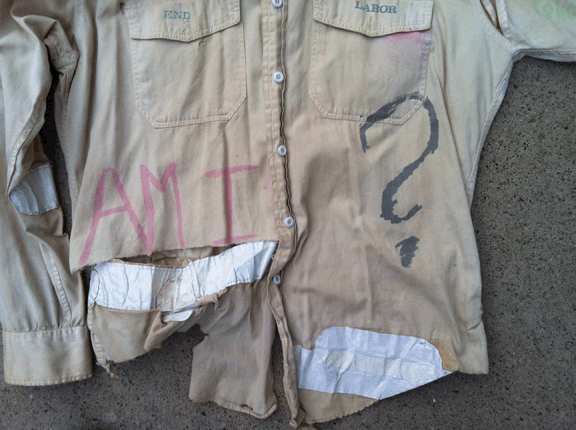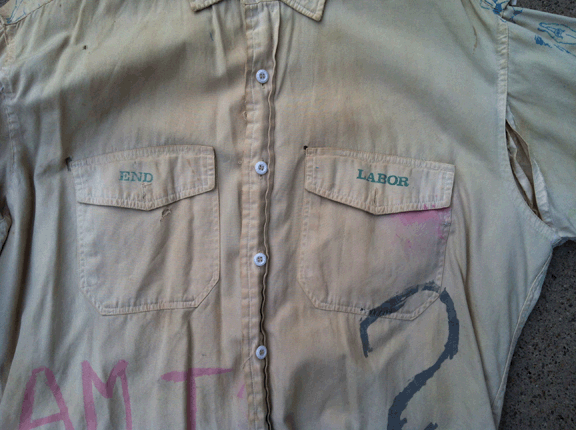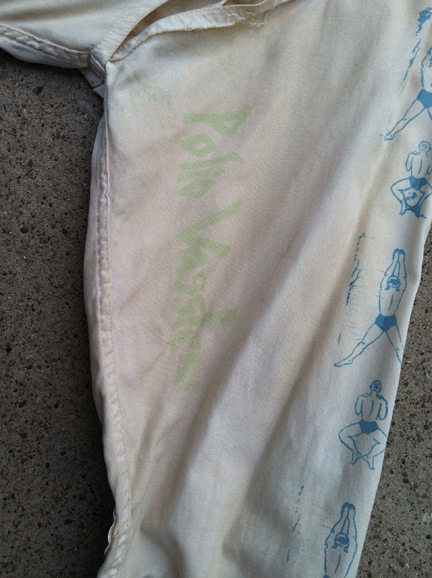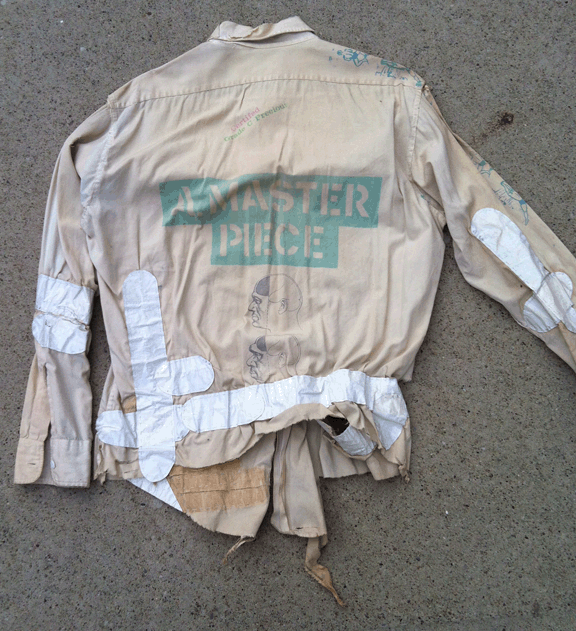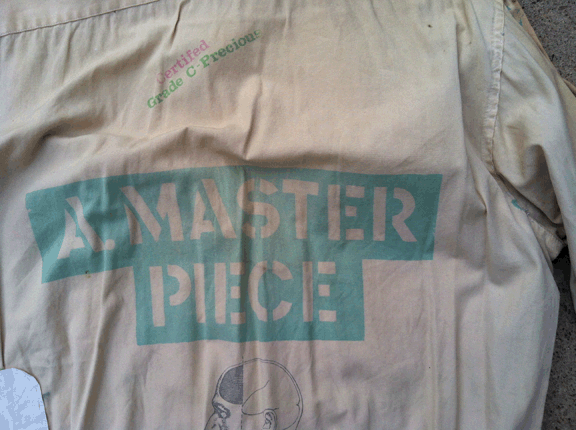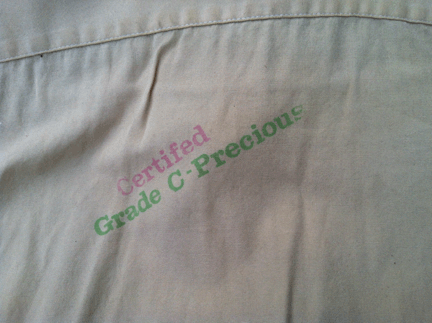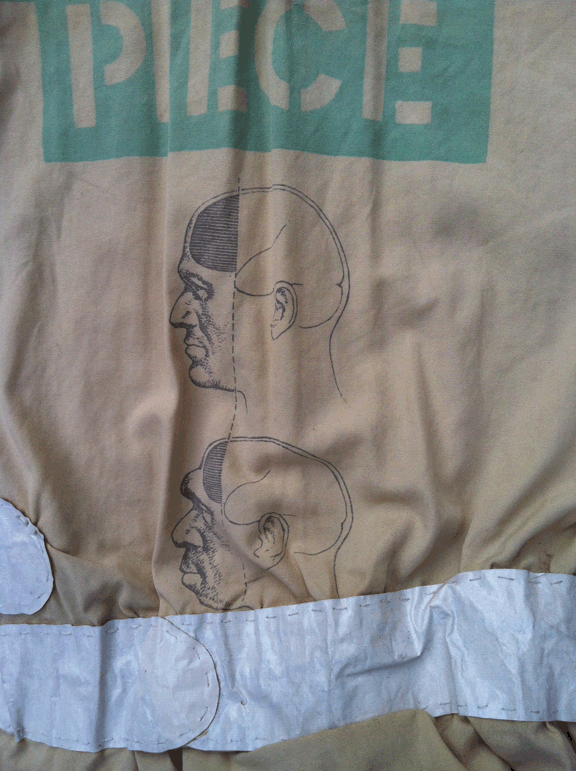 The few people who are familiar with my early text pieces might recognize my "connect-the-alphabet-1" piece that can be seen on one of my "Writing" webpages.
The following "DisAbled" photos could've beeen from 1977 or from 1979 as well as where I have them placed here. Note that this was given to my girlfriend of the time who then, apparently, gave them to me - probably when we broke up. Unlike other girlfriends of mine, she didn't destroy the work. I reckon I have that to be thankful for.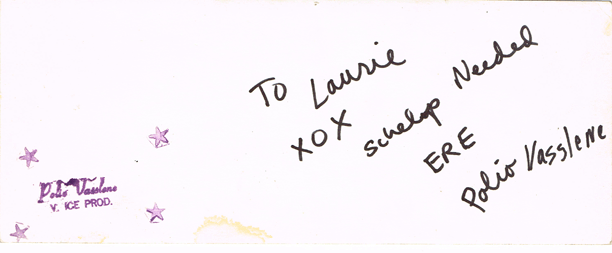 Retrospectively, Paula is sometimes uncomfortable with some of her early work. She doesn't like the name "Polio Vasslene", for example. I just see it as a nonsensical pun off of "Polio Vaccine". She also doesn't like the "DIS-ABLED" diptych above (which I also see as nonsensical) so she sent me 2 variant photos that I've turned into the diptych below:

1979:
1979 certainly marked a time of some of my most imaginative & innovative ways of what I sometimes called "Appearance Tactics" or "Blatant Perversion". It was also the year that marked the founding of "B.U.T.N" (Baltimore Underground Telephone Network), the 2nd manifestation of which was called "VD-RADIO" - which was what the phone number spelled.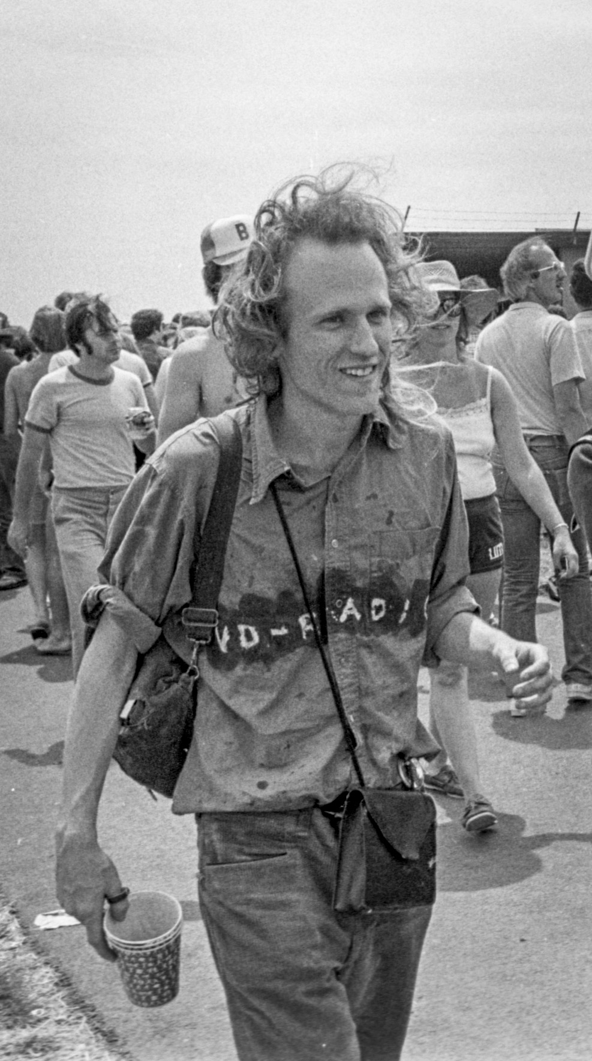 What's not obvious here is that this shirt was splattered with my blood from when I drunkenly slashed my wrist in a night of despair prompted by my girlfriend. I put bloody handprints on the wall & was taken to the hospital in an ambulance.
My flagrant weirdness wasn't just for the camera, it was the way I lived - & in an oppressive backwards shithole like Baltimore was at the time, this was dangerous. the quantity of street harrassment that I underwent then was phenomenal. But I was determined to live in accordance with my imagination & to not be cowed by the morons & assholes who shouted out insults to me from their passing cars or threatened me on the streets.
It wasn't just the jocks either. People in the art world were similarly intolerant. Most of them, to paraphrase Frank Zappa, wouldn't have known imagination if it came up & bit them on the ass.
Even my girlfriend, an art student, was generally too embarrassed to be seen with me in public & acted like she didn't know me much of the time. One time we were in a movie theater together & she saw that her coworkers at an ad agency were there so she asked me to leave separately so that her coworkers wouldn't see us together. Ironically, one of these coworkers was a former drag queen - apparently, I would've been too much even for shim.
I like to say that that era was my psychopath training. So many people attempted to abuse, degrade, & humiliate me that I became increasingly psychotic as I knew more & more that I might have to defend myself to the death at any time. This showed & I managed to keep the predators at bay by making them fear me. They deserved nothing better. The truly weird predators I sometimes befriended.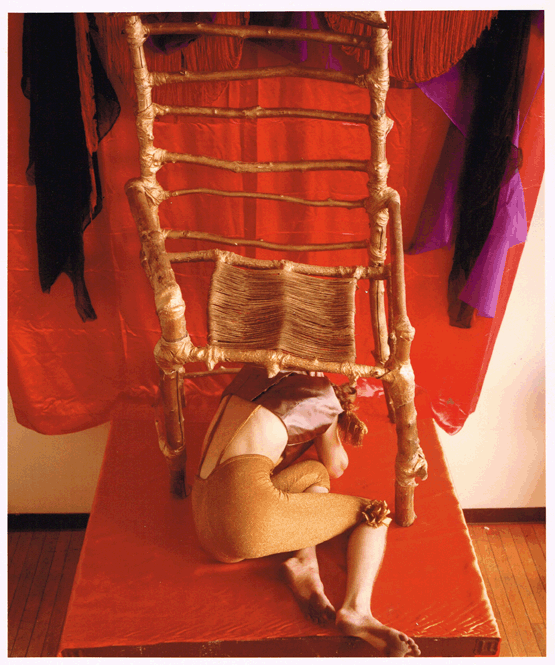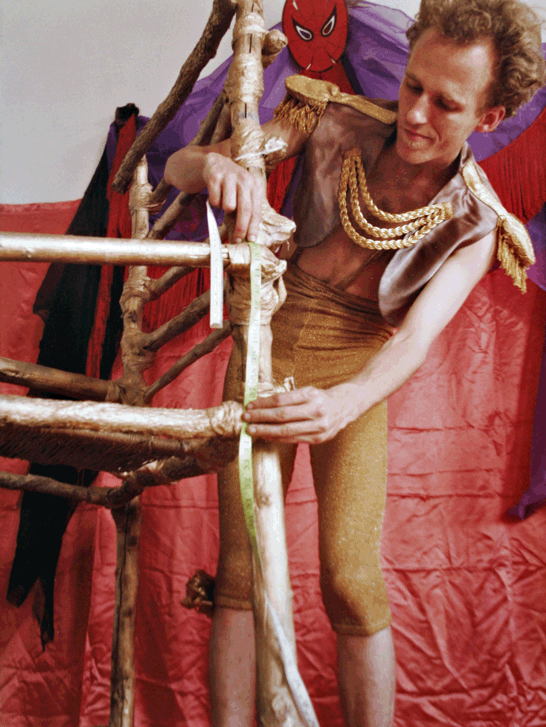 The following are what I called my "Gym Dandy" pants. As you can see, at least one pocket was deliberately put in upside-down (by me, of course) & I decided to decorate them by spilling wine on them while I was also upside-down.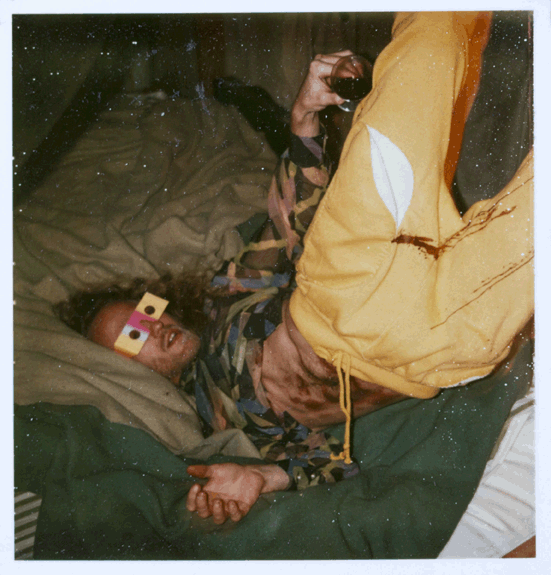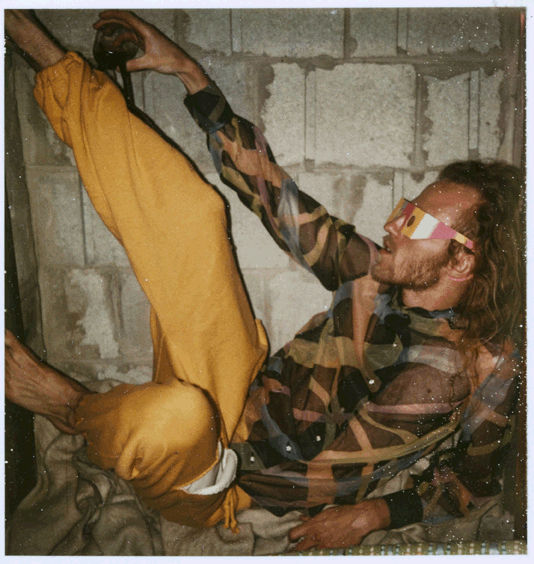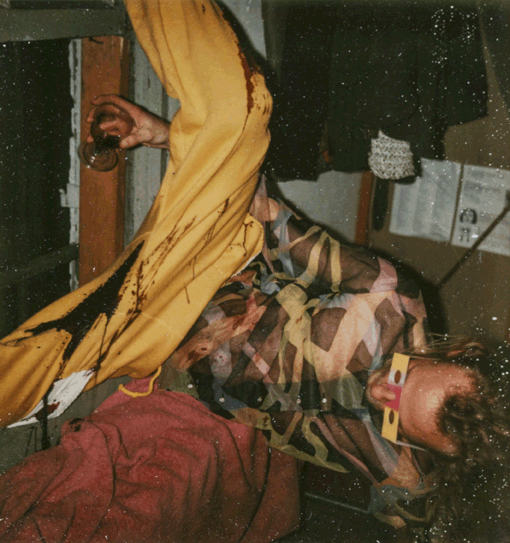 One of the things that I did that I still think was a wonderful idea was wear stickers on my face. Thank the holy ceiling light that Paula was there to document such things because I was too busy living to document as heavily as I do now - besides which I was very, very poor & had little or no money for cameras or film.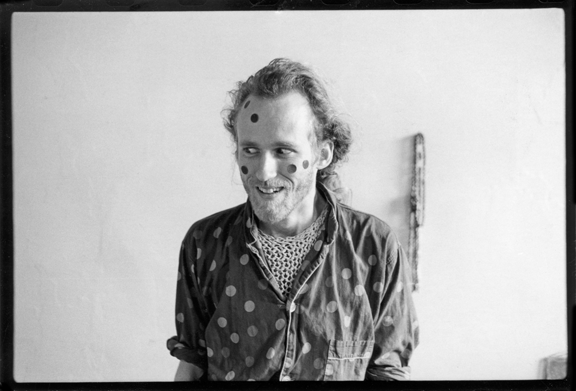 Another favorite innovation from that time was my "12 Moustaches & the 5 Utters of Ignorance" haircut. I'd probably been thinking about this for years before I finally had the nerve to do it. My Haircuts website index is here if you want to see other images of haircuts that I've had.
While punks in bigger cities like London had huge Mohawks by now, haircuts in Baltimore were basically either short, long, or shaved. There was basically nothing else. Conformity, as in every other realm, ruled the day.. & the week.. & the month.. & the year.. & the decade. Shown in the photos below is a young woman I only knew as "Veronica Pluto" giving me my 1st incarnation of the haircut. Paula, as usual, was there to document. By this point we were living together again.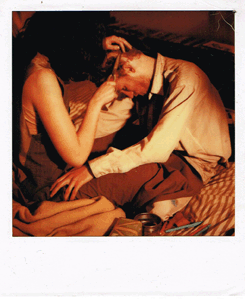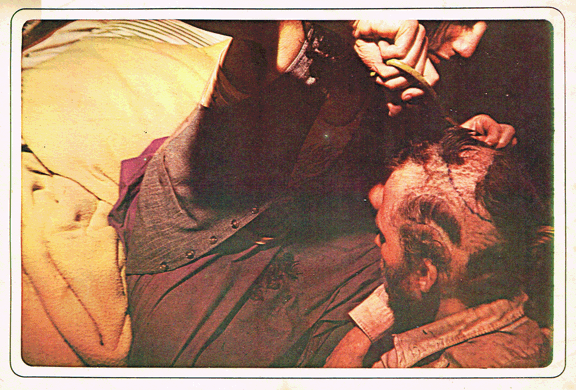 Another clothing innovation that I'm particularly proud of was what I called my "Salad Dressing" (1976). This consisted of scraps of cloth cut into what I called my "Frame of Reference" shapes. Two of the shapes had button holes in them, the other shapes had buttons on them. The idea was to have to assemble the Salad Dressing anew for everytime it was worn. This was so labor intensive & the result was so precarious once finished that I rarely wore it. This session is the only documentation of it that I know of. Paula was THERE.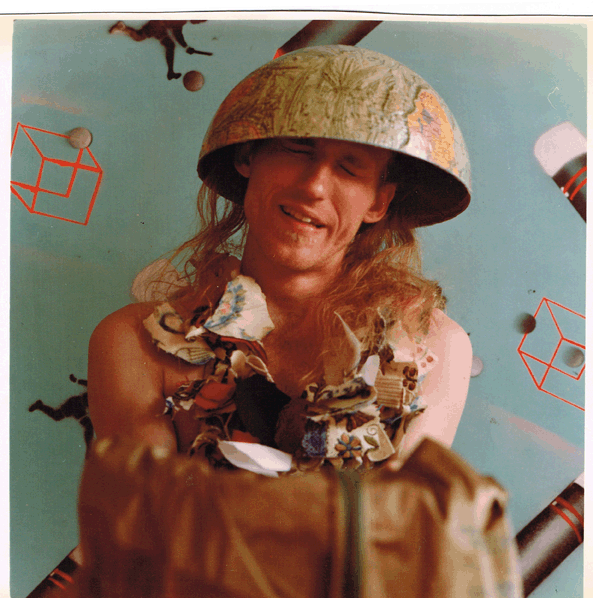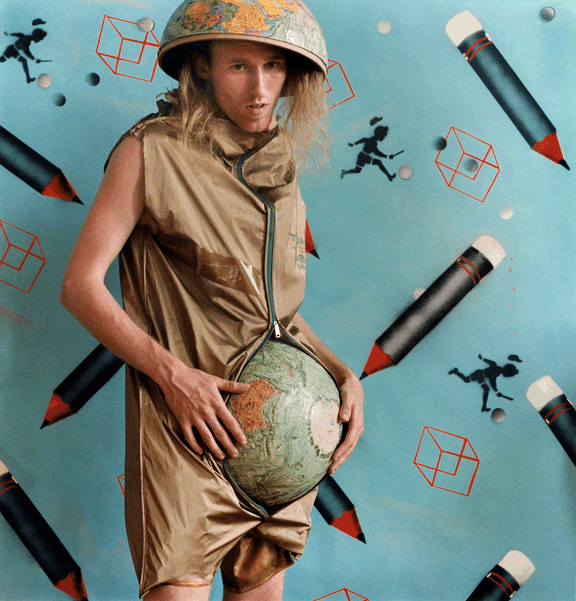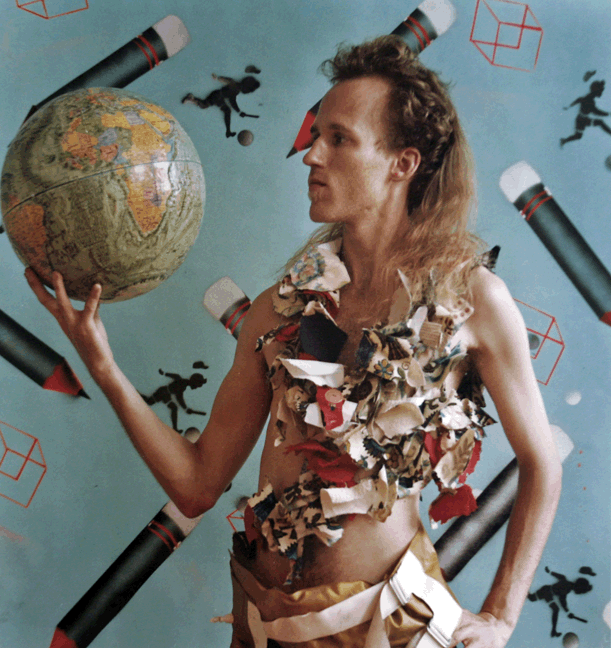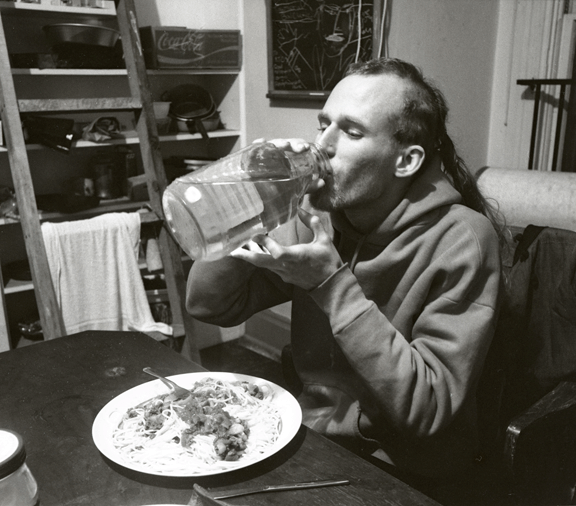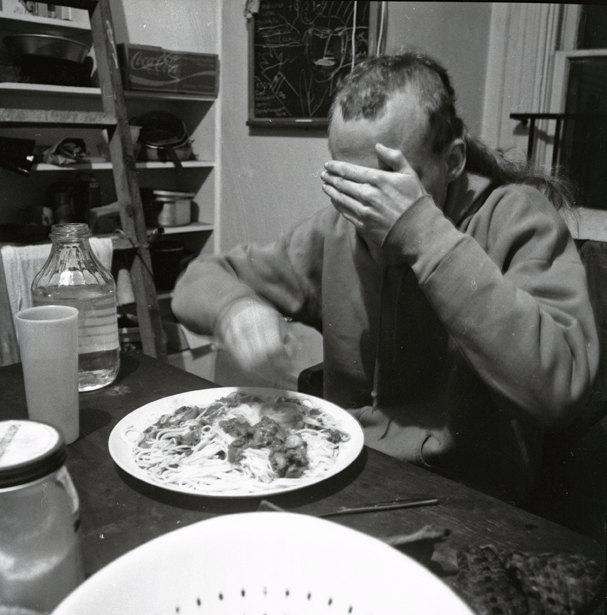 In addition to everything else that was going on, I was very interested in creating small "Mystery Catalysts" in public places & in just generally interacting in a creative way with the urban environment since I was spending quite a bit of time out on the streets walking. I didn't have a bike, I only had a car for a brief while in maybe 1978, & I was probably too poor to take the bus much of the time.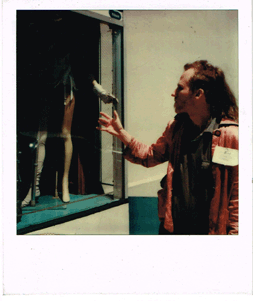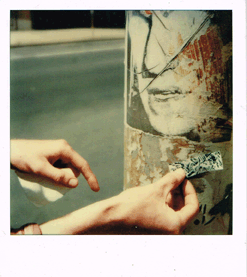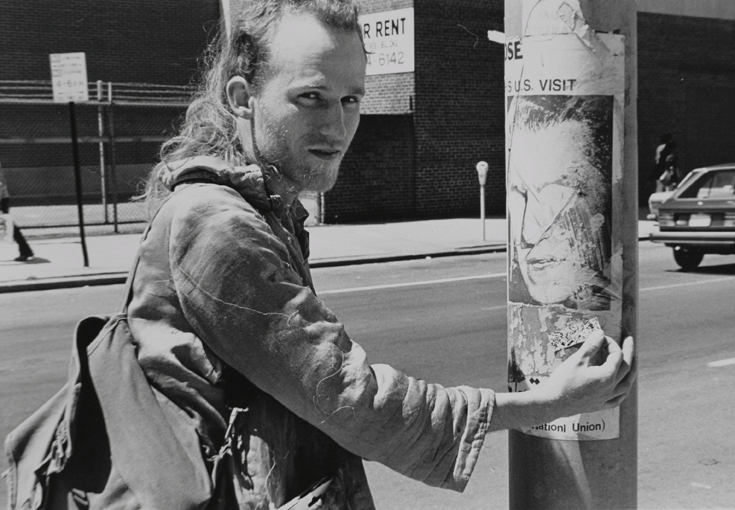 Paula had a show at an art gallery in Fells Point, at that time a still pretty rough waterfront bar district where I'd lived from 1976 to 1977.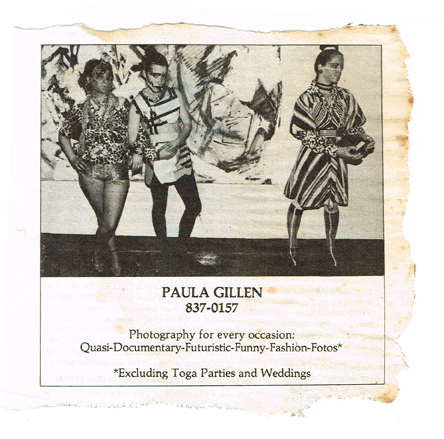 Looking at this again, I was surprised to seee Paula use the language "Quasi-Documentary" which was a term that I'd coined to describe much of my own work.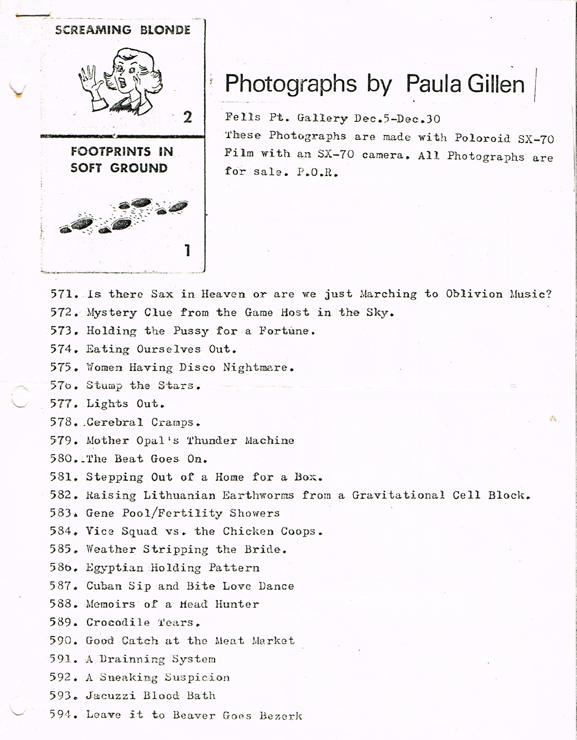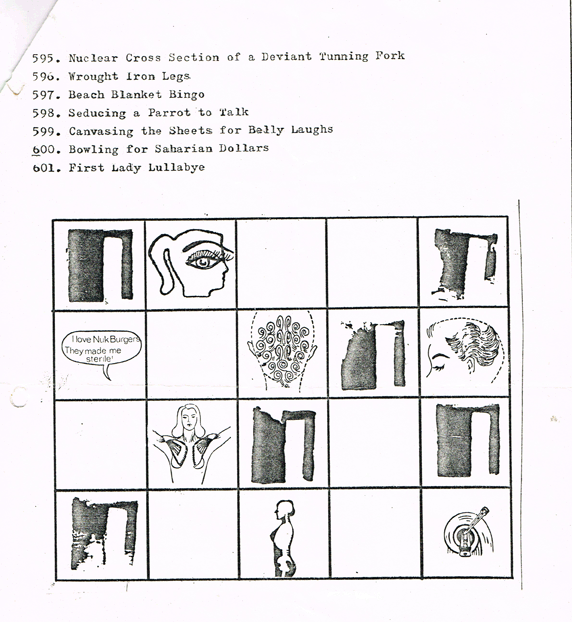 The following 3 photos show me dancing with, or in proximity to, my friend Priscilla. We were, apparently, at the Corpus Christi Church building of MICA (Maryland Institute College of Art), more commonly known as "The Institute". Note that I was adorned with stickers. The one on my forehead was one of my Frame of Reference shapes cut out of mylar, a material that was exciting & new to us at the time. Note also that I'm using a hand gesture that I'd use often when I saw myself being photographed, starting in 1979. I still use that hand gesture today as a part of creating a continuity in photographs of me. The band that was playing was "Tiny Desk Unit", a band from Washington DC that featured Bob Boilen on synthesizer. Synthesizers were rare in this neck of the urban jungle at the time.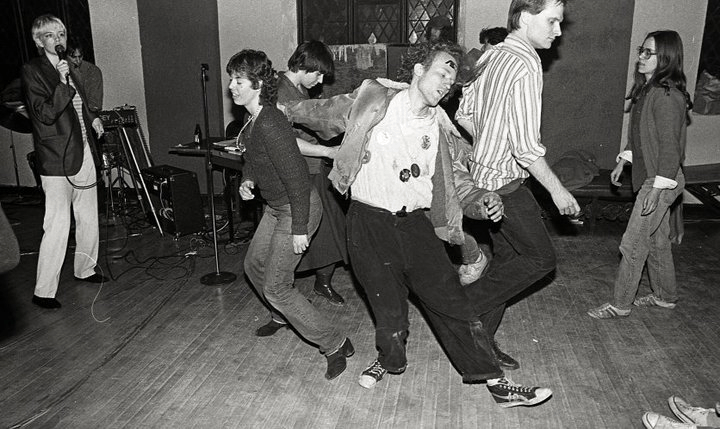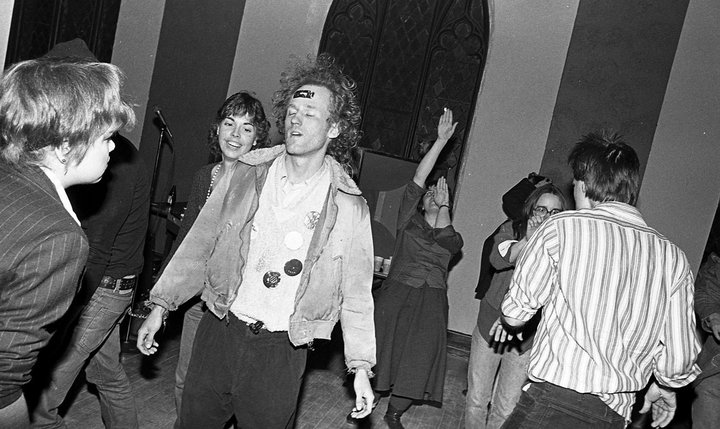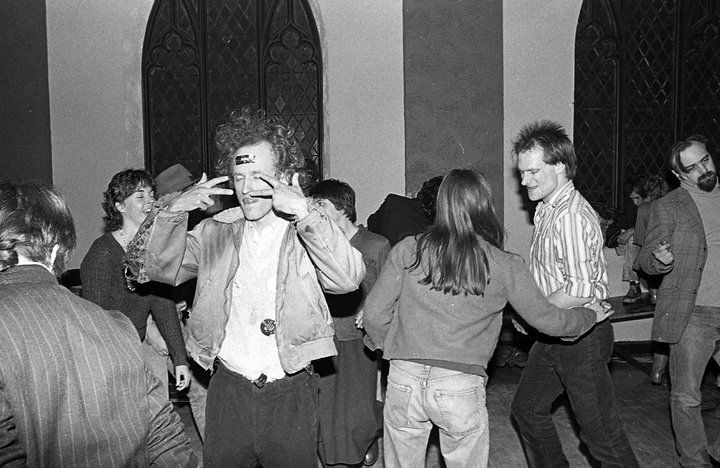 1980:
Paula had a photo show at School 33 in South BalTimOre where she had a grant to work in their studios from January to June of 1980. Five of the more obviously staged color photos that I have listed under 1979 would've been shot at School 33 so they should probably be placed here instead.
One of the funniest things I remember about the opening was John Waters & a friend attending & ogling a picture of my naked ass. Waters was still making only 16mm films at the time & his 1st book, "Shock Value", hadn't come out yet so he wasn't as famous as he came to be 2 years or so later. Still, his few brilliantly audacious 16mm films had made him an icon in Baltimore.
Sometime around this time I built my "AS-Radio", a wooden enlargement of a portable AM Radio that I had. I used it as my bedroom in the basement of the communal household I was living in on the 1600 block of Calvert St.
It was lined with egg-cartons for sound-proofing. One of the funniest things I ever did in it was hook up 2 reel-to-reel tape recorders to a microphone inside the AS-Radio & put a speaker inside it for hearing the delayed results. Then I fucked in it. That didn't really work so well as an erotic aid but it was worth trying, eh?
The photographs here show it with one of the sides removed to make photography easier. I'm wearing my "Tim Ore" clothes. Tim Ore was my name that proved that the name of the city I lived in, BalTimOre, was a sex ad for myself. Tim Ore, unlike the rest of my identities, was an artist, a con artist.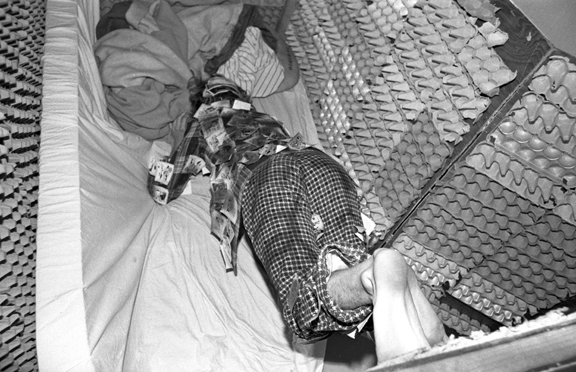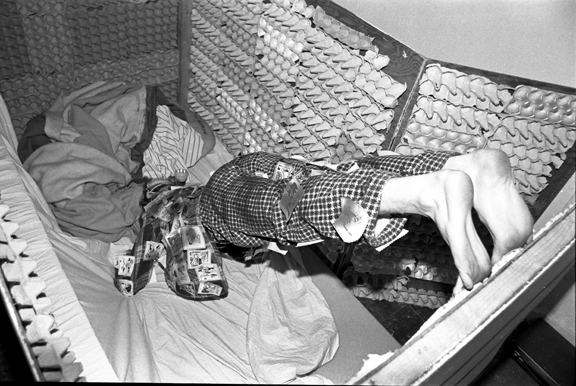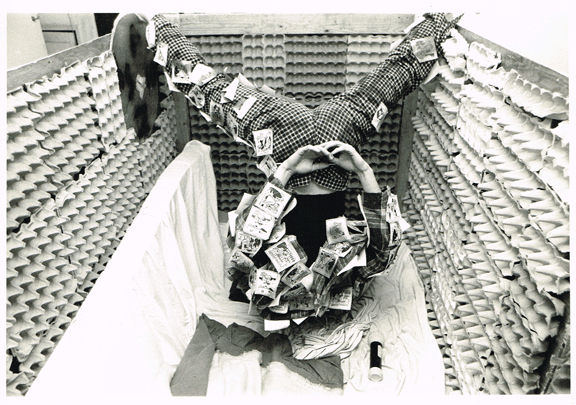 I tried using the AS-Radio in 2 'performances': one at a benefit for the amazing Balti-Media Science Fair that happened later this year & one at the Science Fair itself. Neither of these 'performances' worked out for reasons that I won't complain about here (except to say that I was given short shrift, as usual, for being too weird).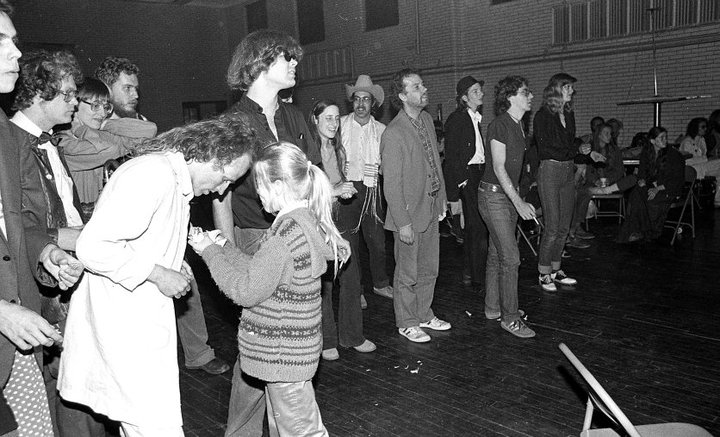 I don't know who this young girl was but I vaguely remember her coming up to talk to me at the Science Fair at Johns Hopkins University later in the year. Apparently she talked to me here at the benefit for the same. Shown in this photo are many of the luminaries of the BalTimOre creative world at the time. From left-to-right: Chris Mason (curly hair, behind me to my left), Ro Malone, Kirby Malone, Richard Tryzno Ellsberry (directly to my left), Lisa Land, & Alec Bernstein.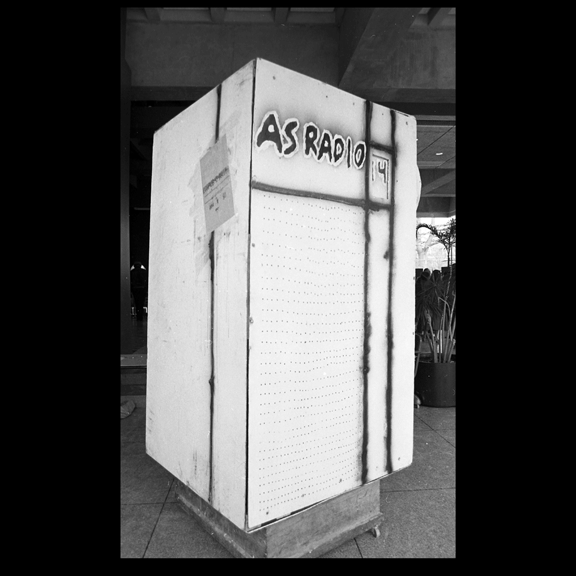 The AS-Radio on a modeling stand that was too small to support its weight. This was for a "Crab Feast" 'performance at the Balti-Media Edition & Science Fair in the Johns Hopkins University Glass Pavilion. The idea was that flutist Steve Brooks & I were supposed to be inside the AS-Radio performing scores of mine while the AS-Radio moved. As I vaguely recall, the modeling stand broke immediately from our weight & the 'performance' didn't happen. It's possible that people slept in it instead once it was on its side on the floor but the photo below might be from the Science Fair Benefit that happened at Corpus Christi earlier in the month.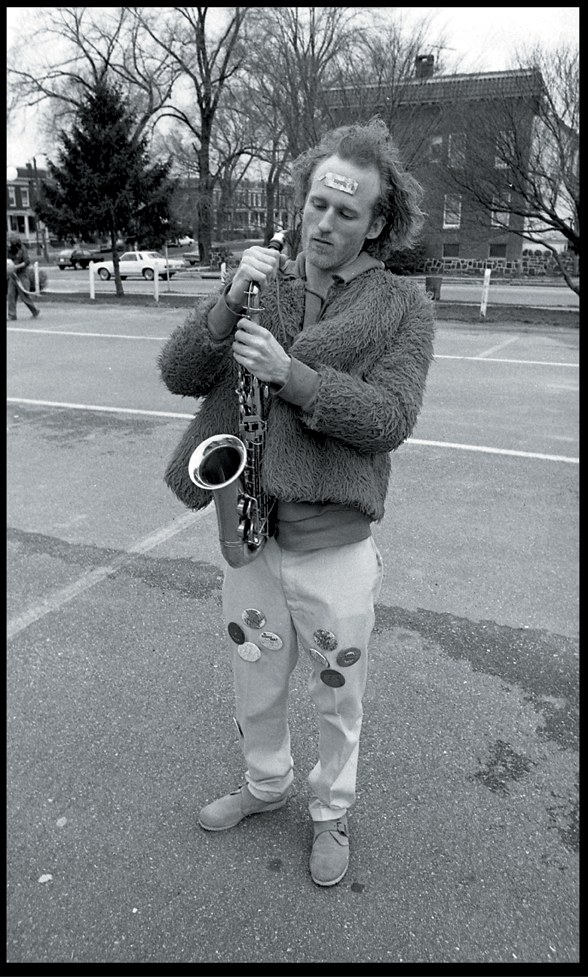 Apparently, I played alto sax at some point as part of the Science Fair - maybe as part of our parade.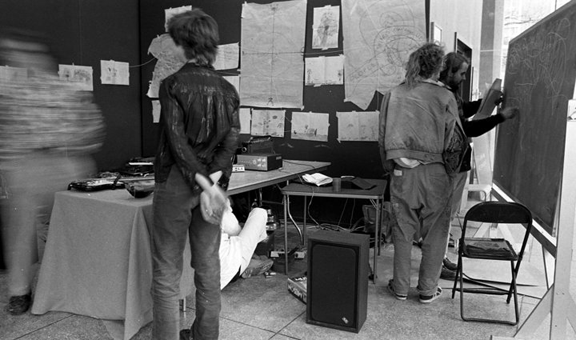 Here I am talking with my friend Chas Brohawn during a Tinklers demonstration at the Science Fair. Chris Mason is the blur to the left & he's talking with Susan Henderson.
My girlfriend who worked for the ad agency had been recruited to wear the mask & military school uniform that MAD Magazine's character Alfred E. Newman wore in a movie that they were releasing at the time entitled "Up the Academy". I freely admit to loving MAD Magazine & would credit it as influential on me. Too bad I gave away all my issues of it that I collected as a kid.
Anyway, the girlfriend was to wear the outfit to the Pimlico Racetrack for their famous, & very well-attended, "Preakness" so that she could promote the film. She was recruited to do this because she was the right size to wear the clothes. One of the funniest pictures, for me, that Paula ever took was of Alfred E. Newman flanked by police officers there.
After the Preakness, Alfred got to experience the great honor of graduating from my Nuclear Brain Physics Surgery school. You can learn more about that on the Internet Archive here: https://archive.org/details/NBPSSL1 . Paula didn't take this picture of Alfred naked but I've included it here anyway for historical purposes.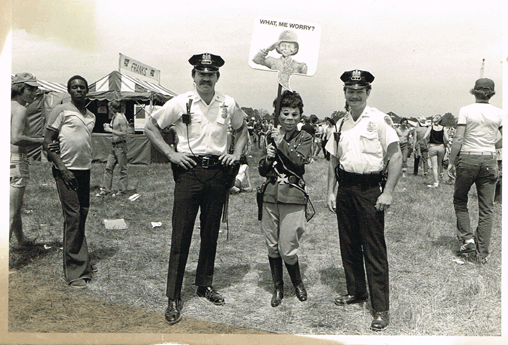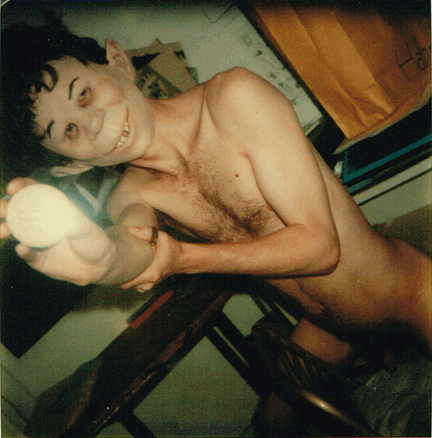 1981:
I probably made my "Snow Shoes" in 1981 because I find no mention of them in my "Resumé" that ends at 1980 but that seems odd to me because my main period of mold making was around 1975 when I was working on my Frame of Reference.
The Show Shoes were a mold of the bottoms of a pair of boots that I had that I wore on the bottoms of those boots to leave a positive impression of boots coming UP from the snow. This was an example of a Mystery Catalyst - something that I figured few or no people would notice but that, if anyone did notice, might've seemed very strange indeed - without any likely explanation.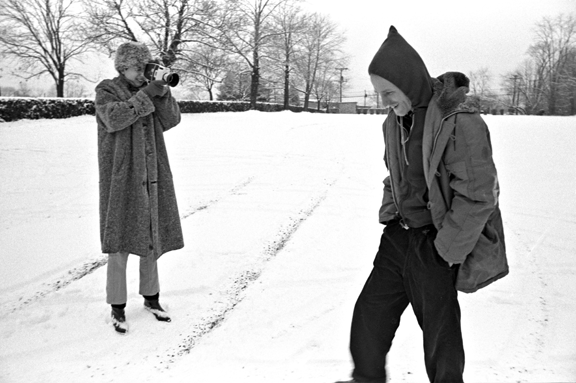 The other person filming here is my friend Nancy Andrews who I lived with in 2 places around this time.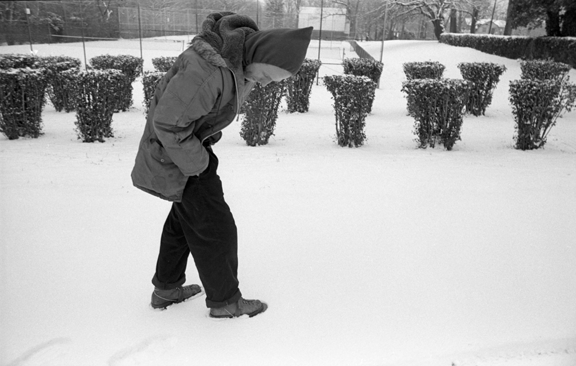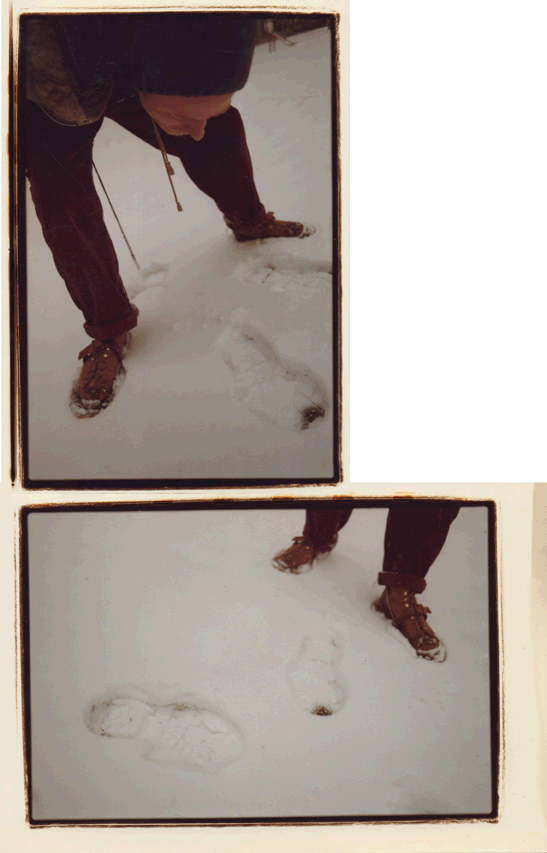 2010:
Paula moved away from BalTimOre & went to Grad School in Chicago. We stayed in touch somewhat & I visited her there in 1982 & 1986. My life was very dramatic so it must've been stressful to be around. In 1982 I stayed at her place because I'd been basically kicked out of the 2nd SubGenius Convention by yet-another girlfriend.
In 1986 I had to stay with her because I was fleeing from the police who hadn't taken kindly to an action that I performed at the anarchist Haymarket Centennial. While I was talking on the phone with her in a phone-booth I had to hurriedly hang up & jump into a passing car because the police were closing in. Ha ha!
After that, we lost touch with each other. She went to NYC (1987) & worked as a freelance photo researcher/photo editor for many magazines such as Vanity Fair, People, Business Week, Time and her last gig, at The New Yorker magazine before moving to Boulder, CO in 2008 to live with her husband Alex. I was getting involved with a poet who lived there & had gone to Naropa to give a 'performance'. There's a link to the short document of that performance above.
It was great to reconnect with Paula. While I was there, she shot an abundance of photos of me being myself in the fitness center in the very Boulder apartment building where the poet lived. Boulder is, to put it mildly, bourgeois. I like to say that everyone there looks like a cover model for Buns of Steel magazine - something that, as far as I know, doesn't exist.
Of course, when I say 'everyone', I'm excluding the prominent Mexican-American population that does the work that the rich people won't do. Boulder strikes me as a 'Trustifarian' town. It's the only place I've ever been to where most of the bicyclists have clothes just for bike riding & where a walk in the hills is like training for the Olympics. Fitness rules the day & Fitness Centers are everywhere (as are 'medical marijuana' dealerships). I didn't exactly 'fit' in. Even at Naropa I felt like a weirdo incomprehensible to the students.
Still, Boulder has at least one or more good used bookstores. Not included in that is the poetry one run by the rich junkie whose prices are outrageous.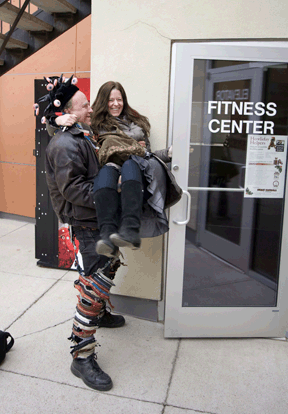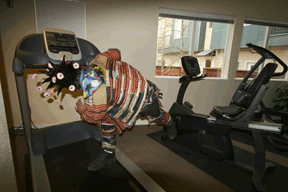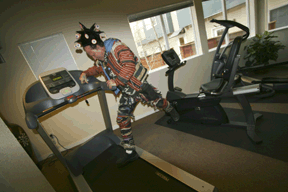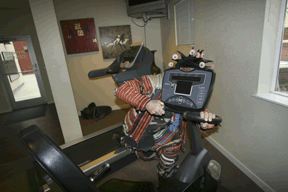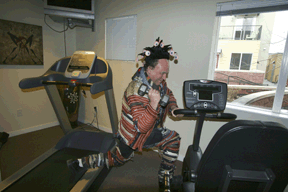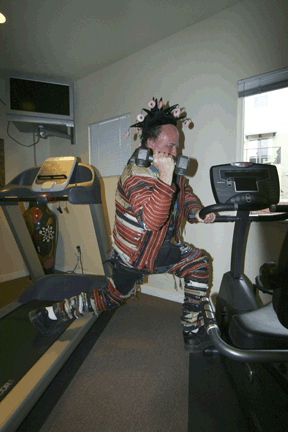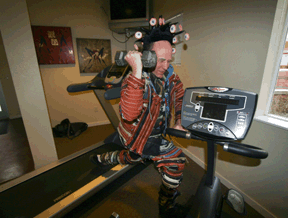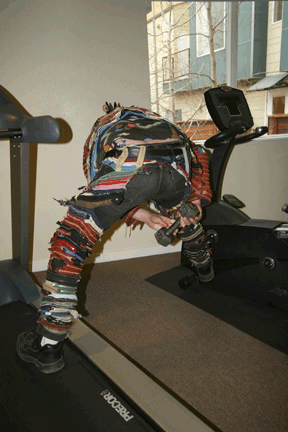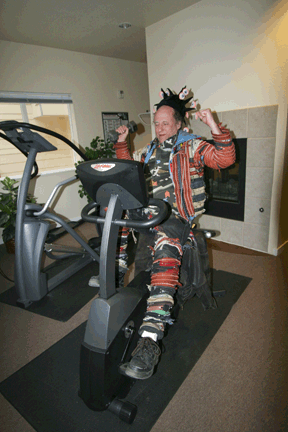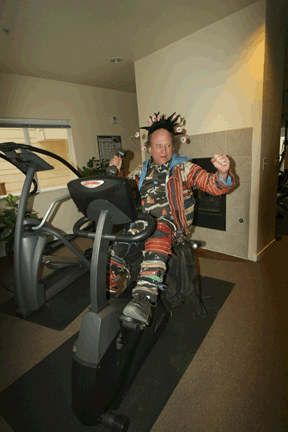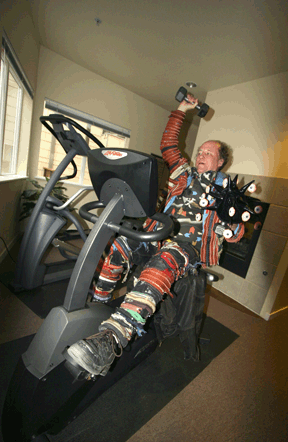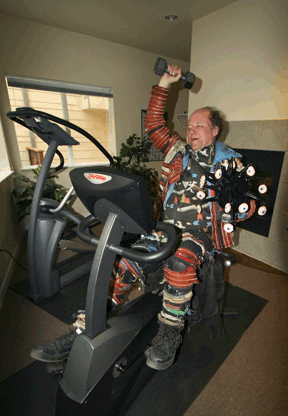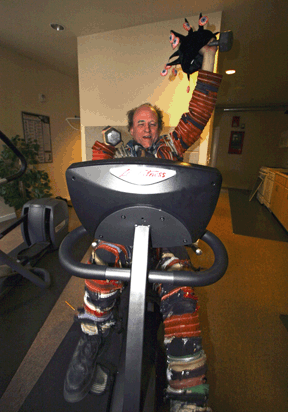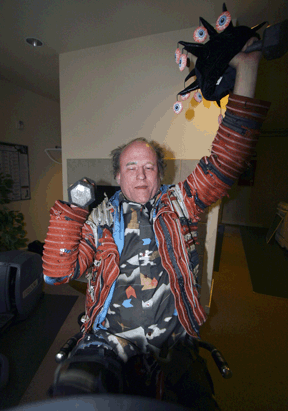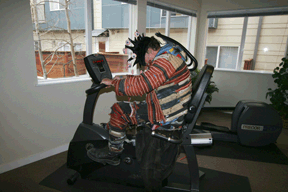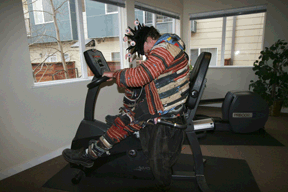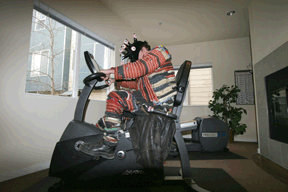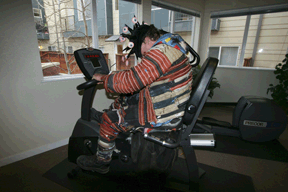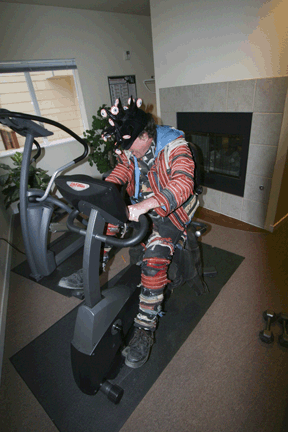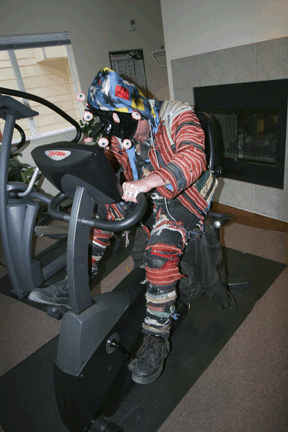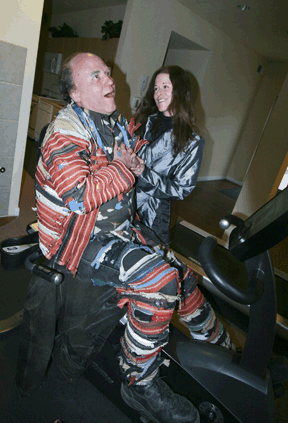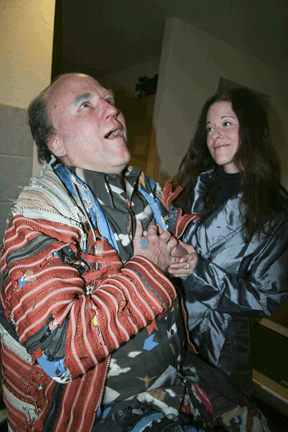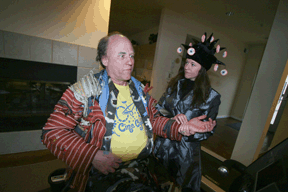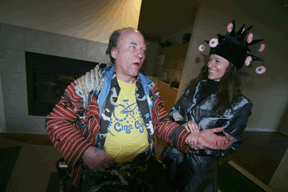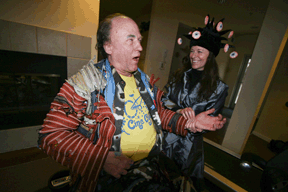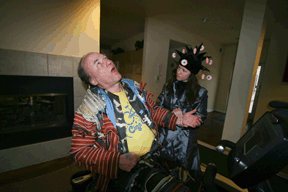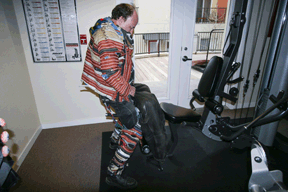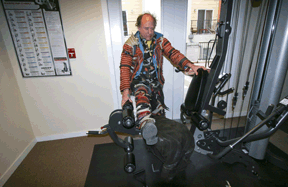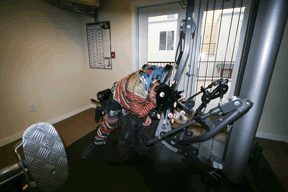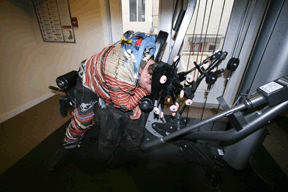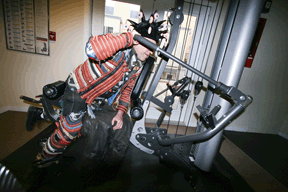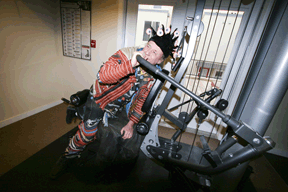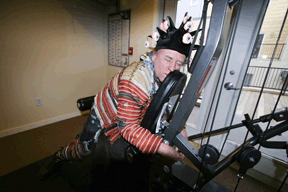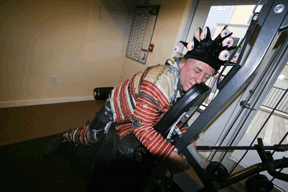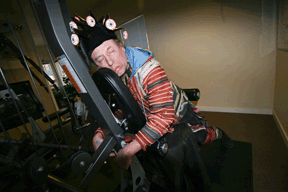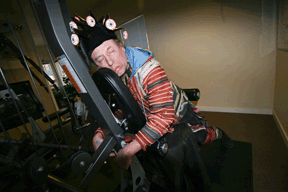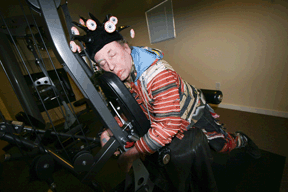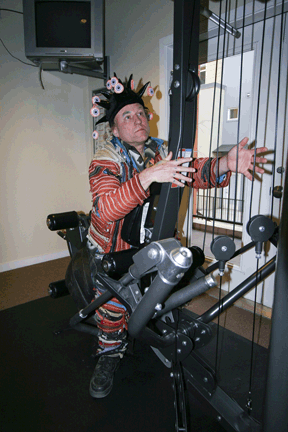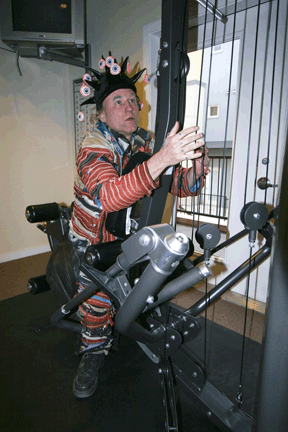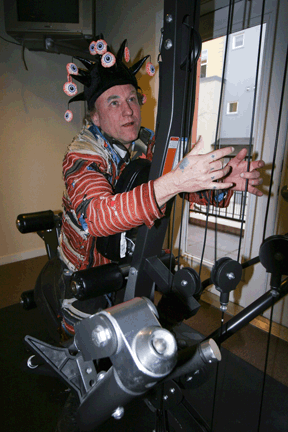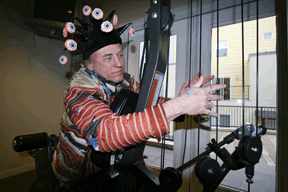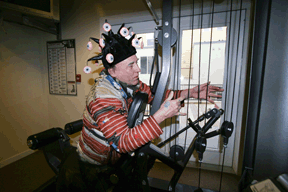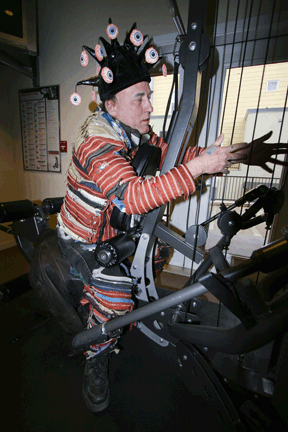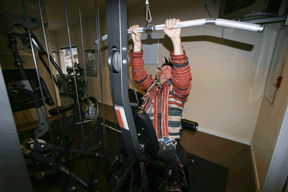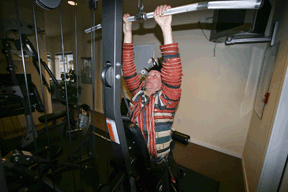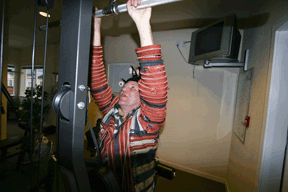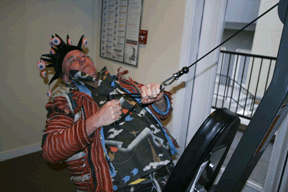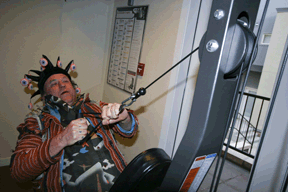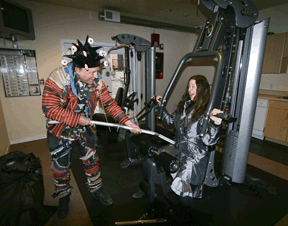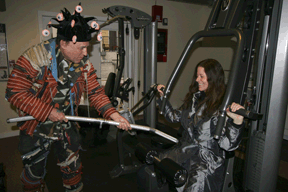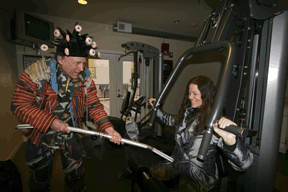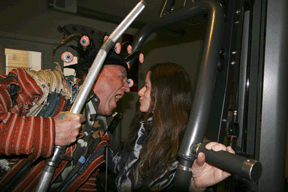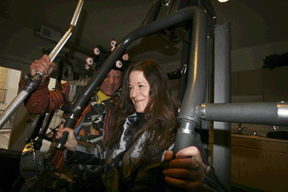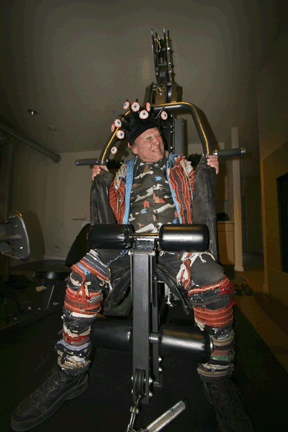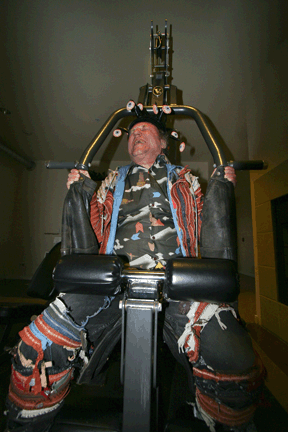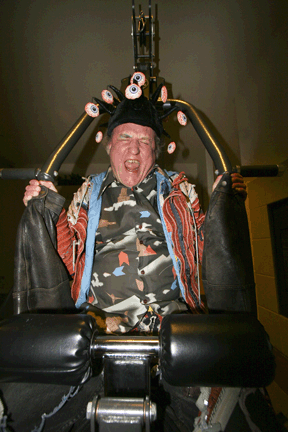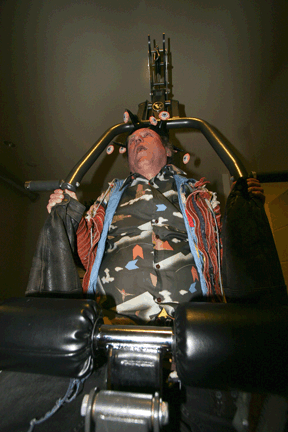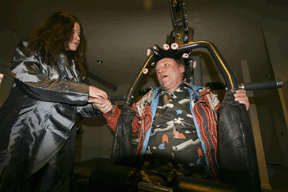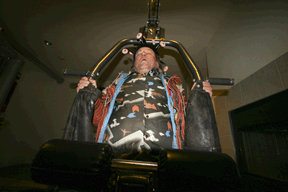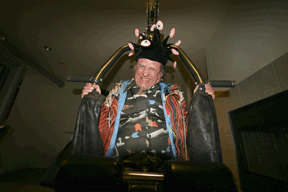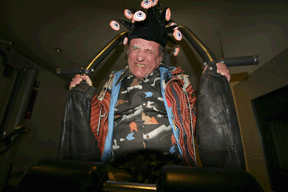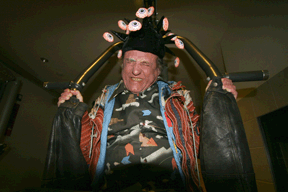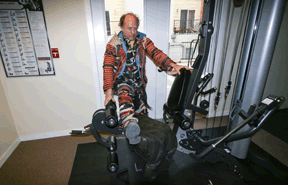 2011:
I was back in Boulder again in 2011 to help the poet move to Pittsburgh. I'd become very enthusiastic about the prairie dogs that had a substantial city not too far away. I decided to make a movie commemorating the prairie dogs & Boulder before the poet moved. This became "COLONY": http://youtu.be/7AgvRX4MJmA .
I recruited Paula to help with this. I remembered that Paula had shown me one of her small sculptures when I'd visited her in Chicago. It had been of body-builder Lisa Lyons who Robert Mapplethorpe had photographed.
With my usual excessively blunt honesty I had expressed a dislike or lack of interest in the work. I wasn't interested in body-building, I wasn't interested in Mapplethorpe, I wasn't even interested in the camp or kitsch value of it. I think, as usual, I was being insensitive to Paula.
In 2011, I wanted to counteract that insensitivity so I proposed that we use her sculptures in my movie. We took them to the prairie dog colony & arranged them somewhat near one of the prairie dog burrows. Part of the movie then became about prairie dogs as collectors of 'Gillens'. I directed Paula to walk by in some of the shots wearing different types of shoes on each foot.
The following are stills that Paula took during the making of the movie that also got incorporated into it & stills from the finished product. I love this movie. Those were good times, the good times weren't just in my youth, thank the holy ceiling light.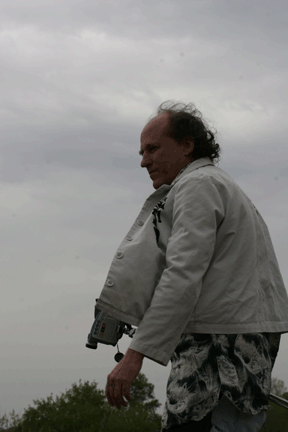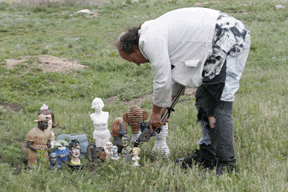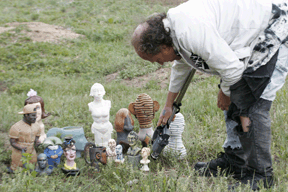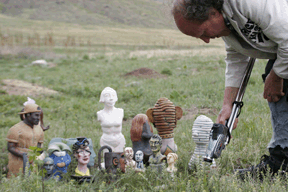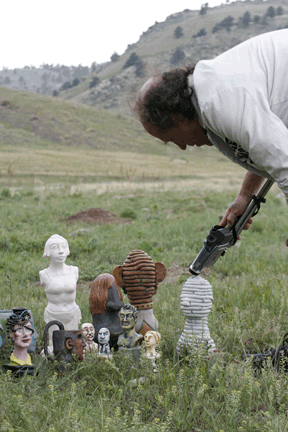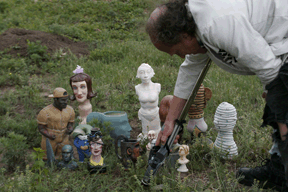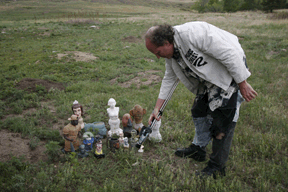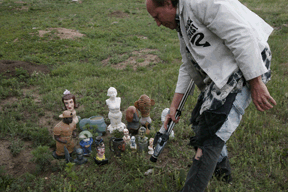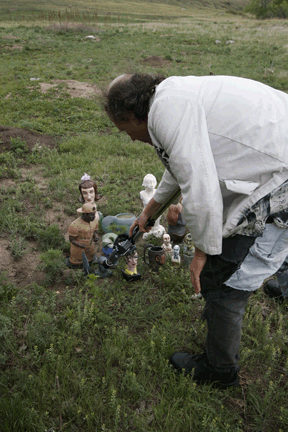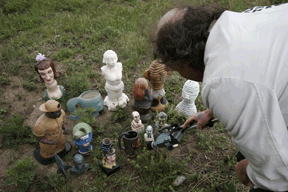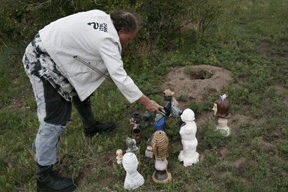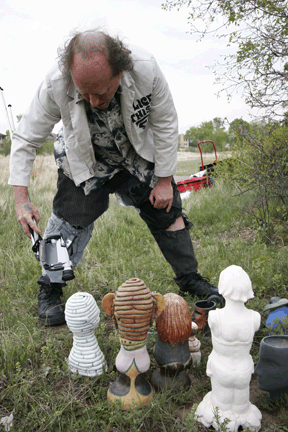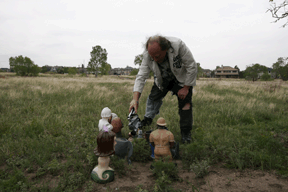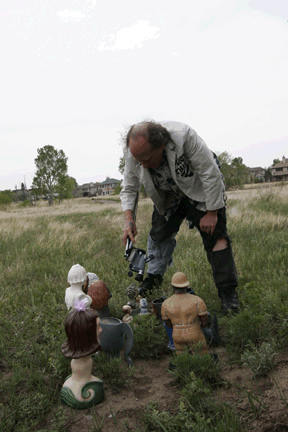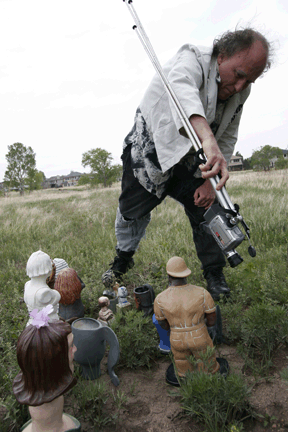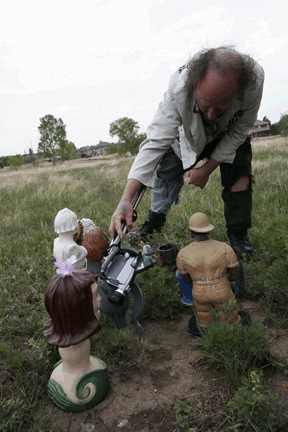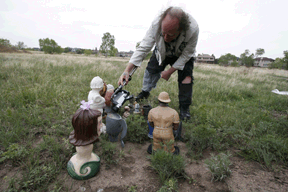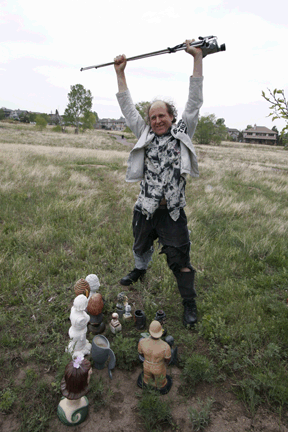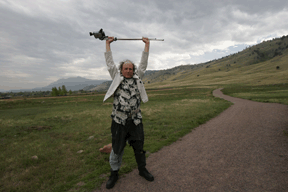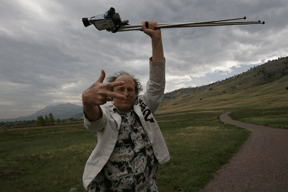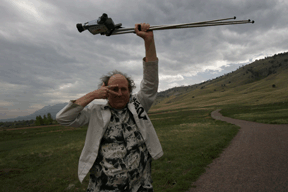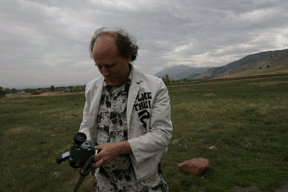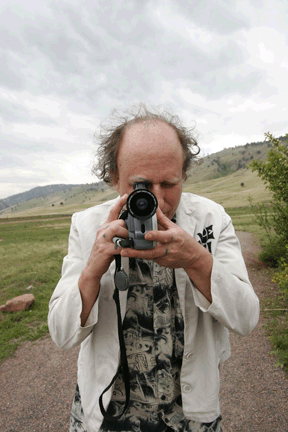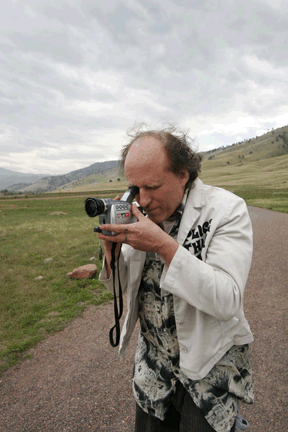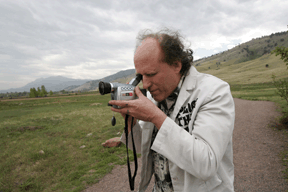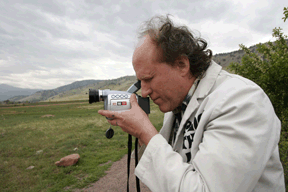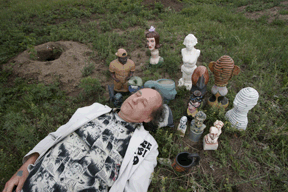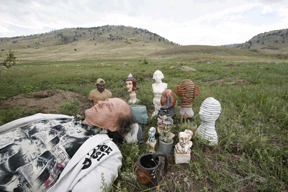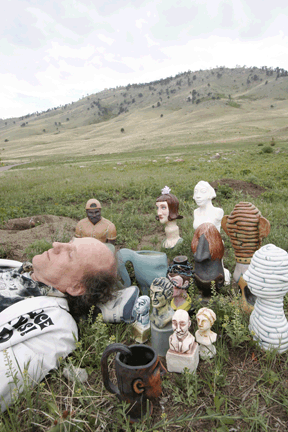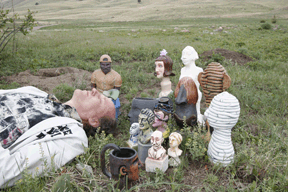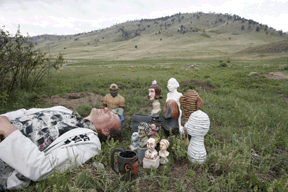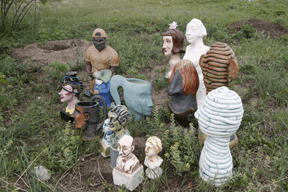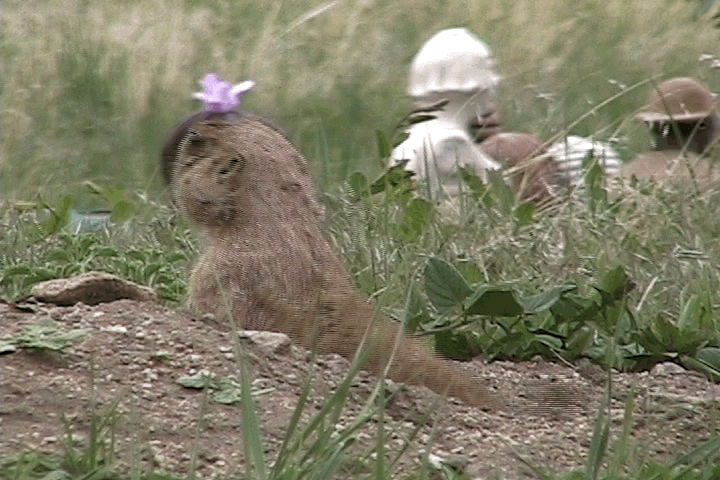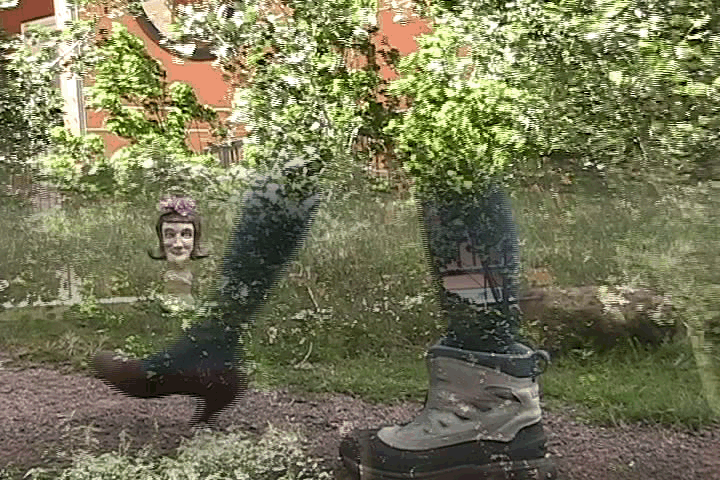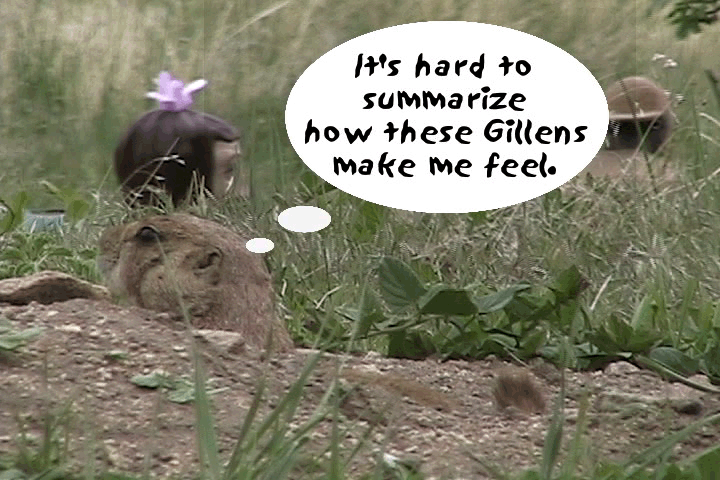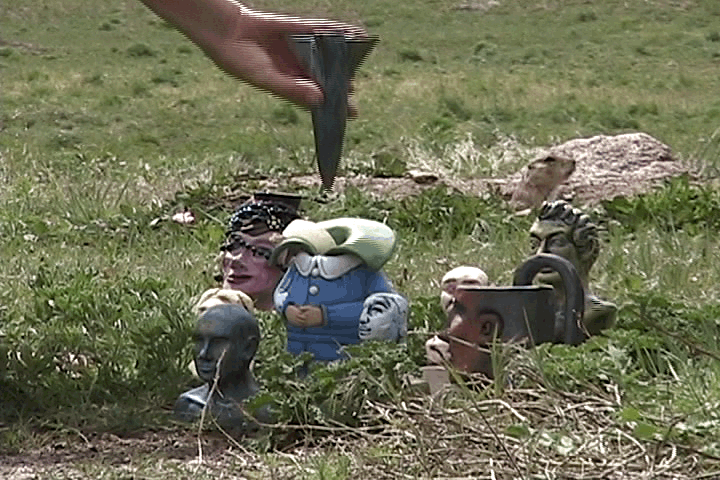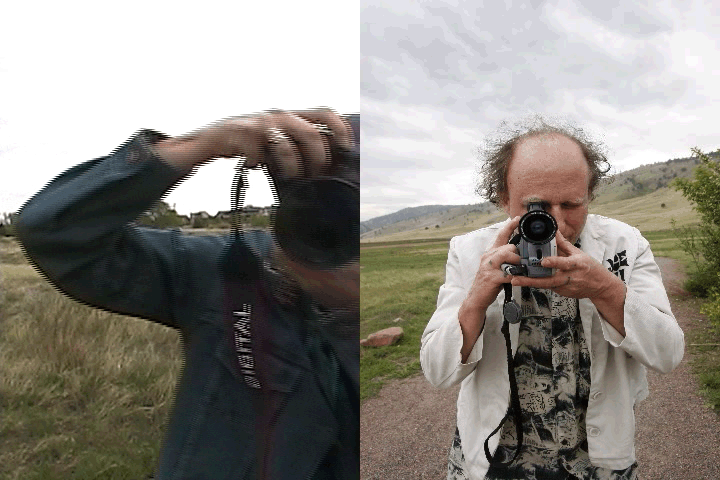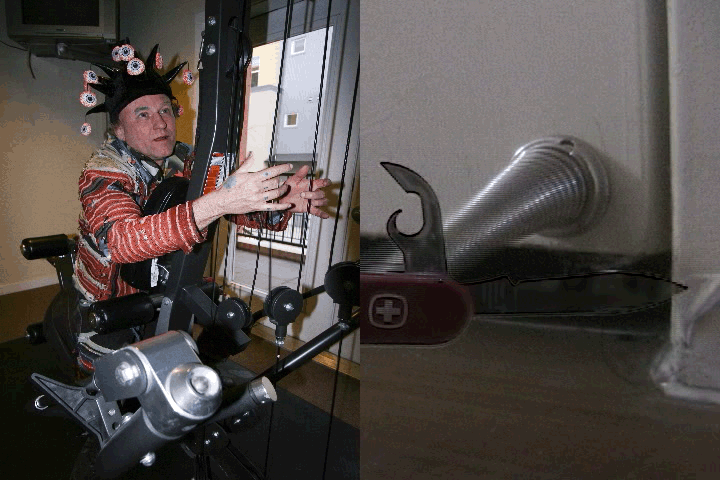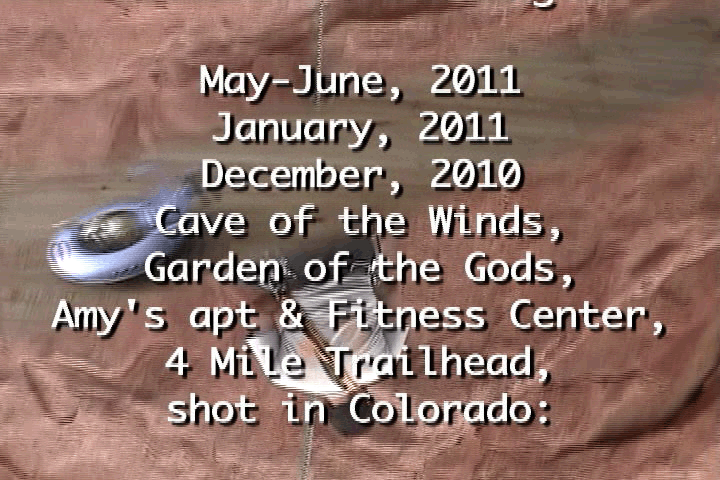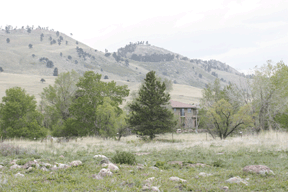 2011 was also the year that I was featured in the premier issue of Outpost Journal as "Secretly Famous". I picked Paula to be one of the 7 friends who were quoted answering questions about me. The other 6 were Pete Horobin (of the Attic Archive), Hyla Willis, Doug Retzler, Florian Cramer, Charles Brohawn, & the poet.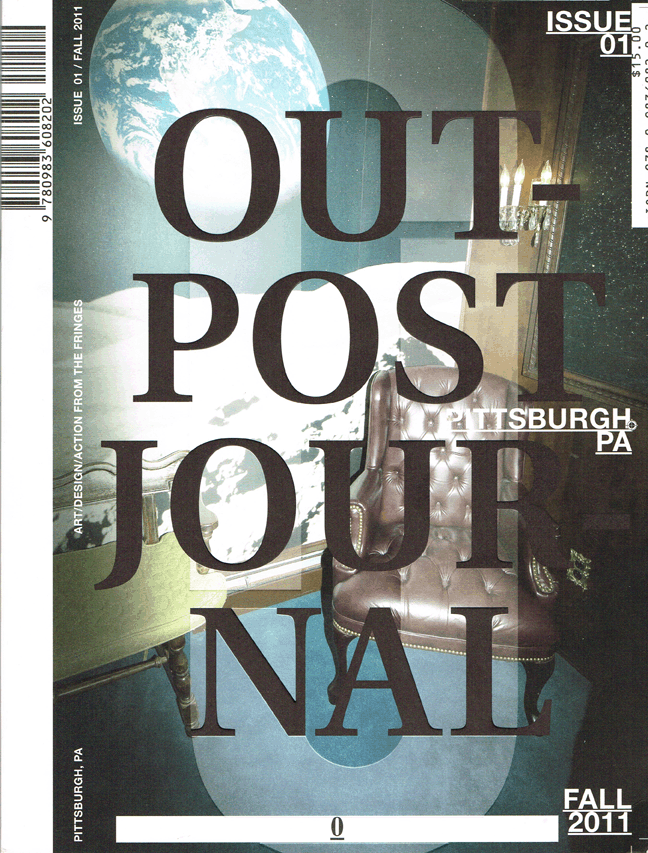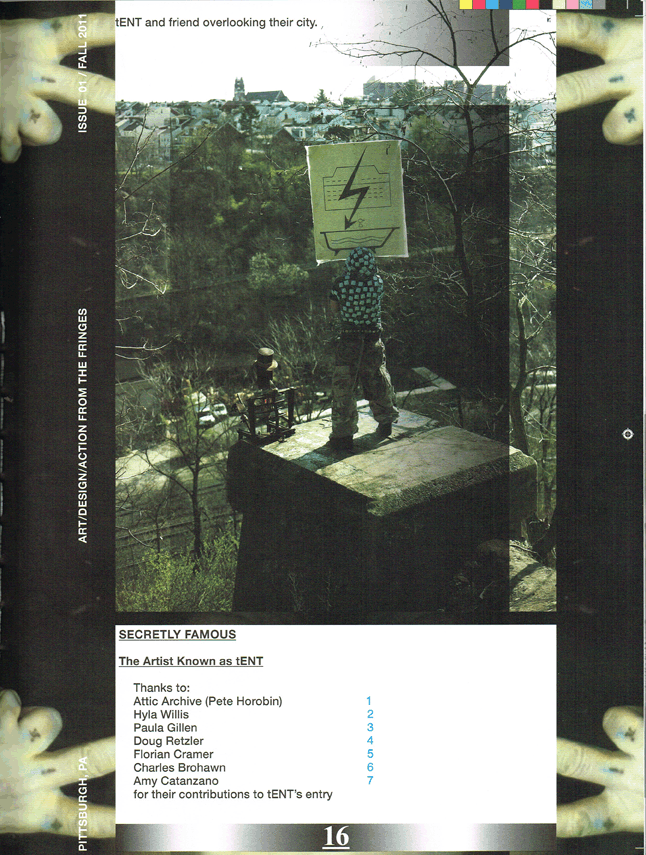 Paula was quoted thusly:
Outpost: tENT is famous because Paula: "He has the most complete archive documenting his creative output and nurtures his creative muse with more passion than any known living man."
Outpost: You are likely to find tENT Paula: "In hidden corners of Pittsburgh and mind space where few of us would have courage to go to."
Outpost: tENT spends his days Paula: "Making films, sounds, and performances for art lovers and haters. Making art haters out of lovers and making art with lovers."
Outpost: Your most memorable story about tENT Paula: "I was most impressed with his dedicated craziness when I lived with him in the brownstone on Mount Royal Avenue, he had tagged the bathroom (used by four people) as being the site of one of his pieces, so the bathtub was never cleaned as he was trying to count the rings from a year of baths. There was also a towel in the bathroom that was his that we were forbidden to wash. Needless to say that the bathroom was a place that you got in and out of as fast as possible."
[tENTATIVELY, a cONVENIENCE February 15, 2017EV interpolation:
This is the sort of stuff that legends are made of but think about it a little critically: Do you think that 3 roommates would tolerate the 4th roommate's suggestion of not washing the bathtub for an entire year? Not likely. Below is the only photograph of the project, a Polaroid probably taken by me. The rings in the tub were so faint that I had to draw over them in ballpoint pen on the photo to even show them. As the caption says: "DOCUMENTATION AS RESIDUE FROM ACTION". In this case, the action was taking a bath & the rings were the bath's documentation. The project lasted at most a week or 2. Paula's memory of it was probably heavily tinged by a horror of not cleaning the tub even a few times.]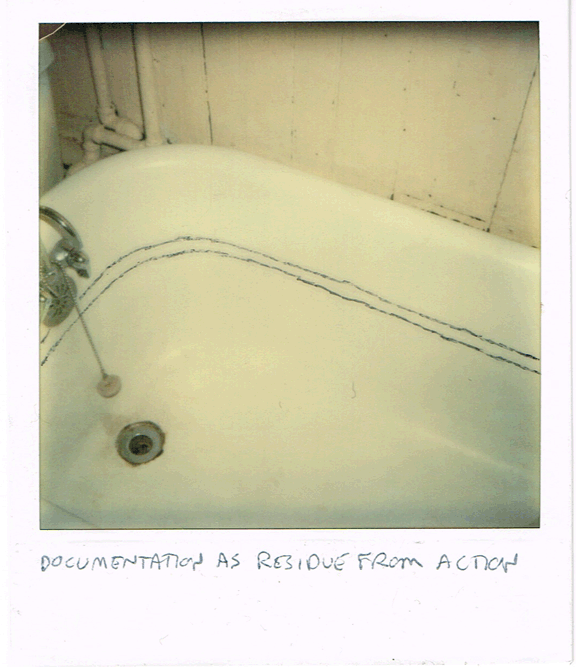 Outpost: 3 words to describe tENT? Paula: "Original, courageous and extreme."
Outpost: tENT's personality can best be described as Paula: "Deconstructed Brain Narcissism Explosion Sauciness."
Outpost: tENT's style is Paula: "Out of this world."
2015:
2015 saw Paula being featured in Acres magazine. Some of her photos of me were included. I'll just show the cover here.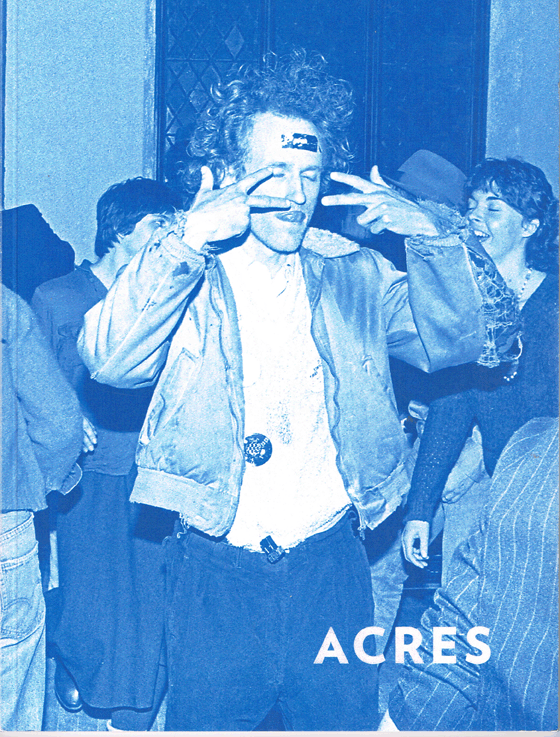 2017:
Finally, & I hope it isn't finally finally, Paula published her book "Head Trip: The 80s" which I dearly love & hope to write a review about soon. I'll only show the cover here. For the pages relevant to me go to the book link. Otherwise, get the thing. It's not expensive & you'll love it too. There's a dear.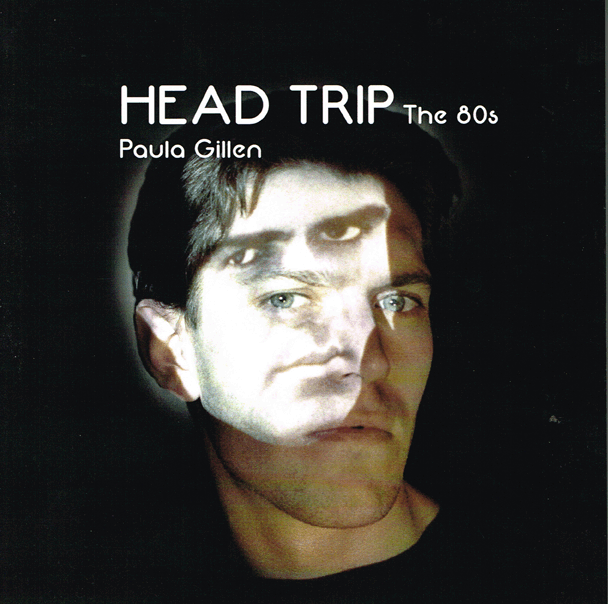 p.s.: While I'm at it I might as well mention the flashy jewelry Paula gave me: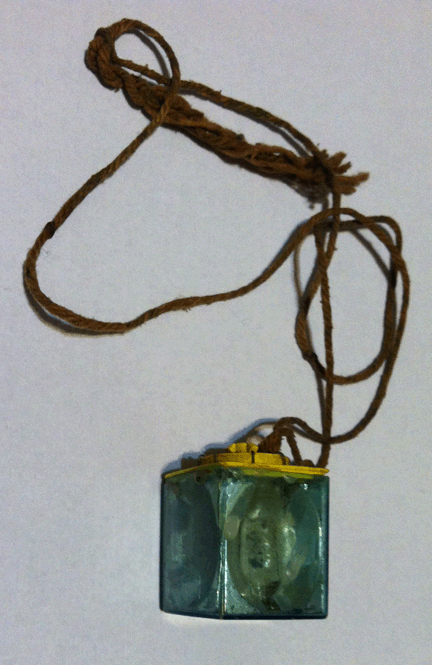 & the Pony Tail Profile rubber stamp that Paula sometimes used to sign her work: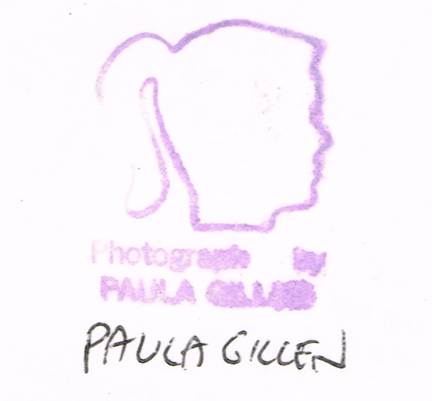 idioideo at verizon dot net
to the tENTATIVELY, a cONVENIENCE Anti-Neoism page
to the tENTATIVELY, a cONVENIENCE Audiography page
to the tENTATIVELY, a cONVENIENCE Bibliography page
to my "Blaster" Al Ackerman index
to the tENTATIVELY, a cONVENIENCE BYOC page
to the tENTATIVELY, a cONVENIENCE Censored or Rejected page
to the tENTATIVELY, a cONVENIENCE (d) compositions page
to Amir-ul Kafirs' Facebook page
to the "FLICKER" home-page for the alternative cinematic experience
to tENTATIVELY, a cONVENIENCE's GoodReads profile
to the tENTATIVELY, a cONVENIENCE Haircuts page
to the tENTATIVELY, a cONVENIENCE Home Tapers page
to the tENTATIVELY, a cONVENIENCE index page
to a listing of tENTATIVELY, a cONVENIENCE's manifestations on the Internet Archive
to the tENTATIVELY, a cONVENIENCE as Interviewee index
to the tENTATIVELY, a cONVENIENCE as Interviewer index
to tENTATIVELY, a cONVENIENCE'S Linked-In profile
for A Mere Outline for One Aspect of a Book on Mystery Catalysts, Guerrilla Playfare, booed usic, Mad Scientist Didactions, Acts of As-Beenism, So-Called Whatevers, Psychopathfinding, Uncerts, Air Dressing, Practicing Promotextuality, Imp Activism, etc..
to the mm index
to see an underdeveloped site re the N.A.A.M.C.P. (National Association for the Advancement of Multi-Colored Peoples)
to tENTATIVELY, a cONVENIENCE's Neoism page
to the DEFINITIVE Neoism/Anti-Neoism website
to the Philosopher's Union website
to the tENTATIVELY, a cONVENIENCE movie-making "Press: Criticism, Interviews, Reviews" home-page
to tENTATIVELY, a cONVENIENCE's Score Movies
to SMILEs
to find out more about why the S.P.C.S.M.E.F. (Society for the Prevention of Cruelty to Sea Monkeys by Experimental Filmmakers) is so important
to the "tENTATIVELY, a cONVENIENCE - Sprocket Scientist" home-page
to Psychic Weed's Twitter page
to tENTATIVELY, a cONVENIENCE's Vimeo index
to Vine movies relevant to tENTATIVELY, a cONVENIENCE made by Ryan Broughman
to tENTATIVELY, a cONVENIENCE's presence in the Visual Music Village
for info on tENTATIVELY, a cONVENIENCE's tape/CD publishing label: WIdémoUTH
to a very small selection of tENTATIVELY, a cONVENIENCE's Writing