2017. Paula Gillen's Head Trip: The 80s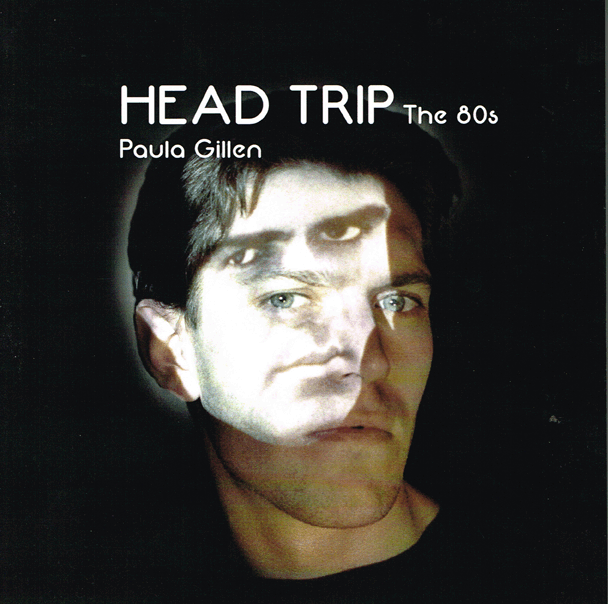 Before I made this webpage, I made one for an earlier photography book of Paula's listed in my Books index as "2005. Paula Gillen Photographs 1975-1985". For that page, I wrote the following commentary (which I've [updated] a little here in the light of this new book):
"I've collaborated with many people in my life, Paula was one of the 1st. We probably met around 1977 [She says that we met & started working together in 1976 but I was pretty isolated then so that seems unlikely to me]. She was a student at MICA (the Maryland Institute College of Art) & I would've met her through other friends of mine who were students there.
"In 1978 we lived in a house together briefly before my 1st trip to Europe. Then in 1979 we lived together in another house for perhaps a year or so. These houses were communal: 3 photography students at MICA & me, the guy who eschewed art schools, who had the philosophy that one didn't learn how to be creative in school, one learned to be creative by being creative.
"SO, from ca 1977-1979 [Paula remembers this as continuing into the early 1980s but I think that by then I was more someone she photographed in social situations than someone who posed for her] I was one of Paula's main models. Paula always had a great sense of humor & composition. Her colors might be called 'garish' or, perhaps, 'technicolor' - they're not muted. Everything in the photos is tightly controlled, backdrops are often stencil-painted, everything is a prop. This isn't documentary photography, it's more like meta-documentary photography - it's the lurid lifestyles of the young mermaid party scene.
"Paula would have an idea about what she wanted to do together, maybe inspired by some recent outlandish thing she'd seen me wear, & we'd go to a particular location & shoot. It was always fun. How could I not love the woman?!
"Eventually, though, Paula moved on to different cities & I moved on to different interests. I was always changing what I was doing, I was never content with even working with the same people, Paula & I stopped collaborating.
"30 years later, in 2010, Paula was in Colorado & I was there too to give a performance at Naropa (an abridged movie of that can be witnessed here: http://youtu.be/f2puiVTPGYU ). At a small party at Anselm Hollo & Jane Dalrymple's house we exchanged presents. I think I gave her a copy of my very rare book "footnotes" & she gave me a copy of this hardback book of photographs of hers [meaning "Paula Gillen Photographs 1975-1985"].
"I was delighted! But when I asked her what size edition the book was in & she told me "one or two" I was deeply touched. This beautiful book, this book of photographs certainly as worthy of reknown as those of other more well-known photographers like Duane Michals or Cindy Sherman or Dianne Arbus, had been given to ME. I was lucky enough to have one of the only copies, if not THE only copy of a collection that I was also lucky enough to be featured in as a model. What a treat!
"Many of these photographs (+ many more) can be seen here: https://www.flickr.com/photos/21022174@N05/albums/72157614921841415
"Paula & I went on to collaborate again & we shot a series of images at my girlfriend of the time's apartment complex fitness center. Those can be seen on my Amir-ul Kafirs Facebook page here: https://www.facebook.com/tENTATIVELY.acONVENIENCE/photos_all
"Paula also helped with a movie I was making in Colorado called "COLONY": http://youtu.be/7AgvRX4MJmA
"May Paula & I collaborate from here to eternity."
In April, 2015, a BalTimOre arts magazine called ACRES published their 3rd issue featuring some of Paula's photographs from BalTimOre in the late 1970s & early 1980s & asked some of the people connected from that time to add commentary. I was fortunate enough to be included. It was nice to see that lunatic fringe crew being retrospectively appreciated & acknowledged.
It's strange being 40 years older now & watching the culture around me. The other day I was in an anarchist bookstore that I was in on the early planning stages of 16 years ago but where it's highly unlikely that (m)anyone remembers me anymore. Two of the volunteers were looking through boxes of zines that they'd never sold thinking that they might put them up for sale again when one of the volunteers found a Pittsburgh anarchist zine from 2008. He exclaimed that that 'was historic' & that they shouldn't sell that one but should put it on display instead!
I appreciated his enthusiasm but was astounded that a zine from only 9 years ago would be considered 'historic'. I mentioned that my friend etta cetera & I had also edited a Pittsburgh anarchist maga(zine) from 1999-2005 called "Street Rat", later to become "Street Ratbag", & that they should look out for issues of that too since the anarchist bookstore had also sold (or not sold) those.
Basically, what I see all the time is people reinventing the wheel, but not round, as a square. What I mean is that so few people seem to have any idea even of their own subculture's history that when they do something they seem convinced that it's brand new even when it's really a watered-down version of something that an older person in their community may've done decades before in a much more original & extreme way.
I don't point this out to discourage people from just doing whatever it is that they're moved to do (keeping the usual consensual guidelines in mind) as much as I point it out to comment on how depressing it is for me, personally, to be surrounded by people who seem to just dismiss me as 'that weird old guy' without realizing that what they consider to be so great about themselves is often something that I paved the way for by doing it in a time & place where the level of mainstream society hatred against me was far more than I'd ever wish anyone else to be subjected to.
NOW, finally, Paula has seen fit to produce this "Head Trip" book from roughly the same era but in a POD (Print-on-Demand) paperback format available to more people. It's downright strange or unfortunate or something to me that this hasn't appeared earlier. As a document of small groups of blatant perverts living in a version of hell but still managing to flaunt their personalities & have a sense of humor this is as good & important a book as many another that's long since received accolades. May it receive the attention that I, at least, think it deserves.
I've created a collaborator webpage re the work that Paula & I did together. It features ±181 photos. I've also reviewed the book:
review of
Paula Gillen's Head Trip - The 80s
by tENTATIVELY, a cONVENIENCE - February 16, 2017
I don't have a separate section for Photography in my personal library, photography bks are filed under "Art". I have many unshelved piles of bks, 'waiting' to be better organized, the 'new'(ish) arrivals that may've been sitting there for yrs. Looking thru the shelved Art bks I found these photography ones:
Extended Frames - Sue Abramson
Photobooth Portraits - Benjamin Allen
Dianne Arbus
Mark Boyle's Journey to the Surface of the Earth
A Discourse on Domestic Disorder - Robert Cumming
Fantastic Photographs
Sidetripping - Charles Gatewood
Photogram - Susan B. Laufer
Man Ray
Take One and See Mt. Fujiyama and other stories - Duane Michals
The Nude
Royal Road Test - Mason Williams, Edward Ruscha, Patrick Blackwell
Photomosaics - Robert Silvers
Super Stereogram
Photo Synthesis - Jerry Uelsmann
Joel-Peter Witkin
I'm sure there're more but that's a pretty good sampling of what I find interesting: original work w/ strong technical/formal innovation that reinforces unusual & imaginative content - basically what I try to do in my own work.
& then there's Paula Gillen. Paula's an old friend of mine, we've known each other for 40 yrs - although we've been more out-of-touch than in-touch most of that time. Nonetheless, there was a time when we were close & worked together extensively as artist & model. This, as far as I know, is Paula's 1st publicly available bk of her own work. I've created 2 webpages in honor of its being released: one specifically for the bk itself here: http://idioideo.pleintekst.nl/Book2017HeadTrip.html & one in honor of our collaborations together here: http://idioideo.pleintekst.nl/CoGil.html .
Paula & I mainly worked together from about 1977 to 1981 until we reconnected in 2010. In the meantime, during the era when we were out of touch, to quote from the Collaborators webpage: "She went to NYC (1987) & worked as a freelance photo researcher/photo editor for many magazines such as Vanity Fair, People, Business Week, Time and her last gig, at The New Yorker magazine. Sometime in the early days of all this history she went to Malaysia to photograph too.
Despite the subtitle of this bk being "The 80s", these 120 photos were taken from 1975 to 1985 in Baltimore (MD), Branford (CT), Chicago (IL), Mercer County (NJ), New Haven (CT), New York (NY), Philadelphia (PA), Robbinsville (NJ), Rockport (ME), Saugatuck (MI), & Trenton (NJ). 47 of these were shot in Baltimore (where she went to undergrad school), 59 from Chicago (where she went to grad school) - so the vast majority are from her art school days. I'd like to see a bk that covers a broader span of work, a bk that wd include the Malaysian photos - wch are very different from everything collected here.
Given that I was friends w/ most of the Baltimore people that Paula photographed, looking thru this bk is a very personal experience for me. There're 13 photos of Bonnie Bonnell, who I had a brief, tempestuous relationship w/; 4 w/ Laurie Stepp, who I had a longer not-quite-so-tempestuous relationship w/ (& who I lived w/ briefly in 2 different places); 1 of Alfred Harris, someone I'd known since high school & who I'd lived w/; 4 of Billy Moriarity, who I'd briefly lived w/; 1 w/ Doug Retzler, who I'd known since high school, lived w/, & collaborated w/; 1 of Richard Tryzno Ellsberry, who I'd collaborated w/; & 4 self-portraits from Paula, who I'd lived w/ & collaborated w/; etc, etc.. There're only 3 photos of me (or 2 - one's a diptych).
One of the differences between me & those listed above is that they were art school students & I wasn't: Bonnell (MICA), Stepp (MICA), Harris (MICA), Moriarity (MICA), Retzler (UMBC, MICA), Ellsberry (UM), Gillen (MICA). I had, & still have, the philosophy that if one wants to be creative the best way of going about doing it is to be creative - wch has nothing to do w/ art school.
What does Gillen have in common w/ the other photographers listed above?
She was photographing a similar time & place as Abramson did but Extended Frames "records the work of a performance group known as CoAccident" ( you can get a tape of them from me here: http://idioideo.pleintekst.nl/WdmUCatalog.html ) & "used continuous time exposures while hand-cranking the film through the camera" as Abramson's introductory note explains. Abramson's focus was on the more intellectual subculture while Gillen's was on the more rowdy & bombastic arts scene. Still, these scenes interpenetrated. Abramson's photos use a very specific experimental technique that I've never seen anywhere else, Gillen's technique, as represented here, is less single-project oriented & more varied as a result.
Allen's Photobooth Portraits aren't just straight shots, they're collages of what're mostly head-shots. Gillen is also mostly focused on people & also uses collage. There the formal similarity ends.
Arbus is famous for straight-forward documents of subjects that're either off of mainstream society or so mainstream that they seem somehow more intense. She photographed drag queens, nudists, crying children, strippers, twins, triplets, the disabled, spaces w/o people that 'speak' of mainstream culture in a way that's strangely unsettling. As she writes in the intro to this bk about getting her subjects to pose for her:
"I'm extremely likeable to them. I think I'm kind of two-faced. I'm very ingratiating. It really kind of annoys me. I'm just sort of a little too nice. Everything is Oooo. I hear myself saying, "How terrific," and there's this woman making a face. I really mean it's terrific. I don't mean I wish I looked like that. I don't mean I wish my children looked like that. I don't mean in my private life I want to kiss you. But I mean that's amazingly, undeniably something."
The picture of Arbus in that bk makes her seem like a fairly average, pretty artist, someone in good health, w/o a brutalized life. I like Arbus's work but her own intro to it makes her seem somewhat exploitative. Some of Paula's friends might come across as societal outcasts too but they're her friends & I, at least, don't think she's exploiting them/us. There's more of a sense of humor to it that her subjects are participating in - unlike Arbus's gaze that's freezing a certain pain.
Mark Boyle's Journey to the Surface of the Earth? This is much more conceptual & process oriented than anything that I know of Gillen ever doing. There is a photo in his bk of his 1st performance of a light show called Son et Lumiere for Bodily Fluids and Functions (1966) that's akin to Gillen's photos that superimpose projections over models such as her "Black Eye" & many others. But Gillen's are strictly for the photos while Boyle's were performative.
Cumming's photos are narrative-evoking & somewhat stark B&W. His "An electric shock." shows a hand sticking a knife in an electric socket. Gillen's "Tour of Old Faithful" shows a carrot apparently plugging the drain of a bathroom sink - w/ a toy plastic boat sitting on the rim. Her "Kitchen Aid" shows 2 rubber gloves sticking out from cabinets under a kitchen sink holding a broom as if sweeping.
Fantastic Photographs presents a variety of work from a variety of photographers. Much of it might be called Surreal, much of it has photographs w/in photographs - such as Tomiyasu Shiraiwa's photo of a hand holding a photo of a hand next to a waterfall next to waterfall. It's recursive. That bk came out in 1979. Too bad Paula's work wasn't more well-known by then, she wd've fit right in. Take, eg, her "Hostage Situation" in wch model Susan Lowe's leg is dangling from a hole in the ceiling w/ her son grabbing the leg from below.
Gatewood's a slightly revised Arbus - possibly appealing mainly to an audience who'll never have as direct an access to the bikers, the drag queens, the addicts, the S&M practitioners, the borderline derelict, the weirdos. Like Arbus, he makes it 'safe' for the people who experience his photos to look at the 'dark side'. He goes there for them. Paula's friends are a little more 'savory', yes, there's some drag, yes there's some drug abuse, but mostly these people are middle class kids that're playing, they're not downwardly mobile yet. That might come later.
Laufer's photograms (or Rayographs or Schadographs) are perhaps furthest away from what Gillen is doing. There aren't any people. Gillen comes closest w/ her stenciled backdrops - such as in her "Nuclear Threat". But Laufer's photograms are consistently 'abstract' while Gillen's backgrounds are a way of engaging a human narrative.
Man Ray's photographs are usually more focused: one obvious subject such as a woman w/ a bondage mask on. He, too, made photograms & these tend to have a slightly more busy composition. Take his "Rayograph (gun with alphabet squares)" & cf it to Gillen's "Found photo" which appears to be police evidence of a gun with a ruler next to it showing its size. Of course, Man Ray was also photographing his artist friends - people like Joseph Stella & Marcel Duchamp. Will Paula's friends be so renowned someday? Perhaps. & maybe that's what makes Paula's subjects closer to Man Ray's than to Arbus's or Gatewood's.
Duane Michals's photo-narratives consist of a sequence of straight-forward B&W pictures w/ hand-written text underneath them telling the story. The title tale ends w/ a shot of a man laying in bed w/ an erection tenting his underwear. Most of Paula's pictures don't have text but her "Shoe Horn" shows a man's body from the same perspective as the Michals photo but instead of underwear there's a shoe covering the presumably erect penis. Perhaps it's a coincidence, perhaps it's a tribute.
As for The Nude? That, like Fantastic Photographs, is a collection w/ some variety aside from the obvious organizing motif. Paula's photographed a fair amt of nudes & they're not just straight-forward look-at-what-a-lovely-body-this-person-has school. Her "Deer", eg, shows a nude woman laying in leaves w/ her lower legs painted in a somewhat camouflaged way. In The Nude Dieter Appelt has a photo of a man laying down w/ his legs striated, perhaps w/ clay or paint.
Royal Road Test documents taking a Royal typewriter & the exploded view results of throwing it out of a car window on Sunday, August 21, 1966 while going 90mph in the desert. I like the idea, it's similar to what Mark Boyle did in Journey to the Surface of the Earth. Gillen never really went there, her intent wasn't to set a process in motion & document the results. Her photography is mostly more conventionally composed.
Photomosaics? These are fabulously labor intensive. Paula's work, involving mostly other people, isn't so meticulous, even w/ preparation there's always the 'capturing-the-moment' that means that what she shoots is what she gets. Silvers's pictures are heavily edited in the computer in the 1990s, Paula's photos in Head Trip weren't exactly pre-computer but they were done before any of us had one. These are 2 very different kettles of fish.
Super Stereograms? The closer we get to the present, the further we get away from Head Trip. The social nature of Head Trip is still relevant to our time, the imagery is still exciting, but the technology since the 80s has produced much more lavish eye-candy.
Jerry Uelsmann? As w/ the photographers in Fantastic Photographs, there's plenty of influence from the Surrealist painter Magritte here. He manages to fuse images so seamlessly that it's as if the subjects were born that way, impossible tho that wd be. Gillen's not nearly the darkroom technician, her fusions are done in the studio, w/ lighting, projections, props, backdrops, careful posing of the models. In stunning photographs like "Missionary Position" the results are almost the same.
Joel-Peter Witkin? What an amazing artist. His work combines, most infamously, dead human body parts - such as a severed head, w/ elaborate backdrops, props, & naked humans - including apparent hermaphrodites or transsexuals. These are further distressed to create a faux antiquity. I don't do them justice. Gillen is, admittedly, nowhere near this. Then again, there's no good reason for her to be. Artists like Arbus, Gatewood, & Witkin are all steeped in the so-called dark side while Gillen distances herself w/ humor. She's not nearly as morbid.
Nonetheless, in her 2 pages of text near the end she explains that "I worked silently to create images that spoke for me. I visualized my struggles with physical and mental illness (Voices in My Head, Corset and Wasted), thoughts on feminism (Suburbs, Double Bunny and Phallic Living Room), and memories of rape and other experiences, which scarred my psyche (Missionary Position and Afraid)."
Rather than the photographers that I've listed above, Gillen cites her influences & milieu more along these lines:
"Baltimore was my home in the late '70s. Its particular brand of urban blight was my inspiration. The crumbling walls of abandoned industrial buildings, the empty storefronts with shattered windows, the half-lit neon signs on funky dive bars and crusty old strip joints provided a perfect backdrop for an aspiring young photographer. I did my best to keep up with the local talent. By my account, they were tENTATIVELY, a cONVENIENCE; Cindy Heidel; Susan Lowe; Stan Edmister; Doug Retzler; Tom Diventi; William Moriarity; Bonnie Bonnell; Laurie Stepp; Jayne De Sesa; David Franks; Michael Gentile; John and Richard Ellsberry and their still reigning queens John Waters and Joyce Scott.
"It was during this decade that conceptual and feminist tendencies in the art world started to expand my consciousness. I took trips to NYC and saw art by Vito Acconci, Hannah Wilke, Martha Rosler, Lucas Samaras, Pat Oleszko and William Wegman."
Of those listed as the BalTimOreans, David Franks is dead but the rest may still be alive. I have 2 short movies online I made w/ David, if you're interested: "Hairballs, Wigs, & Weaves for Skinheads" ( http://youtu.be/b08MlvL-60k ), & "On Temperance" ( http://youtu.be/kOUigEfApi4 ). David was a professor at MICA around this time.
Of the New Yorkers, Paula went on to work w/ Pat Oleszko whose brazen humor was more obviously inspirational than anyone else listed. The thing is, tho, Paula's work contains traces of everything gone over here so far. It's a rich world, it's a cartoon world, it's a world full of good humor barely covering the trauma of groping sexuality.
Recently, I saw a movie by Paul Morrison entitled Little Ashes (2008) about the shared art school days & beyond of the now-famous Salvador Dali, Federico Garcia Lorca, & Luis Buñuel. While the movie is a bit insufferable as soap opera melodrama at times it totally nails the suffering & turmoil of creative people's escalated growing pains. Buñuel is shown as secretly loving Lorca while Lorca overtly loves Dali while Dali needs the agency of Gala to enable him to deal w/ his impotence &/or bisexuality &/or? Dali watches while Lorca fucks a woman who's in love w/ him. He can only bring himself to fuck her as a surrogate for Dali. Buñuel switches his attn to Dali & convinces him to leave Spain for fame & fortune in Paris. These are people w/ deep talents, deep confusions, & deep lust. So were the people of Baltimore in Paula's photos. It might seem stupid to normals who're 'content' w/ following the usual trajectory but some of us are too passionate to ever settle for less - even at the risk of our sanity. So be it.
As for the photographs in Head Trip? Well, I recommend that you get a copy of it & see for yourself. You can go here: http://idioideo.pleintekst.nl/Book2017HeadTrip.html & see the photographs of me & read Paula's text. But I'm not sure you'll have really lived until you see photos like "Braces" or "War Room". Why not make Paula happy & buy a few hundred copies to donate to psychologist waiting rooms the world over?
Furthermore, here're scans of the pages where I appear.
- February 14, 2017E.V. notes from tENTATIVELY, a cONVENIENCE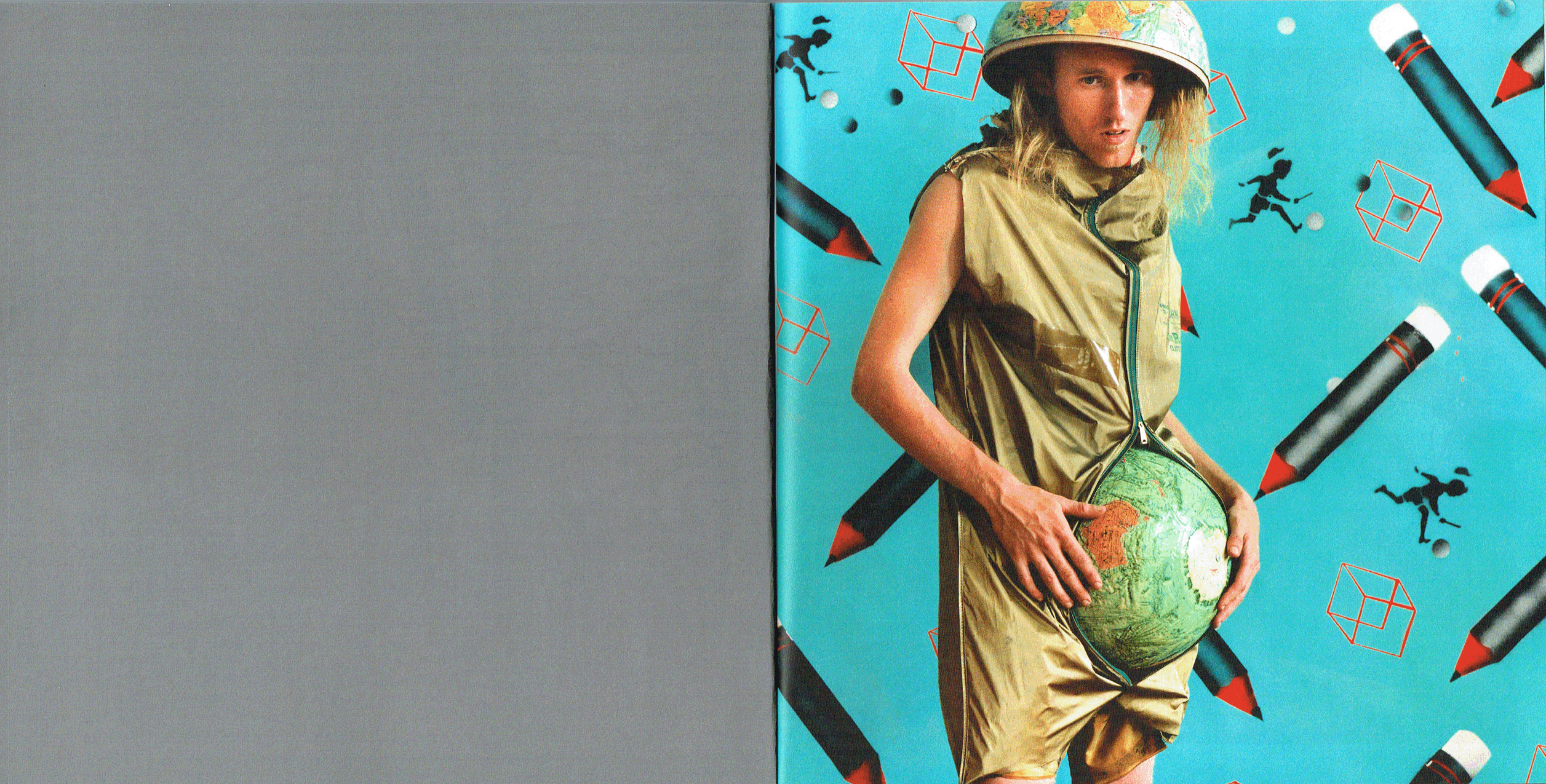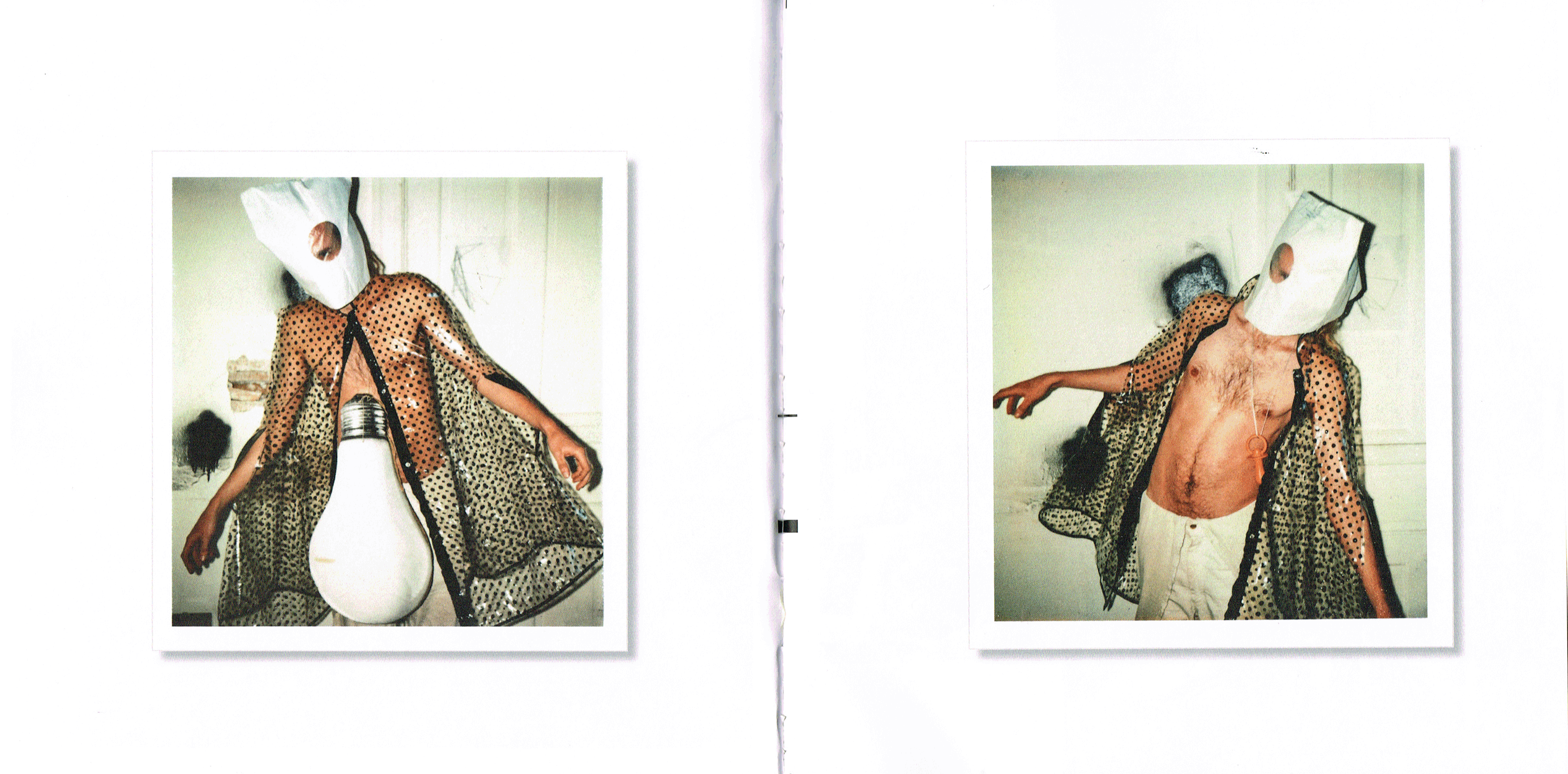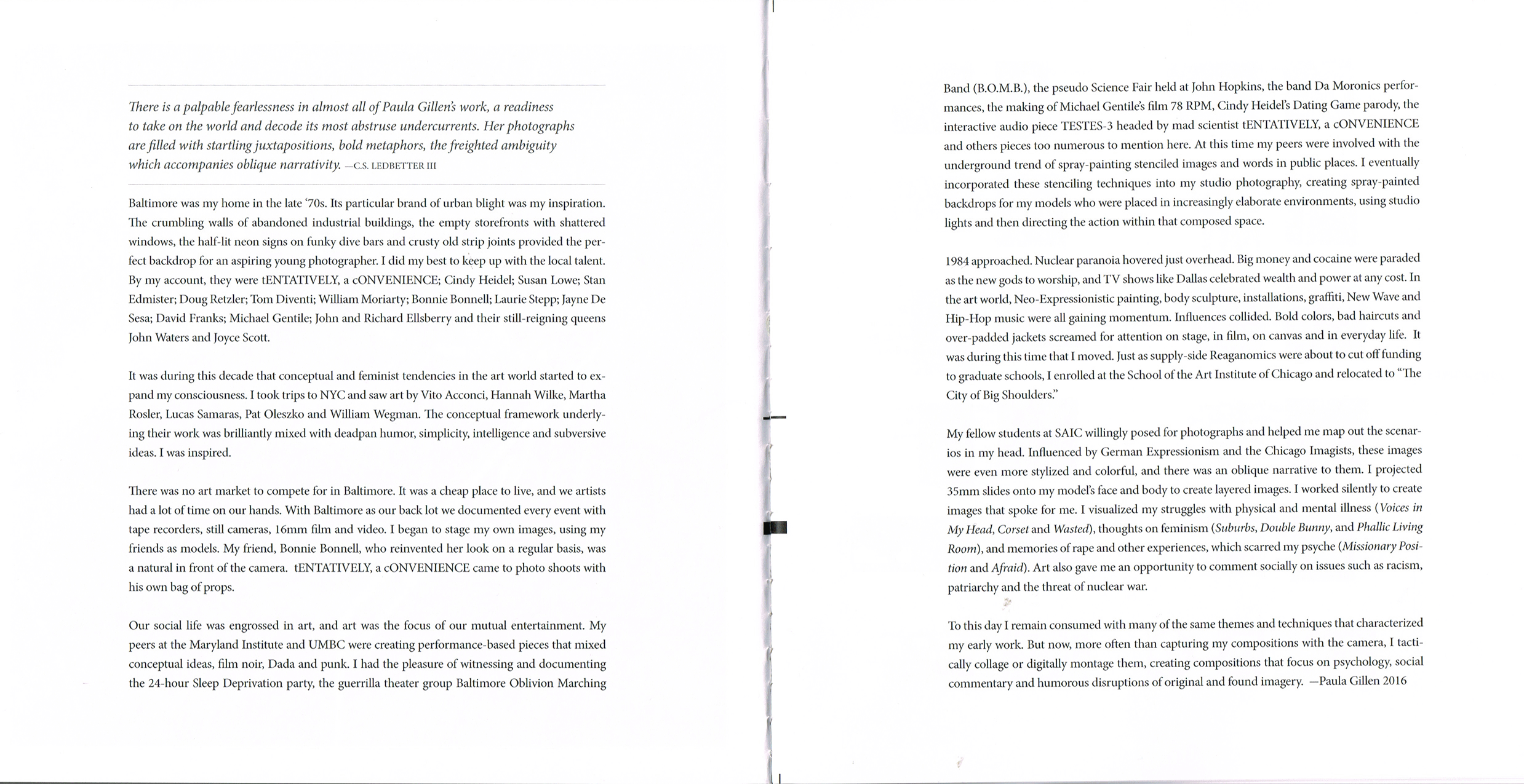 idioideo at verizon dot net
to the tENTATIVELY, a cONVENIENCE Anti-Neoism page
to the tENTATIVELY, a cONVENIENCE Audiography page
to the tENTATIVELY, a cONVENIENCE Bibliography page
to my "Blaster" Al Ackerman index
to the site that lists the Books that tENTATIVELY, a cONVENIENCE has something in or is mentioned in
to the tENTATIVELY, a cONVENIENCE BYOC page
to the tENTATIVELY, a cONVENIENCE Censored or Rejected page
to tENTATIVELY, a cONVENIENCE's Collaborations website
to the tENTATIVELY, a cONVENIENCE (d) compositions page
to Amir-ul Kafirs' Facebook page
to the "FLICKER" home-page for the alternative cinematic experience
to Gifs made by Ryan Broughman
to tENTATIVELY, a cONVENIENCE's GoodReads profile
to Graffiti index
to the tENTATIVELY, a cONVENIENCE Home Tapers
to the tENTATIVELY, a cONVENIENCE index page
to tENTATIVELY, a cONVENIENCE'S minimal International Union of Mail Artists page
to a listing of tENTATIVELY, a cONVENIENCE's manifestations on the Internet Archive
to the tENTATIVELY, a cONVENIENCE as Interviewee index
to the tENTATIVELY, a cONVENIENCE as Interviewer index
to tENTATIVELY, a cONVENIENCE'S Linked-In profile
for A Mere Outline for One Aspect of a Book on Mystery Catalysts, Guerrilla Playfare, booed usic, Mad Scientist Didactions, Acts of As-Beenism, So-Called Whatevers, Psychopathfinding, Uncerts, Air Dressing, Practicing Promotextuality, Imp Activism, etc..
to the mm index
to see an underdeveloped site re the N.A.A.M.C.P. (National Association for the Advancement of Multi-Colored Peoples)
to tENTATIVELY, a cONVENIENCE's Neoism page
to the DEFINITIVE Neoism/Anti-Neoism website
to the Philosopher's Union website
to the tENTATIVELY, a cONVENIENCE movie-making "Press: Criticism, Interviews, Reviews" home-page
to tENTATIVELY, a cONVENIENCE's Score Movies
to SMILE
to find out more about why the S.P.C.S.M.E.F. (Society for the Prevention of Cruelty to Sea Monkeys by Experimental Filmmakers) is so important
to the "tENTATIVELY, a cONVENIENCE - Sprocket Scientist" home-page
to the Tattoos index
to Psychic Weed's Twitter page
to tENTATIVELY, a cONVENIENCE's Vimeo index
to Vine movies relevant to tENTATIVELY, a cONVENIENCE made by Ryan Broughman
to tENTATIVELY, a cONVENIENCE's presence in the Visual Music Village
for info on tENTATIVELY, a cONVENIENCE's tape/CD publishing label: WIdémoUTH
to a very small selection of tENTATIVELY, a cONVENIENCE's Writing