2005. Paula Gillen Photographs 1975-1985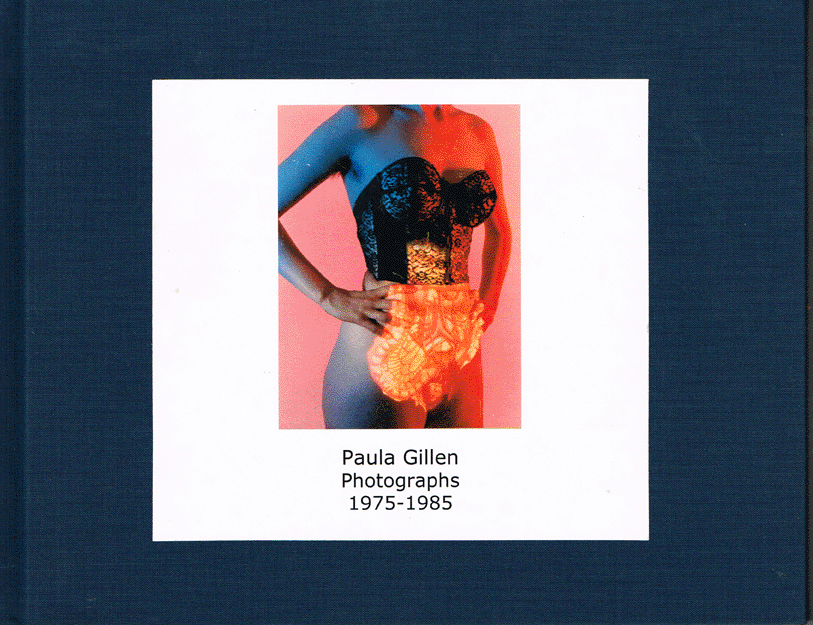 I've collaborated with many people in my life, Paula was one of the 1st. We probably met around 1977. She was a student at MICA (the Maryland Institute College of Art) & I would've met her through other friends of mine who were students there.
In 1978 we lived in a house together briefly before my 1st trip to Europe. Then in 1979 we lived together in another house for perhaps a year or so. These houses were communal: 3 photography students at MICA & me, the guy who eschewed art schools, who had the philosophy that one didn't learn how to be creative in school, one learned to be creative by being creative.
SO, from ca 1977-1979 I was one of Paula's main models. Paula always had a great sense of humor & composition. Her colors might be called 'garish' or, perhaps, 'technicolor' - they're not muted. Everything in the photos is tightly controlled, backdrops are often stencil-painted, everything is a prop. This isn't documentary photography, it's more like meta-documentary photography - it's the lurid lifestyles of the young mermaid party scene.
Paula would have an idea about what she wanted to do together, maybe inspired by some recent outlandish thing she'd seen me wear, & we'd go to a particular location & shoot. It was always fun. How could I not love the woman?!
Eventually, though, Paula moved on to different cities & I moved on to different interests. I was always changing what I was doing, I was never content with even working with the same people, Paula & I stopped collaborating.
30 years later, in 2010, Paula was in Colorado & I was there too to give a performance at Naropa (an abridged movie of that can be witnessed here: http://youtu.be/f2puiVTPGYU ). At a small party at Anselm Hollo & Jane Dalrymple's house we exchanged presents. I think I gave her a copy of my very rare book "footnotes" & she gave me a copy of this hardback book of photographs of hers.
I was delighted! But when I asked her what size edition the book was in & she told me "one or two" I was deeply touched. This beautiful book, this book of photographs certainly as worthy of reknown as those of other more well-known photographers like Duane Michals or Cindy Sherman or Dianne Arbus, had been given to ME. I was lucky enough to have one of the only copies, if not THE only copy of a collection that I was also lucky enough to be featured in as a model. What a treat!
Many of these photographs (+ many more) can be seen here: https://www.flickr.com/photos/21022174@N05/albums/72157614921841415
Paula & I went on to collaborate again & we shot a series of images at my girlfriend of the time's apartment complex fitness center. Those can be seen on my Amir-ul Kafirs Facebook page here: https://www.facebook.com/tENTATIVELY.acONVENIENCE/photos_all
Paula also helped with a movie I was making in Colorado called "COLONY": http://youtu.be/7AgvRX4MJmA
May Paula & I collaborate from here to eternity.
idioideo at verizon dot net
to the tENTATIVELY, a cONVENIENCE Anti-Neoism page
to the tENTATIVELY, a cONVENIENCE Audiography page
to the tENTATIVELY, a cONVENIENCE Bibliography page
to my "Blaster" Al Ackerman index
to the site that lists the Books that tENTATIVELY, a cONVENIENCE has something in or is mentioned in
to the tENTATIVELY, a cONVENIENCE BYOC page
to the tENTATIVELY, a cONVENIENCE Censored or Rejected page
to tENTATIVELY, a cONVENIENCE's Collaborations website
to the tENTATIVELY, a cONVENIENCE (d) compositions page
to Amir-ul Kafirs' Facebook page
to the "FLICKER" home-page for the alternative cinematic experience
to Gifs made by Ryan Broughman
to tENTATIVELY, a cONVENIENCE's GoodReads profile
to Graffiti index
to the tENTATIVELY, a cONVENIENCE Home Tapers
to the tENTATIVELY, a cONVENIENCE index page
to tENTATIVELY, a cONVENIENCE'S minimal International Union of Mail Artists page
to a listing of tENTATIVELY, a cONVENIENCE's manifestations on the Internet Archive
to the tENTATIVELY, a cONVENIENCE as Interviewee index
to the tENTATIVELY, a cONVENIENCE as Interviewer index
to tENTATIVELY, a cONVENIENCE'S Linked-In profile
for A Mere Outline for One Aspect of a Book on Mystery Catalysts, Guerrilla Playfare, booed usic, Mad Scientist Didactions, Acts of As-Beenism, So-Called Whatevers, Psychopathfinding, Uncerts, Air Dressing, Practicing Promotextuality, Imp Activism, etc..
to the mm index
to see an underdeveloped site re the N.A.A.M.C.P. (National Association for the Advancement of Multi-Colored Peoples)
to tENTATIVELY, a cONVENIENCE's Neoism page
to the DEFINITIVE Neoism/Anti-Neoism website
to the Philosopher's Union website
to the tENTATIVELY, a cONVENIENCE movie-making "Press: Criticism, Interviews, Reviews" home-page
to tENTATIVELY, a cONVENIENCE's Score Movies
to SMILE
to find out more about why the S.P.C.S.M.E.F. (Society for the Prevention of Cruelty to Sea Monkeys by Experimental Filmmakers) is so important
to the "tENTATIVELY, a cONVENIENCE - Sprocket Scientist" home-page
to the Tattoos index
to Psychic Weed's Twitter page
to tENTATIVELY, a cONVENIENCE's Vimeo index
to Vine movies relevant to tENTATIVELY, a cONVENIENCE made by Ryan Broughman
to tENTATIVELY, a cONVENIENCE's presence in the Visual Music Village
for info on tENTATIVELY, a cONVENIENCE's tape/CD publishing label: WIdémoUTH
to a very small selection of tENTATIVELY, a cONVENIENCE's Writing