Vermin Love Supreme
- as told by tENTATIVELY, a cONVENIENCE
I 1st met Vermin Love Supreme before he'd changed his name legally to that - maybe in 1982 when he was living in an interesting large house by Druid Hill Park that he & his friends had dubbed "The Jockee Clubbe". He was a student at MICA (Maryland Institute College of Art) at the time.
I remember going to the Jockee Clubbe when the residents had built a fun house or some such in the basement. The visitor walked through a dark pathway of shoddily constructed but still effective surprises - including, possibly, things like a ramp with a sudden slight drop-off. It was somewhat like a Wax House of Horrors amusement ride. I loved it. I was already losing interest in smoking pot & I remember 2 guys at a party there being disgusted with me because I didn't use the right technique for smoking out of a bong or some such.
I usually had little or no money & didn't have a car or a bike & was living near the Cross Street Market over 4 miles away to the south so when I left the party at 3AM or later in order to get home by the most direct route I had to walk through the notorious Reservoir Hill neighborhood where murder was all too common. Bus service? Forget it.
The earliest footage I have of Vermin is of his participation in the 1983 Thanksgiving Parade ( http://youtu.be/fl_u-hWEm0Y ) shot by John Ellsberry (& edited, in the version linked to, by myself (tENTATIVELY, a cONVENIENCE)). Vermin's the one with the rather heavy-looking array of objects draped over himself - including a TV shell enclosing his head & a small American flag.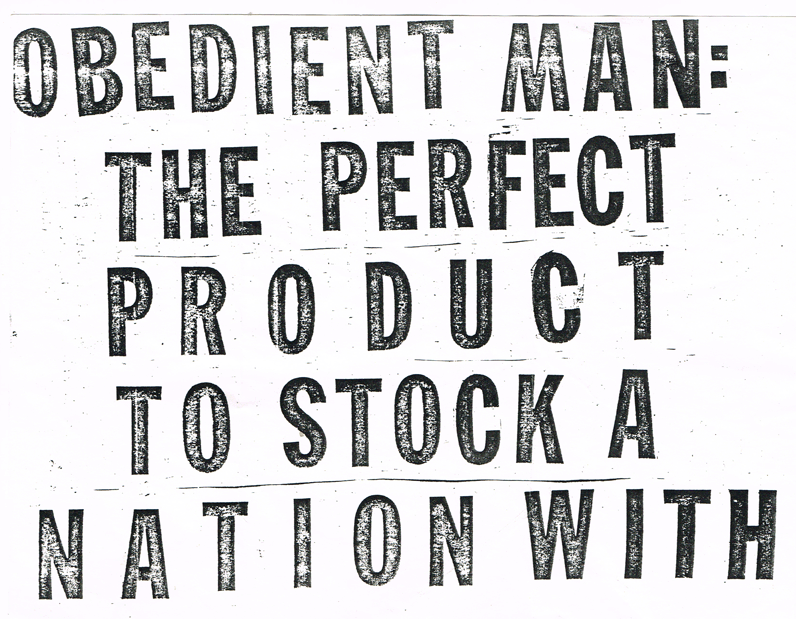 Vermin was a great party organizer. He held a party in a multi-levelled parking lot. This, as I recall, was before the time when raves made such space usage popular. Later, he became the booking agent for the Galaxy Ballroom in the Congress Hotel.
The Congress Hotel is, by now, a punk legend, at least in BalTimOre &, perhaps, elsewhere. Once an upscale hotel on Franklin Street in downtown, it was now a halfway house for prisoners & a place where at least one MICA professor could take a student to for sex. The basement housed the Marble Bar, an incredible place that had, yes, a long bar made out of marble, a sizeable place for bands to play & some small rooms for less public activity.
When it was still a somewhat posh place there'd been an indoor swimming pool. That pool was now filled with construction debris. There had also been tunnels linking the hotel to the local large theaters. Celebrities would stay at the hotel & avoid walking the streets by taking the tunnels to where they were performing. Fred Astaire is said to've stayed there.
Roger & Leslee ran the Marble Bar. It was a haven for punks & other weirdos & rock'n-rollers. I was there frequently. I was thrown out twice but always allowed back in, it was a very tolerant place. I never saw a single cop enter or bother anyone there.
Upstairs, there was a small bar for locals, perhaps the residents, off to the left. To the right was the more substantial Galaxy Ballroom (or Lounge). Roger booked that as the place where the weirder stuff could happen, the stuff that wasn't necessarily just about sex, drugs, & rock'n'roll.
Sam Fitzsimmons, of the Severn Institute in BalTimOre's neighbor city to the South, Annapolis, & another great party organizer, coorganized the 3rd Church & Foundation of the SubGenius Convention with me at the Galaxy (& elsewhere) in September, 1983. Back to back immediately following that, I organized some of APT 7, the 7th International Neoist Apartment Festival, there.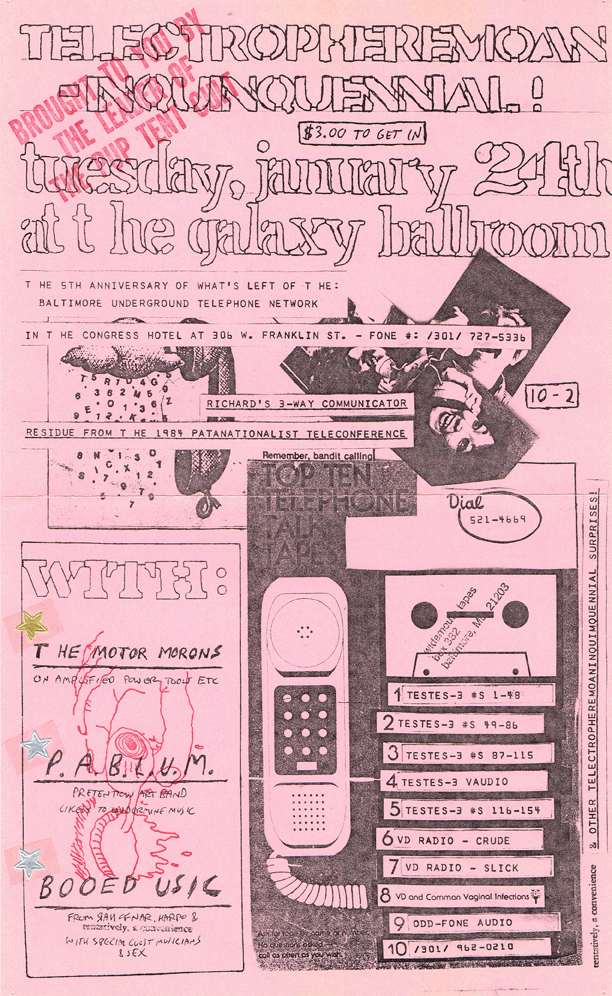 Telectropheremoanin'quinquennial
( https://youtu.be/SSP1tJK3pjs )
On January 24, 1984, I held the Telectropheremoanin'quinquennial, the 5th anniversary of B.U.T.N. (BalTimOre Underground Telephone Network) in the Galaxy. Vermin was in the audience. You can hear him say at the end of the movie: "That was beautiful. Play a sad song." Alas, Roger died from a heart attack while dancing under the influence of cocaine (or so I was told) a few months later. Things continued in the Congress but the heyday was over. Maybe Vermin took over the booking after Roger's death, maybe he didn't start until the later part of 1985. I don't remember.
By the next time I did a gig there, January 27, 1986, Vermin (then known as Bagel Pizazz) was the MAN. This gig involved the 3rd "booed usic" (the 1st had been part of the Telectropheremoanin'quinquennial 2 years before). booed usic was my spin-off of "mood music", a USE of sound likely to be unpopular, to be booed. Every booed usic involved what I called "Concrete Mixing", live manipulation of pre-recorded materials. In retrospect, it's astounding to me what an incredible line-up of players there was:
Beef Jerky: electric guitar, vocals, miscellaneous
tENTATIVELY, a cONVENIENCE: films, videos, tapes, records, voice, 'direction'
Herr Brain Storm Drain: percussion, cornet
Norman Yeh: violin, lyre, piano
Mark Harp: tapes, vocals, miscellaneous
Bagel Pizazz was spontaneously moved to jump on stage with us at some point to provide more vocals (although listening to the recording now, unfortunately, I can't figure out which one he is).
Vermin was, & still is, an exceptionally gregarious character. He was one of the only people I knew, if not THE only person I knew, with the courage & imagination to dress as outlandishly as I did. His general anarchic wackiness has consistently made him one of my favorite people in the world. Vermin's a true individualist, an original with audacity & an exceptional sense of humor as well as social & political insights that aren't to be laughed off. May he flourish!! (& I don't mean flush).
By later in 1986, Vermin had moved on, becoming a regular part of Rainbow Gatherings. Sometime not too long after the politician extraordinaire, Vermin Supreme, was born unto the world.
The Congress probably didn't last too long after that. By 1995, & probably much earlier, it was abandoned. What an era that had been! One young friend of mine, Paul, had just started to squat there in 1995 or 1996 when location scouts for Terry Gilliam's movie "Twelve Monkeys" came through to check it out & he was discovered & ousted.
Even though Vermin had moved on, he was a frequent visitor to BalTimOre & he & I continued to stay in touch. I trusted Vermin so much that I gave him my list of contacts, possibly as much as 1,400 people at the time. He was the ONLY person I ever gave the list to. This was to help him move around the country (&, potentially, the world) more easily & cheaply.
An anarchist friend in a squat in Philly told me that Vermin had contacted them because they were on my list & asked if he could stay there. My Philly friend told me that they wouldn't usually let a Rainbow 'type' stay there but because Vermin was a friend of mine he was welcomed (perhaps with some hesitance) & was no doubt found to be a highly entertaining house guest.
If Vermin's records are correct, the following article about him AS VERMIN SUPREME appeared in the Baltimore Sun, a daily newspaper, on November 4, 1987. This would've been very early on in his career as the ultimate politician: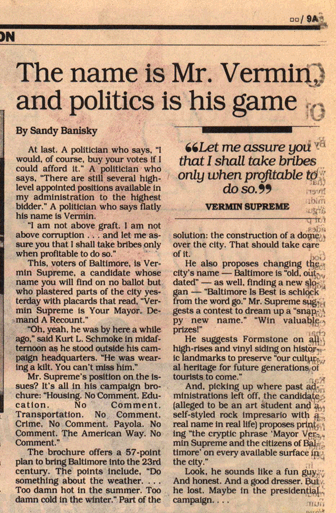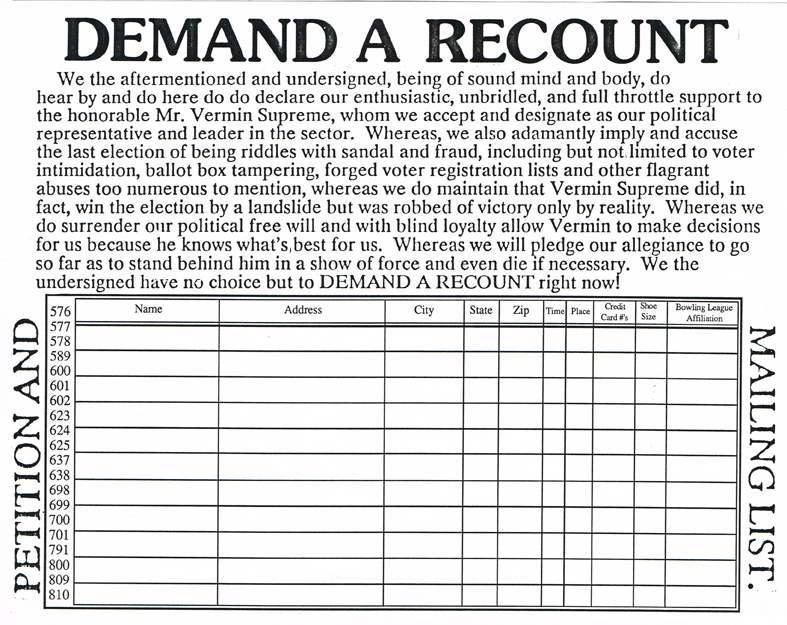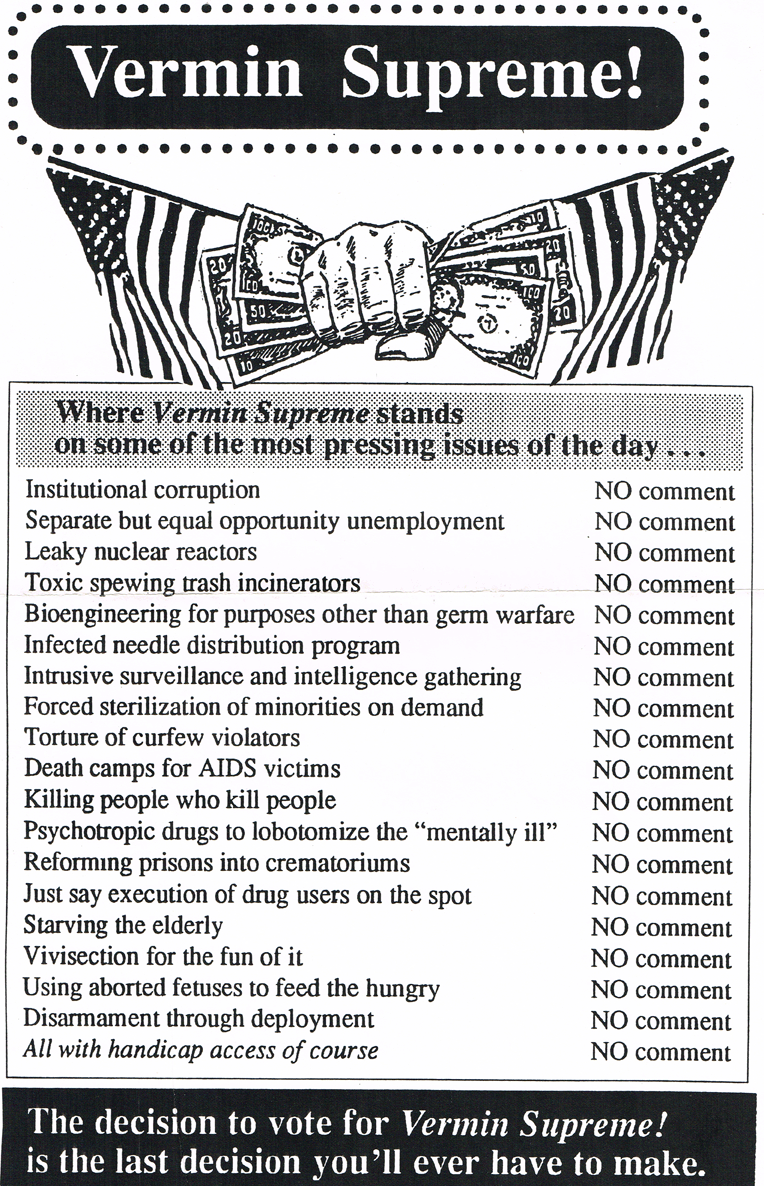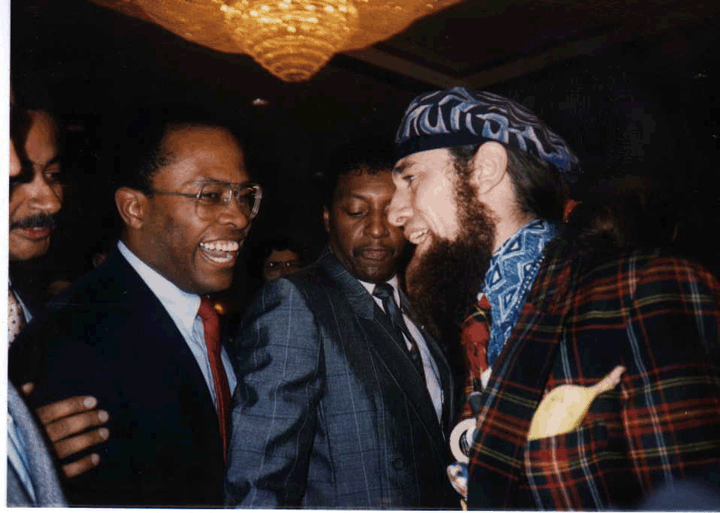 1992: Vermin making Kurt Schmoke laugh & his bodyguard nervous.
In 1990, I cofounded with Neil Feather the "Official Project", a band that changed its name every time we played & that used "CAMUs", Cue Activated Modular Units, to structure our playing.
From 1990 to 1995, I made my only 16mm feature film: "The "Official" John Lennon's "Erection" As Blocking Our View Homage & Cheese Sandwich" ( short version: http://youtu.be/z9f7mzn2euc ; full version: http://youtu.be/nRqfWwHAdqA ). Vermin makes a brief appearance near the beginning.
By 1991, I was living in a 30' X 150' one room warehouse with large windows on 3 sides &, essentially, no heat in the winter. This was the HQ for the Official Project, the Official band for every occasion, which had become a big band with as many as 17 people - although, usually, a more stable crew of 12.
Vermin passed through on October 18 & 20, 1991, & 2 smaller versions of the Official Project provided him with a (M)Usical texture to work his schtick into that yielded:
"The Official October 18th, 1991E.V., Vermin Supreme for Mayor Sound Assault Committee" (Vermin Supreme: campaining; (guest) Ken Glanden: percussion; tENTATIVELY, a cONVENIENCE: the partially disabled "Terrence Dougherty" (Gnome, sine-square-wave generator, 4 tape player/radios), guitar, 'direction', etc..; Chris Astier: fretless bass; Jake T. Unlcean: violin, Pakistani autoharp; Neil Feather: Bendy Guitar, Rotary Vibulum in Reversum, Contraption, R.E. (Recombinant Electronics - now more commonly known as "Circuit Bent") SK1, Small Instruments Rig, small flute, motorcycle horn, trombone, etc..)
AND
"The Official October 20th, 1991E.V. Vermin Supreme Campaign Managers" (Vermin Supreme: campaining; Dawn Culbertson: electric bass, snare(less) drum, Roof (one of Neil's instruments); tENTATIVELY, a cONVENIENCE: "Erector Set" percussion, trumpet, the partially disabled "Terrence Dougherty" (Gnome, sine-square-wave generator, 4 tape player/radios), guitar, 'direction', etc..; Chris Astier: fretless bass; John Eaton: alto sax, Roof; Jake T. Unlcean: violin, Pakistani autoharp; Neil Feather: Bendy Guitar, Rotary Vibulum in Reversum, Contraption, R.E. (Recombinant Electronics - now more commonly known as "Circuit Bent") SK1, Small Instruments Rig, sine wave generator, trombone, etc..)
Those 2 sessions yielded the following tape: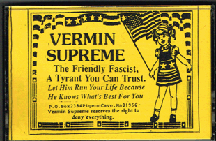 The "Official" Vermin Supreme tape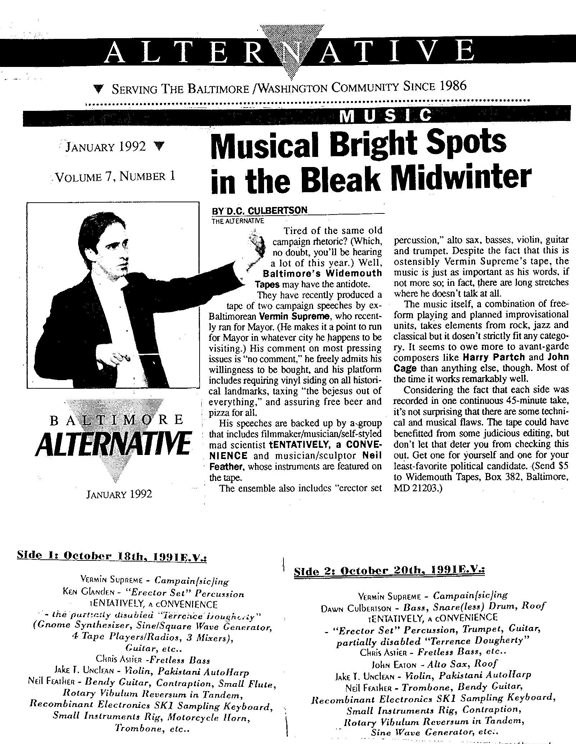 The 1st of those 2 sets was badly videoed under poor conditions using a gifted surveillance camera that had to be wired to a VCR. Due to shielding problems, there was massive interference in the result. Nonetheless, this footage will be part of a movie I hope to make about Vermin someday called "Vermin Supreme, His Humble Beginnings".
2 days later, Vermin campained widely in BalTimOre running for Mayor of both the city & "the entire Eastern seaboard". Never let it be said that he wasn't ambitious. I was in the process of organizing an early PXL-2000 Festival, a festival showing work made using the toy video camera of that name, for Sunday, October 27th through Tuesday, October 29th, 1991, & I recruited 2 PXL users, Jeffrey Pratt Gordon & Rebecca Barten (who I didn't know well enough yet to speel her name correctly in the catalog), to document Vermin's actions. Somewhat to my retrospective amazement, I managed to make a 31 minute edit of their footage ("Vermin Supreme Campaining for Mayor in BalTimOre, Tuesday, October 22nd, 1991E.V.") & have it done in time to screen as part of the festival on October 29th: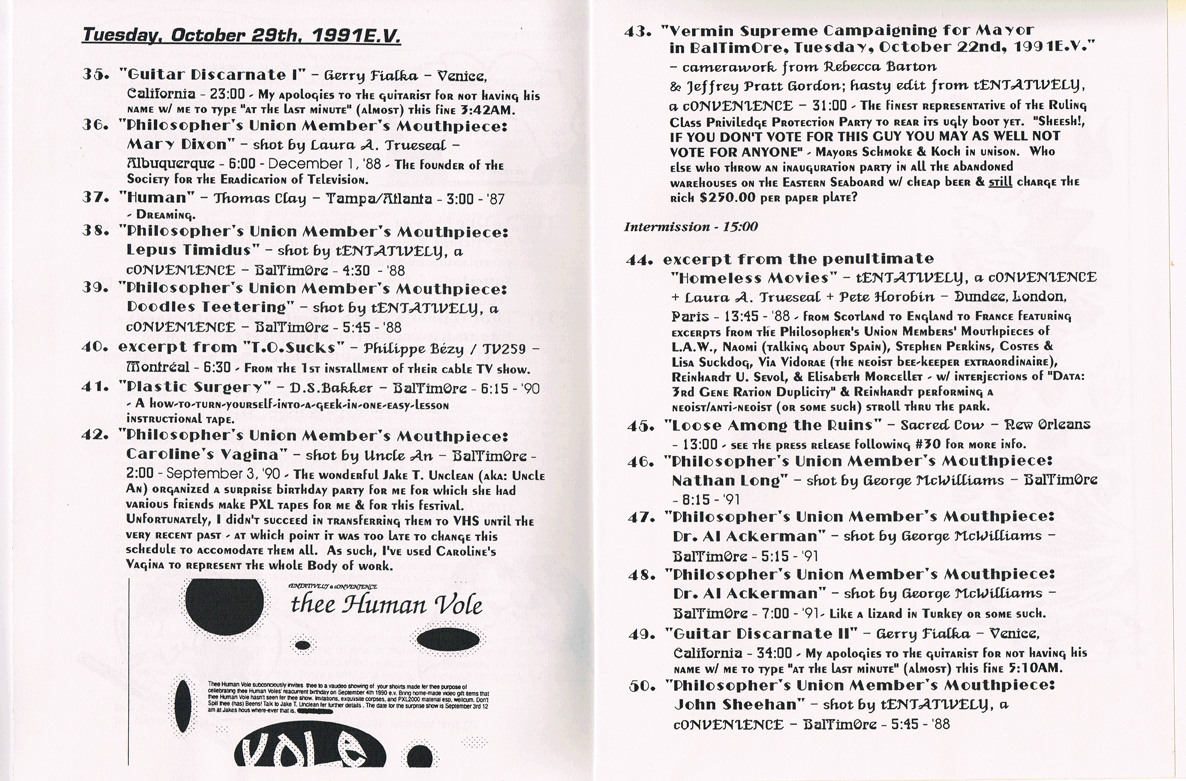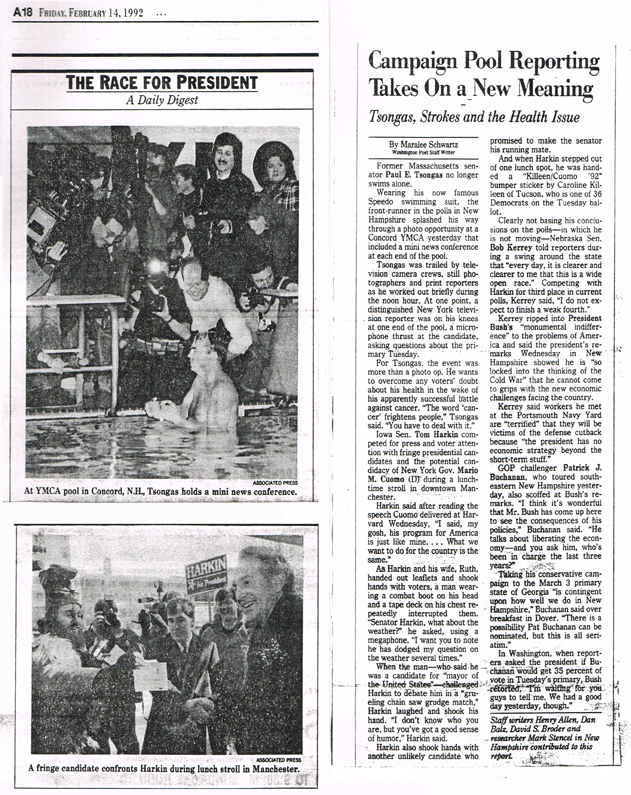 On February 28, 1992, Vermin was back again where a context for free improvising called the "Volunteers Collective" recorded 11 "slugs", short takes intended for possible release as singles on the Wafer Face records label. I thought these were quite good but for reasons I no longer remember they weren't released as singles.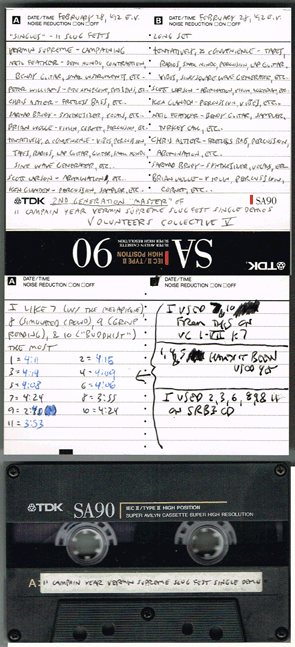 As shown above, the personnel for the Volunteers Collective 'slugs' session was:
Vermin Supreme: campaining
Neil Feather: Demi Nondo, Contraption, Bendy Guitar, Small Instruments, etc..
Peter Williams: Pipe Xylophone, Pots & Pans, etc..
Chris Astier: fretless bass, etc..
Sarmad Brody: synthesizer, vocals, etc..
Brian Wolle: violin, cornet, percussion, etc..
tENTATIVELY, a cONVENIENCE: vibraphone, percussion, tapes, radios, lap guitar, guitar, Small Nondo, sine wave generator, etc..
Scott Larson: Abomination, etc..
Ken Glanden: percussion, sampler, etc..
All of these people were members of the Official Project except for Vermin, Brian (aka Herr Brain Storm Drain), & Ken.
These takes might've been rejected by Wafer Face's publisher because he wanted my Philosopher's Union Member's Mouthpiece soundtracks instead - which I didn't want published as separate audio pieces. Vermin liked them enough to use as his official audio of some sort for awhile.
Around the time of making this website, I uploaded "slug 04" from the above session to my SoundCloud page so that the curious listener would be able to hear a sample: https://soundcloud.com/user-200009324/vermin-supreme-volunteers-collective-slug-04
During these visits to my warehouse in BalTimOre, I had set up an area at my end of the space officially proclaimed Vermin Supreme's Campain Headquarters. This area was bedecked with 3 foot wide enlargements (I had worked for a copy shop in 1991) of Vermin's posters that probably included: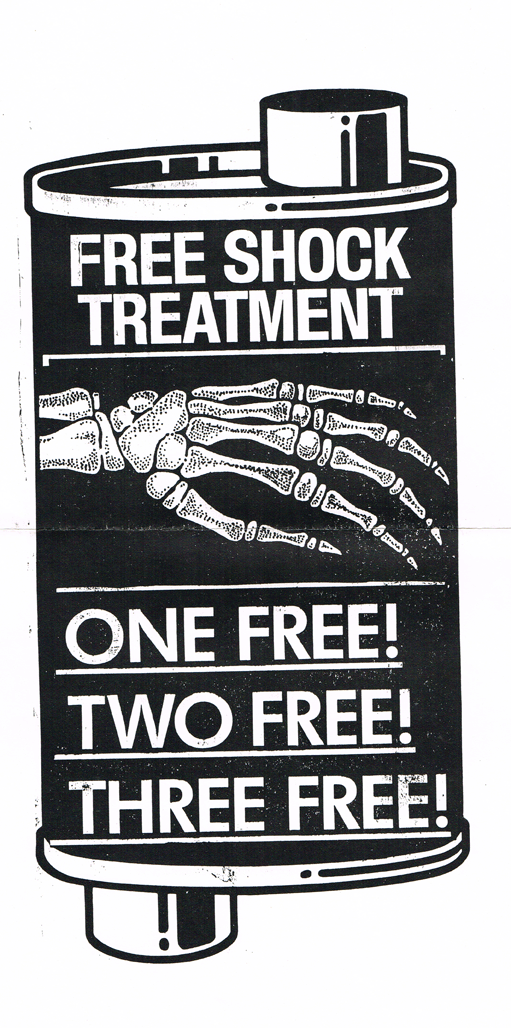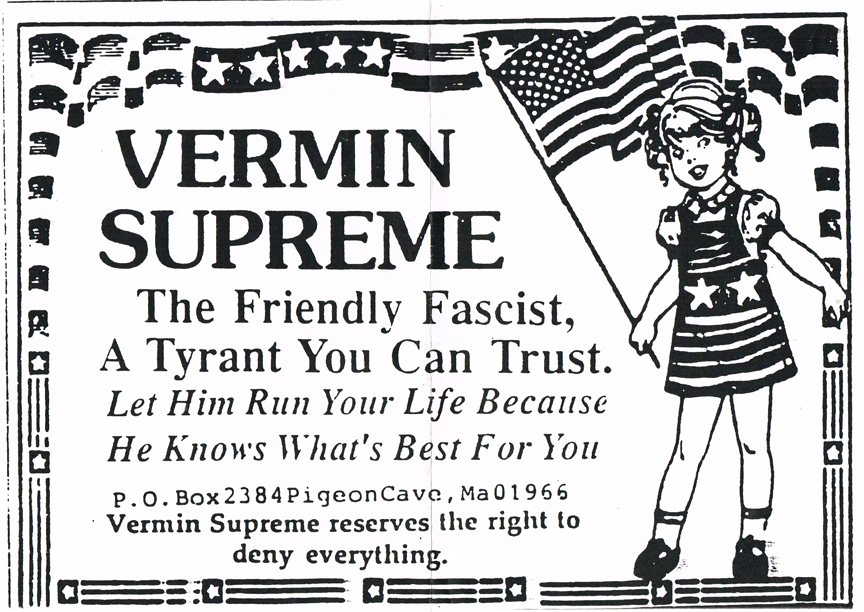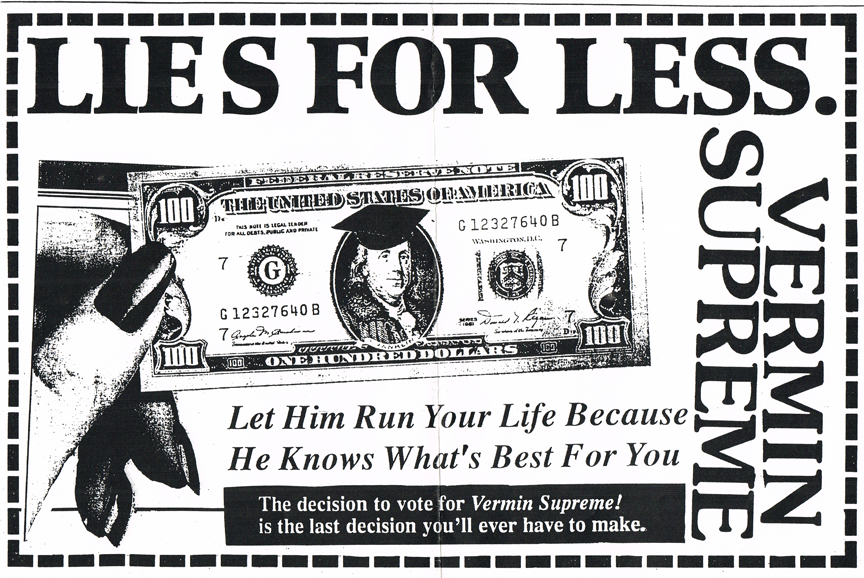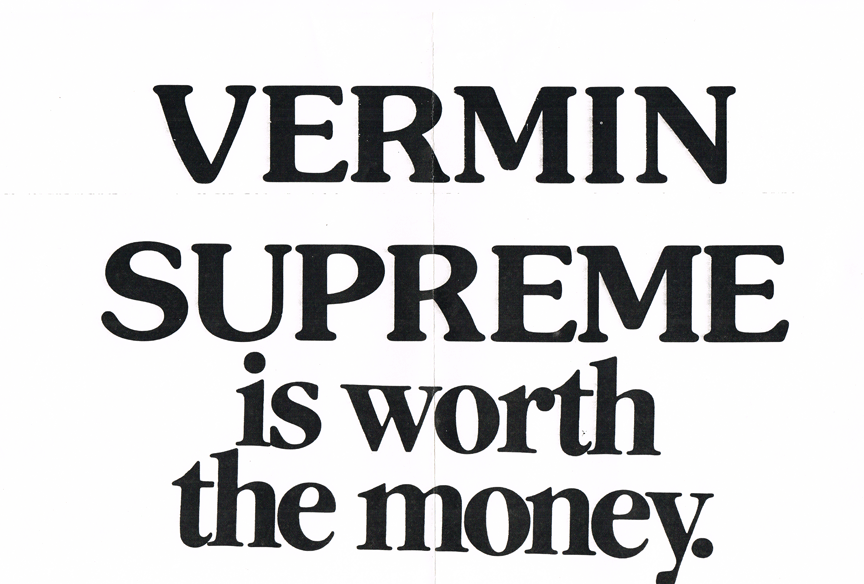 In December of 1992 I made a 2 hour long movie entitled
"F(acinorous)R(efulgent)E(squamate)D(onnered)
S.(A.P.F.U. = Surpassing All Previous Fuck-Ups)
L(ongiloquent)I(mprolificating)S(kookum)
B(ruxomaniacal)E(pigamic)R(isorial)
G(awsie)E(rose)R(hapsodomaniacal)
that consisted of a continuous meandering close-up shot of the warehouse surface. Fleeting glimpses of the HQ can be seen near the beginning of this.
18 to 20 years or so later, Vermin thought it might be time to put out a Vermin Supreme CD & he sent me materials for me to edit along with whatever I had in my archive. I included a 22:00 selection from "The Official October 18th, 1991E.V., Vermin Supreme for Mayor Sound Assault Committee", a 12:50 selection from "The Official October 20th, 1991E.V. Vermin Supreme Campaign Managers", & 4 of the Volunteers Collective slugs. I also excluded 2 of the short pieces that Vermin had provided as not-that-good-&-redundant.
Vermin was not pleased. He said something to the effect of "Not even my most die-hard fans will be able to tolerate that stuff." This was the only error in judgment that Vermin ever made. Unfortunately, it's cost him every election since then.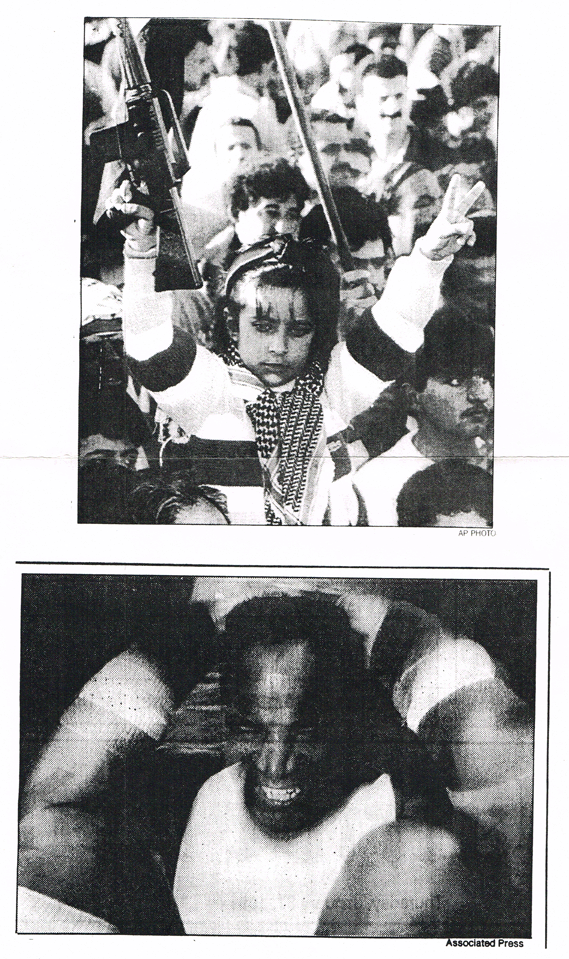 Starting in the 1990s, before snail mail was replaced by email as a cheapish way to communicate, Vermin began sending me extraordinary mailings. I'd been extremely active with Mail Art since the fall of 1978. Vermin's mailings started coming at a time when I was losing interest in what I received in the mail partially because it was less affordable & partially because too many people were just sending thoughtless junk.
Sometimes, Vermin's mailings teetered on the junk end as he sent me detritus from the world-at-large. What saved Vermin's mailings from the 'junk' category in the long run was that most or all of the found odds & ends that he sent along reinforced the absurdity of his overall vision.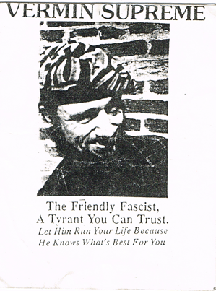 Pamphlet '2'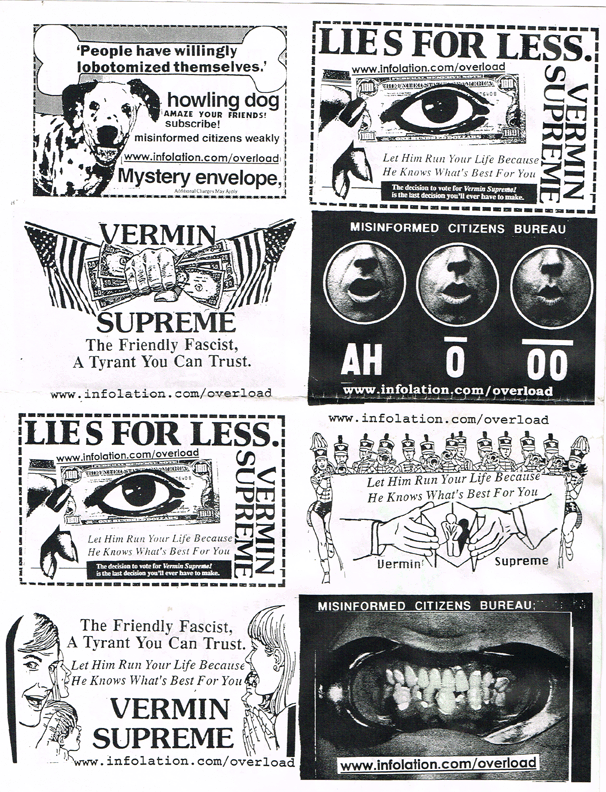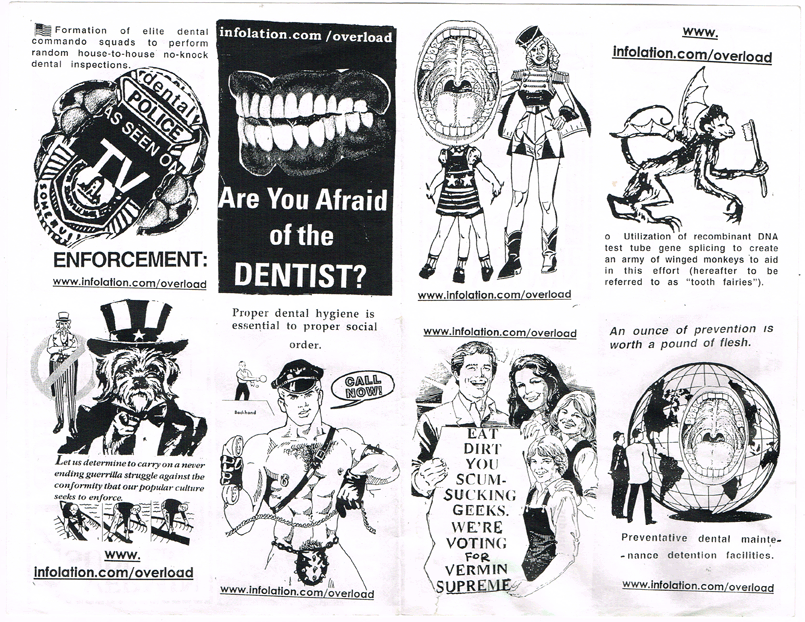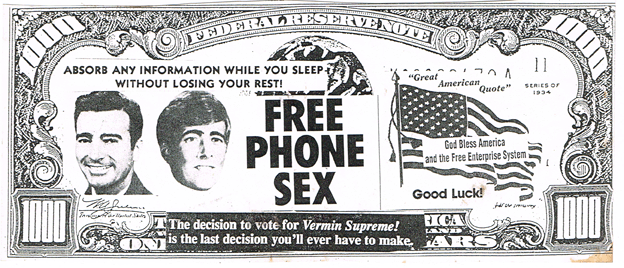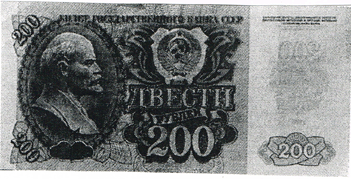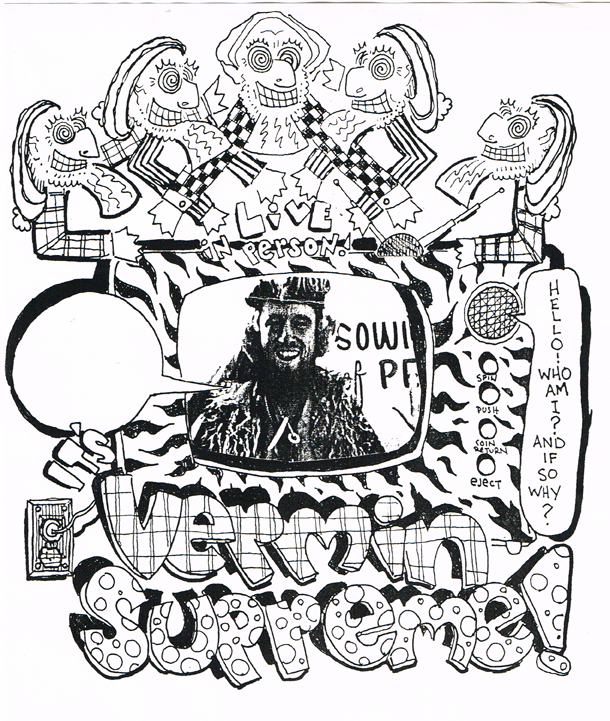 Since I was exchanging mail with as many as 1,400 people or more & since those people were constantly changing their names & addresses, it eventually became necessary for me to start a file card system for keeping track of what they sent me & what I sent them. Here're my cards re Vermin: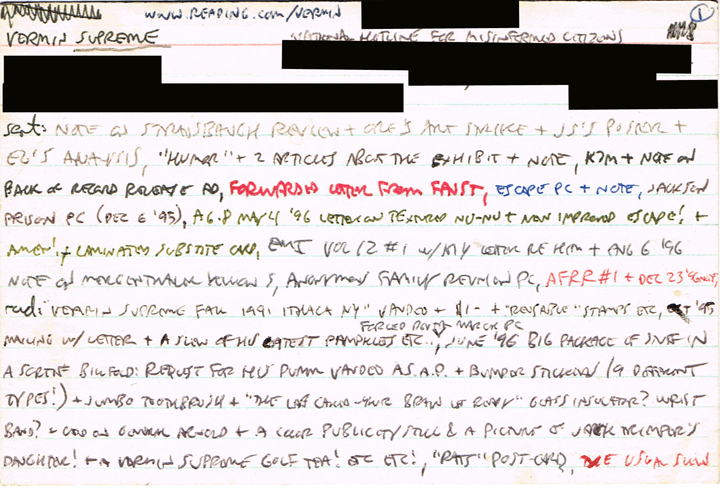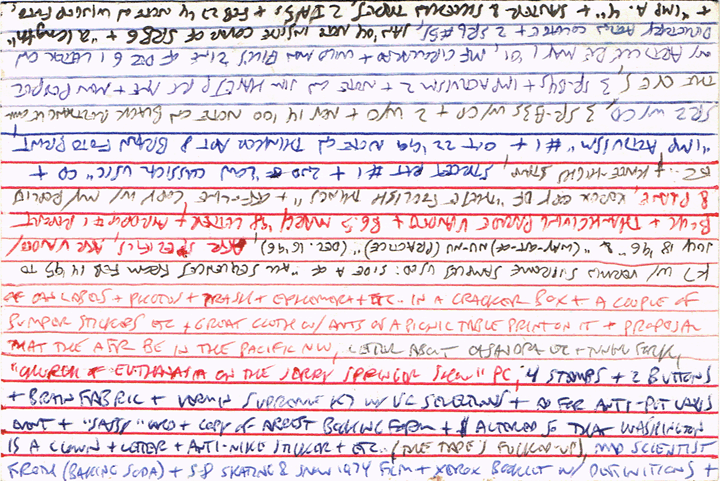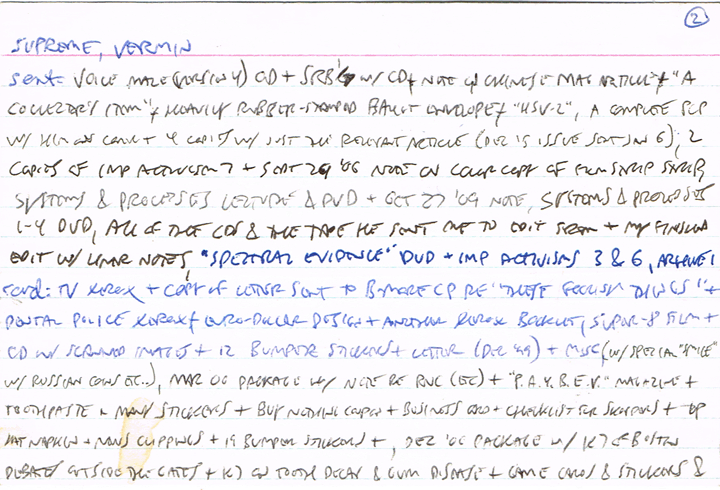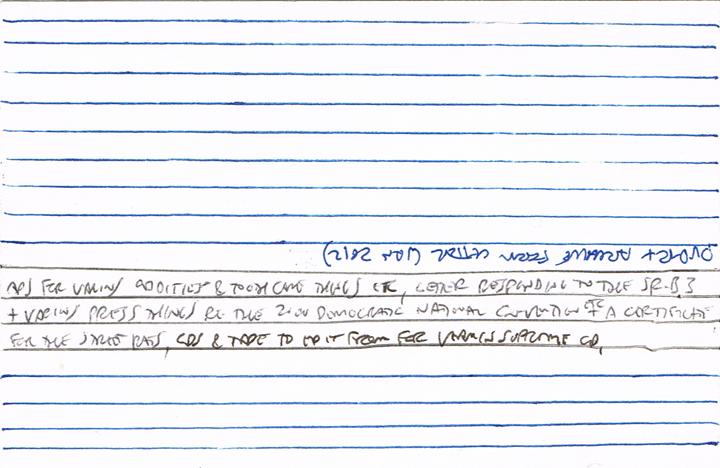 I decided to scan all the materials I have from Vermin collected in a file so that I could display them here & elsewhere. In the case of the things he sent me in the mail I tried to match my relevant 4X6" file card entry which I then added to the bottom of the scanned image. Comparison between those entries & the fuller list of entries in the cards above will show that much is missing. Also in the below index are images & links to anything relevant to Vermin that I managed to pull out of my highly organized (but still occasionally chaotic) archive(s). Everything's presented in roughly chronological order but there're bound to be mistakes: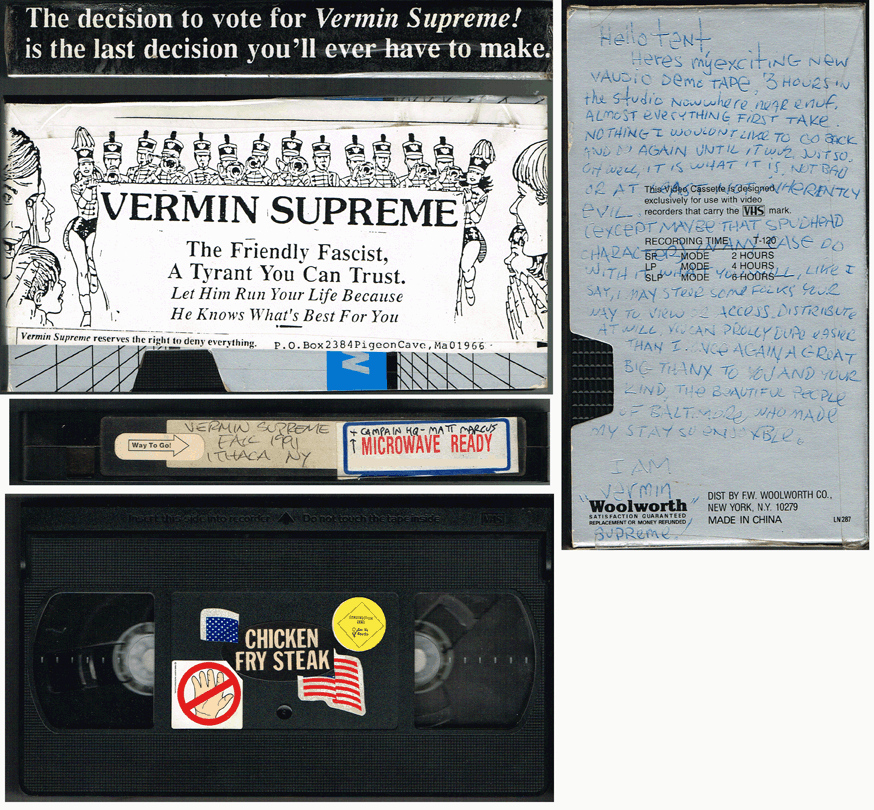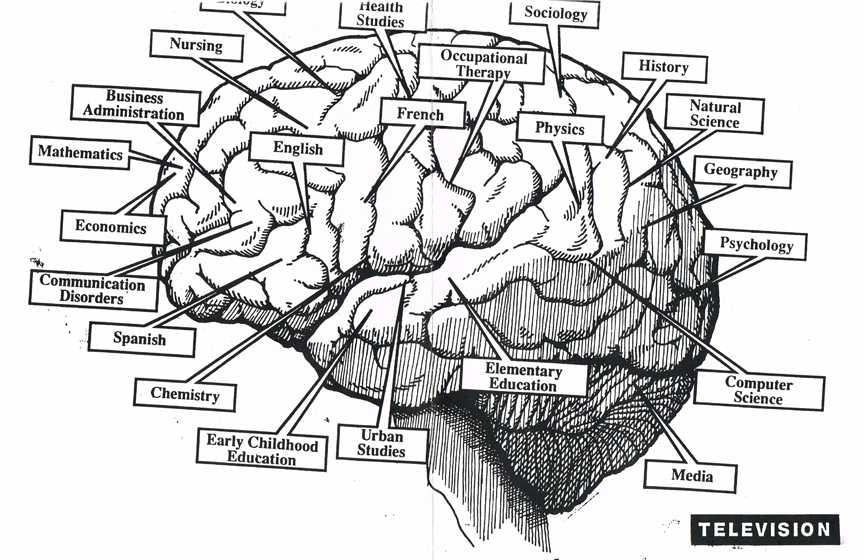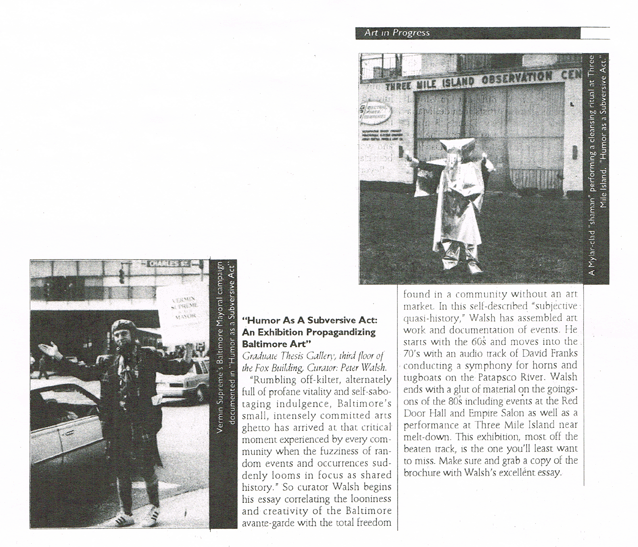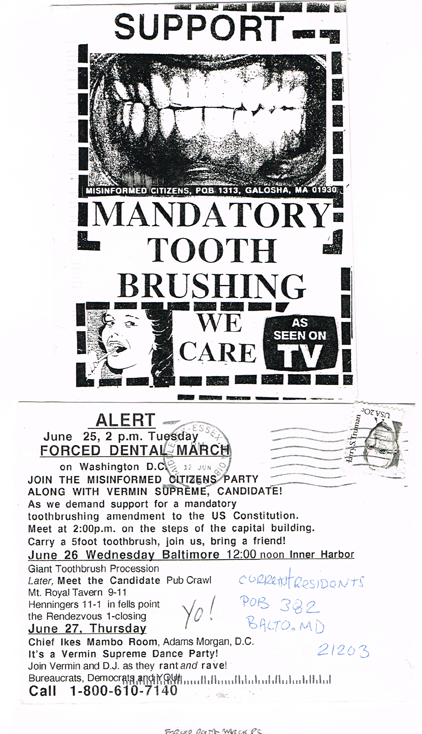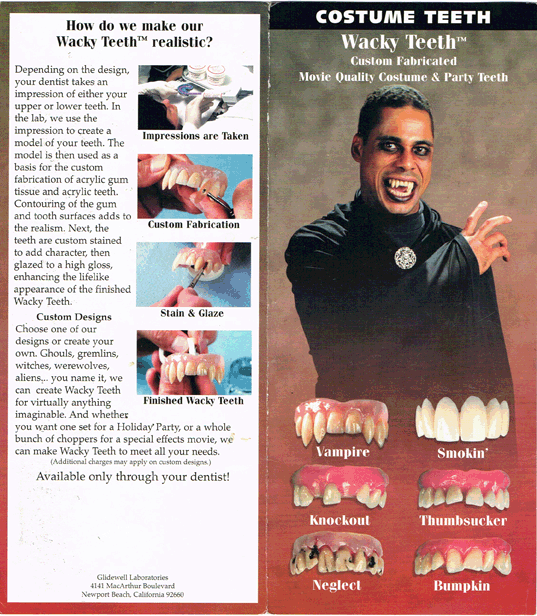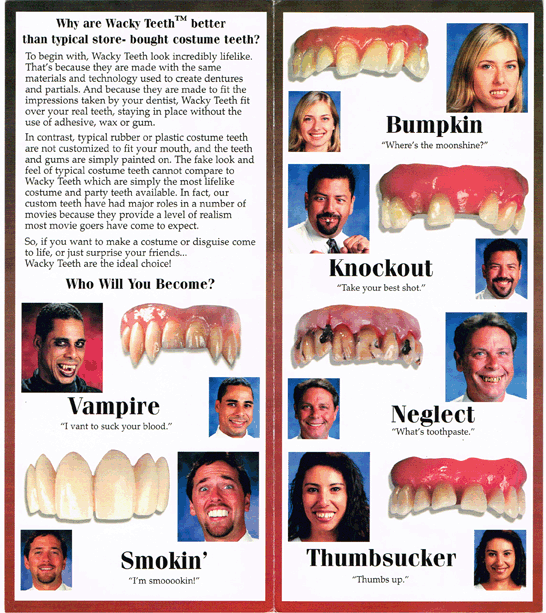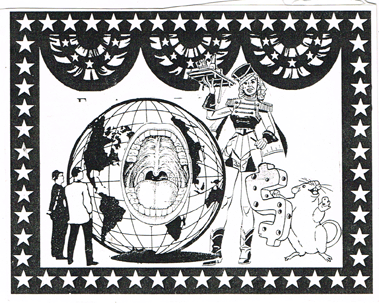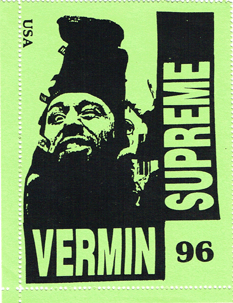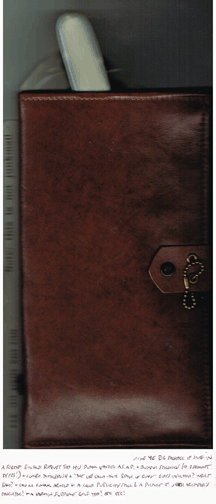 1996 billfold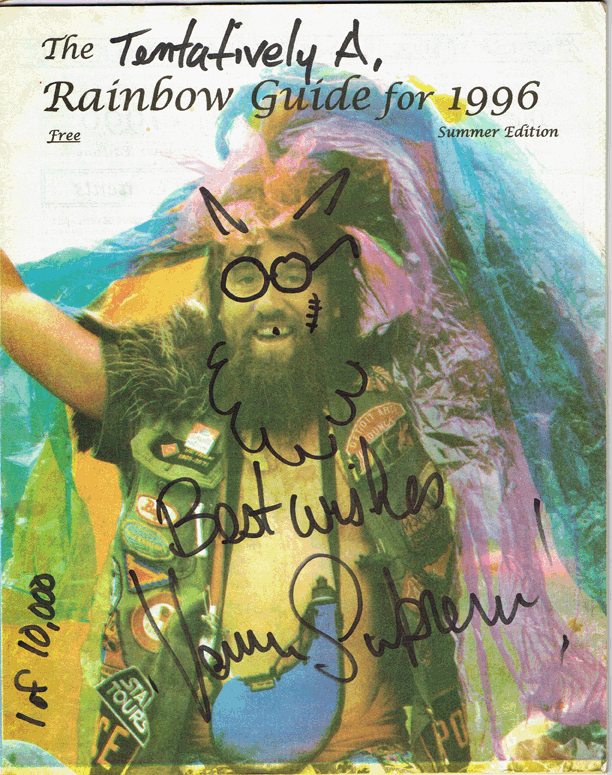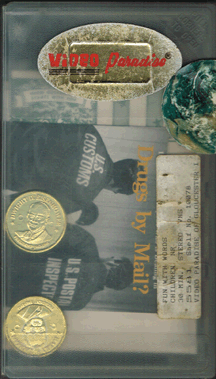 1996 VHS case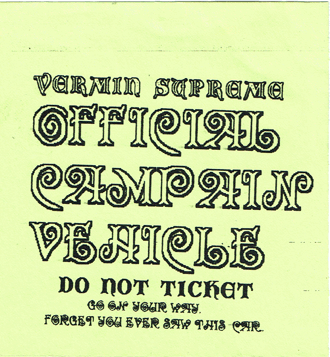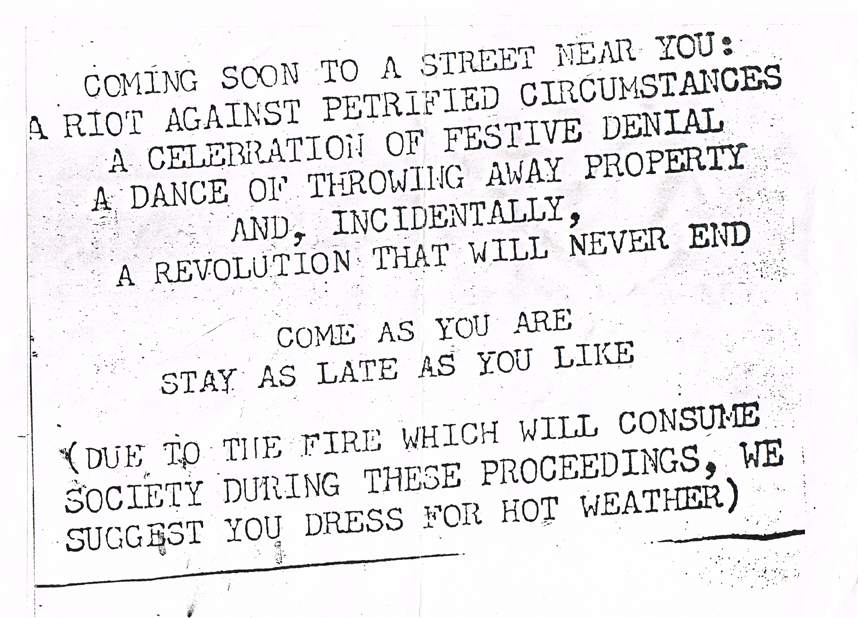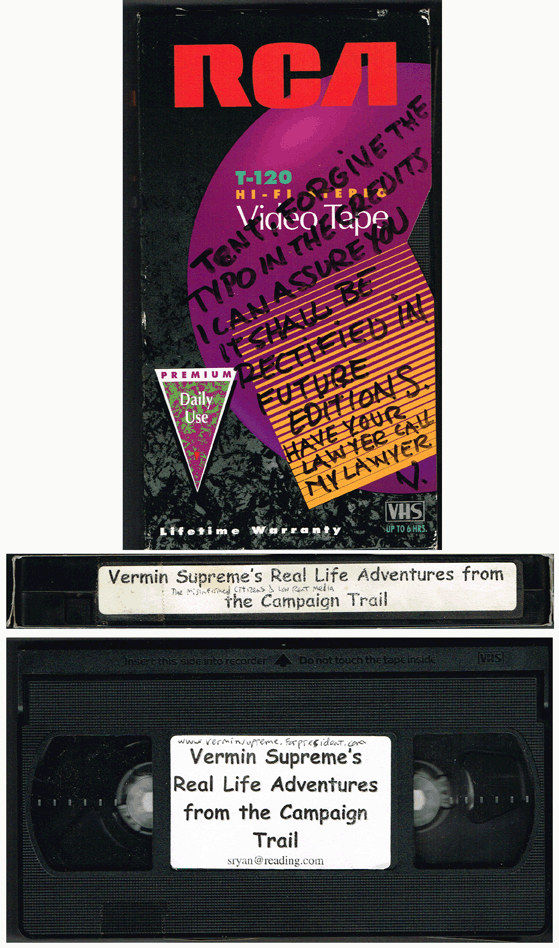 Vermin Supreme's Real Life Adventures from the Campaign Trail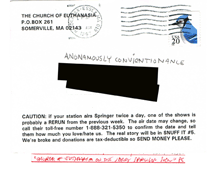 1997.08 Euthanasia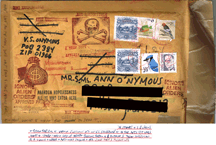 1998.02.12 Envelope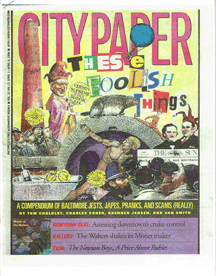 1998.04.01 BalTimOre City Paper's "These Foolish Things"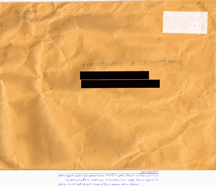 1998.06.18 Envelope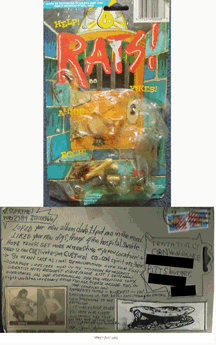 1998.08.11 Rats! post-card
By 1999, I'd cofounded an anarchist 'zine called "Street Rat" & the 3 editors of it (Will Rat for Iraq, Rita Rodentia, RATical (tENTATIVELY, a cONVENIENCE)) became the "Street Rats". Will Rat & I also started a video 'zine (which I continued alone after the 1st issue) called "IMP ACTIVISM" & Vermin's Ithaca sessions & his BalTimOre Campaining made it on to the 1st issue: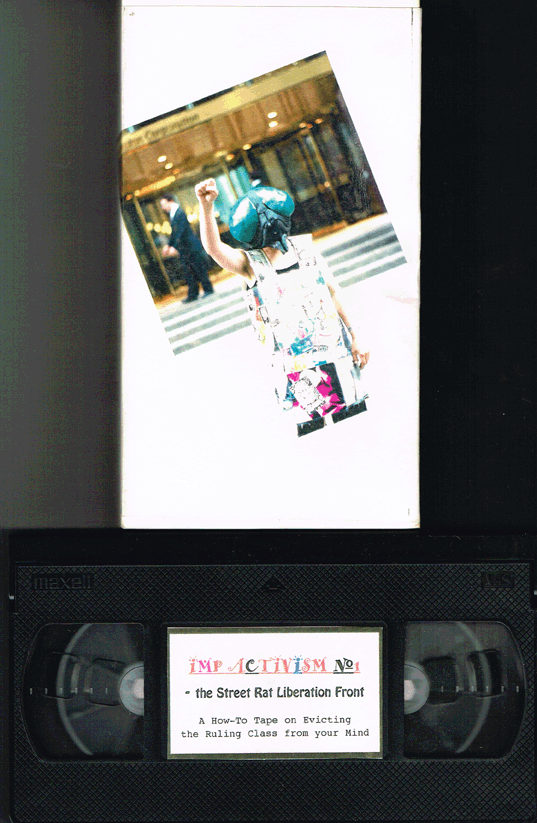 IMP ACTIVISM #1 ( https://youtu.be/EVEBDsOPzwI )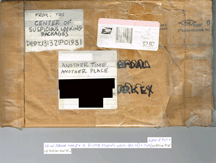 1999.12.16 Envelope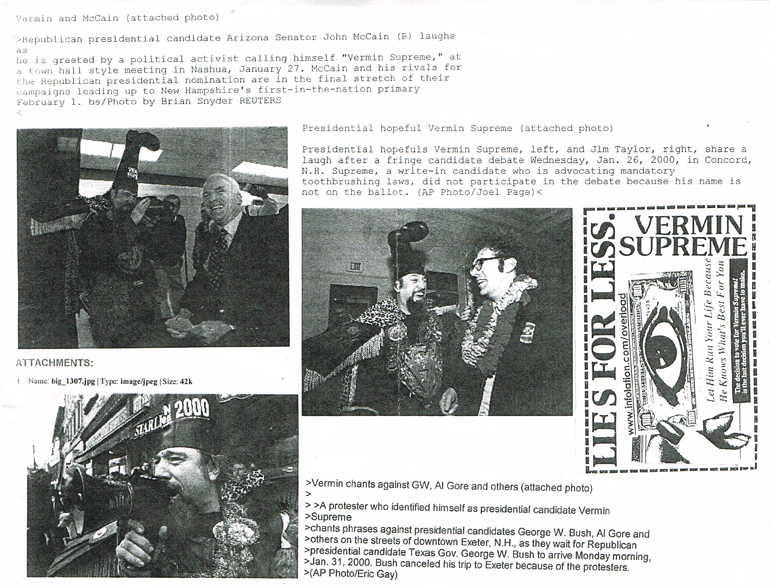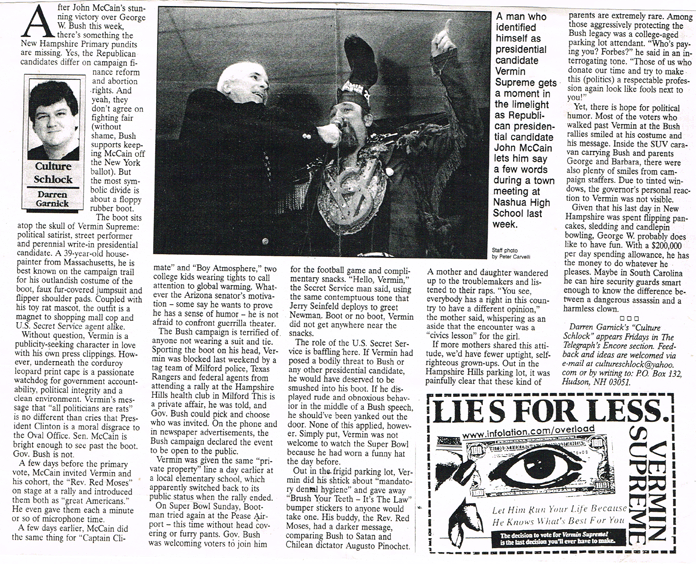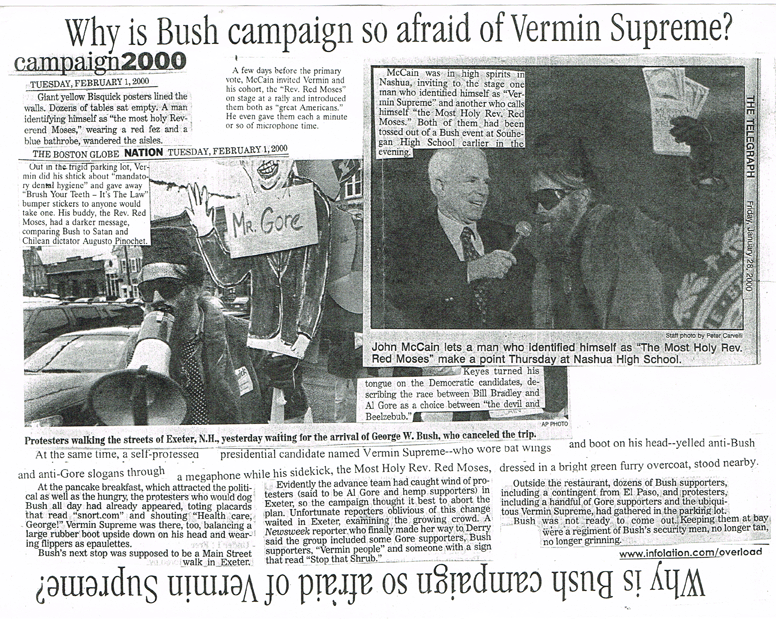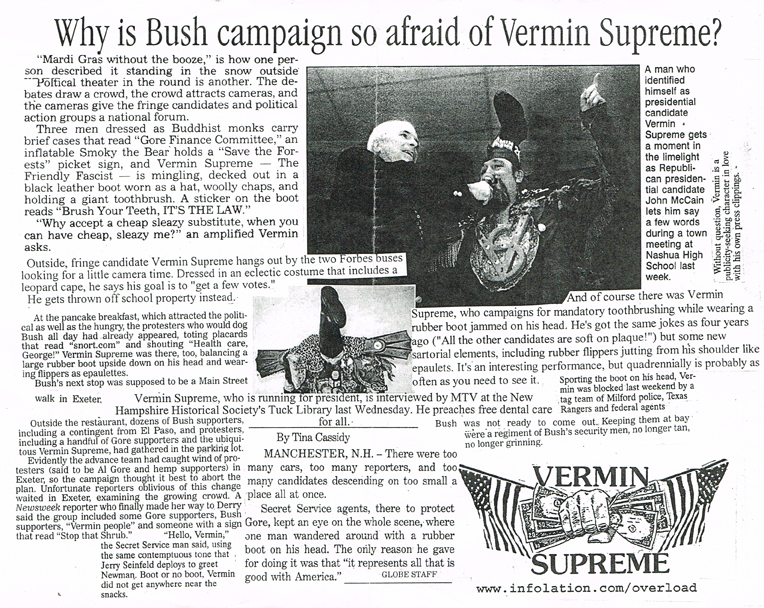 That last package included a slew of Vermin Supreme bumper stickers & probably other stickers. I, too, had made many stickers over the years & had received many, mostly through the mail. Vermin's were some of my favorites & still amuse me greatly 17 years later.
I used all the stickers to grace the outside of my file cabinets & elsewhere. Some, or all?, of these file cabinets were then put on display at Garfield Artworks as part of a "Sticker Show". Typically, I didn't bother to document my participation in this art exhibit because such things are of such low interest to me but now I wish I had because, amongst other reasons, that gallery doesn't exist anymore. Fortunately, I made more than one movie there, one of which was called "History in the Making" ( http://youtu.be/Db1SXIFd4AI ), so the place didn't go entirely undocumented.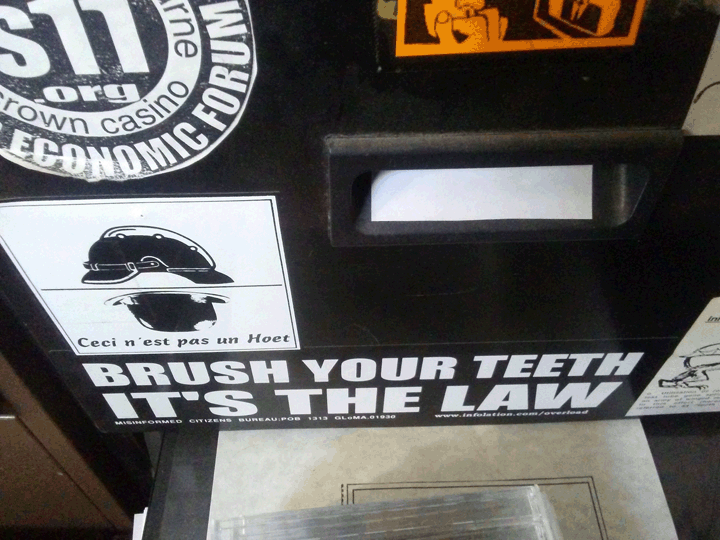 Inevitably, the Street Rats, as "Money Against Capitalism", crossed paths with Vermin at such places as the 2000 RNC (Republican National Convention) in Philadelphia.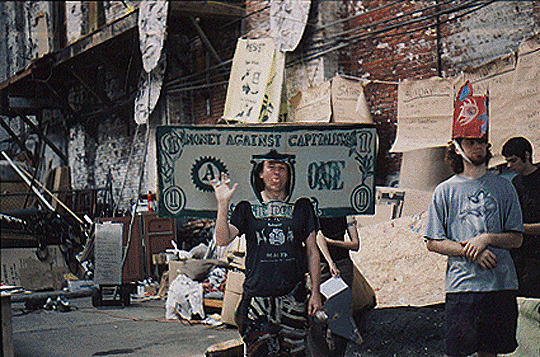 RATical (tENTATIVELY, a cONVENIENCE) at the Puppetista warehouse preparing for the RNC & representing Money Against Capitalism.
Rita Rodentia, with some modest assistance from RATical & others, made a movie about it that has a few shots of Vermin in it: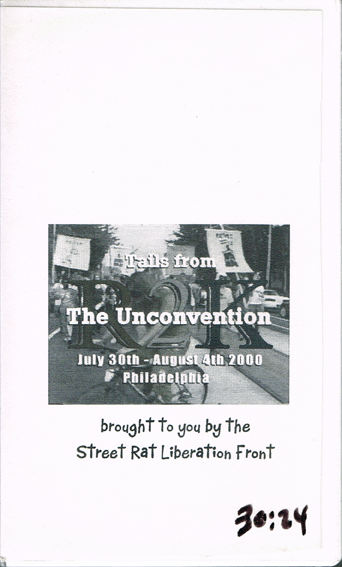 "Tails from the Unconvention" ( https://youtu.be/b-HKzrINS3M )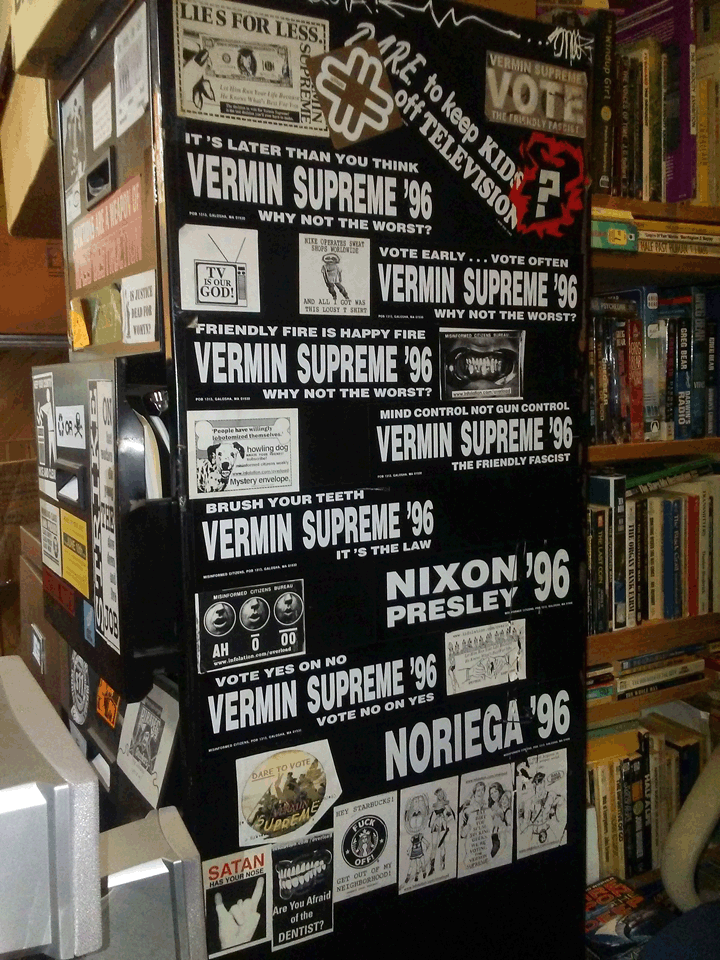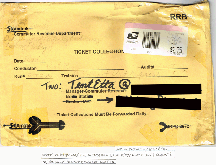 2000.12.26 Envelope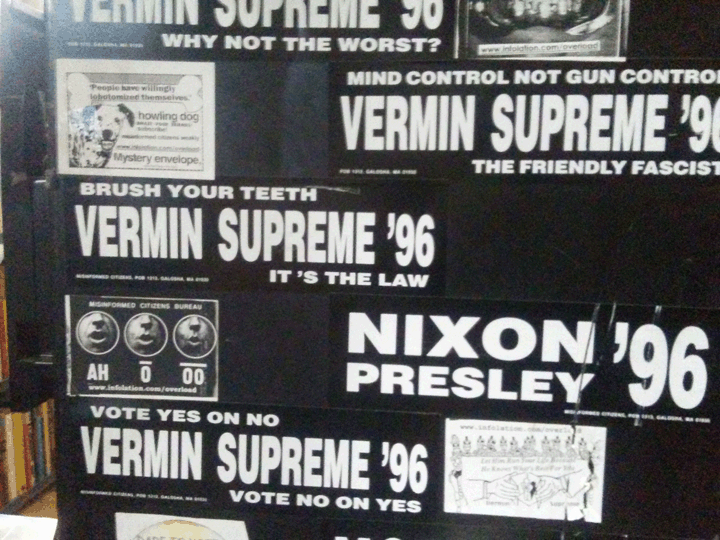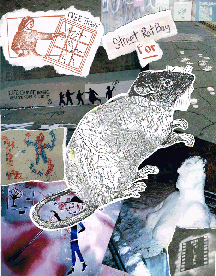 2001.06 Vermin Supreme in "Street Ratbag Fo(u)r"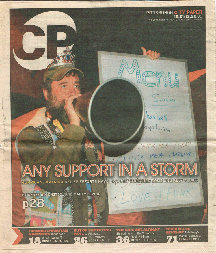 2005.12.21 Vermin Supreme in post-Katrina New Orleans in the Pittsburgh City Paper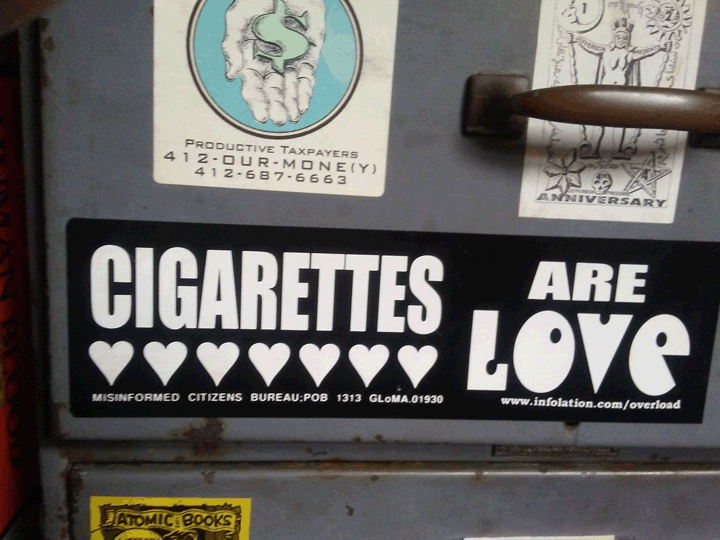 Vermin Supreme goes from major political event to major political event with an energy & dedication that few other people will ever be able to claim. He came to Pittsburgh for the resistance to the G20, an economic conference held behind closed doors involving major economic & political figures from 20 countries (including President Obama).
The police presence was augmented by forces from multiple states, they were, literally, an occupying army, & the mass media whipped up a frenzy of anti-protestor fear the extremity of which was unlike any I'd ever seen before. My collaborator Rich Pell & I made a movie called "TV 'News' Commits Suicide" as a critique of the fear-mongering & put it up online ( http://youtu.be/hU-_aL7kKBI ) in advance of the G20 to try to counterbalance (albeit ever-so-slightly) the hateful lying of the mainstream.
I participated in the protests, meandering around with Vermin & shooting footage as he applied his expertise to trying to keep the police from becoming homicidal maniacs & as he generally spread around good humor: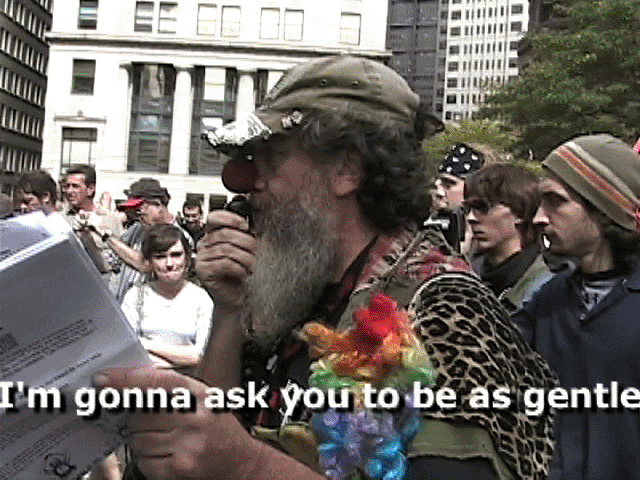 In the fall of 2009, shortly after the G20, I conducted a series of 4 classes at CMU, at the initation of Professor Jon Rubin, on "Systems & Processes". As part of the 1st of these classes, I showed footage of Vermin from which the above G20 still is an excerpt. I made a feature-length movie about these 4 classes & one short movie from it that's online, "Robotic" ( http://youtu.be/DkZjJ1ePIos ) which gives some idea of what they were like.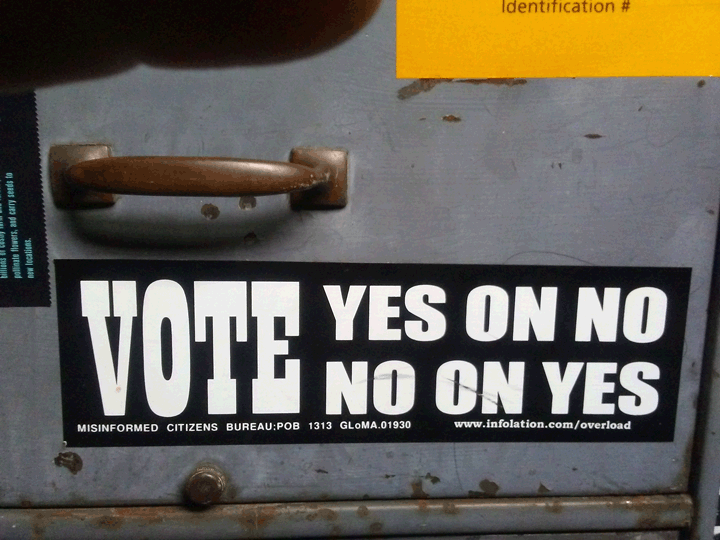 In 2011, I visited Becky-Vermin World (a solar-powered floating bubble capable of emergency submersion & containing a large ecosystem at an ever-changing locale) & shot footage of Vermin demonstrating his miniature golf course dressed as Uncle Sam. This footage became incorporated into a movie called "Spectral Evidence" (on the Internet Archive here: https://archive.org/details/SpectralEvidence ).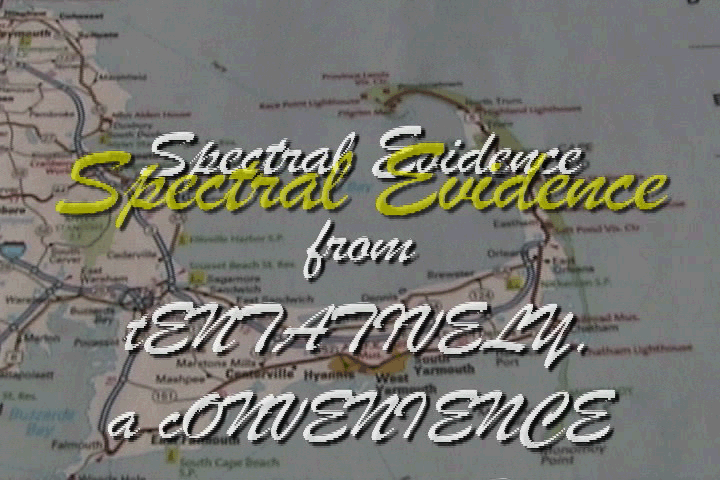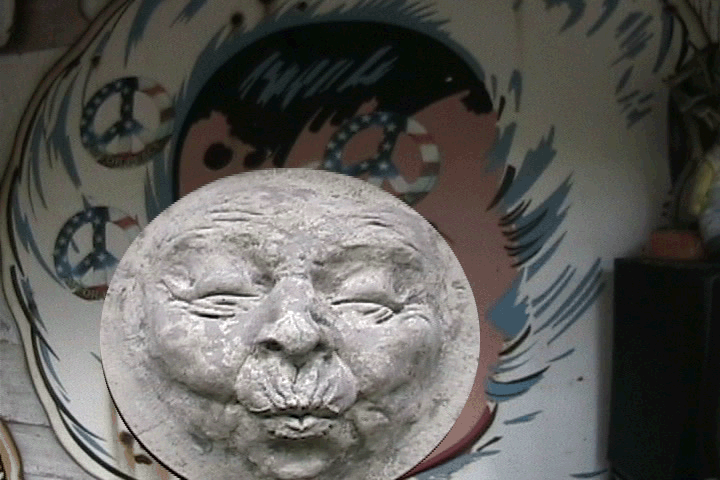 One of the things that Vermin & I talked about while I was there was that he was rejected for having work exhibited at BalTimOre's "Visionary Art Museum". As I recall, he was told that he didn't qualify because he'd been an art school student. I believe the VAF has a policy of "Don't Call Us, We'll Call You". THEY decide who's "visionary" & who's not. An excerpt from their mission statement on their website states that it refers to:
"art produced by self-taught individuals, usually without formal training, whose works arise from an inate personal vision that revels foremost in the creative act itself."
Maybe that latter part means NO POLITICS.
I know that some of the people whose work has been exhibited at the VAF were also art school students. Alex Grey, for example, went to the Columbus College of Art & Design from 1971-1973 & the School of the Museum of Fine Arts from 1974-1975.
Vermin attended MICA but I don't think he studied how-to-be-an-anarchist-pain-in-the-ass-for-ruling-elites-at-protests there nor do I think he studied making-miniature-golf-courses-in-the-woods. Vermin is far more visionary than the VAF's curator(s).
I told Vermin that I don't think the VAF would welcome me either - not because I attended art school, I didn't, but because I-know-too-much-theory & I'm-so-intensely-self-taught-I-probably-know-more-than-most-professors (says who?) & because I work in mediums other than painting, drawing, & sculpture AND, perhaps most importantly, don't call myself an artist. Still, an exhibit of my movies there would be cool.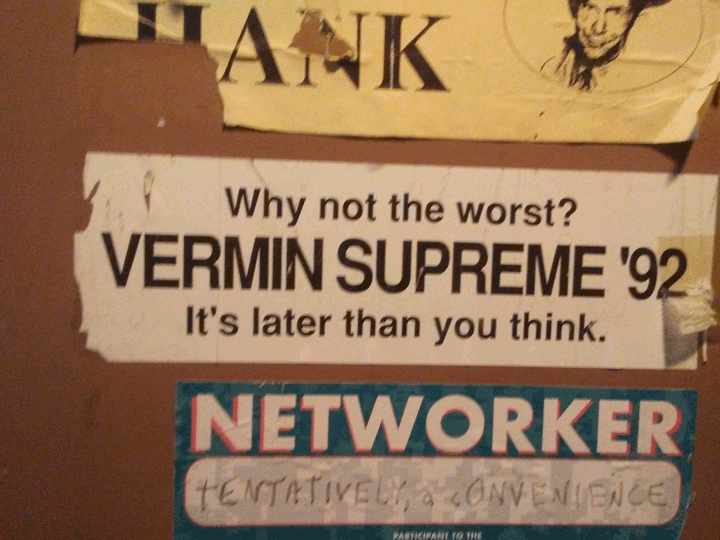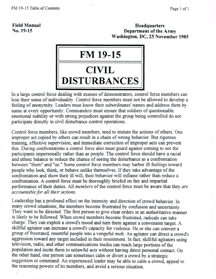 Vermin Supreme Field Manual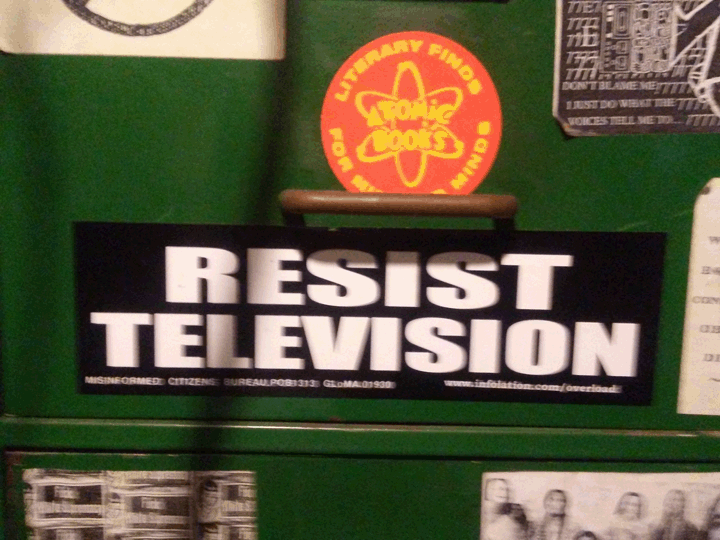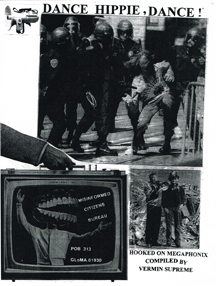 Vermin Supreme Megaphonix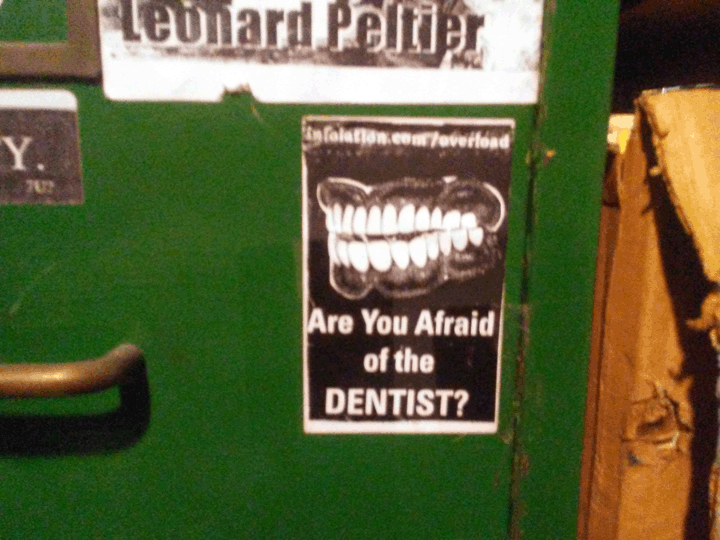 In September, 2015, I cohosted a screening of Steve Onderick's movie about Vermin: "Who is Vermin Supreme? - An Outsider Odyssey": http://www.whoisverminsupreme.com at a local space called Babyland. Alas, despite substantial publicity, there was no local interest & only one person from the presenting space bothered to stay: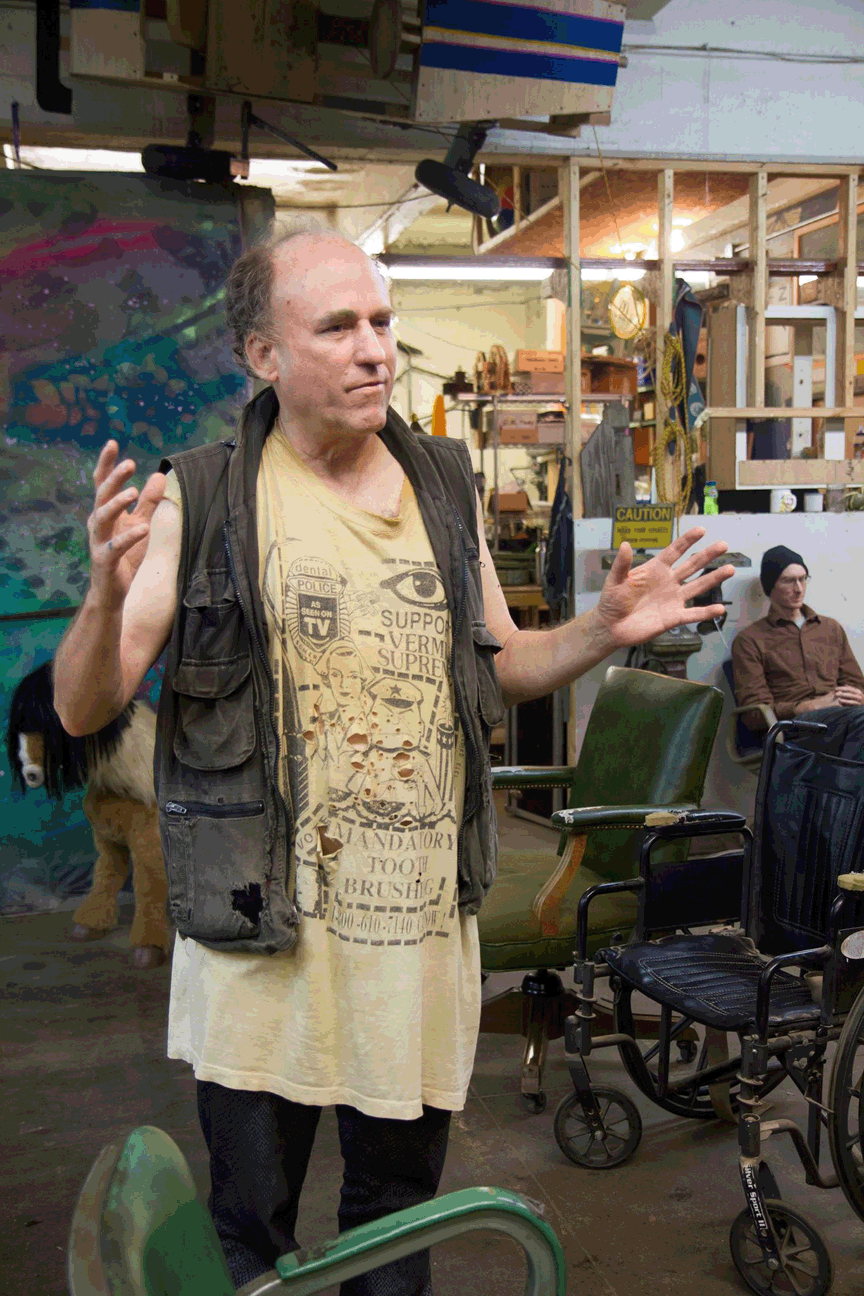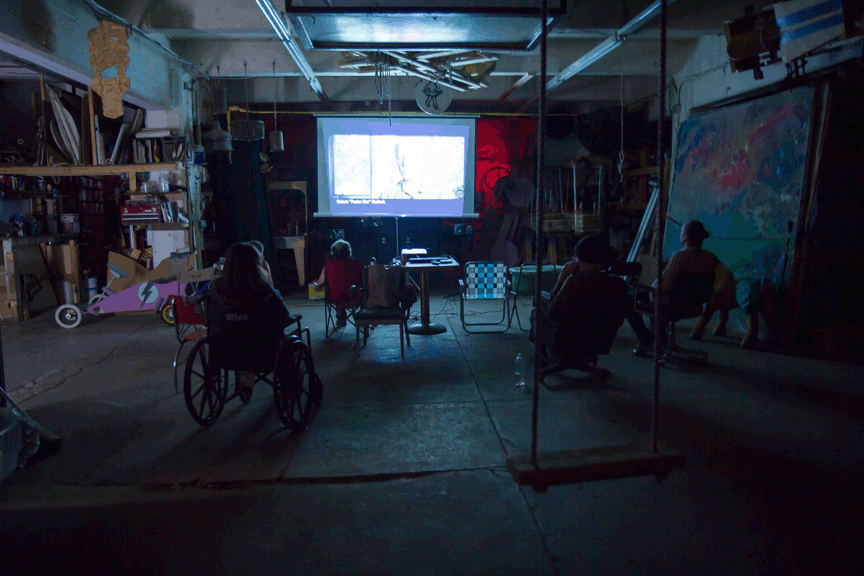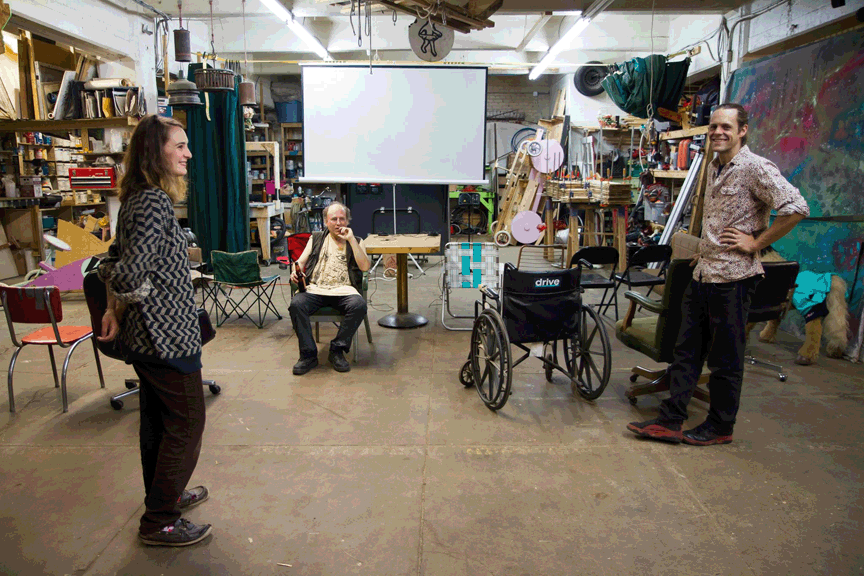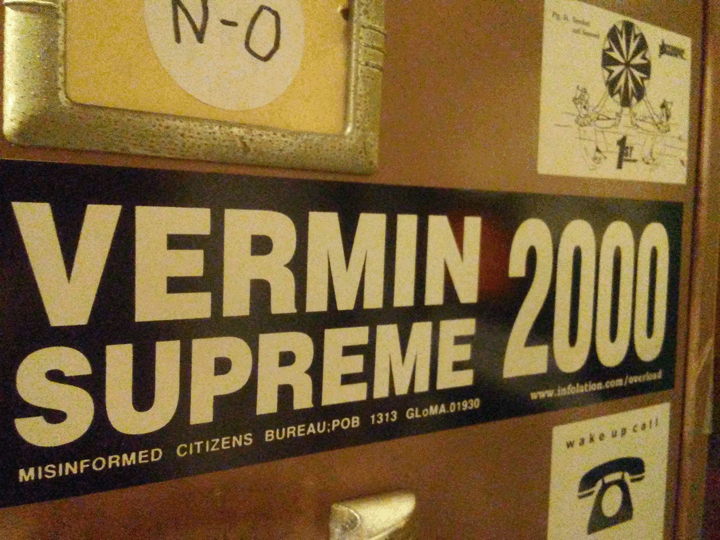 Vermin Supreme has phenomenal dedication. Sometimes it pays off in unexpected ways. On November 7, 2016, he was invited & paid by a CMU fraternity to present Onderick's documentary. He came in person with a friend or 2 & did an in-person appearance to a crowd of maybe 200 people, almost all guys. The crowd was very enthusiastic, especially when pot smoking was mentioned, & seemed to uniformly hate Rump. I attended this as a disaffected former president, Jimmy Carter: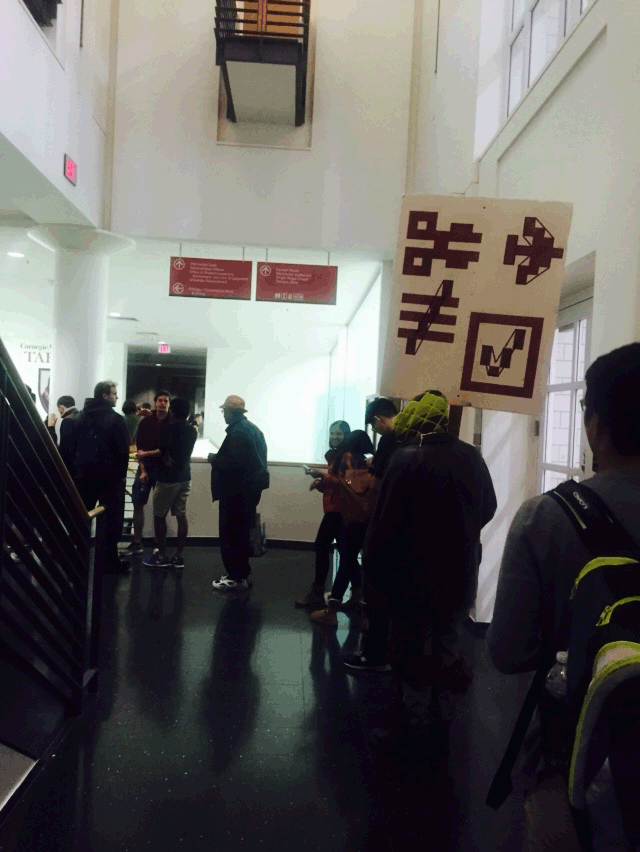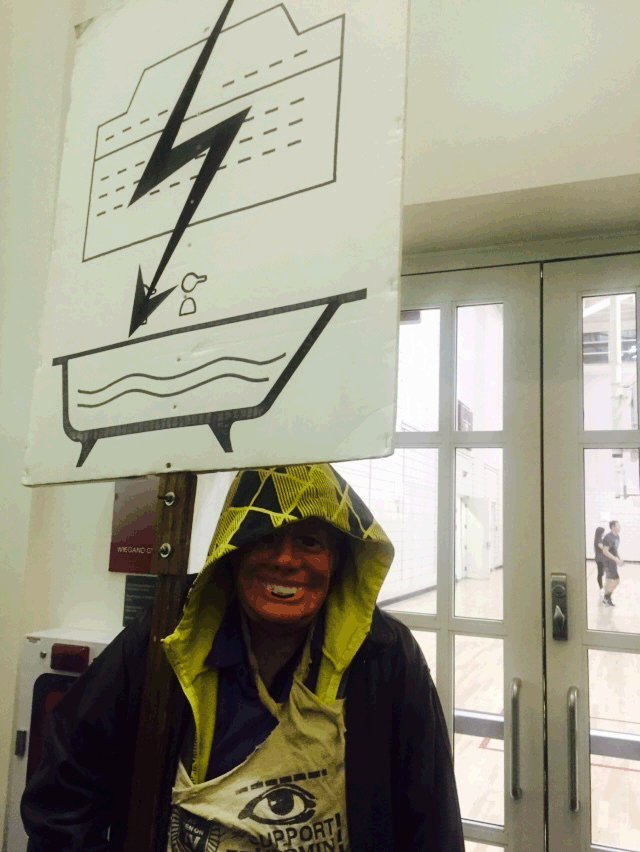 The next day, election day, Vermin did some campaining in Pittsburgh: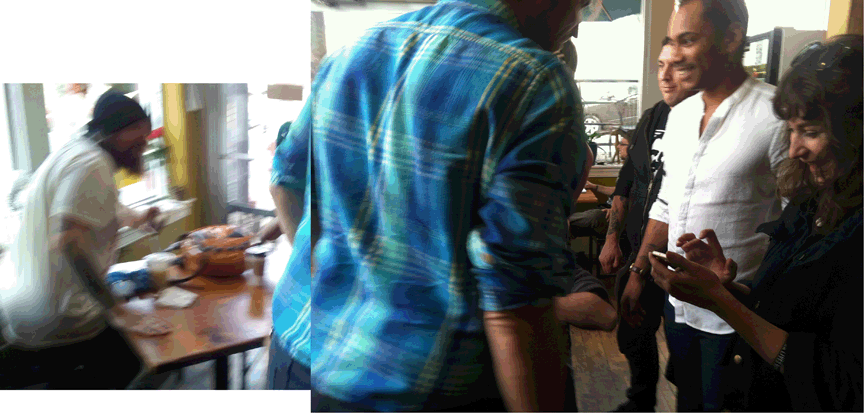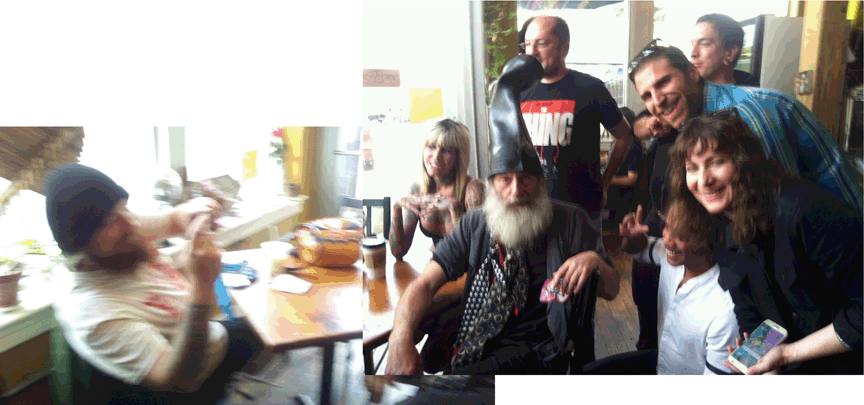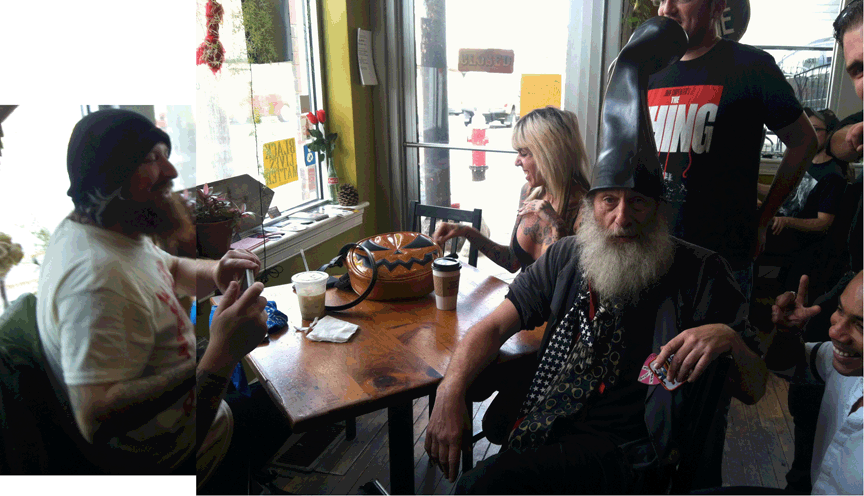 This trip was also to promote his new book: "I Pony":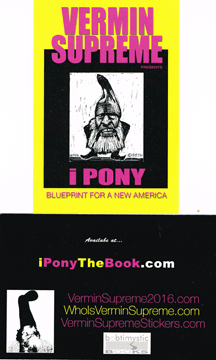 2016 "I Pony"
If ever a man has dedicated himself to politics in a way worthy of Alfred Jarry, Eugene Ionescu, Edward Albee & others, that man is VERMIN SUPREME. Perhaps the highest honor ever granted me is this certificate: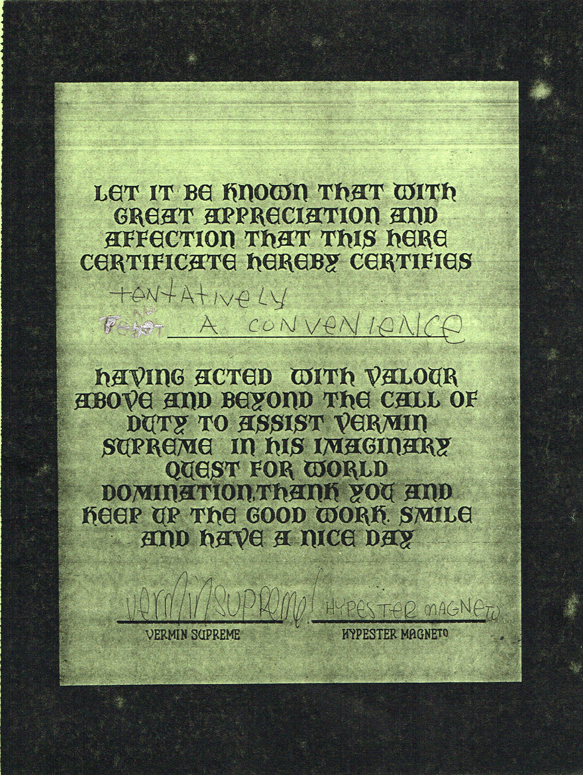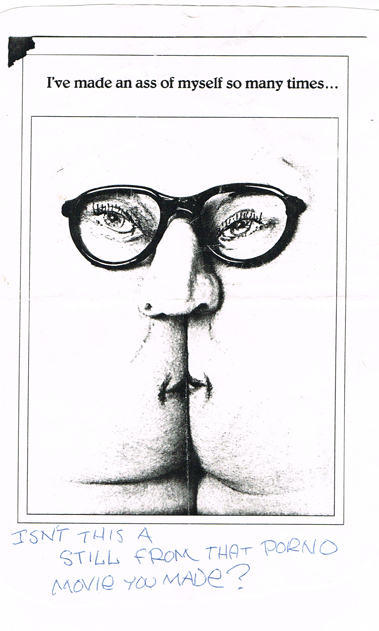 Now, as of February 27, 2018E.V., I've finished my own quasi-documentary about Vermin called "Vermin Supreme, His Humble Beginnings" which pulls together most of the materials from or about Vermin from my aRCHIVE. It's on my onesownthoughts YouTube channel here: https://youtu.be/9GmNOHKbRyY & on the Internet Archive here: https://archive.org/details/VerminSupremeHisHumbleBeginnings
idioideo at verizon dot net
to the tENTATIVELY, a cONVENIENCE Anti-Neoism page
to the tENTATIVELY, a cONVENIENCE Audiography page
to the tENTATIVELY, a cONVENIENCE Bibliography page
to my "Blaster" Al Ackerman index
to the tENTATIVELY, a cONVENIENCE Books page
to the tENTATIVELY, a cONVENIENCE BYOC page
to the tENTATIVELY, a cONVENIENCE Censored or Rejected page
to the tENTATIVELY, a cONVENIENCE Collaborations page
to the tENTATIVELY, a cONVENIENCE (d) compositions page
to Amir-ul Kafirs' Facebook page
to the "FLICKER" home-page for the alternative cinematic experience
to tENTATIVELY, a cONVENIENCE's GoodReads profile
to the tENTATIVELY, a cONVENIENCE Haircuts page
to the tENTATIVELY, a cONVENIENCE Home Tapers page
to the tENTATIVELY, a cONVENIENCE index page
to the tENTATIVELY, a cONVENIENCE Instagram Poetry page
to a listing of tENTATIVELY, a cONVENIENCE's manifestations on the Internet Archive
to the tENTATIVELY, a cONVENIENCE as Interviewee index
to the tENTATIVELY, a cONVENIENCE as Interviewer index
to tENTATIVELY, a cONVENIENCE'S Linked-In profile
to tENTATIVELY, a cONVENIENCE's Mail Art page
for A Mere Outline for One Aspect of a Book on Mystery Catalysts, Guerrilla Playfare, booed usic, Mad Scientist Didactions, Acts of As-Beenism, So-Called Whatevers, Psychopathfinding, Uncerts, Air Dressing, Practicing Promotextuality, Imp Activism, etc..
to the mm index
to see an underdeveloped site re the N.A.A.M.C.P. (National Association for the Advancement of Multi-Colored Peoples)
to tENTATIVELY, a cONVENIENCE's Neoism page
to the DEFINITIVE Neoism/Anti-Neoism website
to the Philosopher's Union website
to the tENTATIVELY, a cONVENIENCE movie-making "Press: Criticism, Interviews, Reviews" home-page
to tENTATIVELY, a cONVENIENCE's Score Movies
to SMILEs
to find out more about why the S.P.C.S.M.E.F. (Society for the Prevention of Cruelty to Sea Monkeys by Experimental Filmmakers) is so important
to the "tENTATIVELY, a cONVENIENCE - Sprocket Scientist" home-page
to the tENTATIVELY, a cONVENIENCE Top 50s page
to Psychic Weed's Twitter page
to tENTATIVELY, a cONVENIENCE's Vimeo index
to Vine movies relevant to tENTATIVELY, a cONVENIENCE made by Ryan Broughman
to tENTATIVELY, a cONVENIENCE's presence in the Visual Music Village
for info on tENTATIVELY, a cONVENIENCE's tape/CD publishing label: WIdémoUTH
to a very small selection of tENTATIVELY, a cONVENIENCE's Writing