2012. Baltimore Sounds - An Illustrated Encyclopedia of Baltimore Area Pop Musicians, Bands and Recordings 1950-2000 (2nd edition)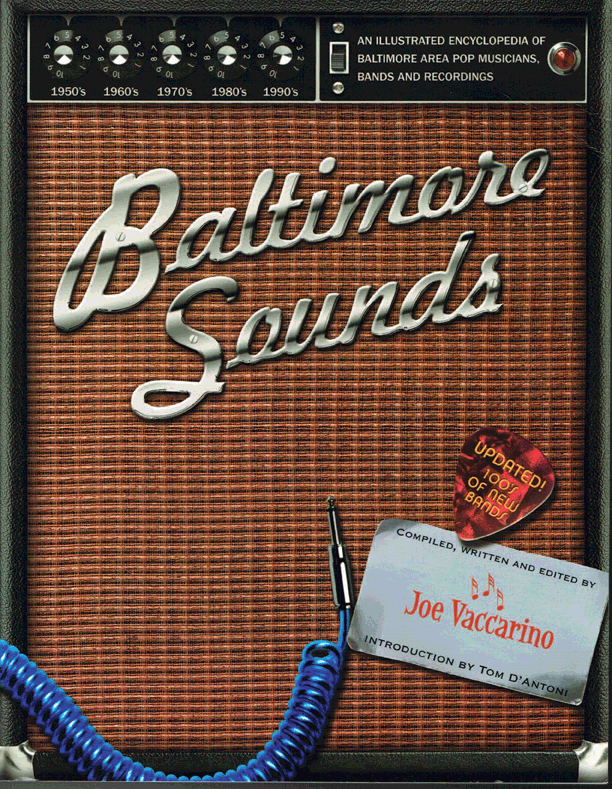 I am very impressed by this book. It has an incredible amount of information in it. AND I'm included. I was probably the least "pop" musician who ever existed in BalTimOre but I'm still in here anyway & that pleases me enormously. After all, the concerts (or, as I prefer "uncerts" for "uncertainty concerts") that my friends & I presented did have audiences & the audiences often seemed to enjoy what we were doing very much regardless of the highly original ideas behind & structure of the (M)Usic (after all, most people seem to only want muzak that reinforces their subcultural membership - or so I say).
Eventually I'll review this book (WILL I?!) & the review will go here. In the meantime, I'll just show scans of every page I'm mentioned on followed by an enlargement of the relevant part.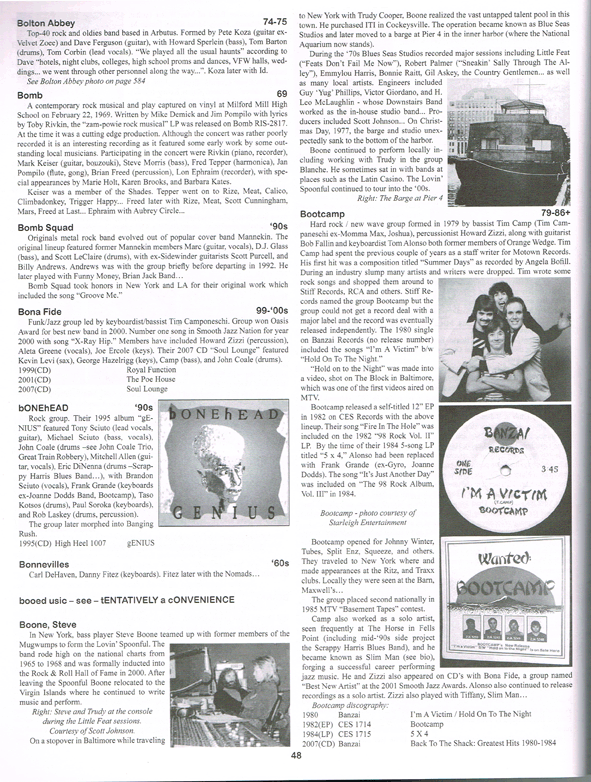 I have to wonder whether "bONEhEAD"'s name was inspired by me. It's in tOGGLE cASE & I was using tOGGLE cASE in BalTimOre for 20 years before these guys.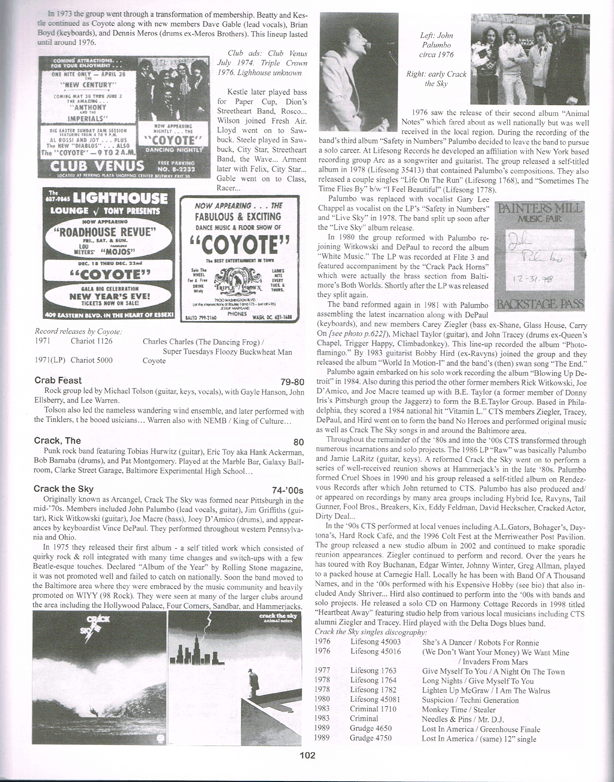 That's a fairly accurate entry as far as it goes. I would've been using the name "tENTATIVELY, a cONVENIENCE" (or "tentatively, a convenience") at the time & the Crab Feasts were more of a context in which a variety of strangenesses happened, only one of which was the incarnation as an experimental rock group at the Proposal Art Gallery on January 24, 1980. Here're pictures of what we looked like that night:

There's a brief Crab Feast portion on my "Significantly Different from the Other One" CD.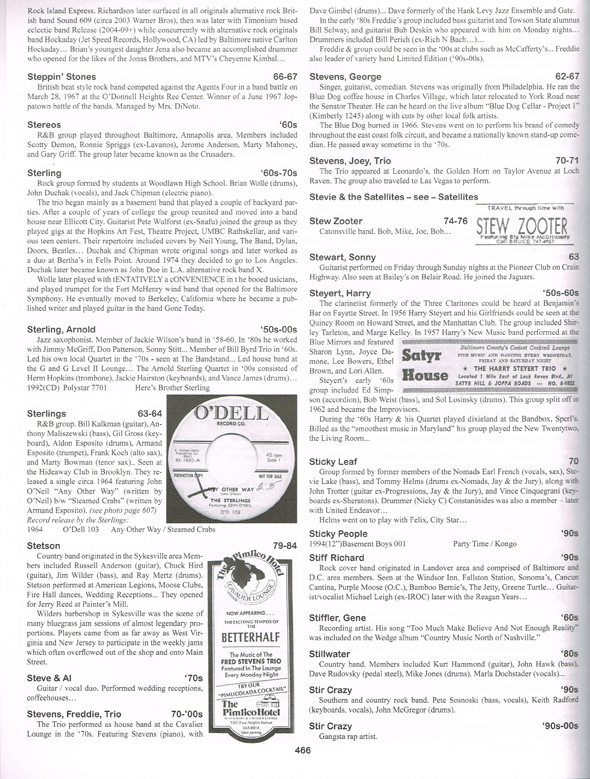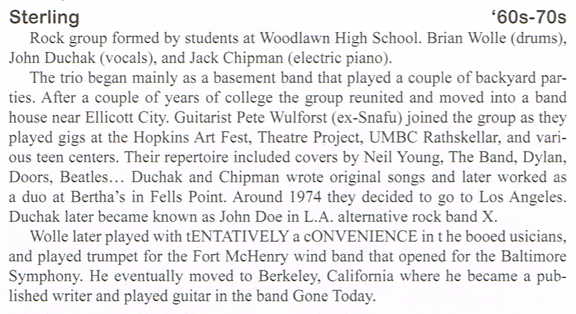 I spent just about every weekend when I was still in Baltimore & surrounding environs after I graduated from high school at the Ellicott City Sterling house. I knew John slightly in high school & Brian was one of my best friends at the time. I recall his last name as spelled "Duchac" (pronounced "Do-cotch"). Maybe I'm wrong. I remember that John & Jack lived together, I don't remember whether Brian lived there & I thought that Pete definitely didn't (he lived in an apartment with his wife) but he's since informed me that he & his wife split & that he moved into the Sterling house after that. John moved to LA, I have a vague memory of Jack ending up in Seattle (or, at least, somewhere further up the west coast).
I even played on 2 or 3 songs on harmonica one time with Sterling when they played at a high school. I remember one friend of ours telling me he couldn't hear me so I probably wasn't close enough to the mic.
Brian did play in 2 of t he booed usician's gigs (June 29, 1985; January 27, 1986) which made him as much a member or more so than most of the other people (except me) since the personnel changed every time we played.
He also played in the 1st "Official" Project gig (May 5, 1990). Those were the only public uncerts we did together but we did some recording together otherwise.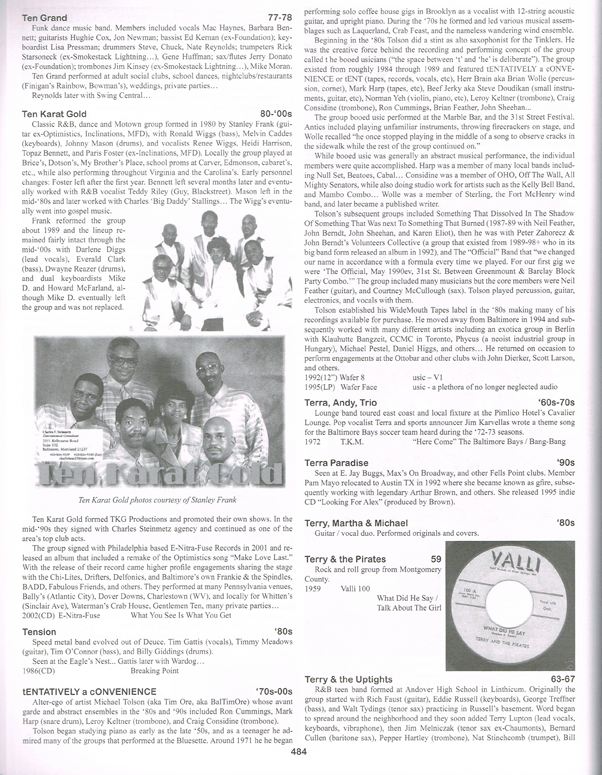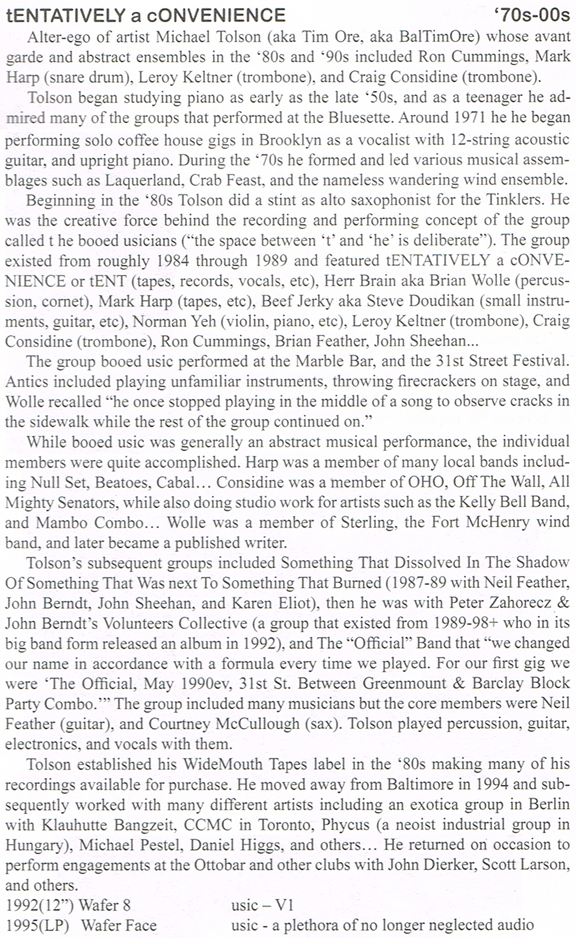 I'm extremely grateful to Vaccarino for listing me at all - but I'm especially grateful for the above listing which gets into more detail than the rest. I'm also intent upon providing substantial corrections (but without the slightest animosity to the author who did a phenomenal job!):
I called myself "Tim Ore" to show that the name of the city that I lived in, BalTimOre, was a sex ad for myself. Hence I was "Tim Ore" but NOT "BalTimOre". Tim Ore was the only name I used under which I called myself an "artist", a "con artist".
I collaborated a fair amount with Ron Cummings but he only played in the 1st booed usic uncert on January 24, 1984. All of other collaborations were special events, mostly connected to WJHU where he was a DJ. Mark Harp was a person I was connected to through B.U.T.N. (BalTimOre Underground Telephone Network) & he played as part of the 1st booed usic (1984.01.24) & the 3rd (1986.01.27). Leroy Keltner & Craig Considine only played with me for the 1st booed usic (1984.01.24) but, again, I was friends with all these guys & we had plenty of connections with each other in more ephemeral projects.
As far as the Bluesette goes: I particularly remember "Treebeard", "Howdy Duty", & "Urch Perch". I probably heard the 1st 2 at the Bluesette but I know I 1st heard Urch Perch at the Civic Center in a Saturday afternoon rock concert that left my 15 year old ears ringing for days. The drummer was Kenny Wolle whose brother, Brian, I later became close friends with.
I only played ONE coffee house gig in the Brooklyn neighborhood of BalTimOre but I did play publicly as a folk singer (+) when I was a hitchhiker/drifter from 1971-1973. Then I might've played 12 string acoustic guitar, harmonica, & fiddle - & sang.
"Lacquerland" wasn't the name of a "musical assemblage", it was what we called the 'place' (or state of mind) that my fellow floor finishers & I went to when we got high from putting lacquer on the floors. We then gave performances about 'going to Lacquerland' for ourselves & any other (sub)contractors who might be around. I don't know how many of the Lacquerland performances there were but, given that I worked as a hard-wood floor finisher from 1978-1988, there might've been more than I remember since we worked for a living & were trying to have some fun at an otherwise miserable job. My coworkers/coperformers were the aforementioned Brian Wolle (Herr Brain Storm Drain) & Doug Retzler. I'm sure we gave at least 4 performances from possibly as early as 1978 until Christmas of 1983 - & probably more.
As far as I recall, the "Tinklers Big Band" manifestation only happened once - on October 19, 1980, at the Red Door Hall. I played alto sax & function generator for that. I was playing the function generator (a piece of electronic test equipment that I'd built from a kit) with my bare feet as an experiment that didn't work too well. I'm sure my alto sax playing was atrocious too. Nonetheless, I did have a close connection to The Tinklers because I'd lived with Chas Brohawn, taken over Chris Mason's tape label, Widemouth, & published the 1st Tinklers recording - as well as had The Tinklers perform at both of the Neoist APT Fests that I organized in BalTimOre.
A basic principle of "t he booed usicians" was that I would mix prerecorded material in each one (what I called "Concrete Mixing") & have a different line-up of instrument players every time. As such, quite a few people were part of the group - especially considering that I toured & had new players in every city. That said, the above list is correct except that "Brian Feather" should be "Neil Feather".
"The group booed usic performed at the Marble Bar, and the 31st Street Festival." Strictly speaking, what we played was "booed usic" (a take-off of "mood music") & the group was called "t he booed usicians". We played at the Galaxy Ballroom - which the 1st floor venue at the Congress Hotel - the Marble Bar was the basement venue. They were both run by Roger & Leslie but the Marble was more of a rock venue & the Galaxy had the stranger stuff. t he booed usicians never played at the 31st Street Block Party but that's where the "Official" Project premiered. t he booed usicians only played 4 times in BalTimOre but played at least 23 times in other cities (twice in Montréal).
"unfamiliar instruments" meant instruments that Ron Cummings, Neil Feather, & John Sheehan invented as well as other things not necessarily intended to be instruments when they were made such as a telephone & (probably) an 8-track cartridge player. I don't remember us ever "throwing firecrackers on stage" & if Brian "stopped playing in the middle of a song to observe cracks in the sidewalk" it would've been during the 1st "Official" gig since that was the only group that he was in that played on a sidewalk situation. What that means is that he wasn't paying attention to what the rest of the group was doing. Instead he was doing something irrelevant to the disciplined structure. We didn't play "songs", we played "CAMUs" ("Cue Activated Modular Units"): an idea that Brian probably paid little or no attention to. Brian was an excellent musician but he couldn't (or wouldn't) play the material correctly. He only lasted for one gig.
"Something That Dissolved In the Shadow Of Something That Was next to Something That Burned" was a band with a deliberately hard to remember (& variable) name created for absurdity's sake. While band members also deliberately argued about what the band name even was (it was part of the nature of the band name that we had to disagree about it), I'd say it's most accurate to say that we were: "Something that Dissolved the Shadow of Something that was next to Something that Burned Twice, Once". The membership was a fixed quartet that consisted of myself (tENTATIVELY, a cONVENIENCE), Neil Feather, John Sheehan, & John Berndt. "Karen Eliot" was NOT in the band.
"Karen Eliot" is, actually, a collective identity that John Berndt & I and many others used. Peter Zahoresc had nothing to do with the Volunteers Collective. He DID use the name "Karen Eliot". As a trio of Karen Eliots, John Berndt, Peter, & I played one improvising gig at Damon Norko's "Art Attic" (which we renamed the "Art Strike Attic") on November 30, 1988. Peter also played as part of the booed usic related "Generic As-Beenism" both in BalTimOre & on tour.
The Volunteers Collective wasn't really anybody's group. John Berndt proposed it as a gathering of free improvisors to be on the same bill as Miekal And & Liz Was at the "Art Strike Attic" on April 16, 1989. John provided a proposal that was a slight rewrite of Cornelius Cardew's Scratch Orchestra manifesto. The portal into what little I've put online regarding the Volunteers Collective is here. A list of all the Volunteers Collective participants that I knew of before I lost interest is here. The list isn't even remotely complete but it might be the best that exists.
The VC started out as little more than a one time thing until I started using it as a context for fairly frequent free improv sessions in early 1992. I then continued to use it as a context in Canada, Buffalo, Pittsburgh & elsewhere until I ceased VC activity after February 22, 1998. Two of the earlier public concerts that I remember in BalTimOre before I moved away were: VC VIII, a duo on March 31, 1993, & VC XVII, a quartet on December 4, 1993. Both were at the 14 Karat Cabaret. Berndt organized a regular series of improvisations called Crap Shoots in the Red Room in Normal's Books & Records starting, probably, in 1997. I believe he considered these to be Volunteers Collective events. The only VC published recordings that I know of are on my WIdémoUTH Tapes label which provided excerpts from VCs I to XXX & VC @ the Anonymous Family Reunion.
As of this writing (August 16, 2017) I have 208 audio publications: 8 of which are on vinyl. The 1st two of these are on Owen O'Toole's Wafer Face label:
068. "The Official Wafer Face Record"
(credited to various incarnations of the "Official" Project)
- 45:05 12" record
- published by: wafer face records in Portland, Maine, USA
- WAFER 3
- created from July 28, '91 to April 29, '92 & published in early '93
- edition of 1,100
070. "Usic minus the square root of -1 = A Plethora of No Longer Neglected Audio/Conceptual Obstacle Courses"
- credited to tENTATIVELY, a cONVENIENCE - w/ the collaboration of Jeanine Farrall, Brian Wolle, Colin Hinz, Ron Cummings, Neil Feather, Jake T. Unclean, Laura A. Trueseal, Mark Harp, VEX, & Claudia Strelocke, etc..
- 53:03 + 4 loop grooves 12" record
- published by: wafer face records in Portland, Maine, USA
- WAFER 8
- a selection from '76 to '94 (published in 1995)
- edition of 830
The "Official" Project is probably the most important of these groups as far as the BalTimOre public goes because we played 23 gigs in BalTimOre alone from 1990-1993 as well as toured. I formed a Berlin-based incarnation of the band in Germany that played 2 more gigs & even worked out solo versions of the project.
Considering how incredibly prolific I am, & how many groups I've worked with around the world, I have to give Vaccarino a big round of applause for even daring to touch on it!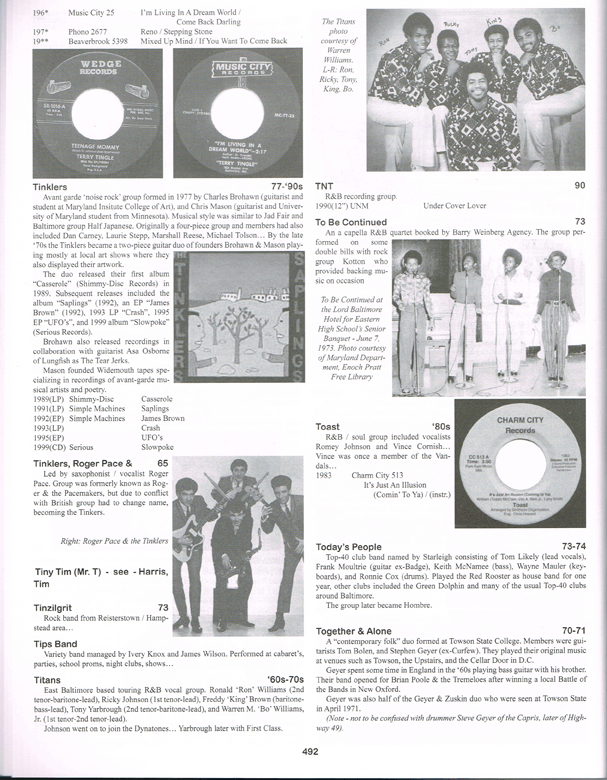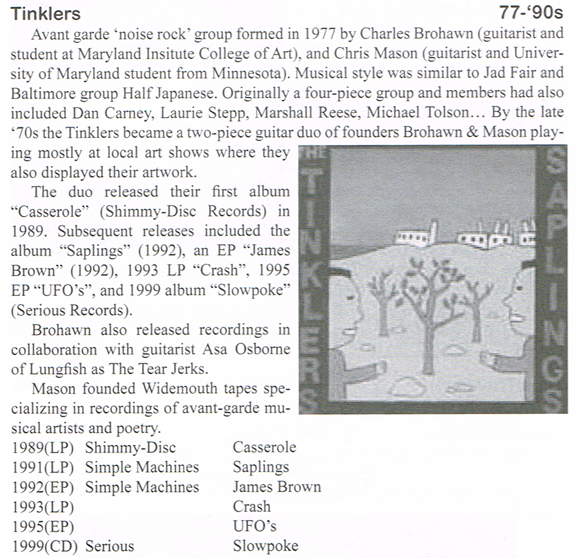 Strictly speaking, The Tinklers's 1st release was a 90 minute cassette on Widemouth Tapes, published by me in 1985 or 1986. It's usually just called "The Tinklers" but each side had a title; "IF WE SEWED OUR CANVASSES TOGETHER......" & "IF YOU WANT NICE WEATHER BE NICE TO YOUR WEATHER". To my tastes, it's still the best of all their releases because it has more variety & was done more in the spirit that made The Tinklers originally unique.
idioideo at verizon dot net
to the tENTATIVELY, a cONVENIENCE Anti-Neoism page
to the tENTATIVELY, a cONVENIENCE Audiography page
to the tENTATIVELY, a cONVENIENCE Bibliography page
to my "Blaster" Al Ackerman index
to the tENTATIVELY, a cONVENIENCE BYOC page
to the tENTATIVELY, a cONVENIENCE Censored or Rejected page
to the tENTATIVELY, a cONVENIENCE Collaborations page
to the tENTATIVELY, a cONVENIENCE (d) compositions page
to Amir-ul Kafirs' Facebook page
to the "FLICKER" home-page for the alternative cinematic experience
to tENTATIVELY, a cONVENIENCE's GoodReads profile
to the tENTATIVELY, a cONVENIENCE Haircuts page
to the tENTATIVELY, a cONVENIENCE Home Tapers page
to the tENTATIVELY, a cONVENIENCE index page
to the tENTATIVELY, a cONVENIENCE Instagram Poetry page
to a listing of tENTATIVELY, a cONVENIENCE's manifestations on the Internet Archive
to the tENTATIVELY, a cONVENIENCE as Interviewee index
to the tENTATIVELY, a cONVENIENCE as Interviewer index
to tENTATIVELY, a cONVENIENCE'S Linked-In profile
for A Mere Outline for One Aspect of a Book on Mystery Catalysts, Guerrilla Playfare, booed usic, Mad Scientist Didactions, Acts of As-Beenism, So-Called Whatevers, Psychopathfinding, Uncerts, Air Dressing, Practicing Promotextuality, Imp Activism, etc..
to the mm index
to see an underdeveloped site re the N.A.A.M.C.P. (National Association for the Advancement of Multi-Colored Peoples)
to tENTATIVELY, a cONVENIENCE's Neoism page
to the DEFINITIVE Neoism/Anti-Neoism website
to the Philosopher's Union website
to the tENTATIVELY, a cONVENIENCE movie-making "Press: Criticism, Interviews, Reviews" home-page
to tENTATIVELY, a cONVENIENCE's Score Movies
to SMILEs
to find out more about why the S.P.C.S.M.E.F. (Society for the Prevention of Cruelty to Sea Monkeys by Experimental Filmmakers) is so important
to the "tENTATIVELY, a cONVENIENCE - Sprocket Scientist" home-page
to Psychic Weed's Twitter page
to tENTATIVELY, a cONVENIENCE's Vimeo index
to Vine movies relevant to tENTATIVELY, a cONVENIENCE made by Ryan Broughman
to tENTATIVELY, a cONVENIENCE's presence in the Visual Music Village
for info on tENTATIVELY, a cONVENIENCE's tape/CD publishing label: WIdémoUTH
to a very small selection of tENTATIVELY, a cONVENIENCE's Writing