1972-1985, 1988: Doug "Sumu Pretzler" Retzler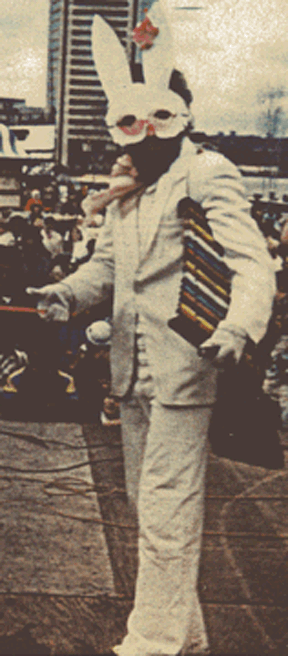 Imagine trying to synopsize your friendship with someone that you've known since you were 16 & he was 15, that you've known for almost 48 years. It's not easy. I'm sure that somewhere in my archives I have letters from Doug written when he was still a teenager but finding them isn't an effort I feel like undertaking at the moment. I have the high school yearbook that he & I both have our photos & mini-bios in from when we 1st met. That's an easy one to put my hands on. All in all, there's entirely too much material scattered in entirely too many places. The following will be a very unsatisfactory attempt to present a few of these things.
(notes written by tENTATIVELY, a cONVENIENCE August, 2017)
1969-1970:
Doug & I probably 1st met at Woodlawn Senior High School in the fall of 1969 when I was beginning the 11th grade & he was beginning the 10th. Although Doug was less than 5 months younger than me he'd had the misfortune to be born in January of 1954 which meant that he had to start school a grade earlier than me since I'd been born in 1953. We were probably introduced to each other by our mutual friend Brian Wolle who lived in the same neighborhood as Doug, a neighborhood we called "Wasteview". Brian later became (un)known as "Herr Brain Storm Drain".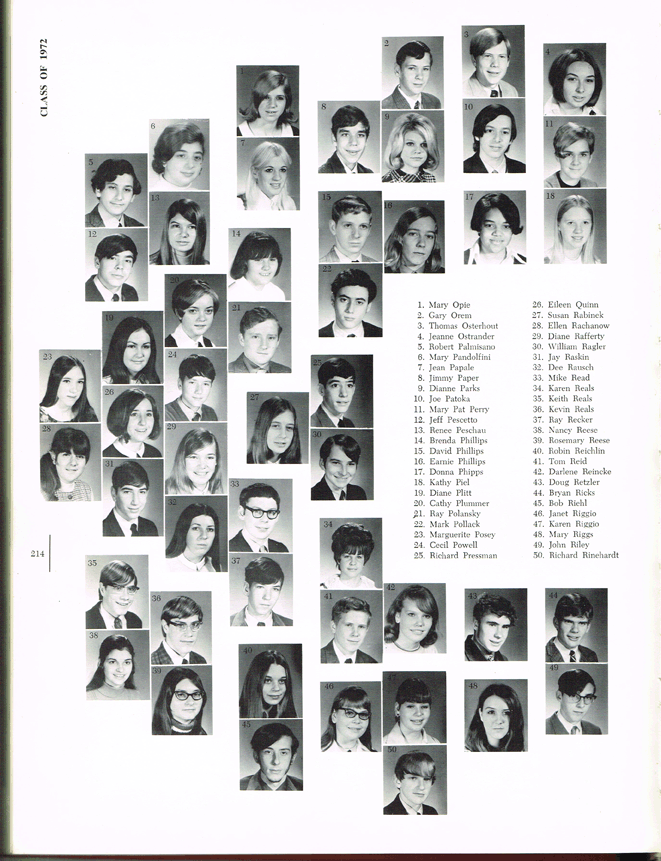 the page of the 1970 Woodlawn Senior High School Yearbook that Doug's picture appears on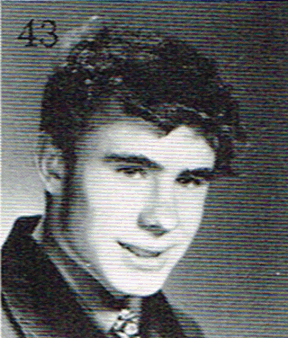 Doug Retzler, age 16
(the yearbook pictures were taken at the end of the school year)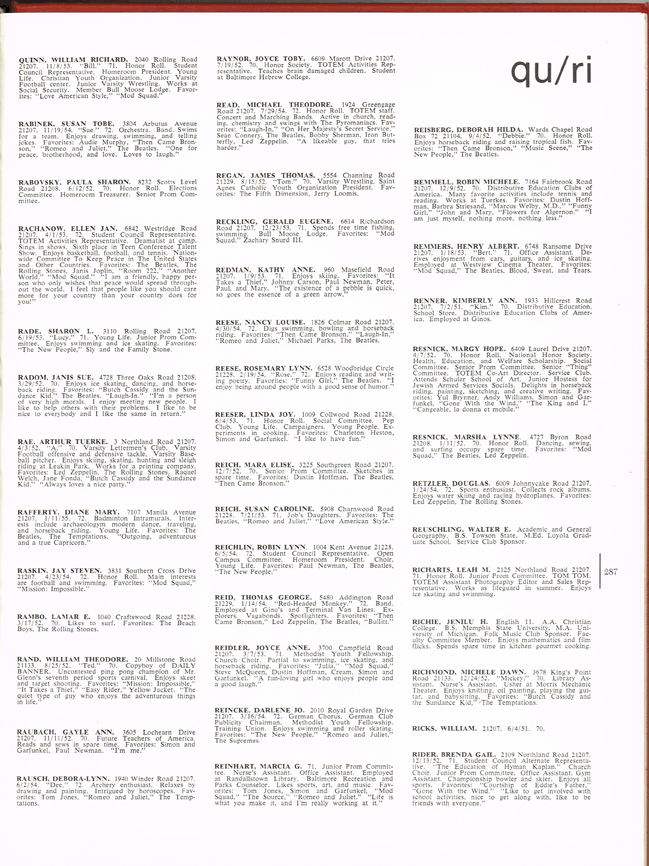 the page of the 1970 Woodlawn Senior High School Yearbook that Doug's bio appears on

Doug Retzler's bio, written age 15
(the yearbook bios were written at the beginning of the school year)
1971-1973:
I started hitch-hiking around North America on the day I was supposed to graduate from high school in 1971 by going to a Mothers of Invention concert somewhere outside of Harrisburg, PA. I spent approximately 6 months of the next 2.5 years traveling like that with no money.
It seems to me that it was in the summer of 1972 when Doug & I were still 18 that he made his 1st 16mm film. It was a sort of "Perils of Pauline" movie in which the stereotypical villain threatens the stereotypical damsel in distress to be rescued by the stereotypical hero. I was cast as the villain - thusly starting a trend that continued against my will for decades thereafter. Doug was probably the hero & his girlfriend, Marianne, was probably the damsel in distress.
I remember going to what might've been a quarry on the edge of Leakin Park where we shot a scene of a dummy dressed as me that was thrown off the edge of the cliff into the quarry. Did anyone ever see it & think it was a real body? Years later, Doug put a mannequin in the cornfield across from his parent's house. There was a fire in the cornfield (nothing to do with Doug) & when the firemen came to put it out & saw the burned mannequin at 1st they thought it was a corpse.
Doug endured another year of high school & then graduated & probably started attending U.M.B.C. (University of Maryland Baltimore County campus) in the fall of 1972. I imagine that this was where he started studying photography.
There was a pedestrian tunnel at U.M.B.C. that we took a liking to. The following 2 photographs were taken in the tunnel. I vaguely remember the photos as having been taken by Doug's girlfriend of the time, Marianne, but since she's in one of them it's more reasonable to deduce that Doug was there & was the photographer.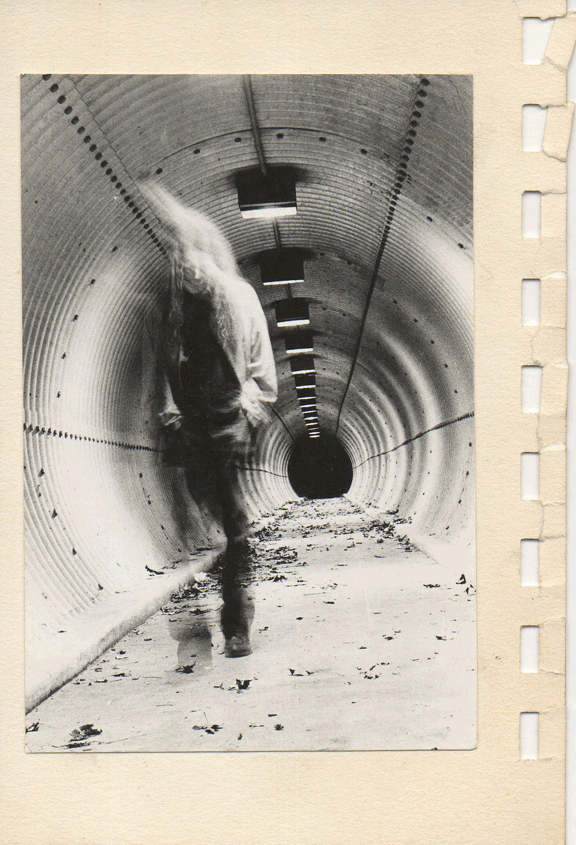 That's me, Michael Tolson (pre-"tENTATIVELY, a cONVENIENCE"), in a picture that's certainly one of the best taken of me at the time (probably fall of 1972). Doug had probably had to make this a long exposure because of low night time lighting & my motion adds a nice transparency in relation to the solidity of the tunnel & the leaves.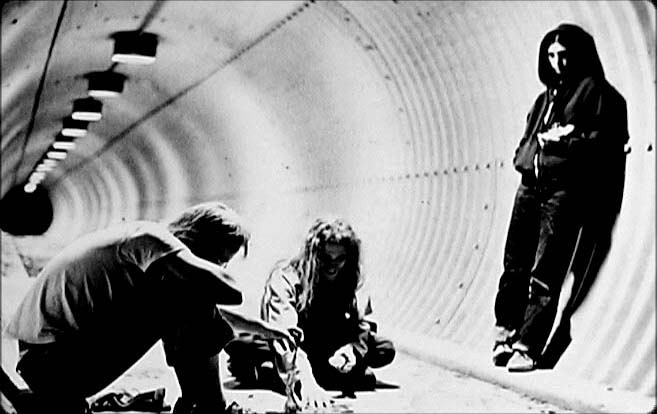 From left-to-right: Brian, Michael, Marianne
I don't know if Doug learned about Mail Art at U.M.B.C. or if he just spontaneously started making odd objects to send through the mail. Whatever the case, Doug started mailing things that were a challenge for the Post Office to handle. Two, in particular, stand out in my memory: one was a mannequin hand, not packaged, just as is; the other was a "Tombsicle", a 22.5"X11.125" painted cardboard cut-out. I still have both but in my cursory search I only found the latter: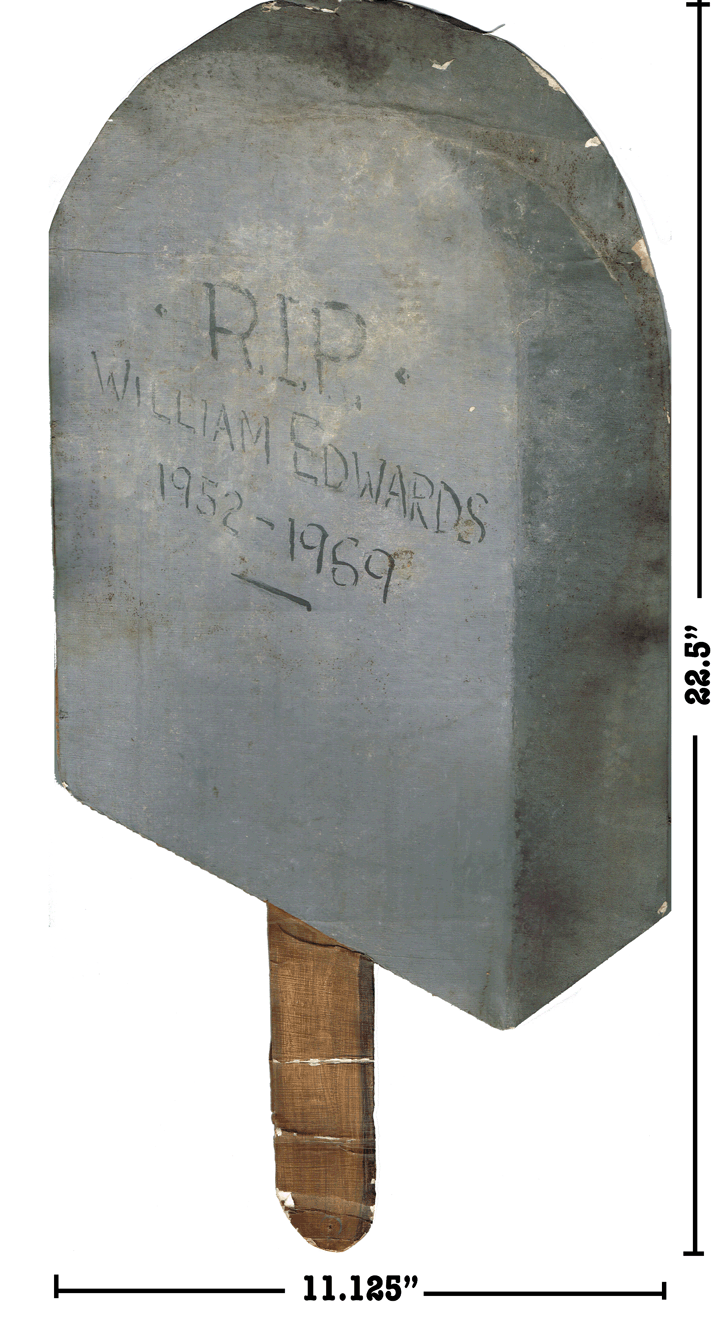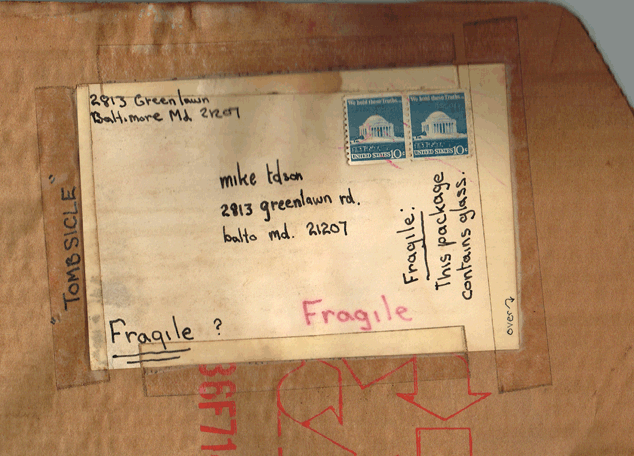 Dating of these things is somewhat uncertain 44 years later but the stamps used were issued in 1973 & the address this was sent to was where I lived, off & on, until I finally moved out altogther around the beginning of 1976.
1975:
I probably lived with Brian Wolle in the fall of 1975. My girlfriend of the time was named Pat. I've always been a nudist. I had my picture taken nude in the basement of Brian's place, where my 'bedroom' was & then asked Pat to take her clothes off & to close her eyes to have her picture taken too. This was both a prank & an exercise in trust since Pat didn't know that I only wanted a picture of her closed eye. It was never my intention to have Doug take a picture of her naked.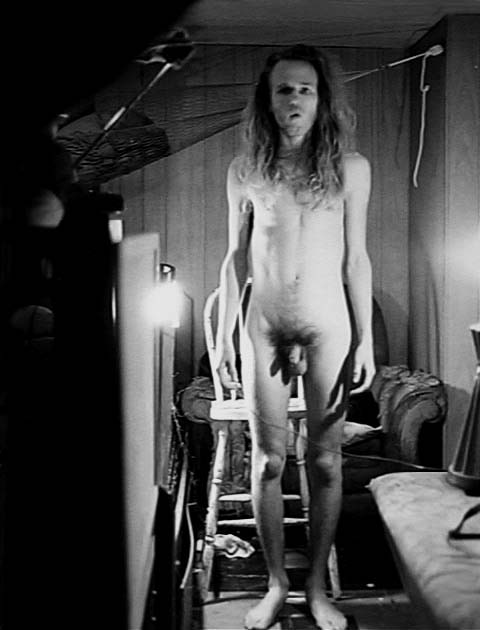 It's unclear to me when this picture was taken because I don't remember when I lived with Brian. By this point I may've become "tentatively, a convenience" because I named myself that in the spring on 1975 when I was living in downtown Baltimore with Charlie Brohawn.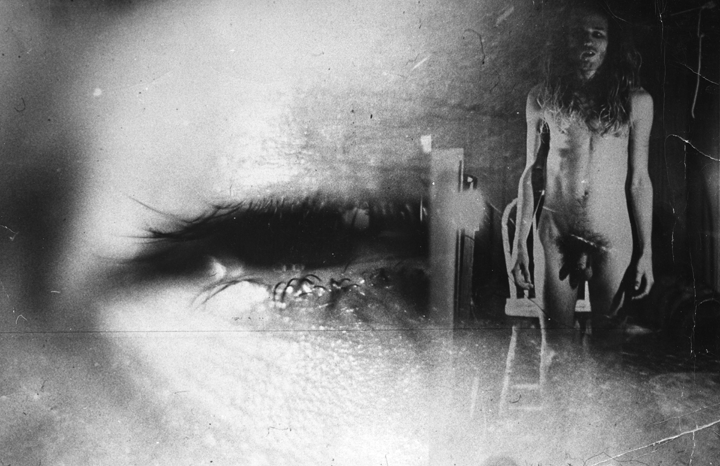 This was the final product picture I had in mind all along. It looks like Pat might've been 'cheating' because her eye looks slightly open.
1976-1977:
Pat & I probably moved into inner city Baltimore to the Fells Point neighborhood around the beginning of 1976. At the time Fells Point was a harsh area of bars, street-drunks, drug dealers, & a business district with a market running through the middle of it. We lived in 2 places there: one on Aliceanna St & one on Thames St.
20. started creating & wearing even more eccentric clothing (til this point i'd been wearing
t he same filthy & torn clothes constantly - except while fucking or swimming - until their
rottenness led me into changing them): such as hats with red lite-bulb & fake hot dog toppings,
a 3' high foto of a lite-bulb (fotoed by sumu pretzler) used as a neck hanging, shoes painted
fluorescent (1 pink, 1 green), FRAME OF REFERENCE shape garment (consisting of hundreds of small
shapes to be buttoned together differently every time it's worn), translucent clothes with
luminous rectangles placed to simulate window panes, diffraction stickers & other things to be glued
to my body (such as displaced false eyelashes & scratch & sniff stickers), extension cord belts,
ktp, from 19 on..
Keeping in mind the lightbulb as a comic symbol of inspiration, I asked Doug to photograph one for me & to make a large enough print of it so that I could wear it as a tie dominating my chest. I mounted the result on cardboard to make it a little sturdier. I still have that lightbulb necklace/tie/photograph 41 years later. Here's what it looks like now: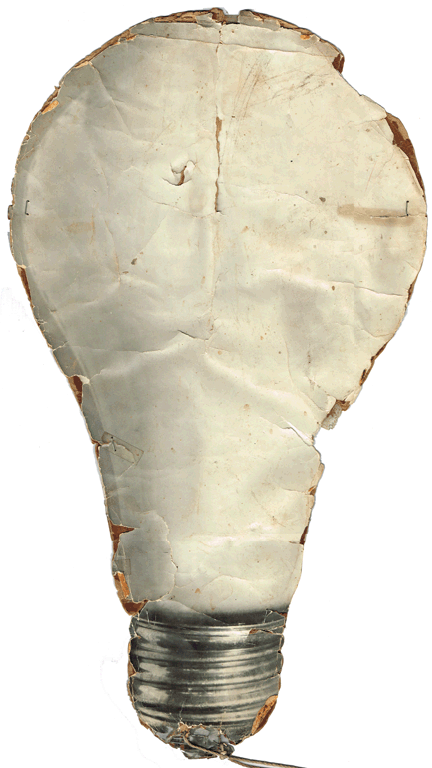 That's not too bad considering what it's been through. I'd been writing a book from about 1975-1976 that I eventually published in 1977 & I wanted Author's Photos to be part of it. I asked Doug to take them. I wanted to be a BLATANT PERVERT so I wore transparent clothes, the lightbulb tie, what I called my "Salad Dressing", etc, & was photographed in my Thames Street backyard & in front of the house in daylight on the sidewalk by Thames Street. Note that the area was so derelict that I could expose my genitals without anyone else being around. Two of these pictures were then chosen for the book.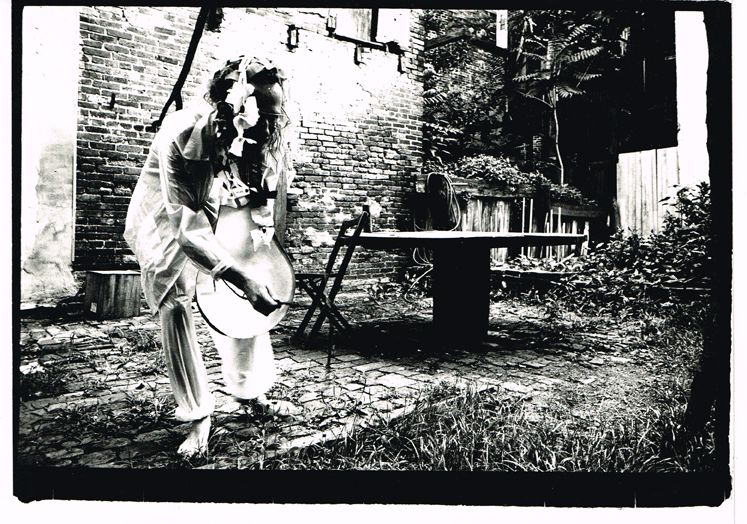 the photo chosen from my backyard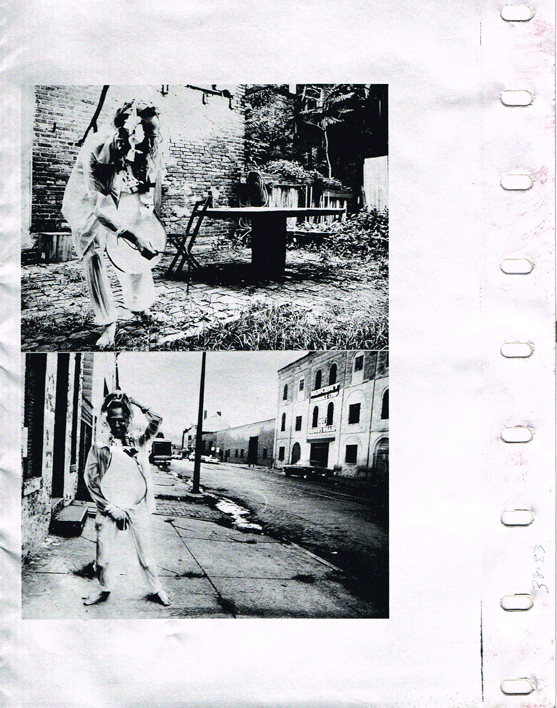 The silver printing plate used for the book.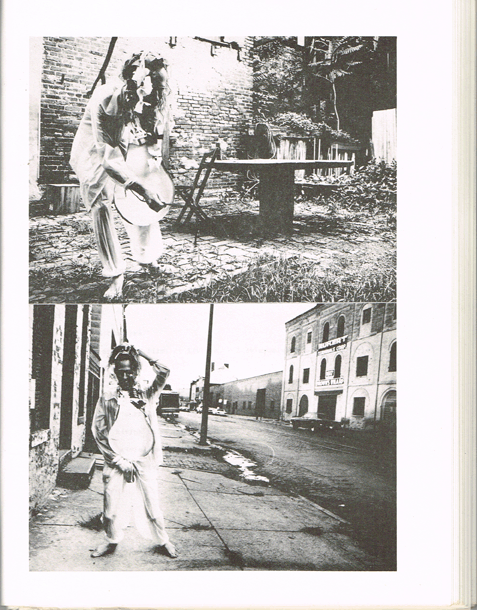 The result as it actually looks in the book.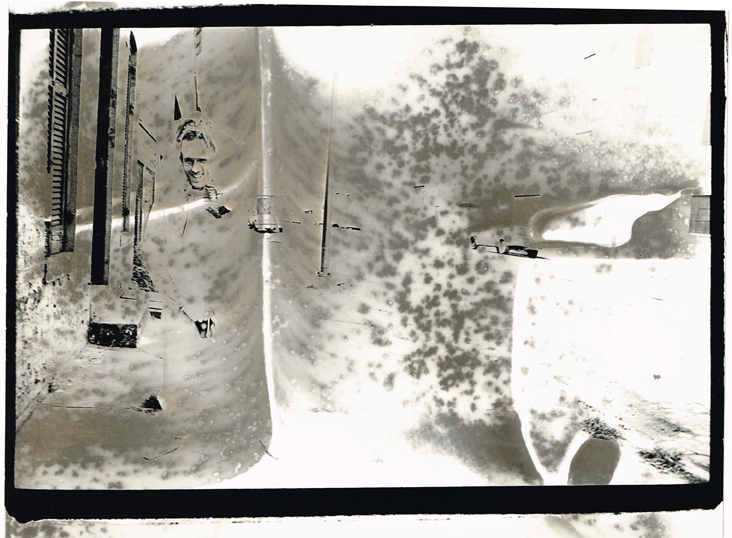 A botched print that I liked because of the accidental superimposition.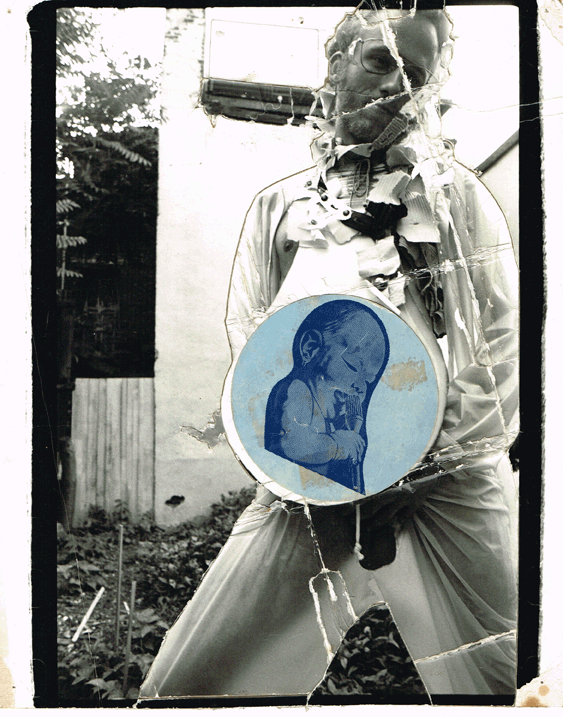 One of the pictures that didn't make it into the book after my figure had been cut out, folded into one of my "Frame of Reference shapes", unfolded, reinserted into the picture, & with a found sticker added on for 'black humor''s sake.
1978-1979:
29. resided in 9 places in '78
In mid-1977, from Fells Point I moved to the Musical Sales Warehouse near M.IC.A. (the Maryland Institute College of Art) where I lived with a motley crew of weirdos - only to move again 4 or 5 months later in with Billy Moriarity, a painter & the singer in Da Moronics. I moved 9 times in 1978 & also managed to squeeze in my 1st trip to Europe which included England, France, Spain, Italy, Greece, & Switzerland - all in one month. One of the places I lived in in '78 was a house with Doug & 2 fellow photographers: Grace Zaccardi & Paula Gillen. I've made a collaborators page for Paula.
43. founded t he nuclear brain physics surgery school (a school, initially, to be slept thru) -
from which there are now 20 graduates
I created "t he nuclear brain physics surgery school" in the fall of 1978. This was a school meant to be highly prestigious & only to be slept through. Graduates got a spectacular diploma & participated in making the next class. It was my intention to have 10 graduating classes & to then have a reunion of all the classes at which people would be able to listen to the lessons while awake for the 1st time. Alas, this never came to fruition so after 36 years I turned the 1st diploma & the 1st lesson into a movie & made it public on the Internet Archive:
nuclear brain physics surgery school lesson # 1
Doug was the 1st graduate after me.
46. forced by financial desperation into lacquerland
I also started working as a hard-wood floor finisher in the fall of 1978 to replace a friend of mine's father who'd dropped dead from a heart attack in the middle of one of the floors of one of the jobs. He was a strong man, maybe only 50 years old, who worked entirely too hard. This was one of the worst jobs I ever had. Doug joined me soon thereafter as did Brian.
The lacquer used back in those days wasn't water-based & gave off fumes that made us high. Making matters worse, our boss, an idiot, insisted that the only proper way to apply it was by brush - so that we had to lean directly over the lacquer bucket & inhale the fumes for hours on end. We started giving on-the-job performances as a way of getting something positive out of the experience. More about this later.
48. co-founded with the international dateline & sumu pretzler, testes-3 - an anonymous
audience participatory phone station - which changed to vd-radio at a TESTES-3 COMING OUT PARTY
& from which there is a 66 hr audio tape & a 1/2 hr video tape

In 1979, the 4 of us moved into another house together on East Mount Royal Avenue. Then the frenzy truly began. On January 24, 1979, Doug, Richard Ellsberry (under the name of The International Dateman) & I (tentatively, a convenience) launched an anonymously operated participatory media using a telephone & an answering machine called "TESTES-3". For a look at the logbook for that go here.
Here's the 1st page of the log: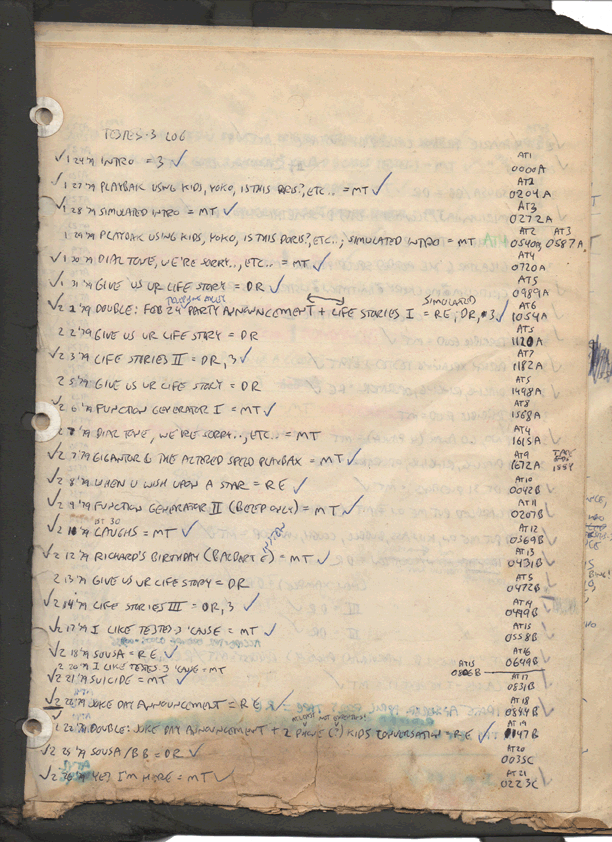 This lists the working titles for the outgoing answering machine messages we were making & credits them. 3 = all 3 of us, MT = tentatively, a convenience, DR = Doug Retzler, RE = Richard Ellsberry
49. participated in t he balto media edition fashion show, at t he red door hall, by having,
amongst other things, 8 people linked together by wearing 30' long X 6' high paper dolls
Sometime also in January a group of us who were eventually to loosely work under the name of BaltiMedia organized a 'Fashion Show' at the Red Door Hall which was a sizeable hall in a church that was made available to creative people in the area. Here're 2 photographs of some of my participation in the Fashion Show that were probably either taken by Doug or Grace: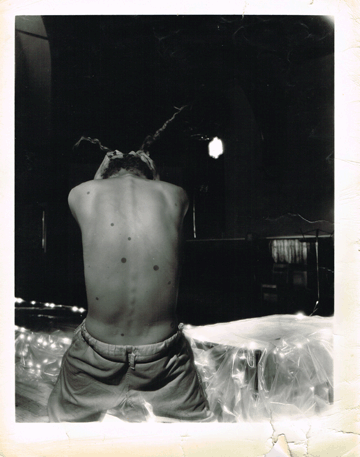 I have my hair wired up as antennae. Those are stickers on my back. The pants have pictures of lepers on them. The runway shows in the background.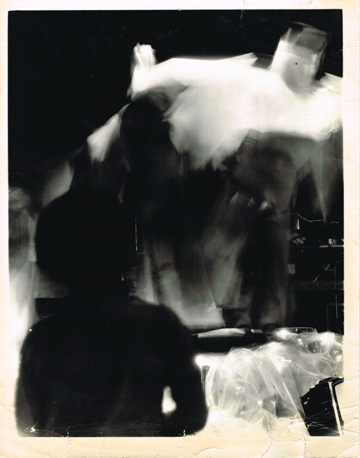 Those are people dressed in the adult human-sized paper-dolls I made.
Doug took this picture of Paula around this time: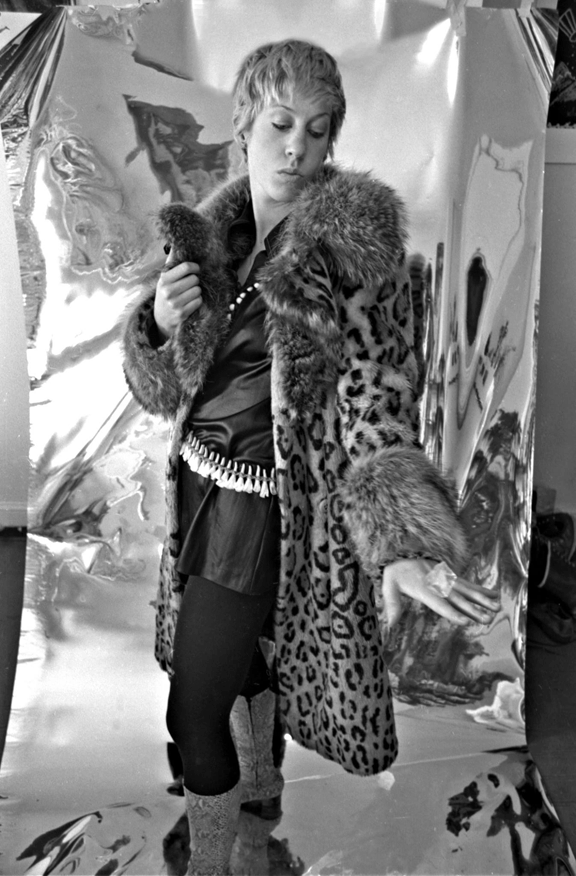 50. co-creator, with richard ellsberry (founder of t he krononautic society), sumu pretzler,
susan henderson, & others, of a roving band of defiant youths aka the baltimore oblivion
marching band aka BOMB which has presented confused guerilla performances at numerous places
inlcuding neat 3 mile island during t he heat of it's nuke crisis - from which there is video
Richard had wanted to start a marching band to pay surprise visits to things like shopping mall openings. This morphed into "B.O.M.B." (Baltimore Oblivion Marching Band"which consisted largely of artists and had nary a serious marching band musician in it. In March we paid a surprise visit to an improvising class Richard had seen an ad for. I think Steve Estes & I might've been the only 2 people playing instruments - we were both on alto sax.
By April 9, we made the much more serious decision to go to the Three Mile Island Visitor's Center during the nuclear power plant's potential melt-down crisis. Since we went there early enough to be in violation of the curfew intended to prevent looting we were afraid we'd be arrested & would be in jail when the place would blow up.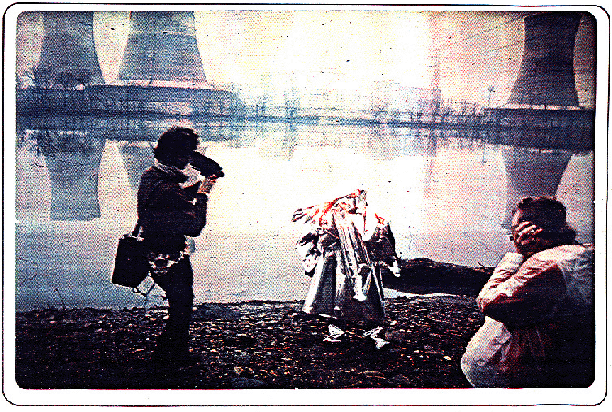 That's John Ellsberry shooting using a Port-A-Pak on the left, Doug as the Mad Nuclear Scientist (wearing a mylar suit he made for the occasion) in the middle, & me (tentatively, a convenience) holding shells over my ears on the right.
Sometime after we finished the video from 3 Mile Island & premiered it, Jim McDonald wrote an article about it & BOMB for "Words & Pictures", a publication put out by students at MICA: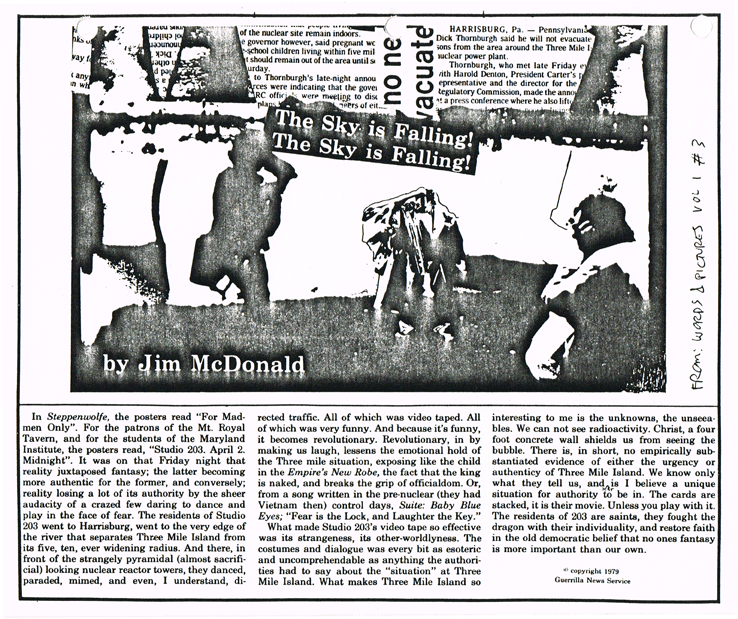 Jim hung around with us for awhile until Doug let him hold Doug's portable Sony tape recorder which Jim proceeded to drop down some stairs - thereafter balking at paying for it to be replaced. Given how little money we had that was the end of that friendship.
There was also the BOMB participation in Baltimore's Inner Harbor Easter Pagent: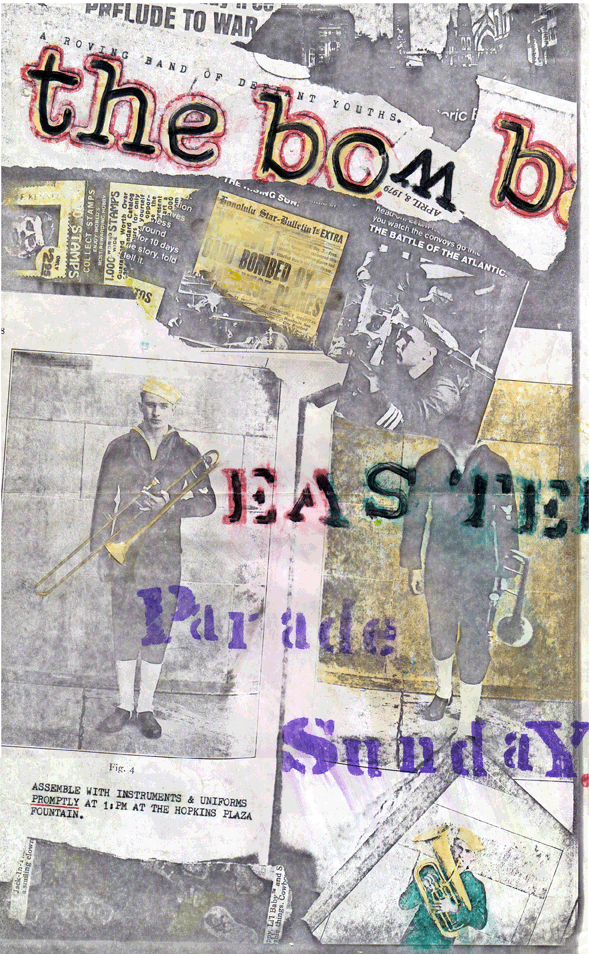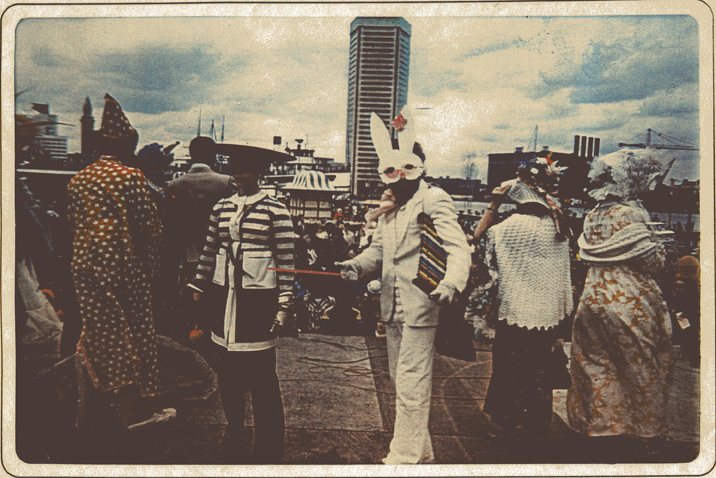 That's Doug as the impressario.
TESTES-3 was attracting some media attention from Franz Lidz, at that time a reporter for the Baltimore City Paper. This led to the 1st of his articles about us: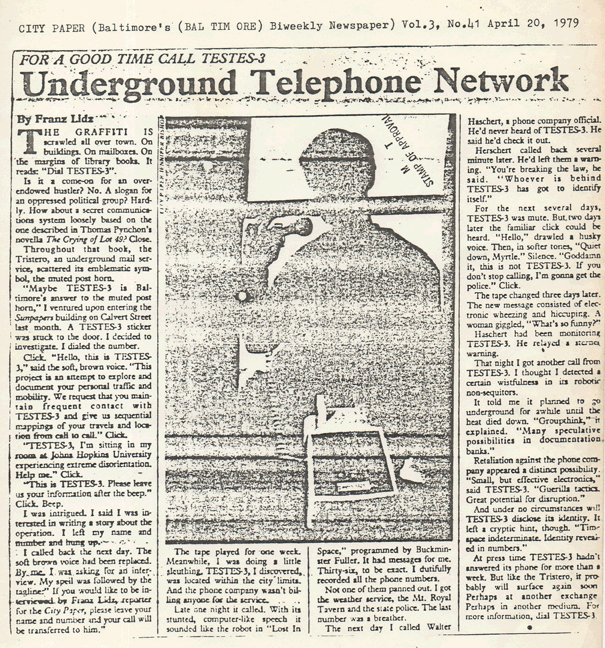 On April 29, 1979, I participated in an FDA (Festival of Disappearing Arts) organized by the Merzaum Collective by presenting a piece called "t he phantom of t he opera". This was audience participatory. Doug didn't photograph it, Sue Abramson did, but he can be seen in the audience here: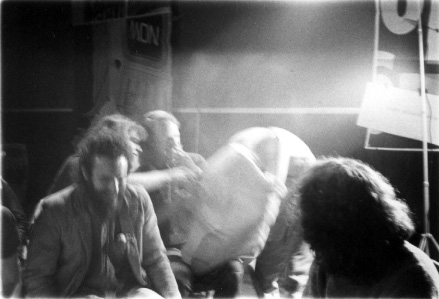 as my clothes are being pulled off of me behind him.
Doug & I were both in favor of audience participation - both by audiences for our work & AS audiences for the work of others. One time he & I were at a presentation at UMBC by a duo consisting of a dancer & a filmmaker (sorry, I forget their names). They had a great piece where the dancer, a woman, danced with a movie camera that included the (v)audience in its shot from time-to-time while the film that'd been shot at a previous performance screened in the background. I recall Doug & I being very enthusiastic.
We agreed to do something special for the Q&A at the end. The (v)audience was sitting on bleachers. Doug & I got underneath - each at opposite ends & when questions were asked for we shouted in sync, invisible to the questioner: "What do you think of audience participation?" We thought we were contributing a quality response to the performance. Jeff Duncan, the dance instructor who'd brought this duo in, was irate & told me that Doug & I would never be allowed to do anything there again. Whatever, dude, we don't need your permission. I remember the filmmaker of the duo coming over to where Doug & I lived while he was in town & mocking the fact that big news had been made out of the president's changing which side he'd parted his hair on - so we must've briefly become friends.
& there was the BOMB guerrilla participation in Johns Hopkins University's Spring Fair: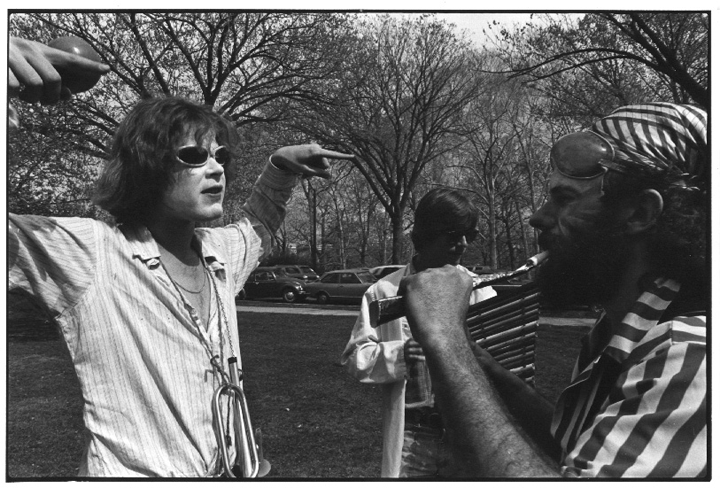 Richard on the left & Doug on the right.
On May 22, 1979, John Ellsberry shot a reel-to-reel video of us which gives an inside look at what it was sometimes like to be in my bedroom where the TESTES-3 answering machine was hidden in one of my closets: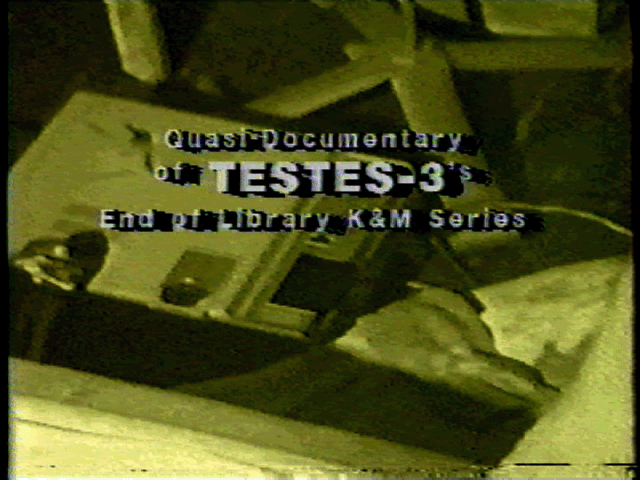 Quasi-Documentation of Testes-3's End of Library K & M Series
63. realized an intrigue fantasy putting reporter franz lidz thru a convoluted connection
procedure (LIDZNAP) in order to have him interview t he then anonymous testes-3
In June we were planning to switch our phone station from TESTES-3 to VD-RADIO & to change our operating procedures at the same time. We decided to grant Lidz an interview to announce the changeover. We arranged for him to go to these phonebooths: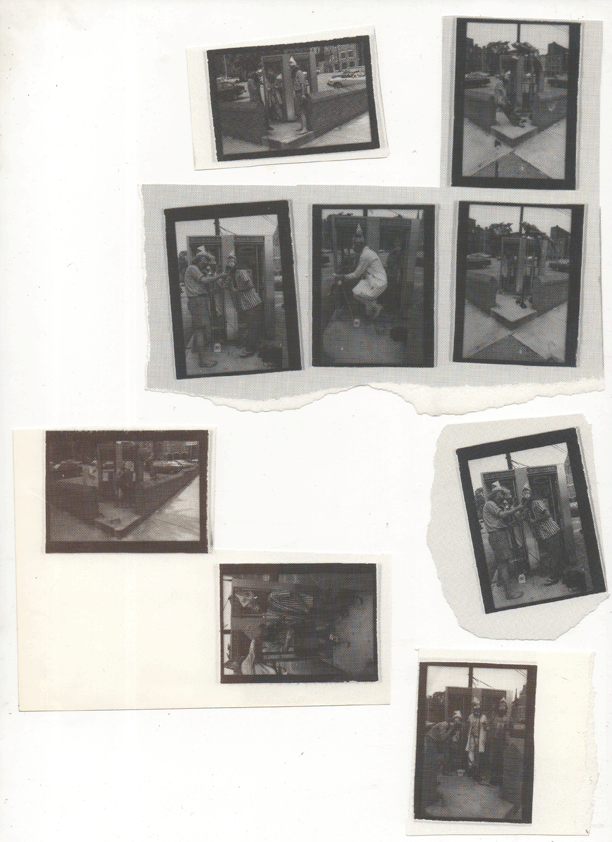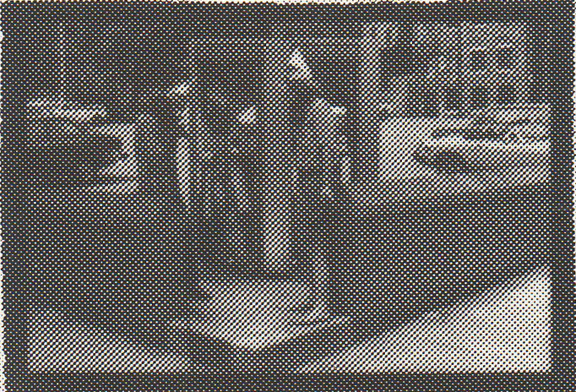 where we weren't waiting but where an accomplice was waiting in the adjacent phone booth. She called Lidz's phone & they met. She claimed that she was a TESTES-3 caller & that she didn't know who we were but had been asked to meet Lidz there & to drive him to a secret location. At some point Lidz was asked to put on glasses that I'd made with prisms for lenses to disorient him.
Our accomplice took him somewhere where he was transferred to Doug's van & Doug drove him around for awhile until his van broke down or ran out of gas or some such. He then had to find someone else to pick them up to take them to the back entrance of where the TESTES-3 house was. After even more elaborate hocus-pocus we gave Lidz our interview & he wrote the following article: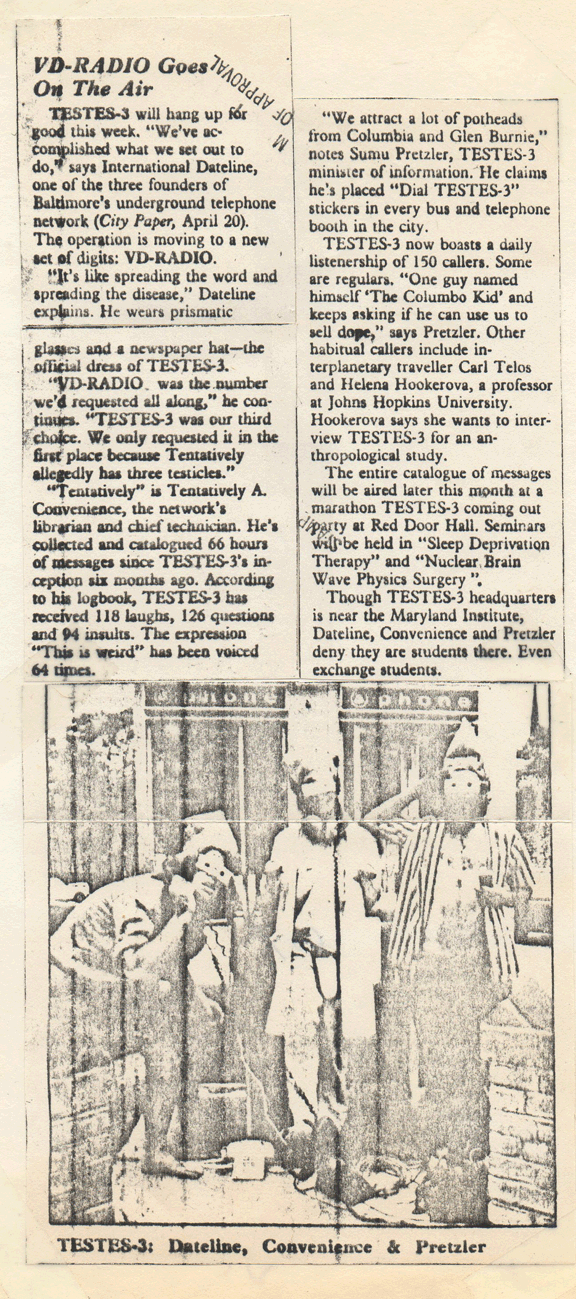 65. co-created & participated in TESTES-3 COMING OUT PARTY & sumu pretzler's SLEEP DEPRIVATION
THERAPY SCHOOL at oliveer st space - t he duration of which was d termined by my testes-3 66hr
audio tape
In honor of the transition from TESTES-3 to VD-RADIO, I wanted to have a TESTES-3 Coming Out Party that would last for the entirety of the playing of the 66 hours of reel-to-reel audio that I'd documented all of the TESTES-3 phone calls with. Partially to disguise this, so that we could preserve the anonymity until the actual event, Doug created the Sleep Deprivation Therapy School to happen at the same time. This led to a variety of announcements: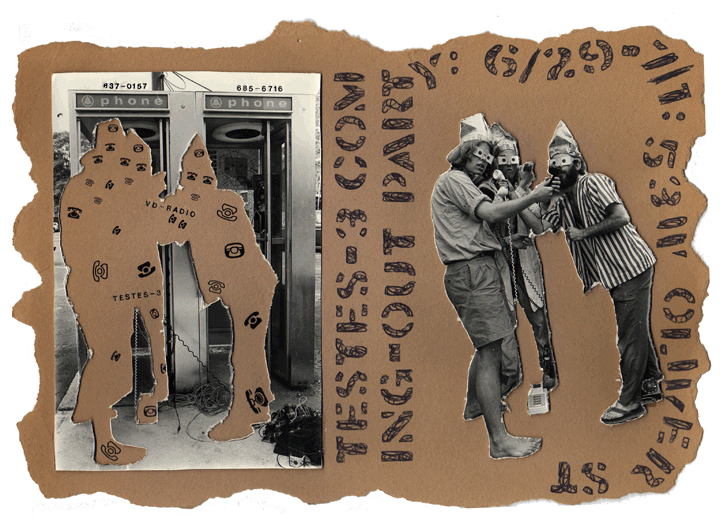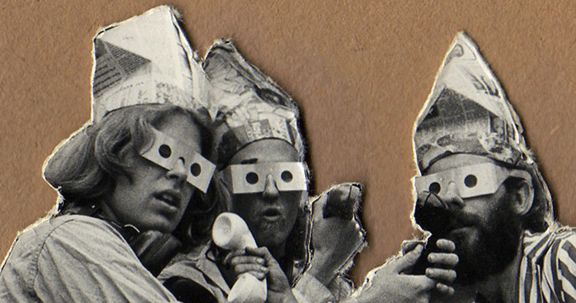 In case it's not obvious, that's Richard on the left, me (tentatively, a convenience) in the middle, & Doug on the right.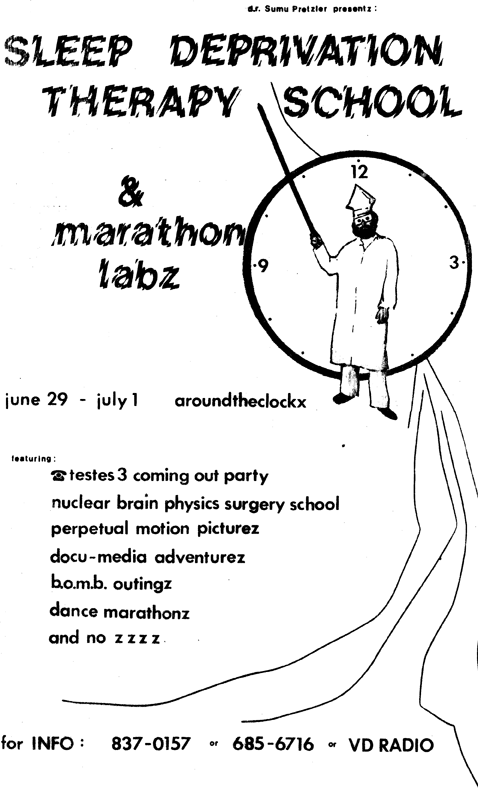 John Ellsberry shot video of this using a Port-A-Pak again which I, decades later, edited & put on my onesownthoughts YouTube channel here: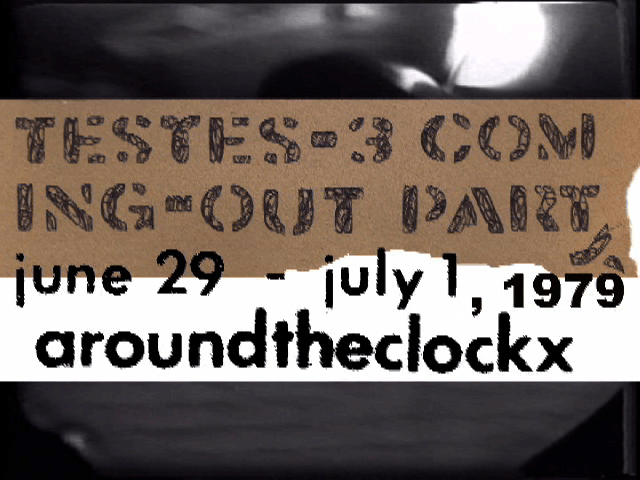 TESTES-3 Coming-Out Party / Sleep Deprivation Therapy School
Here're some relevant stills & other relevant images: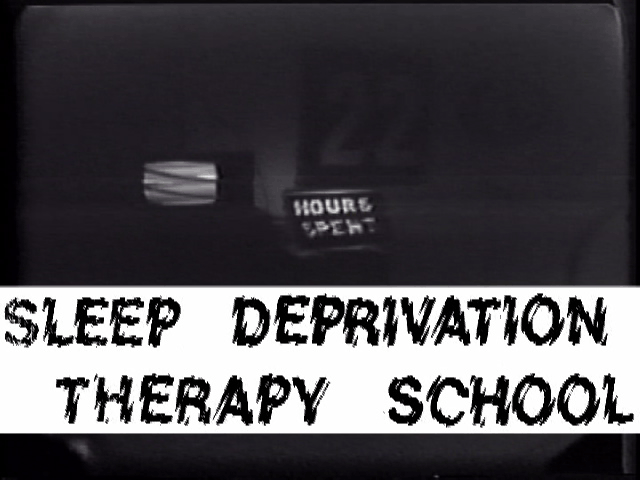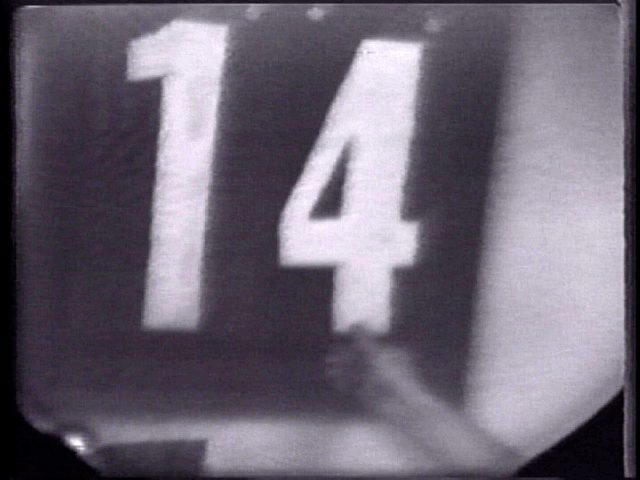 The numbers show how long the event had been going on & how long the participants had been awake.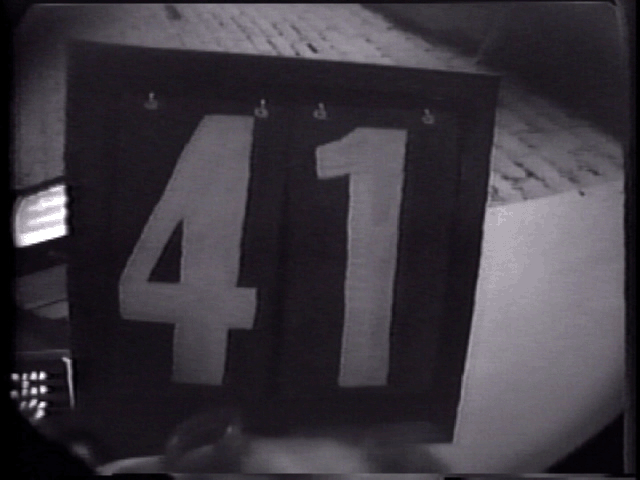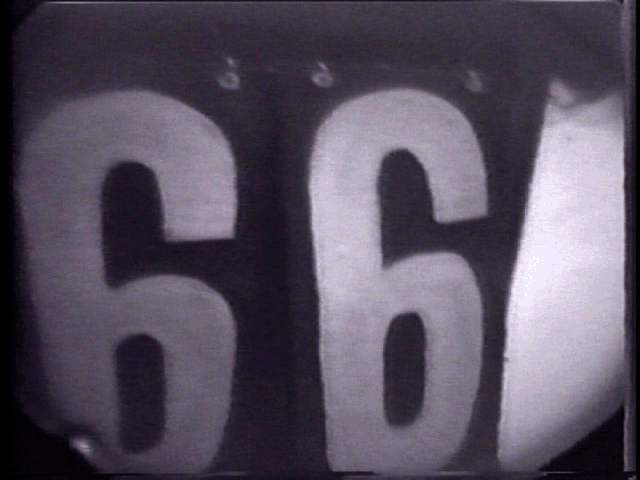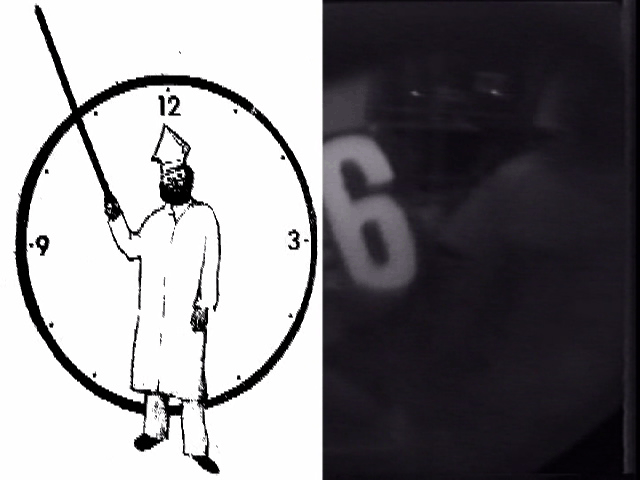 Doug was the only one who stayed awake for the entire 66 hours. I decided it was better for me to sleep after 32 hours.
66. testes-3 suceeded by vd-radio - which solicited tapes from listeners/callers/participators
as well as perpetuated t he type of interaction (& expanded upon it) involved with testes-3
BOMB's presence at the 3 Mile Island nuclear crisis had gotten a substantial amount of media coverage. Since most of the reporters hadn't talked to us, the AP photograph of our action ended up with different captions in the newspapers it was presented in. This led to an article in a Journalism magazine commenting on the differences between the captions. The Baltimore Sunpapers then did a large article on us on August 14, 1979: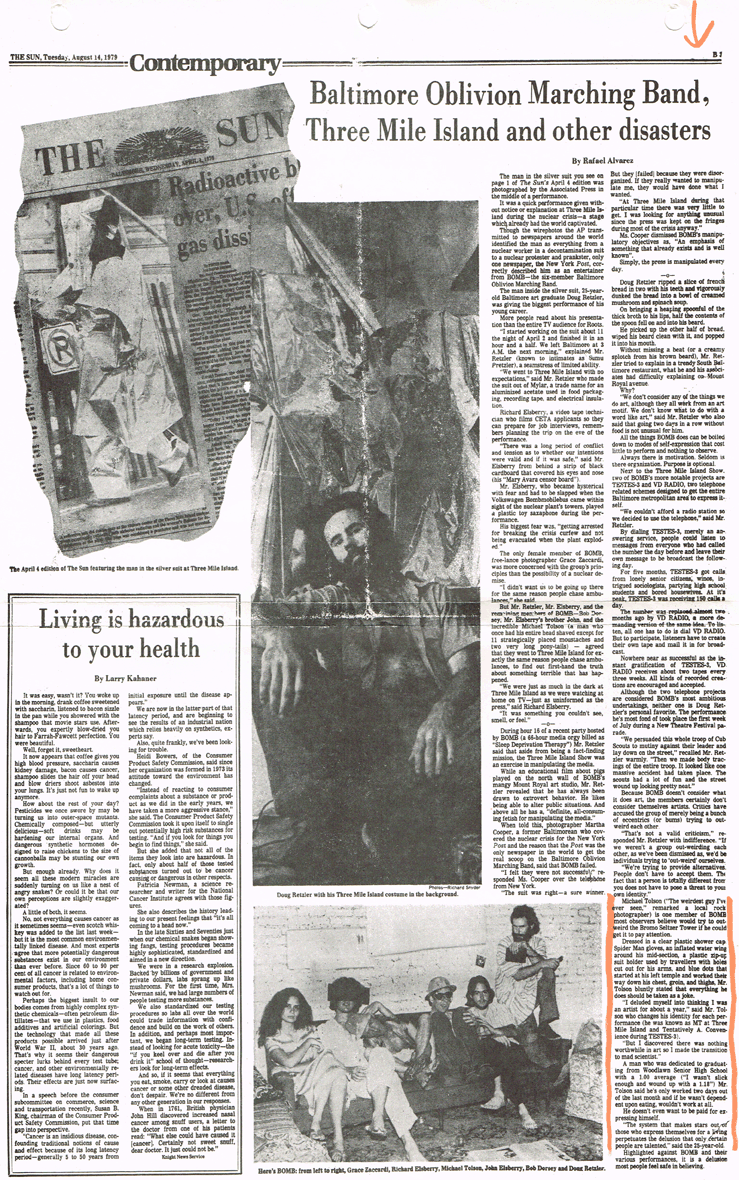 77. as realization of sumu pretzler plan to sell COUNTERFEIT NUCLEAR BRAIN PHYSICS SURGERY
SCHOOL DIPLOMA/POSTERS i made said posters & advertised them in a balto newspaper at $5 apiece
Doug was extremely cynical & negative about just about everything at this time - especially about anything I was doing. He claimed that he was going to sell counterfeit nuclear brain physics surgery school diplomas so that people wouldn't even have to sleep through the lessons. I thought that was funny so I beat him to it by advertising them on my own: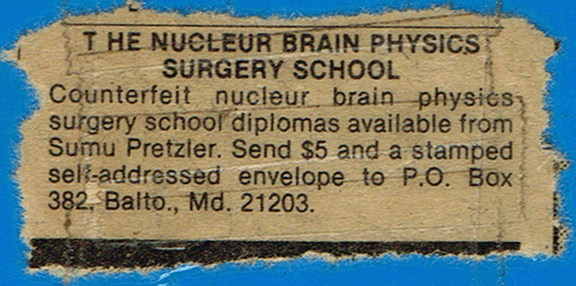 Alas, no-one ever bought one.
Doug had made 3 16mm black & white films that I can remember: the Perils of Pauline type movie that I was the villain in, a 'Western' with John Duchac in which the credits rolled over the whole thing, & a movie of Doug's hands & face. Doug decided to destroy all 3 but after he'd cut up the hands-&-face one he made a contact sheet of the film laid out in strips. I got one of the prints: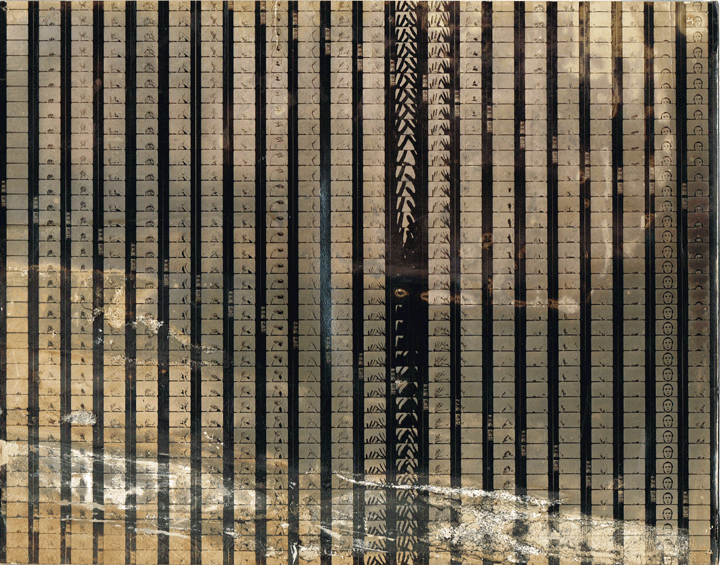 As with so many things I've been carrying around for decades, the above is worse-for-wear. Nontheless, I STILL HAVE THEM - which is more than I can probably say for most or all of my collaborators.
I loved this print & thought it was one of Doug's better photographs. I'll return to this later.
The Merzaum Collective was organizing events fast & furious too. BaltiMedia funded everything out-of-pocket & Merzaum managed to get grants. Both produced fantastic & frequent happenings. I may've curated the film night advertised below but I don't remember now: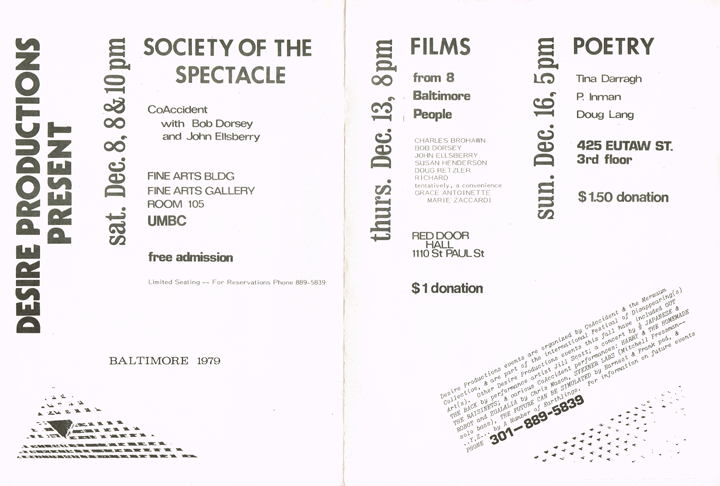 Notice the cross-over between the 2 groups: CoAccident, a subset of Merzaum, collaborating with 2 members of BOMB, etc..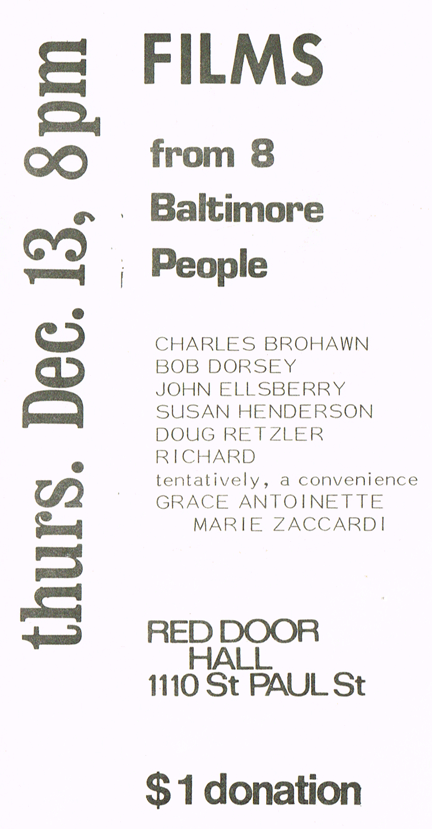 I remember that Doug showied his super-8 sink movie: a static-shot movie of a sink with the faucet dripping - perhaps meant to be projected in a sink. I might have that in my collection. Note the affordable price.
82. co-founded a nameless wandering street ensemble
Near the very end of 1979, I cofounded a 'nameless wandering wind ensemble' which didn't feature much more musical clout than BOMB had (BOMB was already over by this point) but which was more clearly a free improvising wind ensemble that featured visiting Brit cris cheek on clarinet, Chris Mason on bass clarinet, Gayle Hanson & Patti Karl possibly both on clarinet, & myself on alto sax.
1980-1981:
On what might've been the 3rd outing of the 'nameless wandering wind ensemble' we were joined by Doug pulling a wagon with some sort of large cardboard horn. We were mostly unskilled but it was interesting because we walked through alleyways & played during the day & the police were never called on us. In fact, people would sometimes come out on their back porches to watch us & seemed to enjoy it. One African American man even compared me to John Coltrane. To say that I didn't deserve the praise would be a dramatic understatement but I was flattered anyway.
84. testes-3 broadcast tapes published by chris mason's widemouth tapes
Doug & Richard & I, at least, were all working for a living at the same time that we were so busy creatively. Added to that is that we were drinking & partying at a pretty phenomenal rate. The fact that we were as prolific as we were is a testimony to our bodies still being young.
Richard & Doug were really hitting their stride with organizing events. Somehow, & to this day it seems amazingly unlikely, they convinced people at Johns Hopkins University to allow us to have a (fake) Science Fair at the fantastic Glass Pavilion & elsewhere on the Hopkins campus on March 30, 1980.
Leading up to that there was a benefit on March 1, 1980, at the Corpus Christi Church building used by MICA. Buttons & posters were made. I participated in all of it but not always to my satisfaction.
87. made ad buttons for balti-media edition & science fair
92. CRAB FEAST 3&1/4 (using AS RADIO moving on a model stand) as part of benefit for balti-media
edition & science fair - t he 1st of t he fractioned CRAB FEAST fiascos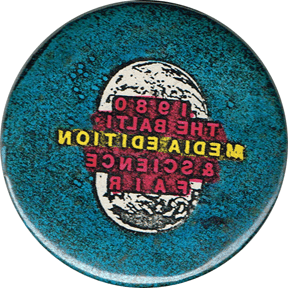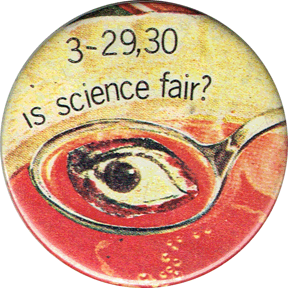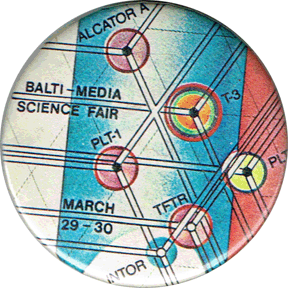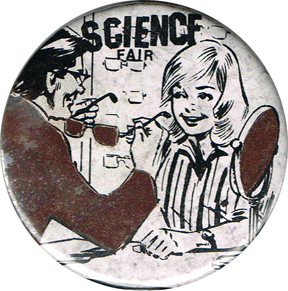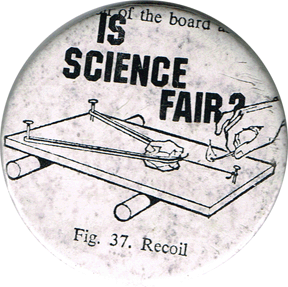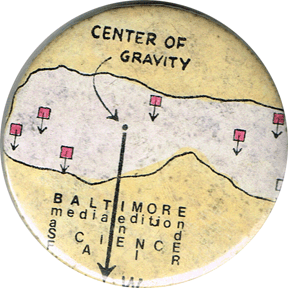 97. mad science/folk math article by kirby malone & marshall reese appeared in aura mag providing
me with t he gratification of mad science as publicized context for creative/exploratory activity
Kirby Malone & Marshall Reese wrote a wonderful article for a Baltimore arts publication called "Aura". The article delved into the plethora of activities that Merzaum & BaltiMedia were busy with: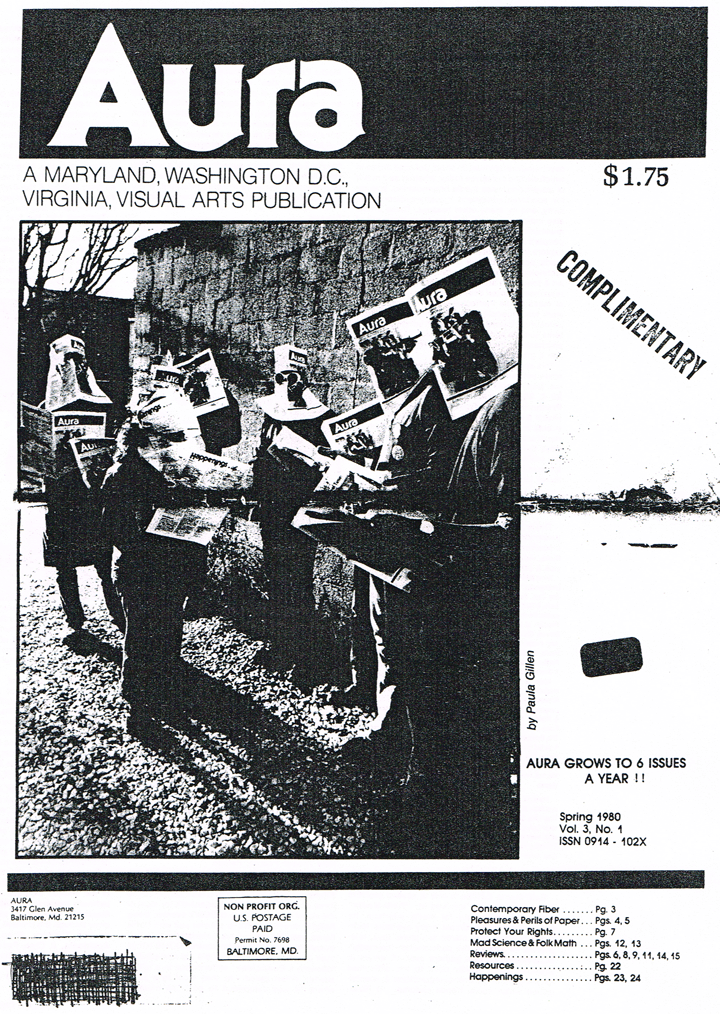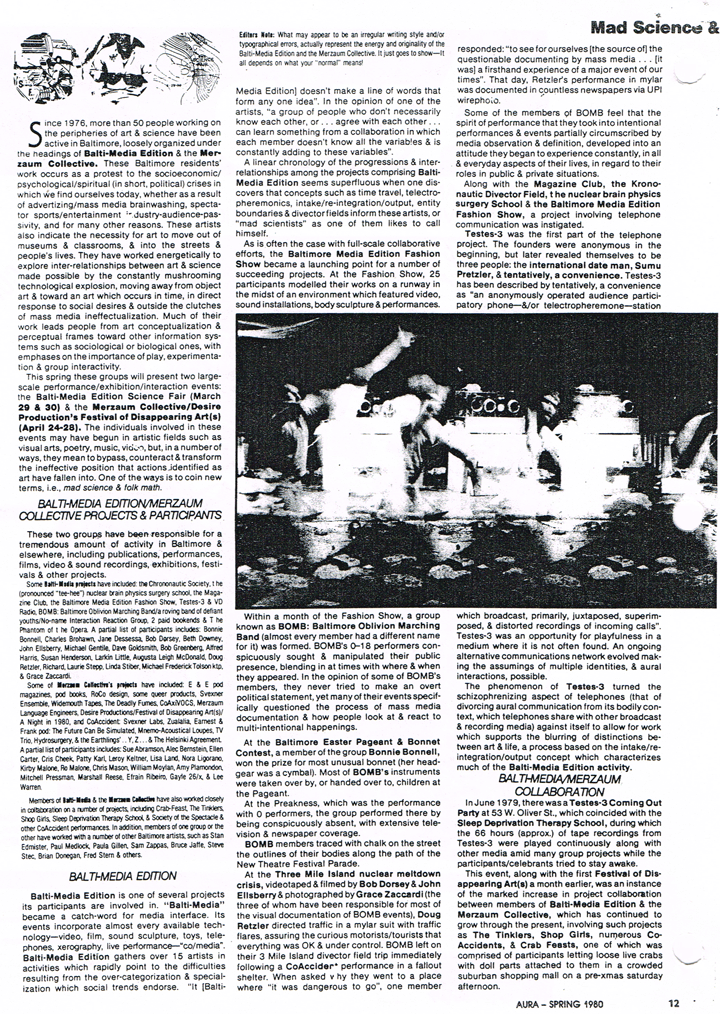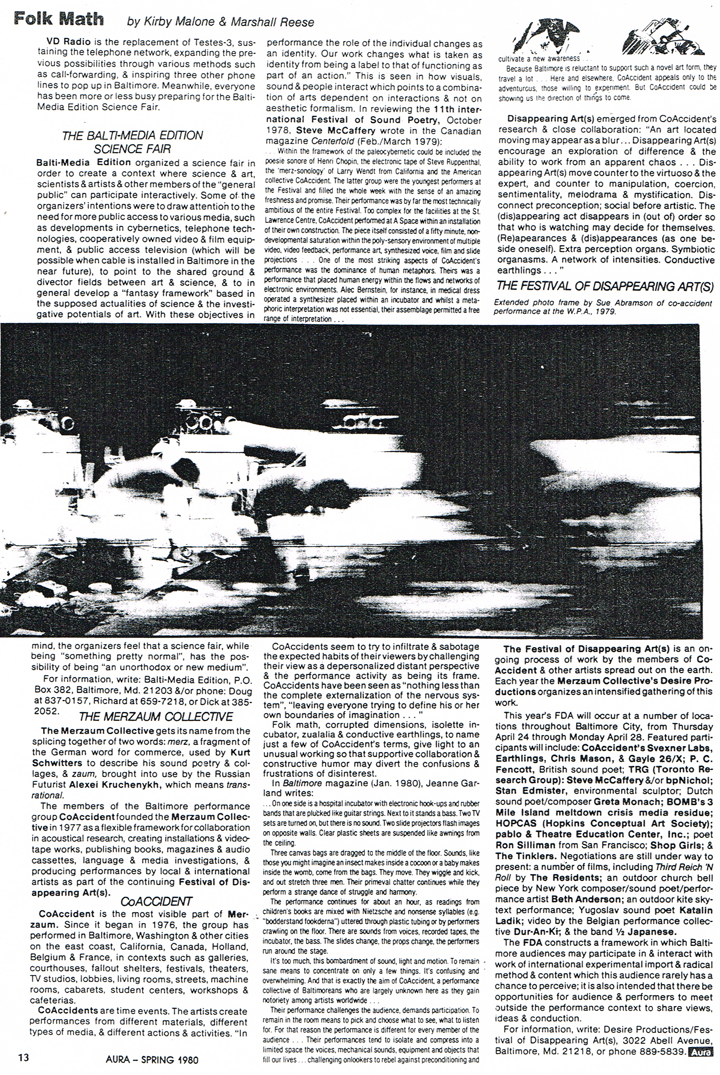 Franz Lidz was now working for John Hopkins's magazine & he wrote an article about the Science Fair in which Doug wasn't mentioned (but should've been):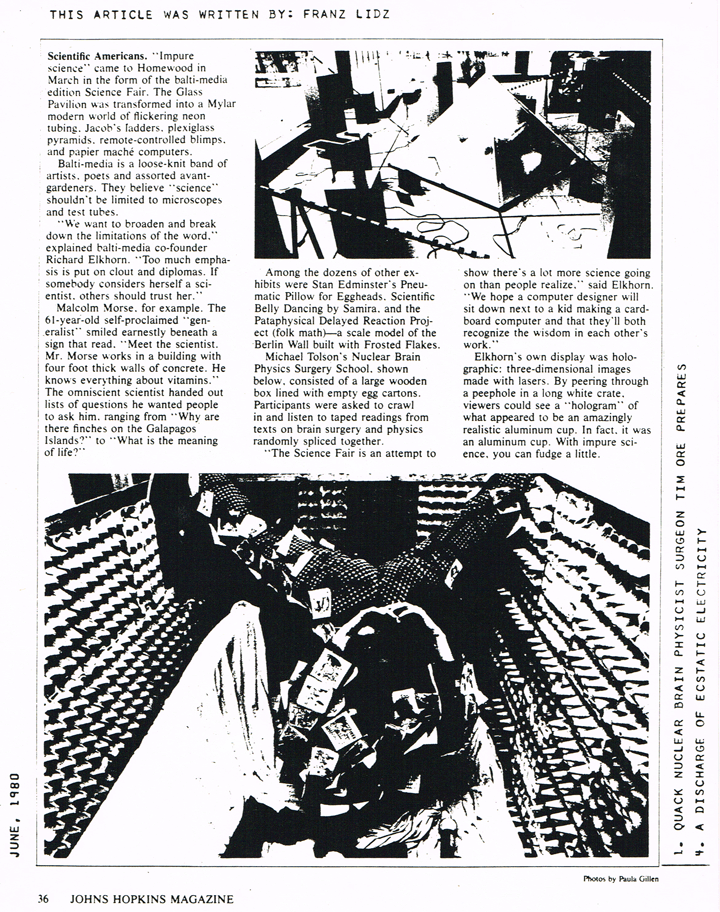 107. had a collaborative piece (with bob dorsey & sumu pretzler) accepted by t he md biennial
which is a recording of our attempting to enter ourselves & then trying to enter the tape
of our trying to enter ourselves & our trying to enter the tape - not only was it probably t he
piece entered created in the shortest amt of time, it was also made after t he deadline! - to be
presented at t he balto museum of art
As written about in small print above, Doug & Bob Dorsey & I attempted to get ourselves to be an exhibit at the upcoming Maryland Biennial at the Baltimore Museum of Art. We were rejected but a (fudged) recording of us trying to submit ourselves was accepted. In what was probably the 1st piece I had in a museum, this recording was looped on an 8-track player which broke down frequently.
108. from 2 different locations, via fone, with sumu pretzler & inspector hector divector the
connector, presented a "live" audio imrpovisation broadcast via WJHU - via steve stec (d j)'s help
Our relationship with Johns Hopkins's radio station, WJHU, probably started around this time with the above-described small-print description of a collaboration with DJ Steve Stec.
These small print bits are all excerpted from a resumé that I wrote at the end of 1980 in an attempt to keep track of all this:
MAD SCIENTIST/D COMPOSER/SOUND THINKER/T HO UGH T COLLECTOR/AS BEEN IN RESIDENCE PROJECT PLEA
At the end of 1980 we'd made contact with Monty Cantsin, the founder of Neoism, in Montréal. He came to BalTimOre to visit us & we declared an alliance of sorts. In February of 1981, a group of us from BaltiMedia went the the 2nd International Neoist Apartment Festival in Montréal to participate. One of the things that we did was have something happening in the apartment where the festival was (The Peking Poolroom) directed by me while Doug went out on the streets, probably on LSD, & shone low-intensity lasers into windows. Lasers were uncommon things for individuals to have at the time. None of the BaltiMedia people except me liked the Montréal Neoists & decided to largely disassociate themselves from them after that.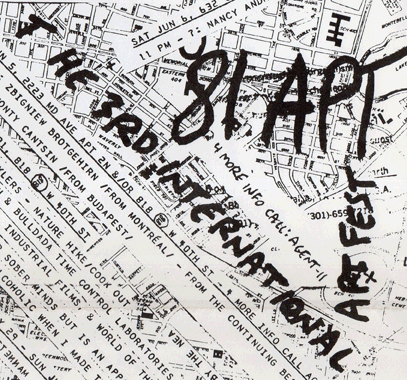 I'd been organizing a little too but not on the scale that Doug & Richard were. SO, I decided to organize the next Neoist APT Fest in BalTimOre at the mansion that we were now living in in the Roland Park neighborhood of BalTimOre. My organizing was to be done cooperatively with Merzaum but I don't remember it working out that way but Merzaum people did participate. Here's the full poster that I designed: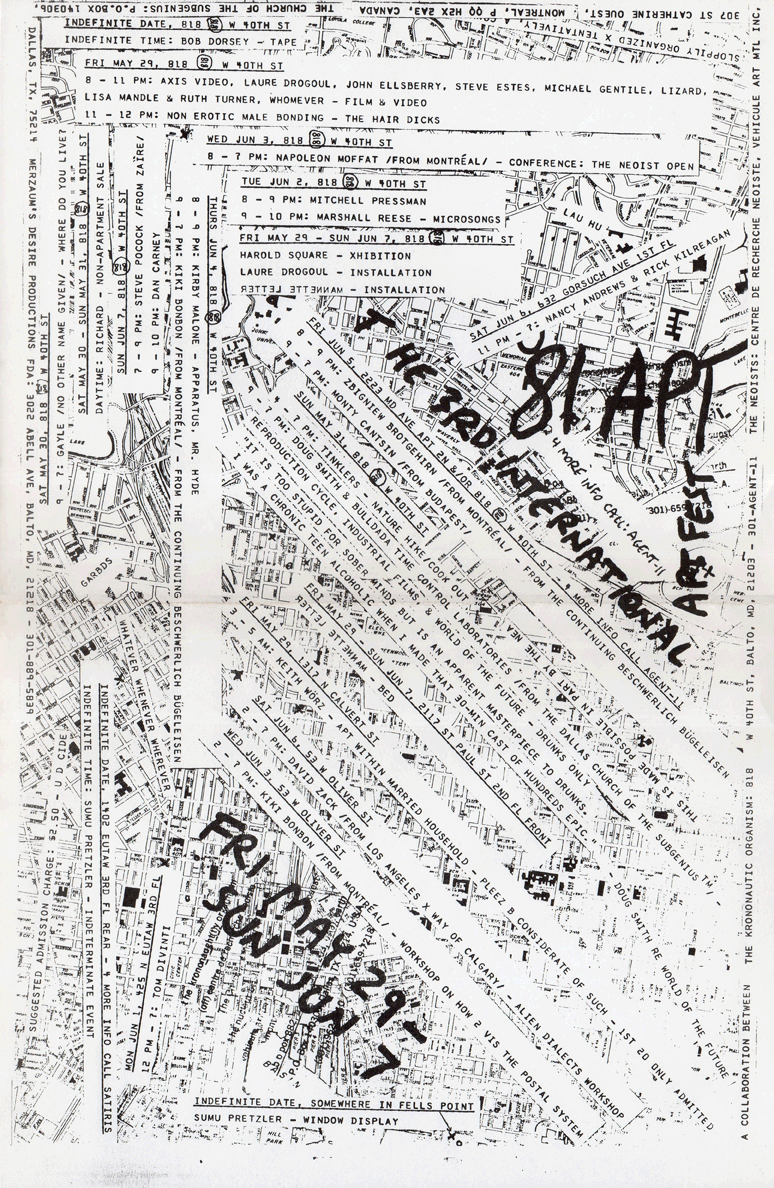 Many of the people listed on the poster didn't participate. Doug provided me with the following:


but their space & time ambiguity & somewhat distant location resulted in my never trying to find out what he was doing - I was too busy with events at the main house.
There's a feature-length no-budget movie that I made about the festival online now that's broken into days. It was mostly shot by Lizard Media Systems:
Keep in mind that everything that BaltiMedia was doing was self-funded by people who were working at not necessarily high-paying jobs for a living. At best, we got some money from cheap benefit events.
1982:
From 1980-1982 I'd been working on a series of highly formal self-referential movies called "Subtitles". One of the things that I'd done was shoot footage under a machine for people with weak eyesight of Doug's contact sheet from his hands & feet film. I'd used unsplit regular-8mm film that I then had processed unsplit so that it could be projected as 16mm. Here's an image made from the result of that: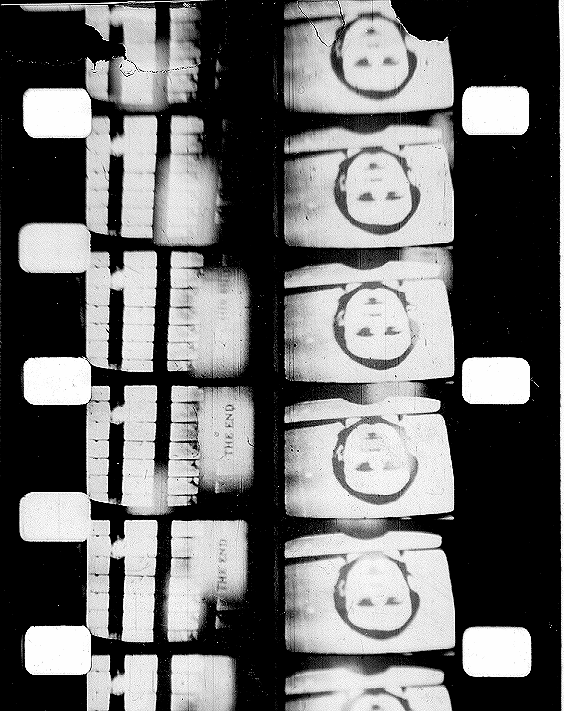 I remember Doug being irritated with me & asking me why I was doing this. I was very interested in recycling things as a form of modularity & deliberately used his photo as an excellent example of that process. He seemed to just think I was beating a dead horse or some such.
1983-1985:
Doug had had an excellent start as a Mail Artist when he was still a teenager but I don't remember him engaging in it much when networks became more available to him. While I was sending out as much as 20 pieces of mail a day I'm not sure that Doug had any regular correspondence going on. Nonetheless, he did organize one Mail Art show in his Eutaw Street apartment on the theme of "Red":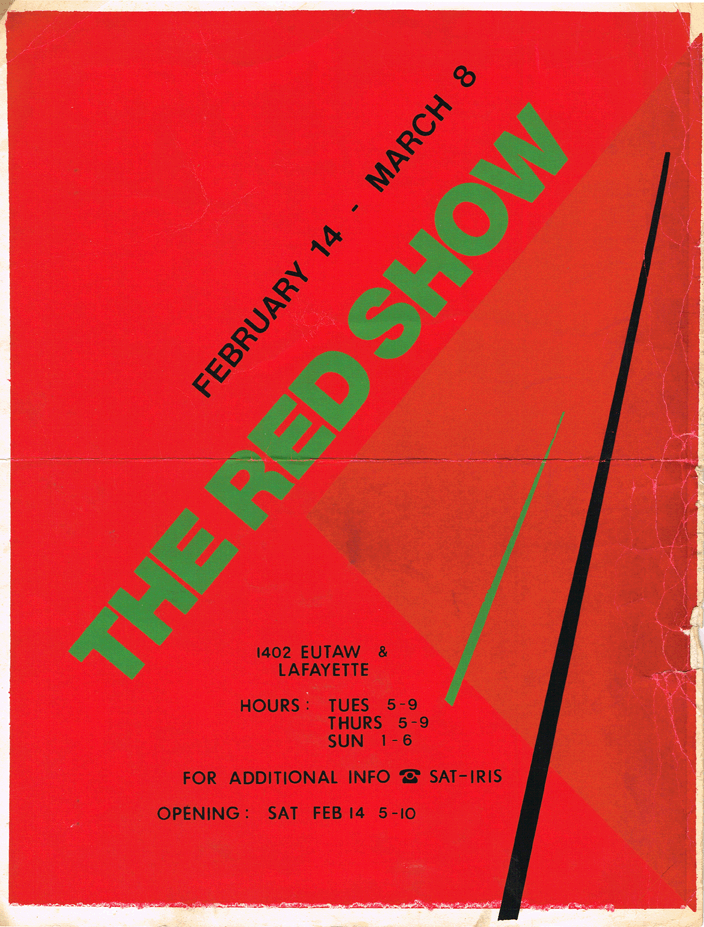 I don't really know what year this was. I have the poster filed away under 1981. However, I remember being at the opening & having a guy that I know threaten to beat me up because he thought I was getting involved with his ex-girlfriend. He was a 'good person' in the community & I was a 'bad' one so his threatening me was acceptable behavior whereas if I'd responded in kind I would've, as usual, been considered a 'maniac'.
His ex was a friend of mine but I'd had no intention of getting involved with her. I reckon this was my clue that she was attracted to me - something I hadn't previously realized. The reason why I place this at the beginning of 1983 is because I'd broken up with one of the ex's friends in mid 1981 & hadn't talked to my ex again until the end of 1982 & it seems like if I'd hung out with the threatener's ex it would've been after I'd started communicating with my ex again. Sheesh. Anyway, I apparently contributed something to The Red Show but I don't remember what.
It appears that Doug & I didn't collaborate in 1982 except for my use of his imagery in "Subtitles (16mm version)". We'd been having conflict with each other & I'd moved on to being more involved with Neoism which meant that I was doing more out-of-town things & had new collaborators. Neoism was more to my liking than BaltiMedia because it was more of a revolutionary cultural conspiracy & less of an arts thing. The BaltiMedia people couldn't accept that I wasn't interested in being an artist, that I thought of Art as an outmoded context for creativity.
In 1982, BalTimOre City Arts Administrators founded "Artscape", an annual large scale arts festival in the summer near MICA. This is a very well-funded event with many food vendors that involves millions of dollars. Richard, in particular, seemed to feel that it was also an event that excluded the type of challenging work that we & our friends were doing.
SO, rather than just complain about it, Richard & Doug & a fairly large group of other people with a similar agenda founded the "Ad Hoc Fiasco" - an alternative to Artscape that involved wackiness that would've probably not been approved of by the more staid Artscape curators. E.G.: Laure Drogoul set up a hamburger stand in the shape of a hamburger roll with a live cow inside in addition to the hamburgers for sale. The Severn Institute, friends of ours based in Annapolis, celebrated "Christmas in July" as part of it by throwing records out to the audience as 'gifts'.
I, however, was still an outsider to all this. I wasn't happy that everything had to be an 'art event' so I started doing things to spoof the supposed 'openness' of the Fiascos by proposing planting land-mines in the Wyman Park Dell where it was to take place as an 'art installation'. Of course, I wasn't serious but I don't think the humor of my proposal was appreciated. I don't recall whether I contributed anything to the 1983 Fiasco. At best, I might've donated a wooden sculpture of a large bowling pin that I'd bought off another artist whose name I no longer remember.
In the fall of 2014, an arts magazine in BalTimOre named "Acres" was well 'nigh miraculously remembering that BaltiMedia & friends had, yes, once upon a time, existed. The cover of the issue showed me dancing: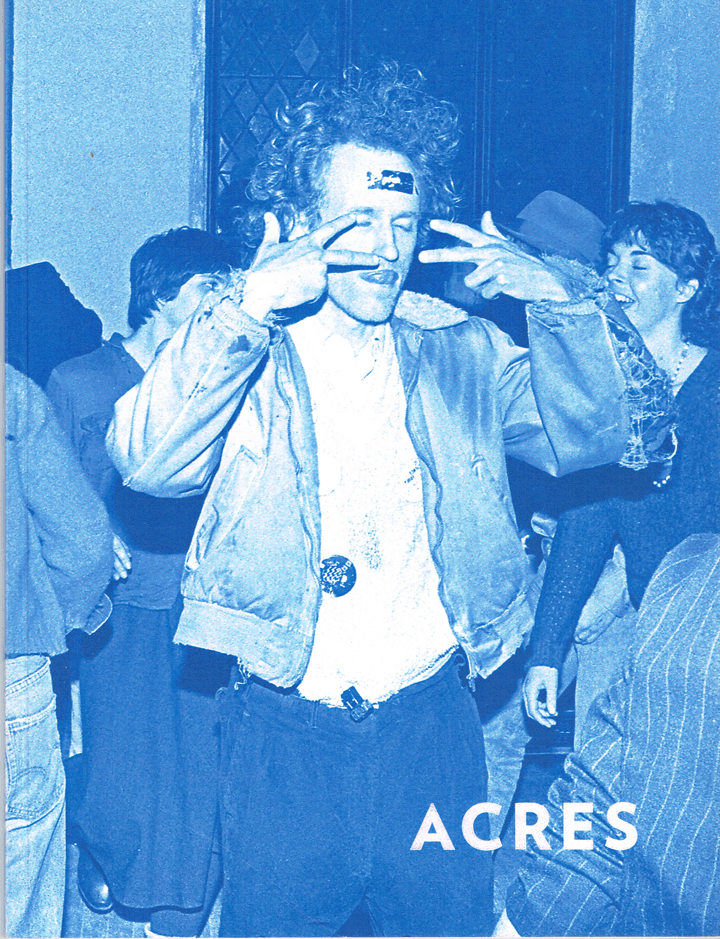 & one page had material relevant to the Ad Hoc Fiascos. You can see the bowling pin sculpture: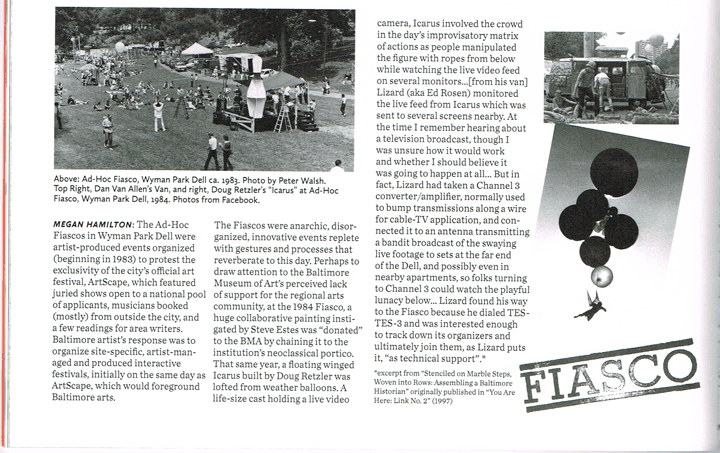 For Thanksgiving of 1983, Doug, under the name of R.U.T.S. (Random Universe Tours & Services), coorganized participation in the city's annual Thanksgiving Day Parade. While our overall thrust wasn't exclusively political, there was plenty of anti-militarism, etc, involved. Here're 2 fliers for planning sessions: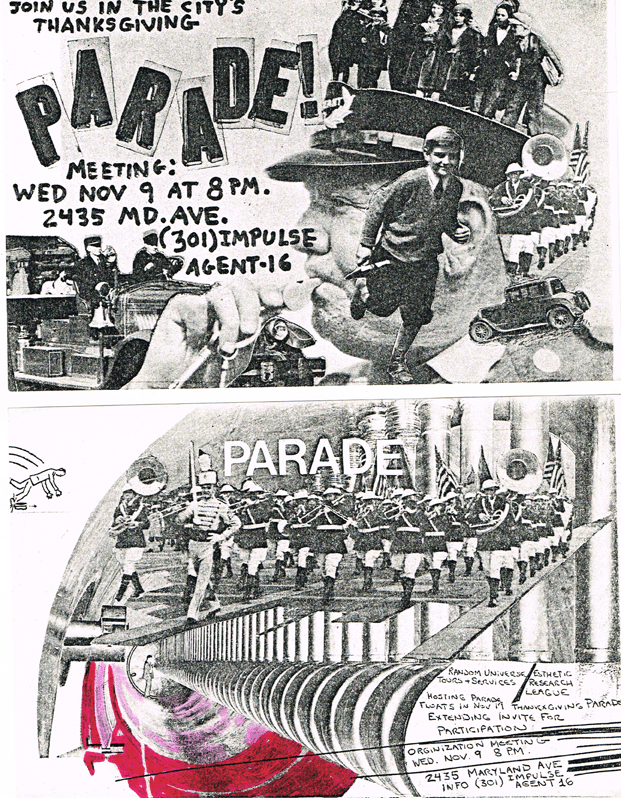 My participation in the parade involved me & a friend wearing President Reagan masks & baby dolls under our feet with a banner stretched between our necks that read:
"Give us today a conquered nation
so many others may suffer starvation"
That was my parody of an imperialist Thanksgiving prayer.
I don't know who shot the photos shown in the following 2 contact sheets but my guess is Grace Zaccardi: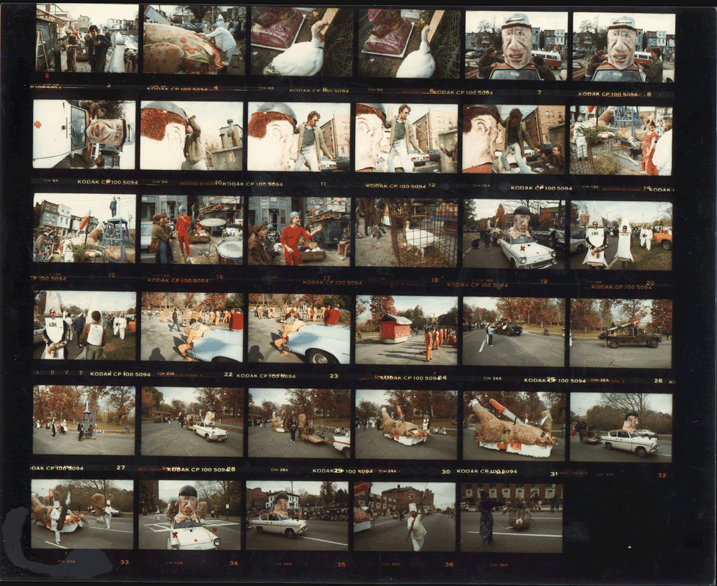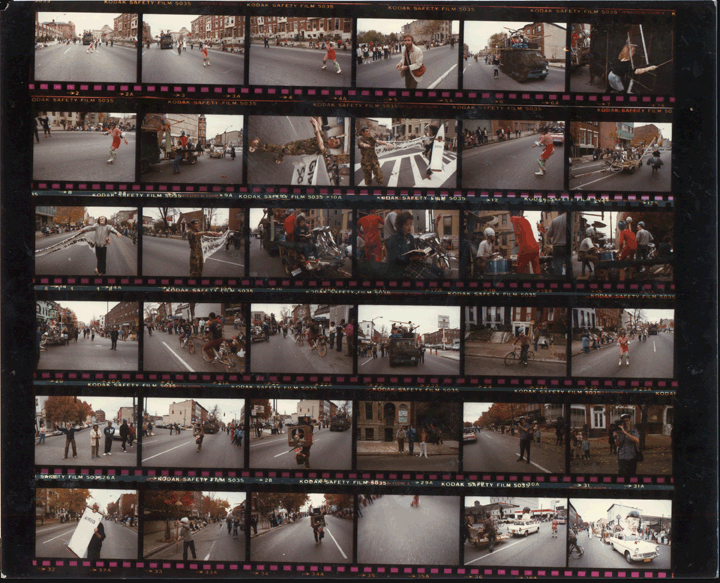 You can see a short edit that I made of John Ellsberry's footage of the parade here: http://youtu.be/fl_u-hWEm0Y
We participated in the parade without too much trouble although we were a bit irritated that we'd been split into 3 groups with other parade activities in between us. As I recall, one of the groups pulled out of its assigned order in an attempt to reunite with one of the other groups & was booted out of the parade as a result. The 'boss' of the parade wasn't exactly the friendliest guy in the world so it was easy to put a political spin on his ejection. We discussed this with a daily newspaper reporter named Brian Henry who was sympathetic to our cause & wrote the following article: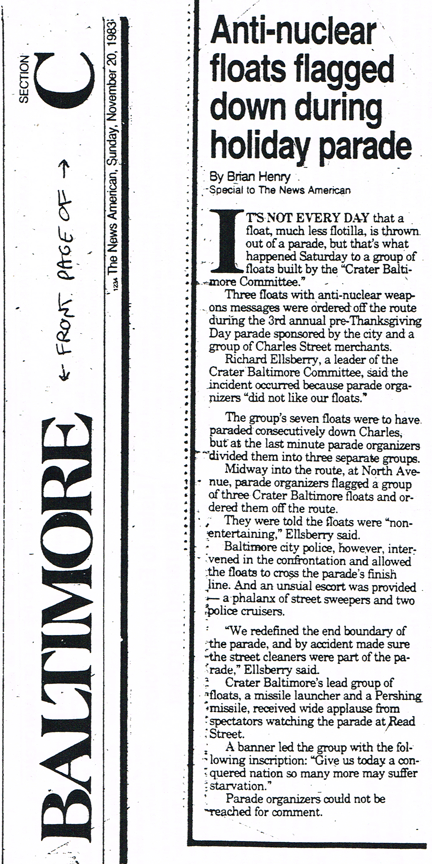 Alas, we unintentionally caused trouble for the reporter. While I remember a group of us that probably included me, Richard, Doug, & an early incarnation of Vermin Supreme talking with the reporter, I don't remember how hard we pressed the 'politcal oppression' spin. We certainly didn't call ourselves an "Anti-Nuclear" group.
SO, after we read the above article we collectively wrote 2 rebuttal letters under Doug's name & under the collective name of "David A. Bannister". Note the enlarged relevant section after the 1st scan below: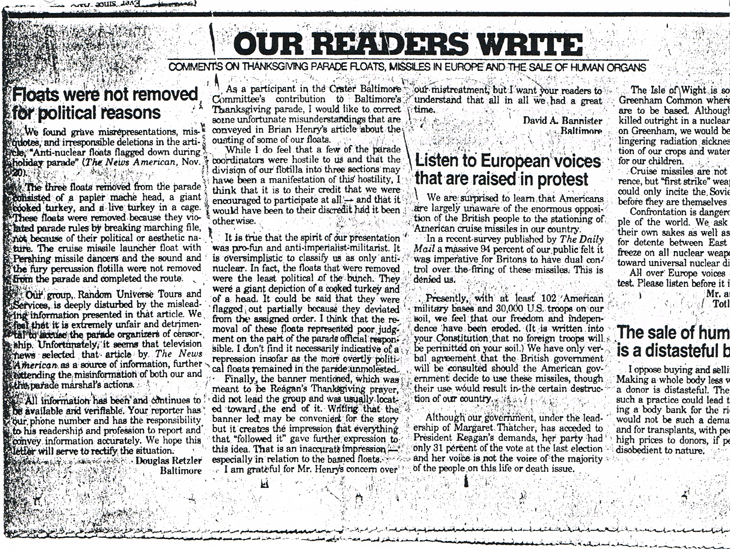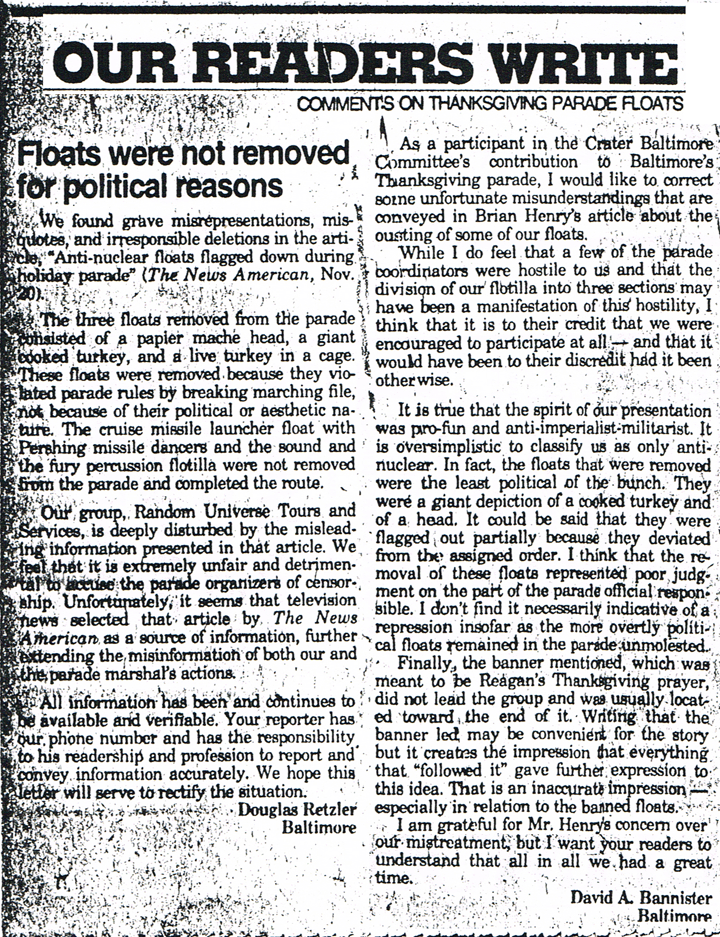 I recall seeing the reporter again after we wrote our letter & his asking us something like: "What're you people playing at?!" I think we were partially at fault for complaining to the reporter when we were still angry about the ejection - giving a different impression that we ultimately decided to be true. Furthermore, Henry probably pigeon-holed us as an 'activist group' more than we really were since we were a bit more uncategorizable than that.
From 1982-1985, I lived in a very unfriendly area in South BalTimOre. Surrounding my rented 2 story apartment were derelict buildings inhabited by violent & highly unsanitary street drunks. I ended up collaborating with the drunks by partially recreating their environment as an installation as part of MAP (Maryland Art Place)'s "Emergency" show. My purpose was to show what I thought was a real emergency, the extremely degraded lives that these people were living, rather than some highly fanciful & metaphorical artwork.
On December 9, 1983, I brought some of the drunks to the gallery where they interacted with the arts audience. There was far more to what happened than I'm going to describe here, it's described elsewhere on the 1983 page of my "Mere Outline" website. MAP provided a photographer & Doug came to take pictures too. Both of them were so excited that they went through all their film before a crucial point in the action happened. I don't think I ever saw MAP's photos but below are all of Doug's that I have. I found his technique to be extraordinary: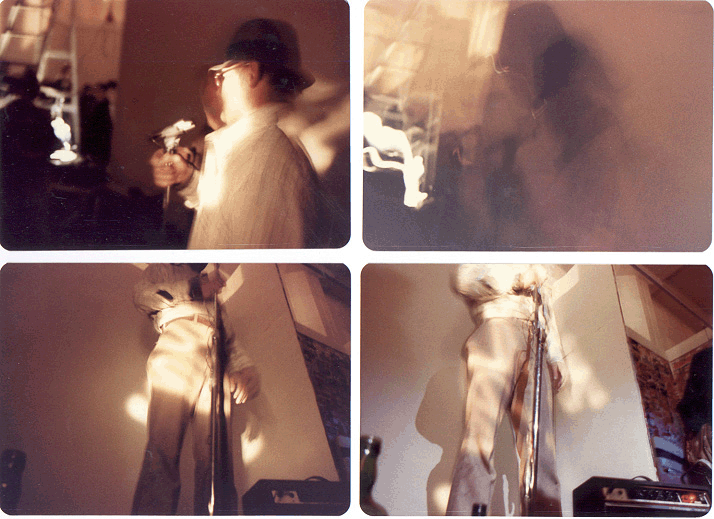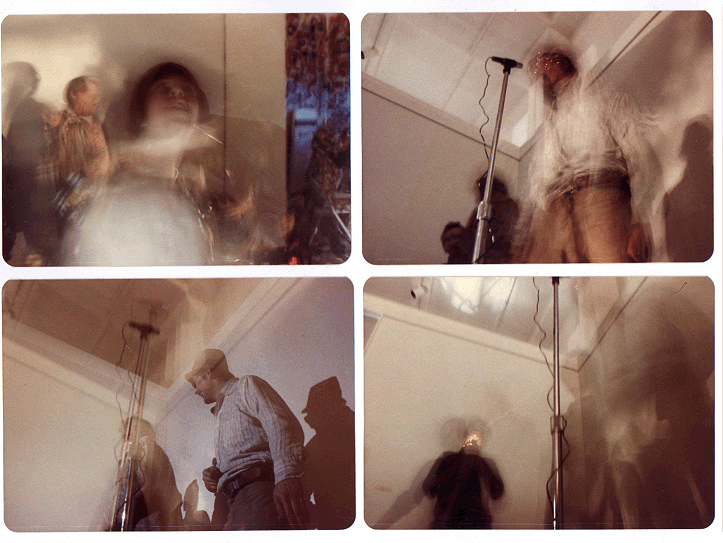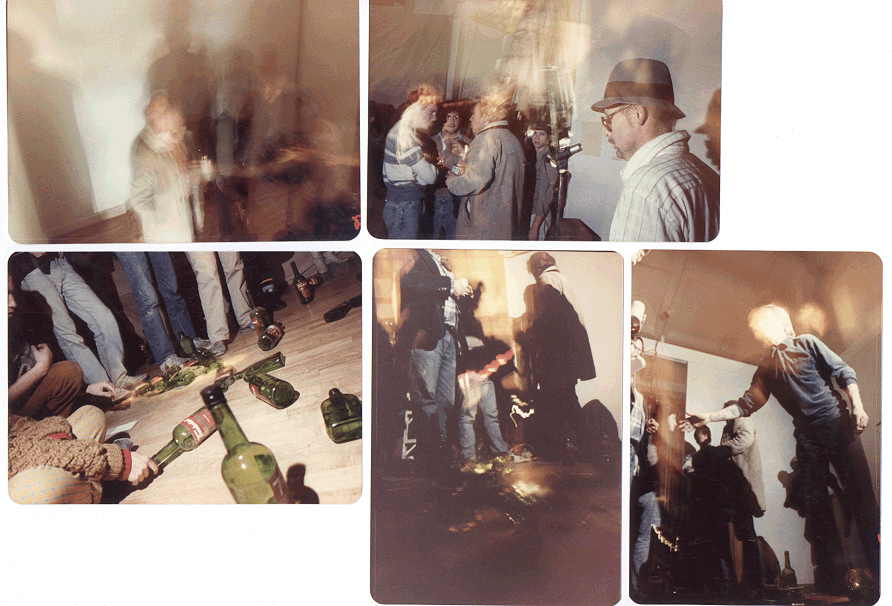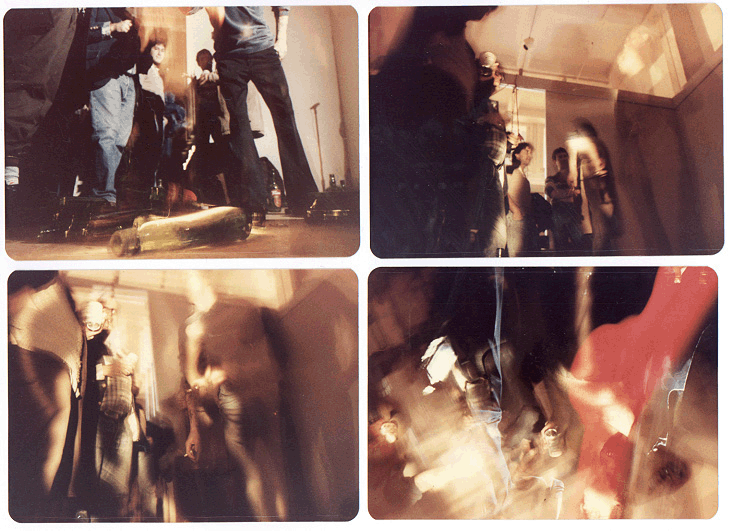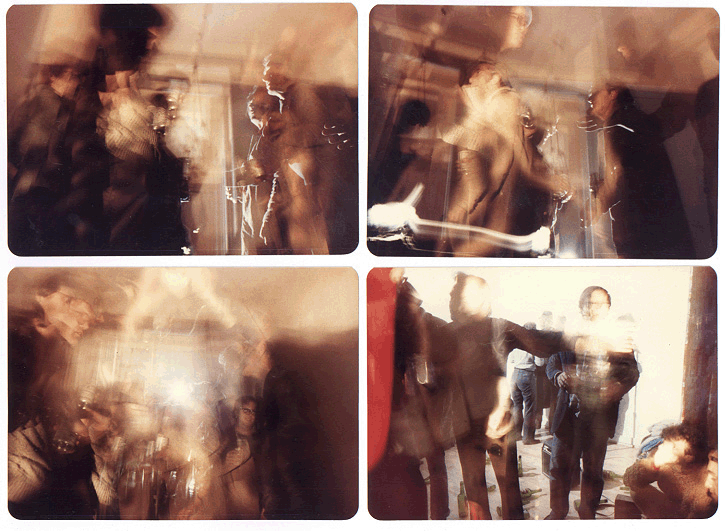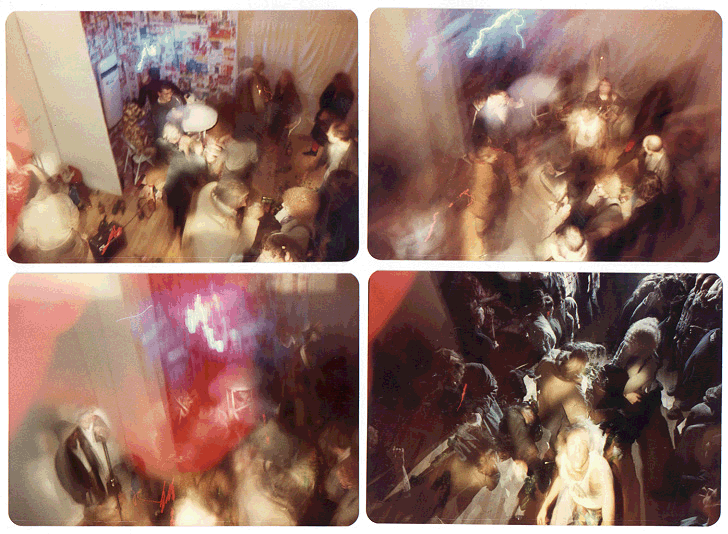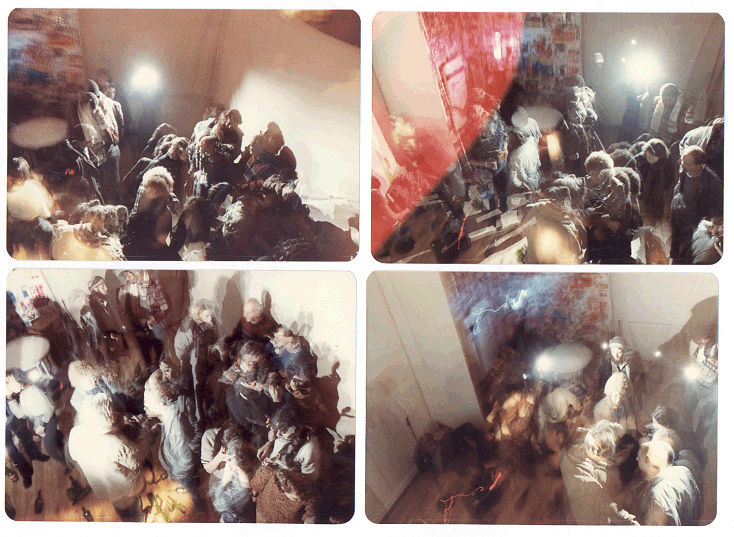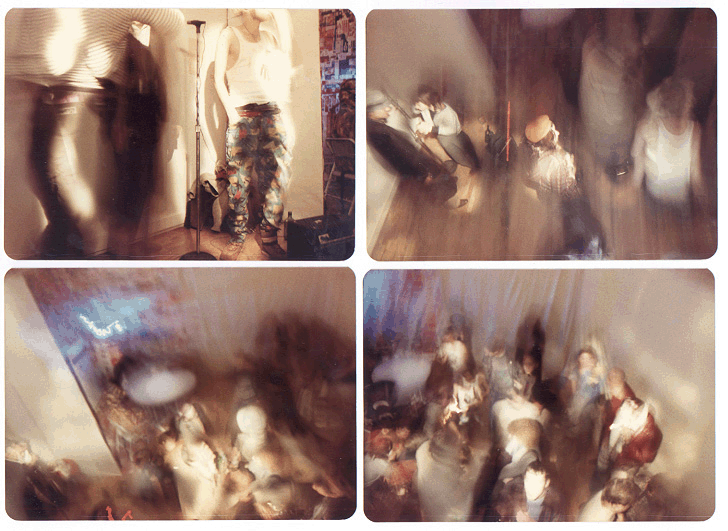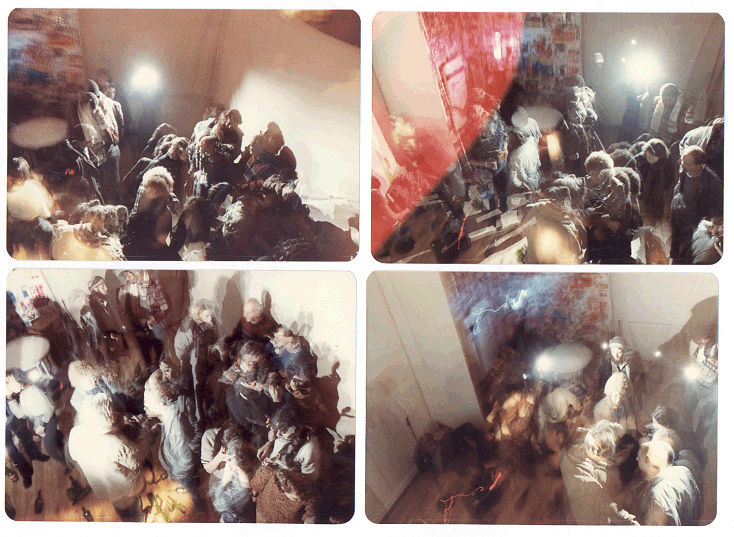 1984 involved an even more organized evolution of the Ad Hoc Fiasco. A benefit was held, ostensibly to help pay for health care expenses for someone who'd cut off the tips of their fingers the previous year while moving heavy sound gear. I always assumed that the story was true but there were those who thought it was a scam. Either way, it seemed perfectly ok to me to try to raise money for the Fiasco!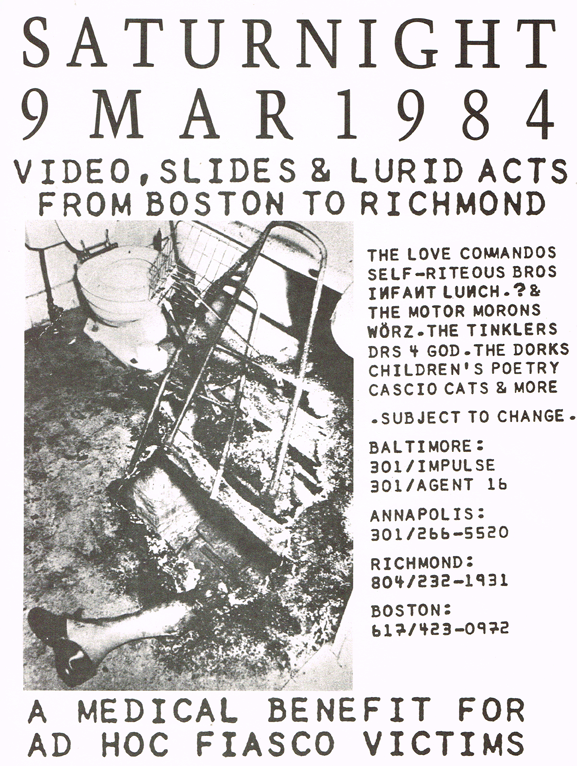 Independent of grousing about the truth of the medical nature of this, the benefit was still a sore spot for me for other reasons. I'd just had my 1st "booed usic" event at the Galaxy Ballroom on January 24th, 1984, & I'd wanted to do another booed usic thing for this. Doug was hostile to what I was doing because he thought the noisiness of it was anti-social.
I'd met a nut shell con artist on the bus & invited him to come to the benefit & perform on stage for pay as a part of the booed usic. He didn't show. As such, I doubt that I would've done anything anyway without him but Doug deliberately put me & my guests from Richmond on last - meaning that if we played at all it wouldn't happen until after 3:30AM. As such, not only didn't I perform but my guests were shunted off 'til so late that I decided that they shouldn't bother. As such, they drove all the way up from Richmond for naught.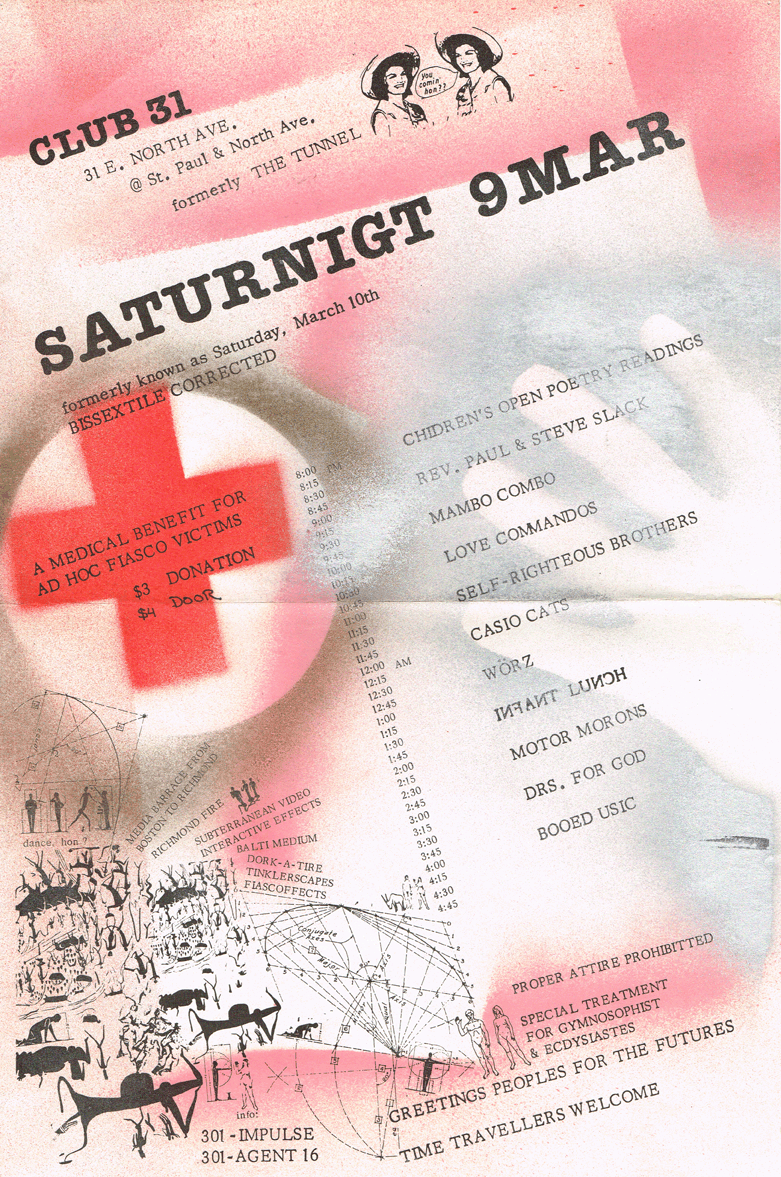 booed usic did at least make it to the above poster (even if the "h" in "night" didn't (that might've been deliberate)).
1984 was probably also the year when I proposed that booed usic be played on both of the Fiasco stages but Doug didn't take it seriously & only scheduled pop bands. Richard was more cooperative & we had a live feed from WJHU where my collaborator Ron Cummings played a booed usic type set.
I don't know what year a fund-raiser event was held for what event at the former Pickle factory in Fells Point but I remember my participation. Right at the entrance of the factory I built a hanging cloth maze that attendees went into. There was no exit from the maze into the rest of the space where the event was. There was also nothing preventing them from simply lifting up the bottom of the maze & proceeding inward. The bottom of the maze hung several feet from the floor so this was an easy thing to do.
My purpose was to show people that apparent obstacles were easily overcome by thinking outside the box. Doug was furious. I had to leave for work shortly after the event began & as soon as I did he pinned back the maze so that people went directly into the event & bypassed it altogether.
"Subtitles" was still an ongoing movie project of mine, I kept recycling its materials in more & more elaborate ways. In 1984, I made the "(3/4" version)" for video (or, as I prefer, "vaudeo") & recycled Doug's imagery even further. The following stills were taken of the TV & show some slight traces of my poor technique in doing that but they'll do. These represent some of my earliest access to digital effects at Quality Film Labs: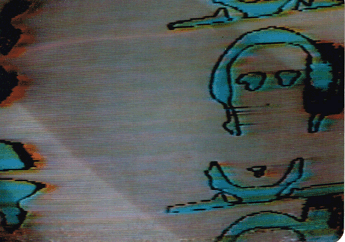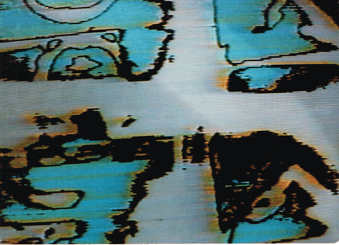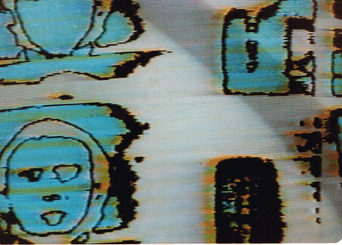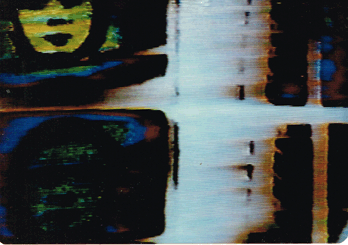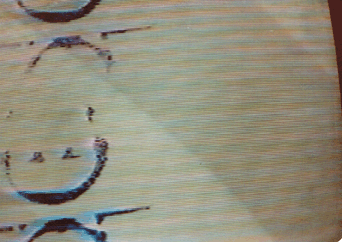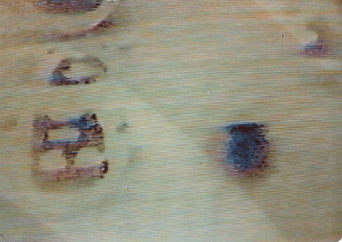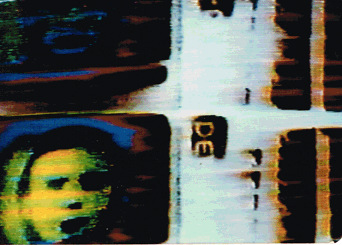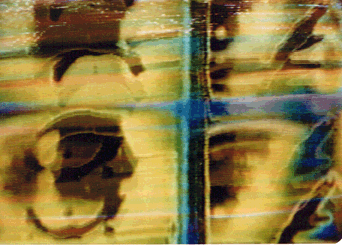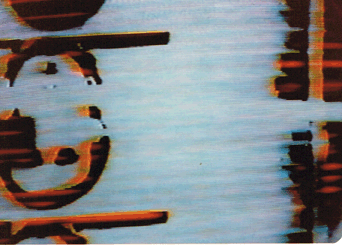 We were all becoming more politicized out of disgust with Reagan's obvious right-wing puppet presidency so Doug decided to make Reagan masks with a null-sign over his face to use in a protest in DC in an attempt to dissuade people from re-electing him: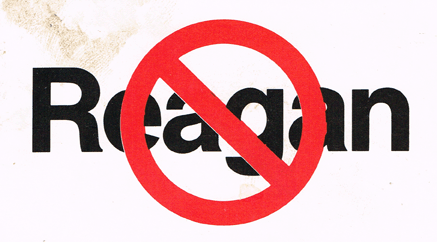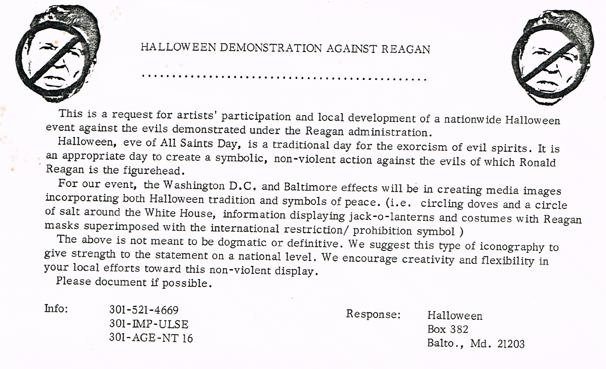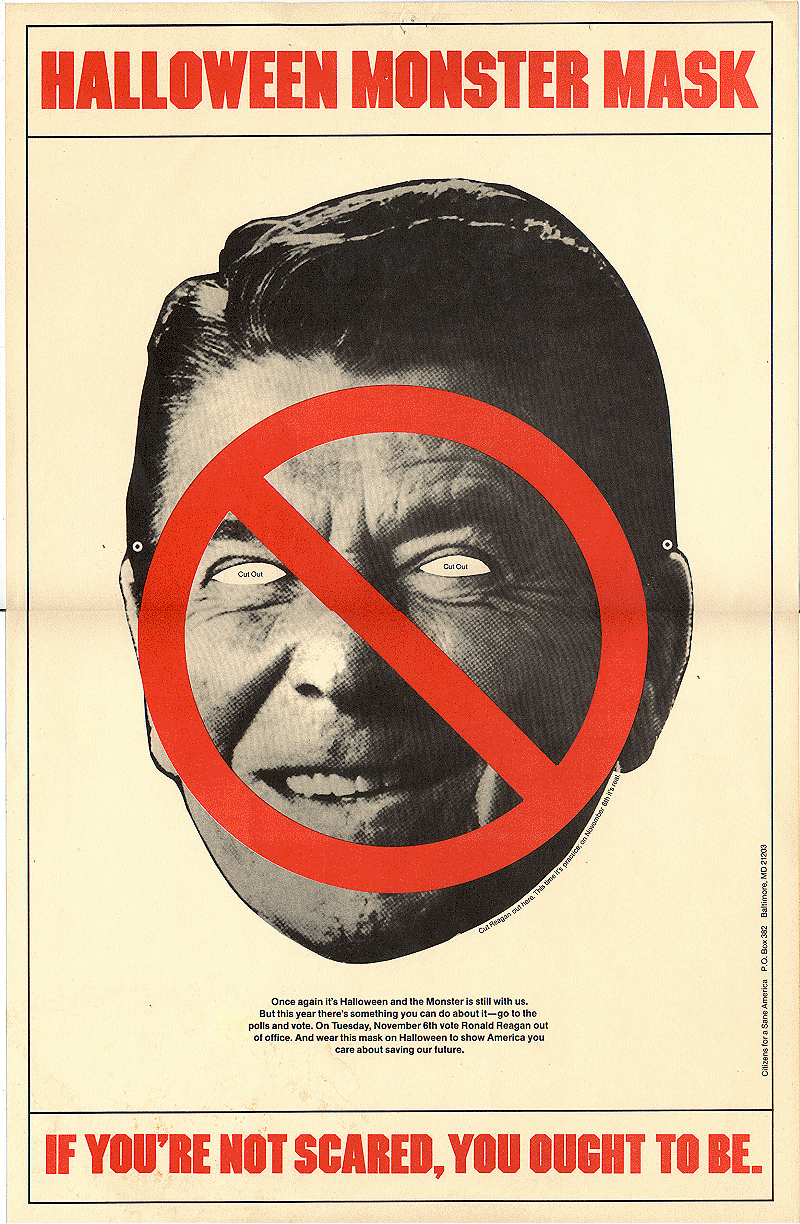 I thought this was an inspired action & at an event leading up to it people even liked that I used terminology like anti-imperialist so I wasn't the lunatic fringe lone nut anarchist for a change.
One of the best things about this action was that I was photographed in DC while wearing the Reagan Monster Mask by people I assumed to be Secret Service. I made sure that they got the mask in the photo. I thought that was funny - especially considering that I was wearing a bright red faux fur. Alas, Reagan was 're-elected' (groan).
I tend to think that I was a pioneer of 'Sound Art' in BalTimOre (even though I've never particularly liked the term). I'd seen a presentation by oboeist Joseph Celli at UMBC where 2 large monitors (video projectors were rare-to-nonexistent those days) showed a piece of his called "Snare Drum for Camus". It was an overhead shot of a snare drum being played by his son, Camus, a percussionist. Given the different qualities of the 2 monitors, in one the drum looked somewhat like a watermelon & in the other like Chinese food. I found this amusing so I made a spin-off piece called "Chinese for Celli" inspired by it: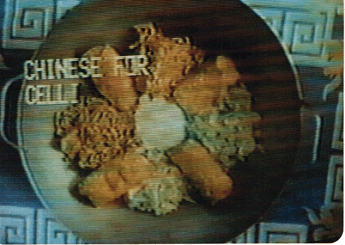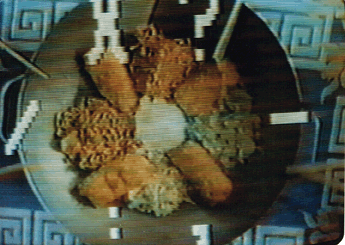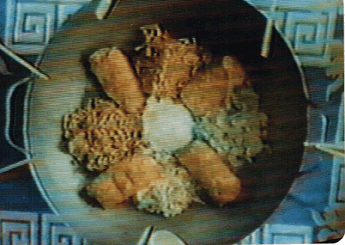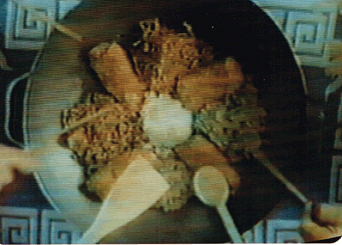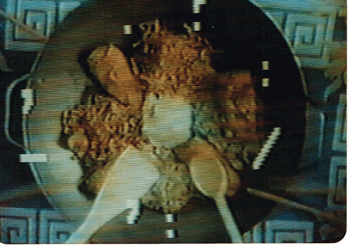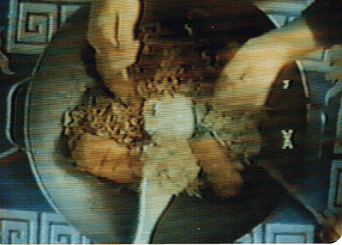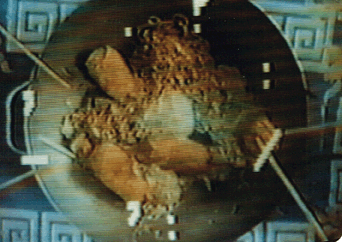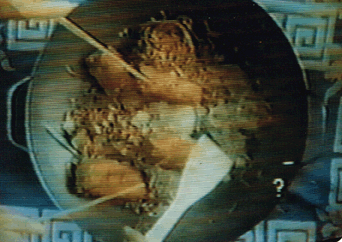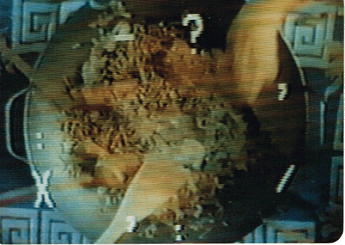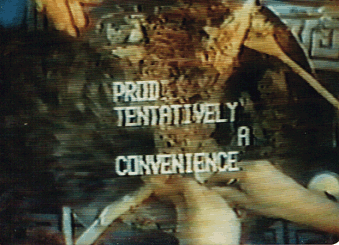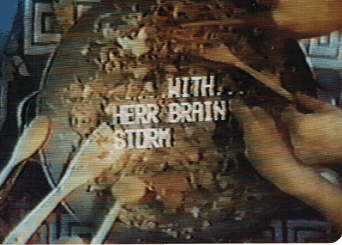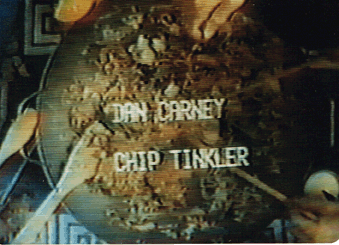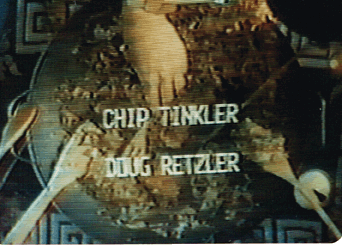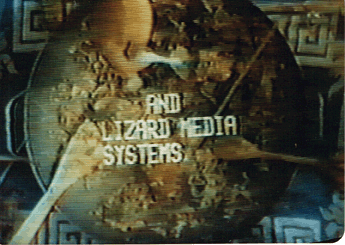 For this one I invited 4 friends to sit at cardinal positions & percussively play the wok & the food in it - gradually mixing the food up & lessening it by eating it. I provided the food. I asked Lizard Media Systems to move punctuation of various sizes around the image of the rim of the wok using the character generator in his camcorder. This might've been the 1st time I had access to a character generator & it was very primitive & labor-intensive for Lizard to comply with my wishes.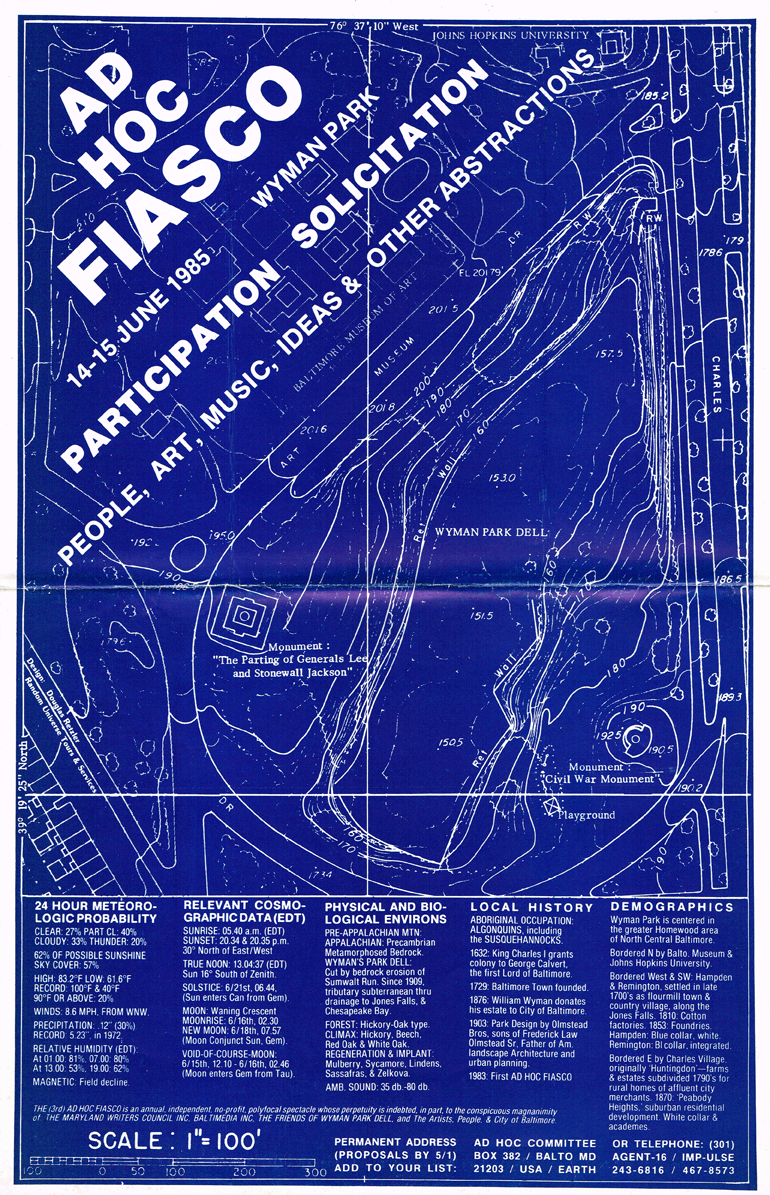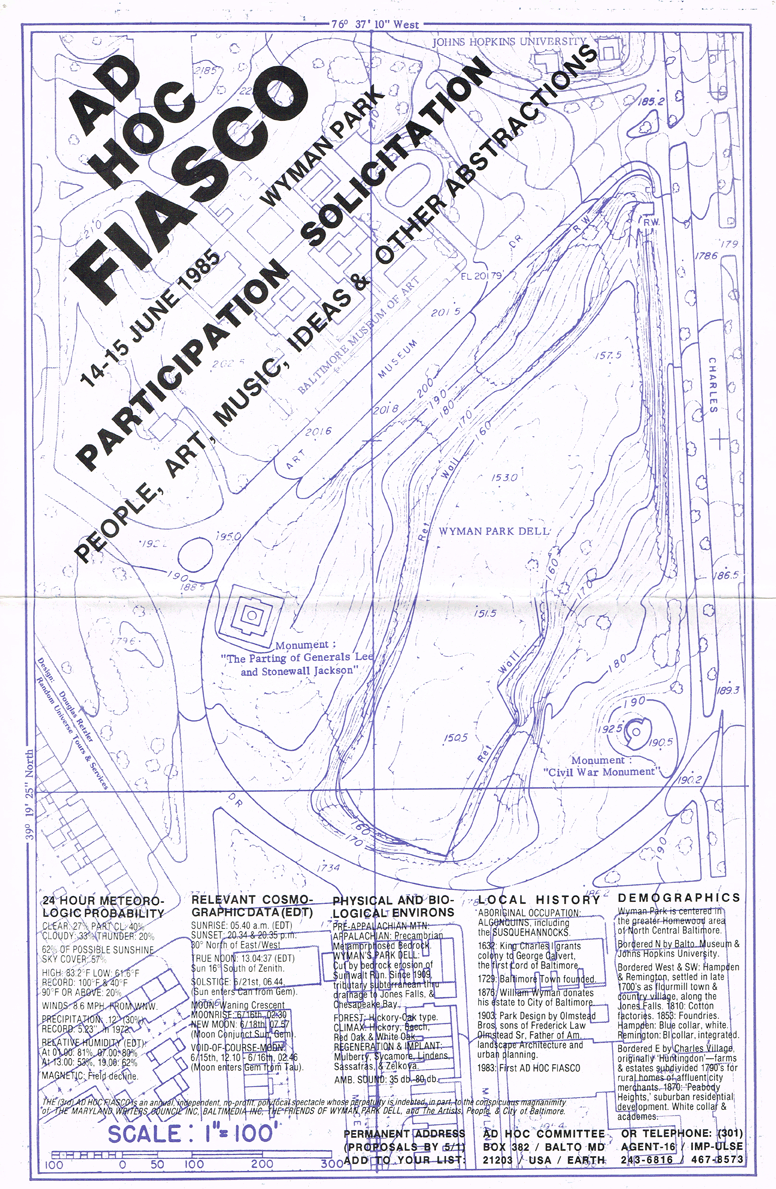 Not long after was the 3rd of the Ad Hoc Fiascos. My girlfriend, Joan D'Art, made an "+"-shaped see-saw for it that spun around as well as went up & down. I made a film of this in which I used regular-8mm film in a 16mm camera & had it processed split as 8mm film so that what had previously been one frame was now 4 in which the top left of the original frame alternated with the bottom left until the 2nd half of the film where the top right alternated with the bottom right. Given that each of these frames only last for 1/24th of a second there's a persistence of vision in which the top & bottom seem superimposed over each other. The movie can be seen here: See-Saw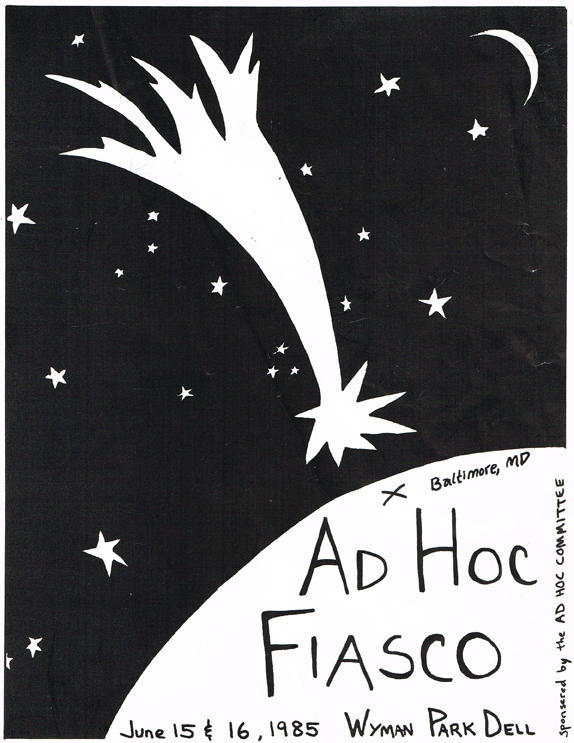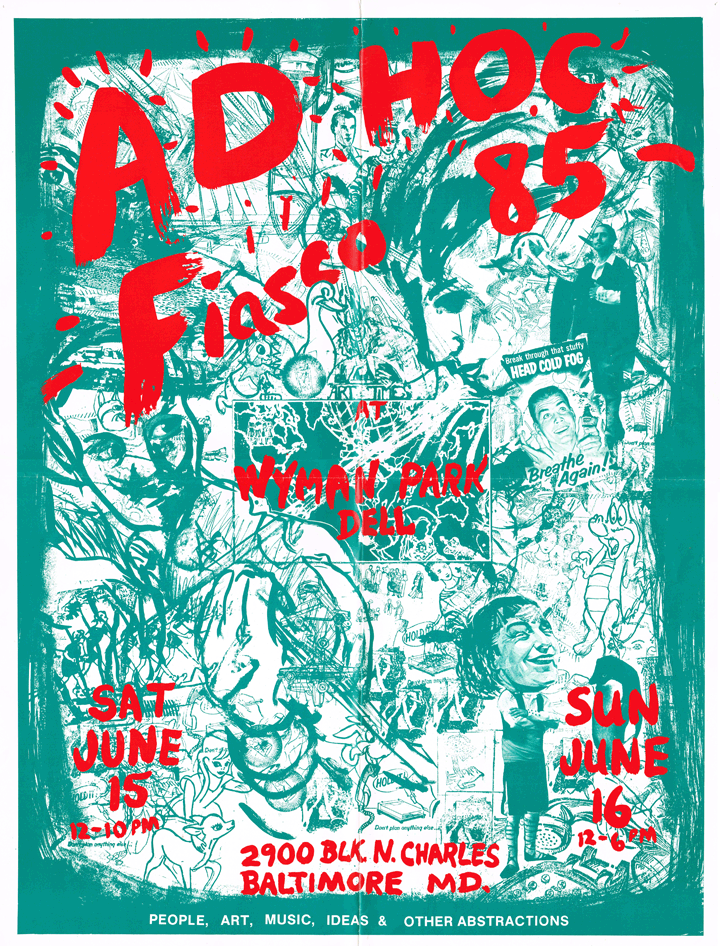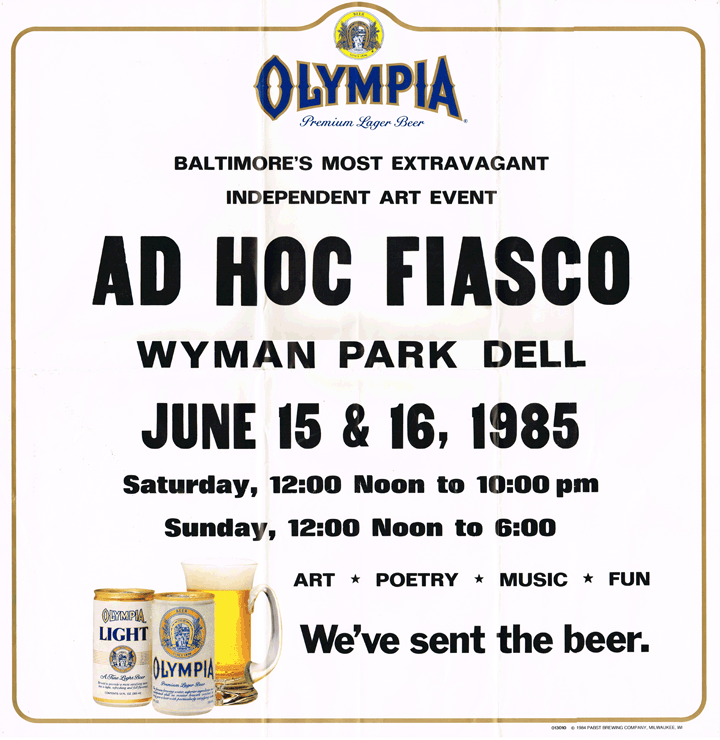 &, yes, they even got cheap beer sponsorhip.
This Ad Hoc Fiasco proved to be the last. Doug & Richard had worked maniacally hard for no pay each of the 3 years & had accumulated a substantial amount of people around them who attended organizational meetings. They announced that they'd had enough & that it was time to pass on the organizational responsibilities to the crew: they'd seen how it was done, now it was their turn. They said they'd do it. They didn't. It takes a special dedication to do something like this & very, VERY few people have what it takes. Doug's definitely one of them.
1988-2011:
Doug & I increasingly went our separate ways but at the beginning of 1988 I shot a movie of his mouth using a lo-fi PXL-2000 toy camcorder as a part of a series of "Philosopher's Union Member's Mouthpieces". Doug's was the 19th in the series. he did it under the name of "Doodles Teetering".
In 1988, while I was in Dundee, Scotland, at Pete Horobin's DATA Attic, Doug sent me a mailing about his launching his newborn baby Elan in a car-baby-seat by lifting the baby & the seat off the ground with tethered balloons. I performed an action in honor of this that was quasi-documented on super-8 film by Pete & decades later digitized & uploaded to Vimeo by Florian Cramer here: B.U.T.N. PUBLICITY FOR THE CHILD-RAISING OF ELAN ( https://vimeo.com/21268401 ).
I did continue to make sure that things were documented & that the history would survive. A young Stewart Home got a brief history of Neoism from me & incorporated it into his book "Assault on Culture". Here's a part that mentions Doug: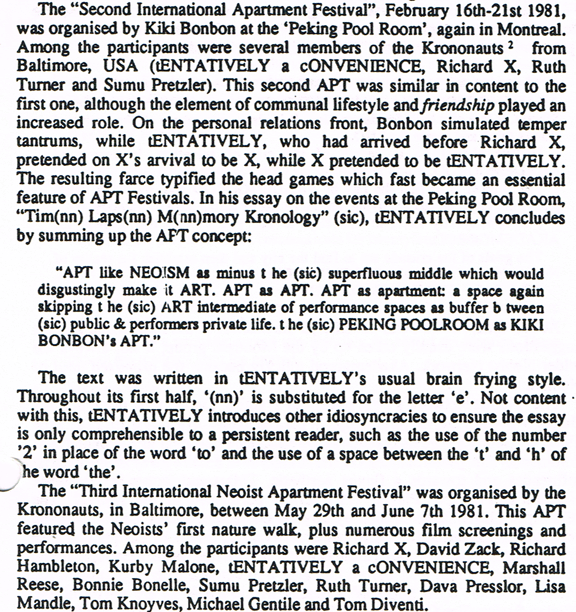 In 1989, I published an audio cassette called "Hearing Double in Lacquerland". One channel was of a Lacquer-induced performance done by Herr Brain Storm Drain & myself & the other channel was of one done by Doug & myself on Christmas in 1983. The tape could be played with the output potted to one channel or the other or with both playing simultaneously.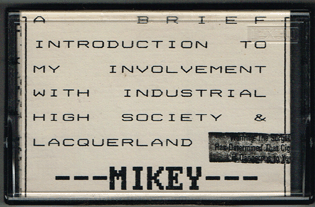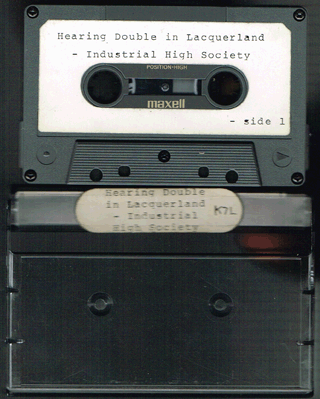 It was reviewed in a magazine called "Gajoob":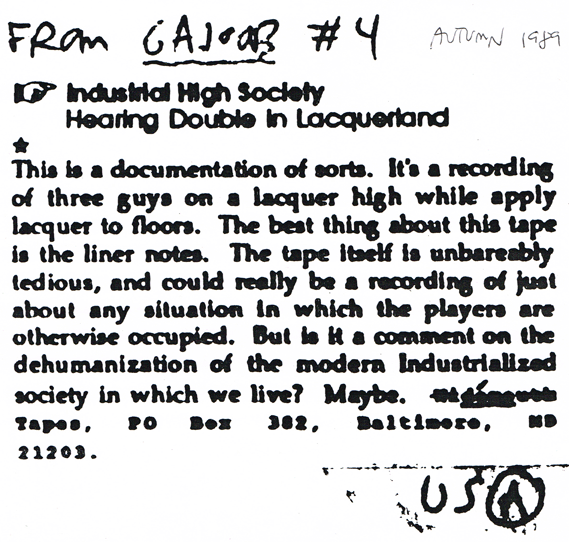 I generally found that reviewers tried to fit whatever I did into pre-fabricated categories that were irrelevant & then disliked them for 'failing' to be what they weren't intended to be in the 1st place. Imagine critiquing a recording of seals in a swimming pool for not having the violins amplified enough & you'll get the idea. At any rate, I didn't like the above review so I wrote a response letter: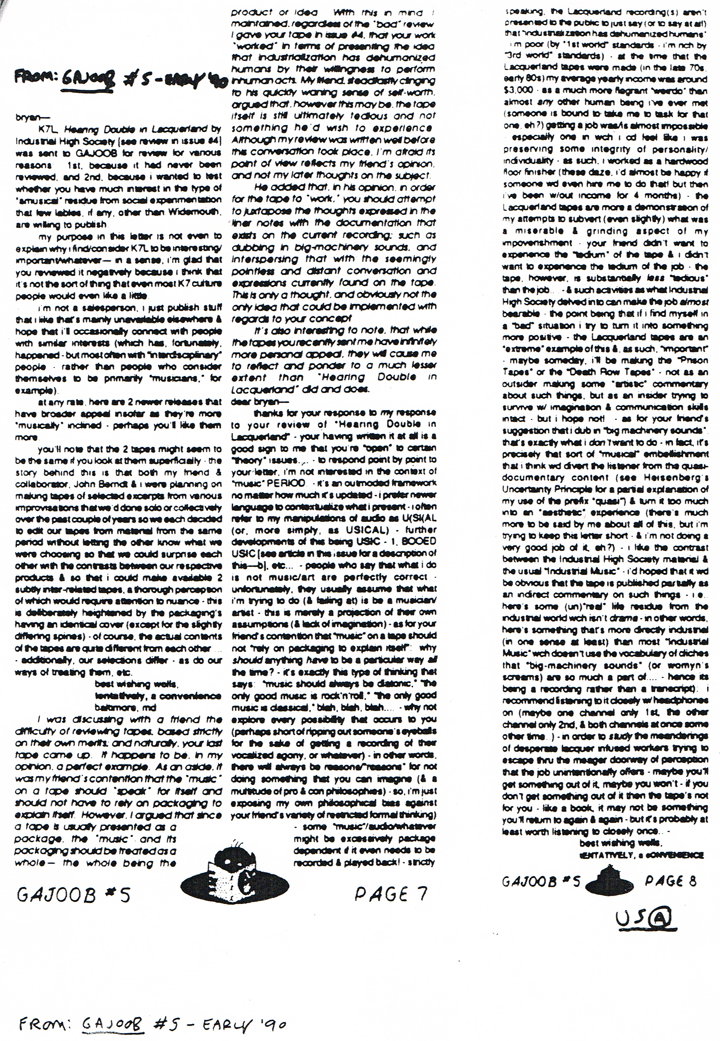 Years later I wrote an article called "Party Naked" about some of the more interesting partying I'd organized &/or participated in. One part of it was about a time when Doug & I had danced precariously with saws. This was published in "Fatuous Times" in 1994. The enlarged details show the relevant parts: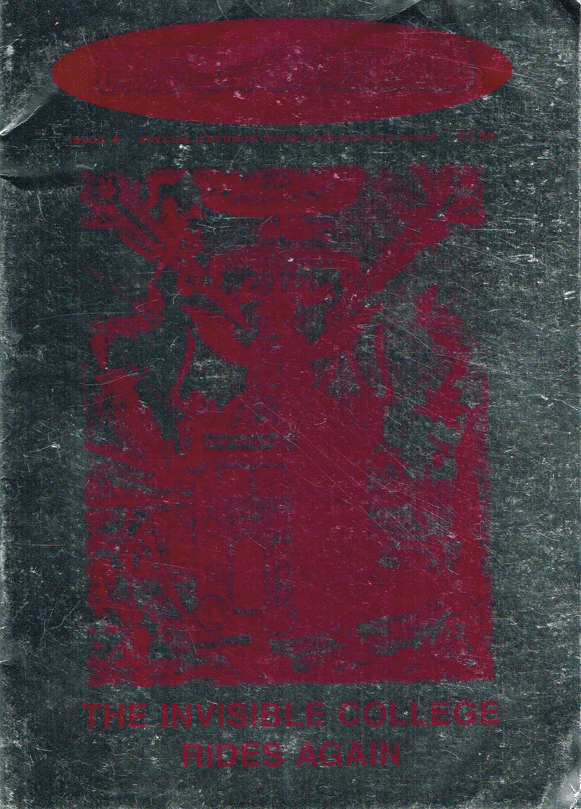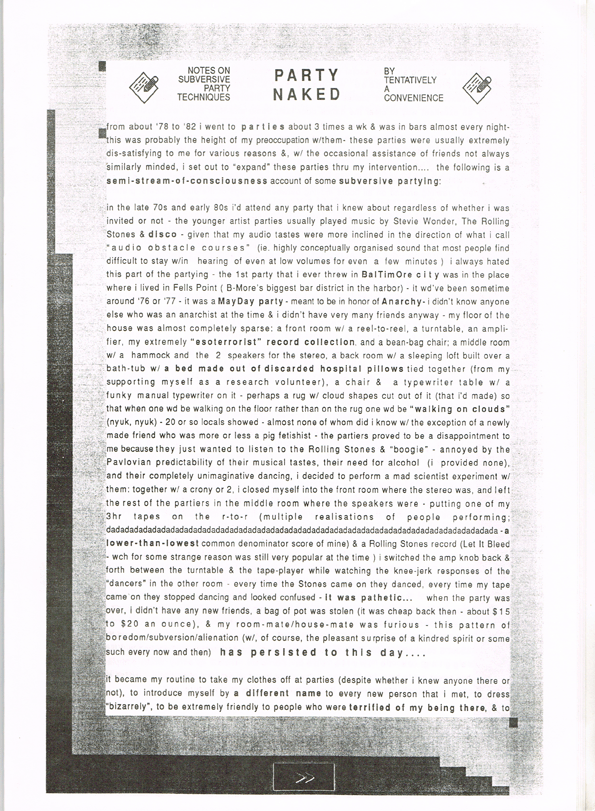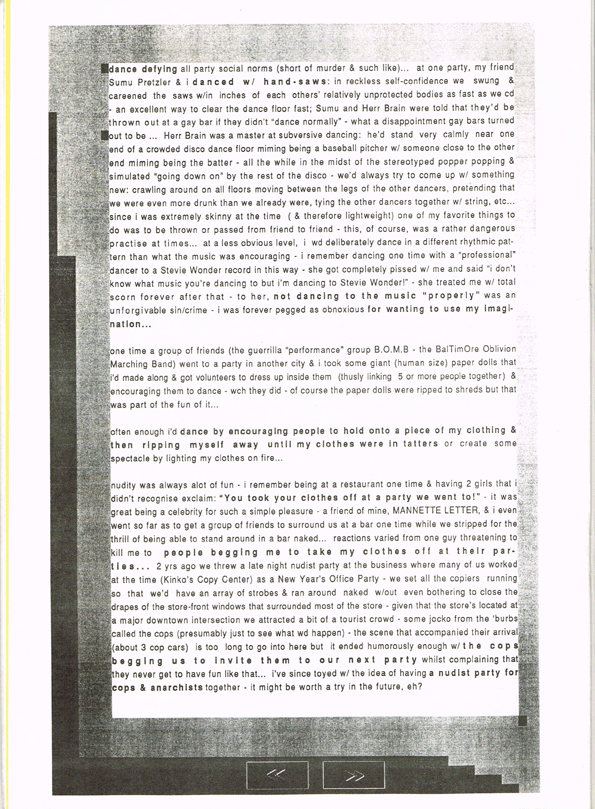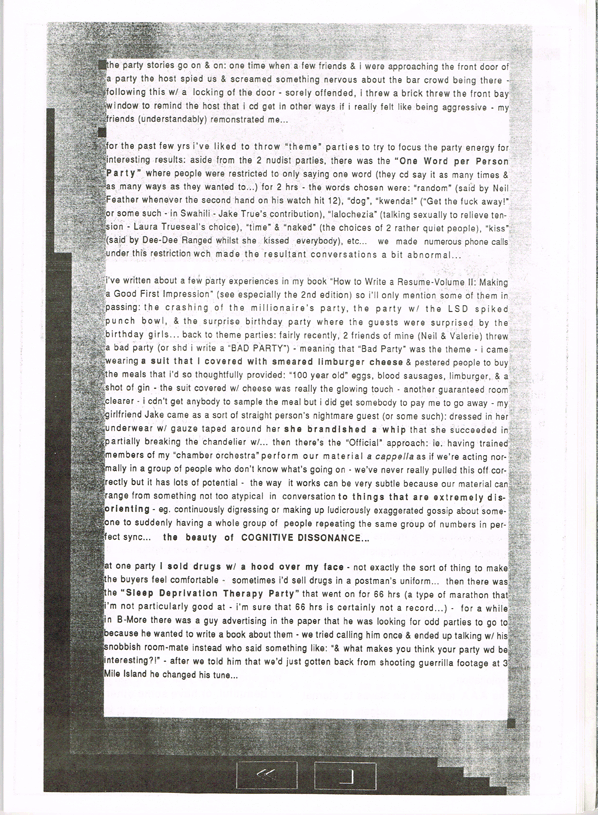 In 2011, I was invited to be featured as "Secretly Famous" in the premier issue of a Providence, RI, based arts magazine called "Outpost". I was asked to provide contact info for friends that the editors could ask questions about me. Doug, being one of my oldest friends, was one of them. Apparently, he didn't have much to say, presumably immersed in his cynicism & negativity, because they only used one very sparse answer of his: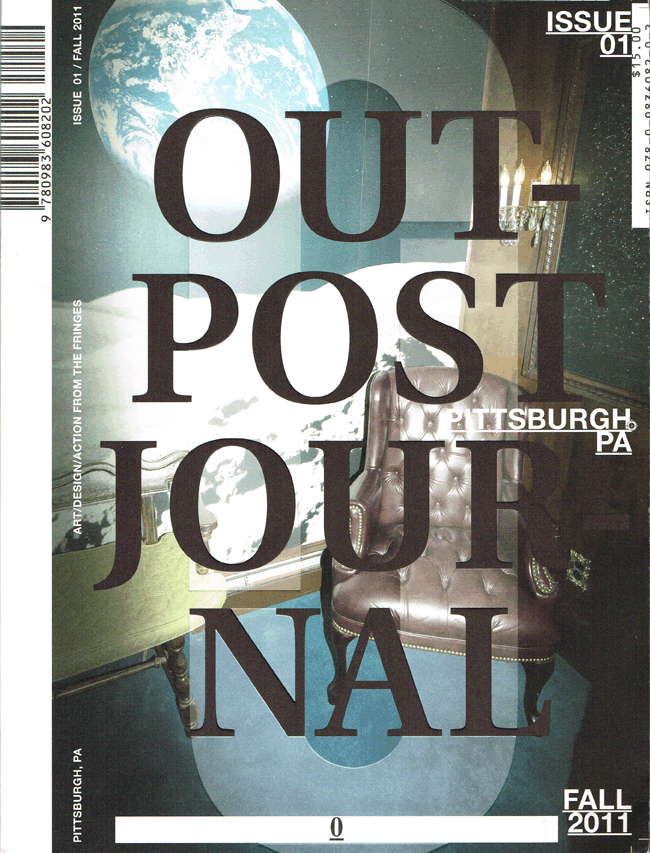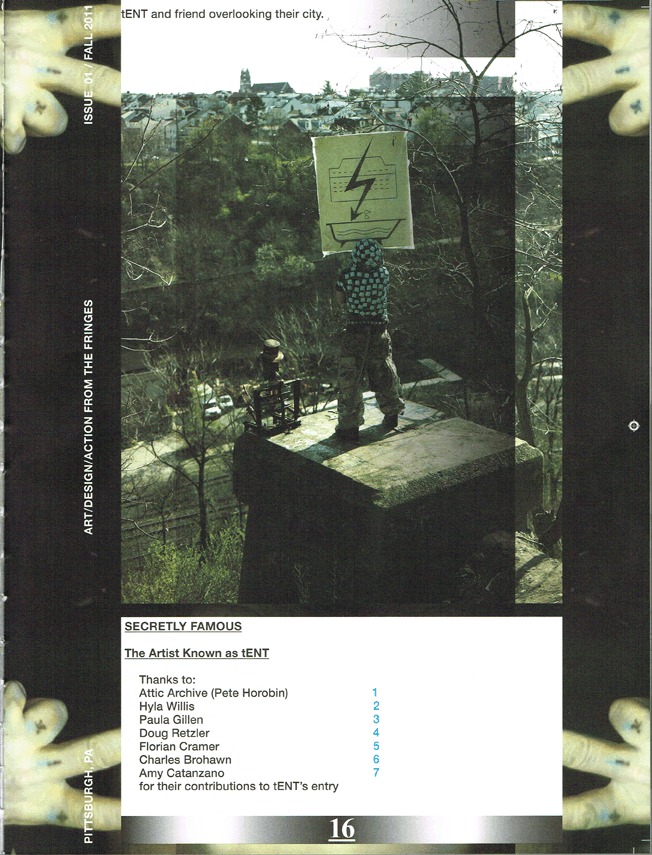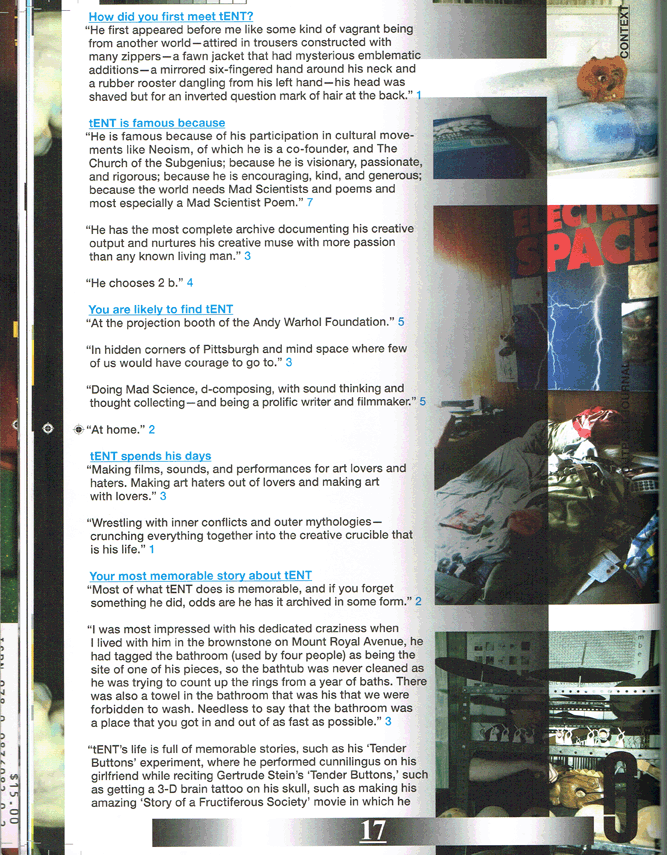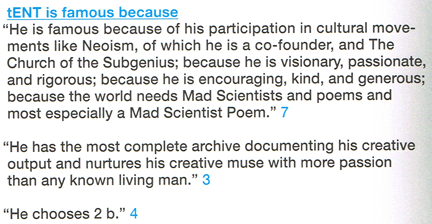 All in all, Doug Retzler is one of the most inspired artist-activists I've ever known & had the honor of collaborating with. These days, as with most aging people who didn't set out to be rich but concentrated instead on less selfish community & environmental work, Doug seems to be somewhat neglected. We live, after all, in a youth-&-money worship culture. May he finally get the credit & support he deeply deserves.
idioideo at verizon dot net
to the tENTATIVELY, a cONVENIENCE Anti-Neoism page
to the tENTATIVELY, a cONVENIENCE Audiography page
to the tENTATIVELY, a cONVENIENCE Bibliography page
to my "Blaster" Al Ackerman index
to the tENTATIVELY, a cONVENIENCE BYOC page
to the tENTATIVELY, a cONVENIENCE Censored or Rejected page
to the tENTATIVELY, a cONVENIENCE Collaborations page
to the tENTATIVELY, a cONVENIENCE (d) compositions page
to Amir-ul Kafirs' Facebook page
to the "FLICKER" home-page for the alternative cinematic experience
to tENTATIVELY, a cONVENIENCE's GoodReads profile
to the tENTATIVELY, a cONVENIENCE Haircuts page
to the tENTATIVELY, a cONVENIENCE Home Tapers page
to the tENTATIVELY, a cONVENIENCE index page
to the tENTATIVELY, a cONVENIENCE Instagram Poetry page
to a listing of tENTATIVELY, a cONVENIENCE's manifestations on the Internet Archive
to the tENTATIVELY, a cONVENIENCE as Interviewee index
to the tENTATIVELY, a cONVENIENCE as Interviewer index
to tENTATIVELY, a cONVENIENCE'S Linked-In profile
for A Mere Outline for One Aspect of a Book on Mystery Catalysts, Guerrilla Playfare, booed usic, Mad Scientist Didactions, Acts of As-Beenism, So-Called Whatevers, Psychopathfinding, Uncerts, Air Dressing, Practicing Promotextuality, Imp Activism, etc..
to the mm index
to see an underdeveloped site re the N.A.A.M.C.P. (National Association for the Advancement of Multi-Colored Peoples)
to tENTATIVELY, a cONVENIENCE's Neoism page
to the DEFINITIVE Neoism/Anti-Neoism website
to the Philosopher's Union website
to the tENTATIVELY, a cONVENIENCE movie-making "Press: Criticism, Interviews, Reviews" home-page
to tENTATIVELY, a cONVENIENCE's Score Movies
to SMILEs
to find out more about why the S.P.C.S.M.E.F. (Society for the Prevention of Cruelty to Sea Monkeys by Experimental Filmmakers) is so important
to the "tENTATIVELY, a cONVENIENCE - Sprocket Scientist" home-page
to Psychic Weed's Twitter page
to tENTATIVELY, a cONVENIENCE's Vimeo index
to Vine movies relevant to tENTATIVELY, a cONVENIENCE made by Ryan Broughman
to tENTATIVELY, a cONVENIENCE's presence in the Visual Music Village
for info on tENTATIVELY, a cONVENIENCE's tape/CD publishing label: WIdémoUTH
to a very small selection of tENTATIVELY, a cONVENIENCE's Writing