2001. zines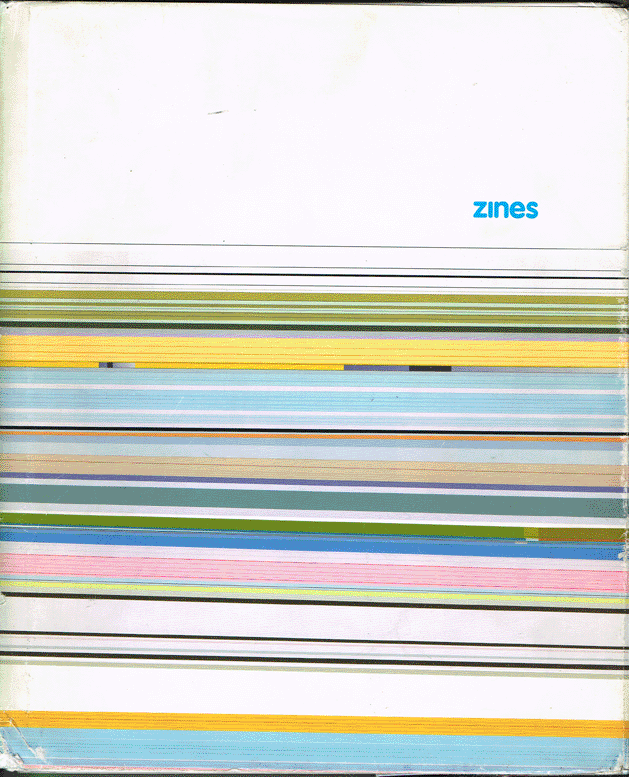 review of
Liz Farrelly, Mike Dorrian, & David Recchia's zines
by tENTATIVELY, a cONVENIENCE - March 3, 2016
full review: Zines & More Zines: https://www.goodreads.com/story/show/422913-zines-more-zines
truncated review: https://www.goodreads.com/book/show/842156.Zines
Writing about this will be.. strange.. Having been involved w/ what's now known as zine culture & in Mail Art since 1978 I've seen both become progressively more historicized & had my 'inevitable' critical slant on the whole business. Who gets included? Who's left out? Why?
In the case of Mail Art there've always been people who cranked out the same old thing over & over & sent them to every damn Mail Art Show just so they cd get their name in the catalog - regardless of whether what they were doing had any relevance to the theme, wch it usually didn't. Such people are far more likely to enter Mail Art history than those of us who were always doing something new under a large variety of names. We were too confusing, interpersonal relations were necessary to even know we existed, We weren't all about spreading ourselves around like a brand name.
A similar thing happened w/ zines. Exemplary Trickster Mail Artist "Blaster" Al Ackerman produced such zines as "The Laughing Postman", "Tarantula Hill Felark Sun = Times Bulletin Newsletter", "White Worm Review", "House Painters' World", "The Edgar Allen Poe Messenger", & "Quack-Quack Stories". Anyone interested in seeing issues of these can go here: http://idioideo.pleintekst.nl/Blaster.html .
Each of Blaster's zines might've been made under different names, some of them implied a large # of issues that didn't exist. Some may've only existed in issues of 1 or 2. The idea was to keep changing. If you had a copy chances were you got it directly from Blaster, they were presents from one wacky conspirator to another, Blaster wasn't trying to get them in every magazine shop in the world, he wasn't trying to be a brand name.
Same thing goes for my own (maga)zines: "Mike Film Form Letter" (8 issues, 1978-1995), "Suggestion Box Residue" (2 issues, 1979 & 2011), "dop e" (1 issue, 1980), "DDC#040.002" (3 issues, 1981-1985), "SMILE" (my 2 issues: 1985 & 1986), "Street Rat" (aka "Street Ratbag" etc) (7 issues, 1999-2004) - they're all very different from each other, you'd have to be very on top of things to even know that they're from the same person. They are NOT attempting to be BRAND NAMES!!
Alas, zines have become much more commercial. One-offs are rare. People know specific zines b/c they've been doing the same thing for decades, they're brand names that have distribution, that're in the ever-increasing zine libraries. I'm glad to see these library collections cropping up but who're the librarians & what're their agendas? If they're feminists are they mainly going to showcase riot grrrrrll zines b/c girls are so cool n'at? Will controversial material be weeded out? IE: not allowed in in the 1st place? Is there going to be an emphasis on punk zines b/c people mainly know of zines thru popular punk culture? & will, ultimately these zines be the higher budget ones, the ones w/ distribution, the ones that were sold by subscription instead of given away as presents to correspondents by proponents of barter culture? In other words, will capitalism triumph? Stay tuned.
When Rita Rodentia & I produced the "Street Rat" we gave away at least 95% of them. Many of them went to fellow political activists, many went to traveler kids who were passing thru. They were tools for political change, seeds of anarchist sedition. Sure we were glad to sell a copy now & then but that was hardly our focus. We weren't trying to produce a 'hip product' that a member of a particular subculture just had to have.
NOW, I still love zines but I've mostly put producing them behind me. There's always something else to be done. The people whose zines are remembered & presented in bks are mostly the people who've been doing the same thing long enuf to be noticed by the people who really aren't in the thick of it, the shoppers. Are any of my publications in bks? How wd I know? It's not like the people who produce these bks are in touch w/ me, it's not like they'd let me know - wch is partially what marks this as a different era. In the days when Blaster & I were whirlwinds of mailing activity, people were coconspirators, friends: of course we'd let each other know!!
SO, I find out about this zines bk 14 yrs after it comes out b/c a friend of mine, Florian Cramer, in the Netherlands sees a copy of it somewhere & recognizes the Street Rat-Bag as one of my things & let's me know via Facebook. SO, something in an edition of 300 has made it into the history. The editor apparently acquired this in a store b/c the image of the cover reproduced has a $3.49 pricetag on it. I have no idea where they might've gotten it from. Chances are, Rita & I didn't put it there, more likely someone we gave it to put it on consignment somewhere. Dunno.
SO, I write to the publishers offering them something in trade & telling them I'll write a review. I have trouble w/ my computer, w/ my internet, maybe they never got the email. Whatever the case, I get no reply. My anarchist zine has entered the big business of the art world. How do I feel about that?
On the one hand, I'm glad, I'm glad that the material is being spread beyond its limited run. On the other hand, I'd rather be friends w/ the editor, w/ the publisher. I'd rather feel a personal connection - wch is so much what it's always been about for me anyway. I buy a used copy online, it's ridiculously cheap, the bk's very well-produced, it's worth far more than what I pd for it so I certainly can't feel too ripped off to be buying something that I have something in, something that under more typical zinester circumstances I'd expect a comp copy of.
In the back of zines there's a list of 24 other zine-related bks. That's nice of them to provide this, in what I consider to be the spirit of things. Of these 24, 4 are by V. Vale, editor of Search & Destroy & Re/Search. I respect V. Vale. One is by Tom Vague. I respect Tom Vague. One is by Mike Gunderloy. I respect Mike Gunderloy. One is by someone whose name I won't mention. I highly distrust this person as a slumming opportunist. I don't know most of the other people.
zines presents blurbs about 5 predecessors that include "Oz", a publication I've been long since familiar w/ "Oz" b/c I read a 1971 bk by Tony Palmer called The Trials of Oz about their legal persecution. I'm glad to see "Oz" in zines. After that there're 76 other zines represented, in some cases by 2 or 3 issues. These are from the UK, USA, The Netherlands, Australia, Canada, Japan, Belgium, Spain, & Germany. Thanks to the creators of this bk for their internationalism.
Of these 81 zines, I was previously at least slightly familiar w/ only SIX of them. That's not many. On the one hand, I'm glad to become aware of the other 75; on the other hand, it's indicative of several things: most of these zines are from an era of less interest to me than what was for me a pioneering era: the 1980s, many of these zines were chosen for their graphic qualities, wch I also enjoy but consider less important than other content foci. 3 of these zines, from the proto section, are from the '70s. 48 of them are from the '90s. The rest are from the early 2000s. Of course, there are some that cross decades, one of wch, "Atlas", was from 1987-1993.
In the online promotional blurb for V. Vale's Zines - Volume 1 the bk is described thusly:
"This is the first comprehensive guidebook to the Zine Movement of self-publishing which started anew in the early 1990s, and continues with Internet blogs and publications like Found. Used in college classes, this how-to volume covers all aspects of self-publishing, including layout and design, promotion, marketing and distribution. Historical background covers everything from Benjamin Franklin's Poor Richard's Almanack to the science-fiction mimeographed zines of the 20s. Zines are independent, not-for-profit publications that counter the corporate monoculture of mainstream media, and are thus instrumental in keeping the torch of liberty and freethinking burning. Some very funny stories and illustrations punctuate this alternative-culture document from the underground."
I have great respect for V. Vale, his publications were/are scholarly & visionary - but V. Vale is definitely also a businessman - so I'll read between the lines here & pick out the business hype from "the torch of liberty and freethinking" & make my call on what this means in relation to the era that zines represents. Is Zines - Volume 1 really "the first comprehensive guidebook to the Zine Movement"? Well, it's from 1996 & Mike Gunderloy & Janice Cari Goldberg's The World of zines, a guide to the independent magazine revolution is from 1992. Gunderloy's "Factsheet Five" was far more important to me than V. Vale's publications so I'd grant it primacy. I reckon the accuracy of Vale's claim depends on how one defines "comprehensive guidebook".
"publications like Found": Ok, I like "Found", I have an issue. But like Vale's publications, it's slick, obviously well-funded & distributed, it's commercial & NOT the 1st publication of its kind: Bern Porter's much more ground-breaking bk entitled Found Poems published in 1972 by Dick Higgins's Something Else Press deserves more credit there.
"Used in college classes, this how-to volume covers all aspects of self-publishing, including layout and design, promotion, marketing and distribution." This, to me, is a key sentence. "Used in college classes" tells us that the bk is targeted at the very lucrative university circuit. As a former bkstore owner, &, therefore, as someone familiar w/ the business, I've always been nauseated by what a rip-off university bkstores are: students are required to get certain bks & then price-gouged out the wazoo, it's a racket.
"how-to volume": One of the thrills, & vital learning experiences, of producing a zine, again from my POV, is making it up as you go along - what Vale offers here is like what people go to business school for, it's not DIY, it's Zines for Dummies. I haven't read Vale's zine bks so I can't say for sure but I seriously doubt that he gets into things like: Why wd anyone want to produce a zine called "House Painter's World" & have what's probably its 1st issue be numbered as "86"?
"marketing and distribution"?: What about not marketing it at all? What if the essence of "marketing" is the essence of all advertising? To brainwash consumers? Where's "the torch of liberty and freethinking" in that? We're not talkin' Abbie Hoffman's Steal This Book here. As my friend Karen Eliot says, it's more Blind Authority Manipulation Corporation.
SO, at 1st I thought zines was going to be like what Vale's unfortunately come to represent for me: a shallow look at the surface of something the potential depth of wch is lost in marketing hype. After all, it is. basically, an art bk. The inside front cover blurb says:
"Like no other book on this media phenomenon, Zines present contemporary examples of self-published projects from around the world - covering every genre of subject matter and formatting innovation - to create a vivid, yet analytical account of D-I-Y publishing."
& in the usual place behind the title page there's the usual business-speak: "No part of this publication may be reproduced or transmitted in any form or by any means, or stored in any retrieval system of any nature without prior written permission of the copyright holder" w/ the copyright holder being "Booth-Clibborn Editions 2001".
NOW, do you think that Booth-Clibborn asked the editors of the Street Rat-Bag for permission to reproduce the cover & a sample page of our (maga)zine? Of course not! So it's a little hard for me to take their "copyright" seriously. Nonetheless, I'm fine w/ their use of our material, if it's in the copyleft tradition.
I haven't seen enuf of the zines bks to know whether this particular zines bk is as unique as its ad blurb claims but my impression is that it might very well be. It's obvious that the editor looks for zines in her travels & picks ones w/ a connoisseur's eyes. EG: if she'd run across them, I suspect she wd've picked "Boxcar", "Egozine", & "Sluggo!" - 3 of my personal favorites. There are SO MANY! I have thousands. I hope to at least put scans of their covers online someday.
The introduction says: "Our aim with this book is to highlight the graphic language of zines, small press and independent publications, and present it to a larger audience than may usually get to see such underground editions. Culled from travels around the globe, we think we've found some choice examples, but we're not claiming to offer a comprehensive overview, as the world of self-publishing is huge and varied, shifts like quick sand and has a long and intricate history, which a number of academic scholars are in the process of unravelling." &, yes, I think that's an accurate & admirable description. I'm not so sure about the qualifications of the "academic scholars" tho. To me, being a participant is the key thing - you don't understand DIY if you aren't DIY yrself.
"We've tried to include examples from across the genres of zine publishing, alongside a host of one-offs from regular self-publishers who are active right now. A quick trawl of zines currently on offer makes mainstream magazine racks look boring and restrictive."
BRAVO! Regarding the latter, consider this: There once was a literary (maga)zine named "RAMPIKE". It was published from 1979-2015. In its final issue, its editor, Karl Jirgens, notes that: "In 1979, I talked with Stan Bevington at Coach House Printing, and we devised an 18 inch tall by 6 inch wide format, in keeping with the "rampike" concept. Coach House has done wonderful work printing this magazine from the start, including this final issue. The original "tall" format sold exceedingly well, and we quickly found distributors on four continents. However, in the mid-90s many independent bookshops fell victim to big box stores, and the big boxes refused to sell out "tall" format, claiming that it didn't fit their inventory. They insisted that they would not carry Rampike unless we published in a more conventional shape. The somewhat narrow format of the issue you hold in your hands today is a compromise, a gesture to our earlier "tall" Rampike shape." (RAMPIKE 24/1, p 3) The "narrow" shape being 11" tall X 6.5" wide.
The above story illustrates the often unseen nature of how commerce negatively effects creativity. When you're producing for a market that you're seeking distribution for at some level yr imagination is going to be reigned in by the "big box", by what's convenient for the big money. Hence "Re/Search" & "Found", excellent tho they may be, are 8.5 X 11" & w/o any hand-done touches. They are commodities before they're art objects, they're bound by restrictions that most people seem to take for granted.
Eventually, these irrelevant restrictions run the risk of defining what they restrict: ie: a person might not even accept something far outside the big box as a (maga)zine if it doesn't conform to the irrelevancies. If a (maga)zine were printed on toothpicks I'd be delighted but an unimaginative consumer might not accept it as a (maga)zine even if it were to be produced periodically under a recurring name. I have yet to read an issue of "McSweeny's" & don't know how far outside the big box they are in terms of content but they at least seem to be swimming imaginatively upstream against the conventional formatting restrictions from time-to-time. They must have serious funding behind them but probably more than yr average dose of love too. Whether they deserve to be lumped in w/ zines is a subject for another essay.
The structure of zines is such that there's an introductory section w/ thumbnails showing the binding nature of the specified zine w/ a reference number to direct one to relevant section followed by the name of the zine, the creators of it, the format, the material, the "TIME_PLACE", & the publisher. This is then sometimes followed by URLs &/or email contact & by an explanatory blurb. B/c these are located in a section before what they reference, the design is conducive to experiencing the zine samples as artworks outside of context. I think the designers did a good job w/ this, the bk is very successful as eye candy. However, since I prefer a different type of content to eye candy I strongly suggest making sure to read the blurbs at some point. These blurbs are like footnotes - except that they come 1st & not at the bottom of the pages or at the end of the bk as endnotes. Does that make them beginningnotes? Handnotes? Headnotes?
Fortunately, I think zines really does live up to its claim of including "examples from across the genres of zine publishing" but the overall design aesthetic is so strong that that might be lost if one doesn't read the headnotes. EG: if you didn't read that "X-RAY 8" comes in a box you might not realize that the elements from it shown on its 2pp spread were all separate objects & not laid out as they are in this bk.
I definitely have to give the editor credit for choosing zines of a variety of creative formats that wdn't be seen on "mainstream magazine racks":
"Atlas" (1987-1993) was made of "mixed stock", ie: loose materials in a folio?
Precursors for this wd be such marvelous publications as "Dreamweapon / Aspen #9" (1970) edited by Angus & Hette MacLise (you can see a little of that here: http://idioideo.pleintekst.nl/mmm055.html ) & cris cheek's "RAWZ two 1/2" (April 1979).
"X-Ray" (2001) loose materials in a cardboard box
"Cactus Network" (1995) screen printed cardboard case
"Dennis" (2001) wooden box
"Fuel Price Matches?" (2000) matchbox
"Name" (1996) paper bag
"What you don't know can't hurt you" (1994) this appears to be a scroll
"Arkitip" (2000) corrugated cardboard
Alas, her copy of my copublication "Street Rat-Bag 3" was apparently a copy w/o the CD-R in an envelope in the back or that might've been worth mentioning
"Monk Mink Pink Punk" (1999) tin foil, mixed media
"106u" (1997) fun fur
"Bursts" (1998) photo album
A precursor to this one being Misao Kusumoto's "Hagaki Magazine - On Air" (1985).
"PHK Blue Bag Issue" (1994) mixed stock, plastic bag, confectionary knickers
"PHK Lowlifepunkscum" (1994) plaster bag, stickers, poster
"Untitled" (2000) mixed stock, plastic bag
"Shift! Meat/Flesh" (1996) mixed stock, meat hook
"Mad Woman's Breakfast" (2001) wallpaper, plastic flowers, colored paper, gold thread
etc, etc.. You get the idea. She even includes Mark Pawson's "Die-Cut Plug Wiring Diagrams" bk even tho it's probably more accurately described as an artist's bk & I support this b/c Mark's right in the thick of zine production & has been for decades. She also includes "Cactus" wch started off as an Assembling. I loooovvvvveee assemblings & miss contributing to them. For those of you not familiar w/ them, they're publications to wch every contributor makes a predetermined number of submissions - typically 100 of something w/in a specified size restriction. Such a method of accumulating contents assures a variety rarely matched.
I've personally contributed to "Signatures: Baltimore Artists' Books Catalogue" (1980), "Thermos" (Volume 1, Number 5, March 1983), "Bambù" (no. 7, May 1983), "Data File - Animals issue" (1983), "A Trip to Akademgorod" (Jan/Feb 1984), "LEVEL" 7 (1984), "Religion in America" (1985), "Total" 4 (May 1985), "Hagaki Magazine - On Air" (1985), "Transparent SMILE - Monty Cantsin Performing with White Colours" (1985) (my own editorial contribution to the genre), "COPY-LEFT" 9 (1994), "Tensetendoned" 35 (November 1997), "Pandora's Box" (August 1999), & "MandRagora" (November 1999). Some of these were truly splendid. I think of etta cetera's "Pandora's Box" in particular. I miss assemblings, not having participated in one since 1999, anyone know of any out there?
"X-Ray" (2001) lists some fairly famous contributors such as Hunter S. Thompson. Then again, Richard Brautigan was one of these & he was dead by 1984, 17 yrs before this issue, so I reckon these people weren't necessarily "contributors".
"Name", the "Ownership" issue raises these questions:
"1. Is imitation flattery when it's your livelihood on the photocopier?
2. To what extent can you claim ownership over both the styles and trends you create and those you appropriate?
3. Can design ever truly be the property of the creator?"
Discuss. Have you ever noticed that the people most likely to NOT have an original idea are the most likely to promote plagiarism? Have you ever noticed that the people least likely to be involved in primary creative experiences are the most likely to say no-one can have an authentic accurate view of those experiences? In other words, let's say you're part of a group of poor people who co-conspire to create something under conditions of general neglect & lack of interest outside the group. Now let's say that someone not in the group, who's wealthy, decides to associate themselves w/ this creation & in the process becomes the primary person associated w/ it while the actual originators disappear in impoverished obscurity. Now let's say that someone who's actually one of the originators points this out. Is it 'valid' to say that such a person's viewpoint is philosophically invalid b/c no-one can really 'know' the origins of something? I find that some philosophies, under the guise of radicalism, are actually just more business-as-usual exploitation.
"Please shut up Madame" is credited to "Karen Eliot, Don Davenport, Shawna Virago and Elvis Johnson". It's quite possible that all these names are 'in-jokes'. "Karen Eliot" is a collective identity used by many, "Don Davenport" is presumably a variation on the John Waters character played by drag-queen Divine called "Dawn Davenport"; the other 2 names seem like pop culture references I don't completely get.
"The Chap" has a hilarious article entitled "The Semiotics of Drinking" attributed to "Howard Spent":
"Some years ago now, in the heady days that might loosely be referred to as my "youth", to my eternal shame I used to frequent one of the more louche drinking holes in the heart of Soho. Of all the soiled and tragic habituéz o this resort, one member of the throng sticks in my mind to this day. Unfortunately, I never discovered his name but his essence still haunts my soul to its innermost core. As a budding observer of the human condition, his attitude struck me at once as epitomizing the triumph of laconicism over adversity. Constantly in a stet of alcoholic ineptitude, he would wonder about the pub enunciating but one intelligible word. that word was "Shostakovich". It seems that through the course of a cultured and no doubt rich life, this fellow, faced with impending alcoholism had gradually condensed his entire existence, with its aspirations and triumphs, into a simple four syllable expression. To some this may have seemed a failure, but to me it represented an achievement close to Zen enlightenment. The masterful selection of one sibilant word, easily pronounceable in a state of advanced intoxication but at the same time of high cultural value, iongled him out as a fellow journeyman of erudition and panache."
Ross Priddle is one of the only people represented here that I've had even slight contact w/. Boy am I out of the loop. Despite my knowing his name, I've never heard of or seen his "Mo'Gumbo". Too bad.
"Blow" features something called "I.MARRIED.A.CHIPPENDALE". Since I wasn't previously familiar w/ the term "Chippendale" except as a furniture reference I looked it up: "Chippendales is a touring dance troupe best known for its male striptease performances and for its dancers' distinctive upper body costume of a bow tie and shirt cuffs worn on an otherwise bare torso." ( https://en.wikipedia.org/wiki/Chippendale_dancer )
"Street Rat-Bag" #3 was my anarchist (maga)zine coedited w/ Rita Rodentia (& in the case of the 1st issue w/ Will Rat for Iraq). zines reproduces the front cover & one page of Rita's "Money Schmoney - Alternative Currencies" RATicle. Rita & I codesigned the cover & I provided images of oddball currency for Rita's collage. The time place is credited as "2001_CANADA" but, Hey!, while that's wrong it's no wonder that they didn't get it right b/c the publication was made at a time when we were very internationally active so it's 'all over the map'. So, to set the record straight: "October 2000, Pittsburgh, is@". In the long run, I'm honored that the editor chose to include something by us & happy that it's so flagrantly political.
The design of zines was done lovingly & creatively by Mike Dorrian & David Recchia & I reckon the publisher deserves credit for backing their lavishness. EG: the paper types change: "038Z" has blue ink on white paper on the left & black ink on a blue cardstock on the right. "051Z" has glossy color on the left while a newsprint section starts on the right. In the midst of the newsprint section (at least in my copy) a smaller insert of high contrast pictures of Bruce Lee appears. In general, I don't think many people are going to get bored w/ the sheer materiality of this while leafing thru it.
The "Street Rat-Bag" isn't the only overtly political thing. "kachina" 23 has statistics in the form of flags. EG: "AVERAGE SENTENCE FOR A FIRST TIME DRUG OFFENDER: 6.9 YEARS. AVERAGE SENTENCE FOR A FIRST TIME OFFENSE CONVICTED OF MANSLAUGHTER: 2.2 YEARS." These words are arranged like the stripes on the American flag w/ stars hand drawn in the upper left. This is one of my favorite pieces in the whole bk.
"Temp Slave"'s blurb reproduces an essay from the issue. It begins: "I despise work. It's not that I'm lazy or that I hate the idea of working. There are plenty of good things worth working for. What I dislike is the institution of work. In these days of falling living standards, lower expectations, dead end jobs and temp work, the workplace is increasingly becoming a hostile place." the page image reproduced in their section shows 2 people in a trash can w/ a sign on the side that reads: "A MESSAGE FROM MANAGEMENT Will the Last Worker Fired From Their Job, Please Turn Out The Lights, And Take Out The Garbage."
"Claremont Road the End of the Beginning" is a zine about the eviction of a squat. It's claimed herein that the eviction cost the British government millions of pounds & the photos are pretty convincing that it must've been expensive. Need I say? the millions of pounds cd've probably been more positively spent, eh?!
"Vertigo" from Erica Smith is about one of my favorite subjects: Pirate Radio. People interested in some of my own experiences w/ Pirate radio might enjoy these recordings available from the Internet Archive: https://archive.org/details/Radio1999 , https://archive.org/details/Radio2001 , https://archive.org/details/Radio2004 .
"Monk Mink Pink Punk" has an impressive list of contributing sound artists that includes John Hudak, Alison Knowles, Francisco Lopez, Iancu Dumitrescu, and Ana-Maria Avram. Those are the names I recognize. For the sake of mentioning someone whose name I don't recognize: Brekekekexkoaxkoax.
"Shift!" is blurb-introduced thusly: "Each themed issue of shift! is compiled from contributions received after a call for entries postcard is distributed to a large mailing list. then the fun starts, as the format within which the various graphics, illustrations, collage, photography and writing to appear, imaginatively mirror that theme. hence Meat/Flesh came wrapped in brown paper punctured with a meat hook, the Heat issue opened like a giant matchbook and the Food issue was printed as a collection of recipe cards housed in a plastic sandwich box, complete with free seeds."
"Infiltration" was the zine about urban exploring. I tried corresponding w/ its editor, Ninja/Jeff, many yrs ago but never rc'vd a reply. I suspected at the time that he found my being in the newspapers as an urban explorer against his grain of anonymity.
"Jeff Chapman (September 19, 1973 ­ August 23, 2005), better known by the pseudonym Ninjalicious, was a Toronto-based urban explorer, fountaineer, writer and founder of the urban exploration zine Infiltration: the zine about going places you're not supposed to go. He was also a prominent author and editor for YIP magazine, as well as its website, Yip.org.
"Chapman died of cholangiocarcinoma, which doctors believed was most likely caused by his urban exploration, on Tuesday, August 23, 2005 - three years after a successful liver transplant at Toronto General Hospital (a location he loved to explore). He was 31 years old." - https://en.wikipedia.org/wiki/Ninjalicious
I've heard tales of toxic waste being encountered in the basement of an abandoned bldg in Toronto. I don't know if that anything to do w/ his death. 31, what a drag.
All in all, yeah, I like this bk very much & I'm glad to be represented in it. It makes me want to get back in the zine loop (but I doubt that I ever will - I've just got too many other things to do). All hail my cumRATs in zinedom!
idioideo at verizon dot net
to the tENTATIVELY, a cONVENIENCE Anti-Neoism page
to the tENTATIVELY, a cONVENIENCE Audiography page
to the tENTATIVELY, a cONVENIENCE Bibliography page
to my "Blaster" Al Ackerman index
to the tENTATIVELY, a cONVENIENCE BYOC page
to the tENTATIVELY, a cONVENIENCE Censored or Rejected page
to tENTATIVELY, a cONVENIENCE's Collaborations website
to the tENTATIVELY, a cONVENIENCE (d) compositions page
to Amir-ul Kafirs' Facebook page
to the "FLICKER" home-page for the alternative cinematic experience
to Gifs made by Ryan Broughman
to tENTATIVELY, a cONVENIENCE's GoodReads profile
to Graffiti index
to the tENTATIVELY, a cONVENIENCE Home Tapers
to the tENTATIVELY, a cONVENIENCE index page
to tENTATIVELY, a cONVENIENCE'S minimal International Union of Mail Artists page
to a listing of tENTATIVELY, a cONVENIENCE's manifestations on the Internet Archive
to the tENTATIVELY, a cONVENIENCE as Interviewee index
to the tENTATIVELY, a cONVENIENCE as Interviewer index
to tENTATIVELY, a cONVENIENCE'S Linked-In profile
for A Mere Outline for One Aspect of a Book on Mystery Catalysts, Guerrilla Playfare, booed usic, Mad Scientist Didactions, Acts of As-Beenism, So-Called Whatevers, Psychopathfinding, Uncerts, Air Dressing, Practicing Promotextuality, Imp Activism, etc..
to the mm index
to see an underdeveloped site re the N.A.A.M.C.P. (National Association for the Advancement of Multi-Colored Peoples)
to tENTATIVELY, a cONVENIENCE's Neoism page
to the DEFINITIVE Neoism/Anti-Neoism website
to the Philosopher's Union website
to the tENTATIVELY, a cONVENIENCE movie-making "Press: Criticism, Interviews, Reviews" home-page
to tENTATIVELY, a cONVENIENCE's Score Movies
to SMILE
to find out more about why the S.P.C.S.M.E.F. (Society for the Prevention of Cruelty to Sea Monkeys by Experimental Filmmakers) is so important
to the "tENTATIVELY, a cONVENIENCE - Sprocket Scientist" home-page
to the Tattoos index
to Psychic Weed's Twitter page
to tENTATIVELY, a cONVENIENCE's Vimeo index
to Vine movies relevant to tENTATIVELY, a cONVENIENCE made by Ryan Broughman
to tENTATIVELY, a cONVENIENCE's presence in the Visual Music Village
for info on tENTATIVELY, a cONVENIENCE's tape/CD publishing label: WIdémoUTH
to a very small selection of tENTATIVELY, a cONVENIENCE's Writing