2010. a HUNDRED POSTERS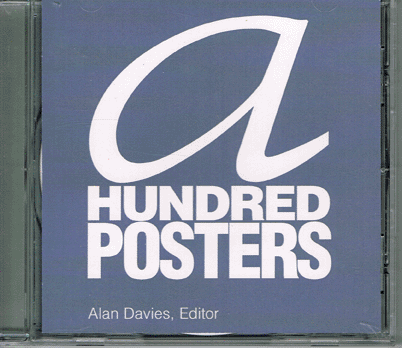 review of
Alan Davies's A Hundred Posters
by tENTATIVELY, a cONVENIENCE - June 27, 2010
http://www.goodreads.com/book/show/8512148-a-hundred-posters
Near the end of an interview with Lyn Hejinian by Craig Dworkin, originally published in Idiom #3 (Berkeley: 1995) (& available online as "Roughly Stapled" @: ) the following exchange occurs:
"CD: As the same writers and same works which Tuumba announced start to be picked up and re-printed by larger small-presses, like Sun & Moon, or by anthologies like the new Norton Postmodern, what at one point might have been described as a coterie poetry has the chance to reach a larger audience - how do you see that change?
LH: I think it's problematic. It's a problem for us. You've used the phrase "the coffins of poetry" before to describe the Norton Anthologies, but I've been thinking of it more as a brick in the mausoleum. Or, more troubling, a brick in a monument. Both the big Messerli anthology and the Norton have the overt ambition to define and historicize a lot of activity, and they're going to do that. They are going to be, for a long time now, the avenue through which people come to understand and be exposed to this work. That may be good for your generation: there it is, that's history, now we can get on with what we're doing. But for me, the big challenge is to remember that this story is not adequate, that it's not the whole story, that these books don't feel like what it really was - they don't really show it."
In the 1st issue of "Oculist Witnesses" (Summer 1975, Editor: Alan Davies), I find no explanation of the magazine's title but the front cover has a drawing of a hand holding a magazine called "Oculist Witnesses" to a mirror in an 'infinite' regress.
In the 36th issue of "a HUNDRED POSTERS" (December 1978), Nick Piombino presents the following quote (p4) from [presumably Sarane:] Alexandrian regarding Marcel Duchamp:
"The Large Glass is a visible reminder of extraordinary research...
He silvered over that part depicting 'oculist witnesses'..."
If, as Hejinian says, "that these [large distribution historifying poetry compilation:] books don't feel like what it really was - they don't really show it." then perhaps the reader shd be referred to this data-CD compilation of all 40 issues of "a HUNDRED POSTERS".
The 1st issue of "a HUNDRED POSTERS" came out in January of 1976 edited by Alan Davies & published by Rebecca Muller - who went on to publish the next 30 issues. "a HUNDRED POSTERS" was a cheaper & easier to mail publication than "Oculist Witnesses" & was published as such to enable Davies & Muller to have a mnthly poetry magazine that cd be folded twice & then mailed to, at 1st, 100 recipients, &, then, later, to 300.
Most of the work is typed (Britton Wilkie's calligraphy stands out) & the scans presented in this CD don't bother to neaten the commonly skewed text. The full issues are presented - wch means that the return addresses & mailed-to addresses are shown. These present Muller as somewhat stable in Massachusetts & Davies as moving from MA to Canada, to Boulder, to NYC - where Segue eventually takes over helping w/ the publishing & mailing.
The pages are often yellowed in the scans &, sometimes, inexplicably, gray. All of wch is as it shd be if the reader's to get a feel for the low-budget contexts in wch much writing often appears = before writers get anthologized in the nice, neat package of Norton.
&, indeed, who these writers are is very, very interesting. In chronological order:
Rando Bottosto; John Yau; Jay Boggis; Steve Malmude; Mani Leib; John Wieners; Alan Davies; Anthony Barnett; Mary Lane; Bill Corbett; Bill Berkson; Richard Dillon; Ted Greenwald; Paul Hannigan; Lewis Warsh; Stephen Jonas; William Scharf; Ann Kim; Barrett Watten; Terence Winch; Robert Hampson; Jack Kimball; Charlie Vermont; Tim Reynolds; Ron Silliman; Donald Quatrale; John Levy; Charles Bernstein; Tapa Kearney; Rosemary Waldrop; S. Fox; Marc Weber; Fanny Howe; Rachelle Bijou; Aram Saroyan; S. R. Lavin; Britton Wilkie; Bob Arnold; Tom Ahern; Charles North; Ed Sanders; George Bowering; Paul Metcalf; Peter Philpott; Tim Longville; Anne Waldman; Paul Auster; Janine Pommy Vega; Ray DiPalma; Arthur Winfield Knight; Kit Robinson; Paul Grillo; Anselm Hollo; Christopher Dewdney; Michael Davidson; Dave Morice; Rae Armantrout; Albert Glover; Iven Lourie; Andrei Codrescu; David McFadden; David Highsmith; Michael Gottlieb; Stephen Emerson; Larry Fagin; Allen Ginsburg; Arthur Winfield Knight; Paul Green; Stuart Mills; Rebecca Wright; Michael Andre; Bob Perelman; Susan Howe; Michael O'Brien; James Sherry; Mark Willis; Steve Benson, Peter Seaton; Ray DiPalma; Hannah Weiner; Nick Piombino; Larry Eigner; Lyn Hejinian; tENTATIVELY, a cONVENIENCE
Some of these writers will be familiar to most English-speaking readers of poetry: Allen Ginsburg, Ed Sanders, Anne Waldman, Andrei Codrescu, Paul Auster.. Others are somewhat well-known in smaller circles: Ron Silliman, Charles Bernstein.. Others are probably better known amongst poets than I realize. &, perhaps not surprisingly to those of us critical readers who don't equate popularity w/ creativity or intelligence, some of these more well-known writers produce here what I consider to be less-inspired poetry: I've marked Codrescu's poem as "very 'typical' stuff" & was annoyed by Bernstein's seemingly gratuitous use of cApitlaZATion (we all have our bad days).
But, then again, the less well-known writers were sometimes equally as unimpressive for me at times. BUT THEY ARE THE EXCEPTIONS. Reading thru all 454 pp of this I find it mostly invigorating. &, yes, nostalgic. There's some formal variety - although visual & concrete poetry are conspicuously absent & much of the double-spaced work reeks of "I can apply for an NEA grant w/ this!" but, the main feeling for me is that of a community of people TRYING to do SOMETHING w/ language.
I imagine a group of people positioned at the bottom of a vast well. They have grappling hooks of hand-made variety. In each issue, they toss their grappling hooks toward the distant sky, hoping to climb out. Each hook hits & sticks to a different place. Maybe a few people decide to join forces, to tie their ropes together, to throw together, to climb & throw from different positions. Maybe someone realizes that the well they're in is a cylinder that can spin on a central shaft that's placed midway up & that pierces the shaft perpendicularly & that gradually displacing the weight from the bottom will cause the whole shebang to turn 90 degrees. Whatever the case, the human/writerly condition is at work, trying, perhaps as always, to liberate itself further.
Ron Silliman's excellent entire issue essay (#14 February 1977) entitled "DISAPPEARANCE OF THE WORD, APPEARANCE OF THE WORLD" is phenomenally scholarly & visionary for the time. Tim Reynolds' farming diagram was a nice change; some of Richard Dillon's work had drawings &/or a photo; Paul Metcalf references some history of the Potowmack River; Ginsburg writes in the style of Poe; Lewis Warsh provides some underwater data; Steve Benson & Barrett Watten both write pieces under the name of "Non-Events" in issue 35 (November 1978); Michael Gottlieb begins his solo issue (#39 October 1981) w/ a litterbag "Drive Safely" graphic; & I (tENTATIVELY, a cONVENIENCE) provide a "resumé" not likely to EVER get me a job or a grant.
Those interested in the shaping of "Language Writing" will find it taking place here as well as anywhere else that may be better known for this - esp as the issues become more single-poet focused from issues 31 (July, 1978 - Boston, MA / NYC, NY - 14pp: Peter Seaton) -on.
&, again, in the 36th issue of "a HUNDRED POSTERS" (December 1978), Nick Piombino presents another 'explanatory' quote (p11) - this time from the poet Mallarmé:
""A hundred posters absorbing the gold not understood of days, a treason of the letter, have fled..." Mallarme, "La Gloire""
idioideo at verizon dot net
to the tENTATIVELY, a cONVENIENCE Anti-Neoism page
to the tENTATIVELY, a cONVENIENCE Audiography page
to the tENTATIVELY, a cONVENIENCE Bibliography page
to my "Blaster" Al Ackerman index
to the site that lists the Books that tENTATIVELY, a cONVENIENCE has something in or is mentioned in
to the tENTATIVELY, a cONVENIENCE BYOC page
to the tENTATIVELY, a cONVENIENCE Censored or Rejected page
to tENTATIVELY, a cONVENIENCE's Collaborations website
to the tENTATIVELY, a cONVENIENCE (d) compositions page
to Amir-ul Kafirs' Facebook page
to the "FLICKER" home-page for the alternative cinematic experience
to Gifs made by Ryan Broughman
to tENTATIVELY, a cONVENIENCE's GoodReads profile
to Graffiti index
to the tENTATIVELY, a cONVENIENCE Home Tapers
to the tENTATIVELY, a cONVENIENCE index page
to tENTATIVELY, a cONVENIENCE'S minimal International Union of Mail Artists page
to a listing of tENTATIVELY, a cONVENIENCE's manifestations on the Internet Archive
to the tENTATIVELY, a cONVENIENCE as Interviewee index
to the tENTATIVELY, a cONVENIENCE as Interviewer index
to tENTATIVELY, a cONVENIENCE'S Linked-In profile
for A Mere Outline for One Aspect of a Book on Mystery Catalysts, Guerrilla Playfare, booed usic, Mad Scientist Didactions, Acts of As-Beenism, So-Called Whatevers, Psychopathfinding, Uncerts, Air Dressing, Practicing Promotextuality, Imp Activism, etc..
to the mm index
to see an underdeveloped site re the N.A.A.M.C.P. (National Association for the Advancement of Multi-Colored Peoples)
to tENTATIVELY, a cONVENIENCE's Neoism page
to the DEFINITIVE Neoism/Anti-Neoism website
to the Philosopher's Union website
to the tENTATIVELY, a cONVENIENCE movie-making "Press: Criticism, Interviews, Reviews" home-page
to tENTATIVELY, a cONVENIENCE's Score Movies
to SMILE
to find out more about why the S.P.C.S.M.E.F. (Society for the Prevention of Cruelty to Sea Monkeys by Experimental Filmmakers) is so important
to the "tENTATIVELY, a cONVENIENCE - Sprocket Scientist" home-page
to the Tattoos index
to Psychic Weed's Twitter page
to tENTATIVELY, a cONVENIENCE's Vimeo index
to Vine movies relevant to tENTATIVELY, a cONVENIENCE made by Ryan Broughman
to tENTATIVELY, a cONVENIENCE's presence in the Visual Music Village
for info on tENTATIVELY, a cONVENIENCE's tape/CD publishing label: WIdémoUTH
to a very small selection of tENTATIVELY, a cONVENIENCE's Writing