2013. Incite Journal of Experimental Media Issue #4 Exhibition Guide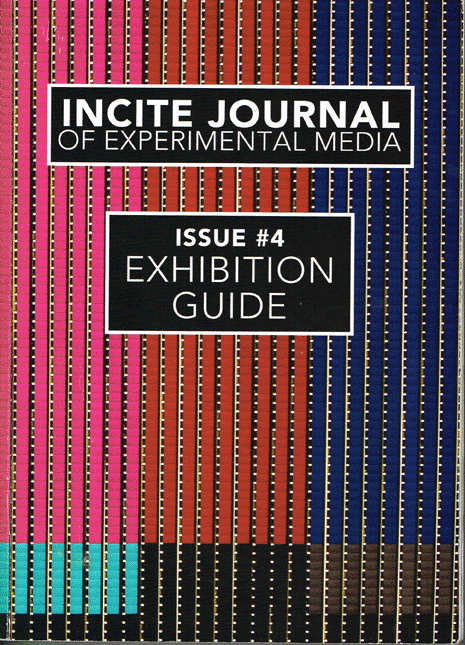 "Meantherthal(s) in Motion (Pictures), the pre-se-quel"
review of
INCITE JOURNAL OF EXPERIMENTAL MEDIA - ISSUE #4 EXHIBITION GUIDE edited by Brett Kashmere & Walter Forsberg
by tENTATIVELY, a cONVENIENCE - November 27, 2013
https://www.goodreads.com/story/show/353076-review-of-incite-exhibition-guide
https://www.goodreads.com/book/show/19182946-incite-journal-of-experimental-media-issue-4-exhibition-guide
It's not often that I have the delight of reviewing something new here that I think will be of substantial historical importance, that I think will constitute a reference work for decades to come. I am very happy to announce that INCITE 4 is a stellar instance of such a delight & that I am very, VERY happy to be one of this publication's contributors. If I cd give it a 10 star rating, instead of the maximum of 5, I'd do so.
This publication, for me personally, is very moving. It's like a 'patanational zeitgeist diary centering around the dedicated lives of many people who've touched my life, & many whose lives I hope to've touched somehow or another. After the Introduction, the 1st article is by Steve Anker & is entitled "Experimental Media Centers Across The USA: A Personal History".
In 1986, when I was attempting to arrange my 1st cross-country tour, Steve Anker was the guy from the San Francisco Cinematheque who was willing to bk me at Craig Baldwin's ATA. At 1st, they thought I was a fictitious character - an imaginary experimental filmmaker - cd such a person exist?! But they eventually learned that I wasn't a hoax, that I really did (& DO) exist & welcomed me to SF. Scott Stark (bless 'im!), a filmmaker whose Flicker website has given such a web-presence to so many obscure media-makers like myself, even went so far as to interview me for the Cinematheque's magazine Cinematograph.
Even tho I'd already been a film & vaudeo maker for 11 yrs by then, this was extraordinary support for me to receive!! In my hometown, BalTimOre, I was widely considered, even by the art world, to be little more than a deranged animal to be tortured & preferably jailed or executed. Contrarily, in SF I cd go so far as to specify that anyone identifying themselves as an anarchist shd be given free admission (as far as I 'know', no-one took advantage of this). Steve was also partially or entirely responsible for me screening films of mine at the Museum of Modern Art in NYC as part of the "Big As Life" series in 1998 & 2001. This latter series even had the audacity to screen my collaboration w/ Dick Hertz entitled "Balling Tim Ore is Best" - a parody peep show movie actually smuggled into a porn district's peep show booth & screened for 2 wks w/o the management's knowledge. Under generally hostile or indifferent circumstances, it's this type of support that makes it possible for people such as myself to not completely crumble from despair. Steve begins his article w/ this:
"Living, or vital, institutions are ones that are open to change and new perspectives, and capable of critically self-evaluating themselves. For more than 40 years I have been involved in two kinds of vital artistic institutions in four parts of the United States, each of which reflect my time and culture: One are artist initiated, modestly budgeted or no-budget screening venues that maintain primary ties with artist communities, and the other are artist initiated and sustained college film production programs. In both kinds of organizations I was interested in building artistic communities, helping experimental film and video artists make and present their work in the best conditions possible and develop an audience that could be in a position to understand their work." - p 17
"When I graduated in 1972 I moved to New York City and, along with friends from Binghamton and other young people moving to the city from recently developed college programs, realized that New York was largely closed to younger filmmakers. Institutions like Anthology Film Archives, the Whitney Museum, and Millennium Film Workshop had canons or circuits of accepted artists, and Jonas Mekas, the major critic writing about this cinema at the time, was almost exclusively focused on established figures. So over the next few years a group of friends, mostly from Binghamton, began an organization called the Collective for Living Cinema (1973-1992) (I was the projectionist for its first two years), and I helped start a modest, self-produced journal called Idiolects". - p 17
Ah ha! "New York was largely closed to younger filmmakers", the canon was already in place by 1972. Keep in mind that Parker Tyler's Underground Film A Critical History had only come out in 1969, Gene Youngblood's Expanded Cinema was published in 1970, Jonas Mekas's Movie Journal The Rise of the New American Cinema 1959-1971 came out in 1972 (maybe after Anker had arrived in NYC), Amos Vogel's Film as a Subversive Art didn't get published until 1974, & P. Adams Sitney's Visionary Film The American Avant-Garde 1943-1978 had its 1st edition out in 1974 (obviously w/ an earlier title) & its 2nd in 1979. These bks were fantastic stimulus & reference works at the same time that they were ironically part of the death knell for any interest in film & vaudeo makers such as myself who started in 1975 or generally after the periods covered.
As for "Idiolects"? I'm fortunate enuf to have double issue No 9-10 from the winter of 1980-81 in my archive. Anker refers to it as "modest" & in some senses I agree: the production values are unremarkable & unimaginative. HOWEVER, it certainly features an interesting group of folks: Yvonne Rainer, Karyn Kay, Gary Indiana, VALIE EXPORT, Andrew Tyndall, Heinz Emigholz, Richard Foreman, Carolee Schneemann, Hannes Hatje, Barbara Kruger, Bette Gordon, David Rattray, Betsy Sussler, Jackie Raynal, Lynne Tillman, & Carla Liss. EXPORT writes about her film <u>Invisible Adversaries</u>, one of my favorite films of all time. For what it's worth, I published an audio cassette in 1982 called PUBLIC LANGUAGE (Widemouth 8616) that has an introduction by Foreman to some Language Poetry readings. For the (almost) complete WI<u>démo</u>UTH Tapes catalog go here: http://idioideo.pleintekst.nl/WdmUCatalog.html .
In the catalog for "Big As Life - An American History of 8mm Films" Steve's article has this: "The resolutely underground tENTATIVELY, a cONVENIENCE mimics and incorporates porn in Balling Tim Ore Is Best (c, 1985) to confront sexual arousal and its implications as prompted by salacious images." (p 13) It may've been this slight mention (wch doesn't mention that the film was made to be smuggled into a peep show booth - where it actually showed for 2 wks) that was read in China (I'm not clear whether it was available in English or Chinese).
One result of this was that a fellow calling himself "Chin Thom" contacted me by email asking for copies of movies of mine for potential Chinese screenings. I sent him a 2 hr VHS tape that included a masked nudist party 16mm film transfer of mine called "Funny Farm Summit Meeting" (1994). This led to at least 4 screenings of my work in Shanghai, the most public of wch was as part of the February 26/27, 2004 "Enter the Screen-experimental cinema" - Shanghai Duolun Museum of Modern Arti, China - Production: Knife Factory - Curator: Chin Thom). If I understand correctly, the projection of my movie was shut off at this event by Chinese government representatives - presumably b/c of the nudity. To see a slightly out-of-date list of my screenings that shows a slightly more international (or 'patanational) look at venues, go here: http://idioideo.pleintekst.nl/tENTScreenings.html .
Even more amazingly, for me, there was then a 4+ pp color article about me in what appears to be a nationally, or internationally, distributed Chinese glossy art magazine called "Art World". That's more than a little ironic considering my usual criticisms of the art world but I was extremely delighted to have my work exposed to a Chinese readership. Thanks to my Chinese expatriate pianist friend, Xiaoxing Geng, I had the article translated into English. Ha ha! In my big exposure to a part of the world I otherwise have very little access to, there's a misunderstanding & I'm revealed as being "Michael Pestel" - the name of a collaborator of mine whose work is very different from my own & who's more of a musician & installation artist than he is a film & vaudeo maker. Oh, well..
Ed Halter's excellent article "Head Space: Notes on the Recent History of a Self-Sustained Exhibition Scene for North American Underground Cinema" appropriately follows:
"In the late-80s, the scholar Tom Gunning theorized the advent of a "minor cinema" - a new state of the American cinematic avant-garde that eschewed lofty notions in favor of submerged narratives told via celluloid tinkering. Unlike the pioneering artists of the 60s and 70s, whose grand (and occasionally self-aggrandizing) revolutionary narratives set forth to alter the experience of vision, topple Hollywood, and reshape the world, "these filmmakers... manifest no desire to supplant dominant cinema. Embracing Super-8 filmmaking long after video dislodged it... [they] proclaim their resistance to the onslaught of technological progress. Certainly economies dictate here, but stern necessity has bred an affection for the limits of their medium rather than frustration."" - p 22
In a sense, this is a 'post-canon' manifesto, an appreciation for doing things on a smaller, more person-to-person scale, on a more tribal scale, rather than on a mass media scale. This is no minor point - even if it does produce a "minor cinema" (a tricky term likely to be misunderstood).
Halter even gets into a touchy area I wdn't necessarily expect writers to dare tread into: "The dot-com boom of late-90s included many filmmakers participating in startup streaming cinema sites in various capacities, though hardly without social friction or suspicions." (p 25) This leads to a footnote that reads, in part: "In the logic of the dot-com moment, this increase in creative expression fairly begs to be monetized. Note how Kenner constructs a passage about Joel Bachar, founder of Blackchair Productions / Independent Exposure. "Not that Bachar opposes making money. His business model involves developing a Web site (www.microcinema.com) that will serve as a road map to the world's underground film forums." (p 32)
In 1998, I made an attempt to get Bachar to sponsor a stopover on the tour I was planning. I rc'vd no reply. If I remember correctly, I did meet a partner of his who was visiting the Andy Warhol Museum sometime soon thereafter. This partner offered to publish &/or distribute some of my work & explained that what he wanted to get out of supporting underground movie-making was "a really good new car". I decided against having anything to do w/ them after that.
I feel an affinity w/ Halter's take on Film Threat magazine & its associated subcultural trends. "Not surprisingly, then, the early underground festivals - particularly New York and Chicago - gravitated towards a neo-exploitation, attention-getting aesthetic evolved from the Cinema of Transgression, in-your-face Gen X film zine Film Threat, and the cult film psychotronics of the video store generation, dutifully playing the media's received ideas about underground film to them, in full force." (p 29)
""This isn't the underground of Hollis Frampton or Maya Deren," the New York Press critic Godfrey Chechire observed of the first New York Underground Film Festival. "It's the Gen-X spawn of Jack Smith, Russ Meyer and John Waters." Such willful naughtiness belied a desire to overturn the then-dominant notion of experimental film as something dry, academic, and essentially do-goody; but in their zeal for making the avant-garde seem sexy again, the underground festivals came dangerously close to making it appear laddishly stupid. After the mid-90s, this now clichéd pose retreated, both due to shifts in the work being produced by experimental filmmakers (the mainstream film industry, following Tarantino and South Park, having taken over the shock, sex and subversion racket) and an increased social greasing among the microcinemas and underground festivals." - pp 29-30
& on p 33 there's this footnote: "This move away from the shock-and-schlock aesthetics was not without its detractors, however. In a 2003 email to the New York Underground Film Festival, Cinema of Transgression mainstay Nick Zedd told organizers that "you are no longer underground" after they declined one of his films. For Zedd's generation, and the few who still ascribed to its ethos, underground film remained largely defined by its supposedly subversive content, a debate too large to cover in this essay."
Whew! "a debate too large to cover in this essay" indeed! When I 1st heard of the Cinema of Transgression, maybe in the early to mid '80s, I expected the NYC punk filmmakers associated w/ it to be kindred spirits. My own flagrantly perverse visceral works like "Seriousness is Death" ( https://youtu.be/fIr1_U-dDHI ) (1982), "A Double Negative As Not A Positive" ( https://youtu.be/OSxlaMSynjE ) (1982), "Skin Exchange" (1982), "Pee on "Bob"'s Head" (1983), & "Balling Tim Ore is Best" (1985) all seemed in the same spirit as what I understood the Cinema of Transgression to be like. I already knew about Richard Kern from his magazine "Dumbfucker" & I got to know his films, Nick Zedd's, & Beth & Scott B's. I had particular respect for Zedd's "Police State", not b/c I necessarily liked the movie that much, but b/c the title shot was made by actually spraypainting "state" after the word "police" on an actual police car out on the streets. That took courage.
But these days Kern's photography sells as coffee table bks in airports & in an interview w/ Kern I read something to the effect of 'I don't know why I made those movies.' At any rate, so much Cinema of Transgression has seemed like a dead-end to me, trapped in obviousness, that it doesn't much interest me anymore. There are many, MANY ways of being subversive & once a way becomes too predictable then it's time to move onto a different one. In my own screenings I often mix hyper-intellectual work w/ visceral work. People who like one usually hate the other so there's always this tension between people wanting me to just be a one-trick pony & my wanting to be much more diverse. In the long run, when I look back at, say, super-8 NYC films made in 1978, I find John Lurie's "Men in Orbit" & James Nares's "Rome '78" to be more compelling than the Cinema of Transgression films I know of.
That sd, I remember when someone in Film Threat who obviously didn't have any idea of who I am & what I do made some disparaging comment about "tENTATIVELY, a cONVENIENCE" being a typical art name or something stupid like that &, of course, I knew that if I had a ruly cliché name like "Scum Fucker" or "Corpse Eyeball" that they wd've loved it. Dullsville. At 1st I thought <i>Film Threat</i> might be interesting. I have issue 7 of the Film Threat Video Guide from 1993 & it's got stuff in it that I'd read about: Kern, Todd Haynes, & Frank Zappa - but, in the long run, it's too commercial for my tastes & too predictably non-introspective.
In "Small is Beautiful", credited to David Sherman & Rebecca Barten, the founders of Total Mobile Home microCINEMA & the folks generally credited w/ having coined the term "microcinema",
[March 27, 2016 interpolation: I quote from an email rc'vd from Owen O'Toole regarding the word "microcinema": "i would just like occasional credit for the term coming out of my mouth. Rebecca tricked me when she asked for the word as a wedding present as we were crossing the street. i know it's kind of silly. ("microcinema", actually subconscious influence of Mike Film Distribution Form)." That's awkward, eh? Barten & Sherman get credit for something that Owen O'Toole probably deserves more credit for.]
there's a paragraph that I find to be particularly meaningful:
"Rather than concerning ourselves with ideological back flipping for phantom grant support, we use our precious time to simply keep our space going. Rather than official support, we have received an influx of personal gifts - an outdated video projector, 16mm equipment, a sound system, a lighting system, a backyard garden, and a goddamn pump organ, all contributed by people happy to see things just put to good use." - p 35
Indeed. & this is a crucial point. In prosperous areas, like parts of the US, pre-planned obsolescence leads to completely useful objects being discarded in vast quantities for the latest update. Filmstrips, eg, & their related hardware, are 'obviously' 'obsolete' &, yet, was the medium really fully explored? I think not. A few of us have spent some time reinventing it: Brian Dewan, eg. Orgone Cinema got me started on this by providing me w/ a found filmstrip to provide a new soundtrack for. This evolved into "The Postman Always Rings the Homunculous of Woody Allen & Hollis Frampton Twice" ( https://youtu.be/ovbUqP23VZ0 ). Since then I've made many more, such as "Shuffle Mode" ( https://youtu.be/epWSMqrMiY4 ) & published VHS transfers of many more made by other people.
An "outdated video projector" that stills works is GRAND, & the same goes for everything else listed above that the Total was fortunate enuf to receive. If people cd get out of the mindset of always 'having' to get the latest iJones they might learn how to more fully use whatever available materials there already are. I generally wait to 'upgrade' until it's cheap enuf for me to afford w/o having to sell myself anymore than I already have. VHS is fantastic, one can pick up great movies in that format for $1 these days. Do I really 'need' to see it in Hi-Def?, as a Blu-Ray? I think not. A candle-powered Magic Lantern in the woods might be more fun, a choreographed selection of Thaumatropes.
Jeanne Liotta informs us about Firefly Cinema wch "was a seasonal microcinema that took place in the 6th Street and Avenue B Garden in the East Village, NYC, and ran for 17 summers until the final event in August 2010." (p 37) I'm happy to say that I witnessed Henry Hills's "Bali Mécanique" there & it was truly a Garden of Earthly Delights scenario.
My own article, "Meanderthals in Motion (Pictures)", is unapologetically the longest. What can I say? There's alotof info in my head & I want to get some of it out there before I die. Microcinema is, of course, concerned w/ <i>scale</i>: you want to make movies but don't have 200 million dollars & a crew of 300 at yr disposal? Fine, DIY - w/ little or no money. Don't be shy, yr movie might have something to it that all the money in the world can't make happen. Same goes for exhibition: don't have access to state-of-the-art venues & promotion? No biggie, screen wherever you can, promote however you can. In the proto-microcinema that Rebecca Barten & I cofounded in BalTimOre, H.O.M.E. (Horse Opera Meanderthal Encounter) Group, as w/ Total Home, the equipment was just whatever we cd get cheap or free:
"My warehouse was one big room 30 ft X 150 ft. I set aside an area about 10 ft wide by 20 ft deep, put up a screen & one or more tvs at the end, seating for 20 people facing these screens & some film projectors at the back. I was, as always, somewhat impoverished, so all of the equipment that I had was far from state-of-the-art - but, nonetheless, I cd probably present VHS, 3/4", 1/2" reel-to-reel, 16mm, 8mm, & Super 8." - p 39
But the conditions that I was willing to work under b/c they were what I had <i>available</i> to work under aren't always endurable by others: "perhaps the screenings didn't seem "happening" enuf, perhaps the neighborhood's intense dangerousness was off-putting, perhaps the lack of heating or air-conditioning was unbearable. Nonetheless, we persevered." (p 40) &, yes, it's the perseverance that sometimes counts; as Skizz Cyzyk notes later in my interview w/ him:
"I've had people tell me that I'm lucky because I've been able to accomplish so many things, enjoying some success along the way. It's not luck that enables me to do the things I do. It's sacrifices. I don't spend a lot of money on cigarettes, alcohol, drugs, tattoos, cable tv, eating out, vacations, entertainment, etc., because my lifestyle does not enable me to work the kinds of jobs that would allow me to afford those sorts of things. What little money I make goes into supporting me and my lifestyle. It's not just money I have to sacrifice either, it's time. [..] It looks like fun, but you have to make sacrifices if you want to accomplish anything. You don't get press without making the effort to let the press know what you're up to, and often times that effort yields no result. That effort takes time, and while someone else might be drinking with friends at a bar, I might be home working on my projects or sending out press releases." - p 53
It's in the interview w/ Skizz that the subject of YouTube 1st appears. Now, I have a YouTube channel ( http://www.youtube.com/user/onesownthoughts ), & I've uploaded roughly a third of my output to it, but that doesn't mean that I'm uncritical of it. I've had a movie of mine that satirizes the mind-control of mass media removed b/c a person in the movie complained to YouTube about it. Incredibly enuf, this person is a Media Studies professor & one of the people marginally mentioned in this issue of INCITE.
"The kinds of filmmakers we were most interested in were starting to discover YouTube, and as I would frequently hear when I asked filmmakers if we could show their films, "rather than make a copy of my film and ship it to you, I can put it on YouTube for free and reach a much larger audience than your festival could ever give me."" - p 51
Now, personally, I'd rather witness a movie on a large screen w/ a strong sound system rather than on a laptop screen surrounded by distractions that dominate my visual field & w/ barely audible sound - but the latter is the more common condition that YouTube movies are seen under. Then again, I've toured North America at substantial cost to my close-to-nonexistent budget & screened my work to a number of people that probably didn't exceed 300 TOTAL. Whereas, on YouTube, "3 Mile Island - April 3, 1979" is currently listed as having been viewed 6,556 times, "Is this Non-Euclidean Geometry?": 5,894, "Vermin Supreme's Real Life Adventures from the Campaign Trail" (not made by me but on my channel): 4,393, "TV 'News" Commits Suicide": 3,457, "Gender Fuck Party (closet film)" (also not made by me but I'm in it): 2,239, "The Postman Always Rings the Homunculous of Woody Allen & Hollis Frampton Twice": 1,641, "Brain Waves Goodbye": 1,487, "Infinite Monkey Theorem": 1,469, "Shuffle Mode": 1,206, "Franz Kamin's "Concert of Doors"": 1,008, & "Boota": 1,004. These are all examples of work that I've uploaded that've been viewed over 1,000 times. Of course, these viewings might've only been of the 1st few seconds.
(Referring back to Ed Halter's comment that "the mainstream film industry, following Tarantino and South Park, having taken over the shock, sex and subversion racket", I note that I recently posted a link to "Boota", a work of FRIENDLY ersatz exoticism, to a Facebook group & had one of its most active participants immediately ridicule it by posting a link to a South Park clip in wch Arabic culture (if I remember correctly) is reacted to by 2 white American cartoon characters w/ utter racist phobia. Now Mike Judge probably meant this as parody of the Ugly American mindset but the person providing the link was apparently using it as a way to increase the intolerance of cultural diversity that he feels most comfortable w/. This, to me, is an important danger to watch out for in popular culture - what the creator might intend to be social criticism ends up helping justify the very narrow-mindedness criticized.)
NOW, if I were a pretty young girl twerking the views wd be in the millions. On a less banal note, I've only recently discovered the singer/songwriter duo Garfunkel & Oates. The 2 songs I've checked out of theirs were pretty damned funny & I probably find them to be as charming as everybody else does. Their YouTube movie called "Booty Call Voicemail & "Self Esteem"" is listed as having been viewed 384,822 times. I don't begrudge them their popularity - I LIKE THEM. Nonetheless, this movie has an advertisement displayed w/ it &, so far, I've declined the potentially financially rewarding option of having advertising on my channel - I prefer to leave it as uncommercial as I can. Furthermore, they play in standard song formats on ukulele & guitar - 2 instruments that I find banal in the extreme. So, in the end, it's not like I'm going to like something by Garfunkel & Oates more than I like my own ""J from A to Z", the movie" - even tho the current views for that are only 81.
YouTube is great - but, like everything computer-related, there's too much social isolation & not enuf community-in-the-flesh. At microcinemas there's a much greater chance of actually making friends instead of just adding a social media 'friend' to yr popularity statistics. ANYWAY, for those of you interested in reading my INCITE article, you can do so online here: http://incite-online.net/tENT4.html . That sd, I highly encourage you to BUY an actual copy of this publication - it's well worth it!!
I probably 1st met Toronto-based prolific super-8 filmmaker John Porter in person at The Rivoli or The Funnel in Toronto when I was on tour in 1986. John's foto of me performing at The Funnel adorns the cover of my bk entitled A Mere Outline for One Aspect of a Book on Mystery Catalysts, Guerrilla Playfare, neoism, booed usic, Mad Scientist Didactions, Acts of As-Beenism, So-Called Whatevers, Psychopathfinding, Uncerts, Air Dressing, Practicing Promotextuality, Imp Activism, CircumSubstantial Playing, etc.. - the sometimes updated version of wch can seen online here: http://idioideo.pleintekst.nl/MereOutlineIndex.html . IMO, John's as exemplary a 'human-scale' (as contrasted to 'mass-media') filmmaker as you can get. It's yet another sign of the excellence of INCITE 4 that his article entitled "A Brief History of the Funnel Experimental Film Theater" is included. I am deeply honored to've been able to present there.
& then there's Tara Merenda Nelson's article on "Saul Levine and Massart Film Society". Tara lived in Pittsburgh for awhile before moving to Boston, she & I know each other & we've been in the same shows. So there's this ongoing aspect of reading this INCITE of revisiting the community that I've been so deeply a part of for the last 30+ yrs. & I've met Saul Levine too. I think I probably met him in 1985 or 1986 when Joan D'Art & I went to Boston. She'd studied w/ him. He took the time to show me a single-frame shooting super-8 film of a political protest or some such. He was very open & generous.
Then there're all the venues I didn't know about before reading this INCITE, ones I wish I had known about & had something to do w/: Standard Movie House (Winnipeg, 2002), Edison Electric Gallery of Moving Images / The Blinding Light!! Cinema (Vancouver, 1995-2003), Light Industry (Brooklyn), 40 Frames (Portland, 1999-2009), Minicine? (Shreveport, 1995-the present (at least 2012)), Early Monthly Segments (Toronto, 2009-the present), Blue Sunshine (Montréal, 2010-2012), Contraband Cinema (Atlanta, 2011-the present), UnionDocs (Brooklyn, 2005?-the present), & Spectacle (Brooklyn, 2010-the present). &, of course, there're bound to be many more!
In Alex MacKenzie's "Microclimate, Vancouver 1995-2003" article he gives Owen O'Toole credit: "It was at this time that I met Owen O'Toole, who came up to do a show. His Filmer's Almanac project and enthusiasm around new ways of presenting film work were a central inspiration for my pursuing projector performance, as well as hand-processing." (p 62) You can witness an excerpt from a presentation of the Filmer's Almanac here: https://youtu.be/jkUA8xapP_l . The Filmer's Almanac was an international project spawned by Owen in wch people picked a particular day to shoot a super-8 film & the results were then projected by Owen in double projection performances w/ improvised mixing of audio recordings. This was a fantastic project &, once again, I'm deeply honored to've been able to participate! Owen was also responsible for the Wafer Face record & CD label that published my 1st two records. Thank you, Owen, THANK YOU.
In the same article MacKenzie described a situation all too familiar to many of us; "I ran the place in a fairly unconventional way, in that I managed the bulk if not all of the creative and primary administrative tasks myself: programming, design, advertising, marketing, projection, café management and ordering, accounting, etc." (p 65) - all for no pay. While this is a big-time recipe for burn-out, MacKenzie writes: "And then it was over. Contrary to popular mythmaking, it wasn't burn-out that stopped me, though I did worry that might be coming. Better to stop while I still liked the place, I figured." (p 65)
No collection like this cd be close to complete w/o Craig Baldwin & his Other Cinema at ATA, Artist's Television Access, in San Francisco. This has been around since the early '80s. My 1st screening in SF was there in 1986, my 2nd appearance at Other was in 1998. Thank you Craig, thank you SF - this is one of the only cities where I've felt truly appreciated as a film & vaudeo maker. David Cox writes:
"When I picture Other Cinema, I see a line of people stretching down Valencia Street waiting to get into ATA Gallery on a Saturday night. Inside, upstairs in the crazy booth, Craig Baldwin is making the final touches to the running order. VHS tapes and DVDs are lined up on the floor; scraps of paper beneath them indicate title and running order. 16mm projectors stand proudly on their podia. Flashlights dart about the dim space. Everywhere is energy, movement, anticipation. Steve Polta is at the door about to let in the crowd. The mesmeric eyes of a turbaned Korla Pandit are up on the screen playing "Miserlou" on the Hammond organ in black and white kinescope. The doors open, the guests take their seats, the vibe is powerful, everything is happening. Then Craig appears behind the podium. Polta yells:
"Craig Baldwin!
"And Craig says:
"Ladies and Gentleman, brothers and sisters, welcome to ATA's Other Cinema... - p 78
Steve Polta's another one! If I recall correctly, he was helming the San Francisco Cinematheque in 2003 when I presented my last screening there (I'm due for another!). It was under his leadership that the Cinematheque was supportive enough to publish my bk entitled Not Necessarily NOT Very Important ( https://www.goodreads.com/book/show/2598529-not-necessarily-not-very-important ). Their monographs don't seem to be for sale thru their online store anymore but there're still issues of Cinematograph for sale & they're as great as INCITE so they're a MUST-OWN (ok, nothing's really a "MUST-OWN" - I'm being hyperbolic here): http://www.sfcinematheque.org/shop/ . Anyway, it's Steve & people like him that keep culture ALIVE. Thank you, Steve. Then there're "Sylvia Schedelbauer [who's] the Other Cinema webmaster, and Christine Metropoulus, [who] helms Other Cinema's online publication Otherzine." (p 79) There're 25 issues to date: http://www.othercinema.com/otherzine/ .
In the same article, Cox recounts that he "took a bus up to Olympia, Washington, where I stayed with Mark Hosler from Negativland, and recorded some music on his 4-track tape deck. While there, I also showed my films at the Olympia Film Society (Capitol Theater) and taught some animation workshops with the then new Olympia Film Ranch." (p 80) Again & again this issue of INCITE resonates deeply w/ my own life: I participated in the Olympia Film Festival at the Capitol & elsewhere from November 3 to the 12th in 2006. It was a wonderful experience.
Then John Porter brings us his report on "Martin Heath's Cinecycle". I've known Martin for over 30 yrs now & he's one of my favorite people & Cinecycle's one of my favorite venues. I probably 1st met Martin at the Public Works neoist festival in October, 1981, in Toronto that then moved on to being APT 4 in Montréal. Martin had a nice truck, was it a BMW?, that he had an espresso machine in the back of. These neoist events tended to provide free haircuts & free food & Martin pitched in the free espresso. Gourmet. At some point, Martin wd project out the window of his space onto the wall of a bldg across the street. Then Gordon W. Zealot, another prominent neoist & someone who studied Indian cooking & tabla playing in India for 3 yrs, wd come w/ a food cart & sell Indian food while people watched the movie. Gordon has his own restaurant in Berlin now called "W" - the logo for wch is an inverted McDonald's "M". Ha ha!
One of my favorite memories of Martin in the early to mid 1980s is of the time that he proposed that we go on a Scopitone tour w/ my 16mm films in the juke box. We never did it but it's one of the things I very much wish we'd done! I also particularly remember screening "Balling Tim Ore is Best" in Toronto while I was on tour in 1986. Since Toronto was one of the last places to have a censor board at the time, my screening was illegal insofar as it wasn't approved & most definitely wd NOT have been approved if it had been submitted to the Censor Board. After the screening there was a small gathering at Martin's place where a phone sex worker harangued me for about 45 minutes b/c she didn't like the way phone sex was depicted in "Balling..". I thought this was hilarious! Dick Hertz's & my parody was even offensive to sex workers! Don't that just beat off! After she left Martin's he came up to me & apologized for my 'having' to endure that. Martin's a helluva nice guy. John mentions Martin's "100-minute film The Son of Tutti Frutti (1972)", a rock'n'roll found footage pastiche, wch Martin was kind enuf to screen for me privately at Cinecycle on one of the many fantastic times that I've had there. Martin once told me a great story about rescuing something like 2,000 films from a dumpster. The films were just being thrown away by a landlord b/c the tenant hadn't pd rent. Many a microcinema's archive has been similarly built.
Porter reminisces further: "Heath's "Silent Sundays" presented weekly screenings of classic "silent" films from his collection, with live piano accompaniment by John Henry Nyenhuis." (p 85) John Henry! What an INCREDIBLE musician! I 1st met him in Brighton, England in May, 1994 when I was there as part of Klauhütte Bangzeit 2000, a performance group that only played 3 exotica songs in 12 hr marathon concerts. The musicians had converged there from multiple countries & John Henry came walking w/ a group of us looking very dapper - in a suit, as I recall. I remember thinking something like: 'Who is THIS guy?!' I was soon to learn that he was a phenomenal pianist. He worked in Toronto as a lounge pianist wch meant that he played for many, MANY hrs a day day in, & day out, He had his chops DOWN.
In KBZ 2000, he was primarily responsible for playing the 3 exotica songs, "Quiet Village", "Caravan", & "Taboo", in as many styles as he cd conceive of. Hence, imagine a reggae version, eg, of one or more of the 3. In München, I was responsible for the 20th Century Avant-Garde versions. John Henry did a tone-row one. "Boota" was one of the results. You can witness that here: https://youtu.be/19_pe-nT9u0 . John Henry's audience right on the stage but you might not be able to see him - at any rate, you can certainly hear him playing upright. After John Henry returned to Toronto & I moved to Canada he & I collaborated. He & I were the ones NOT high on LSD in my 16mm film "Funny Farm Summit Meeting" (1994). We made some great recordings together the most important of wch was the "Bogus Piano Concerto" (wch you can hear & download via the Internet Archive here: https://archive.org/details/Piano_Illiterature_Vol_I_of_II ). wch we also presented at the Music Gallery in Toronto, another favorite venue. John Henry is now the music director of the Volkesbühne in Berlin wch Melissa Ragona mentions in her article about Uniondocs on p 163.
The personal significance in these articles just keeps pouring forth. Porter writes that "Pleasure Dome Artists' Film Exhibition Group has used CineCycle regularly since it opened, bringing many notable film and video artists from around the world. CineCycle had a small stage in front of the screen which was often used by stand-up satirist Sheila Gostick and by the Shake Well Performance Art group." (p 85) Pleasure Dome brought me to Toronto in 2005 to screen my feature Story of a Fructiferous Society (wch you can read about in OTHERZINE 17 here: http://www.othercinema.com/otherzine/archives/index.php?issueid=22&article_id=96 ). ALSO, Sheila Gostick participated in the afore-mentioned Public Works Festival & in the 5th neoist festival - wch took place in NYC. Small world.
INCITE 4 has 8 color portfolios of posters from various microcinemas. One of them is Orgone, the microcinema that brought me to Pittsburgh in January, 1995, & that can ultimately claim responsibility for my moving here in January, 1996. Orgone made great letterpress posters. I have a box-full of them & of other ephemera from their screenings. The 1st one reproed in INCITE is for an event called "23 FILMS from the N. Y. FILM-MAKERS' COOP" & specifies these criteria for inclusion in the screening:
"
NO FILM OVER 10 MINUTES
NO FILM RENTAL OVER $10
NO FAMOUS FILMMAKERS
NO IDEA WHO THESE PEOPLE ARE
"
In other words, an exploration of the non-canonical - always welcome in my world. This portfolio leads into the article entitled "Pittsburgh's Orgone Cinema: A Deadly Serious Joke" - Michael Johnsen & Greg Pierce in conversation w/ Adam Abrams. Greg & Michael were the primary movers of Orgone & Adam was one of the 3 primary movers of another Pittsburgh group: Jefferson Presents... Greg recalls: "I came to Pittsburgh for film school in 1985 and that's when I began to see and pay attention to experimental work. A few years later I saw one of Mike's films in a Pittsburgh Filmmakers student show. I'm pretty sure it was Janitor in a Drum (1987)." (p 95) The conversation continues:
"GP: I'm pretty sure you [Michael] already knew about Amos Vogel's book, Film as a Subversive Art before we started Orgone. I learned about it later. I think that Vogel's very non-hierarchal approach to programming was something that Orgone modeled itself after, perhaps unknowingly at first. That weaving of, not even high and low, but left-field, right-field, center-field, from a very sobering documentary about Hiroshima to an experimental film featuring optically printed footage from Frankenstein showing on the same bill. They were both part of our second show. I remember one woman got really angry at us for that particular pairing.
"MJ: But, we weren't laughing at anything." - p 96
&, thank goodness, there's alotof giving credit where credit is due: "GP: The beauty of being in Pittsburgh was that we had Pittsburgh Filmmakers. That place was, and still is, a hell of a resource." (p 99) Indeed. In fact, if there's one thing 'missing' from this INCITE, it's an article about PGH Filmmakers. Ok, I understand, Filmmakers, as it's known locally, is a larger institution than anything else presented here & there's already a bk about it called Crossroads: Avant-garde Film in Pittsburgh in the 1970s by Robert Haller & published by Anthology Film Archives (see it here on Goodreads: https://www.goodreads.com/book/show/2498075.Crossroads ). Nonetheless, Filmmakers is one of the main things that makes living in PGH worthwhile for me. I live less than a mile's walk away from it. I have a deep love & respect for Filmmakers & hope that it outlives me & the current management that has done such an excellent job of keeping it going.
On p 101, MJ comments that "Word got out that Orgone was a fun gig" & I have to adamantly concur. I had such a good time presenting my 2 gigs here in early 1995 that I moved here. Admittedly, once I got here I was so poor that I told people I was shipwrecked & the good times were severely curtailed after that. Still, Orgone gigs were usually quite inspired:
"MJ: We had friends who liked to cook and wanted to make food for large groups, to come up with snacks that were thematically related to a show. We would have mashed potatoes for a home movie show, because we figured it was wholesome. Or we would do these experiments like making toast right near the front door, figuring that the smell of toast would draw people in the door. We made pancakes live at a show once.
"GP: Yeah, that was Dan Bidwa and Brian Gollum - The Snack Guys." - p 102
For one of my 1st screenings w/ Orgone, I had a fertilized duck's egg (that'd taken 45 minutes to cook) at the entrance. The deal was that if someone cd actually eat it they'd get in for free. Jim Mueller, who went on to cofound Jefferson Presents..., ate half of it. I think we might've let him in for half-fare. These same fertilized duck eggs were used in the 1st movie I made w/ Orgone: "How Orgone Cinema Treats Its Visiting Filmmakers" ( https://youtu.be/n7lP5W0i-nY ), a 16mm film made w/ an ultra-high-speed camera to enable ultra slow-motion playback. Orgone started fading away, Michael left it & Greg transformed it into an archive.
"GP: Well, Merce Lemon was born in 1997 and Orla Kren in 2000. In May of 2001 I was asked by Bill O'Driscoll of Pittsburgh's City Paper to put together a program of Pittsburgh films for Film Kitchen [a monthly series that highlights regional, independent short film and video]. That was when I decided to call it The Orgone Archive." - p 103
& Bill O'Driscoll & Film Kitchen definitely deserve an enormous amt of credit. Bill is the arts editor of the PGH City Paper & he started Film Kitchen as a screening series held at PGH Filmmakers's Melwood Screening Room (a theater that holds over 100 people) in 1998. 15 yrs later, it's still going every 2nd Tuesday of the month (except August). Bill's connection to the CP allowed him to write a full page article about each FK & to have a full page ad. The result is that it's not unusual for there to be 80+ people in attendance who're outside of the film-world ghetto. Each Film Kitchen has food & beer provided with the cost of the modest admission. The movie-makers are almost always there for a Q&A after their part of the program. One could hardly ask for a more user-friendly environment! Perhaps the best way to learn more about its history is to read Bill's articles for the City Paper. Here's a recent short one: http://www.pghcitypaper.com/pittsburgh/film-kitchen/Content?oid=1688834 . The older ones, presumably accessible online, are usually longer.
There was also a Film Kitchen cable tv program that featured 30 minute looks at PGH-based low-budget moviemakers. I was one of the lucky ones. That was done in collaboration with Gordon Nelson, who was a cofounder of Jefferson Presents... Bill stepped down from FK in 2008 but it's been kept running since then. As such, it's outlived both Orgone & Jefferson Presents... although The Orgone Archive is still active, as is Greg Pierce - since he programs screenings for the Andy Warhol Museum.
Bryan Konefsky writes about "Basement Films" - a screening presenter who sponsored me at the Field & Frame on October 22, 1998. You can read a description of that screening & see a foto from it here: http://idioideo.pleintekst.nl/MereOutline1998.html . "Two years later, when David Nelson - who established Basement Films as an alternative film screening collective in 1991 - left New Mexico for Shreveport, Louisiana" [..] "Keif Henley was the new president of Basement Films, and he negotiated a deal with the Harwood Art Center to house our growing collection of cinematic ephemera in their fallout shelter." (p 107) Keif was who I dealt w/. As I recall, he manages his own theater in NM now.
Konefsky writes that his "favorite Basement Films screening took place in 1995. Sarah Lewison, Julie Konop, Florence Dore, and Gina Todus had just completed a bio-diesel road trip and documentary film project titled Fat of the Land (1995). We screened their visionary look at the future of fuel on the side of their F-250 Ford van that was parked on a stretch of route 66 that runs through the city." (p 109) &, indeed, I found out about & got a VHS copy of that doc not long after. It was an inspiration to many a person. My traveling companion during the 1998 tour, etta cetera, even went so far as to compile a modest collection of veggie-oil fueled vehicle movies in the early 21st century. Together, in 2000, we made our own in Australia: "The Lab Rats Explain Their Veggie-Oil Powered Van" ( http://youtu.be/X0RsOO9W0hs ).
The movers & shakers move around, they're Meanderthals. Barten moved to San Francisco, David Nelson reports on Shreveport's venue: "minicine?, situated on the fringe of the city center to create a place for Do-It-Yourself (DIY) film exhibition and filmmaking. Established in 1995, a step child of Basement Films, a microcinema in Albuquerque, New Mexico". (p 105)
On to Donna De Ville's "To Pop-Up and Back: A Micro-History of Aurora Picture Show": "The intimate space, founded in June 1998 by the artist and curator Andrea Grover, who also lived on site, began screening "Extremely Shorts" - programs of films less than three minutes in length - on a bi-monthly basis." (p 111) This being in Houston, TX. Grover, being a Meanderthal, has since moved on. I was fortunate enuf to meet her at The Waffle Shop (another artist-initiated project) during her brief residency in PGH.
Speaking of Pittsburgh, Gordon Nelson's short history of Jefferson Presents... is up next. You, dear reader, have already been introduced to Gordon as one of the Film Kitchen TV people. "We adopted the Kuchar brothers as our patron saints; every year we honored them by screening all Kuchar films on our anniversary. It wasn't until our second screening (a program of Stan Brakhage's 8mm Songs) in March 2000 that we chose the name "Jefferson Presents...", "Jefferson" is the nickname that Jim Mueller made up to describe that pastoral section of Pittsburgh that runs from the outskirts of North Oakland, neat Pittsburgh Filmmakers, under the Bloomfield Bridge to Polish Hill. It's significant, because this was the epicenter of our formation. An ellipsis would always be included after "Presents," often abbreviated to "JP..."." (p 115)
&, yes, I, too, have a deep respect & love for Kuchar films - esp George's. Of the canon of great underground film & vaudeo makers of the 2nd half of the 20th century in North America, George Kuchar doesn't seem to've ever gained as much respect as Kenneth Anger, Stan Brakhage, & Andy Warhol - probably b/c his "pictures" (as he may've called them) were so shamelessly tawdry & glitzy. I LOVE THEM. One of the things that Gordon doesn't mention is that the reason why JP... had prints of Brakhage's Songs is b/c Michael Chikiris (1941-2003) gave them to them. Michael was one of the 1st people I met when I got to PGH &, certainly, a friendly one! He was a photographer who worked w/ Brakhage when Brakhage lived here. Some of his work can be seen in the Anthology archives here: anthologyfilmarchives.org/collections/reference-library/stills/1365? .
As for the origins of JP...'s name? 1st, as w/ almost everything in this INCITE, this is rife w/ intense personal significance to me. I lived next to the Bloomfield Bridge for the 1st 10.5 yrs after I arrived in the 'Burgh. The "pastoral section" was right behind my house. There's much interesting history about this area, not the least remarkable of wch is that the street where Filmmakers currently resides has the same name as the street that's one street away & parallel to it (well, sortof..). Furthermore, on this street there was once a man-made lake that was part of an amusement park called "Luna Park". The story I originally heard about JP...'s name was NOT the one recited by Gordon above. Instead, I was told that "Jefferson" was the name of some guy from around the area, possibly homeless, that they gave quasi-humorous credit to as their 'presenter'. I may be misremembering, of course, but I think that's right.
"Eventually our screenings of local work gained the attention of the Museum of Modern Art, where we presented a sold-out, all-Pittsburgh show (on Analyst projectors) in 2008." (p 115) Yep, you read right: SOLD OUT. Boy was I surprised when NYC friends of mine came & had trouble getting in! Maybe a 3rd of those in attendance were Pittsburghers, friends of the filmmakers, who came b/c of the excitement around this screening. I remember Fabio Roberti being there. Some of you might know of him as a filmmaker, some as a WFMU DJ. Sandra Gibson & Luis Recoder were there - they're amply represented in this INCITE. I screened my "How Orgone Cinema Treats Its Visiting Filmmakers" w/ a live soundtrack on various small instruments, mostly percussion. I probably drove the sound guys crazy by doing things like striking a small cymbal a distance away from the 2 mics & then moving it very close so that the sustain cd be hear louder than the attack was. The evening ended oddly as one of the security guards 'accidentally' leaned on the light switch during Mike Bonello's film of Sam Pace crawling baby-like on the floor. Sam was drumming a fine improvised soundtrack. Given that Analysis projectors were being used, Mike's film, originally perhaps 10 to 15 minutes long, was being, if I remember correctly, elongated by slowing down &, maybe, reverse projecting. Mike's another stalwart of the PGH filmmakers scene. His Rickety House was smack-dab in the Jefferson area & the place where a long tradition of good vibes dance parties happened under Mike's amiable guidance.
After the MoMA screening there was a meet'n'greet event there w/ us JP... folks & I took the time to talk w/ one of the security guards since I knew about the way they'd prematurely terminated the screening. I tried to tactfully ask him how he felt about artists, etc.. The guard struck me as barely able to control his extreme contempt & hatred. Despite this, it was a fantastic screening & a very special nite for those of us from PGH. THANK YOU JP...!
Gordon, too, is a Meanderthal & he & Tara moved on to Boston. We miss him! There was a heyday of experimental film in PGH that JP... played no small part in. Alas, many of the participants, Tony Balko, Jesse McLean, Adam Grossi, Olivia Ciummo, Eric Fleischauer, moved on to Chicago & the PGH scene has never been the same since. Meanderthals, all. The local shows in the heat of the JP... days were truly phenomenal. So much good work by so many engaged, enthusiastic people!! "In September 2010, I returned to participate in the final JP... screening at Garfield Artworks. That night was a grand farewell, encompassing films made by members of the JP... community through the years. Though it felt great to be back home among friends in the cinema space that was so familiar to me, I couldn't help feel a creeping sadness about the conclusion fo something special in our lives that would be impossible to recapture. Good-bye Jefferson Presents..., you really were amazing." (p 117) I concur. Check out Gordon's blog re JP...: http://mrgordonnelson.blogspot.com/2010/07/jefferson-presents-archive-of-past.html . The poster chosen to illustrate the JP... section is from the brief Boxheart Gallery days. I gave a show there of all work from my Get-Out-Stitute days in Buffalo. But JP...'s longest-running venue was Garfield Artworks, a gallery booked by PGH's inimitable Manny Theiner who certainly deserves credit for being one of the people to most prolifically book events & to publish music for decades now. Check out his "Circuits of Steel" PGH electronic music compilation CDs.
Jesse Malmed's "An Anecdotal Collage of Portland's Experimental Media Culture, 1997-2012":
"This is, like so many accidental murals in Matt McCormick's Portland classic The Subconscious Art of Graffiti Removal (2001), painted with too broad a brush." - p 118
It may've been McCormick that passed thru Pittsburgh more than a decade ago when he screened the above-mentioned work + others. I loved it, it was a great show. Meanderthals, all.
"I am grateful to Melody Owen, Pablo de Ocampo, Bill Daniel, Stephen Slappe, Alain LeTourneau, Michael Paulus, Bob Moricz, Matt McCormick, Vanessa Renwick, Autumn Campbell, Dustin Zemel, Karl Lind, Ben Popp, Carl Diehl, Pam Minty, Mia Ferm, Peter Burr and Gretchen Hogue whose words and recollections I have collected, re(c)ordered, blurred, chopped (then screwed) decontextualized, dice-shaken and splitzed around. I hope that in the cacophony of voices a portrait emerges." - p 118
Bill Daniel & Vanessa Renwick have also passed thru PGH, Bill lived here for awhile. I remember Vanessa coming to my house where I gave my usual tour of the place. In the bathrm I showed my braille Playboy, always a crowd pleaser. Vanessa sd: "Oh, yeah, I've got one of those." Amazing. Since then I've met one other person who has one also - alas, I can't remember who. We shd start a club.
Malmed really surprised me when he wrote: "Seth Sonstein at the Clinton Street Theater championed my shot-in-one-day, histrionic, soap operatic "messterpiece hellanovela" Palace of Stains (2007)." (p 119) What astounded me about this is that I call my feature-length 16mm film, The "Official" John Lennon's "Erection" as Blocking Our View Homage & Cheese Sandwich (1990-1995) ( http://youtu.be/nRqfWwHAdqA ), my "messterpiece" & a device that I made for doing a traveling matte shot my "portable messterpiece maker". It seems unlikely that Melmed knows this so it's remarkable that we both used the same pun.
Melmed's pastiche of answers to questions asked of the Portland folks listed above yields a rather confusing montage of interpenetrated answers but at least the author tried a different technique than anyone else. I was pleased to read mention of "Marne Lucas's semi-porn, infrared film The Operation". (p 121) That's one of my favorite movies. Speaking of my favorite movies by people other than myself, you can find a list of them here: http://idioideo.pleintekst.nl/tENTothers.html .
Brian L. Frye's "On the Origins of the Robert Beck Memorial Cinema": "While paging through the New York Times indexes doing research for a paper on amateur cinema societies, I came across an unusual story about a WWI serviceman named Robert Beck, who was struck deaf and dumb by an injury, but recovered his faculties when he started laughing during a movie. This "miraculous cure" perfectly captured the spirit in which I planned to show movies, so I dubbed my nascent microcinema the Robert Beck Memorial Cinema, or RBMC." (p 129) Now, that's my kind of story! The Robert Beck Memorial Cinema may very well be my favorite microcinema name of all time!!
"On May 12, 1998, I presented the first RBMC show, a double-feature of Emile de Antonio's Underground (1976) and a kinescope of Nixon's Checkers speech, which I had borrowed from the Donnell Library film collection." (p 129) & on September 29, 1998, a mere 4.5 mnths later, etta cetera & I presented, as the 2nd stop on our "Attention-ExSpanDex" tour:
3 Mile Island - 14:30 - VHS - April 1979
Paper Dolls in Dava's Class - 2:27 - VHS - 1981
Les Promenades Hysteriques - 10:00 - super-8/VHS - 1984
Philosopher's Union Member's Mouthpiece: Emma Elizabeth Downing - 5:50 - PXL/VHS - early 1988
National Cancer Institute Documentary - 3:20 - 16mm - 1993 - silent
Diszey Spots - 11:20 - 16mm/VHS - Oct-Dec 1993
How Orgone Cinema Treats Its Visiting Filmmakers - 5:40 - 16mm/VHS - Jan-May 1995
Peterson's Restaurant - 14:56 - 16mm/VHS - 1995
Department of Failures - 2:35 - VHS - Nov 1995
The Postman Always Rings the Homunculous of Woody Allen & Hollis Frampton Twice - 8:24 - filmstrip/audio cassette - July 1996
Mirthplace of the Republicans - 17:03 - VHS - 1995-1996
Background Movies for Home Music: Light Motion - 1:41 - VHS - Dec 1997
Volunteers Collective/Slide Show - approximately 30:00 - VHS/Slides - 1982(or earlier)-1998
Death Bed Aerobics - 4:45 - 2 filmstrips (side-by-side)/audio cassette - July 1998
The Department of Maybe Presents: Problem Solving Demonstration - audience determined duration - VHS - 1995
As I recall, Brian was kind enuf to host us at his Brooklyn apartment. He liked Diszey Spots so much that he arranged for it to be shown at the Whitney Museum in NYC & held onto the original for awhile trying to raise money to get a sound print of it made. RBMC even had a screening for that purpose but only succeeded in raising $40+ so it came to naught. I had to phone the Whitney to get them to pay me $35 for screening a VHS copy of Diszey Spots or they wdn't've pd me at all. Ha ha! It's so great being someone whose work is shown in museums! Still, I'm very grateful to Brian for his support & hope he's thriving!
Tess Takahashi's "Magic Lantern: Interviews with Ben Russell and Josh Guilford":
"For instance, with R. K. Projects, we showed Warhol's Sleep (1963) in this gigantic, vacant warehouse on the west side. We projected it at 18 frames per second, which puts it at about 4 hours and 45 minutes approximately, and also had a live musical performance of Erik Satie's Vexations before the screening, because Warhol's production of Sleep is said to have been influenced by an 18-hour Vexations concert that John Cage put on in 1963." - pp 142-143
Again, this resonates deeply w/ me. For one thing, I've been the projectionist at the Andy Warhol Museum since 1996 so I've quite possibly seen Warhol's movies more than any other human being EVER. I remember posting to Frameworks, the list-serv for experimental filmmakers, about my projecting Sleep, w/ its prolonged shot of a naked man's ass, to an empty theater & wondering how my life's trajectory ever led to such a thing! Later, I think it might've been Martin Heath of CineCycle telling me that he saw my email posted at a Toronto arts university.
As mentioned before, I was in Klauhütte Bangzeit 200(0) & we played 12 hr long concerts. These were partially inspired by Vexations. One of the Volunteers Collective recording sessions I instigated included a truncated version of Vexations played on prepared piano. Franz Kamin, a performer/writer/composer/pianist friend of mine that I made a movie about called Depot (wherein resides the UNDEAD of Franz Kamin organized a playing of the complete Vexations.
I 1st encountered the theory that Warhol's Sleep was inspired by Satie's Vexations when filmmaker Keith Sanborn emailed me on November 14, 2010 asking my opinion of the theory that there was Rosicrucian numerology in Vexations that'd been mimicked by Warhol in the editing of Sleep.
"Hey Tent,
"You're about the only person I can think of who might know about this. I went to see Warhol's film Sleep this evening. John GIorno introduced it. I'll send you an audio file when I download it from my phone. In any case, he mentioned that John Cage's staging of a performance (the first complete one in the US) of Vexations seems to have really struck a chord, so to say, with Warhol. He and Giorno went to the performance together and it was around the time Andy was making Sleep. He claims the structure of the repetitions have some Rosicrucian elements of the same sort which have some bearing on Vexations. Have you ever heard of any of this? The thing I could find was the 840 (the number of times the basic musical passage is to be repeated) is the product of the first seven numbers and the number of days in period of time. I tried doing some searches on this but was surprised to find little about this and no smoking gun. The connection with Warhol was that on the back of the program notes for the Vexations performance the Rosicrucian numerology was mentioned.
"I was really blown away by Sleep. It's the most highly edited piece I have ever seen by Warhol and clearly exploration of ideas of sublime boredom is part of it.
"Any ideas about this?
"Keith"
I told him that I'd once worked an event in the Warhol Museum Theater where the brother of a girl who'd allegedly been the actual editor of Sleep talked about her editing of it. I don't recall him mentioning any numerological scheme. The plot thickens, eh? Sleep is unlike any other Warhol film in its editing - since most of the others are edited in camera or not at all (except, of course, for the ones that're called Andy Warhol films but're actually by Paul Morrissey).
The idea of tailoring the presentation of something to a specific space under specific conditions is deeply connected to experimental culture in general & produces situations of great potency. Josh Guilford: "Yeah - bringing experimental film to a different audience. But, also, this is something that cinema can do: activating spaces in different ways through the act of projection. So curating isn't just about exhibiting films, it's also about exploring what cinema is capable of. It has these critical and creative dimensions that I think are really important. But being in Magic Lantern has also really changed my relationship to Providence in an important way. Even just going around and hanging posters, you get to meet so many more people in the community." (p 143)
Next up is Christy LeMaster's "An Oral History of the Nightingale" microcinema in Chicago ( nightingaletheater.org ). Thanks to Meanderthal filmmaker & presenter Ross Nugent, I was fortunate enuf to have a screening there on February 19, 2012. As I recall, I presented my program of "Selected Shorts 2000-2011":
"Defenders of Goolengook" (collaboration with etta cetera) - 2000/2004 - 17:19
"I.A.C. Deer Head Sculpture @ former Rankin Steel Mill" - 2000/2004 - 8:31
"Ledger of St Dermain" - 2004 - 6:53
"Haircut Paradox" 2005/2006 - 13:52
http://youtu.be/pXMl1ZbMm9I
"Capitalism is an Ism" - 2006 - 6:40
"The Ballad of CodyodeeodoooO" (collaboration w/ the Boat Kids) - 2006/2007 - 12:58
"Subtitles (closure version)" 1980-2008 - 11:58
"TV 'News" Commits Suicide" (collaboration w/ Rich Pell) - 2009 - 6:09
"Robotic" - 2009 - 6:57
"COLONY" - 2010/2011 - 9:11
The small world of Meanderthals is immediately revealed: "Jennifer Fieber lent us her Xenon 16mm projector." (p 145) I 1st met Jennifer when she was Brian Frye's roommate when I stayed at their place for my RBMC screening in 1998. I published a filmstrip of hers in VHS transfer as part of a series of such compilations that I'd edited. We met again in Pittsburgh when I showed her & a friend around. Then Jennifer showed ME around when I was in Chicago working for a museum.
"The NIGHTINGALE is starting SPLITBEAM (http://splitbeam.org), a web-based directory of underground, artist-run, noncommercial cinemas." (p 146) Such a resource is, of course, very important. I've come across similar things in the past & look forward to an updated one now. THANK YOU!
Kier-La Janisse's "Blue Sunshine: the Life and Death of a Microcinema" was "named after Jeff Lieberman's 1978 LSD horror flick, Blue Sunshine. But how do you open a cinema with no start-up capital and no prospects for getting any? / If you're like me, you stop buying food and shift money from something you should be spending it on to something you definitely <i>shouldn't</i> be spending it on." (p 154) Where there's a will, there's a way.
Get your work in libraries as much as possible! Kate Ewald writes about Sight Unseen, a screening series in BalTimOre. They showed an unfinished silent print of my own "Subtitles (16mm version)" (1980-1982) that they got from the Enoch Pratt Free Library's collection - along w/ many other films from the same place.
[March 27, 2016 note: In both instances where I corresponded with Kate Ewald about a possible screening in BalTimOre she agreed to help & then completely blew me off. As far as I can tell, she's one of the young exploiters who imitate older innovators but remove any potentially controversial content - this enables her to have associations with universities & to get serious grant money. When we made contact on Facebook she immediately listed me as someone she'd "collaborated" with & FB asked me for corroboration of this. Since the only 'collaboration' we'd had was for her to get a large grant to fund a screening series that partially consisted of her showing a 16mm film of mine that she got from the public library for free, I DID NOT say that we'd collaborated. My impression was that she just wanted to exploit my reputation. Let it be known: I DO NOT ENDORSE Kate Ewald one little bit.]
Ah.. the generations succeed one another.. In an "Impressionistic Account of Spectacle Milestones" ( www.spectacletheater.com ), it's written that a "Village Voice writer publishes snarky comments about Spectacle's screening of Intrepidos Punks (1980), then cashes check funded by sex trafficking ad revenue." (p 171) OOF! That rings all too true. Sad but true given that Jonas Mekas's pioneering championing of the New American Cinema was originally published in the earlier days of the Village Voice.
Among the many lovely posters reproduced in the portfolios, there's one from Light Industry for something connected to "no Soul for Sale" that lists an interesting motley crew of participants: George Barber, Thomas Beard, Paul Chan, Leah Churner, Rebecca Cleman, Ben Coonley, Jason Cortland, Jaime Davidovich, Noam Elcott, Mark Essen, Hollis Frampton," [well-known structuralist filmmaker] "Lia Ganigitano, Julia Halperin, Ed Halter," [the author of one of the articles here] "Steffani Jemison, Chris Jolly," [someone I was fortunate enuf to've met thru Irene Moon who arranged for a university library to buy some of my VHS publications] "George Kuchar, Andrew Lampert, Oliver Laric, Sid Laverents," [mainly known to home movie buffs] "Saul Levine, Andrew Meyer, Bruce McClure, Curt McDowell," [a collaborator & student of Geroge Kuchar's] ""Anne McGuire," [maker of the great "Strain Andromeda The"] "Xander Marro, Laszlo Moholy-Nagy," [mainly known as a Bauhaus painter & fotographer] "Radical Software Group, Melissa Ragona," [another contributor to this INCITE] "Lucy Raven, Steve Reinke, Tom Rhodes (aka Luther Price), James Richards, P. Adams Sitney," [author of the afore-mentioned Visionary Film] "Elisabeth Subrin, Stan Vanderbeek," [someone I mention in my own article re the history of BalTimOre microcinema] "Travis Wilkerson, Tom Zummer & many others"! (p 178) IMO, a very pleasing combination of well-knowns & lesser-knowns.
Then there's the indefatigable Bill Daniel. Bill is known to most of us in microcinema-world as THE Meanderthal. In his article regarding "Who is Bozo Texino? Film Touring 2005-2013" he introduces his MO: "I ran several cinema exhibition operations after I left SF. One - Trespass Cinema - was set up in an abandoned drive-in theater. I stole electricity from an adjacent billboard to run a 16mm Pageant." (p 181) A man after my own heart. Bill lists an astounding ± 298 venues that he presented his "Bozo Texino" movie in. Incredible.
I was particularly interested in Adelheid Heftberger's "Soviet Agit-Trains from the Vertov Collection of the Austrian Film Museum" in wch the author claims in a footnote that "Although rumors of mobile film processing labs persist, no evidence of this has been uncovered to date." (p 189) That goes contrary to what French filmmaker Chris Marker claims in his 1971 film "The Train Rolls On" about "Aleksandr Medvedkin and his CineTrain of the 1930's, a sort of mobile film workshop complete with post-production facilities, animation stations and a large laboratory." ( http://mubi.com/films/the-train-rolls-on )
So much has been done that explores low-budget green alternatives & IT TAKES HARD WORK. "La Cyclo-Cinémathèque" went so far as to tour w/ their cinema on bikes. One of their shows was in Bern, Switzerland - where I can personally attest the museums are glorious - & where I got to see some work by Sophie Tauber-Arp. I know of other projects akin to this - such as a traveling circus on bikes.
I go to Audrey Young's "Cine Móvil México": "Together, Arroyo and his projectionists planned different routes for the three vans. They requested a series of unwieldy topographic maps from the Department of Transportation, which showed all the highways and towns in the country. In mapping out the routes, they deliberately sought to go where there were no highways." (p 195) This is true outreach.
Once again, more intense personal resonance: Alice Moscoso's "Tunnel Vision: A Film Event Inside the World's Oldest Subway Tunnel": tunnels are a big thing for me - I've had events in a train tunnel in BalTimOre (1982-1983), Paris (1984), & Glasgow (1988). Here, Tunnel Vision "set out to present a program of short films featuring trains, railways, and transit culture inside "the world's oldest subway tunnel." (http://www.brooklynrail.net/proj_aatunnel.html)" (p 197)
"Bill Brand's widely regarded 1980 public artwork Masstransiscope is a mural in the New York subway that is animated when viewed from passing trains." (p 266) Drawings from this are on pp 200-201 but not credited there. I've known about this mural for a long time & possibly seen it once. It's always stuck w/ me as a highly imaginative project.
Theo Michael's "Tales from a Balkan VJ" reveals incredible pay that most of the rest of us wd surely envy: "Being the only option, our asking price was 1000 euro for a 45-minute VHS mix, which the client could show whenever and wherever they wanted." (p 203)
Of course, there're times when reading about the grant money that people get (& wch I usually don't) when I get irritated. I have more respect for totally DIY culture. The Flinching Eye Collective: "When we set out to format this [2012] tour it was crucial to dream big, but also to strip down. A large percentage of the grant we applied for was not approved, so much of the funding came out-of-pocket." (p 208) I probably wdn't have been so aggravated by this if the still from their tour hadn't looked so identical to an installation/performance that my collaborator Michael Pestel & I did in 2003 & 2004: "Harps & Angles" ( http://www.michaelpestel.com/projects/harpsperf/index.html & http://youtu.be/Qk_UOY0c1bk ).
I don't mean to slight anyone by skipping articles. This is a very rich compilation & I'm not commenting on everything. Jonathan Walley: "Re-Creating Expanded Cinema": What a wonderful. Fucking. Idea. Might I suggest having a pipe w/ steam running thru it & holes on top of it & projecting onto the steam? That's one of the things Stan Vanderbeek did in the late 1970s at UMBC (University of MD BalTimOre County Campus). "Re-enactment is a relatively new approach to the study of expanded cinema, one which attempts to solve these problems of temporal distance and lack of documentation." (p 213)
"For their re-enactment, Ihlein and Curham chose digital video rather than 16mm film, which had been used in the original. Their reasoning was that, in 2007, digital video was the equivalent of 16mm in terms of ready availability and relative ease of use, and that using film might lend a "nostalgic feel" that was not present in the original work. This decision also led to a change in the work's duration, which, in the original, had been determined by the approximate length of a 100-foot reel of 16mm film when projected. Since there was no longer a motivated relationship between medium and duration in the re-enactment, Ihlein and Curham extended the length to six minutes, thereby giving audiences more time to experience the piece.
"The decision to use video rather than film might strike some as a violation, not only because film was employed in the original, but also given the commitment of much expanded cinema - particularly in the UK - to the exploration of celluloid film's distinct material and experiential properties. But TLC's working methods are shaped by a desire to recover the experience of an original work, not necessarily to reproduce the work as it existed in its original state." - pp 215-216
YESSSSS! For anyone who's ever read thru the debates on FRAMEWORKS regarding digital vs film, I can only stress that I, for one, am not a 'purist': I will use whatever I have access to, whatever I can afford - film has long since become too expensive for me.
"The re-enactment took place on October 2, 2012, at the satellite apartment of the Carnegie International" (p 218) & I didn't know about it! Too bad. I had performed at the same space just a few mnths before. See the 2nd half of my "Skeletal Remains" movie: http://youtu.be/6EicbqmLvbk .
"A final element of the performance's spatial scale with which we grappled was the size of the strips our performer would cut from the paper screen. In Moore's photograph, Kosugi is in the process of cutting a strip 6-8" wide, while the other photograph shows a strip of about 1" (roughly the width of 35mm film). This was as much a question of temporal as spatial scale: the narrower the strips, the longer it would take to cut away the screen." - p 222
This is the type of practical detail that people not involved w/ such a process might not consider. I LOVE IT! For a relevant materialist work of my own originating from 1978 called "Ghost* * A Projectionist's Nightmare" see here: https://youtu.be/SjIq7ht33YQ & https://youtu.be/nU5rMaKBRhs .
Elena Gorfinkel's article on "Film After Cinema: Sandra Gibson and Luis Recoder's Light Spill and Museal Materialism" was a bit of a low point for me insofar as it prominently featured what Alix Rule & David Levine call "International Art English" (IAE) (according to Florian Cramer's bk Anti-Media) & what I call the "Emperor's New Clothes" - wch isn't to say that Gibson & Recoder don't deserve attn for being among the few who do materialist film installations, they do. I just find sentences like this: "Further, this work's complex iteration of preservative and destructive impulses align with an insight of Jacques Derrida's regarding the fundamentally paradoxical nature of the archival drive, which structurally depends on both conservation and annihilation." (p 227) Sorry, but I think that's over-intellectualizing a fairly simple installation. & the fact that there are 9 color fotos dedicated to this installation strikes me as extremely disproportionate.
Contrarily, I found Recoder & Gibson's "Notes on "Perfect Projection"" to be much more illuminating (pun intended, of course): "The operator's tool kit for Aberration of Light is composed of the following elements: found color 35mm feature length film, 35mm film loop composed of alternating clear and black frames, two motorized variable-speed display units, two variable iris-leaf apertures, and a menagerie of crystal objects. The projector lenses are retrofitted with the variable apertures so as to manually control the intensity and resolution of the light; the motorized units are installed in front of the projectors, just beneath the lenses in order to display the crystal objects in the field of projected light; the feature film is threaded on one projector and the film loop is threaded on the other; Sandra is the operator for one projector and Luis is the operator for the other. For this work of live expanded cinema, the sound artist and composer Olivia Block is situated with her laptop, mixing board, and a battery of electro-acoustic devices occupied by the audience, thus monitoring and perhaps even engineering the unique sonic capabilities of any given theatrical condition." (p 254)
& for 2 more relevant pieces of mine online see: "Brain Waves Goodbye" for the technique of having a motorized polaroid filter in front of the projection: https://youtu.be/4g9Q-0Q_MoY ; & "Multiple Projections 1978-2009" for many other such explorations in front of (v)audiences: https://youtu.be/6smYCjQPuXM .
& then there's making things out of film such as Sabrina Gschwandtner's "Film Quilts" & Richard Kerr's "Motion Picture Weavings". My friend Patty Karl made a lampshade out of super-8 film that I have to this day.
"Clint Enns is a video artist and filmmaker from Winnipeg, Manitoba. His work, which primarily deals with moving images created with broken or outdated technologies".. (p 267) Ah.. Another person after my own heart! Due to economic necessity, I've worked w/ broken & borrowed equipment for the majority of my time as a film & vaudeo maker. I've used the "outdated" technology of filmstrips. I've even written an essay entitled "Upping the Anti-School of Fucked-Up & Away". Take this sample paragraph from that:
"The camera's broken, it has to be hand-cranked, the speed is irregular, the exposure time is irregular, it's difficult to crank it at exactly the desired speed. It's difficult to crank it & aim it & focus & change the f-stop w/ only 2 hands while moving. There isn't a dolly. The film's out-dated, it's slowed a stop or more, but how many? There isn't a light meter. The exposure calculations are a complex guesstimate. You're shooting in low light, it's hard to see thru the Bolex eye-piece, even w/ the f-stop all the way open. Maybe the camera's not reflex - you have to compensate for your parallax view. Maybe one of the crew isn't really sure they want to help or that they even like you. Maybe they're wondering why they're doing this for no money. Maybe they try to sabotage you. Maybe one of the cast wants to only stay for 3 hours when you feel that you need at least 8 to get just this little bit done. Mix all these things together & you've got the classic SNAFU of the impoverished jury-rigging moviemaker.
& by p 238 YouTube finally gets mentioned again for the 1st time since p 51! I'm reminded of Eric Fleishauer's photocollage of "YouTube" substituted for "Hollywood" in the famous sign. This, in Walter Forsberg's "God Must Have Painted Those Pictures: Illuminating Auroratone's Lost History": "A Queens art teacher by day, Robert Martens also manages the YouTube channel Grandpa's Picture Party, posting video transfers of home movies and films shot by his late grandfather Gus, who had been an avid member of the Amateur Cinema League." (p238)
"Auroratone was the result of mechanical attempts by British-born Cecil Stokes to render music into projected colored images. The key idea here - mimicking synaesthesia with the help of machinery - dates at least as far back as French Jesuit Louis-Bertrand Castel's 18th century "ocular harpsichord," which correlated colors of the visible spectrum with notes of the musical scale. In 1940, after some six years of research and development, Stokes applied for a patent called, "Process and Apparatus for Producing Musical Rhythm in Color". - p239
Fascinating. Readers are also directed to The Visual Music Village: http://visualmusic.ning.com/ .
"[Stokes'] procedure was to cut a tape recorded melody into short segments and splice the resulting pieces into tape loops. The audio signal from the first loop was sent to a radio transmitter. The radio waves from the radio transmitter were confined to a tube and focused through a glass slide on which he had placed a chemical mixture. The radio waves would interact with the solution and trigger the formation of the crystals. In this way each slide would develop a shape interpretive of the loop of music it had been exposed to. Each loop, in sequence, would be converted to a slide. Eventually a set of slides would be completed that was the natural interpretation of the complete musical melody." - pp 239-240
& even more fascinating.
"Indeed, medical literature reveals that Stokes' Auroratone technology figured notably in psychiatric healing, largely through the work of army psychologists Dr. Herbert E. Rubin, Captain, M.C. and Dr. Elias Katz, 2nd Lt. MAC. Results of their testing, first published in 1946, detailed Auroratone's ability to stimulate intense relaxation, weeping, and emotional catharses in patients that enabled them to speak freely with psychiatrists immediately after screenings - conceivably, the kind of visual soothing required by patients witnessing Vail's tense "defeat" of the Japanese navy. So effective were Auroratone's patterns of light and music, that Katz and Rubin posited that sensitivity to aesthetics was an instinctual vestige that could transcend psychoses." - p 242
& even more fascinating still.
"But [Bing] Crosby also supported funding of the U.S. Army Signal Corpsman Jack Mullin's experimental research with magnetic audiotape plundered form the Nazis - technology which enabled Crosby to pre-record, overdub, and easily edit his radio show. This latter investment would forever transform the industry of recorded sound and, in 1956, resulted in the first commercial release of videotape - at the time, perhaps, an equally far-fetched parallel effort at technologically converting sound into moving images." - pp 242-243
& even MORE fascinating still.
"Reports suggest that Bing Crosby went so far as to learn "Chinese lingo" to record an Auroratone of China's national anthem, at the request of Generalissimo Chiang Kai Shek." - p 243
Kudos to Walter Forsberg!! This article, very well-researched, is an excellent example of just how thoroughly informative INCITE 4 is in a plethora of areas of great excitement for experimental filmmakers. BUY IT! READ IT! LOVE IT!
idioideo at verizon dot net
to the tENTATIVELY, a cONVENIENCE Anti-Neoism page
to the tENTATIVELY, a cONVENIENCE Audiography page
to the tENTATIVELY, a cONVENIENCE Bibliography page
to my "Blaster" Al Ackerman index
to the site that lists the Books that tENTATIVELY, a cONVENIENCE has something in or is mentioned in
to the tENTATIVELY, a cONVENIENCE BYOC page
to the tENTATIVELY, a cONVENIENCE Censored or Rejected page
to tENTATIVELY, a cONVENIENCE's Collaborations website
to the tENTATIVELY, a cONVENIENCE (d) compositions page
to Amir-ul Kafirs' Facebook page
to the "FLICKER" home-page for the alternative cinematic experience
to Gifs made by Ryan Broughman
to tENTATIVELY, a cONVENIENCE's GoodReads profile
to Graffiti index
to the tENTATIVELY, a cONVENIENCE Home Tapers
to the tENTATIVELY, a cONVENIENCE index page
to tENTATIVELY, a cONVENIENCE'S minimal International Union of Mail Artists page
to a listing of tENTATIVELY, a cONVENIENCE's manifestations on the Internet Archive
to the tENTATIVELY, a cONVENIENCE as Interviewee index
to the tENTATIVELY, a cONVENIENCE as Interviewer index
to tENTATIVELY, a cONVENIENCE'S Linked-In profile
for A Mere Outline for One Aspect of a Book on Mystery Catalysts, Guerrilla Playfare, booed usic, Mad Scientist Didactions, Acts of As-Beenism, So-Called Whatevers, Psychopathfinding, Uncerts, Air Dressing, Practicing Promotextuality, Imp Activism, etc..
to the mm index
to see an underdeveloped site re the N.A.A.M.C.P. (National Association for the Advancement of Multi-Colored Peoples)
to tENTATIVELY, a cONVENIENCE's Neoism page
to the DEFINITIVE Neoism/Anti-Neoism website
to the Philosopher's Union website
to the tENTATIVELY, a cONVENIENCE movie-making "Press: Criticism, Interviews, Reviews" home-page
to tENTATIVELY, a cONVENIENCE's Score Movies
to SMILE
to find out more about why the S.P.C.S.M.E.F. (Society for the Prevention of Cruelty to Sea Monkeys by Experimental Filmmakers) is so important
to the "tENTATIVELY, a cONVENIENCE - Sprocket Scientist" home-page
to the Tattoos index
to Psychic Weed's Twitter page
to tENTATIVELY, a cONVENIENCE's Vimeo index
to Vine movies relevant to tENTATIVELY, a cONVENIENCE made by Ryan Broughman
to tENTATIVELY, a cONVENIENCE's presence in the Visual Music Village
for info on tENTATIVELY, a cONVENIENCE's tape/CD publishing label: WIdémoUTH
to a very small selection of tENTATIVELY, a cONVENIENCE's Writing