423. "Where did you get the idea for your most recent book?"
- Spoken Word Open Mic, Biddle's Escape, Pittsburgh, us@
- Wednesday, January 10, 2018, 7:20PM
- I've been collecting alcohol bottles & cans that appeal to me for one reason or another but without any purpose in mind until I finally realized that they'd provide a relevant visual element to a reading of my text that was written in reponse to the Goodreads question "Where did you get the idea for your most recent book?". Throughout the reading, I placed these cans & bottles in front of me on the table, where I had the text, to create an atmosphere of comedic intoxication, even though I wasn't actually drinking alcohol. The 1st one I placed on the table was an empty bottle of "Walt Wit" beer that has a picture of poet Walt Whitman on the label.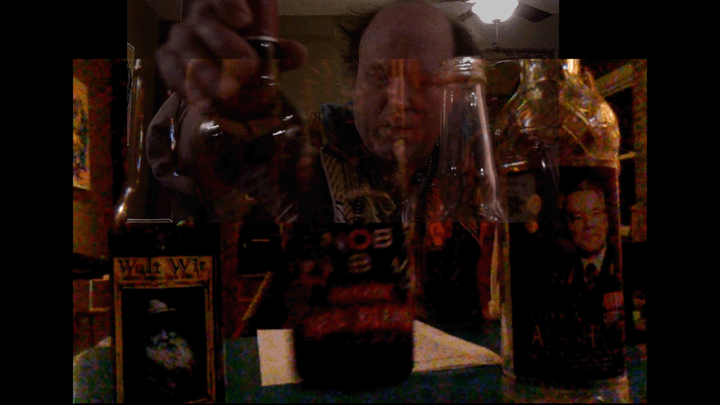 still from the movie of the reading
https://www.goodreads.com/questions/268679-where-did-you-get-the-idea-for-your-most
Goodreads asked tENTATIVELY, a cONVENIENCE:
Where did you get the idea for your most recent book?
(October, 2016?)
tENTATIVELY, a cONVENIENCE Well, this isn't exactly about my most recent book ("tENTATIVELY, aN iNTERVIEW" in collaboration with Alan Davies) but it's the closest I can get at the moment. That age-old question of "Where did you get the idea"? can be answered by almost all creative people who're willing to be honest with a simple answer: from a series of books called "Ideas for _____s" - in this case "Ideas for Writers". I have one called "Ideas for Filmmakers" & one called "Ideas for Musicians" too. They're all pretty much the same with a few minor variations. I should clarify: they're not exactly books, they're things that display on my iTab, they're kindof expensive but the subscription's worth it because it keeps me ahead of the pack, so to speak, ahead of the wolves at my door. Unfortunately, I can't really afford to pay for a good iTab at the same time so I can't always read the microprint.
Anyway, just to give an example. I'm sitting here, alone, as usual, my inflatable amanuensis doll that answered to the name of Samuel Beckett deflated a while back & since then I haven't had any friends at all. SO, I'm trying to think: what can I write? I just look at the iTab "Ideas for Writers" & I see that zombies are in right now so I think "COOL, that's something different that I wouldn't have thought of on my own!" so I decide to make it a zombie story.
Well, lest you think that I'm lazy and that I'd just sit back on my haunches & knock back a six-pack after such an inspired moment, I THEN consult the iTab again & see that if I really want to corner a niche market I should make it targeted to an audience-in-search-of-'their'-writers so I decide to make it a queer youth novel, at least a little - not too much because I want to keep it outside of the rating system so I don't have any problems there.
Now I'm on a roll! A few more checks in the iTab & I've got the opening scene: two girls in a bedroom messing around, nothing too x-rated, just some exploratory kissing, maybe a little petting, again, not too much. The annoying little brother has been pounding his pud in the next room, he can hear everything so he knows what's going on. Now I don't explicitly say that's what he's been doing, it's implied, right? "Ideas for Writers" teaches you how to be subtle. SO, he bursts into his sister's room, his pajama fly is open, he's got the door-knocker in his hand, the sister & her friend see that he's a zombie so she blows his head off with a handy gun (every American home should have at least one in every room).
This is where I start to get really original: usually zombies get killed when their head gets blown off, right? In this case the brother keeps right on coming, he can't see anymore but it's ok, it's a small room, the bed's on the right, the school-desk's on the left & the window's straight ahead so it doesn't matter if he can't see anymore. I admit, I started to get lost here, I mean his door-knocker wants to "ring that bell-el-el-el-el-el-el" right but I can't let that happen, I've got to curb that heat-seeking missile.
Eureka! A VAMPIRE comes in the window at that very moment (I'm not making this shit up, it's all in the "Ideas for Writers" iTab) & starts sucking on the boy's neck-stump. It's like winning the lottery for the vampire. In no time at all, the boy's body is drained 'til he's little more than one of those party-whistles where you blow it & a tongue of rolled paper shoots out & then retracts again - you know what I mean? BUT HE'S STILL ALIVE! (Every time I start a sentence with "But" or use an ampersand or whatever a red line appears under it, the "Ideas for Writers" spellcheck doesn't like it at all but I can't help myself I'm so excited!) Nothing can kill this kid.
The girls have been watching all this, admittedly fascinated & a bit turned on, but, then, the vampire turns to look at them & she's got a weird look in her eye & they know what that means so they each take a nail-studded baseball bat that's there in case they run out of ammo & they each take a swing but the vampire's too smart for that & jumps out the window just in time & the bat hits the brother in what's left of his stomach instead &, & here's the shocker, his head pops out of his neck, he was only fooling, he's ok, & everybody hugs each other & we're back to being family-friendly.
I REALLY don't know where to go from here, I'm even more stumped than the brother (get it?!) so I consult the well-spring & find that making it a dream justifies anything so that gets me off the ratings hook a little. The sister wakes up, it turns out that she's fallen asleep in class, she's in school & a nun has awoken her by whapping a ruler across her knuckles. I got that from the iTab too - nice touch, eh?! See why the subscription's worth it?!
There's something weird about the nun. The reader doesn't know this yet, I just drop some hints, but the nun's actually a guy in drag who's in school as an undercover cop trying to catch some grafittists who've been carving a post-horn symbol in the ceilings & the cop can't even figure out how they get up there, he's just got to know. But that's not the only weird thing, the girl's starting to figure out that he's actually a guy because there's this protuberance at about three feet in the front of the nun's habit.
In other words, all is not as it seems - you don't want to make it too obvious for the reader. When the girl gets woken up, she knocks her iTool on the ground & when she leans over to pick it up in her Catholic School mini-skirt uniform her thong strap breaks & her woo-haa is exposed to the 'nun' who just happens to be bending over at the same time to help her pick up the thingie &, wouldn't you know it?, that nylon-wrapped protuberance slips right into the Garden of Eden!!
At this point, I'm a bit tipsy & I look at my "Ideas for Writers" & see that I've accidentally opened the ADULT version but there's no turning back now because I've lost track of where I am anyway. Well, the girl, the sister, right?, not the 'nun' sister, but the zombie-boy-in-the-dream's sister gets pretty excited by all this & that's when, to quote Dr. John Money, she gets derailed from her love-track. She's a goner. Nothing is EVER going to turn her on like this again, she's going to spend the rest of her life trying to reinstantiate but there's no hope for her, this was a one-of-a-kind experience. OR SO IT SEEMS!!
Fortunately for her, the undercover cop is actually her own age (within a year or two) so the story's in the clear there, & the reason why this particular cop specializes in nun-drag is NOT because he's one of the Sisters of Perpetual Motion, or whatever they're called, but because he has a physical abnormality that makes his crotch two feet above the ground & his heart at about three feet while his head is still at about the normal height.
Here's where the "Ideas for Writers" really gave me a kick: The protuberance, which everyone has been thinking is the member of the family who hangs onto the family jewels is ACTUALLY a stake that was driven through his unusual person's heart! The thing is: HE CAN'T TAKE THE STAKE OUT HIMSELF, that's against the rules, & he's too embarrassed to ask for help. WELLLLLL (another red underline), the stake gets caught in the honey pot & when the girl stands up it pops out of his chest & the wound immediately heals. BOY, is he grateful!
I barely need to tell you what happens after that, the story just sortof writes itself. The boy is actually some sort of super-powered shape-shifter who was elongating when the stake was driven in by a bad guy who was trying, of course, to kill him. The result was that he didn't get killed but he got stuck in this shape, right? & he's been an undercover cop in nun drag ever since. That's kinda harsh for such a young guy - even if he is precocious. That's made him more sensitive.
Once the stake's out, he remembers that HE's the grafittist & that his elongo powers have enabled him to carve into the ceiling with his titanium-hard fingernails. Everything fits together, he & the girl fall in love, his special powers make reinstantiation possible after all & they live happily ever after. That's just the 1st chapter, I've been misleading the reader, the real hero of the story is the writer but I'm too drunk now to read the "Ideas for Writers" anymore so I have to stop for now. Does that answer your question?!
- a movie of this is on my onesownthoughts YouTube channel here: https://youtu.be/beFRcoyT_SY
424. "Exorcising Capos"
- "The Exorcism", Glitter Box Theater, Pittsburgh, us@
- Saturday, February 3, 2018, 8:20PM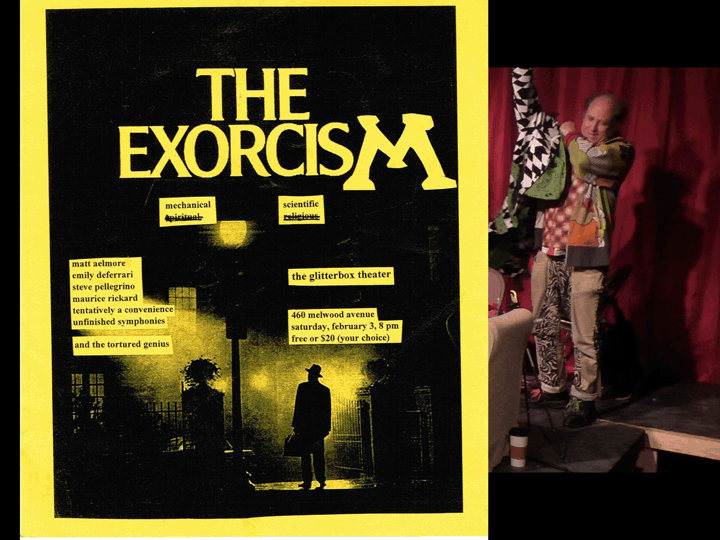 - My friend & collaborator Mr. Funky (aka Unfinished Symphonies) conceived of & invited me to be a participant an even called "The Exorcism". He explained this to the press thusly: "It's gonna be a series of short, punchy individual exorcisms. Each participant will pick a target and go for it with any strategy she/he chooses. Could be music, could be something else. At the end we'll have the audience write down what they want erased from the world, and we'll go out to the street and burn up their paper."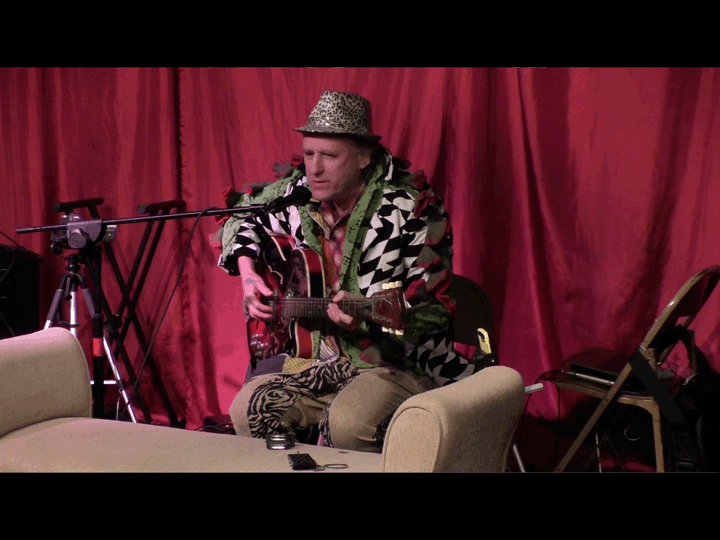 I decided to exorcise capos. I've always found capo use to be ridiculous. The idea was to use 5 or more altered quick-release capos in a binge of capo overkill to purge capo playing. If one's an alcoholic one could 'cure' oneself of it by drinking oneself to death (NOT RECOMMENDED OR EVEN SUGGESTED) because then one would be dead. I thought I'd apply the same logic to capo playing. As usual, the more I thought about it the more elaborate my idea became as to what to do.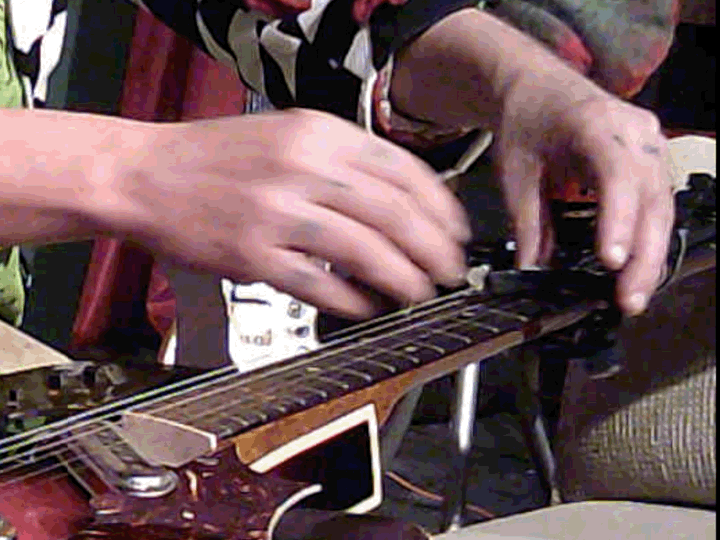 The night of The Exorcism arrived & I was in a particularly stressed-out, distracted & unhappy mood. Even though I pulled it off in a way that appeared to entertain the (v)audience I was dissatisfied with all the things I forgot to do & with all the things that went wrong. The performance was still good anyway but for the purposes of this movie I've added some extra footage to make up for some of what was lost. Mr. Funky himself will put movies of each of the performances online so this only represents mine.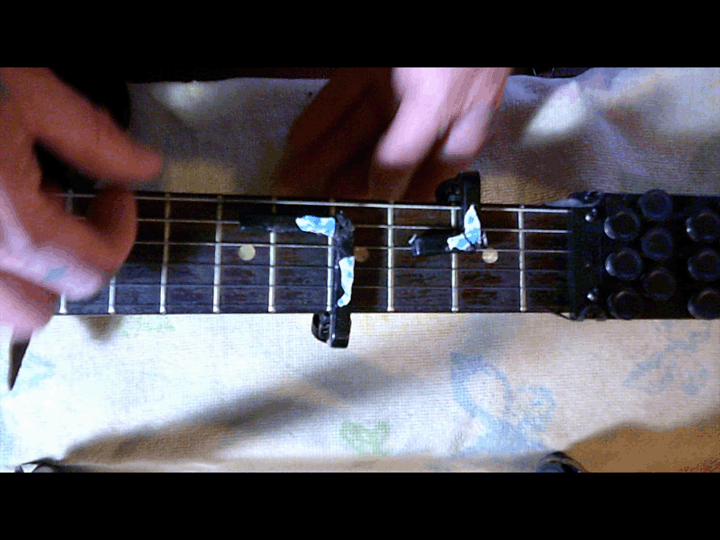 What I DID do was talk about learning guitar as a teenager & deonstrated some of what I was talking about. I'd altered 2 capos & I used those & an E-Bow & an EZ-Fret to indulge in an orgy of lazy playing. After I'd demonstrated this, as a way of avoiding a situation in which using a capo would even make any sense, I switched to a MIDI-guitar & ended on an acoustic piano. I played a D major chord, improvisied in a way that was irrelevant to scales, played a D minor chord, & ended on a D Major chord. The reason for this was two-fold: I wanted to introduce a musically conventional 'uplifitng triumphant' ending with a Picardy Third and to end on a D major chord because Unfinished Symphonies usually says that his songs are "in D", which, as far as I can tell, they never are - by which he apparently means that they begin & end on a D major chord.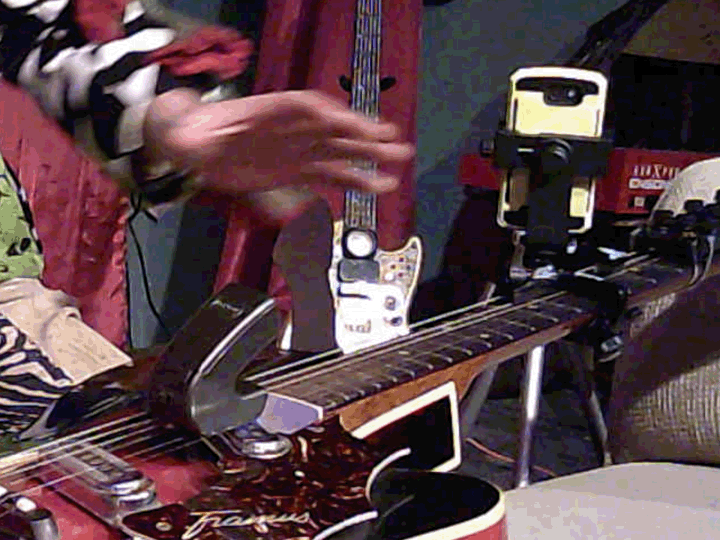 The other performances were varied & generally excellent & were by: The Tortured Genius (Mr$. Funky), Emily Deferrero & a host of friends, Steve Pellegrino & Mary (on mandolin-banjo), Maurice Rickard, Eric, Matt Aelmore, & Unfinished Symphonies (Mr. Funky). It was a very special evening. Thanks, as always, to the wonderful Glitter Box Theater for being so open-minded & affordable.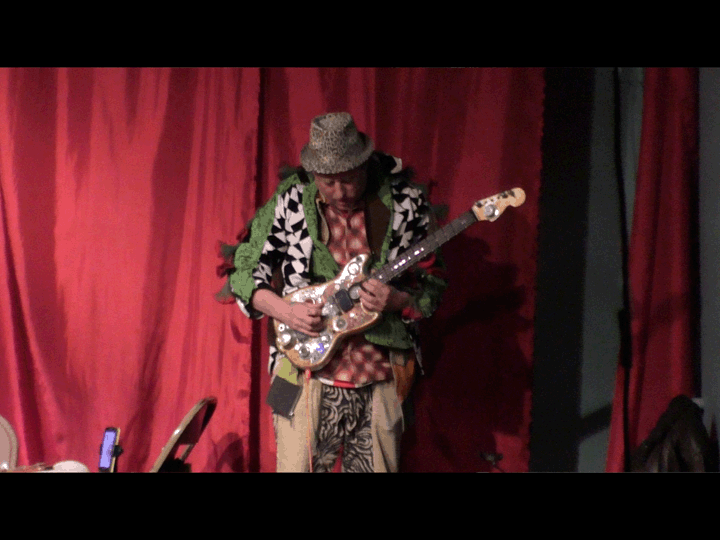 - Unfinished Symphonies's raw footage of the Exorcism of Capos is here: https://youtu.be/J5SX8bkQW4c
- My edit, introducing supplementary materials, is on my onesownthoughts YouTube channel here: https://youtu.be/nTRdh4YnA2I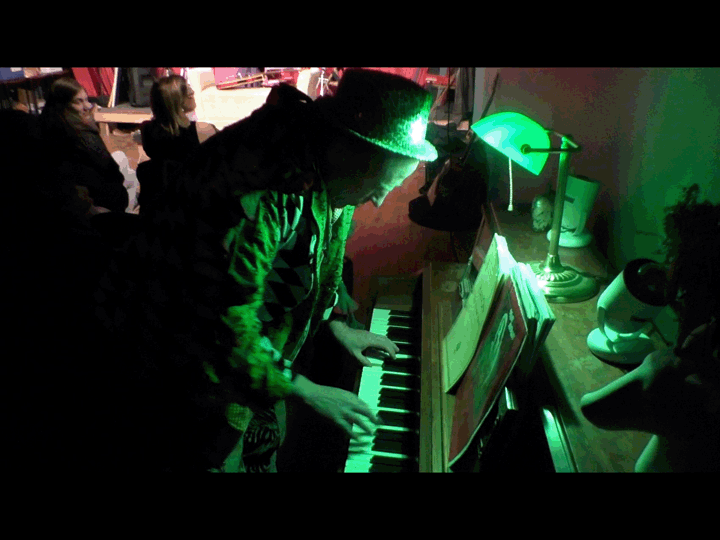 425. "Pre-Show: Total Mobile Home Suitcase"
- Babyland pre- May Day Variety Show, Pittsburgh, us@
- Friday, May 5, 2018, 7:45PM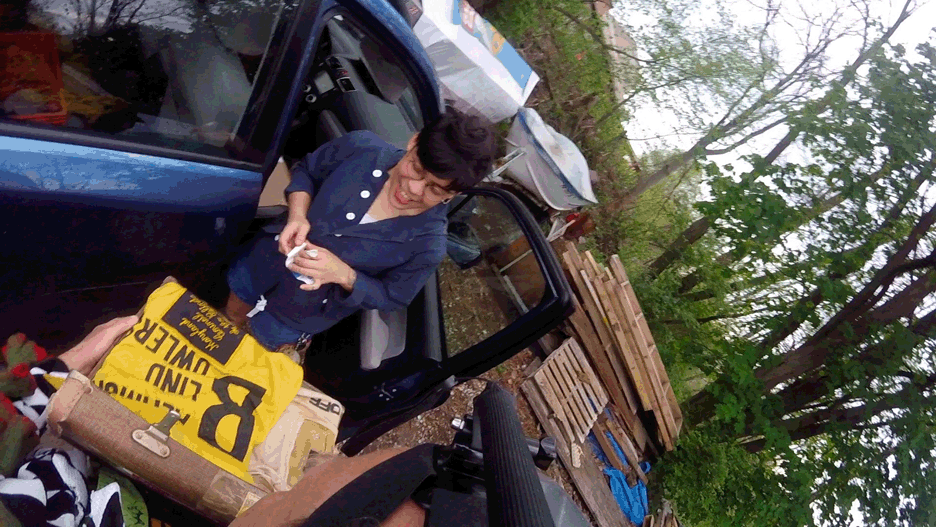 "Pre-Show: Total Mobile Home Suitcase": Every year in my neighborhood there's a May Day Parade held on a Saturday. The night before there's a Variety Show. In 2018 I'd put all my effort into preparing for my annual parade speech so I hadn't been planning to do something for the Variety Show but I decided that I should test a head-mounted camera set-up I was planning to use for the parade in advance of the parade - & since I'd just recently gotten my Total Mobile Home Suitcase (1995) working again I decided to provide some pre-show entertainment using it while it was still light outside. The Variety Show didn't really start until after dark so there weren't many people around but that was ok because I just wanted to create a special experience for the few that were there.
- on my onesownthoughts YouTube channel here: https://youtu.be/fS6D-SP2GoU
- recollections from tENTATIVELY, a cONVENIENCE
426. "Soap Box Opera episode 7"
- a srop on the Spit'n'Polish Hill May Day Parade, Pittsburgh, us@
- Saturday, May 5, 2018, 1:30PM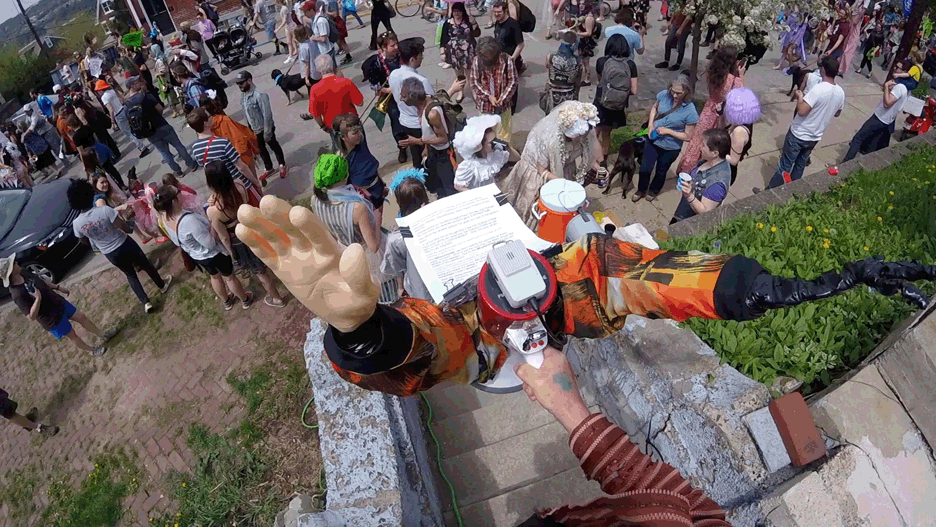 - Since 2010 there's been an annual May Day parade in the neighborhood I live in. It comes together in a somewhat chaotic way but still manages to be colorful & substantial & fun. Since 2012, I've been giving a speech as part of it. Each year I've tried to say something political & reinforcing of both the community & the individuals within the community. I usually think about what I'm going to say all year leading up to it. I, personally, don't enjoy political speeches very much. No matter how much I agree with the politics of the person speaking they always just come across as so much blah-blah to me. Not wanting to be just-another-political-speechmaker, I've leaned somewhat toward the performative in an effort to make the experience more interesting. This year, 2018, I decided to break out of the expected altogether & take advantage of the USB input in my megaphone.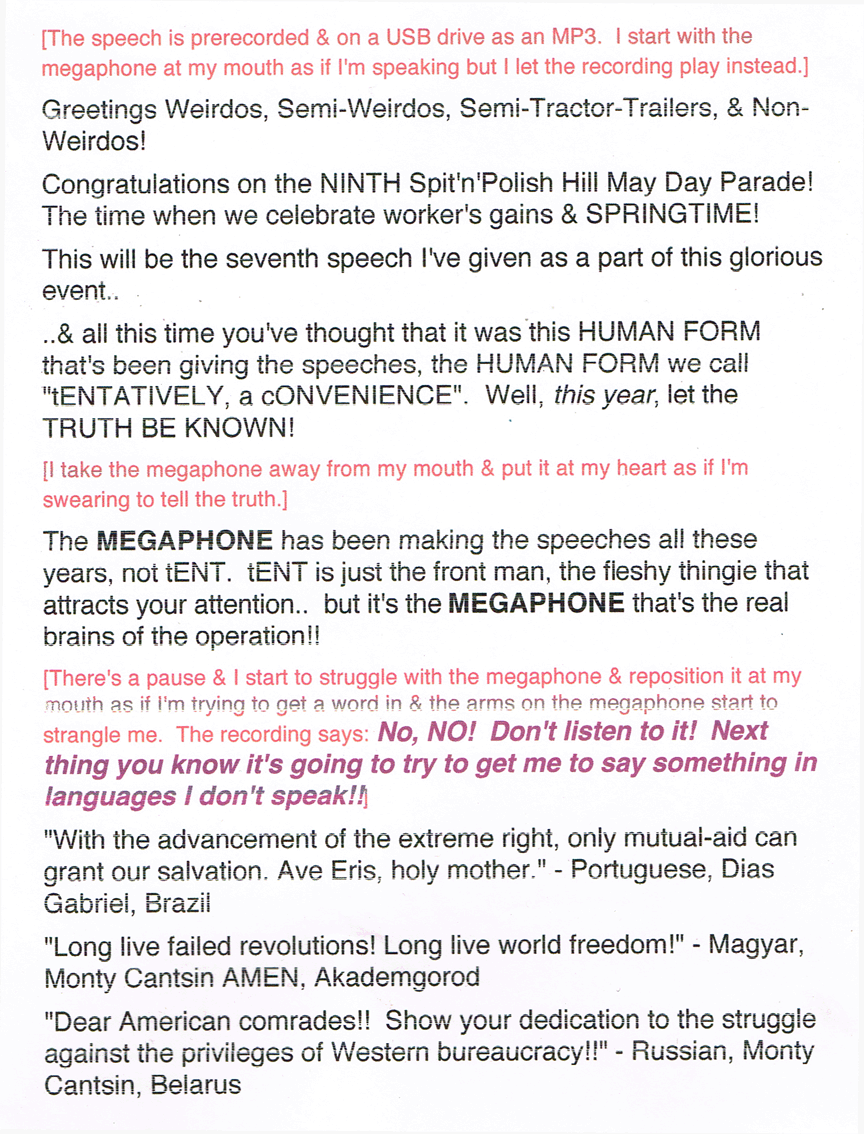 Many months in advance, I wrote to many multilingual friends of mine all over the world & asked them for recordings of 10 seconds or less of something that they'd like to say to the May Day Paraders:
May Day 2018 multilingual speech proposal
Dear multilingual friends,
For the past 6 years I've given a short May Day speech at an unpermitted May Day Parade. This year, I want the speech to come from many voices in many languages. Since you speak a language other than English I'm asking for the following from you:
Please think of one sentance you'd like to say to a May Day Parade.
Please record your saying that sentence in a language other than English.
Please make it 10 seconds or less long.
Please send me the recording to idioideo at gmail dot com along with the sentence written out & an English translation.
The idea is that I'm going to collect all the recordings onto one USB drive & then play them through my megaphone.
PLEASE DO SO BY APRIL 1, 2018!
I'll probably only be able to use ±12 of what I receive so please don't be too disappointed if yours doesn't get picked.
THANK YOU!
tENTATIVELY, a cONVENIENCE
Soap Box Opera episode 1: https://youtu.be/loBDoK5Gyi0
Soap Box Opera episode 2: http://youtu.be/7GHfd1JVuMQ
Soap Box Opera episode 3: http://youtu.be/FUY9DwiE1Dk
Soap Box Opera episode 4: http://youtu.be/jImQyP8g_iQ
Soap Box Opera episode 5: https://youtu.be/PD6IfIImVeY
Soap Box Opera episode 6: https://youtu.be/A_8Vgf97WMg
This invitation was written in 14 languages (thanks to Google Translate): Portuguese, Spanish, French, German, Nederlans, Russian, Belarusian, Chinese, Magyar, Italian, Esperanto, Japanese, & Indonesian (with English also always a part of the invitation) & sent to 18 specific friends & as a general announcement to hundreds more. I expected this to be very easy for all the highly politically active friends of mine. Alas, I only got replies from 3 friends. Several others promised participation but didn't deliver. I put the 3 short speeches on orange cards in both the original languages & in translation to English to hand out to people so they could understand what was going on.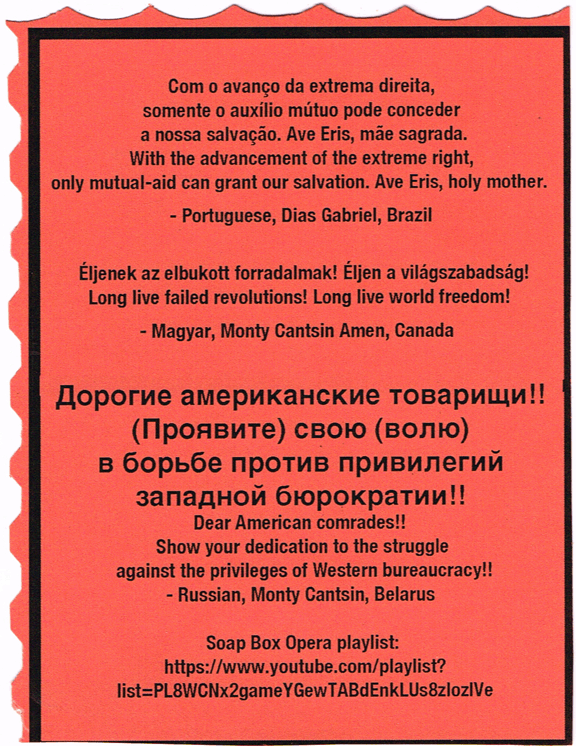 - on my onesownthoughts YouTube channel here: https://youtu.be/QDtcfwvUH58
- recollections from tENTATIVELY, a cONVENIENCE
427. "Sleeping Together"
- with Pamelia Stickney playing theremin
- Glitter Box Theater, Pittsburgh, us@
- Thursday, May 10, 2018, 10:15PM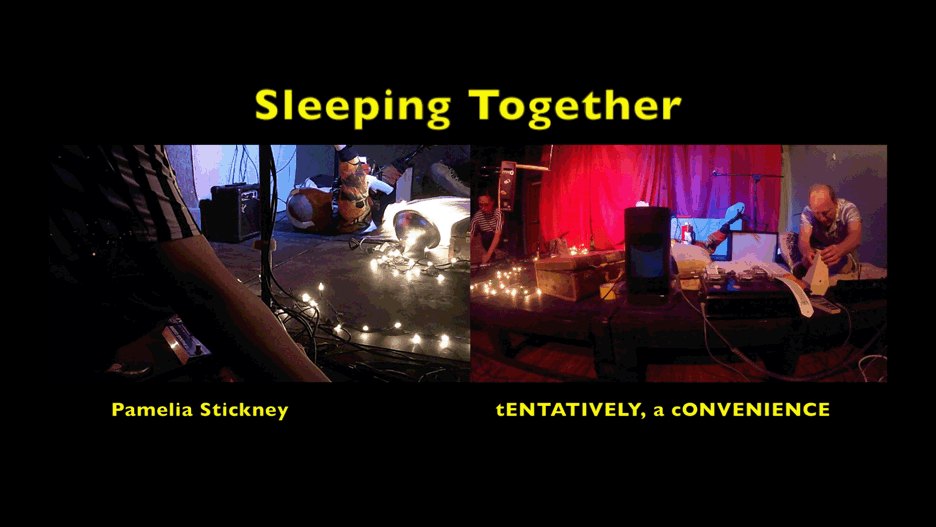 - Pamelia Stickney & I planned a gig together for May 10. In a message exchange a little over a month before, Pamelia wrote "i am gonna be totally wasted tired with jetlag beyond that... needing to hit the hay recouping... but our improv theme could be - sonic nightcap, lullaby on a worknight, maybe even as we improv i start to fall asleep at the wheel... ha! anyhooo... lemme know whatcha think... i think it could be fun - getting sleeeepy and drowsy... try to make everyone sleepy drowsy along with us... maybe get peeps to lie down - tell them, bring a pillow! and i end up doing knob twisting lying down... like, is it possible to get into that halfdreamalmost asleep state and bringing out an improv while in it? that could be fucking cool... hehehe! but then i should have tried to book out glitterbox so that i just stay asleep so i dont have to pack my shit afterwards... hahaha... wake up next morning... hearing audience snoring... that would be fun... hehehe... anyhooo... even in tired state i know i still can musickify, and oh man, if i am sitting on a comfy chair, you know how when you start falling asleep and yer trying to talk sometimes your words go wonky and nonsensical? maybe that happens too as i get sleepy while playing?" & I countered by saying that "It'll give a new meaning to "sleeping together"."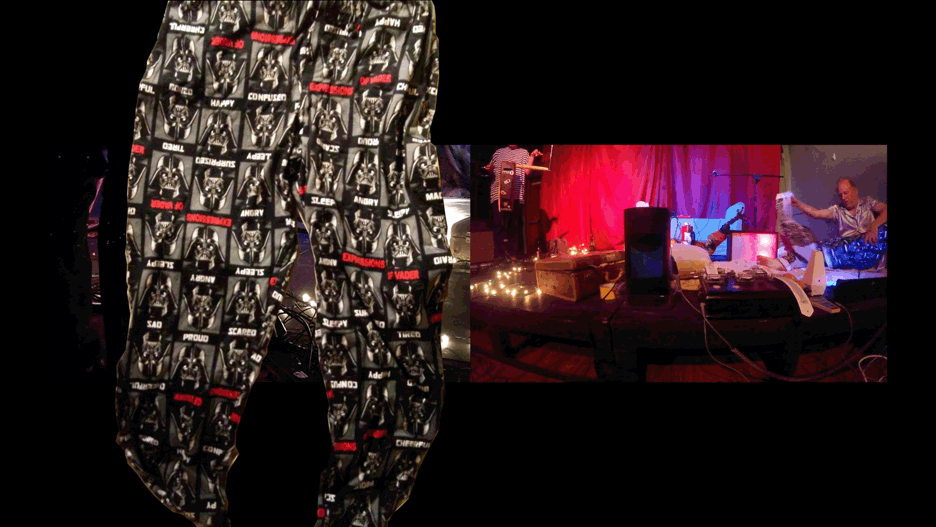 As is my typical practive, I gave a substantial amunt of thought to what I might do with the theme & developed a few things in preparation - even getting a pair of Darth Vader pajama pants to wear. Pamelia started it by playing Brahms's "Lullaby" while I got ready for bed by changing into my PJs & switching on various nightlights. I opened my "Total Mobile Home Suitcase" which activated a tape loop of booing & removed a pillowcase. Closing the suitcase stopped the loop & I shook out the pillowcase before putting it on my pillow. I activated an "Envirascape Rainforest Fountain" which produced a waterfall lit by chaning light & has the option of 6 different soundtracks including rainforest & loons. The speaker to this was amplified with a contact mic that went into a 4 channel mixer & from there to a sampler mixer & then out to the sound system.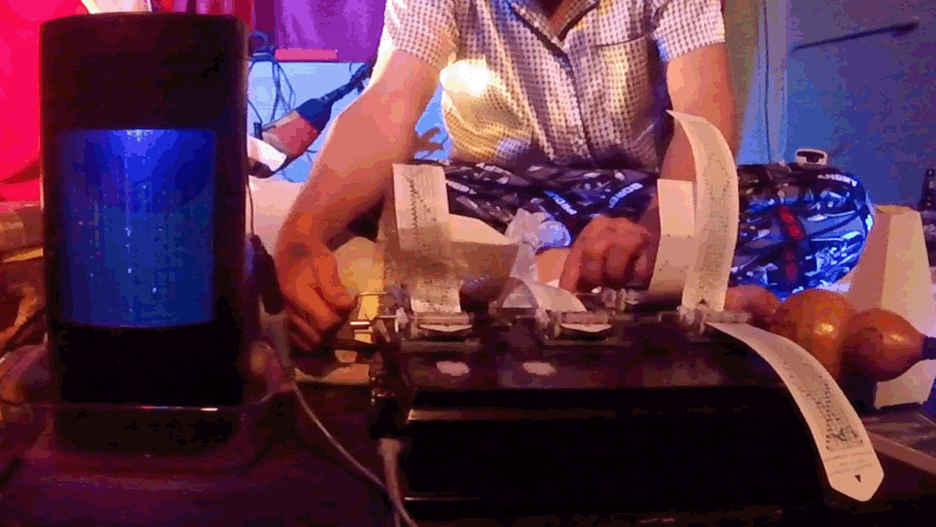 I also played my 5 music box instrument which had a version of Tchaikovsky's "Swan Lake", a version of the same with major 7ths added to the lower notes, & 3 other music box melodies of my own composing. This was also miked & fed into the sound system. There was a miked metronome.
There was also a radio miked halusi with 2 drone pipes that could be sounded with both out & in breathing.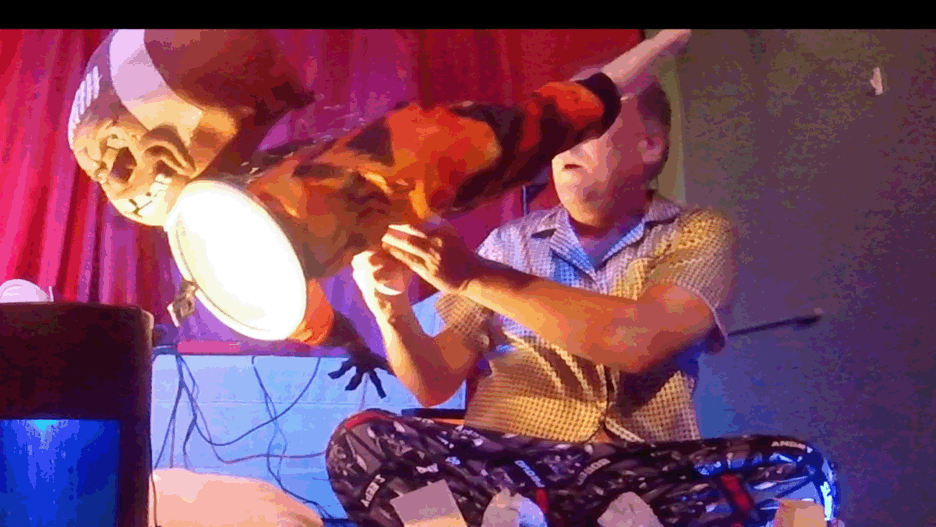 Finally there was a megaphone that I'd altered by putting arms & a football-with-a-face mask on it. This latter was playing prerecorded heavy breathing sounds.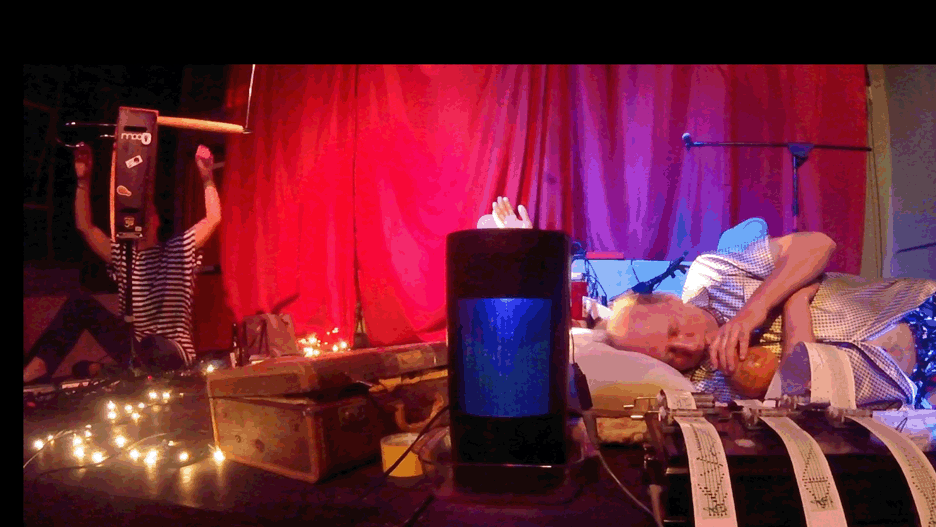 Both Pamelia & I gradually lay down & continued to manipulate our sound sources as we pretended to fall asleep. Pamelia introduced it as "gentle but mental" & I thought that was a pretty good description. I usually avoid drone-like audio production in favor of clashing disjunctive references but it was fun exploring this direction & using so many props & lightings. Pamelia was her usual excellent musician self. A good time was probably had by all.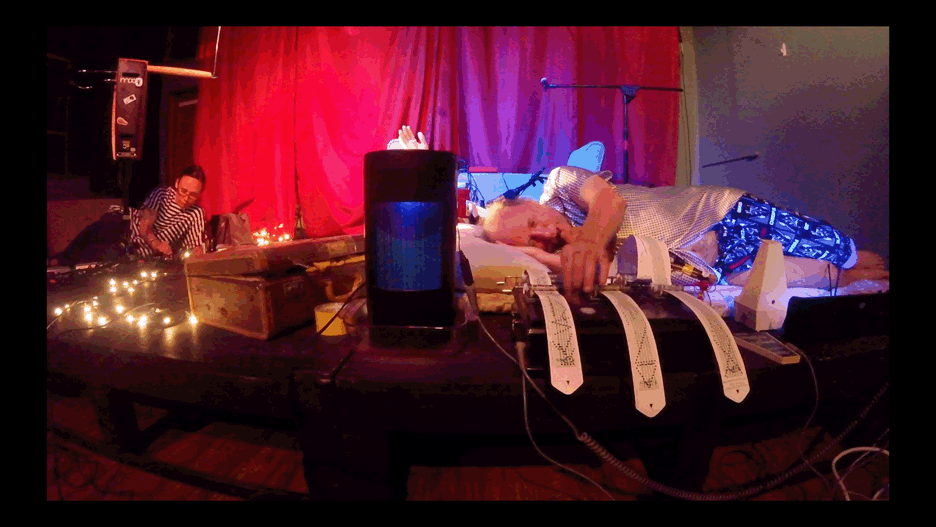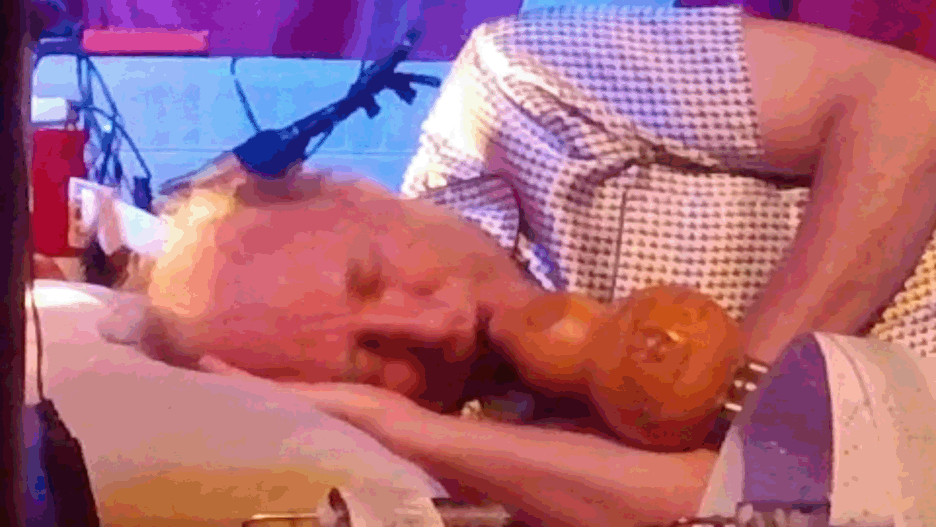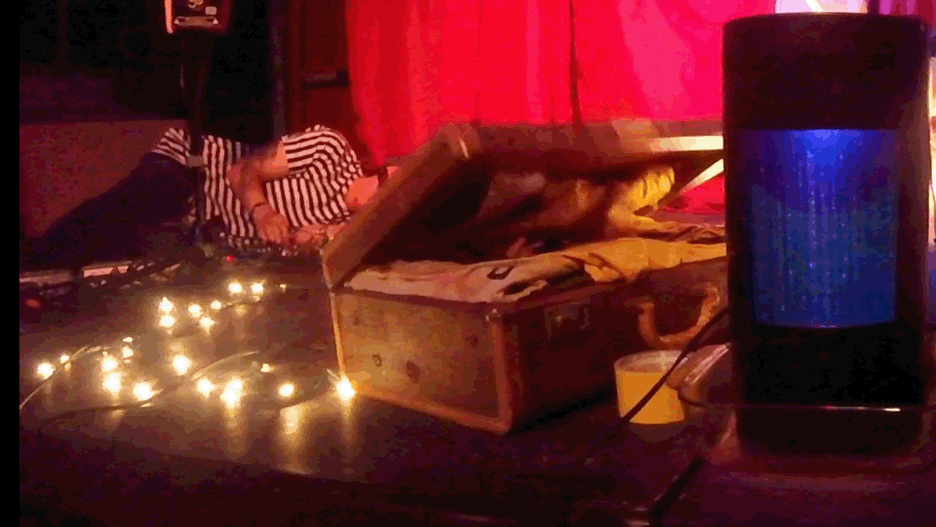 - on my onesownthoughts YouTube channel here: https://youtu.be/Q_zMsJFB9Is
- recollections from tENTATIVELY, a cONVENIENCE
to Personal Favorites: 1959-1989
to Personal Favorites: 1990-2009
idioideo at verizon dot net
to the tENTATIVELY, a cONVENIENCE Anti-Neoism page
to the tENTATIVELY, a cONVENIENCE Audiography page
to the tENTATIVELY, a cONVENIENCE Bibliography page
to my "Blaster" Al Ackerman index
to the tENTATIVELY, a cONVENIENCE Books page
to the tENTATIVELY, a cONVENIENCE BYOC page
to the tENTATIVELY, a cONVENIENCE Censored or Rejected page
to the tENTATIVELY, a cONVENIENCE Collaborations page
to the tENTATIVELY, a cONVENIENCE (d) compositions page
to Amir-ul Kafirs' Facebook page
to the "FLICKER" home-page for the alternative cinematic experience
to tENTATIVELY, a cONVENIENCE's GoodReads profile
to the tENTATIVELY, a cONVENIENCE Haircuts page
to the tENTATIVELY, a cONVENIENCE Home Tapers page
to the tENTATIVELY, a cONVENIENCE index page
to the tENTATIVELY, a cONVENIENCE Instagram Poetry page
to a listing of tENTATIVELY, a cONVENIENCE's manifestations on the Internet Archive
to the tENTATIVELY, a cONVENIENCE as Interviewee index
to the tENTATIVELY, a cONVENIENCE as Interviewer index
to tENTATIVELY, a cONVENIENCE'S Linked-In profile
to tENTATIVELY, a cONVENIENCE's Mail Art page
for A Mere Outline for One Aspect of a Book on Mystery Catalysts, Guerrilla Playfare, booed usic, Mad Scientist Didactions, Acts of As-Beenism, So-Called Whatevers, Psychopathfinding, Uncerts, Air Dressing, Practicing Promotextuality, Imp Activism, etc..
to the mm index
to see an underdeveloped site re the N.A.A.M.C.P. (National Association for the Advancement of Multi-Colored Peoples)
to tENTATIVELY, a cONVENIENCE's Neoism page
to the DEFINITIVE Neoism/Anti-Neoism website
to the Philosopher's Union website
to the tENTATIVELY, a cONVENIENCE movie-making "Press: Criticism, Interviews, Reviews" home-page
to tENTATIVELY, a cONVENIENCE's Score Movies
to SMILEs
to find out more about why the S.P.C.S.M.E.F. (Society for the Prevention of Cruelty to Sea Monkeys by Experimental Filmmakers) is so important
to the "tENTATIVELY, a cONVENIENCE - Sprocket Scientist" home-page
to the tENTATIVELY, a cONVENIENCE Top 100s page
to Psychic Weed's Twitter page
to tENTATIVELY, a cONVENIENCE's Vimeo index
to Vine movies relevant to tENTATIVELY, a cONVENIENCE made by Ryan Broughman
to tENTATIVELY, a cONVENIENCE's presence in the Visual Music Village
for info on tENTATIVELY, a cONVENIENCE's tape/CD publishing label: WIdémoUTH
to a very small selection of tENTATIVELY, a cONVENIENCE's Writing