445. "88 Instruments +"
- Art Rat Studios, Roanoke, VA, us@
- Sunday, June 12, 2022E.V.
- During the time of the QUARANTYRANNY most opportunities for me to present my Low Classical Usic &/or Sprocket Science in front of actual human beings has been by & large squelched by the climate of fear. People who previously would've been inclined to sponsor me are now terrified of appearing to not be in their approved subculture - in other words, I'm censored as 'unsafe' - not just as a 'disease carrier' but also as a dis-ease provoker, as a challenger to the almost completely omnipresent brainwashing.
Having gotten thoroughly SICK of this utterly insane state of things I decided it was time to play a gig somewhere. I started with trying to arrange one in my hometown, Pittsburgh. Alas, the zombies have almost completely taken over. Pittsburgh's a neoilliberal town par excellance, the artists & political activists are too incapable of analysis & too willingly enslaved to ASTROTURFING to dare to support aything that might challenge the norms of the Medical Industry Police State, no matter how subtly. 'Better Safe than.. Alive' might as well be the motto.
SO, I decided to visit a friend of mine in Tampa, FLA. Then I decided to visit a friend in Savannah, GA, & another in Roanoke, VA. The next obvious step being to try to arrange a gig in all 3 places. My friends in Tampa could arrange one but not on the short notice I was giving them. I tried contacting 4 venues in Savannah, explaining that I'm the most prolific moviemaker in the entire 127 year history of moviemaking. None of them even had the courtesy to reply.
In Roanoke, my old friend Brian Gentry hooked me up with Ralph Eaton at Art Rat Studios. Ralph initially discouraged me somewhat from presenting either of the 2 programs that I had in mind. Adaping to his input, I simplified my plan to at 1st be a free improvisation duet. Then my duet partner was essentially told by his wife that he wasn't allowed to go with me because, of course, he would 'get sick & die' from being in the car with me. Regardless of how irrational that fear was my friend was too weak to not let his wife dominate him so I was on my own.
The night before the gig I only got 4 hours of sleep. The quantity of gear that I took with me was so heavy I could barely move some of it but I managed to get the car loaded. It took, 6.5 hours to drive there. After a little R&R time I then spent 1.5 hours setting up. The UNCERT was only 24 minutes long. It took another 1.5 hours to tear down &, of course, I was also trying to sell merch. That night I also only got 4 hours of sleep & then it took me 7 hours & 10 minutes to drive back. I was profoundly exhausted at the end of it all. At age 68 I was proud of myself for being able to persevere but I don't know how much longer I can keep going at such a pace - not much longer, I'm sure.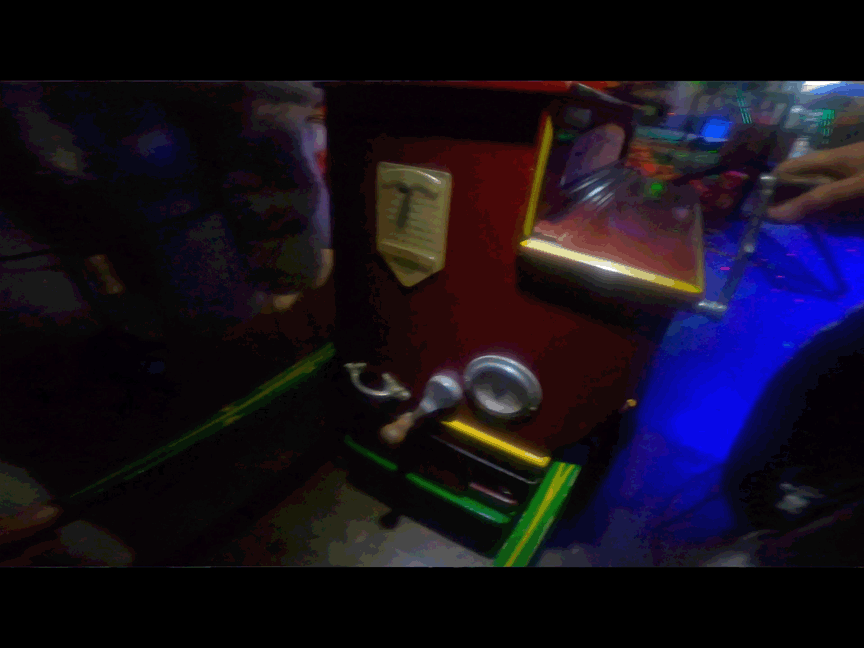 Ralph's Art Rat Studios has a fantastic setting made of 'corrected' stuffed animals. His psychedelic light show is truly impressive. The GoBos are wonderful. Rather than projecting my own movies I decided to use his environment as my stage set. Wearing a Kuba Elephant Helmet Mask from the Congo, I started off by pushing a Faventia miniature street barrel piano on its miniature cart out of the 'backstage' area, playing, in a deliberately disjunctive manner, Cole Porter's "Begin the Beguine". After I wheeled that out, I stood up (I had to kneel to wheel out the piano) & introduced myself & said a few words about the "60 & over Club", the name I was using for the presentation. Then I read this text: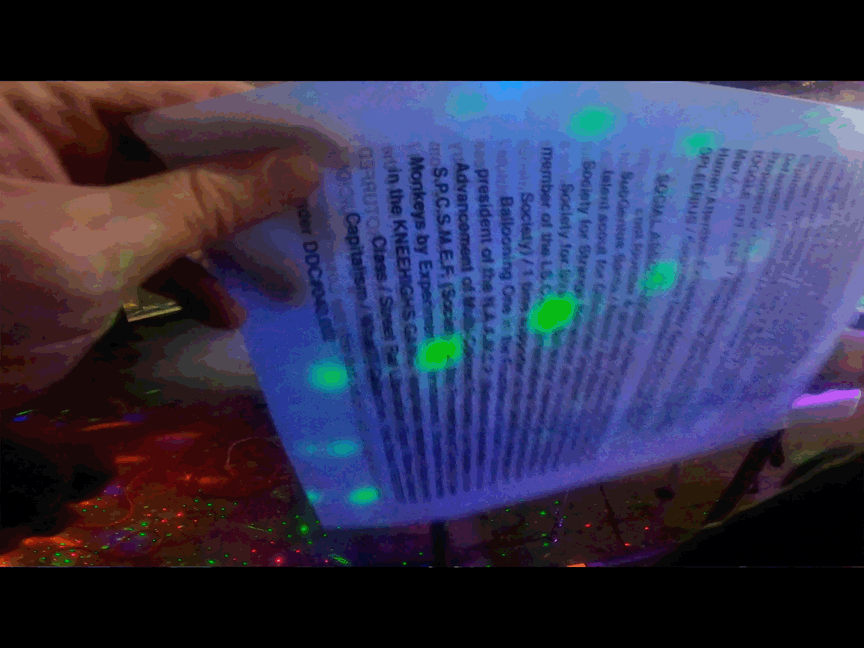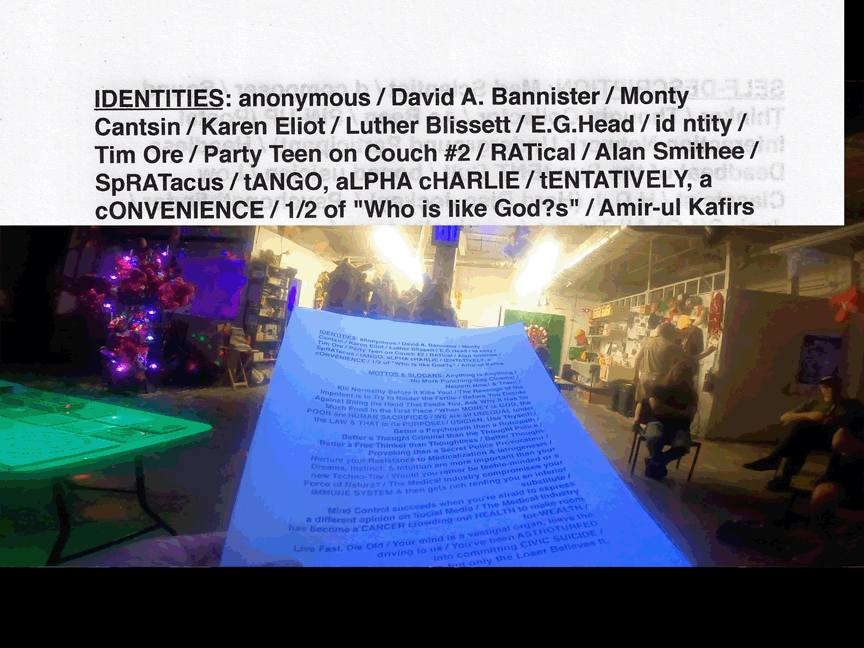 MOTTOS & SLOGANS: Anything is Anything / No More Punching-Bag Clowns! / Neoism Now! & Then! / Kill Normality Before It Kills You! / The Revenge of the Impotent is to Try to Neuter the Fertile / Before You Decide Against Biting the Hand That Feeds You, Ask Why It Has So Much Food in the First Place / When MONEY is GOD, the POOR are HUMAN SACRIFICES / WE are all UNEQUAL under the LAW & THAT is its PURPOSE! / USICIAN, Use Thyself! / Better a Psychopath than a Robopath / Better a Thought Criminal than the Thought Police / Better a Free Thinker than Thoughtless / Better Thought-Provoking than a Secret Police Provocateur / Nurture your Resistance to Medicalization & Iatrogenesis / Dreams, Instinct, & Intuition are more important than your new Techno-Toy / Would you rather be feeble-minded or a Force of Nature? / The Medical Industry compromises your IMMUNE SYSTEM & then gets rich renting you an inferior substitute /Mind Control succeeds when you're afraid to express a different opinion on Social Media / The Medical Industry has become a CANCER crowding-out HEALTH to make room for WEALTH / Live Fast, Die Old / Your mind is a vestigial organ, leave the driving to us / You've been ASTROTURFED into committing CIVIC SUICIDE / History Belongs to the Victor, but only the Loser Believes It.
SELF-DESCRIPTION: Mad Scientist / d composer / Sound Thinker / Thought Collector / As Been / PIN-UP (Postal Interaction Network Underground Participant) / Headless Deadbeat of the Pup tENT Cult / booed usician / Low Classicist / H.D.J. (Hard Disc Jockey) / Psychopathfinder / Jack-Off-Of-All-Trades / criminally sane / Homonymphonemiac / Practicing PromoTextual / Air Dresser / Sprocket Scientist / headitor & earchivist / Explicator / Sexorcist / Professional Resister of Character Defamation / Proponent of Classification-Resistant What-Have-Yous / tOGGLE nUT cASE / Princess of Dorkness's Right Hand Man / Human Attention-ExSpanDex Speculum / Imp Activist / SPLEENIUS / Cognitive Dissident / Criminally Sane
SOCIAL ASSOCIATIONS: nuclear brain physics surgery's cool founder & graduate / Krononaut / Church of the SubGenius Santa / Neoist / Anti-Neoist / Pregroperativist / talent scout for Olfactories Organized / S.S.S.B.ite (Secret Society for Strange Behaviour -ite) / A.S.S.S.B. (Anti-Secret Society for Strange Behaviour Asshole Son-of-a-Bitch) / member of the I.S.C.D.S. (International Stop Continental Drift Society) / 1 time supporter of the ShiMo Underground / Ballooning One in the Fructiferous Society / founder & president of the N.A.A.M.C.P. (National Association for the Advancement of Multi-Colored Peoples) / co-founder of the S.P.C.S.M.E.F. (Society for the Prevention of Cruelty to Sea Monkeys by Experimental Filmmakers) / Borderline Kneelite in the KNEEHIGHS GANG / emphatic member of the No-No Class / Street Rat Liberation Front / Money Against Capitalism / What?! Collective / Info Desk / HERETICS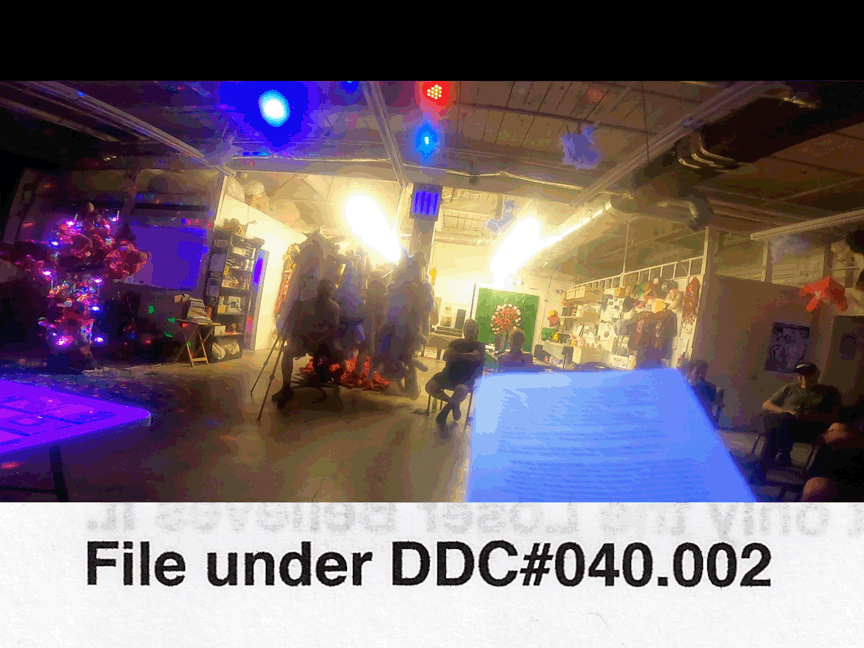 After I finished reading the text, I went to behind the keyboard that I had set up with my "88 Instruments" score/map in front of it. I removed my African mask & started playing the samples.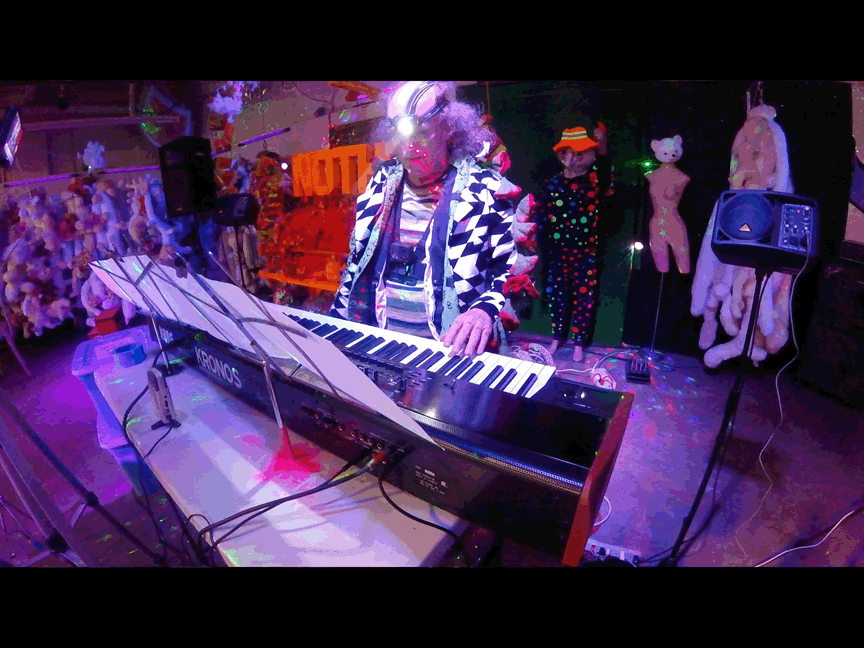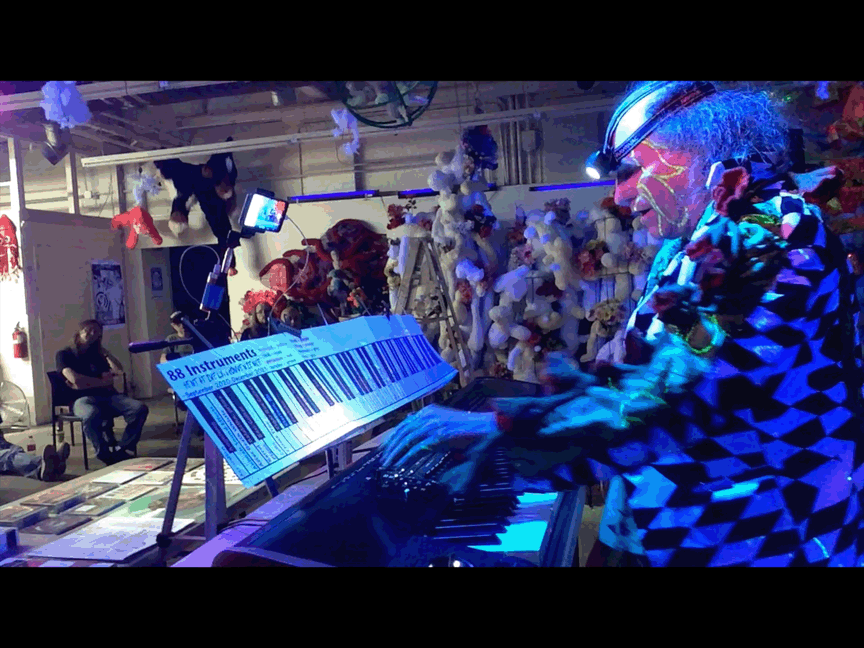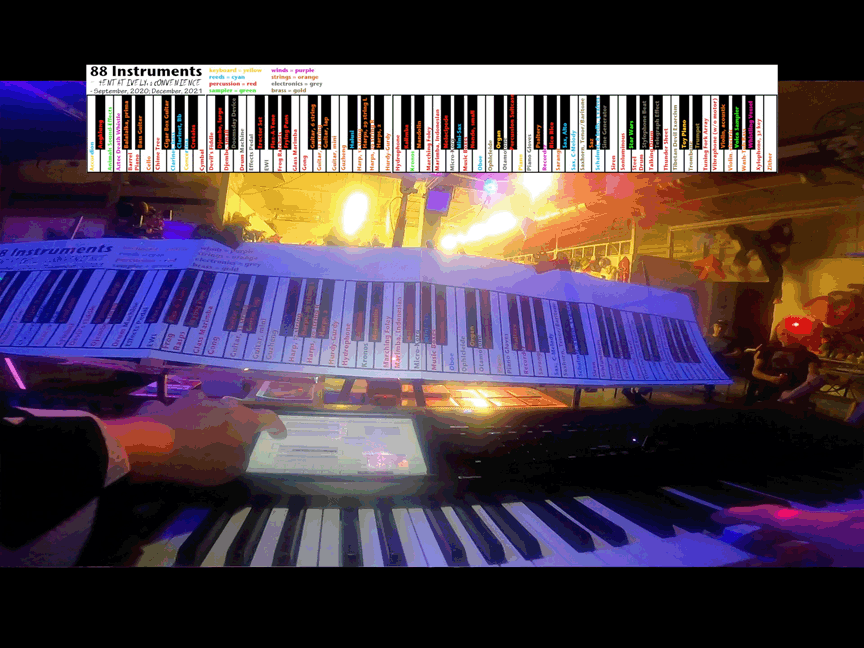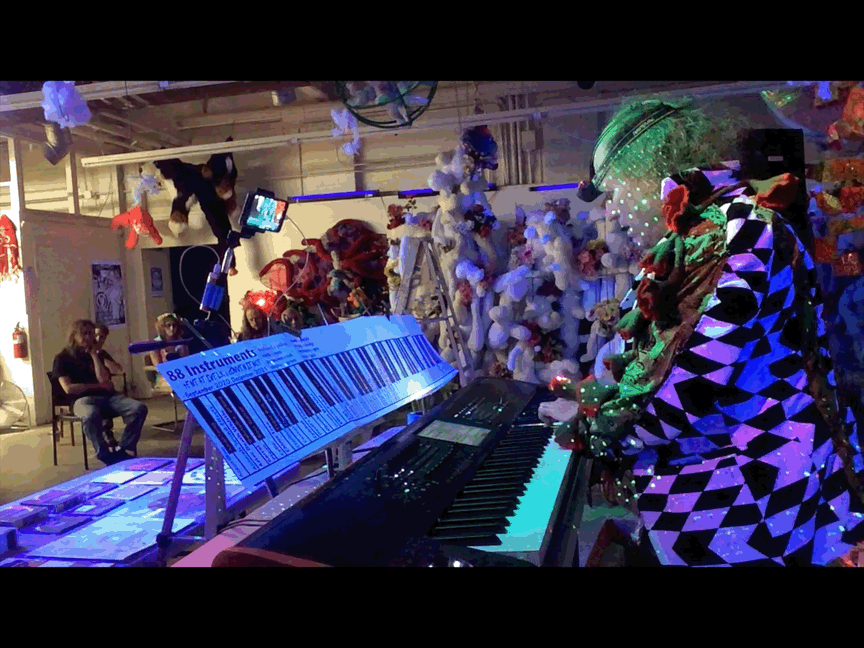 Sustaining a looping sample chord I revealed a bronze Dali melting clock sculpture & played it as a percussion instrument with metal mallets intended for Crotales.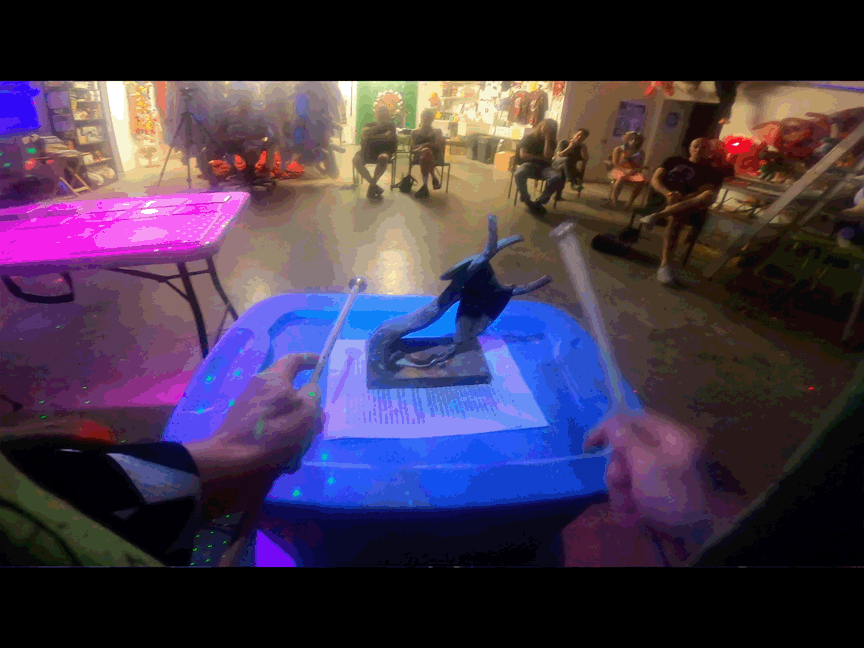 I returned to the sampler & played for another few minutes before sustaining another looping sample chord - this time using a Schalmei sample. Revealing the same Schalmei I played it while walking out ino the (v)audience.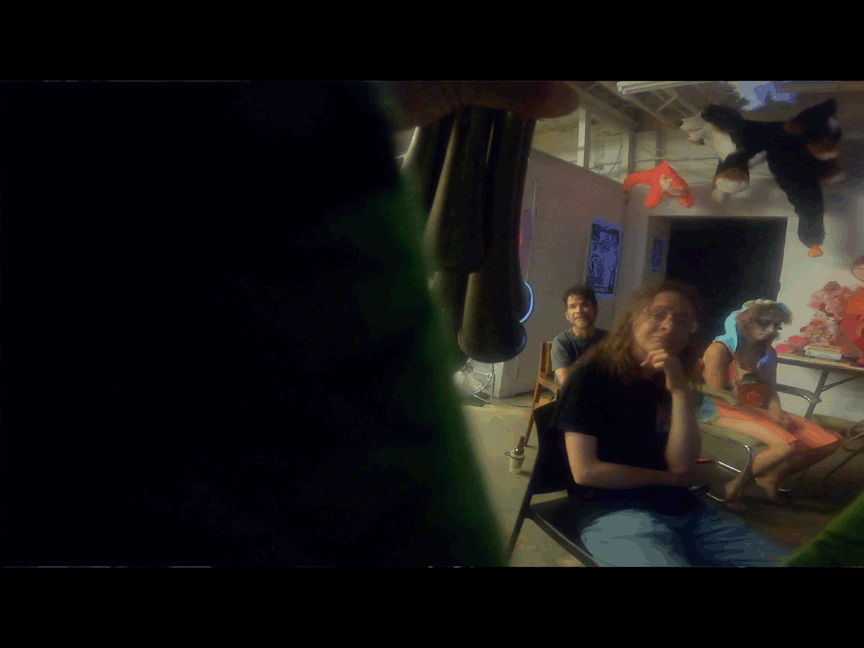 I returned to the keyboard again, playing more & sustaining a sample chord loop that included the barrel piano. From there, I went to the barrel piano & played a bit of that returning, once again, to the sampler. Eventually, I sustained & looped some samples & switched to a piano voice in order to play a brief more 'pianistic' passage. For the finalé I reverse-wheeled the barrel piano back into the 'backstage' area, came out & stopped the sampler loop sustain.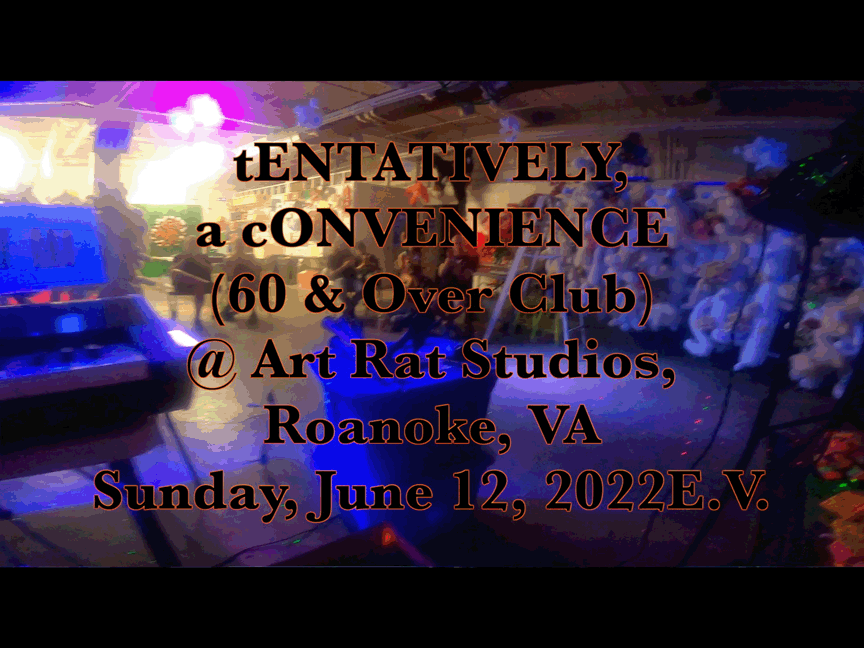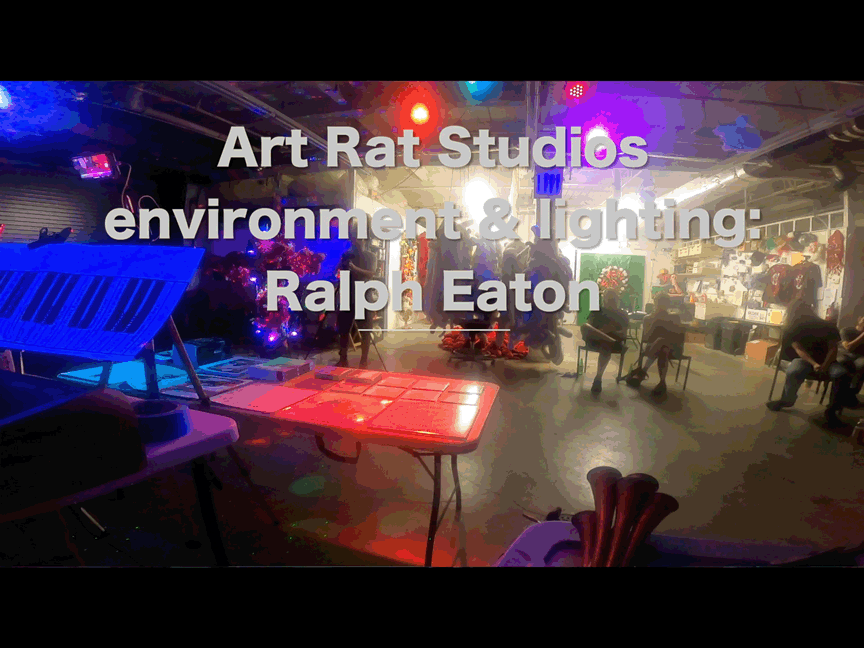 - "roanokeydokey"
- shot in Roanoke, VA, at Ralph Eaton's Art Rat Studios on Sunday, June 12, 2022; uploaded on June 14, 2022
- 1920 X 1440, 30fps, Stereo
- 25:28
- on my onesownthoguhts YouTube channel here: https://youtu.be/jfaokqYcEVY
- on the Internet Archive here: https://archive.org/details/roanokeydokey
- June 15, 2022E.V. recollection from tENTATIVELY, a cONVENIENCE
to Personal Favorites: 1959-1989
to Personal Favorites: 1990-2009
idioideo at gmail dot org
to the tENTATIVELY, a cONVENIENCE Anti-Neoism page
to the tENTATIVELY, a cONVENIENCE Audiography page
to the tENTATIVELY, a cONVENIENCE Bibliography page
to my "Blaster" Al Ackerman index
to the tENTATIVELY, a cONVENIENCE Books page
to the tENTATIVELY, a cONVENIENCE BYOC page
to the tENTATIVELY, a cONVENIENCE Censored or Rejected page
to the tENTATIVELY, a cONVENIENCE Collaborations page
to the tENTATIVELY, a cONVENIENCE (d) compositions page
to Amir-ul Kafirs' Facebook page
to the "FLICKER" home-page for the alternative cinematic experience
to tENTATIVELY, a cONVENIENCE's GoodReads profile
to the tENTATIVELY, a cONVENIENCE Haircuts page
to the tENTATIVELY, a cONVENIENCE Home Tapers page
to the tENTATIVELY, a cONVENIENCE index page
to the tENTATIVELY, a cONVENIENCE Instagram Poetry page
to a listing of tENTATIVELY, a cONVENIENCE's manifestations on the Internet Archive
to the tENTATIVELY, a cONVENIENCE as Interviewee index
to the tENTATIVELY, a cONVENIENCE as Interviewer index
to tENTATIVELY, a cONVENIENCE'S Linked-In profile
to tENTATIVELY, a cONVENIENCE's Mail Art page
for A Mere Outline for One Aspect of a Book on Mystery Catalysts, Guerrilla Playfare, booed usic, Mad Scientist Didactions, Acts of As-Beenism, So-Called Whatevers, Psychopathfinding, Uncerts, Air Dressing, Practicing Promotextuality, Imp Activism, etc..
to the mm index
to see an underdeveloped site re the N.A.A.M.C.P. (National Association for the Advancement of Multi-Colored Peoples)
to tENTATIVELY, a cONVENIENCE's Neoism page
to the DEFINITIVE Neoism/Anti-Neoism website
to the Philosopher's Union website
to the tENTATIVELY, a cONVENIENCE movie-making "Press: Criticism, Interviews, Reviews" home-page
to tENTATIVELY, a cONVENIENCE's Score Movies
to SMILEs
to find out more about why the S.P.C.S.M.E.F. (Society for the Prevention of Cruelty to Sea Monkeys by Experimental Filmmakers) is so important
to the "tENTATIVELY, a cONVENIENCE - Sprocket Scientist" home-page
to the tENTATIVELY, a cONVENIENCE Top 100s page
to Psychic Weed's Twitter page
to tENTATIVELY, a cONVENIENCE's Vimeo index
to Vine movies relevant to tENTATIVELY, a cONVENIENCE made by Ryan Broughman
to tENTATIVELY, a cONVENIENCE's presence in the Visual Music Village
for info on tENTATIVELY, a cONVENIENCE's tape/CD publishing label: WIdémoUTH
to a very small selection of tENTATIVELY, a cONVENIENCE's Writing