2010. Lomholt Mail Art Archive, Fotowerke and Video Work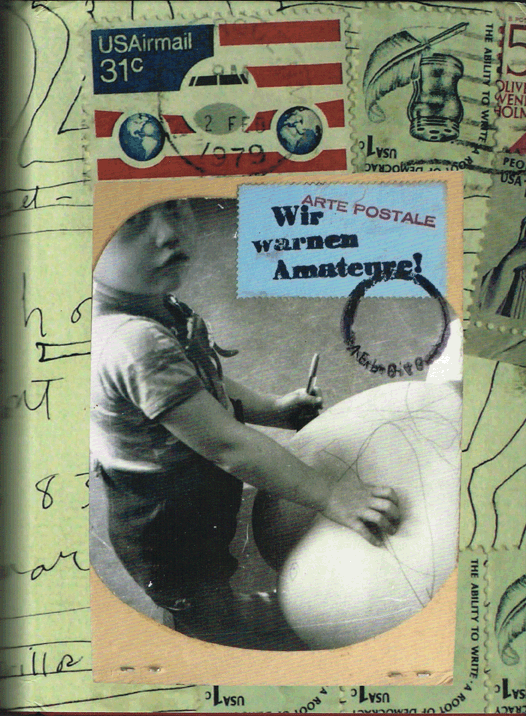 Neils Lomholt is a photographer, video artist, & Mail Artist (amongst other things, of course). He was most active in Mail Art from 1971-1985. Considering how prolific many of the Mail Artists were & how often some of us changed our names, keeping received-mail organized & documented can be quite a huge feat.
I started being active in Mail Art in the fall of 1978. In 1984, I went to London to participate in the 8th International Neoist Apartment Festival. (for the movie, go here: https://youtu.be/fgQzQZNpgTY, for a relevant webpage go here.) Even though I was only gone for 1 month by the time I returned to my HQ in BalTimOre my mail had backed-up to a point that I probably never recovered from. I had been sending out as much as 20 mailings a day & getting back as many as 12.
Mail was cheap in those days. The us@, CacaNada, & Mexico all cost the same to mail to from the us@. A post-card might've cost 10¢ to mail. Now, an international post-card costs over $1.08 (I've lost track) & Canada & Mexico are international.
I've corresponded with over 1,400 people. David Zack once told me that 35 was about all he could manage. Given that people often changed their handles & their addresses & given that I wanted to have quality exchanges rather than to just send off endless variations on the same stupid collage (or whatever), I started a filing system to enable me to keep track of everyone. For each person, I created a 4X6" file card listing everything I sent them & everything they sent me. For people that I exchanged with heavily, as many as 5 file cards have been reached.
This turned into a huge bureaucracy for myself. By the early to mid '90s I started getting too much mail of no interest for the effort that I went through to document it for doing so to be worth it anymore. Some of the more interesting Mail Artists, like "Blaster" Al Ackerman, had cut dramatically back on what they sent out. In general I was too poor to afford to send out the quantity I had before & I was getting very little in of interest. I'll still correspond with people but not with anywhere near the passion I did 30 years ago.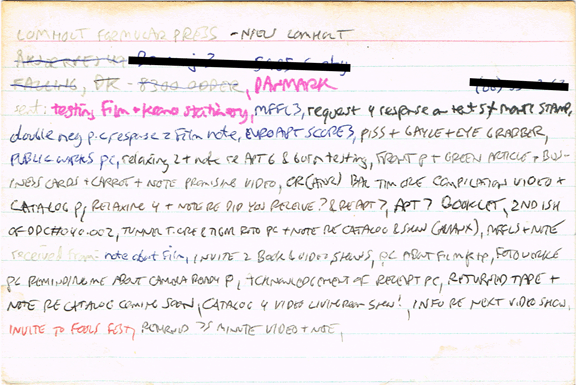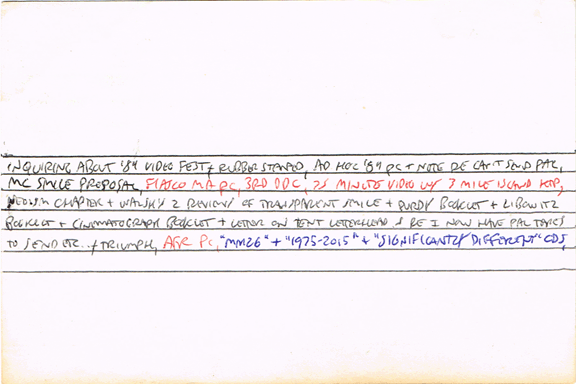 The above are scans of the front & back of my file card for Lomholt.
With this book, Lomholt has accomplished what many of us would like to but may never because the task is just too big (Lomholt had help). I, for example, have at least 15 boxes of mail that're slightly organized but digitizing & further organizing over 10,000 pieces is something too tedious to get into. Lomholt's book is entirely in color & the images of the mail are small but still readable (a magnifying glass would help). Much of it is also online here: http://www.lomholtmailartarchive.dk . The section specifically about what I sent is here: http://www.lomholtmailartarchive.dk/search?utf8=?&q=tENTATIVELY . It's incomplete but I only know that by consulting my own records.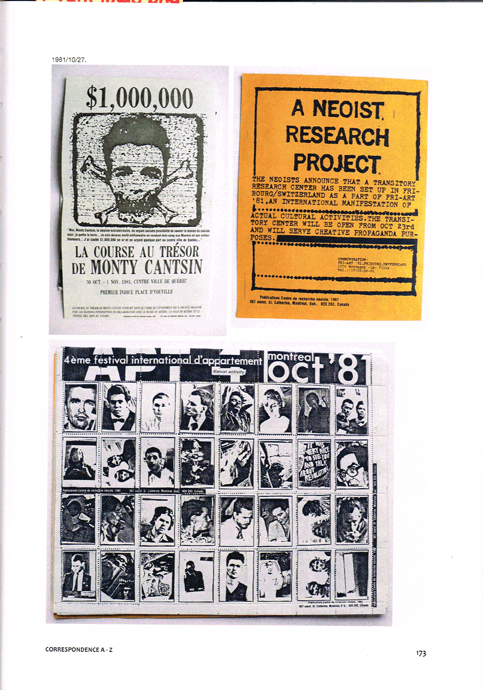 Lomholt dedicates special space to his main correspondents. That includes Monty Cantsin (Istvan Kantor), the founder of Neoism. The bottom image of the above is of participants in Neoist Apt fests. My picture is this one: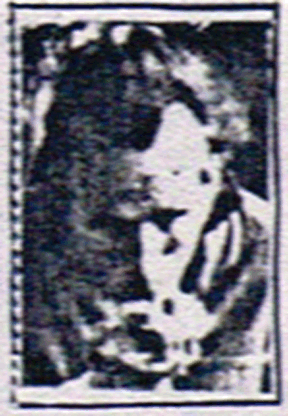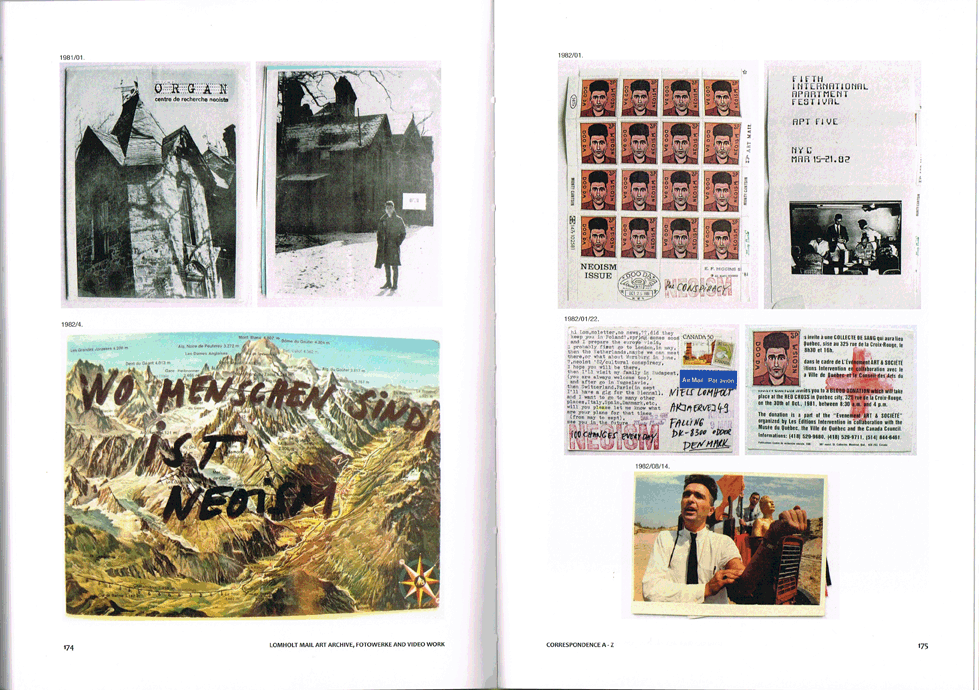 The 2 pictures above top left are of the mansion I lived in in 1981 where I organized the 3rd International Neoist Apartment Festival in BalTimOre. I'm shown in the above top right picture which isn't of APT 5 participants but is of participants from a previous APT Fest.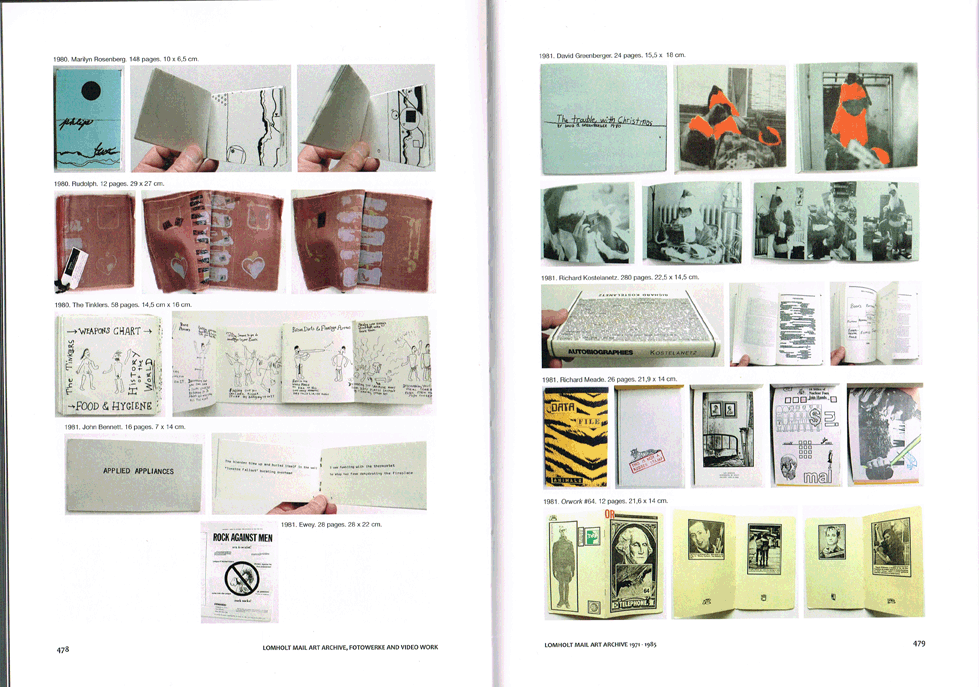 Getting into the more general Mail Art section, I thought I probably would've sent The Tinklers's "History of the World" chart:

for various reasons - one being that The Tinklers performed that piece in my courtyard during the 7th International Neoist Apartment Festival that I organized in South Baltimore 2 years after APT 3. I DID send Lomholt the Apt 7 booklet but the file card doesn't list the "History of the World". Nonetheless, it's still possible that I sent him this because I might not've started my file card system until after this.
I DID send him the "ROCK AGAINST MEN" flier as part of the 2nd issue of my magazine "DDC#040.002". That's credited below to "Ewey" which I imagine is an unintentional distortion of "Dewey" Since "DDC" stands for "Dewey Decimal Catalog".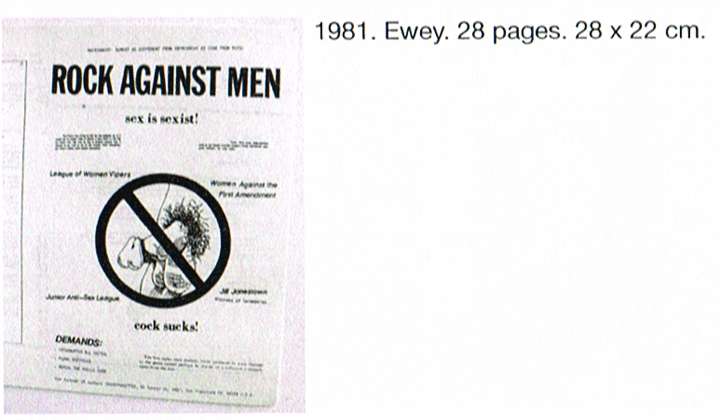 It's misunderstandings such as this that lead to the eextreme difficulty of such cataloging.

I didn't send this one but I do have something in it (not shown here).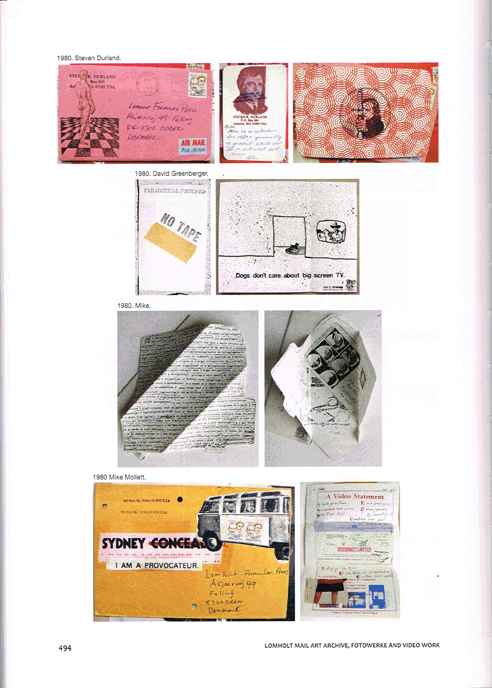 The difficulties continue: I sent Lomholt 2 of my "Mike Film Form Letters" (abbreviated "MFFL3" & "MFFL5" on my file card). One of them then becomes attributed to "Mike":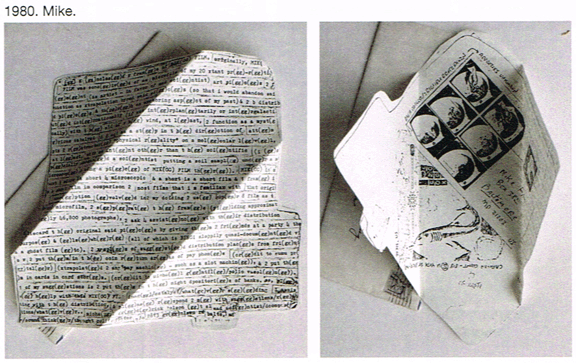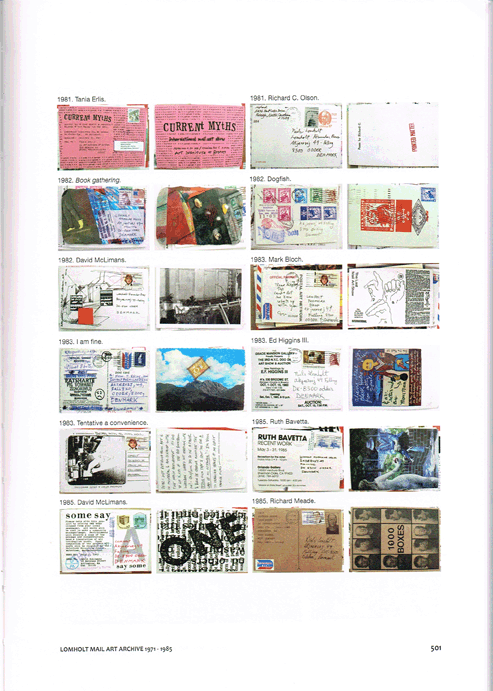 Even in a book as massive as this one, printed as expensively as it is, it's hard to present things in a way that makes them easy to look at closely. There's just too much. Here's something from me enlarged enough to make it more comprehensible: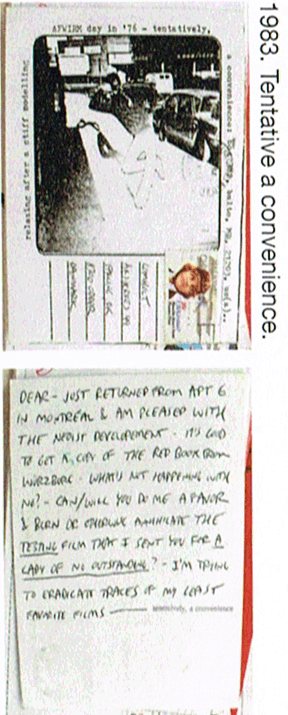 Of course, "Tentative a convenience" is close, but no cigar. In this instance, it should've been: "tentatively, a convenience". Note that I ask Lomholt to destroy my "TESTING" super-8mm film that was the 1st thing I sent him. I wonder if he did?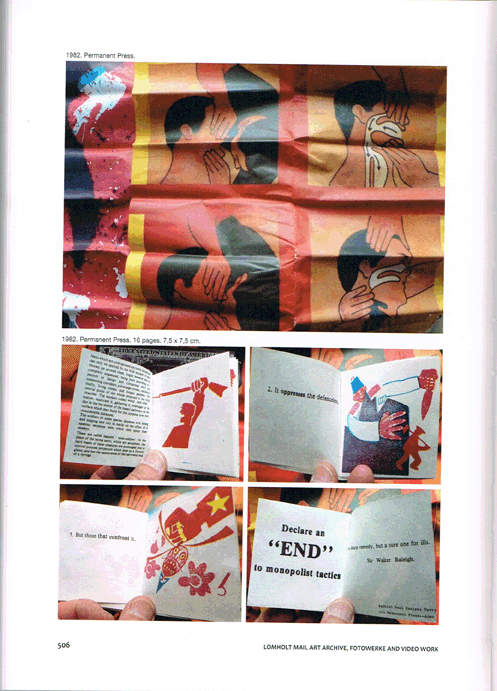 Here's another publication that I had something in: "End Paper" - produced shortly after the "Public Works" Festival in Toronto in 1981 that was the 1st half of a Neoist double festival that was followed by APT 4 in Montréal.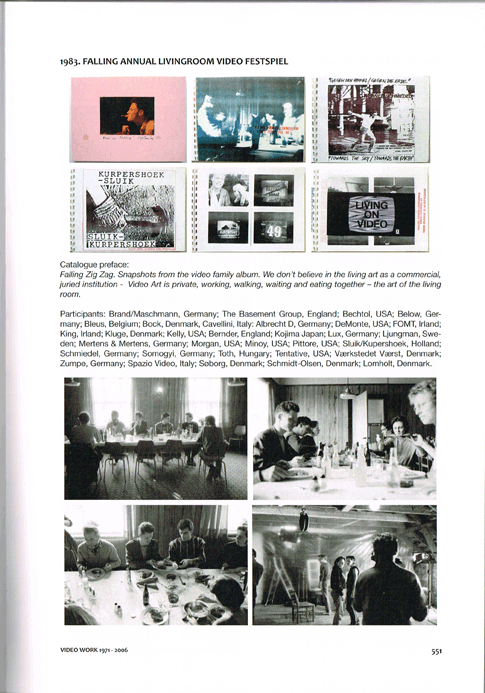 Finally, the reader reaches the video section & mention of the Falling Annual Livingroom Festspeil, which I participated in, information about the catalog can be seen here.
idioideo at verizon dot net
to the tENTATIVELY, a cONVENIENCE Anti-Neoism page
to the tENTATIVELY, a cONVENIENCE Audiography page
to the tENTATIVELY, a cONVENIENCE Bibliography page
to my "Blaster" Al Ackerman index
to the tENTATIVELY, a cONVENIENCE BYOC page
to the tENTATIVELY, a cONVENIENCE Censored or Rejected page
to the tENTATIVELY, a cONVENIENCE Collaborations page
to the tENTATIVELY, a cONVENIENCE (d) compositions page
to Amir-ul Kafirs' Facebook page
to the "FLICKER" home-page for the alternative cinematic experience
to tENTATIVELY, a cONVENIENCE's GoodReads profile
to the tENTATIVELY, a cONVENIENCE Haircuts page
to the tENTATIVELY, a cONVENIENCE Home Tapers page
to the tENTATIVELY, a cONVENIENCE index page
to the tENTATIVELY, a cONVENIENCE Instagram Poetry page
to a listing of tENTATIVELY, a cONVENIENCE's manifestations on the Internet Archive
to the tENTATIVELY, a cONVENIENCE as Interviewee index
to the tENTATIVELY, a cONVENIENCE as Interviewer index
to tENTATIVELY, a cONVENIENCE'S Linked-In profile
for A Mere Outline for One Aspect of a Book on Mystery Catalysts, Guerrilla Playfare, booed usic, Mad Scientist Didactions, Acts of As-Beenism, So-Called Whatevers, Psychopathfinding, Uncerts, Air Dressing, Practicing Promotextuality, Imp Activism, etc..
to the mm index
to see an underdeveloped site re the N.A.A.M.C.P. (National Association for the Advancement of Multi-Colored Peoples)
to tENTATIVELY, a cONVENIENCE's Neoism page
to the DEFINITIVE Neoism/Anti-Neoism website
to the Philosopher's Union website
to the tENTATIVELY, a cONVENIENCE movie-making "Press: Criticism, Interviews, Reviews" home-page
to tENTATIVELY, a cONVENIENCE's Score Movies
to SMILEs
to find out more about why the S.P.C.S.M.E.F. (Society for the Prevention of Cruelty to Sea Monkeys by Experimental Filmmakers) is so important
to the "tENTATIVELY, a cONVENIENCE - Sprocket Scientist" home-page
to Psychic Weed's Twitter page
to tENTATIVELY, a cONVENIENCE's Vimeo index
to Vine movies relevant to tENTATIVELY, a cONVENIENCE made by Ryan Broughman
to tENTATIVELY, a cONVENIENCE's presence in the Visual Music Village
for info on tENTATIVELY, a cONVENIENCE's tape/CD publishing label: WIdémoUTH
to a very small selection of tENTATIVELY, a cONVENIENCE's Writing