Top 100 Composers: Henry Cowell
Henry Cowell's another composer that I was originally going to pass over. This was largely because I don't like his later work that much. It's also because the recording that I have of him playing his own early piano pieces, the pieces for tone clusters & string piano that made him (in)famous, is too crude for me. Then again, that album was recorded later in his life when he wasn't as good of a pianist as he, reputedly, had been when he 1st performed & composed those pieces. Then then again again, I don't really like the recording that I have of Charles Ives singing & playing piano but Ives is by far one of my favorite composers.
There were many reasons that caused me to reconsider. For one thing, while I don't like his later work that much I don't completely dislike it either, there's something about it that sticks with me. Even though it seems 'conservative' it's really something entirely different. I've been reading Joel Sachs's excellent biography of Cowell, "Henry Cowell, A Man Made of Music", & Sachs states there, as he also did in liner notes for his MHS record of Cowell's work, that Cowell's later work is a continuation of where early US composers might've gone if there were an uninterrupted lineage from the late 18th & early 19th century into the 20th century. I think that's interesting & I can hear it that way & I think that's what keeps me interested even when some parts seem a bit too programatically dramatic or whatnot.
Otherwise, I include in my Top 100 Composers list John Cage & Lou Harrison & both of them were extremely formed by Cowell's teachings. Cowell's use of percussion is extremely important, Cowell's role as a World Music expert is extremely important, Cowell's role as a World Music DIPLOMAT is astounding. Reading Sachs's biography has greatly broadened my appreciation of Cowell & my review of Sachs's book is interspersed among the record images below.
In the meantime, as I searched through my collection of Cowell recordings, I was astounded by how many I have. Thanks to my having kept a list of my records since I was 13 years old (for 51 years now) I could find one piece here, another there. I've included the record covers & one CD cover to show people how this work has appeared. Scholars of Cowell's music might enjoy seeing covers of recordings they may not have even known about. Alas, I don't have any of the New Music Quarterly Recordings, so these images are from a later generation. Still, I think they're valuable. The last image is of the book that Henry & Sidney Cowell wrote about Charles Ives.
This is NOT a 'go-to' source for information about Henry Cowell. It's not intended to be. There are, of course, other websites that're vastly more informative. This is simply my personal homage to a composer whose work I've enjoyed & respected. It's NOT a source for absolutely clear & correct information. The dates, for various reasons relating to Cowell's claims versus scholarly investigations, are not necessarily accurate. I tend to favor Cowell's dating over corrected ones. ALSO, you'll note 4 titles in italics: "Piano Piece" - 1924 & "Piece for Piano" (Paris, 1924) may be the same piece under different names. I haven't gone to my recordings to listen to them to decide. Same goes for "Trio: Four combinations of Three Instruments" - 1924 & "Four Combinations for Piano, Violin, and Cello" - 1924 - November 27, 2017 note from tENTATIVELY, a cONVENIENCE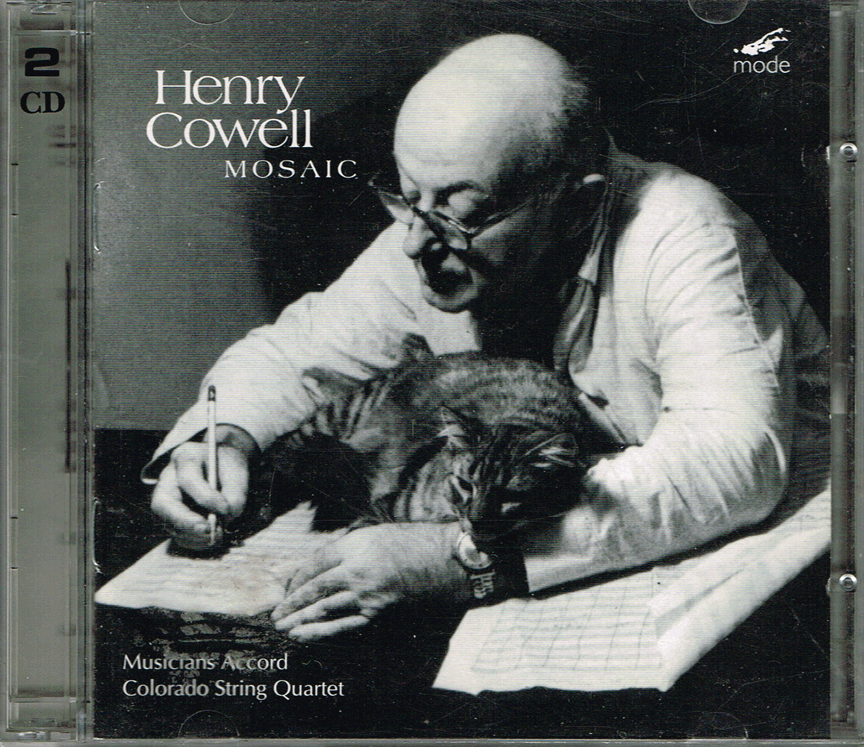 Since I put this webpage together my friend & collaborator Ben Opie has loaned me the Mode 2CD release entitled "Mosaic". I'd read about much of this work but had never had a chance to hear most of it before. Finally hearing it has clinched what an incredible composer Cowell was. Imagine that you're a prolific composer (maybe you are) & imagine that the only recordings people here are either minor works or ones that're skewed in a particular way that make you seem like you're just one type of composer rather than as varied as you actually are. That isn't exactly what happened to Cowell but hearing the work on this collection has definitely filled out my image of him. Everything on "Mosaic" listed below is Pine Green to differentiate it.
"Tides of Manaunen" - 1911/1912 - 2:25
"Advertisement" - 1914 - 1:05
"Anyinomy" - 1914 - 3:00
"Amiable Conversation" - 1914 - :47
"Dynamic Motion" - 1914 - 3:07
"What's This?" - ca. 1915 - :53
"String Quartet No. 1 "Pedantic"" - 1916 - 5:55
"Quartet Romantic" - 1915-1917 - 17:06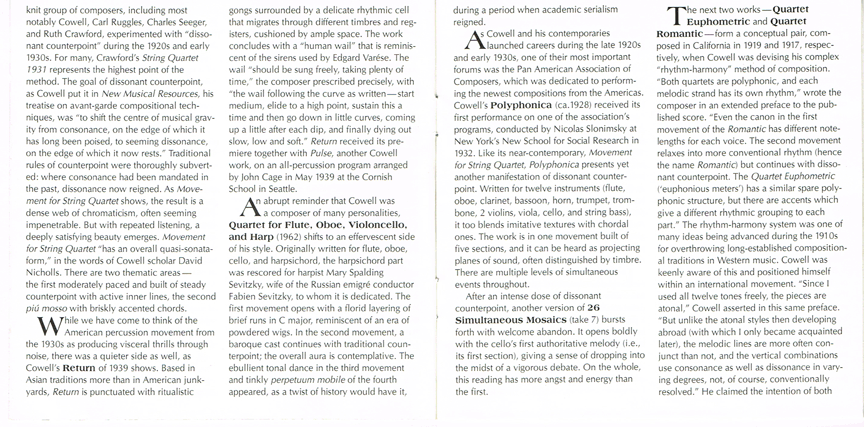 "Quartet Romantic" - 1915-1917 - 14:44
"Anger Dance" - 1917 - 1:48
"Fabric" - 1917 - 1:19
"The Voice of Lir" - 1918 - 3:00
"Quartet Euphometric" - 1916-1919 - 1:54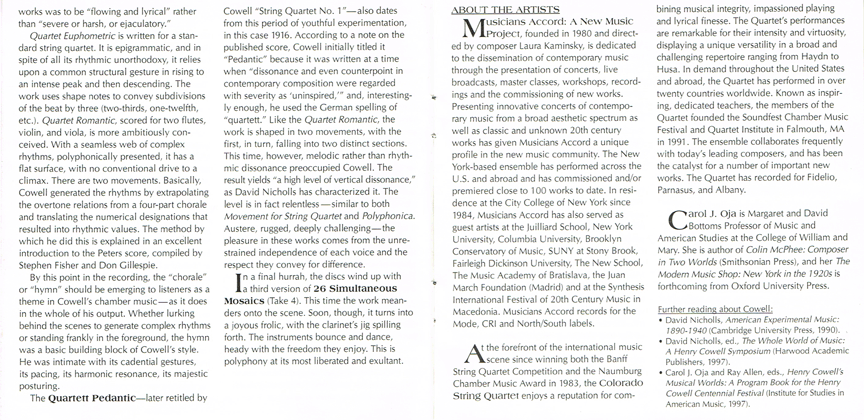 "Quartet Euphometric" - 1916-1919 - 2:09
"Exultation" - 1919 - 1:45
"Episode" - (if this is "No. 1 in Bb Minor" it's from 1920) - 1:15
"Vestiges" - 1920
"The Voice of Lir" - 1920 - 3:25
"The Sword of Oblivion" - 1920-1922 - 2:59
"Trumpet of Angus Og" - 1922 - 1:27
"The Hero Sun" - 1922 - 2:53
"Six Ings Plus One" - 1922 - 9:00
"The Aeolian Harp" - 1923 - 1:32
"Piano Piece" - 1924 - 3:59
"Piece for Piano" (Paris, 1924)
"Trio: Four combinations of Three Instruments" - 1924 - 9:14
"Four Combinations for Piano, Violin, and Cello" - 1924 - 7:24
"The Harp of Life" - 1925 - 4:14
"The Banshee" - 1925 - 2:20
A movie of Franz Kamin performing "The Banshee" is on my onesownthoughts YouTube channel here: https://youtu.be/26k9Sb5Tda0
"Jig" - 1925 - 2:07
"The Snows of Fujiyama" - 1925 - 2:16
"Seven Paragraphs" - 1925 - 6:51
"The Sleep Music of the Dagna" - 1926 - 6:32
"Atlantis" - 1926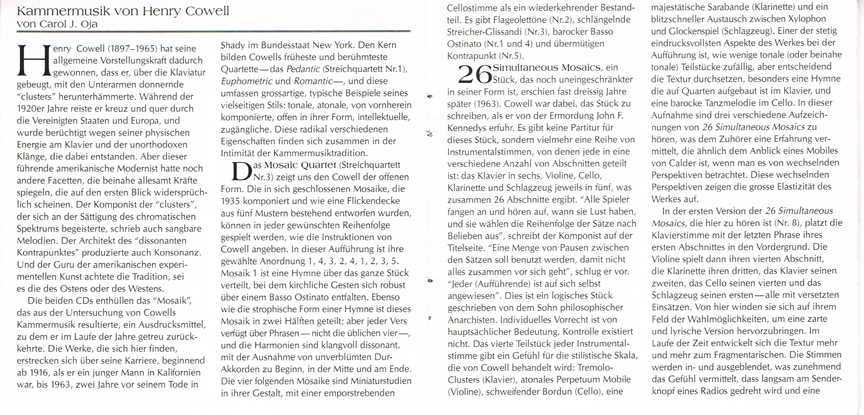 "Movement for String Quartet (String Quartet No. 2)" - 1928 - 4:01
"Lilt of the Reel" - 1928 - 1:54
"Tiger" - 1928 - 3:20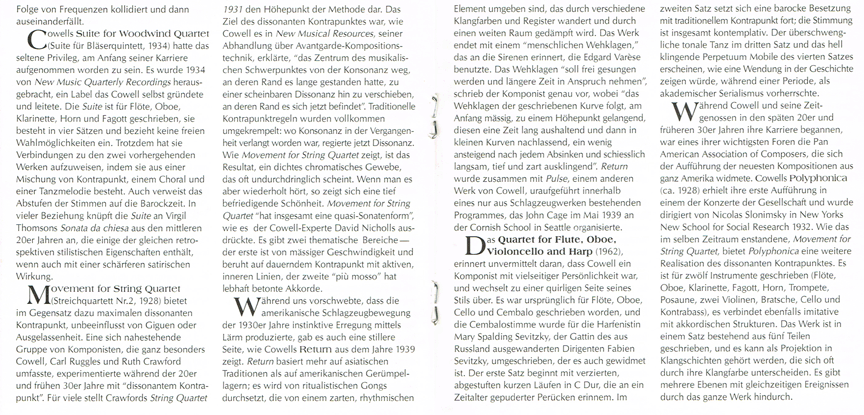 "Polyphonica" - 1928 - 4:13
"The Fairy Bells" - 1928 - 3:00
"Fairy Answer" - 1929 - 2:47
"Euphoria" - ca. 1929
"Sinister Resonance" - 1930 - 2:01
"Synchrony" - 1930 - 12:00
"Heroic Dance" - 1931
"Dance of Sport" - 1931
"Ostinato Pianissimo" - 1934 - 2:58
"Suite for Small Orcheestra" - 1934
"Reel No. 2" - 1934
"Suite for Woodwind Quintet" - 1934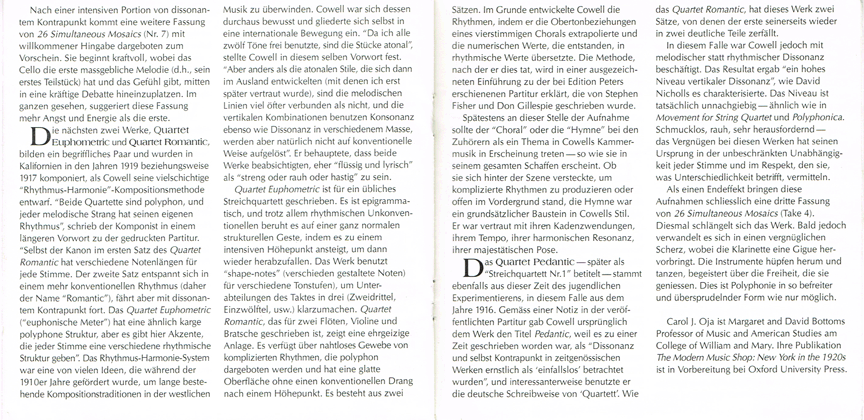 "Suite for Woodwind Quintet" - 1934 - 4:40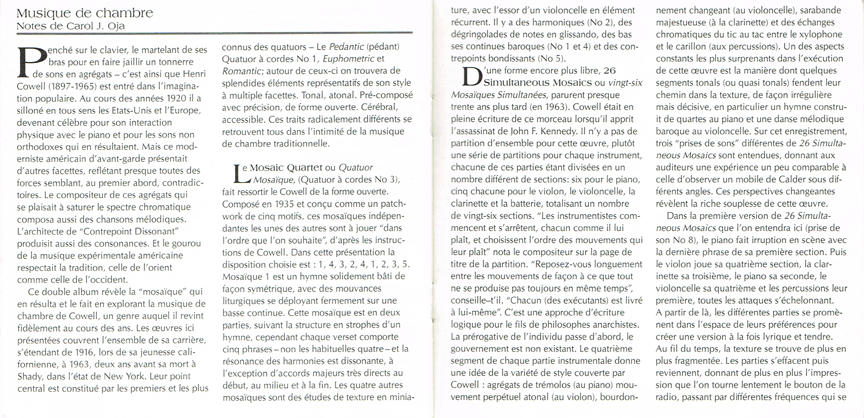 "Mosaic Quartet (String Quartet No. 3)" - 1935 - 16:54
"Two Songs (Poems of Catherine Reigger)" - 1936
"Sunset"

"Rest"
"Three Ostinati with Chorales" for Clarinet & Piano or Oboe & Piano - 1937 - 12:42
"Sound Form No. 1" - 1937
"Vocalise" - between 1936 & 1941 - 6:44
"Toccanta" - 1938 - 10:59
"Pulse" - 1939 - 4:00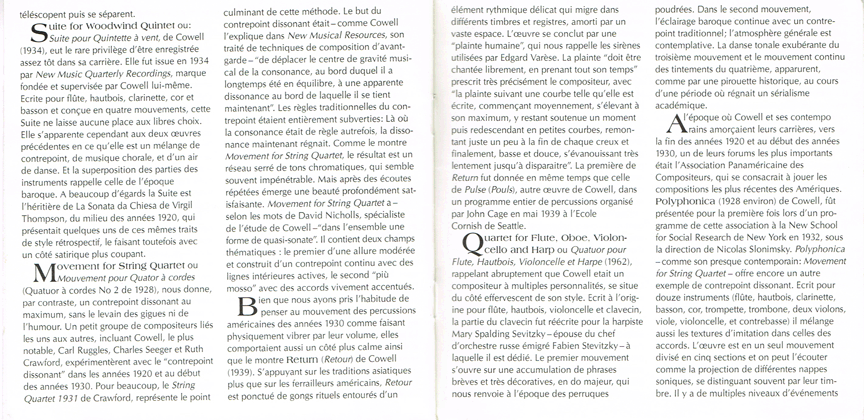 "Return" - 1939 - 5:14
"Three Ritournelles from "Marriage at the Eiffel Tower"" - 1939
"Ancient Desert Drone" - August 17, 1940
"Elegie" - ca. 1941
"Fanfare for Latin Allies" - 1942 - 1:39
"Hymn and Fuguing Tune No. 3" - May, 1944 - 7:01
"Symphony no. 4 (Short Symphony)" - 1946
"Tall Tale" - 1947 - 4:12
"Saturday Night at the Firehouse" - 1948 - 5:03
"Grinnell Fanfare" - 1948 - 3:01
"Symphony no. 5" - August, 1948
"Luther's Carol for his Son" - 1948 - 2:31
"Four Declamations with Return" - 1949 - 3:25
"Hymn and Fuguing Tune No. 9" - 1950 - 5:48
"Two Part Invention in Three Parts" - 1950 - 1:11
"Invention" - 1950 - 1:10
"Set of Five" - 1952 - 17:30
"Symphony No. 7" - 1952 - 25:58
"...if He please" - 1954 - 11:45
"Symphony No. 11, "Seven Rituals of Music"" - 1954 - 21:38
"Sway Dance" - 1956 - 2:19
"Variations for Orchestra" - 1956 - 21:00
"Cleistogamy" - 1941-1963 - 14:00
"Ongaku for Orchestra" - 1957 - 14:06
"Hymn and Fuguing Tune No. 12" - 1957 - 2:25 + 1:53 = 4:18
"Rondo" - 1958 - 4:36
"Hymn and Fuguing Tune No. 13" - 1960 - 3:14 + 2:24 = 5:42 (with pause)
"Set of Four" - 1960 - 16:11
"Triple Rondo" for Flute and Harp - 1961
"Thesis (Symphony No. 15)" - 1961 - 20:28
"Symphony No. 16, "Icelandic"" - 1962 - 24:59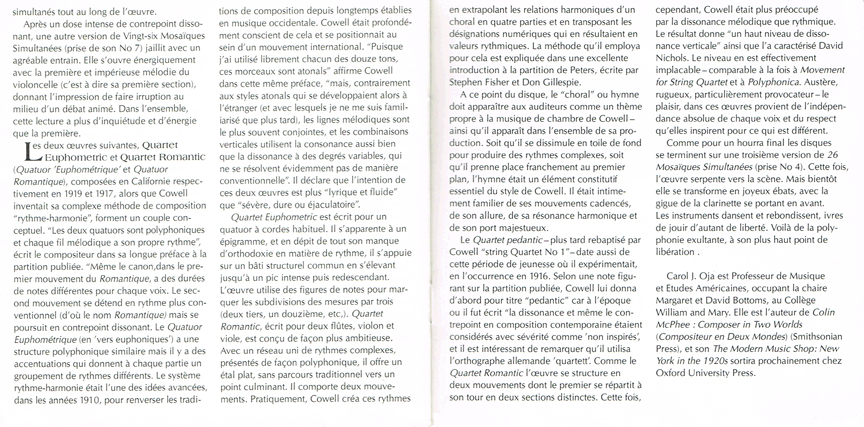 "Quartet for Flute, Oboe, Cello and Harp" - 1962 - 14:07
"Gravely and Vigorously (In Memory JFK)" - 1963 - 10:10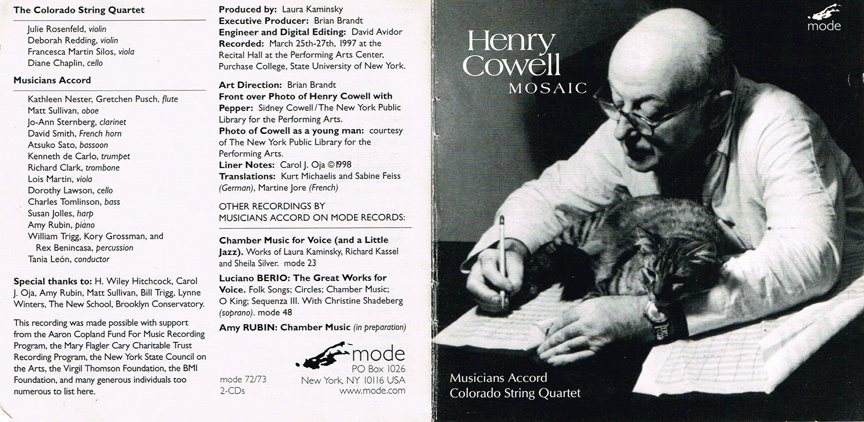 "26 Simultaneous Mosaics" (take 4) - 1963 - 8:09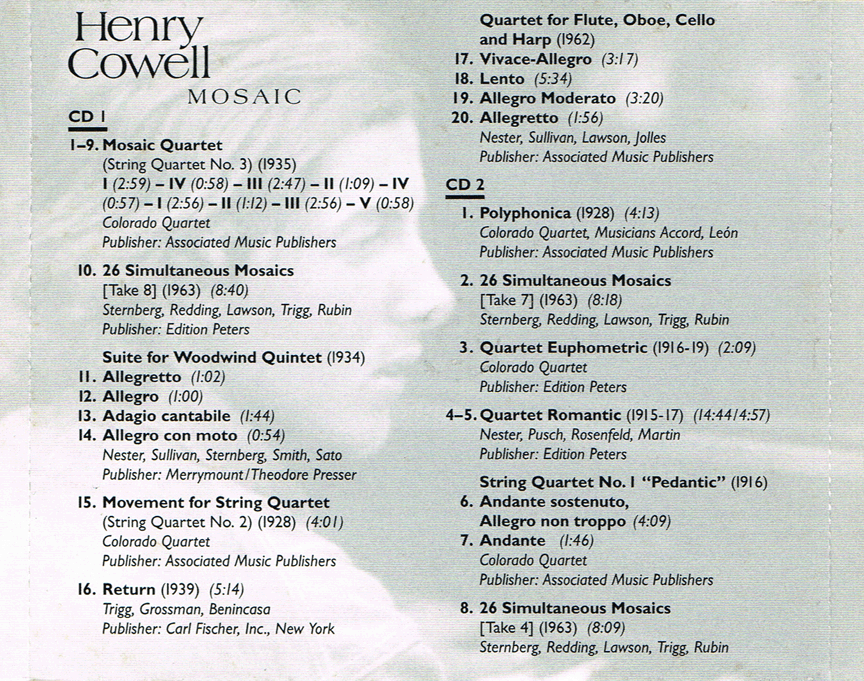 "26 Simultaneous Mosaics" (take 7) - 1963 - 8:18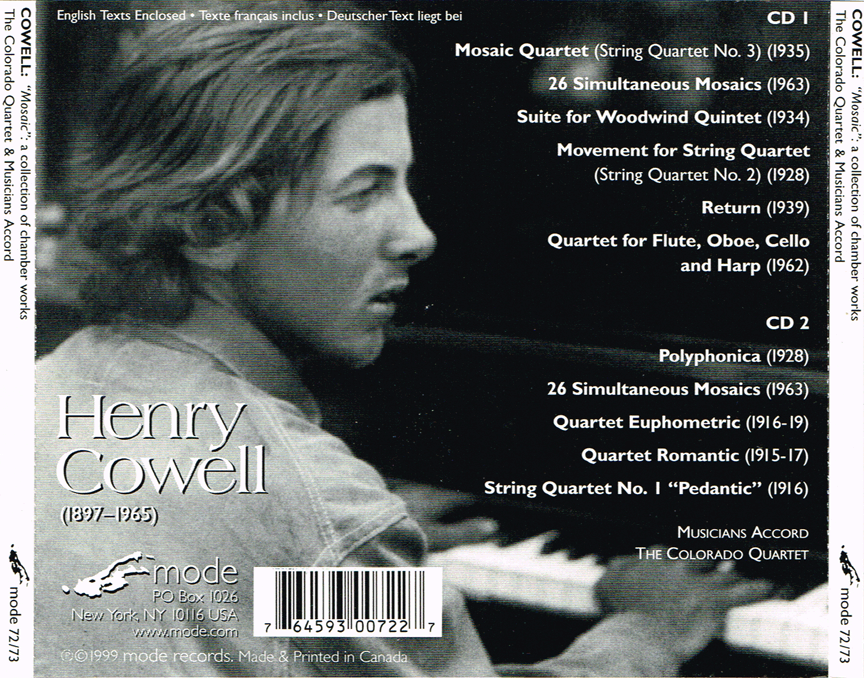 "26 Simultaneous Mosaics" (take 8) - 1963 - 8:40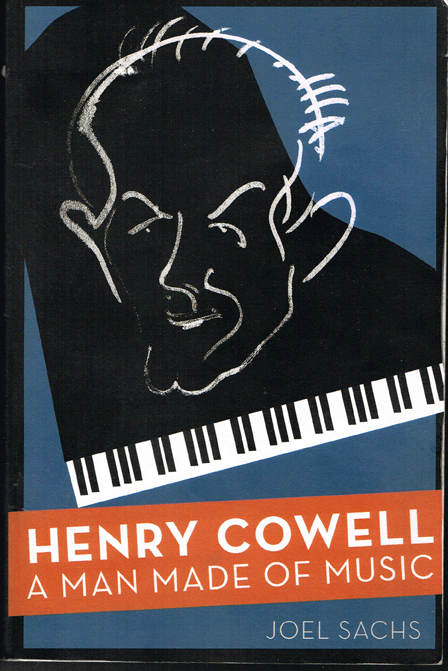 review of
Joel Sachs's Henry Cowell - A Man Made of Music
by tENTATIVELY, a cONVENIENCE - December 7-19, 2017
full review: "Henry Cowell": https://www.goodreads.com/story/show/610289-henry-cowell?chapter=1
truncated review: https://www.goodreads.com/review/show/2220101537
https://www.goodreads.com/book/show/1472082.Henry_Cowell
I've retired from working for other people for money so my life more than ever revolves around reading, book reviewing, listening to music, playing piano, witnessing movies, making movies, making websites, etc.. One of the websites I'm making is titled "Top 100 Composers" which means that it's a list of the 100 composers whose work I've found most interesting & enjoyable ( http://idioideo.pleintekst.nl/Top100Composers.html ). Considering how much music I listen to & how obsessed with music I am, I thought it would be easy to pick my favorite 100 composers. Nope, I've been struggling with the choices since October & I'm still finding it very difficult. A few were obvious, most are ones whose work I like but who don't quite awe me with their brilliance.
Henry Cowell, at 1st, was in an ambiguous zone: I like his music, I've been listening to it for 40+ years, I'll pick up any recording of his I find, but most of it's a little too conventional for me. Sortof. Its the "sortof" that complicates things. When I listen to the later works they seem laden with history, they're stately old growths, not wildly budding saplings - but there's always something about them that makes them significantly different from other somewhat 'simple' contemporaneous works. In the long run, how could I not have Cowell on the list? ( http://idioideo.pleintekst.nl/Top100CCowell.html ) I include very few who didn't use electronics, Cowell's one of them. Reading Sachs's bk certainly helped fuel my enthusiasm for Cowell immensely.
The bk is dedicated "To my beloved family, and in memory of Sidney Cowell, who did not live to read it." (p v) Do you ever think about that sort of thing? Sidney Cowell was married to Henry. Maybe she wd've liked reading this bio, maybe she wdn't've - Sachs seems to try to be fair so he's not always kissing his subjects's asses. To us, the readers of this bk, Henry Cowell is in some sense alive: the bk keeps him alive, the recordings keep him alive. Of course, that's not much use to the actual Henry Cowell, who's been dead for 52 yrs. Cowell's life had its ups & downs, to put it mildly, & he got plenty of respect & love even at the worst of times so maybe he wouldn't've 'needed' a bk like this in his lifetime to help keep him emotionally afloat - but what about the rest of us? The ones who get little or no love, little or no respect? Is it enough to suspect that one's contribution to culture will be appreciated post-mortem? Not really.
"Sidney Cowell made the project possible by providing me with complete access to the Cowell papers, annotated copies of her personal correspondence, information about some little-known actors in this drama, and fresh insights (plus occasional confusion) in letters to and conversations with me." - p xi
"Now, at the end of the eternity that this book has taken, an apology is overdue to those who waited for it. I deeply regret that his widow Sidney Cowell-whom I liked tremendously-my colleague H. Wiley Hitchcock, and most of the people who kindly allowed me to interview them did not live to read this book. I confess, however, that a knowledgeable person, who shall remain anonymous, suggested only half-facetiously that I write slowly, lest I complete it during Sidney Cowell's lifetime. Otherwise I would be bombarded with corrections, largely of imagined errors. As I got deeper into the materials and saw Sidney's hair-trigger response mechanism in action with other authors, and became aware of the errors, confusion, and contradictions that infected her later writings and some of our conversations, I realized the seriousness of that warning. As it happened, however, deliberate delay was unnecessary. Sidney passed away in 1995, after a long and distinguished life. I still had years of work ahead and missed her greatly.
"The longevity of my labors had two principle causes. One is the richness of my life and activities over these twenty-three years" - p xvi
23 yrs, he spent 23 yrs writing this. Even so, Sidney Cowell had more of her life invested in Henry Cowell than Sachs did so I can relate to her possible fanaticism in relation to the telling of his story. I'm sure that many people dread or dislike my opinion on matters that I've been heavily involved w/, such as Neoism, but tough shit!, it's been my life, not yours. Ahem.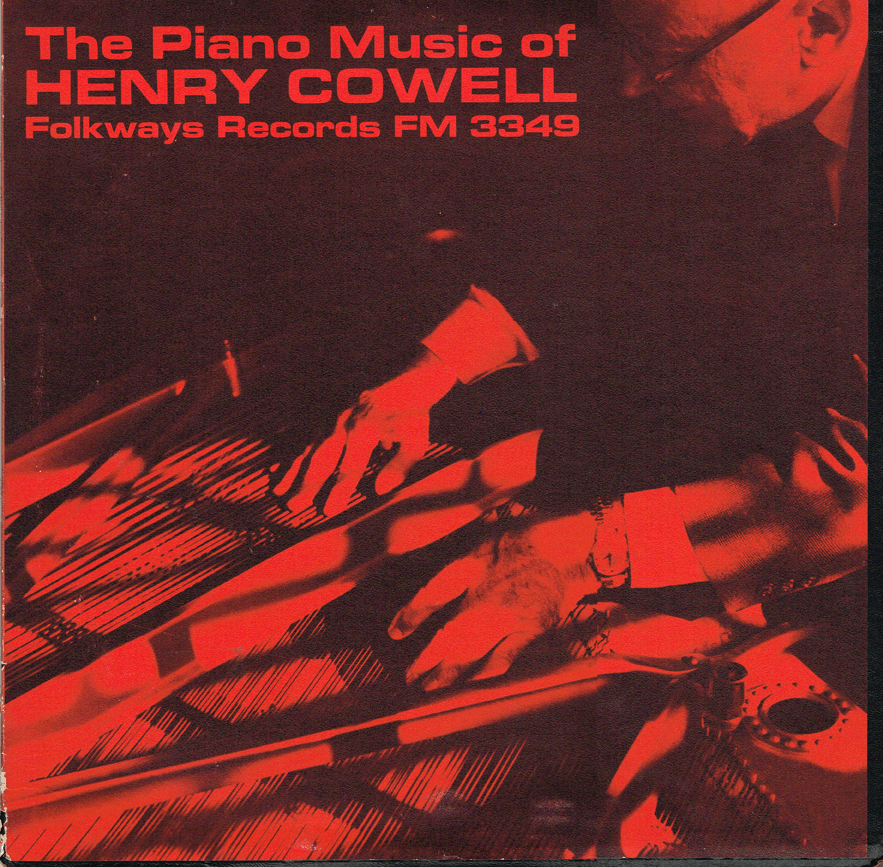 "The complexity of Henry's life in particular requires a preliminary visit with the three women who, believing that a biography would have to be written, created the archive of his papers.
"The first of them, Henry's mother Clara (or Clarissa) Dixon Cowell, a professional writer, saved her own papers and the scraps of his early life, and wrote an extensive memoir of his first eighteen years. The second collector, Olive Thompson Cowell, was Henry's second stepmother, that is, his father Henry's third wife. Accordingly, once she began to appreciate his talents, she amassed everything she could and wrote copious notes about their conversations, his lectures, his professional activities, his musings, and her own assessments of him. Although some of her literary legacy seems colored by the expectation that she would live on through her services to Henry, and much of her writing tends toward hagiography of Henry and his father, Olive's papers are indispensable.
"The third hoarder was Henry's wife, Sidney Robertson Cowell. A brilliant, determined, reserved yet fiery woman with extraordinary talents as a writer, photographer, folklorist, and musician, Sidney far surpassed Olive as a preserver of paper. The most objective of the three women, she loved Henry yet could be very critical of him. That duality gives special weight to her writing, which steers clear of hagiography, even at its most positive." - p 3
"Olive, convinced that his life would demand good documentation, now set up an archive into which went everything from scraps of paper to important documents and countless letters including many from friends in Menlo Park who were not professionally "useful"-even the first letters from Elsa Schmolke, his Berlin landlady". - p 128
Fancy that! Are your relatives respectful & supportive of your activities? I have some friends whose parents are, it's somewhat amazing to witness. My father told me once that he found some 8mm films of my childhood but that he didn't know what to do w/ them. I explained that they could be transferred to VHS, the most common medium for movies viewable at home at the time, & that I cd do the transfer. I asked him for the films but I never got them. History, even if it is only personal history, lost. When my mom was moving out of the house that I spent most of my childhood in she told me that she found a drawing I'd given her. I remembered it, it was a colored pencil drawing of a vacuum cleaner in nature. Now, yes, it was a parody of my mom's OCD mania for sterilizing everything that moved & that's why I gave it to her. It was 1 of the only surviving drawings from the days when I made such things, I might've been 16 when I drew it. I wanted to see it again after 35+ yrs! She asked me if I wanted it, after all, why wd she want it? I told her yes. When I asked her about it she sd "I don't know what happened to it." Translation: 'I threw it away.'
The point is here: some people really get the 'luck of the draw' & Henry Cowell was one of them. Reading his biography is reading about a person who was loved & supported to a fantastic extent. I've often joked that if my family were to get their religious hands on my estate post-mortem they'd erase all traces of my existence ASAP except, maybe, for some pictures of me in suits as a child. Then, if they were to talk about me at all, it wd be to either make up something that has nothing to do w/ me or say that the 'devil got me' & to then begin to pray. I didn't get the 'luck of the draw' & some friends of mine are even worse off than I am. Nonetheless, Cowell STILL didn't have an easy life. Don't that just beat all?!
Probably like most people who've pd some attn to Cowell's music & life I've read about his time spent in prison. I'd read 2 different stories: 1 that made him seem like a victim & 1 that made him seem somewhat ethically senseless. Sachs's 1st mention of this is still in his Prologue:
"At some stage, possibly as early as their marriage in 1941, she" [Sidney] "decided that the story of his imprisonment on a morals charge should not be told for the first time outside the context of a full biography." - p 4
Righto. As my friend etta cetera, a prison activist, says, people aren't the worst thing they do - & I think that's very succinct. Alas, once convicted, or even tarred w/ the brush, of certain crimes the perpetrator becomes very little else to most people. As such, a person cd be incredibly nice & generous & then snap & kill someone & from then on in they're a murderer & very little else - unless they're in the military, of course: in wch case: KILL AWAY HERO! It's all so tragic. Fortunately Cowell didn't kill anyone so he suffered a less-tarnished fate.
Sidney's next mentioned b/c "she had spent some seven years working on the biographical section of the Cowells' book about Ives, whose life was far less eventful than Henry's." (p 4) Maybe so, but, still 23 yrs on this bio?! Ahem. At least you got it done.
As for Henry's mom Clarissa?! Now there was an interesting woman - although her alleged anti-sex position rubs me the wrong way (pun intended):
"One editor also sought a romantic relationship with her. From 1889 to 1891 she was assistant editor of an anarchist weekly, The Beacon. In San Francisco, she teamed up with a young Irish immigrant to publish a fortnightly anarchist paper, Enfant Terrible (1891-1892), with which she built a following. One sample of her contributions unmasks the underlying temperament of this ex-housewife who was anything but placid.
" ['] The clergyman has no more right than the clown to marry people. The judge has no more right than the jail-bird to sentence people. The policeman has no more right than the pauper to arrest people. The tax-collector has no more right than any other thief to filch people's property. The legislator has no more right than the lackey to make laws. I have no reverence for God, nor parents, nor sovereigns, nor presidents, nor popes, nor bishops, nor dead bodies, nor ancient institutions; in short, I have no reverence for any person or thing. ['] " - p 14
Yes! I cdn't've sd it better meself.. Although.. I probably do have some reverence for life & I'm not sure how that wd've fit into Clarissa's philosophy but I imagine she & I wd've been close to being on the same page.
"The Clarissa Dixon of the early 1890s that was perfectly suited to the individualistic world of San Francisco, as was her co-publisher of Enfant Terrible, an Irish immigrant named Henry Cowell, known as Harry." - p 15
You can see where this is going.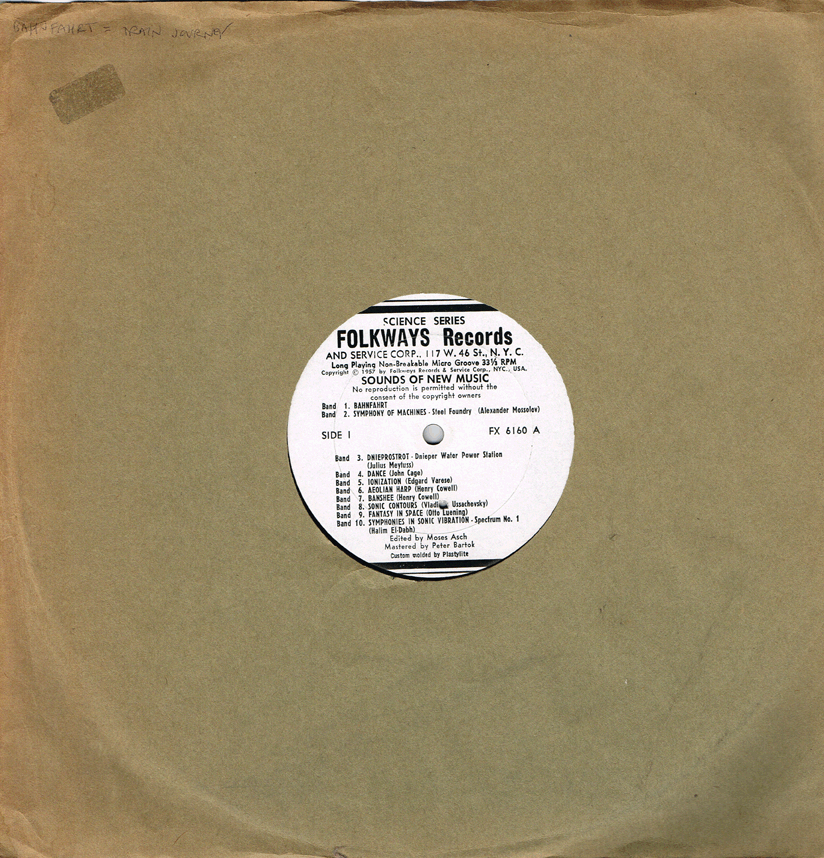 "Unlike some famous childhoods, Henry's is not shrouded in mystery. In 1914, Clarissa felt so driven by fate to document his development that although mortally ill, she began drafting a biographical sketch, amplifying it until her strength gave out." - p 18
His parents edited an anarchist fortnightly called Enfant Terrible. His mother drafted a biographical sketch about him. "The Scotch Club of San Francisco later pronounced him the most beautiful child in the city. "Crowds used to gather around him ["]" (p 18) If crowds were to gather around me in BalTimOre it wd've been reasonable to expect them to begin stoning me to death. I might've met a guy w/ a tattoo of a knife on his lower leg but wd I've met the equivalent of Jack London? I think not. People wd've met me.
"A ditch-digger who happened to hear Henry and Clarissa discussing writing proved to be self-educated but with "astounding ideas and great clarity of speech." The laborer, Jack London, accepted Harry's invitation to see them for the first of many visits when Henry was about seven." - p 20
"self-educated but with "astounding ideas and great clarity of speech.": as if that's some sort of unusual combination. Maybe it is, but doesn't 'university educated' mean semi-illiterate?
"Henry enjoyed referring to his third grade certificate of promotion as his highest academic degree until he received an honorary doctorate in 1953." - p 29
That's more like it. Clarissa was remarkable. She was connected to early anarchist publications so what's not to like? She also published a novel:
"Janet and Her Dear Phebe, which appeared in February, 1909, was warmly received by the press, but only 310 copies were sold in four months. In fact, it is a fine book, but truly straddled the borderline between teenage and adult. Politely but decisively, Stokes dropped further options." - p 31
"only 310 copies were sold in four months"? That strikes me as a stunning success. My latest bk, "Paradigm Shift Knuckle Sandwich & other examples of P.N.T. (Perverse Number Theory)" has sold, maybe, 70 copies in the last 9 mnths & 60 of those were to friends (or reasonable facsimiles thereof). If I'd sold 310 copies in 4 mnths I'd be expecting the key to the city & a queue of bride-wannabes. Damn, I'd figure that I cd walk naked down the streets & the police wd tip their hats to me & call me SIR. I'd expect bankers to give me the combinations to their vaults & the alarm system codes.
"With sales peaking at 400, neither royalties nor contracts were on the horizon. She never received a penny for Janet." - p 34
Well that much hasn't changed. Maybe the publisher shd've promoted it more.
"A tone cluster is a chord in which all intervals are seconds. (Henry eventually called it "secundal harmony.") These chords, which can be found as early as the eighteenth century, were part of the arsenal of the piano virtuoso Leo Ornstein (1893-2002). Henry later found that Vladimir Rebikov (1866-1920) used them in Russia. Henry, however, wished to use them with more than a handful of pitches. Lacking enough fingers, he expanded the resources of pianism by using the flat of his hand, the side of the fist, or the entire arm. This too was not entirely unprecedented. Daniel Steibelt's late eighteenth century "battle pieces" included passages played with the flat of the hand, and Ives had used a board to produce oversized clusters in the "Concord" Sonata, but Henry would not have known either of them. He might, however, have heard of the ex-slave Blind Tom, a virtuoso pianist in his own Civil War battle pieces." - p 36
& here we get to what torched off Cowell's fame, his use of tone clusters & his playing of the inside of the piano are what 1st caught my interest 60 yrs or so later even tho such techniques wd've been somewhat common by then. Sachs's scholarliness comes thru here, I don't recall knowing about Rebikov or Blind Tom before. Steibelt I'm not sure about.
1898: "a new Theosophical sect, the Brotherhood of Man" - p 49
When I was 19 & hitch-hiking back from the West Coast of the USA to BalTimOre I was picked up in a station wagon driven by a youngish man accompanied by a woman of roughly the same age, a little girl, & 5 dogs. All 5 dogs had scars from ear-to-ear. The driver explained that he'd found them w/ their throats slit in a river where they'd apparently been thrown to die. He saved them. The 2 adults looked very fried - as if they'd been awake entirely too long, possibly w/ the aid of LSD. I've written about this in greater detail elsewhere so I'm just giving a synopsis here. He said he was in a group called The Brotherhood of Man. I'd never heard of them before but this was 1972 & it sounded like a hippie cultish sort of thing. I had very long hair at the time so most people wd've thought of me as a hippie.
He picked up 2 more hitch-hikers. He told us that he'd been spreading the word on the radio that there was a Satanic group who'd put a hit out on him. He sd that the group found where he was hiding & was going to kill him. He hadn't had a car but as he was walking down the street he saw this stn wagon w/ the keys in it & knew it was a sign from the Brotherhood (or some such) that the car was his for his get-away from the death cult. He took the car & his family & the dogs & here he was & here we were - in a stolen car. We all got arrested. I've only run across one other mention of the Brotherhood of Man since that experience 45 yrs ago until I read this Cowell bio. I hope that man & his family are ok. I liked him. His story might've been true.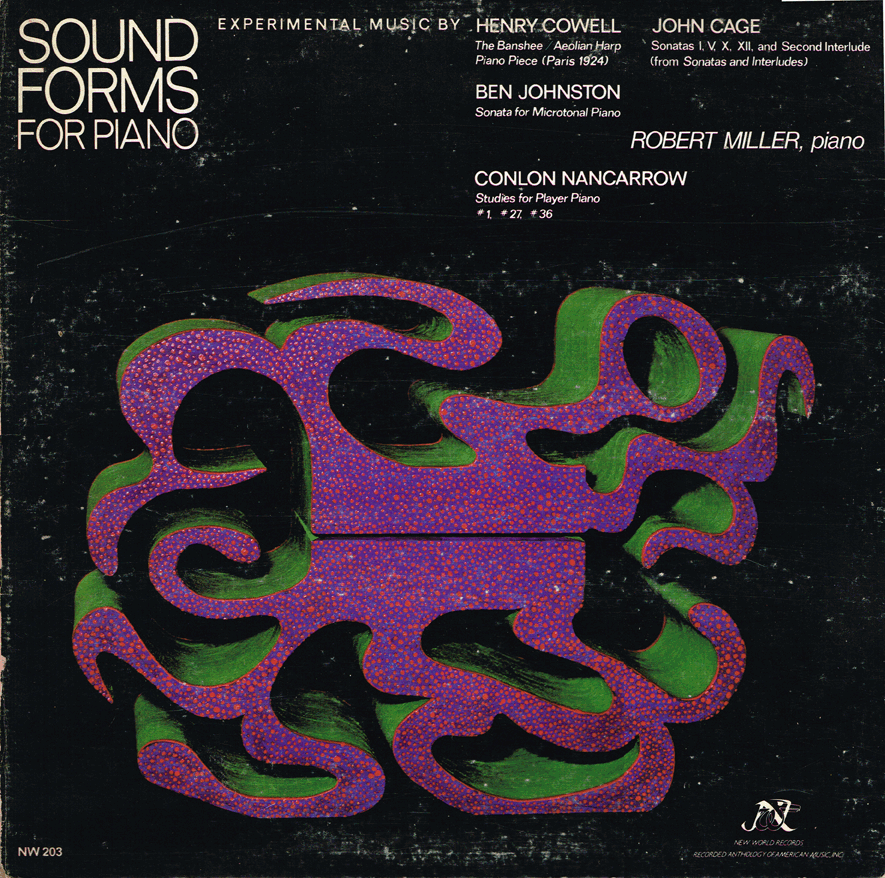 "He planted rows of daffodils in his garden along with rows of garlic, and "the bulbous plants crossed and there were horrible little green budlike daffies that smelled like garlic. This could only have happened to Henry, we said."" - p 53
That's funny, when I lived in South BalTimOre & my neighbor threw all his garbage in my backyard, a bottle of Mad Dog 20/20 crossed with a tree & some sort of carnivorous plant grew up & ate the neighbor. It didn't smell weird but the screams of the neighbor were really loud & went on for wks. I didn't mind, tho, I found it rather pleasant.
Henry Cowell, being, as the title of this bk says, "a man made of music", he began performing early, wowing & shocking people w/ his extended piano techniques. Not everyone was enthusiastic:
"Mason had more mixed reactions. The music was "lawless, without a trace of counterpoint"; on the other hand, Henry knew how to get his ideas "across the footlights." Convinced that Henry had not the faintest notion of "what is meant by development," he advised packing him off to Germany, "where he would be out of the reach of idolizing women folk who mistake anarchistic rhapsodizing for inspiration."" - p 58
So what, eh?! Who needs counterpoint?! Cowell may not've understood counterpoint or development but he was blazing a newer path & that path has grown up very nicely, no thanks to that reviewer very much. A new path is welcome, the old sights & sounds get boring after awhile. But Cowell was adulated:
"According to a reviewer, the Musical Association performance also led a San Franciscan to contribute enough money to justify planning six months of lessons with a fine teacher. (Henry identified the sponsor as a German baron who wanted to send him for lessons with Richard Strauss.)" - p 18
"As of October Seward had raised nearly $335 [2010: $7,540] from donors in Palo Alto and San Francisco of which little more than half remained." - p 18
Now Henry & his mom hadn't had it easy. They'd survived poverty & the San Francisco earthquake by this point. His mom was having trouble succeeding as a professional writer, difficult at any time if you have anything intelligent to say but insufficient publishing world connections, esp difficult for a woman in the early 20th century. But $7,540 raised from donors for his musical education?! That's mind-boggling. I had someone offer to pay me to leave BalTimOre once but I don't think she had more than enough for a one-way bus ticket in mind.
"Finally Harry brought Henry to Charles Seeger, a quirky, brilliant Harvard graduate with broad experience as a teacher, composer, and conductor who was only twenty-six when he was invited to chair the music department at the University of California in Berkeley. He had been there a year when Henry auditioned. Mightily impressed, Seeger accepted him and wrote a recommendation for Seward's use." - p 59
"In fact, Theosophy had a lot to offer Henry. Its teachings centered upon a set of basic tenets, most of which were compatible with his individualism-to formulate spiritual truths without formulating a creed; to set forth a philosophy of life harmonious with divine law; to study the sciences and their "fundamental facts and laws"; to promote the study and practice of the arts and their benefits for human welfare; "to extend belief and knowledge from the known to the unknown, from the physical to the super-physical; and ultimately to reach an understanding of the spiritual teachings which have been given to mankind from time to time"; and to promote knowledge "of a true social science based on immutable law, showing the relationship between all people, between each person and God, and between humanity and nature."
[..]
"Not much "belief" was involved, and hardly any aspect of the basic principles contradicted Henry's mode of living." - p 66
"Not much "belief" was involved"?! I'd say that "spiritual truths", "divine law", "fundamental facts and laws", "immutable law", & "God" are all pretty heavy-handed on the belief end & are also all a bunch of gooey hooey that clogs up the brain faster than you can say elephant-shit-in-a-human-toilet no thank you very much.
A few composers don't fare too well in Sachs's account, one of them is Leo Ornstein, who comes across as a bit pompous:
"After cordially explaining that he had interrupted his busy schedule to practice Henry's music for two hours, Ornstein told him it was "crude, but . . . the material was there." (Not that his views were tempered by age: Ornstein was only twenty-five, five years older than Henry.) Henry was "working in the dark, he needed only to find himself." Ornstein declared Mischa Levitski, another young virtuoso gaining national acclaim, "far less promising" and threw Levitski's music in the wastebasket." - p 71
Um, throwing the "music in the wastebasket" in unacceptable, asshole. When I 1st moved to Pittsburgh in 1996 I approached the head of the Film & Video Dept at the Carnegie Museum of Art & loaned or gave him a VHS copy of my 16mm feature "The "Official" John Lennon's "Erection" as Blocking Our View Homage & Cheese Sandwich" ( http://youtu.be/nRqfWwHAdqA ) to view for consideration for a screening. When I asked him about it later he sd he'd "watched it but didn't remember it." I took that as an indication that he considered it not worth remembering. Given that he wasn't himself a filmmaker & that he was predictably a champion of Stan Brakhage, I concluded that he was a pompous asshole since I know Brakhage's films well & think that he never made anything as good as my 16mm feature. "Dog Star Man", e.g., is quite tedious in contrast. Uh, where was I?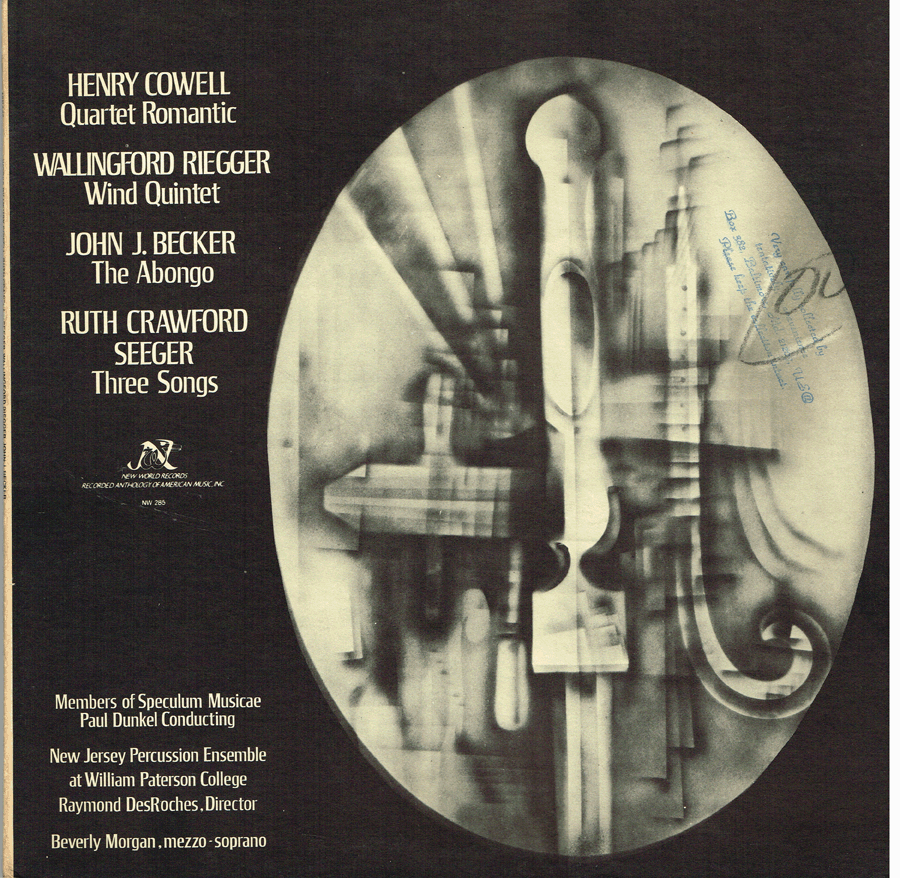 "He said he did not await inspiration, he could work at any time. Composing was a process of working out a theme "that has already presented itself to me in a flash. This flash comes as a musical scheme, rather fully organized. It is instantaneous, so that after seconds it seems a memory. When it comes I have it. There is no trouble remembering it, even for months. But as soon as I have written it down I forget it." These flashes were fully organized schemes of a composition, not melodies, not "intellectualistic: but emotional, although they could have intellectual elements." - p 73
"Considering all the playing Henry had been doing, it is disheartening that he was almost never paid." - p 73
Funny how that works, isn't it? The people who put their all into something are like fuel for other people who don't have that "all" to put.
""Henry told me that one evening when he was walking through this area and the scenery was very beautiful and an inspiring sunset came out over the ocean, he was just enthralled by the flooding into his mind of the beautiful composition known as Exultation. He just heard the whole thing. So he didn't have to compose it. All he had to do was just write it down." Weaver remembered him as a lovely young man." - p 74
This is probably as good a time as any to remind you that I've created a small webpage in homage to Cowell ( http://idioideo.pleintekst.nl/Top100CCowell.html ) where I list all the recordings by him in my aRCHIVE. Exultation is one of them. It's nice to know of the piece referred to, it gets the text outside of the bk.
"In addition to its remarkable rhythmic metric coordination, the Quartet Euphometric is permeated with "dissonant counterpoint," an emancipation of the dissonance that seems even more extreme than Schoenberg's" - p 79
Quartet Euphometric was composed from 1916 to 1919. Schoenberg composed "Pierrot Lunaire" in 1912. I'm not sure I've ever heard anything by Cowell that impressed me as deeply as "Pierrot Lunaire". Nonetheless, Schoenberg's dissonance seems a bit overemphasized sometimes - for me, he was a very subtle & complex composer capable of an interesting variety & he was a great orchestrator. Cowell was great, Schoenberg was great! Long live them both (even tho they're both dead)!
"Henry, however, realized that complex rhythmic counterpoint was a thing of the future. After witnessing the difficulty his friends had in executing such rhythms, "he concluded that a mechanical means would be needed before composers could hear them and play them." With regard to the Quartet Romantic, he was absolutely right: it waited sixty-one years until it could be played, and even then it required a click-track." - p 80
Sachs is probably referring to the recording of the piece on New World Records (NW 285) by Paul Dunkel (flute), Susan Palms (flute), Rolf Schulte (violin), & John Graham (viola). I quote from the record's liner notes:
"PRODUCER'S NOTE
by Horace Grenell
"In order to record the Quartet Romantic" [..] "the two flutes, violin, and viola were seated in a studio that looked like a space machine from the twenty-first century." [Hey! That's when I'm writing from! Hi!] "Each performer wore headphones from which trailed cables leading into tape machines in the control room, where sat the engineer, two assistants, and the producer. Above the instrumentalists were several booms, each with outstretched arm holding a microphone and with cables leading to the eight-track machine in the control room on which the master recording was being made."
[brief reviewer interpolation: Grenell's idea of the 21st c. cd've dispensed w/ the 8-track (reel-to-reel NOT cartridge) & mentioned a laptop or 2.]
"If you look at the musical excerpt," [not shown here] "you will see that no two instruments play together and that the rhythmic pulses in a measure add up to a different total for each instrument. Consequently, the performer will not know when to come in or how long to hold the notes; he will not even be able to hear what the other instruments are playing." [Susan shd be fine] "It is much like trying to beat a different pulse simultaneously with each of your ten fingers."
[Actually, that wd be much harder]
"When he completed the work, Henry Cowell wrote, "This piece is humanly impossible to play! However, if at some future time, through whatever new developments or electronic advancements it should become possible to perform, this is how I want it to sound," and he left detailed instructions. What was impossible in 1915-16 becomes possible in 1978, although a concert performance (without all the equipment) may still not succeed.
"Our practical solution was this. We provided each performer with a specially prepared click track on which were recorded the basic beats of his own musical line and which he could hear through his earphones." [Susan was out-of-luck] "But he could hear only his own beats, nothing of the other instruments. Using these beats as a guide, he knew precisely when to play. Similarly, each of the other performers would hear only his own click tape, nothing of what the other instruments were playing or of any of the other click tapes. We had one additional caution, to control the noise level of the clicks; if they were too loud, the sounds would leak through the phones into the studio and be picked up on the master tape in the control room.
"During numerous rehearsals, we faced the major musical performing problems. How, if the players could not hear each other, could they match tone quality, intonation, dynamic range, and nuance-how could they balance each other? After each recorded take we listened repeatedly in the control room to the master tape and noted all corrections required; we made the necessary changes in balance and levels and oversaw the general refining of phrasing and performance. With proper advice from the producer, who alone in the control room was hearing the complete performance, it was possible to make this ingenious undertaking an accurate, sensitive, subtly colored, and surprisingly romantic performance."
Obviously, that yr's model of classically trained performer was inadequate. In the 21st century we now know that starting strict training at age 3 isn't enough. The latest techniques involve genetic modification that enables them to partition their brain in such a way so that they can internally hear the click-track sent to them by wireless w/o using earphones so that they can simultaneously hear the other players. Of course, that technique has already become obsolete as I wrote that sentence b/c the new app allows the player to txt & check their email & Facebook & drive while they're playing too.
I didn't take a single note on the chapter entitled "Henry Goes to War". That wd've been so-called WWI, the one where the ruling elites cleverly banded together in their collective best interests to nip internationalist revolution in the bud by creating a situation where nationalism was heavily propagandized. It worked. Henry was killed & the bk ended here.
Nah, nah. Our boy still had 48 yrs to go. The war ended & was immediately replaced somewhere by a different one, but Henry got to come home. "As he pondered how to earn a living, a career as an unorthodox composer-performer seemed plausible, given his music's perverse appeal to the press," (p 86) Today cd be called post-usefullness-of-avant-garde-for-newspaper-sales: see the end of https://youtu.be/XuoZopfS4CQ for a transcription of an exchange between a music columnist & this weirdo. "Evelyn Wells and Robert Duffus, both of whom understood the symbiotic relationship between Henry's music and the press's appetite for sensationalism increased the value of marginally outrageous reviews to Henry's career." (p 87) Do you think offering to disembrain the music columnist live on stage wd help?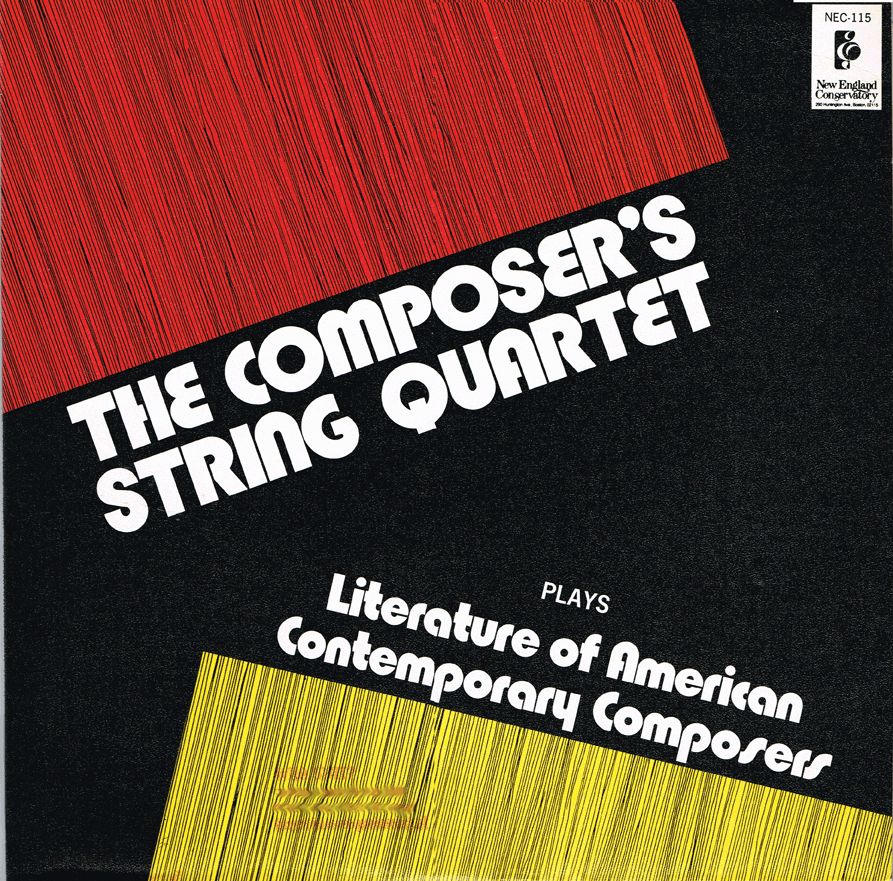 "He quickly got his fill of the publishing world. The Teller company offered to publish "Dynamic Motion," its four "Encores," and some songs-if he would pay $260 [2010: $3,280] to underwrite the costs. Schirmer rejected his music; Carl Fischer offered to accept it if he would pay about $250 in printing costs and assume responsibility for advertising." - p 88
Thank the holy ceiling light for P.O.D. (Print on Demand). That's improved the world of publishing enormously & makes it much harder for these 'deals', that do almost nothing for the creative person, to thrive. Still, scores are a different kettle of balls of wax-fish. I wonder if there're any POD printers who can deal w/ the odd sizes of scores.
"In "Fabric" he used specially shaped noteheads to represent unconventional subdivisions of the whole note, such as fifth-notes, seventh-notes, and ninth-notes." - p 91
Tell me more! I wd've liked to've seen an illustration here. It's possible that that score is lost. I'd use those notes if I knew what they looked like.
"For a closing number Cowell played one of his amazing compositions which he calls Dynamic Motion. At the finish of it three women lay in a dead faint in the aisle and no less than ten men had refreshed themselves from the left hip." - p 96
That was written by Louise Vermont in the Greenwich Villager. I think it's safe to assume that her reporting is exaggerated for sensationalist affect. Still, even if it were true, BIG DEAL! When I perform, as soon as I open my mouth all the men in the audience shoot themselves in the head (using only 1 bullet & NO gun) & all the women throw their underwear at me (the men's underwear. i.e.) before they faint en masse - & the moon is full no matter what. W/in a nanosecond of my opening my mouth all that reverses & nobody ever seems to notice what's just happened except for me.
""I played a concert for 16,000 people at Hollywood last night-unfortunately, they don't pay!" Surely he meant 1,600, unless the concert was out of doors,but in any event, according to one newspaper, it was the largest concert of the season." - p 102
I assume someone made money off the concert. Who was it? Whoever it was, their cronies probably considered them to be 'smart'. W/ smarts like that, who needs dumbness?
"On the eve of their departure for Europe, Henry's first recording became available as a roll playable on electric or mechanical pianos." - p 105
When I become dictator, every home will have a room in it large enough for a roll-operated chamber orchestra. Sd orchestras will be provided free-of-charge (including lifetime maintenance) by people who made their fortunes off arms manufacturing. Cowell's "Quartet Romantic", in an expanded version, will be the roll that comes w/ the orchestra.
Chapter 11 is entitled "Conquering Europe, First Attempt (1923)" & it begins:
"The European debut tour was a huge gamble. Henry, a pianist-composer from a country with no record of compositional excellence, the third American modernist to perform in Europe since Leo Ornstein nearly a decade earlier-Antheil had just come to Berlin in 1922-would face journalists who were unprepared for his music and extremely cynical. He was also stepping into a maelstrom in which classical music was a cult, virulent nationalism and racism were politicizing anti-modernism, and, in reaction to the horrendous reality of the past war, even the old modernists-composers and visual artists-sought stability in neoclassicism. The conventional European audience, armored against novelty, would proclaim him guilty until proven innocent. He would also have to win over the European modernists, newly conservative or not, who were likely to reject his unconventional emphasis on sound as opposed to individual pitch. The extreme Dadaists, on the other hand, might think his music too mild." - p 112
I wonder who the "extreme Dadaists" wd've been. Sometimes, perhaps even often, people are slotted into critical categories more to the satisfaction of the critics than to the agreement of those so-slotted. E.G.: Allan Kaprow coined the term "Happening" & it caught on w/ critics who then applied it to people who had their own terms for their work. I tend to think of Dadaism as a primarily artistic & literary movement. Nonetheless, every once in a while I come across a composer referred to as going thru a Dadaist period: in particular Erik Satie, Stefan Wolpe, & Erwin Schulhof. I love Dadaism & I love the work of those 3 composers but I find calling any of their music "Dadaist" to be a bit dubious.
On the other hand, I'm marginally comfortable w/ calling Ornstein, Antheil, Cowell, & Slonimsky "Futurists", albeit, more specifically "American Futurists", b/c they all embraced similar aspects of their contemporary culture as did the Italian Futurists: specifically airplanes, machines, speed, & advertising (but NOT war!). Hence, Cowell had piano pieces entitled "Advertisement" (ca. 1914) & "Dynamic Motion" (1914); Ornstein had "Suicide in an Airplane" (ca. 1915); Antheil had "2nd Sonata (The Airplane)" (1922) & "Ballet Mechanique" (1924/25); & Slonimsky had "Five Advertising Songs" (ca. 1923). But "Ballet Mechanique" was made as a soundtrack to Dadaist Francis Picabia's (& Dudley Moore's) film of the same name so was that Dadaist instead of Futurist? & Antheil also composed a piano piece (1933) named after Surrealist Max Ernst's collage novel entitled "La Femme 100 Têtes" so maybe he was a Surrealist too. Then again, pianist Marthanne Verbit has a CD called "Past Futurists" on wch she plays the music of Cyril Scott & Ornstein. Calling Scott a "Futurist" seems like an extreme longshot to me. Maybe Verbit's an "extreme Dadaist".
According to Wikipedia:
"Dada was not confined to the visual and literary arts; its influence reached into sound and music. Kurt Schwitters developed what he called sound poems, while Francis Picabia and Georges Ribemont-Dessaignes composed Dada music performed at the Festival Dada in Paris on 26 May 1920. Other composers such as Erwin Schulhoff, Hans Heusser and Alberto Savinio all wrote Dada music, while members of Les Six collaborated with members of the Dada movement and had their works performed at Dada gatherings. Erik Satie also dabbled with Dadaist ideas during his career, although he is primarily associated with musical Impressionism.
"In the very first Dada publication, Hugo Ball describes a "balalaika orchestra playing delightful folk-songs." African music and jazz were common at Dada gatherings."
- https://en.wikipedia.org/wiki/Dada#Poetry,_music_and_sound
W/ that 2nd paragraph in mind, it's possible that any European music of the late 19-teens or early 1920s that incorporated jazz or African influences, esp w/ a rebellious sense of humor, might be called "Dadaist" by someone or another. Same goes for cabaret culture given Dadaist cabaret-inspired performance & the importance of cabaret in its support of social criticism. Be that all as it may, I still wonder, specifically, wch "extreme Dadaists" Sachs had in mind, if anybody in particular. I don't say this to criticize Sachs, this bk is excellent, I'm just curious. I probably wd've been one of those Dadaists if I'd been alive then, as much as I love Cowell's piano music the melodies are sometimes a bit too simple for me. Besides, most Germans had better things to think about than innovations in piano playing:
"Enormous portions of soup, fish, meat, fowl, dessert, and a rare wine cost 80,000 marks-ninety cents [2010: $11.50]. Seventy-Five cents got them from Bremen to Berlin" - p 113
"In the first few days they spent less than twenty dollars for several meals, about a dozen taxis, hotel, railway, and tips. With the mark at 94,000 to the dollar, Henry's large room cost eighteen cents a day, including breakfast and lunch; renting a grand piano cost seventy-eight cents a month; the best seats at the opera, thirty cents; an ordinary taxi ride, sixteen cents; a meal in the best restaurant, twenty-one cents, a new suit, seventeen cents. and so forth. On a dollar a day-he told Harry-one could live like a prince. "It is, however, an impossible situation, and I am not going to be the type of foreigner who takes advantage to purchase luxury at the expense of the poor here. It is dreadful to get used to making change." But 94,000 was a mere way station. Soon the dollar yielded 280.000 marks; three days later, 740,000." - pp 113-114
"When Henry left Germany on November 26, the unexpected was happening: the mark had passed four trillion to the dollar, and Adolf Hitler had attempted a coup in Munich." - p 119
Imagine what you cd buy for 1 mark. You probably cdn't even buy one mark for one mark. & people act like things are that bad under Rump. Can we send Vermin Supreme back in time to kill baby Adolf? B/c, HEY!, might as well dispose of Donald Don't-Duck while we're at it. Can't hurt, right? (For those of you who read SF stories about how-such-things-cd-go-wrong, such as Ursula LeGuin's The Lathe of Heaven, well..). Of course, going back to the main people responsible for WWI & killing them as babies might help prevent the desperate conditions that Hitler thrived in, etc, etc.. In short, any time traveler really has their work of baby killing cut out for them!
"He met Alban Berg who asked for permission to use tone clusters. "Berg was such a wonderful. hearty person, appreciating a joke, and always full of laughter. It's hard to think of him as being the composer of such gruesome tales as 'Wozzeck' and 'Lulu.' But he got all of this gruesomeness out of his spirit, probably, by writing the music." - p 118
My only criticism of Berg, of course, is that he didn't live long enough to finish his opera "Wozzeck & Lulu vs Godzilla & Freddie Kruger". Henry went to Paris where he attended an "evening of literature and dance" at "the studio of painter Lester Rosenfield". "The centerpiece was Miss Constant Lounsbery's reading" during which "The dancer . . . professionally known as Nadja appeared before the curtain as the "Body,"" (p 122) "Nadja"? Cd this be the very same Nadja that André Breton named his famous novel after? I don't know, ask André. Oh, he's indisposed.
So I got my copy of Nadja & started looking thru it for clues. Between pp 50 & 51 I found a torn section of a newspaper. On that paper there's a fragment of a cartoon of a woman w/ a rope around her neck tied above her to a tree branch. Her arms are tied tight to her torso by another rope. The cartoon is ripped-off below that. The woman is still alive with her eyes open. She hasn't had whatever she might be standing on knocked out from underneath her to make her actually hang. Not a part of the cartoon, but written over it w/ a thick pencil, perhaps a carpenter's, it reads" "MIKE" overtop the branch &
"RE:
SET"
to the left of the woman (from our perspective, not from the woman's) w/ a wavy line drawn to the right of the woman down from the branch to the torn edge of the paper. To the right of this line is written:
"7:15-
7:30".
I shd mention that the word "MIKE" is written w/ outline letters. Cd this be the clue we're looking for?! Was Nadja's real name "MIKE", short, perhaps, for Michelle? Putting the newspaper scrap under my microscope I quickly reached the conclusion that it was from roughly 45 yrs ago in 1972. That wd make it 45 yrs later than 1927, the yr before Nadja was published & 4 yrs after Henry's appearance in Paris in December, 1923. This cdn't possibly be a coincidence.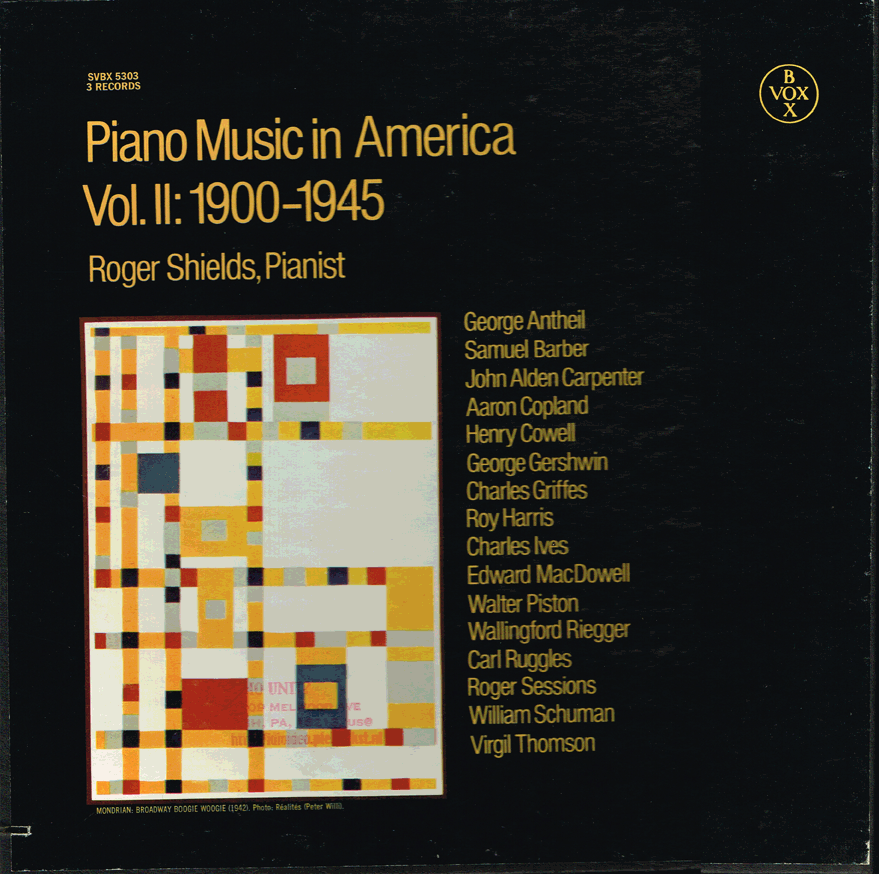 Back in the USA, "Ultimately, through Gassner's and Henry's own promotion efforts, Henry gave some forty to sixty concerts a years" [sic] 'in the 1920s." (p 127) I'll bet you thought I was going to spin-off from the typo didn't you? Instead, I point out what a phenomenal amt of work that many concerts is. Henry Cowell was driven & a very hard worker. In NYC:
"On the last Sunday of 1924, although he was no longer using his free room at St. Mark's in-the-Bouwerie, Henry repaid the congregation's generosity with a day-long event whose long-term consequences even he could not have anticipated. This "Symposium on Exotic Music" opened with a talk "on the peculiarities of Oriental Music, illustrated by Instrumentalists" who played music of Japan, India, and China that must have been unfamiliar to almost everyone. Asked whether this concert might have been the first public presentation of extra-European music in the United States, ethnomusicologist Dr. Adelaide Reyes responded that it almost certainly was, at least for a white audience. Anti-immigrant and especially anti-Chinese sentiments were so powerful that the only other possible venues would have been in Chinatown or in freak shows at the P.T. Barnum circus. The 1882 Exclusion Act, which kept Chinese out of the United States, was not repealed until 1943." - p 129
These days, just about anyone in the USA can hear Chinese music easily by browsing for it on the internet or listening to recordings of it at their local public library, etc. &, yet, how many 'mericans do you know who listen to Chinese music? I can name one, for sure: ME. So, here we are w/ 'the world at our fingertips' & how many people just go on only listening to the music of their subculture?!
I love the music of Edgard Varèse so it was a little disenchanting to read of his being a control-freak manipulating careerist:
"Varèse's International Composers' Guild (ICG) by now had completed three seasons of concerts of the newest music. While Henry may have been honored to be put on its International Advisory Board, Varèse ruled it with an iron fist. Henry almost immediately endangered their relationship by expressing reservations about Varèse's new ensemble piece Hyperprism." - pp 129-130
"He continued to Montreal, where he was again treated like a celebrity, thanks to his growing personal network. Mary Lloyd, a friend of Cary de Angulo and wife of the chairman of McGill's Botany Department, made the Montréal visit a whirlwind of receptions, performances, and interviews. His concert, co-sponsored by the Faculty of Music and the Departments of Physics and Psychology, became the first of many engagements sponsored by psychology departments over the next decade. Henry called it "unusually successful," with an overflowing hall and many people standing. At one event, he met the botanist Vladimir Ulehla, the head of the science department at Masaryk University in Brno, who promised him concerts in Prague, Brno. Pilsen, and Mährisch-Ostrau. At a grand tea in his honor, the Czech consul general promised to help Ulehla arrange the Prague concert." - p 134
This wd've been late 1925. That wd've been before Dr. Ewen Cameron's time. Cameron, the infamous LSD torture dr, was in Glasgow in 1925 & in Baltimore at the Phipps Clinic at Johns Hopkins Hospital from 1926-1928. The Phipps Clinic is the very same place where I was a research volunteer for space stn preparatory living, funded by NASA, in the early 1970s. Small world.. but not so small that Cameron wd've been at Henry's McGill events even tho he later conducted his CIA sponsored personality-erasing experiments there.
"On Saturday morning Henry attended synagogue with a prominent local violinist and teacher named Brant, probably his first experience with Jewish worship. For the Brants' twelve-year-old son Henry it was a turning point. After reviewing the boy's music, Henry urged his father to bring him to New York to study, which he did four years later, changing Henry Brant's whole life." - p 134
Small world! Henry Brant is another great composer!! Cowell's encounters w/ significant others are numerous. He was the guy 'who knew everybody' - mainly b/c he was so energetic & so invested in his field. BY 1926 he was in Europe again where he "enjoyed a tour of Alois Hába's Department of Quarter-Tone Music at the Conservatory. A vocal ensemble using extended techniques must have been the inspiration for Henry's astounding score Atlantis, for orchestra and three howling singers." (p 139) Atlantis is one of my favorite Cowell pieces, Hába's The Mother (1930) is a quarter-tone pro-Suffragette opera. ( http://idioideo.pleintekst.nl/Top100CHaba.html )
Cowell is consistently portrayed as being diplomatic. No matter how bad his experiences w/ people like Varèse were he still supported their music on the basis of the music's own merits. I respect that, most people just seem to wallow in their own petty vengeances.
"Henry frequently assailed the influential Parisian-Stravinskian neoclassicism as pure note-spinning. For a truly new experience he recommended Varèse, who had virtually eliminated harmony and most melody." - p 147
Cowell took risks out of sheer enthusiasm & love for what he was doing. I can relate.
"Sensible people without a reliable income would be cautious about launching a second project that promised to drain personal resources. Fortunately, Henry, undeterred by realism or common sense, decided to create a quarterly magazine of new scores." - p 150
Hooray for Henry! It's the visionaries who take these risks who get the most done.
"The quarterly journal, containing only scores and no prose at all, would be unparalleled anywhere in the world." - p 151
"He began by approaching his Halcyon friends and ultimately signed some 8,000 letters of solicitation, adding personal notes on many of them." - p 151
I remember reading in a biography of Spike Jones that when he toured he'd visit the radio stations & he'd know the DJ's names & he'd send them holiday cards. They'd get his records & play them - partially b/c they felt a friendship w/ him. This is nothing to scoff at, it takes a truly outgoing & warm person to pull it off, it's not just unfeeling salesmanship.
"The first year was rounded off with Carlos Chavez's Sonatina. In committing the fifth volume to Ruth Crawford, New Music became her only publisher." - p 151
You can see the score for Sonatina here: http://idioideo.pleintekst.nl/Top100CChavez.html . It might not be one of his more important pieces but, hey!, that doesn't mean it's not worthwhile. As for his publishing Ruth Crawford? Hooray! What if he hadn't done so?! Who else wd have?! It wd've been a shame to let her disappear unnoticed, unappreciated. & Ives?! The world w/o Ives's music wd be like an alligator w/ a toilet for a head.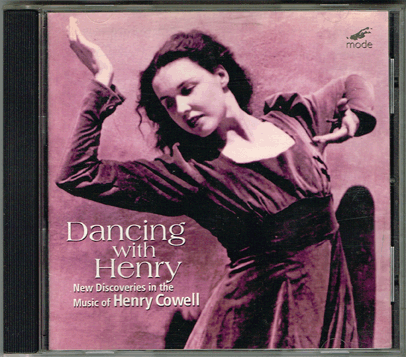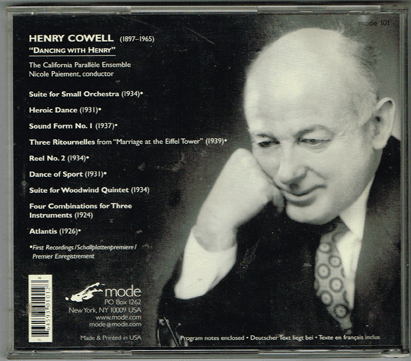 "Ives promised to contribute $50 [2010: $628] per month."
[..]
"At the same time, Henry was a godsend to Ives. After almost everyone had rejected his music out of hand, he finally had an advocate." - p 152
Cowell was always ready to (over-)commit himself to anything that served the purpose of great music & its international appreciation:
"In mid-September Varèse proposed that Henry and Whithorne take charge" [of the Pan American Association of Composers] "when he moved back to Paris. Actually, Henry was already running it. Since no PAAC-sponsored concerts could be organized in 1928, he earmarked Ives's initial contribution of $125 [2010: $1,590] for a catalog of members' works that would be used to solicit performances. Then everything ground to a halt. At the end of November 1928, Henry wrote Ives that Chavez had lost interest, Varèse was away, the catalog had gone nowhere because the composers did not submit their works-lists, and an incomplete catalog seemed useless. Some composers were blocking any action out of reciprocal jealousies." - p 156
Been there, been thru that, hated it. What was I saying about "most people just seem to wallow in their own petty vengeances"?! It's an eternal problem. Solidarity is almost impossible b/c too many people have too many exclusively self-serving agendas. Cowell didn't - but he had to deal w/ those who did. E.G.: I founded an orchestra w/ 22 people. I was given the opportunity to curate shows in the lobby of a sizable theater. Everyone in the orchestra had other projects. I decided to support the other projects by having them perform at the theater. I thought that, if nothing else, if everyone in the orchestra attended every show & brought a friend we'd have at least 44 people every time & it wd be a happening thing just from that.
So what happened? Not more than 1 or 2 people supported anyone else's show. I was at every one, of course. A factor of this, to be fair, was everyone's being so busy. These were called "HiTE Clubs" & movies of every one are online: Premier: https://youtu.be/XU6AnSa4v0s ; 2: https://youtu.be/jjPUzn3md3c ; 3: https://youtu.be/aT0FHGllolM ; & Final: https://youtu.be/eqBXLTzZhAs . In Cowell's day, several newspapers might've found these newsworthy but if the audiences were small, that was that - there was very little likelihood of a recording to be re-experienced. In today's world, few people might attend but billions still have access to the movie(s) of them.
"Having loved Gershwin's shows, he was amazed to find that although he improvised so securely that it sounded like a written-down piece, Gershwin read music slowly and laboriously." - p 158
Sad to say, I'm the same way. I wonder how many composers this applies to. I've read it about Giacinto Scelsi & Igor Stravinsky too. Is it true? I'd be perfectly happy to read conventional notation fluently but I've always had a mental block against it. But Gershwin?!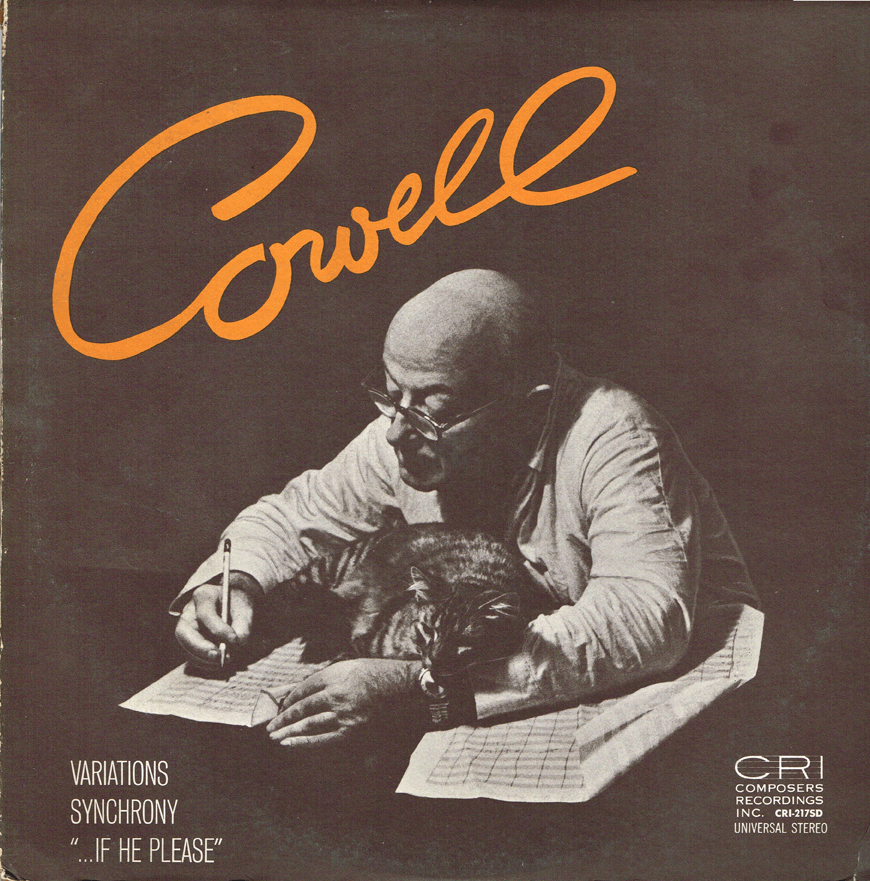 Chapter 13: "Europe, Third Installment (1929)": logistics in Russia turn out to be problematic:
"As the nights were mild, he did not hesitate when someone suggested he sleep on a park bench. Feinberg escorted him to a convenient bench near the Kremlin and left him there." - p 166
Can't fault the guy for not trying or not rolling w/ the punches. Here was a man w/ pluck. Good onya meatey. The ideological debates:
"One group insisted that all music be immediately understood by the masses; a nobler, less conservative faction nevertheless opposed excessive individualism. As a result, young composers were discouraged from pursuing their own visions and pushed to write in a single, uniform style. At this stage, however, there still were some Russian radicals led by Aleksandr Mosolov." - p 168
I support composers just composing however we damn please & if other people don't like it, so be it. As for Mosolov, the above description rearouses my interest in him. When I think of composers in the U.S.S.R. under what eventually became Socialist Realism I think of the stunted achievements of Prokofiev & Shostakovich - 2 composers whose work I find quite boring. So what about Mosolov? Did he compose alot? Was he suppressed? Why do I care?
I care b/c what I'm interested in is the work, the ideas, the inspiration, the ingenuity & what I detest are these dogmas that get in its way. This is as true under capitalism as it was under socialism. Socialist Realism didn't represent the 'will of the proletariat', there is no such homogenized thing; it represented the dictates of a megalomaniac who fancied himself a representative of the 'will of the proletariat' in much the same way that the Pope fancies himself to be a representative of 'divine will'. It's all bullshit. My position isn't one of 'Free Trade' vs Fair Trade, I'm not supporting every-man-for-himself in the form of every-rich-person-exploits-every-poor-one, I'm supporting creative people following their imagination. If it's something that effects other people where it hurts, where they live, in terms of food & shelter & such-like, then I'm in favor of ethics & mutual aid - but we're talking composing here, not food distribution.
So what about Mosolov? Was he enabled by the Russian revolution? Probably at 1st. Was he suppressed by the totalitarianism it developed into? Probably. Have you heard his work? I've put together a small retrospective of the pieces I have recordings of:
"Symphony of Machines - Steel Foundry" (on Folkways Records's Science Series FX 6160 (1957))
"Sonata No. 2 in B Minor". Op. 4 (1923-1924) (on ECM 1569 CD)
"Sonata No. 4", Op. 11 (1925)
"Sonata No. 5", Op. 12 (1925)
"Piano Concerto No. 1", Op. 14
(these last 3 from Harmonia Mundi, Le Chant du Monde LDC 288026 CM 201)
Not much is it? Everything but "Symphony of Machines" is a piano piece, the concerto having an orchestra too. They're ok but not that distinguished, to my ears. I'd like to hear more by him. There aren't really that many composers in the world that some 'inevitably' fall by the wayside, are there? I need to do more research on him online.
"After hearing Henry's music, they immediately asked to publish "Tiger," which could never be called conservative, and "Lilt of the Reel," which would barely pass that test. Then they flabbergasted Henry by giving him advance royalties on the first 500 copies rather than asking for a subsidy, a treatment unimaginable in the West. Even stranger was the honorarium, 88 rubles. (That was about $44 [2010: $560] at the official rate.) Asked how they arrived at the number, the spokeswoman replied that their rate was 10 kopecks (5 US cents) per quarter note. (Henry later joked that he wished he had written more separate quarter notes, because each tone cluster was counted as one quarter-note event no matter how many pitches it contained.)" - p 168
At least they were trying to somehow systematize paying composers as workers - as if they were paying brick-layers per brick. It's tempting to compose a piece "Dedicated to the Soviet Composer Pay Scale of 1929" consisting entirely of quarter notes in sequence (just to be on the safe side - in other words, no harmony - in case vertical notes aren't rewarded). I think I'll actually do it. I wonder if I can somehow make it interesting w/ that restriction?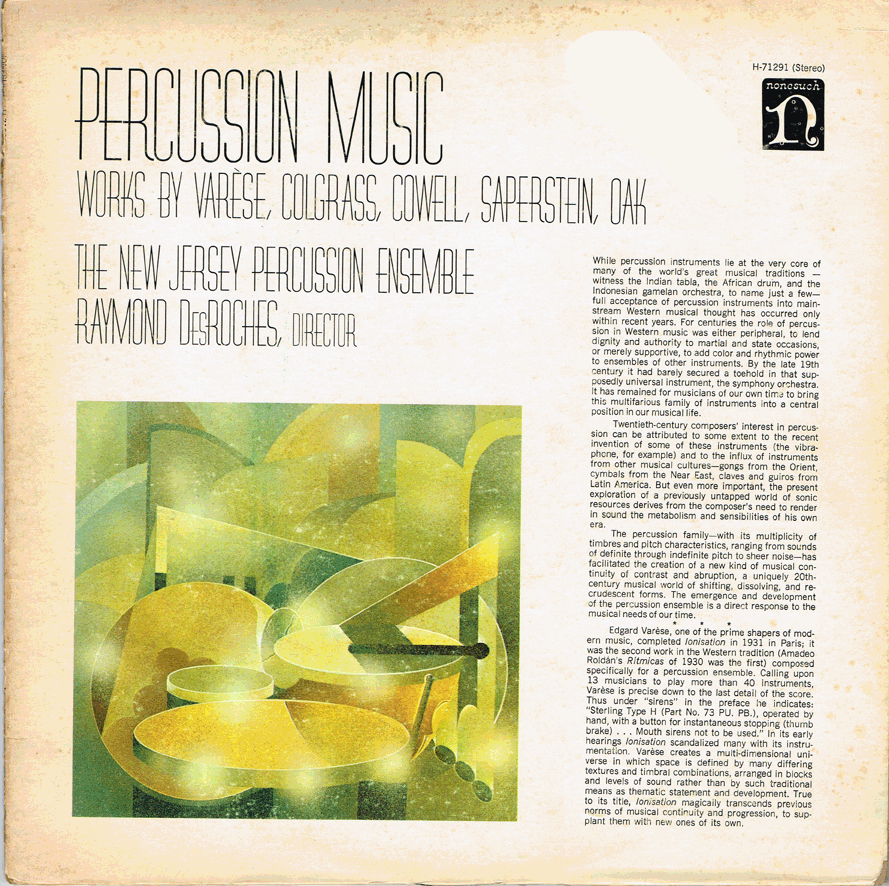 Back in the USA, Cowell tries to find a publisher for one of his bks that wd publish it w/o Henry having to pay them:
"The first target, Macmillan, rejected it outright. Henry told Olive that it created "a great stir among the readers, who all favored it except the musical reader, who was so angry he fairly spluttered. Henry then wrote up more of his ideas for Modern Music as "New Terms for New Music" (1928)," [I'm a little confused by the chronology here since this is presented as after Russia (1929)] "which sought to clarify the murky usage of words like polytonality and polyrhythm. His book thus was more than ten years old when Chávez gave it to a senior editor at Alfred Knopf, who reacted positively. Negotiations dragged on, however. Finally, in early March 1929, Henry closed the deal by agreeing to buy 500 copies at a 40 percent discount and coordinate sales himself." - p 173
No comment necessary (I hope).
"In "Tone-Quality," he proposed creating a rational basis for tone color, which itself is governed by overtone combinations, and suggested that tone color might progress as a compositional element if it old be notated." - p 176
Good idea there, Henry.
& if we think the mainstream publishing industry is a rip-off, what about the health one?:
"On September 11, 1929, however, he was hospitalized with blood poisoning caused by a neglected boil under a shoulder blade."
[..]
"Suddenly his condition deteriorated. Although the original infection in his leg and back had healed, his stitches became infected and had to be removed prematurely. Then he worsened again and nearly died. The doctors had to operate several times to drain the infection and perform skin grafts; an area the size of a hand was eaten away. He finally was discharged on October 25 after some six weeks in the hospital and salvaged concerts in Los Angeles and Claremont, where the teenage John Cage heard him for the first time." - p 179
Let's have fun w/ statistics, shall we? DISCLAIMER: the following research as quoted is completely superficial & simply supports my nefarious hatred for the 'merican 'health care' system
"For most of the 1800s, hospitals had been a place where the chronically ill and indigent received charitable care because they had no family capable of shouldering the burden. Those who could afford it received care at home. But as the importance of asepsis began to be appreciated, surgical and acute care patients were more likely to be treated in hospitals designed to facilitate antiseptic conditions. Hospitals began charging for the use of their facilities.
"During the transition, medical bills began absorbing significant amounts of family income. Hospital costs rose from 7.6% of total family medical bills in 1918, to 13% in 1929. According to the Historical Statistics of the United States, average annual earnings in all industries and occupations in 1926 were $1,473 when farm labor was excluded. Thomasson reports that surveys of medical care expenditures from 1929 show that U.S. urban families, with above- average annual incomes of $2,000 to $3,000 that had no expenses for hospitalization, spent an average of $67 a year, 2% to 3% of income, on medical care. With hospitalization, the average was $261, 8% to 13% of annual income." - from "THE HISTORY OF HEALTH CARE COSTS AND HEALTH INSURANCE" by Linda Gorman, Ph.d.
- https://www.westandfirm.org/docs/Gorman-01.pdf
2010: average costs per ONE IN-PATIENT DAY:
"United States
· State/local government hospitals - $1,625
· Non-profit hospitals - $2,025
· For-profit hospitals - $1,629"
- https://www.beckershospitalreview.com/lists/average-cost-per-inpatient-day-across-50-states-in-2010.html
"Prices in 2017 are 1331.5% higher than prices in 1929. In other words, $100 in the year 1929 is equivalent to $1,431.50 in 2017"
- www.in2013dollars.com/1929-dollars-in-2017
Let's say Cowell's income was $2,000 & that he spent 20% of it on hospital care for 6 weeks. That would be $400. With inflation, that would equal $5,726 in 2017. The actual cost, if we use 2010's lowest per-day figure, would be 42 X $1,625 = $68,250. $68,250 divided by $5,726 = almost 12. That means that hospital costs have gone up 12 times as much as inflation. That would mean that if Cowell could afford to be in the hospital for 6 weeks in 1929 at $2,000 a year income, he'd have to make $343,560 in 2010. In other words, to hell & NOT back again to the middlemen in the health insurance business who have our genitals in a vice. Ahem.
I can always tell what areas authors are deficient in:
"After they departed, the Johnsons learned that the visitors were Jesse & Harry James, on the run from a recent bank robbery." - p 180
What's wrong w/ that picture? Sachs probably meant Jesse & Frank James, his brother. Harry James was a trumpeter & big band leader who didn't come along 'til later. 1 demerit.
"Hunting for talented Cuban composers whose work he might publish, Henry had contacted Maria Muñoz de Quevado and her husband, the publishers and editors of the new Cuban periodical Musicalia. They directed him to twenty-year-old Amadeo Roldán, and to twenty-two-year-old Alejandro Garcia Caturla". - p 181
Caturla became a judge & was assassinated by a gambler who he was about to sentence to prison.
"The Cuban concerts return us to the Pan American Association of Composers, which had been comatose since Henry left for Europe."
[..]
"The first PAAC concert. on April 21. 1930. at the Carnegie Chamber Hall-now the 268-seat Weill Recital Hall-had excellent songs by Ives, Ruth Crawford's powerful Rat Riddles, and works by Caturla, Chávez, Weisshaus. Vivian Fine, Dane Rudhyar, Gerald Strang, Henry Brant, Adolf Weiss, George Antheil, and Henry himself." - p 182
What? You say you're not familiar w/ the music of Vivian Fine? Well, do I have a movie recommendation for you!: "mm 49: Vivian Fine Marathon!": https://youtu.be/vjqJ9xekECs .
"He had had a reasonably full calendar for 1930-31, including the tour to Cuba and orchestral appearances in New York. Then the bank crash triggered the general economic collapse. In 1933-34 he had only seven concerts, in 1934-35 even fewer, and 1935-36 hardly any" - p 204
"Henry's courses are only a small fraction of his intricate relationships with dancers, which were largely forgotten until recently. Even Leta Miller's fine study of the subject says very little about the period before 1937. The reason is almost certainly that Henry's dance scores were modest, not susceptible to performance without dance, and unrelated to the Americana aesthetic that made Copland's ballets central in American musical history." - p 209
This bk is copyrighted 2012. Mode 101 CD: "Dancing with Henry" is copyrighted 2001. The liner notes are by Leta E. Miller. The work represented is from 1924, 1926, 1931, 1934, 1937, & 1939. 7 of the 9 pieces presented are from before 1937. I assume that this portion of Sachs's bk was written before 2001.
"She liked the proposed title, "Synchrony," but although she would have preferred something programmatic, it became Synchrony of Dance, Music and Light. Henry completed it shortly after staying at Graham;s house in Santa Barbara in August 1930. She immediately sought a venue, but the best prospect, a League of Composers concert, fell through. Synchrony is probably the piece that Henry thought the Cleveland Orchestra might perform, but it was finally premiered without dance in Slonimsky's Paris concert in June 1931. The multimedia conception was never seen, and Graham never danced it." - p 210
It's not too late for someone to do it now, is it? (hint, hint)
We all live thru times when changes take place. Sometimes these changes just seem so natural to the flow of our lives that we take them for granted. Imagine, when I was 18 gas for a car cd still be bought for 25¢ a gallon, payphones were common, mail to Canada & Mexico from the US cost the same as in the US all the way up 'til the '80s, picture-phones were pure science fiction, as were translation devices. All that's changed dramatically but for younger people these changes are the norm.
"In the spring of 1931, Modern Music devoted an entire issue to radio, recording, film and electrical instruments-innovative technologies that posed serious threats as they transformed the musical world."
"Even the apparently deceased player-piano offered interesting prospects, such as using a new method of cutting player-piano rolls to produce the subtle rhythmic relationships that he had described in New Musical Resources. Although he had long since stopped exploiting such relationships in his own music, the young composer Conlon Nancarrow, who read and reread New Musical Resources, eventually took Henry's ideas to their logical end in his Rhythmic Studies for player piano." - p 213
One good idea deserves another. This is part of what I love about life: the ways in wch people are inspired & the ways in wch their inspirations inspire others. Thank the holy ceiling light for Henry Cowell. Thank the holy ceiling light for Conlon Nancarrow. Thank the holy ceiling light for Joel Sachs for passing the word along.
"Henry also recognized recording's potential for propagating new music, bringing it to lightly populated areas where concerts were impractical"
[..]
"Henry also foresaw transferring world-music recordings that existed only on the old Edison rolls, and duplicating rare records for which only one copy existed. He proposed that Ives immediately help finance the $125 [2010: $2,100] purchase price, since a large record company was trying to buy out the manufacturer and stifle competition. When Ives immediately sent $50 [2010: $841], Henry announced the founding of New Music Quarterly Recordings." - p 214
I was born in 1953. I started collecting records in 1967. I had almost no money but I still managed to accumulate my own personal library of recordings that wd've far surpassed anything that Cowell had access to at the time of his going into publishing recordings. I'm very much a product of this availability & happy to be so. What will things be like even 35 yrs from now? But it's not just a matter of available technology. It's a matter of how people use it, of whether people take advantage of the vast resources available or if they just keep on keepin' on w/ the most banal interests. We live in a time of translation programs & a network capable of reaching out to others in their own languages. That's mind-bogglingly wonderful. I'm neither a technophile or a technophobe. Almost everything has its ups & downs. Some people refuse to perceive or acknowledge one or the other. I love that we can fly around the world in airplanes. This very freedom also enables the spread of diseases. Cowell wasn't naive about radio & recordings:
"Henry's developing perception of radio's potential can be traced through his articles on music for the Encyclopedia Americana's annual supplements. In his review of the year 1927, he mentioned radio only briefly, merely observing that better musicians were being used. Only two years later, radio seemed to him one of the most important forces in the musical world, since its music programming had greatly improved. He blamed radio, however, for a chain of side-effects that made it more threatening than recording. His "informal" survey revealed that up to 80 percent of concerts had been eliminated due to competition from broadcasting. Fewer children studied music as parents decided that radios rendered playing an instrument unnecessary. Consumers bought radios rather than pianos, pushing three leading piano manufacturers-Chickering, Knabe, and Mason and Hamlin-into receivership. Publishers failed as sheet music sales plummeted. Phonographs without built-in radios languished on store shelves. Composers' incomes dropped as performance opportunities shrank. Henry lamented that listeners would forget (or never learn) the acoustical superiority of live performances. Furthermore, radio companies were uninterested in new music. In his survey of 1930, radio looked even more pernicious." - p 218
Personally, I think it'll be a very sad time when pianos have all but disappeared from people's homes. I have a spinet that was given to my family when I was 3 by my mom's aunt. She was a farmer & that was a very generous gift. I still have it 61 yrs later & even tho it's not an expensive piano it's been cared for & still plays & stays in tune. I love it!
Not very well known is Cowell's conception of a rhythm-producing machine constructed for him by no less than Leon Theremin. That's a tasty combination!
"The Rhythmicon had seventeen keys, arranged in a regular sequence of black and white, unlike the irregular layout of the piano keyboard. The lowest note produced a unit of rhythm, white keys produced even divisions of it; black keys produced odd-numbered divisions up to a fifteenth of that basic pulse. Since a rhythm continued to be sounded as long as the key was depressed, any or all rhythms could be played simultaneously. The Rhythmicon therefore surpassed the two leading electrical instruments, the ThereminVox and the Trautonium, which were monophonic." - pp 223-224
It might be more accurate to say that it surpassed them in one respect. After all, they were pitch-producing instruments & the Rhythmicon seems to've been mono-pitched (if I understand the description correctly). Alas, there were technical difficulties & "In the end Slonimsky sold it for $90 to Joseph Schillinger, who used it in his teaching and eventually gave it to the Smithsonian." (p 225) Too bad. At least it didn't suffer the fate of the Telharmonium & get sold for scrap metal.
"By early 1933 the Pan American Association of Composers (PAAC) could boast of substantial accomplishments, including complete orchestral concerts of American music in Berlin, Vienna, Prague, Boston, and New York; individual American works performed on orchestral programs in Berlin, Frankfurt, Copenhagen, Havana, Mexico City, New York, Paris, Philadelphia, and San Francisco; and chamber concerts in New York, St, Paul, Havana, Dessau, and elsewhere. Interchanges of scores had been organized between Latin American countries and the United States and Canada; libraries of American scores, open to musicians and the public, had been established in New York and Berlin; recordings and a rental library linked to the New Music Society had been planned. All of this was possible because of Henry's tireless slogging, aided by Ruth Crawford, Wallingford Reigger, Adolph Weiss, and Ives's financing." - p 226
Cowell wd've been 40 at the time. How many people can say that they accomplished that much by that age?! Cowell was a dedicated & hard worker. Alas, there's always an ugly side:
""I agree with Adolph [Weiss] and Salzedo," Ruggles wrote Henry. "that it is a great mistake to have that filthy bunch of Juilliard Jews in the Pan American. They are cheap, without dignity. And with little, or no talent. That [Arthur] Berger is impossible. They will double-cross you Henry-I'm sure-in every possible way. My advice is to promptly kick them out, before it is too late." No wonder that Copland wrote that the "feeling of comaraderie" in the new music world was not too strong.
"When Weiss attacked Jewish applicants, Henry replied diplomatically that the most important criterion was the quality of the piece judged from the broadest possible standpoint. Although he admitted to a strong preconception that Jewish composers lacked "fundamental seriousness," Henry favored any exceptions to that generalization, certainly Schoenberg and Henry Brant." - p 227
Uh, not to mention Stefan Wolpe, Erwin Schulhof, Lukas Foss, & Morton Feldman (these latter 2 coming later) - to name a few?! Then again, I was once a "dirty hippie" so what wd I know about "filthy Jews"? We probably all wallow in the same pig pen together. So who ends up staging a coup against Cowell? Was it the Jews? Nope, it was Salzedo, one of the alleged anti-Semites & Varèse:
"At first Henry only said that Varèse and Salzedo were taking an active role in the organization, but he knew they were engineering a coup."
[..]
"A new PAAC letterhead emphasized Varèse and eliminated Chávez and Henry as co-founders."
[..]
"Varèse is trying to undermine any activity that I am the prime mover in, and he and Salzedo, who work together, must be watched for moves that will place them in charge of all activities, which is what they are angling for. This might be okay if they could be relied on to do a good job, but while they are very active and get some very fine results, their work is marred by constant intrigue, politics, and a very narrow and cliquish range of likes and dislikes." - p 228
If you were to say something like that in a letter to someone wd they think you were paranoid or lying or exaggerating? All I can say is that I've witnessed similar machinations & noted how effective underhandedness is in relation to honesty.
"""It was the same old Varèse-Salzedo racket [as] in the last year of the Guild; only more crass and bold. Varèse is using the [PAAC] to exploit himself and is double crossing everybody that gets in his way. Salzedo has always been and is his Good Man Friday."" - p 229
Don't you wish it weren't like that? I can very vehemently assert that I've witnessed extremely vicious & cowardly moves made by people in the Art World who maintain a pretense of community-mindedness wch enables them to receive accolades for such while actually being the opposite. Is there any area of human endeavor where there aren't shallow self-serving shits at work? Alas, I think not. At least I can honestly say that I love Varèse's music. I only have one recording of Salzedo's & I don't remember it so I'm not sure about him.
"The decision to unite with ISCM was fatal. Once again Salzedo and Varèse had killed a project in which Henry had invested enormous effort-or, in this case, pushed Henry out of the project. On the final letterhead of the American chapter, from late 1935, Varèse is listed as the American representative. Unlike the case of the PAAC, Henry's correspondence registers no complaints about the coup in the IEC. His reaction could have ranged from anger at Varèse's and Salzedo's latest trick, to a feeling that the move to amalgamate with ISCM was a good idea, to relief that he no longer had to deal with the job, or even to a sense that the project was going nowhere, at least for American composers, and no longer deserved his attention. One must acknowledge Varèse's correct perception that these organizations were stalled. But they had been Henry's life, and the way they were "stolen" was reprehensible. Contrary to Ruggles's prediction, it was not the Jews who sabotaged Henry." - p 233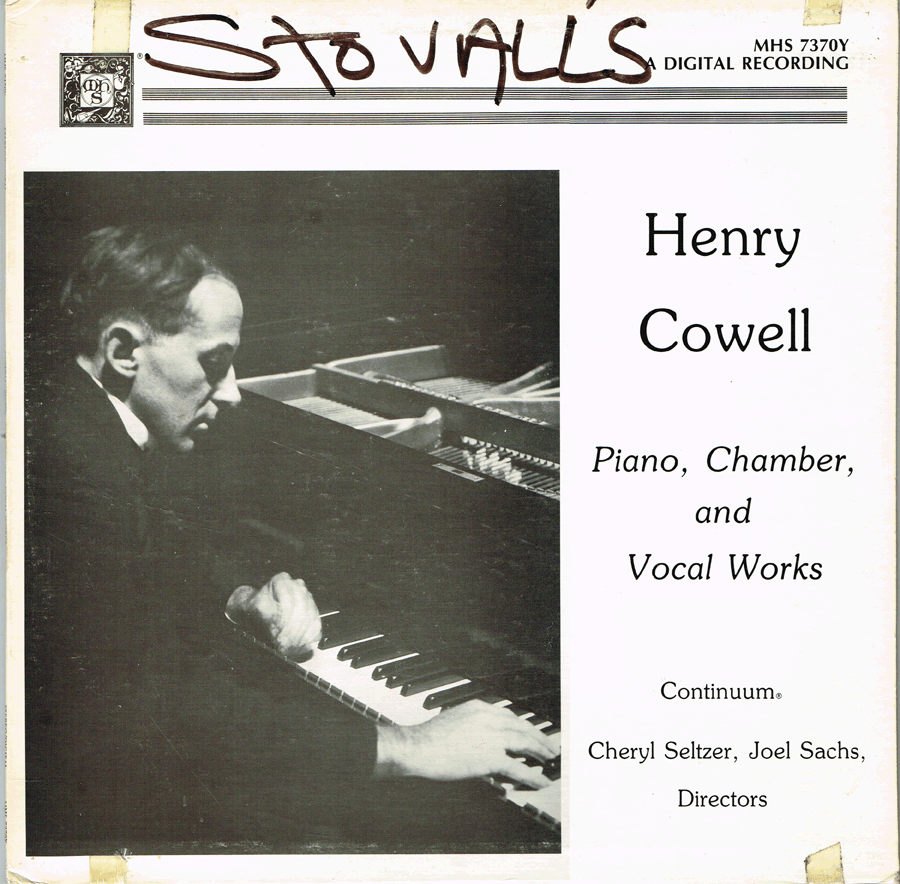 Chapter 24: "American Composition or Americanist Music":
"Unfortunately, the cultivation of art music in the United States was still rooted in the cultural isolation of the wealthy, who reveled in the snob value of appreciating foreign classics. Such people, upon whom musical institutions depended, were unlikely to tolerate an infusion of the vernacular music of the masses. Out of deference to them, interaction between art music and American vernacular music existed only marginally." - pp 234-235
This opens a huge can of squirms. What we're talking about here is class struggle in the context of "Americana" music. To quote extensively from my recent review of the Richard Kostelanetz edited John Cage, An Anthology
"Cage, too, wrote some reviews.
""I did however hear Cadman's Pennsylvania Symphony. This has a variety of themes-of the forest or lurking Indian; of the pioneer, the river, the factory, the happy worker; and, finally The American Theme. The only things missing were moving pictures. It is sad to think how seriously the work must have been written and how little of this seriousness comes off." - pp 62-63
"Now what Cage is really addressing here is Americana Program Music. I've been against it myself. But a few yrs ago I started to appreciate it more & I made a piece called "Tex-Mix (Giddyup Americana)". You can witness a movie of my only performance of it (+ some rehearsals) here: https://youtu.be/yVZPa4gCdAU . What might escape younger readers is that Cage is taking an implied pro-Modernism position in wch representationalism is rejected in favor of abstraction. That wd've been fairly knee-jerk in intellectuals of the time.
""The composers mentioned here all find their material in the land and the people around them. The sources from which the music has been conceived account for some of the differences in the results. Miss Britain and Mr. Cadman have adapted certain literary and intellectual concepts of the American scene, which they have illustrated musically. The music is recognizably regional according to one's knowledge of the conditions that prompted it; it is not an expression in musical terms of a close contact with the country. When Chavez, on the other hand, quotes Indian melodies directly, as he does in the Sinfonia India, he has gone to a source that is essentially musical to begin with." "(March-April, 1942)" - pp 63-64
"I'm not familiar w/ the Britain or Cadman pieces. I am familiar w/ the Chavez. Some of you might be interested in my in-progress website "Top 100 Composers": http://idioideo.pleintekst.nl/Top100Composers.html or, more specifically the page for Chavez: http://idioideo.pleintekst.nl/Top100CChavez.html . I think Cage's point is well-taken & well-considered. Nonetheless, 2 of my favorite pieces of Americana are Lukas Foss's "The Jumping Frog of Calaveras County" (1950) & Lejaren Hiller's "Jesse James" (1950). It's interesting that Cage went on to collaborate w/ Hiller on a dramatically different piece.
"Again, what might not be obvious to younger readers is that any Americana composed during or shortly after WWII wd've probably been composed somewhat to support the 'war effort'. In other words, there was some heartfelt propagandizing going on. People like Lukas Foss were grateful to be able to escape the nazis & come to the US. It seemed only fit to pay homage to the US as a place for refuge (for those lucky enuf to not be turned away).
"That's one of the things that makes Hiller's "Jesse James" interesting: he's not glorifying America, per se, he's making reference to an outlaw who fought back against the railroads & their railroading of farmers who were cheated & bullied off their land. That's a part of Americana that wd've typically been glossed over in Americana propaganda. Although, strictly speaking, the words to Hiller's piece glorify James w/o getting into the politics. Here's a sample:
""Jesse James rode hell for leather;
He was a hawse an' a man together;
In a cave in a mountain high up in air
He lived with a rattlesnake, a wolf, an' a bear""
- full version: "There's no pun on the last name "Cage" in this title.": https://www.goodreads.com/story/show/607353-there-s-no-pun-on-the-last-name-cage-in-this-title?chapter=1
Not every composer is born & raised w/ a silver spoon keeping their nose propped away from the smell of sweaty work. Cowell's parents were anarchists, Harry Partch was a hobo, Conlon Nancarrow fought in the Abe Lincoln Brigade on the side of the Republic during the Spanish Civil War, I'm an anarchist from a lower middle class family.
"The Degeyter Club's members and the twenty-four members of the Composers' Collective pursued the specific goal of creating an American version of the successful proletarian music by European composers and writers such as Kurt Weill, Hanns Eisler, and Bertolt Brecht . They were convinced that the excellent training of the group's member-composers would help them create mass song "dealing with immediate social issues, to be sung at meetings, on parades, and on picket lines. Prominent figures in addition to Henry, Schaefer, and Charles included Lan Adomian (an ardent communist emigré from Ukraine), George Antheil, Marc Blitzstein, Henry Leland Clarke, Wallingford Reigger, Earl Robinson, Charles Seeger, and Elie Siegmeister. Major theoretical statements by Seeger, Siegmeister. and Blitzstein were published in communist daily papers and cultural magazines. Copland attended frequently; Eisler, a former Schoenberg student and recent refugee who was the spiritual leader of the European workers' music movement, was a guest." - p 245
To, again, extensively quote myself & others in this I'll quote from my review of OPEN SPACE 15/16:
"Yet another article of fine substance (OPEN SPACE just keeps 'em comin'!): Martin Brody's ""Music for the Masses": Milton Babbitt's Cold War Music Theory":
""It is exceptionally important to master the musical forms of the mass: songs, marches, dances, etc., forms which are part of their life. To ignore these forms would be incorrect and harmful, to master them would mean helping the creative growth of the artist and his nearer approach to the working class.
(Lev Lebidinsky, speech at the Second International Music Conference of the International Union of Revolutionary Music, 1933)" - p 314
"That's the opening quote &, WOW!, do I find it immediately problematic! Are there intrinsically "musical forms of the mass"es? Or is it just these are the available forms? Take, eg, "marches": it seems to me that marches are imposed by the process of instilling in the 'masses' an obedience to a process not necessarily good for them at all. Then there's the implication that the "artist" requires a "nearer approach to the working class" &, therefore, isn't working class to begin w/.
"Who, exactly, are the working class?! People refer to them/us & generally have some notion akin to H. G. Wells's Morlocks from his bk The Time Machine: they're/we're the people who keep things running, under unpleasant conditions - the implication is that they're/we're dumb brutes good for plowing the fields n'at but incapable of intellect.
"I work to support myself, I do intellectual & physical labor. I worked as a hard-wood floor finisher for 10 yrs, I sometimes load & unload trucks, I do my own electrical work in my house, I come from a lower middle-class family, I've worked for minimum wage & less than minimum wage. Am I working class? According to a former fashion punk friend of mine whose father was a Washington DC lawyer, I'm NOT. Why? B/c "working class people don't collect videos" & I do - ie: working class people have no intellectual interests. Such a stereotype is a ruling class stereotype projected onto working class people to justify using them/us like beasts of burden.
"Is anyone in a union working class? Aren't all symphony musicians in the musician's union? Are they working class even tho they're playing music by (hypothetically) NON working class people?
"Is a working class person necessarily poor? NO. Most people will accept plumbers, eg, as working class & a licensed one makes about $60 hrly these days & is usually kept pretty busy. Is a working class person necessarily not an intellectual? I wd argue NO. That's probably more common than not but it's not an inflexible rule. Read Australian Tom Collins's (Joseph Furphy's) novel Such is Life about bullock driving. Furphy was a bullock driver (cowboy, as we'd say in the US) & the novel revolves around that. I don't know Furphy's life story - maybe he came from a well-to-do family & just worked as a cowboy for a little while. If so, was he working class when he was a cowboy? Did he cease to be working class when he ceased to be a cowboy? Whatever the case, Such is Life is a classic philosophical intellectual bk written by a cowboy.
"Am I working class? Even my own opinion varies on that one. I work, I've been poor most of my life, my life revolves around intense intellectual pursuits. I tend to think of myself as a member of the "No-No Class", a term I coined. Was I working class when I finished floors & then suddenly upper class when I performed experimental music in concert w/ my own experimental movies? Am I ruling class as I write this analysis b/c working class people supposedly don't write analysis? If so, where are my ruling class perqs? Where's my huge financial safety net? As I write this, my drainage pipes are frozen, there's been a freezing spell on here for 2 wks or so w/ no end in sight. I can't afford to pay someone to solve the problem. Therefore, I work on it myself but there's not much I can do about sub-zero weather. Does working on it myself make me working class?
"The quote from Lev Lebidinsky above smacks of paternalism. If "songs, marches, dances" are "the musical forms of the mass" then I reckon the masses can make them themselves, eh?, & don't need a non working class person to do it for them. Do working class people sit around in their/our spare time when we're not being slaved to death & write symphonies for the upper classes? A part of this whole mess is that working class people are too busy working to have time for (even if they/we had/have the brains or knowledge) composing a symphony. In other words, working class people work & composing music isn't work - ergo, a working class person can't be a composer.
"What about unemployed working class people? Are they still working class? Now they have time to compose a symphony but they've probably never learned notation. What if they compose a complex piece of music using more familiar means: words & numbers. I've done this. "Systems Management", the piece that HiTEC performed (see earlier references) was largely (d) composed by me using NO conventional notation other than the newish text score. Few people wd ever disagree that this was a complex piece. It's not the same as Messiaen's Turangalila Symphony, wch I dearly love & respect, it's its own thing. I'd be the 1st to admit Turangalila's superior greatness - but I probably like "Systems Management" more than I like something by, say, Douglas Moore - a perfectly 'respectable' (unlike myself) classical composer.
""Mass Culture is a dynamic, revolutionary force, breaking down the old barriers of class tradition, taste, dissolving all cultural distinctions. It mixes and scrambles everything together, producing what might be called homogenized culture, after another American achievement, the homogenization process that distributes globules of cream evenly throughout the milk instead of allowing them to float separately on to. It thus destroys all values, since value judgments imply discrimination. Mass Culture is very, very democratic: it absolutely refuses to discriminate against, or between, anything or anybody. All are grist to its mill, and all comes out finely ground.
(Dwight Macdonald, "A Theory of Mass Culture," 1951)" - p 314
"I don't present these opening quotes as examples of what Brody tries to convince us is true. I get the impression that he uses them to set the tone of intellectual discussion around the issue at hand - esp during Babbitt's lifetime.
"I disagree w/ Macdonald's claim: I don't think that Mass Culture "destroys all values" or "absolutely refuses to discriminate against, or between, anything or anybody". Instead, I think that Mass Culture consists of whatever the most people can relate to, the LCD (the Lowest Common Denominator that I'm always referring to). There are shared "values", these are the values of the LCD; what's discriminated against is what doesn't fit the LCD - therefore, specialist concerns that're at the forefront are discriminated against, if they're unnoticed underpinnings they're ok. If a piece of music is composed to draw attn to characteristics only understandable by specialists then they're discriminated against: they will not be popular. A song performed by front-person Britney Spears will not forefront the sophisticated production values - it'll forefront a fashion/sex object that most people can relate to + simple rhythm & melody."
- https://www.goodreads.com/story/show/357236-this-review-is-not-elegant?chapter=1
Even tho I'm familiar w/ Siegmeister's work & agree that he shd be included in the group of composers preoccupied w/ trying to make music for the masses for political reasons, a closer look at his work helps showcase what a complicated issue we have here.
Siegmeister composed a plentitude of music, How much of it ever appealed to 'the masses' is dubious. I don't think he ever had a 'hit' on the radio. As far as I can tell, the most successful way of putting words connected to notes in a large audience's mind is to create a 'catchy' melody w/ words that flow easily with it - & who's best at that? The advertisers, perhaps? - & they, obviously, have a capitalist agenda. As my friend the writer Tom DiVenti recently wrote:in his "United States of Hype" (on www.splicetoday.com ): "I can still remember commercials word for word from 50 years ago but I cannot remember what I did last week. All the stupid jingles like, "Mommy call Hamden," Cloverland" [Dairy] "Mary Sue Easter Eggs, and the Oscar Meyer bologna song." Is that what the composers-hypothetically-for-the-proletariat wanted?
I'm listening to Siegmeister's 1983 song cycle called "Ways of Love" now. I like it, it's not exactly musically alienating to non-musical people but it's also not anything that your 'Average Joe' is going to sing to himself at work - it has too much development & very little repetition. This is followed on the same record (CRI SD 532) by "Five Langston Hughes Songs" (1984). There's also a Hughes poem in "Ways of Love" called "Fired":
"Awake all night with loving
The bright day caught me
Unawares-asleep
"Late to work again,"
The boss man said,
"You're fired!"
So I went back to bed-
And dreamed the sweetest dream
With Caledonia's arm beneath my head."
Much of the music is jazz-inflected. Hughes was a black intellectual. "Fired" is something that anyone who's stayed up all night having sex or partying & not made it into work on time can relate to. But not all working-class people are hedonists & not all of us get fired. In 45 yrs of working I was fired 3 times but I'm sure there're people who've been fired less than that or not at all. I like these songs but they're for intellectuals, let's say working-class intellectuals (&, yes, we do exist), but working-class intellectuals, like intellectuals in general, are a minority.
Anyway, those are late period Siegmeister songs. Let's look at one from around the period under discussion:
"The myth built around Siegmeister that his music is simplistic is dispelled by the evidence of his very first published work, The Strange Funeral in Braddock for baritone and piano, which he wrote at the age of twenty-four and which was published in New Music Quarterly, an edition devoted exclusively to ultra-modern music. It is a song of social satire, marked by a proclamatory eloquence of the vocal line and an uncompromisingly discordant rhythmic accompaniment." - liner notes by Nicolas Slonimsky to Orion records's ORS 76220
The song is about a worker named Jan Clepak who died when molten metal engulfed him in a Braddock Steel Mill (not that far from where I live). The poem is by Michael Gold. One of its last lines is:
""I'll make myself hard as steel, harder,
I'll come some day and make bullets out of Jan's body, and shoot them into a tyrant's heart!""
I think this is a great song, it expresses the despair & the anger of workers sacrificed to industry. Clepak seems to've been a fictional character of Gold's (or, at least, I didn't find any historical record of him) but I'm sure that he had his factual counterparts. Nonetheless, while it expresses solidarity w/ working-class struggles it's not going to be sung in a protest march - there's not even a chorus for crowds to pick up on & remember. Does that make it a failure as a revolutionary song? I don't think so. Gold & Siegmeister did what they do best, maybe it reached the children of an industrialist & opened their eyes to the types of sacrifices that were made to the Mammon that made their luxurious lifestyle possible.
At any rate, one thing that was bound to alienate the workers more than anything else, IMO, was for the American composers to be instructed to bow down to a Soviet-directed program of 'politically correct' procedures: the last thing any of us 'need' is another fucking BOSS - even if it's ostensibly one issuing from the so-called 'dictatorship of the proletariat' (but, then, I'm an individualist anarchist). But that's what the Russians tried to pull.
"In February 1934, Henry started a regular correspondence with Konstantin Kuznetsov (1883-1953), with whom he had dined in Moscow and who probably translated Henry's 1929 article in Muzika I Revolutsiya. A respected musicologist trained in Germany, Kuznetsov taught music history at the Moscow Conservatory"
[..]
"In March, feeling "a civic duty" to make American music known, he decided to organize a radio program of American compositions, introducing it with an article in Muzika, the journal of the Composers' Union. To prepare, he asked Henry to send treatises, scores, and recordings of music by Chávez, Copland, Vivian Fine, Gershwin, Ives, MacDowell, McPhee, and Henry himself." - p 249
So far, so good. It's an interesting mix of composers & not one restricted by dogmatic criteria. What I wonder is: what if Siegmeister's The Strange Funeral in Braddock had been included? What sort of propaganda spin wd've been put on it if the propagandists had gotten to it? After all, the U.S.S.R. was dedicated to industrializing, & even relied on some American capitalist expertise to help make it happen. Certainly plenty of Soviet workers were sacrificed in similar ways to the presumably fictional Jan Clepak. Wd the song have been spun to make it seem that such tragedies only happened in capitalist circumstances b/c the bosses wdn't've cared about the worker's safety? Later tragedies such as Chernobyl wd easily refute any claims that the Soviets minded the safety of their workers better than the capitalists - & it seems likely to me that Soviet history is as riddled w/ such disasters as much as American history is. An industry like steel production isn't exactly a picnic in good weather - even under the most safety-conscious conditions something can always go wrong.
Not surprisingly, Henry, ever the free thinker, didn't ultimately fit in w/ the p(r)ogram:
"Henry could not imagine how revolutionary ideas could be expressed in "unrevolutionary" music.
"In addition to opposing the requirements of the Workers Music League, Henry now was defying Moscow's line, promulgated in the summer of 1934 by Cultural Commissar Andrei Zhdanov and Maxim Gorky. The new concept was "Socialist Realism," a political theory that art must be "uplifting." Modernism was terminated; folk art was embraced. The New York composers' goal of using modernist techniques now constituted open rebellion." - p 252
& then there was Trotsky. He was in charge of militarily suppressing the Kronstadt uprising wch was partially about freedom of speech for anarchists so I'm not exactly a fan of his - but he was reputedly in favor of NOT suppressing artists so he had that going for him & he even lived w/ painters Diego Rivera & Frida Kahlo until shortly before he was assassinated.
"Trotsky's sister Olga Kameneva, the former chairwoman of VOKS" [the American Society for Cultural Relations with Russia] "who had saved the day for Henry in 1929, was imprisoned along with all the other associates of her brother. Her sons were shot in the mid-1930s; she perished in 1941, in a mass execution of political prisoners." - p 257
Uh, I think the world cd do w/o yr cultural guidance, Stalin. In the meantime, John Cage was making do:
Sidney "was among a group who saw Cage off when he left for New York in the fall of 1934. Having no money, he had decided to hitchhike and walk between rides. Sidney remembered him standing by the roadside until being picked up by a small truck, "leaving his cheerful smile afloat behind him on the sunny California air." Later she learned he was leaving with only three dollars in his pocket until a friend gave him twenty dollars more." - p 262
I hitchhiked across the US twice w/ no money when I was 19 in 1972. The 1st time I didn't even have a sleeping-bag. I wonder if Cage did? Part of Cage's goal was sd to make connections: "One could apply for a Guggenheim until blue in the face, he said, and never get one without knowing someone in New York. To some extent, Henry agreed." (p 263)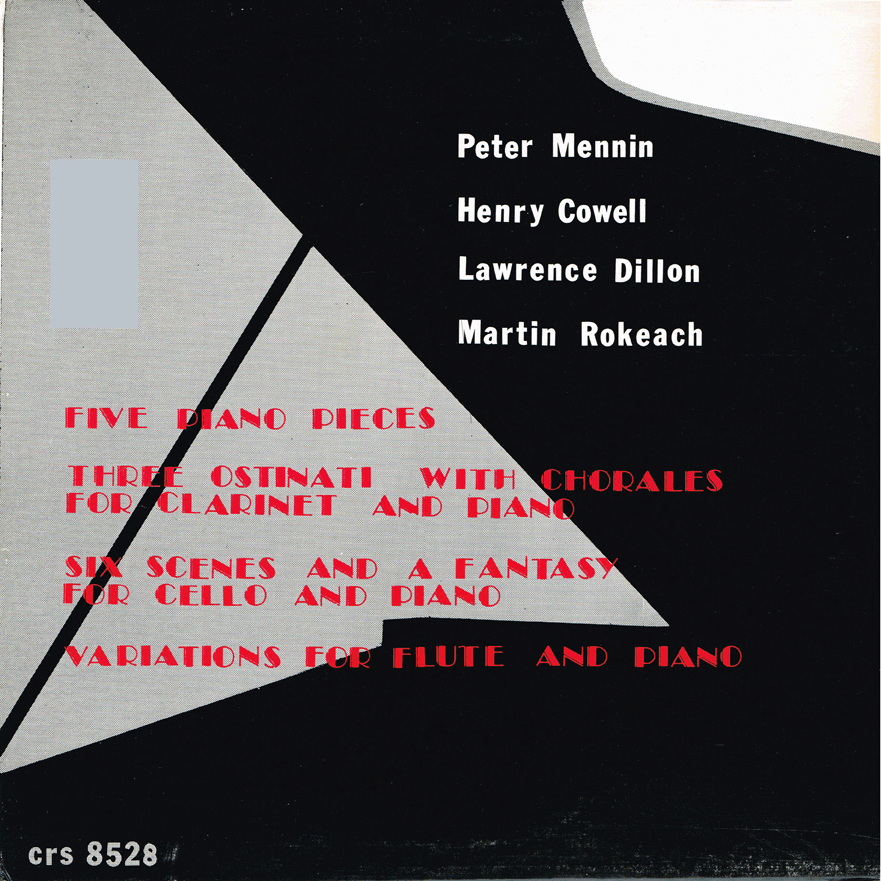 Chapter 29: "Compositions of 1929-1936":
"Non-Western musical traditions probably explain another landmark of the 1930s, the Mosaic Quartet. Because Henry left it to the players to decide upon the order of the movements, it is arguably the earliest "open form" composition other than the dice-game pieces of the late eighteenth century." - p 269
Another important piece from Cowell. Here's more info:
"Mosaic Quartet
"excerpt from description by Blair Johnston from https://www.allmusic.com/composition/mosaic-quartet-for-2-violins-viola-cello-aka-string-quartet-no-3-hc-518-mc0002363456
"The Mosaic Quartet has five short movements (two pages of score each) in five different tempos. The order of the movements, and also the number of times each is played, is left up to the performers. Cowell does, however, suggest an arrangement in which little three-movement ternary patterns emerge and then all five are played in order at the end: 1. 2. 1. 3. 4. 3. 5. 4. 5. 1. 2. 3. 4. 5.
"Movement 1 is a Largo that begins and ends clearly in E major, but moves through freely dissonant regions (but ones whose counterpoint is still clear) in-between. Movement 2 is an Allegro throughout which the first violin plays trills in the highest register. The three upper strings sustain quiet tones as the cello impetuously shoots off on its own in the Andante movement 3. Two-note gestures are exchanged in 4 (Allegretto), and triplets are tossed about throughout the Allegro non troppo final movement."
Chapter 31: "Life Stops":
"On May 23, 1936, Henry was arrested on a morals charge.
"Curiosity and speculation about Henry's collision with the law were fueled by Sidney Cowell's unwillingness to cooperate with researchers. Concerned that he might be remembered for nothing else, she was determined that the story emerge only in the context of a full biography. Skeptics were not persuaded by the parallel she drew to Gesualdo, who seems better known as a murderer than as one of the finest composers of later Renaissance-early Baroque. Her insistence that Henry did not want to be a martyr for gay rights only inflamed the issue." - p 275
"The complaint form, dated May 21, 1936, stated that an official responsible for youth welfare, Francis J. Robinson, accused Henry of the felony violation of section 288a of the Penal Code of California-that in the township he did "then and there willfully, unlawfully and feloniously copulate his mouth with the sexual organ of another male, Malin Cheney. Understanding that law is crucial to grasping what happened to Henry. Section 288a stated that "any person participating in the act of copulating the mouth of one person with the sexual organ of another" was punishable by imprisonment in the state prison for a term not exceeding fifteen years. The law did not specify homosexual acts and was a 1921 amendment to a 1915 law that included heterosexual behavior." - p 276
Now, I had read 2 different versions of this story before I read Sachs's. The 1st one claimed that Cowell had been busted in a sting operation when he was cruising for sex w/ men in a park. Apparently, that was a 'Gay Martyr' version. The 2nd was that he was busted for having sex w/ 3 teenage boys. That was more of a 'Sex Predator" version, but still somewhat sympathetic to Cowell. I'm glad to get Sachs's presumably more well-researched version of the story.
"Brief notices in the Palo Alto Times and Carmel's The Californian only stated that he had been arrested on a morals charge involving a seventeen-year-old (who was legally an adult)."
[..]
"Subsequent events may have obscured the fact that even heterosexual oral sex was a violation. Homosexuality was not a requirement of guilt, nor was Henry charged with being homosexual."
[..]
"Hearst's Examiner knew that sex crimes sold papers. The arrest of a famous musician, a teacher at Stanford, Berkeley, and Mills, was made to order. Two days after the arrest the Examiner ran a front-page banner headline: "Morals Charges Jail Noted S.F. Composer." The story was positioned in the center of the front page, with its continuation accompanied by two photos. One, nearly a quarter-page, showed Henry behind bars in Redwood City; the other, almost as large, showed him playing the piano during a half-hour farewell improvisation. Instead of saying that the sole complaint referred to a seventeen-year-old, that is, not a minor, the Examiner claimed that Henry confessed to improper relations with twenty-four boys between the ages of ten and seventeen over a period of four years. the vagueness of "improper relations" ignited rumors of seduction or force on a massive scale." - p 277
"The Examiner's lurid story paled in comparison with a journalistic drama that opened on June 6 with the first of 6 articles in the San Francisco weekly Newsletter and Wasp, calling for Henry's death and for vigilantes to attack his family and supporters." - p 278
"Actually, the editors had nothing against Henry personally. They had come to the jail with an offer to supervise public relations for him in exchange for a substantial fee. Not recognizing attempted blackmail, Henry demurred. As it happened, the "journalists" were already under observation and were shortly arrested and convicted in a similar case. But it was too late to help Henry." - p 279
"Johanna Beyer, a German-born composer eleven years Henry's senior, who had taken his classes at the New School and fallen in love with him, offered herself in marriage." - p 280
"Over the years, Henry enjoyed helping the disadvantaged young people of Menlo Park, many of whom he had known since their birth, treating them like family, corresponding with them, and giving them Christmas parties when he was home for the holidays. As they grew up, he took them on camping trips and expeditions, bringing along wholesome food and teaching the older ones how to cook. In 1931, he allowed some of them to build a swimming pool behind his house, where they liked to gather. The boys swam in the nude on Monday through Saturday; girls swam in suits on Sundays; four older boys enforced the rules." - p 276
Ok, this is where it gets complicated. As a controversial minor celebrity myself, there's no way in hell I'd want naked young people swimming in my back yard pool. No matter what might happen, there's bound to be some malevolent person or another who'd use this for blackmail or persecution. I don't even like to have children around me unless they're w/ their parents. So, what the fuck was Henry Cowell thinking?! How cd he be so naive that this wd be ok?!
"He did not know that a relative of a seventeen-year-old member of the swimming group had lodged a complaint against him. After questioning by the police, Henry pleaded guilty to engaging in oral sex with the young man." - p 276
"one must also address Sidney's 1988 claim that Henry took the advice of the arresting officer to falsely plead guilty to spare the neighborhood children of being investigated. "Around 1938 the District Attorney who had prosecuted the case learned that the accusation against Henry . . . was untrue; it was the threat which the boy, with an older friend, hoped would scare Henry into surrendering his red Stutz automobile, which the two of them coveted . . . HC was bisexual to a degree. but no pederast."" - p 288
OooooKKKaaayy. 1st, I'm sympathetic to Cowell. I think he was a great man & that imprisoning him was more of a crime than whatever actual sexual practices he may or may not have been 'guilty' of. That sd, I don't necessarily trust Sachs's version or Sidney Cowell's. I think they both wanted to try to improve Cowell's image for posterity & I don't blame them for that. It's very possible that the police intimidated Cowell into making a false confession, it's also possible that Cowell had committed more infractions than he was charged for. It's possible that the boys started something rolling w/o realizing how serious it was. Having Malin Cheney's adult statement about this time wd've helped clarify matters immensely.
But I have to say that Sachs's claim that the seventeen-year-old "was legally an adult" struck me as odd so I decided to do some research. Now I don't mean to accuse Sachs of falsifying the record, he obviously researched this well so he may know something that I don't but here's what I found on Wikipedia:
"The age of consent in California has been 18 since 1913."
That wd definitely make Cowell legally guilty of having sex w/ a minor. He may've plead guilty to avoid more charges than just oral sex. Below are some further excerpts from the Wikipedia "Age of Consent in the United States" entry:
"Age of consent laws in the U.S., reflecting the general age of consent:
"In the United States, age of consent laws regarding sexual activity are made at the state level. There are several federal statutes related to protecting minors from sexual predators, but laws regarding specific age requirements for sexual consent are left to individual states, territories, and the District of Columbia. Depending on the jurisdiction, legal age of consent ranges from 16 to 18 years old. In some places, civil and criminal laws within the same state conflict with each other."
[..]
"History
"While the general age of consent is now set between 16 and 18 in all U.S. states, the age of consent has widely varied across the country in the past. In 1880, the age of consent was set at 10 or 12 in most states, with the exception of Delaware where it was 7. The ages of consent were raised across the U.S. during the late 19th century and the early 20th century. By 1920 ages of consent generally rose to 16-18 and small adjustments to these laws occurred after 1920. As of 2015 the final state to raise its age of general consent was Hawaii, which changed it from 14 to 16 in 2001.
"Age-of-consent laws were historically only applied when a female was younger than her male partner. By 2015 ages of consent were made gender-symmetric. Until the late 20th century many states had provisions requiring that the teenage girl must be of previous "chaste character" in order for the sexual conduct to be considered criminal. In 1998 Mississippi became the last state to remove this provision from its code.
"The laws were designed to prosecute persons far older than the victims rather than teenagers close in age; therefore prosecutors rarely pursued teenagers in relationships with other teenagers even though the wordings of the laws made some close-in-age teenage relationships illegal. After the 1995 Landry and Forrest study concluded that men aged 20 and older produced half of the teenage pregnancies of girls between 15 and 17, states began to more stringently enforce age-of-consent laws to combat teenage pregnancy in addition to prevent adults from taking advantage of minors. A backlash among the public occurred when some teenagers engaging in close-in-age relationships received punishments perceived by the public to be disproportionate, and thus age-gap provisions were installed to reduce or eliminate penalties if the two parties are close in age. Brittany Logino Smith and Glen A. Kercher of the Criminal Justice Center of Sam Houston State University wrote that these laws are often referred to as "Romeo and Juliet laws", though they defined Romeo and Juliet as only referring to an affirmative defense against prosecution. Previously some of these statutes only applied to heterosexual sex, leaving homosexual sex in the same age range open to prosecution.
"On June 26, 2003, both heterosexual and homosexual sodomy became legal (between non-commercial, consenting adults in a private bedroom) in all U.S. states, territories, and Washington, D.C. under the U.S. Supreme Court decision Lawrence v. Texas. In State v. Limon (2005), the Kansas Supreme Court used Lawrence as a precedent to overturn the state's "Romeo and Juliet" law, which prescribed lesser penalties for heterosexual than homosexual acts of similar age of consent-related offenses.
"From 2005 onwards states have started to enact Jessica's Law statutes, which provide for lengthy penalties (often a mandatory minimum sentence of 25 years in prison and lifetime electronic monitoring) for the most aggravated forms of child sexual abuse (usually of a child under age 12). In 2008, in Kennedy v. Louisiana, the Supreme Court of the United States ruled that the death penalty for rape of a child was unconstitutional."
[..]
"History of California laws
"The age of consent, at the time applying only when the girl is the younger party, was 10 when California introduced its penal code in 1850. In 1889 the age of consent was raised to 14. In 1897 the age of consent became 16. The age of consent in California has been 18 since 1913. Some media sources reported that the age of consent in California in the 1970s was 14 or 16 but in fact it was and has been 18.
"In the 1990s Governor of California Pete Wilson stated that there was a trend of men in their mid-to-late 20s having sex with and impregnating teenage girls around 14 years of age and that the statutory rape laws needed to be enforced to prevent this."
Note that "The laws were designed to prosecute persons far older than the victims". Henry Cowell was 39 when he was arrested, the boy he admitted to having sex w/ was 17. The law was tailored to prosecute people in Henry's situation. Then again, the laws of age of consent are 16 in some states so if Cowell had had sex w/ a 17 yr old in a different state he wdn't've been legally culpable for having sex w/ a minor. Whatever the case, Cowell was sentenced to the maximum penalty of 15 yrs. From my perspective, if Cowell only had sex w/ someone who might've been considered an adult in another state & if that sex was consensual then the whole thing was tragically exaggerated. One way or the other, it seems sad that Cowell got trapped in a situation that at least partially grew out of an apparent lack of good judgment. I mean cdn't he've at least had sex w/ people 18 or older?! So he went to San Quentin.
"Olive and Harry were probably relieved by the lack of alarming news. They did not know that he refrained from describing the reality of San Quentin. California had the country's second-worst penal system. What this meant can be found in the memoirs of Dr. Leo Stanley, the chief medical officer of San Quentin, and Clinton Duffy, who became warden shortly after Henry was released, when the revelation of brutal conditions led to the dismissal of Warden Court Smith."
[..]
"Tuberculosis was widespread. Two thirds of the inmates admitted to one, two, or even three venereal infections. Another 15 percent may have developed a venereal sore at one time. Twenty percent were "feeble-minded." There were huge problems of drug and drink."
[..]
"Prisoners were addressed by number, not name." - p 295
The latter is, obviously an 'uncalled-for' dehumanizing act. As for tuberculosis? That's no joke. Jewish communist composer Erwin Schulhof died in a nazi prison camp from TB. & VD?: According to a July 28, 2014 article in The Atlantic called "The Overblown Stigma of Genital Herpes": "According to the Centers for Disease Control and Prevention, about one out of six people in the United States aged 14 to 49 have genital herpes caused by the HSV-2 infection". That means MILLIONS of people. Of course, if you're so weird as to admit to having it it will immediately be announced that you gave it to at least one million of those millions - even to people who've had it since before you were born. Funny how that works. Keep in mind that those statistics are for HSV-2, syphilis is much worse - so STDs are no laughing matter either. &, of course, prisons are no laughing matter:
"The US attorney general described his inspection tour as "the most depressing experience of my life." In 1934 it had looked like a riot would occur at any time."
[..]
"Complainers could be whipped. Prisoners who would cross the guards could be forced to stand in a nine-inch circle for hours and be flogged if they moved or talked. Turning in a poor piece of jute cloth or wise-cracking with a guard was enough to send one to a horrifying dungeon without light, bed, toilet, or ventilation, with bare walls, a damp floor to sleep on, and occasional servings of bread and water." - p 296
Of course the purpose of such punishments is to destroy a person, to make them unable to resist or fight back. Equally of course, the result is to inculcate about as deep a hatred & anger as possible. In Killer: A Journal of Murder, the autobiography of murderer Carl Panzram as rewritten by Thomas E. Gaddis & James O. Long the reader finds statements such as the following:
""In my lifetime I have murdered 21 human beings. I have no desire whatever to reform myself. My only desire is to reform people who try to reform me. And I believe that the only way to reform people is to kill 'em."" - Carl Panzram, back cover, Killer: A Journal of Murder, Fawcett Premier, 1970
"["] I have always carried him in my mind as the logical product of our prison system."" psychiatrist Karl Menninger, back cover, ibid
Chapter II begins like this:
"When I first went to the Minnesota State Training School, I was about twelve years old, lively, healthy and very mischievous, innocent and ignorant." - p 23, ibid
"Oh, yes, I had plenty of abuse. They had various methods of punishing us for doing wrong and for teaching us to do right. The most popular with them was to take us to the "Paint Shop," so called because there they used to paint our bodies black and blue.
"The Paint Shop was a very ingenious contrivance for inflicting the worst punishment where it would do the least harm and the most good. They used to have a large wooden block which we were bent over and tied face downward after first being stripped naked. Then a large towel was soaked in salt water and spread on our backs from the shoulders to the knees. Then the man who was to do the whipping took a large strap about 1/4 of an inch thick by 4 inches and about two feet long. The strap had a lot of little round holes punched through it. Every time that whip came down on the body the skin would come up through these little holes in the strap and after 25 or 30 times of this, little blisters would form and then burst, and right there and then hell began. The salt water would do the rest. About a week or two later a boy might be able to sit down. Maybe, if he didn't sit down on anything harder than a feather pillow. I used to get this racket regularly, and when I was too ill to be given that sort of medicine, they used to take a smaller strap and beat me on the open palms of my hands. While the other boys were playing ball, skating or swimming, I used to give a Sunday school lesson and made to stand at attention with my arms folded and my back to the field where the boys were all playing and enjoying themselves." - p 25
Yep, this was a Christian institution - & I'm saying that straight, not sarcastically. The reader might think: 'Oh, but that was long ago! They don't do that sort of thing anymore!' Well, what about Freddie Gray? I had a friend who was protesting Mexican immigrants being held in a closed motel. He was arrested & hog-tied w/ his wrists to his ankles & beaten on the soles of his feet where the damage done wdn't show. His mom complained about torture to Amnesty International & was told that the USA doesn't torture. That was in the 1980s. They've changed their tune since then.
Panzram was in his formative yrs, a mere 12 yrs old. Did anyone seriously think he was going to become a fine upstanding citizen after that? Of course not, the people were sadists pure & simple, power-mad. What they want is for the prisoner to become increasingly depraved & debased to 'justify' even more retaliatory depravity & sadism in their punishments. The prisoner or person out in society who resists this push into depravity may overcome the sadists eventually but is anyone ultimately that strong when subjected to the kind of torture Panzram was subjected to?!
"In reality, the prison was filled with contraband-drugs, alcohol, weapons, poison, knockout drops, cigars, candy-all ingeniously smuggled in. Shortly after the breakup of a counterfeiting ring in the prison, huge amounts of contraband were uncovered. Duffy found many prison rules irrational. Until he opened a canteen in 1941, a prisoner had to gamble, fight, or steal to get what he wanted or needed. If caught, he could be whipped or thrown in the dungeon for having cigarettes, candy bars, cookies, fruit juice, postage stamps, toothpaste, or soap. Duffy also eliminated a ban on subscriptions to local newspapers." - p 296
"Henry's new home, Cell 1841, was about four feet by eight feet, "modern and clean-light and airy," he said, with a comfortable bed, a sink, toilet, stool, and electric light. A window gave him a view of the bay, obscured by a heavy screen"
"Henry's cell mate, doing time for passing bad checks, seemed clean and orderly, amiable, in his forties, with a wife and grown daughter in the East, Henry felt lucky to have drawn him." - p 298
Keep in mind that the cell was "four feet by eight feet" & that the prisoner had to share it w/ someone else. If you have problems w/ other people, or even if you don't, you might just go crazy. I was falsely arrested in Nashville in 1971 & put in a cell for 8 people; there were 50 of us there. Fortunately for me I got out in a few hrs. What about the rest of them?
"Afraid that his music might be boycotted or forgotten, he urged Slonimsky to find performers for it. Copland's inclusion of a piece at Yaddo was a rare bright spot." - p 300
Attaboy Copland! Cowell was a composer so he composed in prison. A more defeated man might've given up.
"He had finished a march for the prison band called Reel Irish, copied parts, shown it to the leader, and thought it would get a reading soon. If it were programmed, he hoped that Olive and Harry could come; Sunday band concerts were held outside the walls at midday for the benefit of the community. Ever the publicist, he asked them to tell friends who lived in the north Bay area." - p 302
"By the fall, he had achieved a kind of celebrity. Two September performances earned him more ovations, winning over the cynics. He sensed that his performances might have helped keep inmates from causing trouble for him, since bothering a prison celebrity could earn a roughneck some serious enemies. To maintain his skill, however, he needed to practice. The quest for a piano led him to Dr. H. A. Shuder, the only professional in the education department, whose fifty-odd teachers were inmates. Shuder quickly invited Henry to give a course in music appreciation for laymen beginning in October (1936). By mid-September, enrollment had nearly reached the limit of ninety." - p 306
I've had friends who weren't prisoners teach in prison. One was a woman photographer. As I recall, she never had a guard present when she taught. She got slipped propositions on pieces of paper but was never bothered by anyone.
In 1991 or 1992, I had an aleatoric band whose name changed everytime we played that I'll call the "Official" Project b/c we were 'the official band for every occasion'. You can witness an incomplete "Thistory" of it here: https://youtu.be/ulvzrmlOgXs . From 1991 to 1993 it was a big band w/ as many as 17 members but usually something more like 12. Somehow I worked on getting permission to play in a prison. The band wd've had to show at the prison at something like daybreak to go thru all the security checks to enable us to get our gear into the auditorium where we wd play. Someone from the BalTimOre City Paper was going to do a story about it. I figured the prisoners wd be glad to have us, even if we were 'weird', just b/c performances for them were so rare there.
Neil Feather, the cofounder of the group, & I went to the prison to be shown around by the black woman who was our liaison. We went on Neil's motorcycle so I was wearing all black leather motorcycle clothes & Neil was wearing something similar. I had no idea what to expect & somewhat took it for granted that we weren't encouraged to talk to the prisoners. We were walked thru various parts & at one point a lean young black man came up to us & asked if we were going to play there. I was worried that if I replied he &/or our guide might get into trouble so I stayed silent. As we were leaving, I noticed 2 very serious black men checking us out. We left a tape w/ the woman for the prisoners to listen to to help them decide whether they wanted us.
The liaison later informed us that we'd been rejected but gave no explanation. It wasn't until then that I realized that we were walked thru the prison for the prisoners to check us out & NOT for us to see the place. It had been a big mistake to not just chat normally w/ the prisoner who asked me a question.
"Alois Hába asked him to write about American music for the Czech periodical Pritomnost [The Present]. Luckily Warden Smith authorized exporting the article when it was still only half-finished." - p 307
"Henry was excited when Slonimsky gave him a subscription to the science fiction monthly Astounding Stories."
[..]
"then he started a new project, studying Japanese with a "curious but intelligent little old Japanese man," a prisoner teaching in the Education Department." - p 308
Henry had the drive & the sanity to make the most of things - &, strangely enuf, perhaps, even tho he was in prison for a potentially sensational (or sensationalized) sex crime he still had things going for him:
"Georgia Kober played one of Henry's pieces three times for President Roosevelt at the president's request; he remembered Edwin Hughes playing it for him. (Hughes had said that Roosevelt had asked for it specifically.)" - p 309
What a sensationalist headline that wd've made: SON OF ANARCHIST EDITORS OF L'ENFANT TERRIBLE IN PRISON ON MORALS CHARGE IS HIT COMPOSER WITH PRESIDENT!!.
Cowell's friends were, mostly, very loyal to him. As I wrote near the beginning of this review: "Reading his biography is reading about a person who was loved & supported to a fantastic extent." Henry was trying to get let out of prison & his friends helped every way they cd:
"Lilly Popper offered him a job at her little school and her hand in marriage. Though profoundly appreciative, Henry emphasized the uselessness of both those ideas. The only job of high enough stature to influence the Board would be at the New School, if the authorities did not bar him from teaching. Like Schmolke, Popper did not realize that marriage entails a contract, which Henry could not sign until his sentence was up whether inside or outside on parole. He thought (incorrectly) that the regulations specifically prohibited marriage. At any rate, her communist connections put her and her school off limits." - p 315
Cowell had 3 proposals of marriage while he was in prison. These were all from women who knew & loved him before his arrest. Some might find Popper's offer somewhat unwise given that having a person convicted of having sex w/ someone of high school age working at her school might, ahem, look bad. But, hey!, think about all the murderers in prison who were proposed to by people who didn't even know them before their arrests!: According to a Rolling Stone article I'm looking at online now, there's a word: :Hybristophilia-the condition of being turned on by someone who commits a violent crime". I knew a young woman who married a guy in prison who'd murdered his wife! Go figger. It puts Henry Cowell in a much more pacific light now doesn't it?!
The same Rolling Stone article goes on to sensationally list various murderers who got married in prison. I was mainly looking to write about Ted Bundy, one of the people on my most-horrific-assholes list:
"An admitted serial killer, rapist and necrophile, Bundy confessed to 30 homicides, though his victim total may have been much higher. That didn't stop" [name withheld here] "- a twice-divorced mother of two, who dated him before his initial arrest - from smuggling cash to Bundy to help fund a 1977 escape from prison, or marrying him in a courtroom in February 1980 during the penalty phase of his trial in Florida." [name withheld here] "gave birth to a daughter in 1982, and named Bundy as the father."
I wonder if she got necrophilia rights after he was executed?
But back to our boy Henry:
"In Redwood Jail he wrote the United Quartet. In San Quentin he wrote ten pieces, of which the first four, for wind band, had to be left in the prison and were lost. Vocalise, for soprano Ethel Luening, flutist Otto Luening, and a pianist, is probably the best known of them. The others, for chamber groups, beginning pianists, and voice with small orchestra, are rarely heard. Four other compositions of these months are not on Henry's list. He completed four literary works-the textbook on melodic construction (eventually entitled The Nature of Melody), which actually was not completed for another few months, an article on music in education for the San Quentin educational journal, "Music in America Today" for the Prague magazine Pritomnost, and "Music and the Dance" for Dance Observer, January 1937. At the time time they were preparing for the sentencing determination, he was writing an article on music education for the official musical bulletin of the Uruguayan Ministry of Education." - p 317
As for compositions created while in prison other than Vocalise that're "rarely heard": I suppose that includes "Sound Form No. 1" (1937) & "Three Ritournelles from "Marriage at the Eiffel Tower"" (1939) from the aforementioned Mode 101 CD: "Dancing with Henry". It might also include "Three Ostinati with Chorales" (1937), "Toccanta" (1938), "Pulse" (1939), & "Ancient Desert Drone" (August 17, 1940) - all of wch are available on record.
When Cowell was sentenced: "he passed along the news to Olive that his sentence had been set at fifteen years with no parole consideration until half the sentence was served. If he got full credit for "good time"-something which was never guaranteed-half time would be four years and eight months." (p 319) This seems so sad to me-but, then, I'm not learning about what happened to the boys who swam naked in his backyard pool. What were their fates? The point is: I get upset about Cowell's long sentence b/c I know & love his work & have a generally positive image of him as a person-but what about the anonymous people? What about the people I learn nothing about b/c they're not composers or otherwise distinguished? Their lives might be even more tragic.
"Henry's supportive friends were thoroughly shocked. Of course, homosexuals among them, like Copland, could easily empathize. Lou Harrison said that the "prevailing lack of balanced perception in the great mass was never so wholly apparent to me before." Slonimsky, who was not at all sympathetic to homosexuality and viewed the case through a filter more political than sexual, doubted that Henry would ever get paroled "in a state which keeps Mooney in jail, which is bent on persecution of free thinkers." He was referring to labor activist Thomas Mooney (1882-1942), who had been convicted of murder in connection with bombings in San Francisco and sentenced to death two decades earlier. Widespread outrage and confessions of perjury at the trial caused the death sentence to be commuted to life in prison, but Mooney still was behind bars despite the probability of a seriously defective trial." - p 321
"At the beginning of 1938, Grainger finally could plan a visit to San Quentin. Because he was coming from the East Coast he was granted a visit of more than one hour, which was good because they had a lot to discuss, including Grainger's projects in world music and electrical instruments. The most important subject, however, was Grainger's suggestion that Henry, if granted parole, could work as his secretary and live with him and his wife in their house at White Plains, just North of New York City. A job and a home with a person of great renown might be decisive in another bid for parole." - p 324
"Other visitors of note included Evelyn Wells; choreographers Martha Graham and Hanya Holm; conductors Henry Svoboda; one of the Goldman Band directors (probably Richard Franko); composers Carlos Chávez, Lou Harrison, Douglas Moore, William Grant Still and his wife Verna Arvey, and even Varèse, who was gentlemanly despite his utter lack of sympathy for Henry's plight. (Milton Babbitt said that when he & Varèse happened to pass the Cowells' Greenwich Village apartment, Varèse called Henry "that fucking pederast-but what do you expect from a country that would elect Roosevelt?") - p 329
I guess Roosevelt didn't request Varèse pieces at the White House.
"In June, 1939, probably with an eye to a parole hearing, Henry compiled statistics on his first two years of teaching. In addition to 1,547 students who had registered for classwork, he had another 343 elementary correspondence students, and 59 University Extension students studying harmony by correspondence, for a total of 1,949 registrations. He already had had another 150 students before joining the Education Department. By the end of 1939 the total had risen to about 2,500 (some of whom may have repeated courses or taken more than one). His load now consisted of classes of elementary music, intermediate music, harmony, composition, musicianship, history of music, and chamber music ensembles, for a total of twenty-two class hours. In addition he spent three hours per week supervising other teachers and seven and one-half hours rehearsing with the band as a flutist, attending a teachers' training class and a special teachers' meeting, each one hour weekly, and a Japanese class four hours a week." - 331
In other words, he continued being a massively energetic & achievement-oriented person. Life is complicated. Be honest w/ yourself: if you were a judge or other legal official in a position to make a decision about a person like Cowell who was having sex w/ at least one underaged person, legally speaking, but who was an enormously positive force otherwise, what wd you do?! Now, I'm an anarchist, I don't support prisons or imprisonment; I'm also a (d) composer & I like Cowell's work - at the same time I don't really trust his 6 days a wk of naked boys: being gay or bi is fine, taking advantage of people too young to make informed decisions isn't. Maybe that's what he was doing, maybe it wasn't - but if I were a parent I wdn't want my kids anywhere near him. Still, when I read about his being in prison it continues to seem tragic.
"Another attempt at parole began immediately after the 1938 rejection. Douglas Short felt they absolutely needed to win over Dr. Stanley, the prison doctor, who had some ideas that were unconventional, to say the least. Although he had serious doubts about medical treatment of criminality, he did not hesitate to subject prisoners to experimentation. Believing that the anti-social behavior of disfigured men originated in their ugliness, he taught himself plastic surgery to aid them. Extremely interested in glandular malfunctions, he experimented with testicle implants for sexual deviants." - p 339
Translation: if you're a dr in a prison t'ain't nobody gonna call you out if you step outside the usual bounds of medical ethics. The inmates are at yr mercy. Many people's 'criminality' wd be solved by not having to struggle all the time. Imagine the huge amt of money that's put into prisons, where the prisoners are then turned into slave labor, being put instead into better wages.
"On May 6, the Board voted for the parole. The terms show that the end of Henry's prison ordeal, like his release from the army, would take time. Parole took effect on June 8, but the sentence, with credit for good behavior, would not expire until December 8, 1945. In other words, he had not gotten a reduction in his sentence, but a credit for a third of the total. He would be serving his sentence outside the walls for another five and one-half years." - p 346
C'mon, parole is bad but being in prison is worse. In the meantime, "The PAAC was never heard from again. Backer suggested starting a new Latin American organization, but the murder of Garcia Caturla on November 12 cost Henry a crucial Cuban ally." (p 355) Remember Caturla? The Cuban composer who was also a judge who was killed by a gambler he was about to sentence to prison? He was 34 when he was killed. Not only did Cowell lose an ally, but Caturla's wife lost a husband, & Caturla's 11 kids lost their dad (actually, I have a vague memory of reading that Caturla had 13 kids b/c he had 2 w/ a mistress). End of Music World gossip.
Let's pay a little attn to Sidney, shall we? "They spent 1924-25 in Paris, she at the École Normale de Musique, studying with Alfred Cortot and Charles Koechlin." (p 368) Ok, there's no reason why you shd give a shit but Cortot, a famous pianist, went on to be the president of the "Committee for the professional organization of music" at Vichy under the nazi occupation. Oh, well. Koechlin composed a piece based on Kipling's Jungle Book. Yes, there're all sorts of politics lurking behind every stave. Henry was hired to be the organizer of musical exchanges w/ Latin America.
"The inter-American projects seem extremely selfless, a wonderful sign of American generosity. Seeger knew the real incentive, however. After the United States entered the war in December 1941, Germany and Italy, capitalizing on Latin American resentment of the United States, intensified their search for bomber bases. Establishing American cultural credentials in the face of Axis propaganda was urgent." - p 376
Too bad the US cdn't just treat other countries fairly & generously on a regular basis instead of waiting until they had ulterior motives for doing so.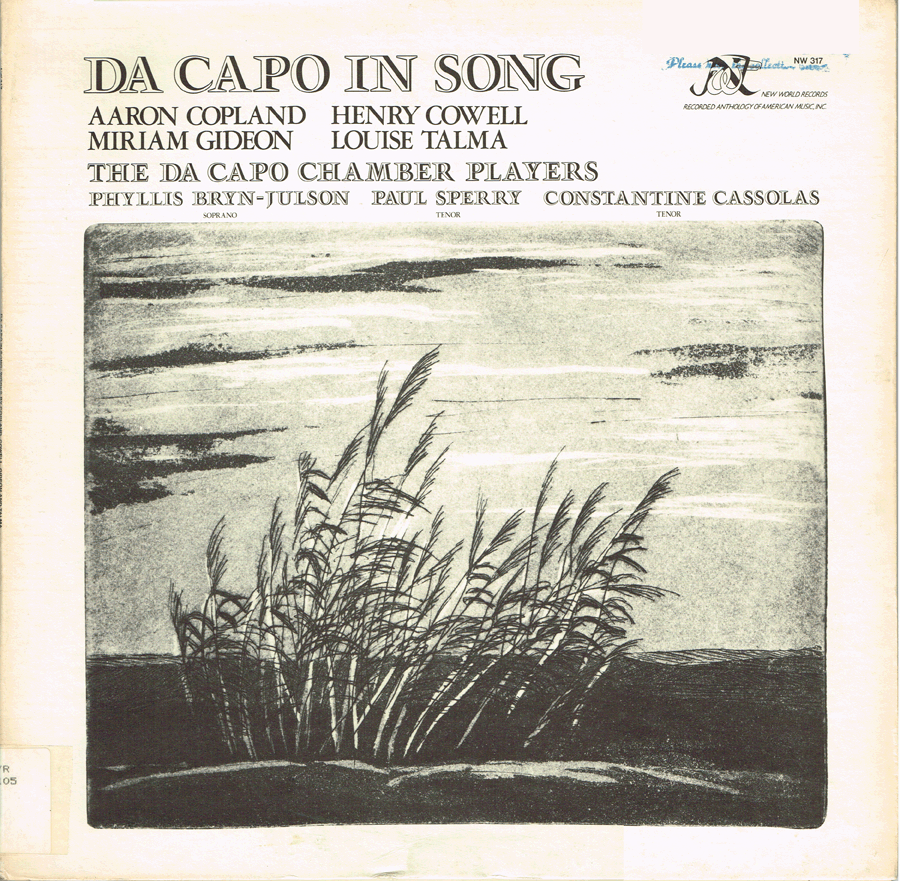 "The pardon, dated December 28, 1942, cited Sheriff McGrath's and Judge McNutt's recommendations, Seeger's urging that Henry be employable by the government in a regular capacity rather than as a "consultant" (a term designating casual or occasional employment); character recommendations from Stokowsi, Edwin Franko Goldman, Percy Grainer, and others; and medical information that Henry was cured of the urge that had led to the abuse. Mosk's cover letter ended, "May we urge that you at all times conduct yourself in a manner that will reflect only credit upon this act of clemency by the Governor."" - p 386
That meant the parole was ended, Cowell was no longer under its legal restrictions. The pardon indicated that he had been guilty but that he was now reformed & unlikely to repeat his offense - &, as far as this biography informs us, he never did. He cd move on w/ his life. I'm glad that he cd. His extraordinary abilities & drive to be a musical diplomat were then put to more regular use by the US government. Chapter 43: "The War Effort":
"The OWI" [Office of War Information] "was a new version of the Foreign Intelligence Service, created in 1941 to combat Nazi propaganda. Renamed when the United States entered the war, it was directed to coordinate the wartime message. Its radio arm, the Voice of America, had only begun work two months before Henry joined that agency. From the outset, a conflict raged between two factions. An idealist group wanted to disseminate only the truth about the United States and emphasize its aspirations for universal freedom and security. Their opponents, who included President Roosevelt, were determined to win the war by any means, including bending the truth and employing questionable tactics such as convenient alliances with a North African French colonial leader who had been a Vichy supporter, and with "former" dedicated fascists who were jockeying for power after Mussolini was deposed in the summer of 1943." - p 389
Oi veh! Surely there's a better way.. yep, there is - but w/ people "jockeying for power" it'll never be followed. This "by any means" is always argued for on the basis that it's what's needed to counter the enemy's own "by any means" - the idea being that once what Sachs calls "questionable tactics" aren't 'needed' anymore the 'good guys' can return to being more idealistic. Alas, these "questionable tactics" are self-perpetuating & always at work & the 'need' for their use is dubious. Decades later, did the CIA really 'need' to encourage counterinsurgency in Nicaragua? Did it really 'need' to follow policies that resulted in the massacre of over 100,000 peasants in Guatemala? Cowell's job in all this was to provide music, it's harder to fault him for that than it wd be to fault the people deciding to work w/ the fascists.
"some pieces had to be specially recorded or composed, such as his arrangement of "Yankee Doodle," which became the call sign of the Voice of America." - p 391
Henry was eventually discharged: "As it happened, he got out just in time. In August, as the nuclear bombings abruptly brought the war to an end, the office was in chaos, its future uncertain." (p 393) To my mind, getting "out just in time" wd mean no longer being in the government's service when they committed the Hiroshima & Nagasaki atrocities. Whether the OWI's future was "uncertain" pales in contrast. Japan was certainly guilty of its own atrocities, such as 'The Rape of Nanking' in China but that doesn't mean that the civilians of the 2 Japanese cities so bombed were guilty. Taking out the Japanese Emperor's palace wd've been more appropriate - regardless of how beautifully constructed it may've been. I tend to think it wd've also been militarily effective but that's a classic unanswerable 'What if?' type question.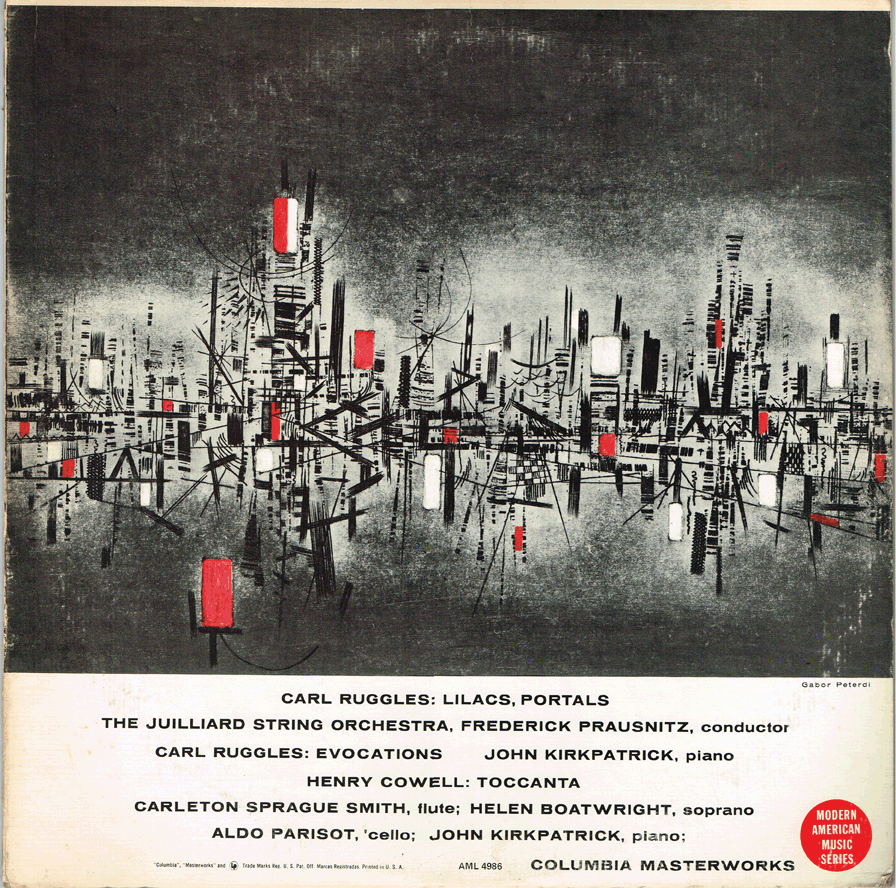 Our hero was never one to lead a dull life so from there he went on to farming:
"In fact, he had accepted a job working on the fig ranch near Fresno owned by Sidney's father, C. A. Hawkins, with whom he had developed an excellent rapport. Hawkins was about to lose his ranch manager and wanted Henry to succeed him. In March, as Henry and Sidney were contemplating their future, Hawkins sweetened it with an interest in the business." - p 399
When he wasn't busy as a fig rancher, he went back to the New School in NYC to teach again. "In his surveys of new music, invited guests presenting their own music gave his students a feeling for the vastness of new composition. In 1952 alone they included Alan Hovhaness, Douglas Moore, Virgil Thompson, Elliot Carter, Morton Feldman, Christian Wolff, Pierre Boulez-who was advertised as France's "most hissed" composer-and John Cage and his experimental group." (p 402) To those of us who know who all those people are, such a class is beyond mind-boggling in importance.
"He recorded his piano music for the Circle label, finishing the project in the summer of 1956. No longer able to play the very difficult solos, such as "Tiger," he had them dubbed off his old record.
"The Circle recording was later reissued by Folkways as part of Henry's long collaboration with Moses Asch, whom he had met through OWI. Asch had founded Folkways in 1947 primarily to promote high-quality jazz, but had begun collected world music before the war. Using his own collection and copies of recordings that Henry had obtained in Berlin, he issues LP sets of world music entitled "Music of the World's Peoples," with liner notes by Henry. Asch remembered him as "a small laughing human being that . . . always was creative . . . I never had enough of him." Henry's last Folkways project, on Czechoslovak music, was left unfinished at his death," - pp 404-405
Folkways, one of my favorite labels. To see the front cover of the reissue of his piano music record go to my aforementioned "Top 100 Composers: Henry Cowell" site.
"Unlike Copland, he was never called up by the House Un-American Activities Committee (HUAC) or Senator McCarthy, despite a 1953 speech by William Grant Still, an old friend and almost a protegé, naming Henry as a communist sympathizer." - p 410
Ah!, the '50s! Remember when evocations of the '50s in pop tv culture meant laid-back relaxed small-town friendly values? I was born in 1953 & what I remember of it was my neighbor hot-rodder to the back getting kids to huff glue (not me, fortunately). I probably didn't figure out until the '60s just how brainwashed people were but when I noticed it it was pretty impressive. Yes, the '50s were a time when some of the smartest & most well-intentioned people in the country came under attack by careerist politicos.
According to Sachs, there are "nearly one thousand listings in the Cowell catalogue" (p 413) & I imagine this catalog must be available somewhere. One of my only complaints about this bk is that it doesn't have a list of Cowell's compositions.
Back at the fig ranch, "During those mornings in the ranch trailer, Henry worked on his most important collaboration with Sidney, a biography of Ives." (p 416) I've read their biography of Ives, I liked it very much, I was particularly interested in reading about Charles's father, George, whose experiments seemed even more innovative than his son's.
"Soon after the contract was signed, Munson left Prentice-Hall, but the Cowells were assured that his colleague Henry James, Jr., still stood behind the book. When the new editor demanded an exciting biography, which he proposed calling something like "Lust for Life," the Cowells returned the advance, feeling confident because they knew that Schirmer's Nathan Broder had been disappointed not to get the book. Schirmer first accepted it and sent a contract in 1951, but Gustav Schirmer then rejected it because Ives was not a Schirmer composer. Broder then approached Oxford University Press, which took it under the condition that the book be more substantial". - pp 416-417
To those of us who consider Ives to've been the greatest American composer of the late 19th & early 20th century, the idea of publishers quibbling over publishing the 1st biography of him is moronic to an extreme - &, yet, here you have a an example of how history is made. What if no-one had published it? What if there hadn't been a Henry Cowell to publish & promote Ives's music? Wd American music history be all about Sousa marches? Then again, even Cowell cd be musically closed-minded: In 1955, Cowell was back in Europe in Baden-Baden:
"They heard an electronic piece by Stockhausen "so full of bleeps and bloops that there were titters from the audience which was supposedly inured to atonal music." Fortunately, he and composer Douglas Mackinnon suppressed their laughter, because when Stockhausen bowed he turned out to be the man sitting in front of them." - p 421
Oh, well, maybe Henry was having a bad hair day. In 1955 he started having a bad hair decade:
"After Henry's 1955 physical, his doctor told Sidney that "with great care and good luck" he might last another two years. Since back problems prevented him from running, lifting, or putting similar stress on his heart, she saw no reason to tell him to be careful and kept the news to herself, avoiding saying anything that could arouse Olive's suspicions. One person who needed to know was Oliver Daniel, the director of the Concert Division of BMI (Broadcast Music Inc.), who had founded the division and CRI (Composer's Recordings, Inc.) the previous year. In addition to administering the concert division, he undertook to promote certain composers, especially Henry. While Erminie Kahn looked for speaking and playing engagements, Daniel took charge of getting Henry's music in front of conductors. Informed of his condition by Sidney, Daniel arranged for BMI to give him an annual guarantee of $3,000 [2010: $24,400] against broadcast rights and $2,000 against publishing rights" - p 425
Actually, I take that bit about the "bad Hair decade" back. Once again, Cowell was supported & taken c/o at an almost unbelievable level. Sure, he was a good composer, sure he was a positive, hard-working, international force. Nonetheless, I don't think many people get this degree of love. Amazing.
"John D. Rockefeller II, who had come to see Asia as a critical Cold War battlefield, had been advocating programs to support projects in agriculture and population studies and had just added cultural support to the foundation's agenda." - pp 425-426
& who but Henry Cowell wd be perfect for being a music diplomat?
"They planned brief visits to London, Rome, Vienna, and somewhere in Germany, arriving in mid-September in Athens, the starting point for their year in Asia. A tentative itinerary included Turkey, Lebanon, other unspecified places in the Middle East, then Iran, Pakistan, India, Burma, Hong Kong, the Philippines, and Japan. By keeping the schedule flexible they could insert Java, Bali, and other locations that might unexpectedly look desirable." - p 426
Now, of course, the US ruling elites had ulterior motives - just like they did w/ their programs of supporting Latin American composers during WWII to discourage the Latin American countries from hosting Axis air-bases. In this case the message was: 'See, we love, support, & respect your cultures & are willing to put our money where our mouths are - wd those nasty commies do that?' Alas. in less than a decade, the US wd be brutally oppressing the peoples of Viet Nam, Cambodia, & Laos militarily when their cultural & agricultural programs didn't prove to be enuf. In the meantime,there was also the Middle East to fuck up, viz Iran:
"Competing interests included enthusiasts for Western popular music & classical music; a mixture of Persians, Kurds, Azeris, and other ethnic traditionalists who wanted their own music; and religious ultraconservatives who believed music was sinful. The radio and the Fine Arts Department competed for support because the radio wanted hybrid music mixing Western and Iranian styles, and Pahlbod, backed by the Shah, wanted to strengthen traditional music and raise the social level of its musicians, some of whom were opium addicts and drinkers. Both Pahlbod and the Shah felt that the improvement of traditional music was contingent on bringing a higher level of society to appreciate and play it.
"To accomplish this, Pahlbod had to convince better families that music itself was not to blame for the condition of musicians. The Shah was so keen on music that he invited musicians to dine with him.
"Unfortunately, Iranians, especially in the Iranian northwest, were abandoning the official radio in droves, tuning instead to a popular station in Baku, Soviet Azerbaijan." - p 434
Of course, once the Islamic State took over it wasn't a matter of people deciding, some genii-in-a-bk was let loose named "Allah" to use as an excuse for dictatorship - so no dance music & no love songs or face going to prison. One Iranian correspondent of mine sd that fortunately the religious nuts don't understand classical music so that escaped the censors. On to India!:
"At the first two concerts, Indian skepticism about their presence suggested that they were caught in the middle of some local squabble. Then they learned that such skepticism was normal: in the world of Indian professional traditional music, only peers were deemed to have the right to listen. People of lesser musical cultivation were not encouraged to attend concerts of the highest quality. Inconvenient and perhaps condescending to some, this attitude had the virtue of eliminating the distance between performer and audience so familiar in the West. The Cowells therefore had to prove that they were of the suitable "rank" to hear the music." - p 442
Apparently, Indian upper class culture has mastered snobbery at least as much as Westerners - but in both cultures there're bound to be types of music & musicians who eliminate "the distance between performer and audience" by playing in more intimate venues where social class is eschewed. On to Tokyo!:
"In the mornings he worked on a second commission from the Louisville Orchestra (a rare honor), for which he wrote a piece powerfully influenced by the music he was hearing in Japan, eventually entitled Ongaku ("music")." - p 452
Remember the Louisville Orchestra? They had a record label called "First Edition Recordings" & they commissioned music from many composers, performed the music, recorded it, & released it on their label. Seems like an excellent idea to me. I wish every city had an orchestra that did that. In their early days, they weren't bashful, they had a very DIY esthetic. I have a record by them w/ a generic white jacket w/ a piece of white paper with info about the contents glued to its front. That paper has folds from when it was folded to a quarter-size. Maybe the owner of the record glued that info on. There's handwriting that identifies it as "545-1 Release 1". Later editions had different generic covers w/ gold circles w/ track info glued on.
In Tokyo, "Henry assembled a list of about thirty-five major composers of serious, Western-type music, including two of the leaders of the developing avant-garde, his ex-student Toshi Ichiyanagi and Toshiro Mayuzumi." - p 453
&, indeed, they are 2 of my favorite composers. Ichiyanagi was also Yoko Ono's 1st husband. The above emphasis on "serious, Western-type music" is interesting in relation to Mayuzumi b/c he was friends w/ Mishima & they were both Japanese nationalists who resented the post-WWII dominance of Japanese culture by the 'West". Mayuzumi even had a Japanese nationalist TV show. Ironically, or some might think hypocritically,
"In 1958, the chief of the Music Branch of USIA" [United States Information Agency] "solicited Henry's advice about the perennial problem of foreign composers who wanted USIA's assistance in promoting their works."
[..]
"The first composer to be assisted was Toshiro Mayuzumi, one of Japan's most promising talents." - p 461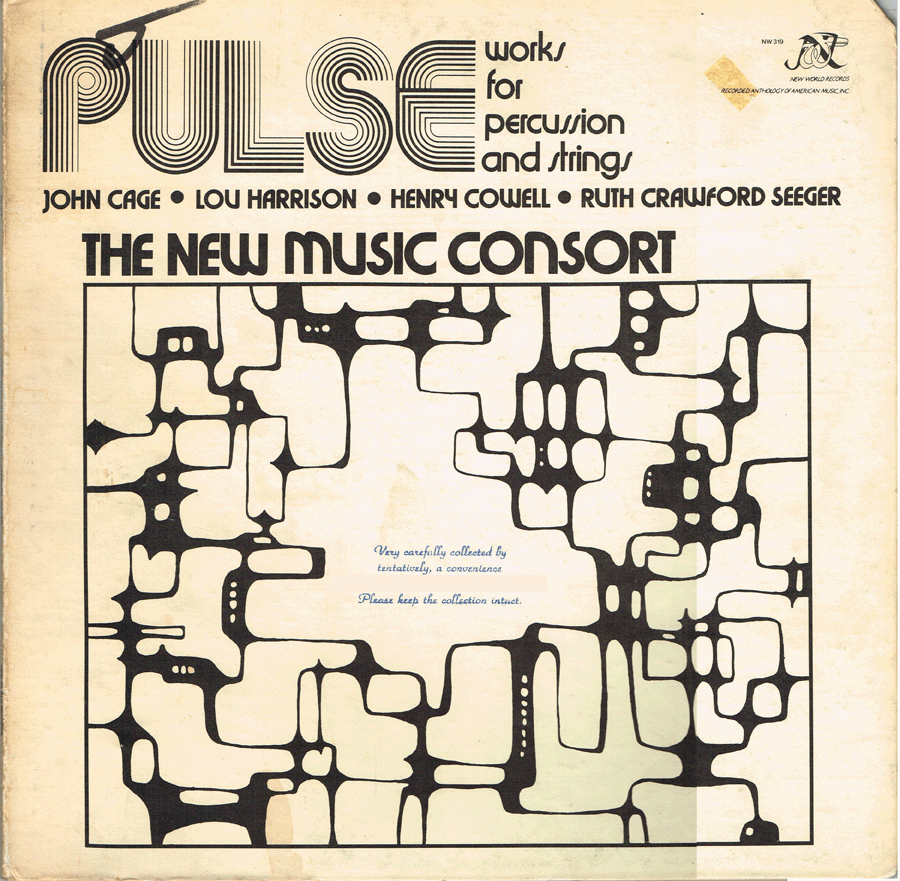 Chapter 55: "A New Radicalism, 1957-1961":
""Henry seemed fine, but a doctor warned Sidney to keep his life very quiet because he could not live much longer." - p 455
Of course, if you stay away from doctors, like I do, you reduce your chances of dying in their hospitals from their treatments. Better to die leading an active life than to die in a hospital bed having your life slowly drained from you for as long as your money holds out.
"His great achievement in these four years is a large body of orchestral music-three symphonies; concertante pieces featuring accordion, percussion, and two violas; and four other orchestral works. Some of it, late Cowell at its very best, enjoyed many performances before falling into neglect as his old champions left the podium. Because this music is accessible on first hearing, it has been used as evidence that Henry had rejected his adventurous past, with inferences that he had been "broken" in prison. These pieces can hardly be disposed of as conservative, however. Tp begin with, most of his later music was conceived as pure melody, a concept alien to the thinking of both the avant-garde and the adherents to the Western harmonic tradition. While all the orchestral works have startling qualities, Ongaku and the Madras Symphony are as unconventional as his wildest early piano pieces." - p 456
I like Ongaku but I'm not sure I'd agree that it's "as unconventional as his wildest early piano pieces." Listening to it now, it sound like Gagaku, wch it's obviously influenced by. As such, it doesn't sound "unconventional" to me as much as it sounds like a reference to ancient music. One cd say that that's unconventional in & of itself but for me it just seems like an homage to another culture. Someone hearing it in the US who's unfamiliar w/ Gagaku might find it unconventional.
It might also be worth mentioning that not long after the composition of Cowell's piece, "Group ONKAGU" was formed in Japan:
"Group ONGAKU, founded mainly by students at Tokyo National University, was the first collective musical improvisation group. The group began their activities in 1958, and from the naming of the group from 1960 onward, continued until somewhere around 1962." - liner notes to "music of group ONGAKU", SEER-001
I'd expect the claim that they were "the first collective musical improvisation group" to arouse considerable indignation amongst scholars of jazz & world music but it all depends on how one defines "improvisation" & how much tradition & pre-established forms are accepted as part of it.
"Brian Silver's analysis of the Madras Symphony shows that Henry adhered to principles of musical development drawn from India, exploiting facets that are compatible with Western procedures, including changes of pitch-groupings that function like modulations. His use of a tabla and jalatarang (tuned bowls) as solo instruments years before Taketmitsu's November Steps should have put his mixture of Western and Asian instruments into the history books. Unfortunately, the Madras Symphony has rarely been played and never been recorded." - p 456
The Madras Symphony, Cowell's Symphony No. 13 (1958), is now online in multiple performances. The one I'm checking out on my iJones as I type this is by the SFCCO & only has 174 views. If Cowell had incorporated twerking in it, the views might be in the millions. Oh, well, he just didn't live long enuf. Listening to this performance on my tiny cell-phone speakers I cdn't hear tabla or tuned bowls at all, let alone as solo instruments. The stick-played drums, however, were prominent. As such, it's hard for me to judge the accuracy of Sachs's claim.
Taking Sachs at face value, yes, Takemitsu's November Steps was composed in 1967, 9 yrs later. Minoru Miki's Eurasian Trilogy for Japanese and Western instruments is from 1969, 1974, & 1981. That sd, I, personally, find pieces like Mayuzumi's 1953 "Aoi-No-Ue" (X, Y, Z) to be more interesting because it was early Musique Concrete in Japan. Given that Musique Concrete can be sd to've originated in France, the development of it in Japan cd be sd to be another historical landmark of hybrid Western & Asian music.
One side thing that interests me here is that I distinctly recall Mishima's film entitled "Yukoku" ("Patriotism" aka "Rite of Love and Death") (1966) as having a soundtrack. I thought it was by Toshiro Mayuzumi. However, in the Wikipedia entry for it it's described as "silent" (see further clarification below). I wd've seen the film in a 16mm print rom the Baltimore public library as early as the late 1970s & probably again no later than the early 1990s. Again, according to Wikipedia:
"On November 25, 1970, Mishima committed seppuku after delivering a speech intended to inspire a coup d'état. After Mishima's suicide his widow Yoko requested that all existing copies of the film be destroyed. But in 2005 the original negatives were discovered in perfect condition, in a tea box at a warehouse at their home in Tokyo. The film was released on DVD in Japan in 2006 and then in the US by the Criterion Collection in 2008." - https://en.wikipedia.org/wiki/Patriotism_(film)
I find the above important for various reasons:
1. The film collection of the Enoch Pratt Free Library became endangered as soon as some idiot administrator decided that 16mm films were worthless & shd be disposed of. Here's an example of a film believed to be destroyed for 35 yrs still existing in a public collection & very valuable as such. Furthermore, there're prints of some of my films there that're the only existing prints.
2. Wikipedia, despite its indubitable value as a reference resource is not infallible. If I hadn't had my conflicting memory, I might've quoted it verbatim w/o qualification (again, see my self-correction below).
3. To verify that the Pratt had the film I checked my hard-copy of their Audio Visual Department catalog.
4. Nowhere online, in an admittedly short superficial search, do I find any mention of a soundtrack. Since I'm positive that I'm right, I'm presenting my memory as a more reliable source than the internet in this instance. I've also sent a message to a former librarian in the Pratt A/V Dept to check for his verification. What I don't know is if the American distributor of the film added the soundtrack on gratuitously - perhaps thinking that it wd 'play better' if it weren't a silent film.
As it turns out, the Pratt librarian helped me by directing me to the film's being on UbuWeb ( https://ubuvideo.memoryofthewordl.org/Mishima-Yukio_Yukoku_1966.mp4 ) where, yes, it has a soundtrack. Listening to the soundtrack I immediately recognized it as a famous European 19th century piece & I was waffling between Tchaikovsky's
Romeo and Juliet" or Wagner's "Tristan und Isolde". Once again, my librarian friend came thru, as did my musician friend Ben Opie, & tipped the scales to Wagner. Specifically: the "Liebestod" ("Love-Death"). This is gone into somewhat in an essay that accompanies the Criterion release: https://www.criterion.com/current/posts/517-patriotism-the-word-made-flesh . So why is it listed as silent on Wikipedia? Actually, it is & it isn't - under the "style" section of the wikipedia entry, wch is what I originally read, it's called "silent" but in the window to the right giving the credit synopsis the music is credited to Richard Wagner.
"Henry, in fact, had offered a new challenge for commentators and analysts. It was easy to damn or praise serial, aleatoric, or electronic music, but not so simple to find words for a composer who defied categorization. Although his music's accessibility was greatly appreciated in an epoch preoccupied with innovation and dogma, it had neither the quasi-romantic drama of Roy Harris's or William Schuman's, nor the Americanism of Copland's. In an era of larger-than-life composers, accusations of paleness were to be expected, though many listeners did not grasp that compositions drawing upon non-Western cultures need different ears, since those cultures do not use dramatic contrast in their music." - p 458
While I think that Sachs's point is excellent I still feel somewhat uncomfortable w/ high praise of Cowell's AmeriAsian music b/c it seems like 'lite' listening to me. I'm somewhat unfortunately reminded of the electronic music adaptions of Western classics by Tomita such as "Holst: The Planets" (1976) that I'm listening to now. It's not as horrible as I remember it but I find it somewhat 'tacky'. Perhaps, "It was easy to damn or praise serial, aleatoric, or electronic music" b/c they were challenging traditions in ways that Cowell's music wasn't. Furthermore, I'm not convinced that "pure melody" was "a concept alien to the thinking of both the avant-garde and the adherents to the Western harmonic tradition". Melody is central enuf to standard concepts of Western music so that whether it's pure (by wch I assume Sachs means detached from a harmonic foundation) or not strikes me as irrelevant to many or most listeners. The mere fact of its presence seems to be enuf to soothe the musically ignorant.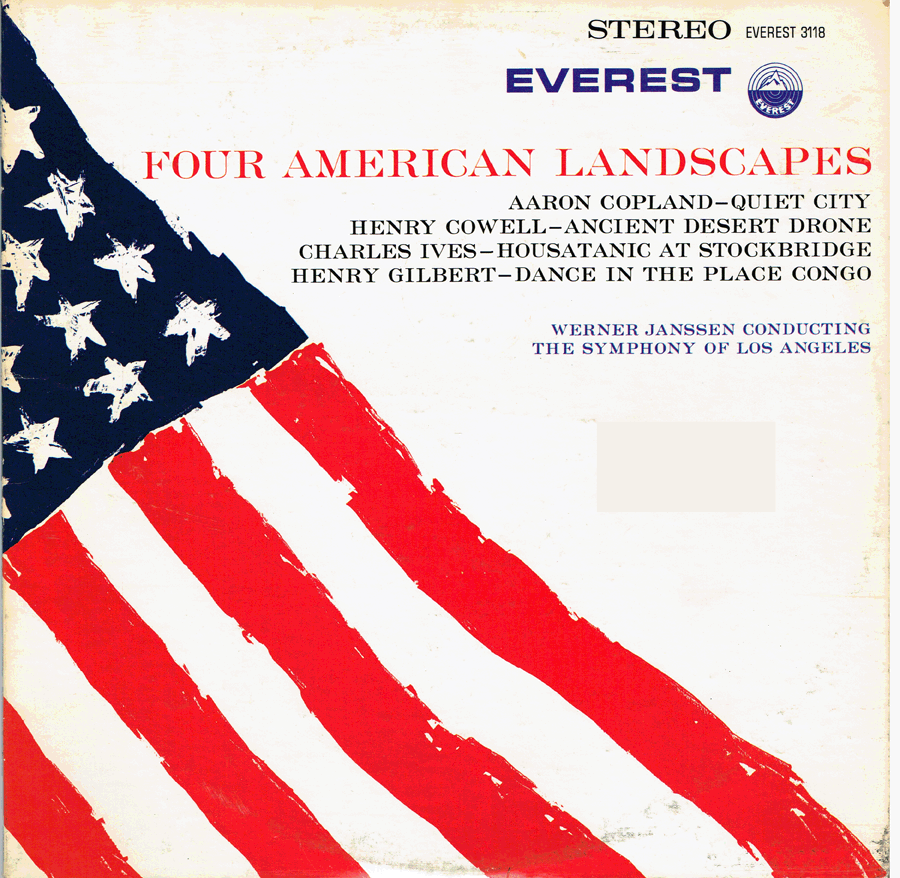 Chapter 56: "Asia Again":
"He now proceeded to the East-West Music Encounter, whose purposes were "to deepen the mutual understanding between the musical cultures of the Eastern and Western World and to develop a greater degree of cooperation between Asia and the West in the field of music," - p 468
Participants included "Luciano Berio, Boris Blacher, Elliott Carter, Gottfried von Einem, Alfred Frankenstein, William Glock (the BBC's Controller of Music), Bruno Maderna, Colin McPhee, Isaac Stern, Josef Tal, Virgil Thompson, Iannis Xenakis, Shinichi Yuize, and various historians." - p 468
I partially quote the above list b/c it includes many of my favorite composers, people whose good will I have some faith in. AND it includes Josef Tal, a composer that I've only heard one work by, wch I thought was excellent, & have rarely or never run across mention of him otherwise.
"The great expenses of this all-star event were met by governmental support from many countries, UNESCO, and private sponsors including the Asia, Catherwood, Farfield, Ford, and Rockefeller foundations. Curiosity about the Congress for Cultural Freedom's role led me straight to the Web site of the Central Intelligence Agency, which revealed what almost no one knew in 1961-the Congress for Cultural Freedom, the Catherwood Foundation, the Fairfield Foundation, and the Asia Foundation were CIA fronts or conduits. the truth finally came out in 1967. Even now, fifty years later, Japanese musicians and arts administrators indicated that they preferred not to think about the East-West Music Encounter." - p 469
Far be it from me to endorse anyone's covert tactics for influencing cultures that ruling elites want to control. Nonetheless, on a scale of 1 to 10 the CIA's done far more egregious things than organize fantastic diplomatic music concerts. If they stuck to creating music events like the East-West Music Encounter, I probably wdn't loathe them at all. Just stay away from the genocide!
As for Japanese "arts administrators" preferring "not to think about the East-West Music Encounter"? I find that a little hard to stomach considering that I think many arts administrators are little more than whores who won't even spread their legs. But maybe I'm being too harsh.
"Intelligence missteps, such as the 1962 Bay of Pigs mess, badly tainted the CIA's reputation, but in the cultural program the agency and its friends effectively were the United States' first-if secret-Ministry of Arts. Resisting imitating the USSR, the program's leaders did not dictate cultural norms; less interference made free expression a stronger product. Its finer accomplishments included covertly sponsoring the Boston Symphony's European tour of 1952, which established American musicianship as world-class. Jackson Pollack and other Abstract Expressionists got their start in Europe through the CIA's programs. The respected British intellectual journal Encounter was founded and funded by the CIA." - p 470
That's all well & good, I suppose, but the amt of misery spread by the CIA in the Congo, most of Central America, in Laos & Cambodia, etc, teaches us that sociopaths on coke aren't really the best people to let loose w/ free rein - & having a torture school called the School of the Americas etc at Fort Benning, GA, isn't such a good idea either.
ALSO, while the CIA's policies might not've dictated "cultural norms", how money is spent always reinforces cultural attitudes non-threatening to monied interests. As such, a samizdat artist in the USSR may've been leading a marginalized life not that dissimilar to that of the impoverished creative people in non-Soviet countries.
Might as well mention that:
"At the beginning of 1956, John "Dizzy" Gillespie was commissioned to form a big band for overseas duty on behalf of American cultural diplomacy." - notes by Bill Simon from the Jazz Division of the American Recording Society that accompany the "Dizzy Gillespie's Big Band Jazz" record, G-423
"Oddly enough, this was the first time jazz was used consciously to create good will for the U.S.A. Jazz was heard now, mostly for the first time, in such places as Pakistan, Lebanon, Syria, Turkey, Yugoslavia, and Greece.
"The results were beyond the expectations of the most optimistic observers. People who had heard, and perhaps believed communist lies about America saw a mixed band-eight colored and four white musicians-and even a lady trombonist, working and playing together, producing superbly fresh, vital, outgoing, happy music." - ibid
The US was an incredibly racist country at the time so the "communist lies" to that effect were much more truthful than the obviously manipulative State Department image that they tried to project thru Dizzy's cred. It wasn't too far from around this time when Charlie Mingus's group was asked to play on tv.. as long as the black guy, Mingus, the band leader, didn't appear. The band refused. That was the USA in the 1950s. The intermingling of races occurred in jazz groups b/c that's one of the only places where racism didn't rule - but how many other places cd say the same?! Not many. & jazz musicians left the US for France in the droves b/c they were treated like human beings there & didn't have to feel doomed to 2nd class citizen status & likelihood of dire poverty & jail.
"In the less than two years between his return from Japan and his next trip to Europe (1963), he completed his sixteenth symphony, the Icelandic; three shorter orchestral pieces; concertos for flute and harp, for koto, and for harmonica; five chamber works, and several songs. While on the surface the melody-driven style typical of his later music sometimes seems tame, the best pieces are still packed with musical adventures. In the Icelandic Symphony, for example, Henry used the basic property of Icelandic "double-singing," with its parallel fifths and cross-relations, as a tool to steer his material toward a kind of atonality and then back again. The "atonal" section, suggesting a vocal ensemble that can't quite find the right notes, disproves the truism that atonality and humor are incompatible." - p 476
I wonder if that "humor" was really what Cowell had in mind. Regardless, Sachs always finds a way to make pieces by Cowell that I'd previously found ok, but only ok, seem more remarkable.
"The election of John Kennedy as president ushered in a new era of respect for culture, as the Cowells learned when an invitation arrived for the Kennedy/Johnson inauguration and gala in January 1961, which they declined because of the expense. In November, however, they accepted an invitation to a white-tie dinner and concert at the White House, honoring the governor of Puerto Rico." - p 478
Gee, I wonder why I've never been invited to one of those White House shindigs? I was sure Rump wd invite me.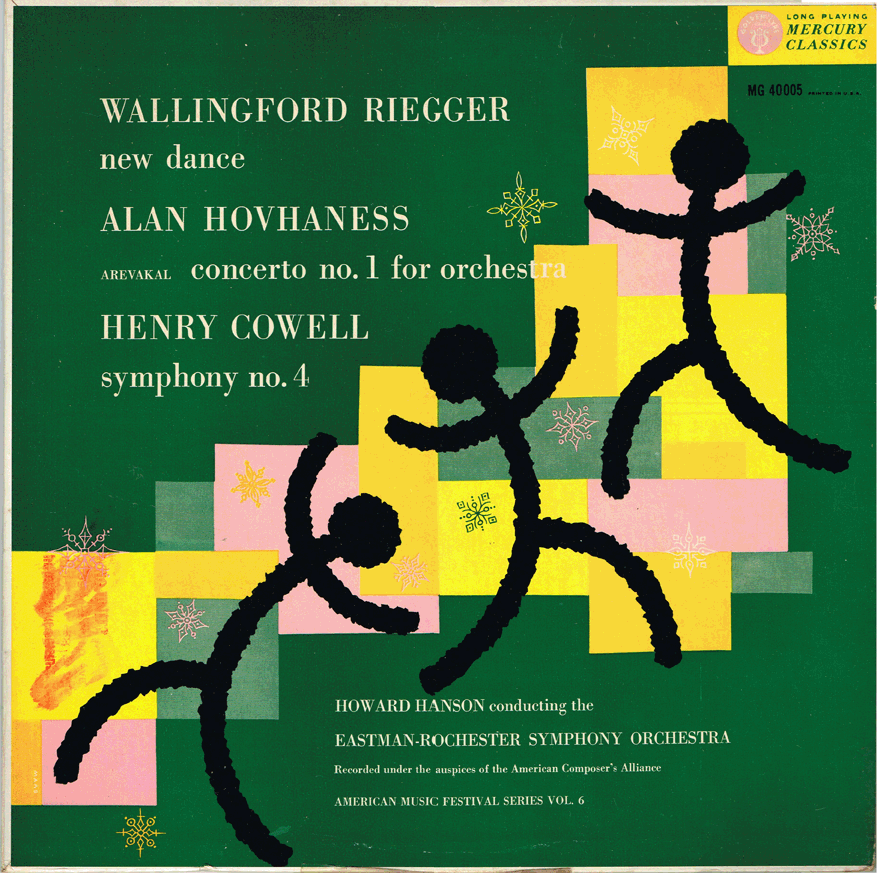 In Berlin:
"After an initial diagnosis of a heart attack, the doctors determined that he was suffering from digitalis poisoning" [What did I say about staying away from doctors?!] "resulting from the failure to reduce his dosage after his cardiologist had raised it. It was the first of a series of medical or surgical mishaps" [Nope, see the previous "Suddenly his condition deteriorated. Although the original infection in his leg and back had healed, his stitches became infected and had to be removed prematurely." - p 179] "caused by Henry's concerned doctors or by bad luck. With his heart failing, his blood pressure had dropped very low and his pulse became alarmingly slow; he was very near death. Sidney left their hotel, the very traditional Bristol Hotel Kempinski, where she was "refused service in the dining room at noon because I was unescorted by a gentleman!" and moved into the American Officer's Club, where the German manager harassed her by complaining daily that she was not supposed to be there without her husband, despite knowing that her husband was in the hospital. The fact that she had been assigned a VIP suite irritated him further. She told him to complain to the embassy." - p 487
A return to this type of moronic sexism isn't as far-fetched as some might think. It was as recent as 1976 that a real estate agent in Baltimore refused to rent a 2 bedroom apartment to myself & my girlfriend b/c it was "immoral". HE almost had a heart attack at the very thought of it judging by the redness of his face.
"Then, during a test, part of a catheter broke off , necessitating abdominal surgery to extract it. Considering the state of his heart and circulatory system, it was miraculous that he survived." - p 491
"When he seemed to be improving, Sidney went home, only to learn why his temperature should have been taken in the armpit rather than orally, as an apprentice nurse had done. He had bitten the thermometer into three pieces and swallowed them along with the mercury. One piece was stuck, and if it didn't turn lengthwise an operation would be necessary. At the last minute it turned and was expelled." - p 498
Where else cd you go but a hospital to be murdered & then charged yr life savings for it? & THEN be expected to thank the murderers for 'doing the best they cd do.' Sheesh. Imagine this: you go to a car mechanic to have a tire replaced. They bust out yr windshield & set yr car on fire & charge you $5,000,000 for both of those things & then give you back yr wreck of a car w/ the original bad tire still on there. That's American medicine - w/ one detail left out: you've been paying insurance for 30 yrs to the tune of $500 a mnth, you get the bill & discover that you have a $6,000,000 deductible. (OK, I exaggerate.. but not by much.)
In the meantime, "Nothing, however, underlines the transformation of the American arts world so much as two recent developments that made Henry very happy-Governor Rockefeller's encouragement of public funding (which was formalized in 1965 as the New York State Council on the Arts), and Washington's tentative steps toward a federal arts agency." - p 489
Great! .. uh, except that the idea of not dictating "cultural norms; less interference made free expression a stronger product" became pretty much moot since if you were politically or otherwise controversial there was no way in hell you were going to get money. By Reagan's era most of the NEA money went to military marching bands. How much more USSR cd the US get? Both Reagan & Rump tried to get rid of the NEA entirely. Much ado is made about people like Karen Finlay, Tim Miller, John Fleck, Holly Hughes, Robert Mapplethorpe, & Andres Serrano being denied funding. In Serrano's case it just proved that the church isn't so separate from the state after all.
As for the rest, well I'd done work that was never even going to get past the 1st step of NEA 'peer review' (the people doing the reviewing wd be in no way my 'peers') & so had many other people. The controversy over the above 6 people showed just how entrenched they were in the very system they were being rejected by. All of the rest of us weirdos were just plain criminals as far as society was concerned. While the 6 above were whining, people like G. G. Allin were in jail. Mapplethorpe was just soft porn for rich people doo-dadded up w/ classism to make it 'artistic', an American Helmut Newton. If Cowell had made work explaining why he liked to suck young cock I don't think he wd've gotten a grant. There ARE taboos y'know.
"Then he unveiled more proof that he was still his old self-26 Simultaneous Mosaics, for violin, clarinet, cello, piano, and percussion, which takes the principle of Elastic Form further than ever. In the Mosaic Quartet, the players could arrange the movements as they saw fit. In Sarabande, the phrases could be cut and pasted, lengthened and shortened, as Martha Graham saw fit. In 26 Simultaneous Mosaics, each player has five or six little pieces that can be played in any order and as many times as desired, with repeats and reprises of da capo at will. No coordination among players is attempted. Ample silence between movements cleanses the atmosphere of clutter. Although dedicated to Oliver Daniel, it seems to be a musical greeting to John Cage, whose pursuit of music freed from personal taste-an extreme form of Henry's desire to compose without the burden of an imposed tradition-intrigued and amused Henry." - pp 492-493
& these are the pieces that I'd most like to hear. Alas, Henry Cowell wasn't going to live much longer - at least he made it to 68 & left a huge body of work behind. "On December 9, Vivian Fine and her husband came for dinner. She held Henry's hand with incredible sweetness "and he looked up at her with what seemed to me real pleasure but also a kind of puzzled effort to understand something unexpressed. She said: 'Dear Henry! it's been a long time, hasn't it, a long long time.' That was all, but a lovely smiling end to friends for him."" (p 502)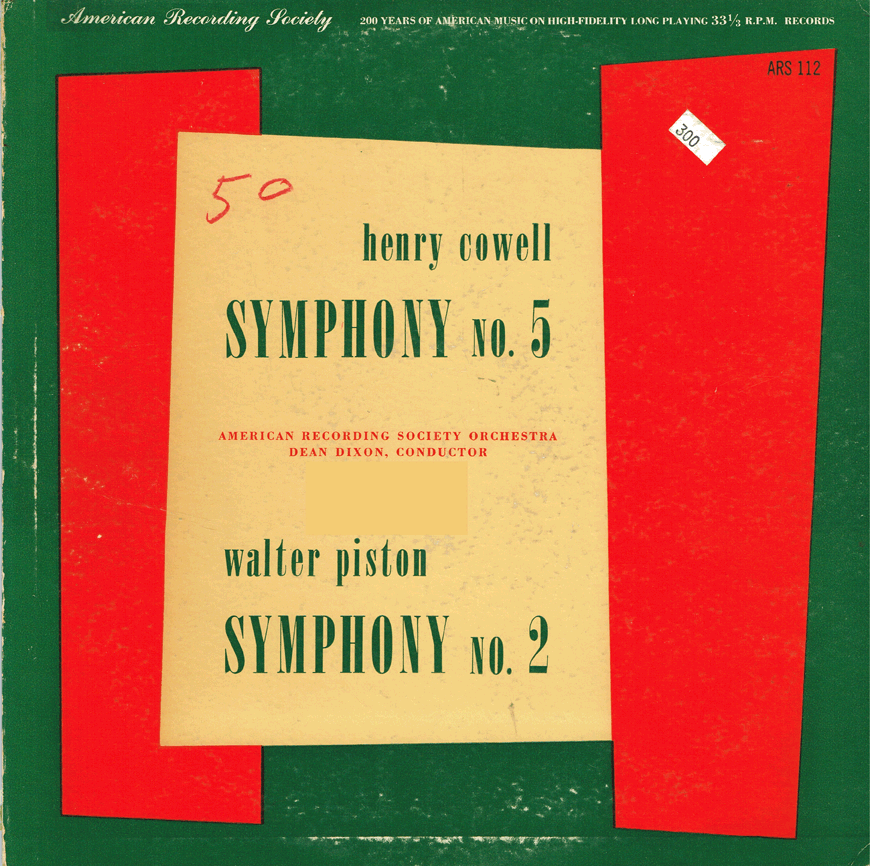 "During his entire adult life and after his death, Henry's colleagues and friends overwhelmingly spoke of him in glowing terms-warm, generous, charming, amusing, lovable, friendly, open-minded, insightful, devoid of greed and professional jealousy, impervious to criticism, a lover of social drinking, cooking, playing cards, a true lover of nature and avid "host" to the animals whose territory he and Sidney shared in Shady. Bess Lomax Hawes even remembered him as elegant in his tastes and dress. Gerald Strang called him an extraordinary entrepreneur who found people to help him with his projects and turned them loose, in contrast to Varèse, who always kept total control over his associates. John Cage crowned him the "open sesame for new music in America." Dr, Joseph Wortis, his psychiatric consultant during parole, never heard him run down anyone" - p 505
Yes, this is an excellent biography. I already liked Cowell but reading this made me like him even more. I highly recommend reading it if only to be reminded that life is complicated, that people are complicated, & that there's much to be done.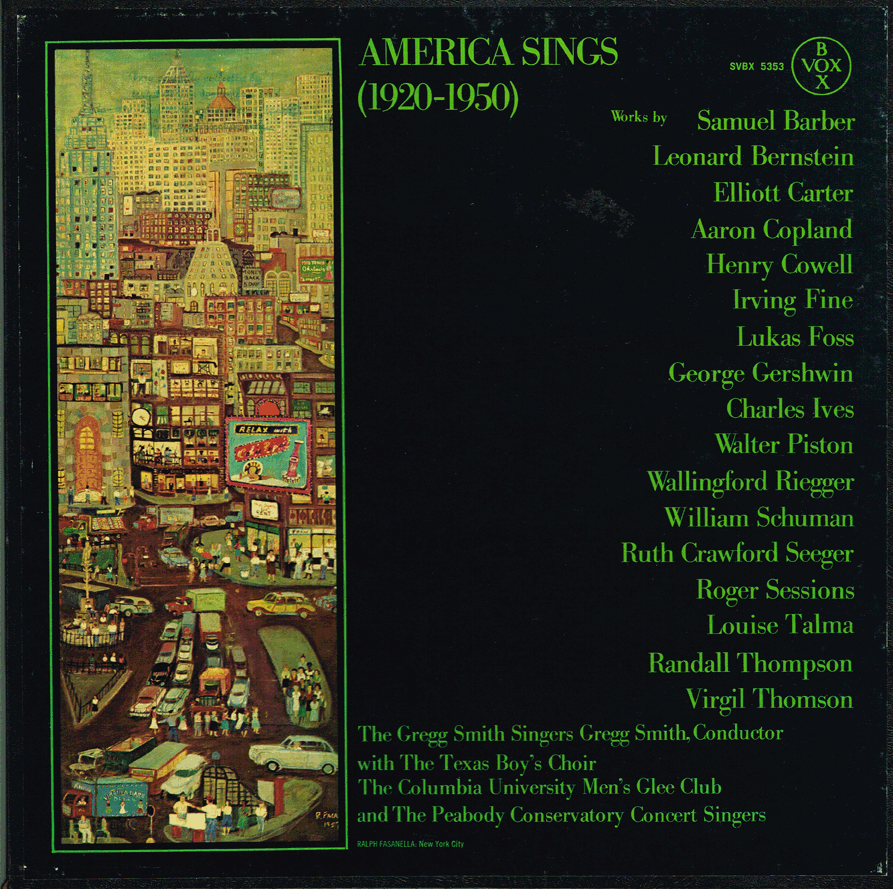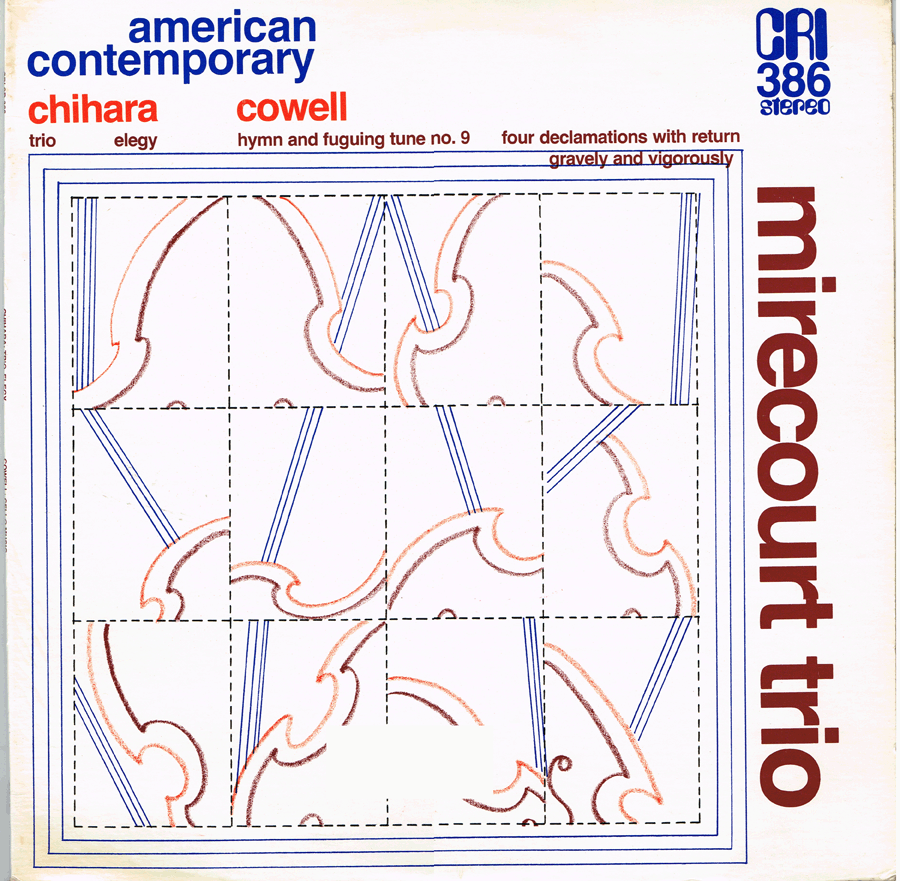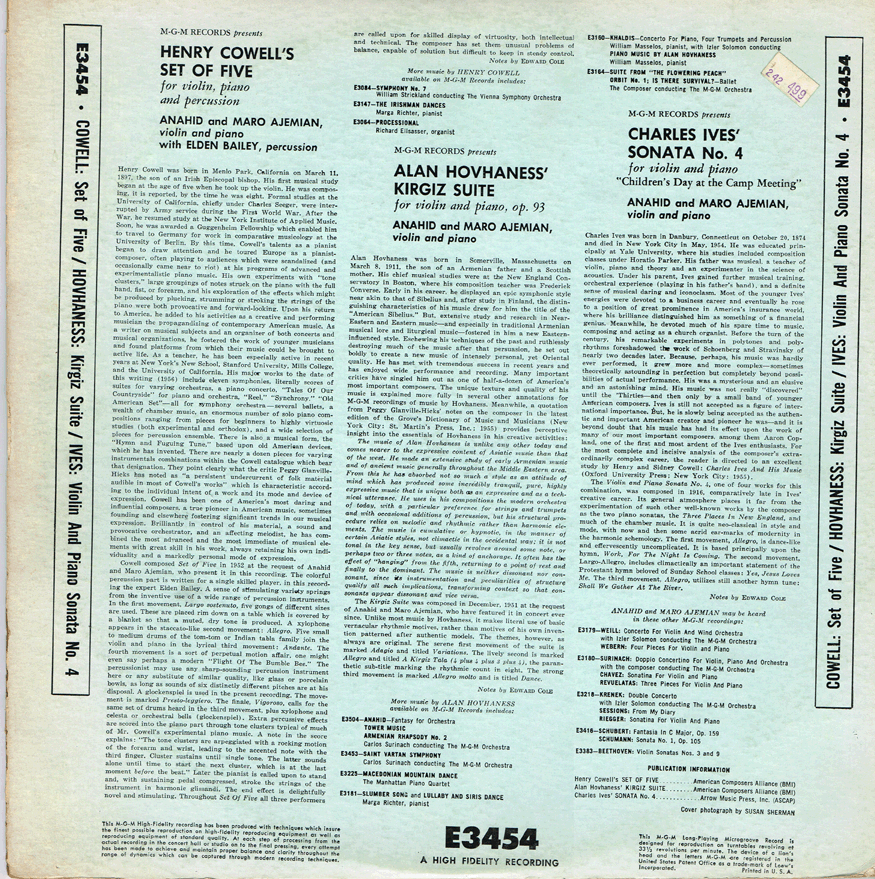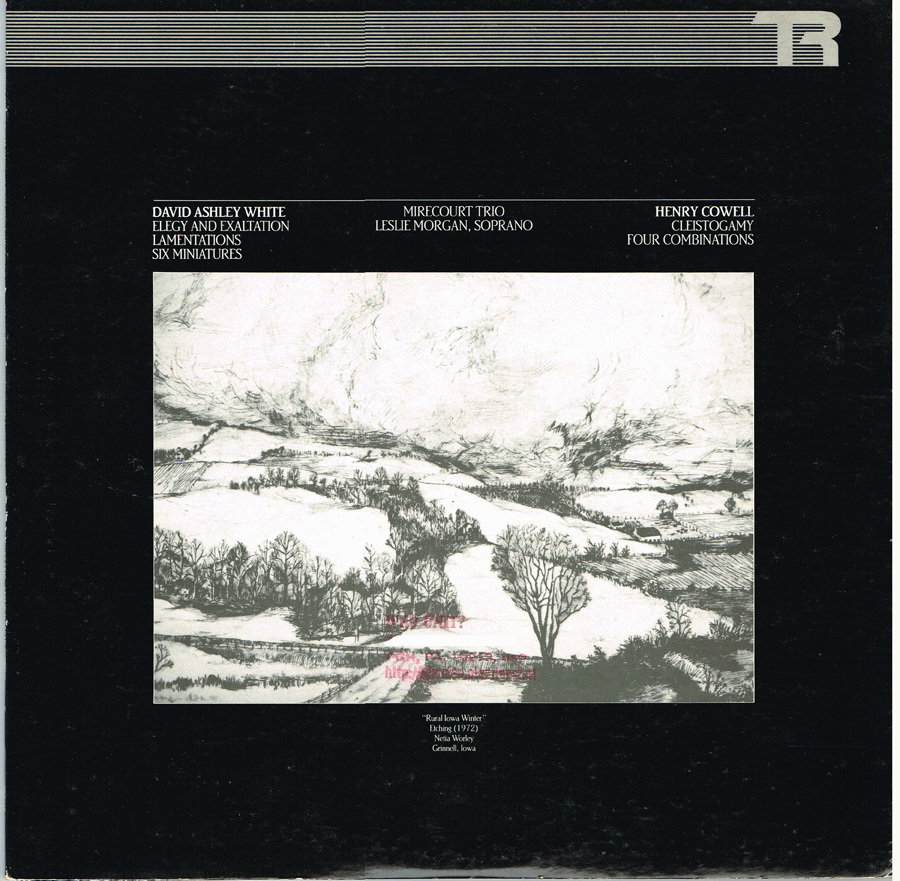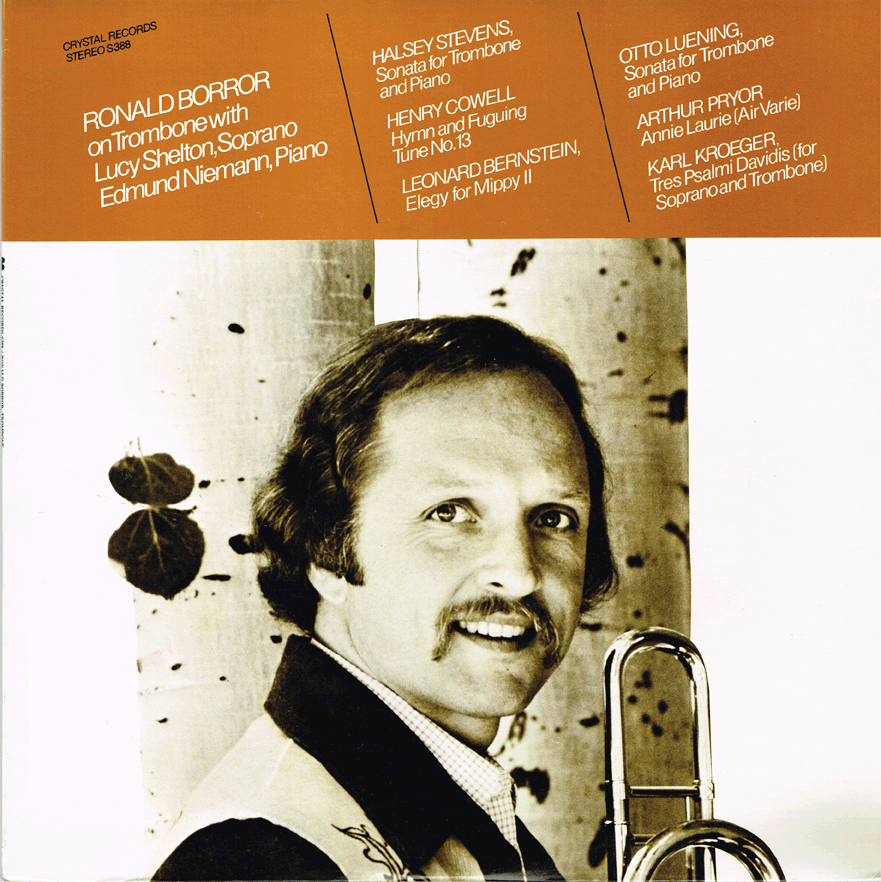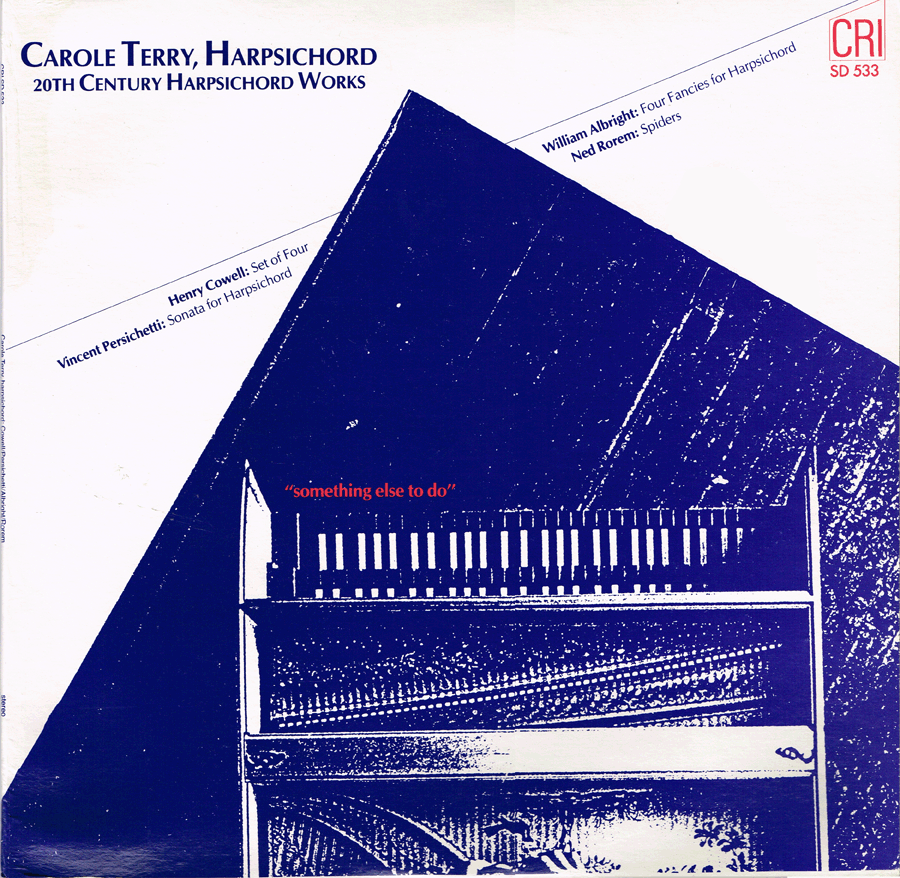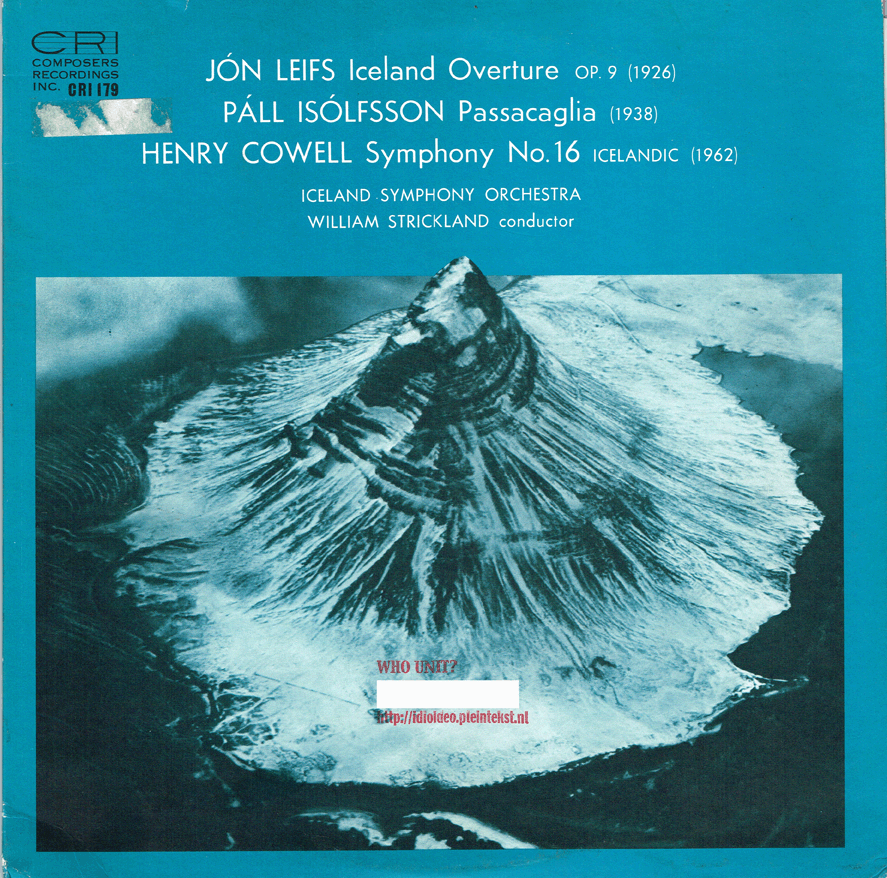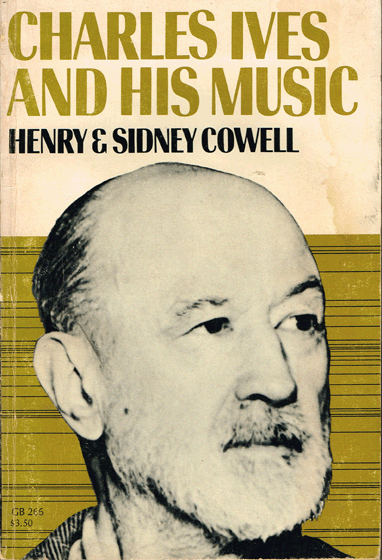 idioideo at verizon dot net
to the tENTATIVELY, a cONVENIENCE Anti-Neoism page
to the tENTATIVELY, a cONVENIENCE Audiography page
to the tENTATIVELY, a cONVENIENCE Bibliography page
to my "Blaster" Al Ackerman index
to the tENTATIVELY, a cONVENIENCE Books page
to the tENTATIVELY, a cONVENIENCE BYOC page
to the tENTATIVELY, a cONVENIENCE Censored or Rejected page
to the tENTATIVELY, a cONVENIENCE Collaborations page
to the tENTATIVELY, a cONVENIENCE (d) compositions page
to Amir-ul Kafirs' Facebook page
to the "FLICKER" home-page for the alternative cinematic experience
to tENTATIVELY, a cONVENIENCE's GoodReads profile
to the tENTATIVELY, a cONVENIENCE Haircuts page
to the tENTATIVELY, a cONVENIENCE Home Tapers page
to the tENTATIVELY, a cONVENIENCE index page
to the tENTATIVELY, a cONVENIENCE Instagram Poetry page
to a listing of tENTATIVELY, a cONVENIENCE's manifestations on the Internet Archive
to the tENTATIVELY, a cONVENIENCE as Interviewee index
to the tENTATIVELY, a cONVENIENCE as Interviewer index
to tENTATIVELY, a cONVENIENCE'S Linked-In profile
to tENTATIVELY, a cONVENIENCE's Mail Art page
for A Mere Outline for One Aspect of a Book on Mystery Catalysts, Guerrilla Playfare, booed usic, Mad Scientist Didactions, Acts of As-Beenism, So-Called Whatevers, Psychopathfinding, Uncerts, Air Dressing, Practicing Promotextuality, Imp Activism, etc..
to the mm index
to see an underdeveloped site re the N.A.A.M.C.P. (National Association for the Advancement of Multi-Colored Peoples)
to tENTATIVELY, a cONVENIENCE's Neoism page
to the DEFINITIVE Neoism/Anti-Neoism website
to the Philosopher's Union website
to the tENTATIVELY, a cONVENIENCE movie-making "Press: Criticism, Interviews, Reviews" home-page
to tENTATIVELY, a cONVENIENCE's Score Movies
to SMILEs
to find out more about why the S.P.C.S.M.E.F. (Society for the Prevention of Cruelty to Sea Monkeys by Experimental Filmmakers) is so important
to the "tENTATIVELY, a cONVENIENCE - Sprocket Scientist" home-page
to the tENTATIVELY, a cONVENIENCE Top 100s page
to tENTATIVELY, a cONVENIENCE's Top 100 Composers index
to Psychic Weed's Twitter page
to tENTATIVELY, a cONVENIENCE's Vimeo index
to Vine movies relevant to tENTATIVELY, a cONVENIENCE made by Ryan Broughman
to tENTATIVELY, a cONVENIENCE's presence in the Visual Music Village
for info on tENTATIVELY, a cONVENIENCE's tape/CD publishing label: WIdémoUTH
to a very small selection of tENTATIVELY, a cONVENIENCE's Writing